Best Time To Visit Yosemite National Park
By
on
This post may contain affiliate links. As an Amazon Associate, I earn from qualifying purchases. Please read my full disclosure.
Yosemite National Park in California is one of the most popular parks in America. It's no secret that it's on nearly everyone's bucket list.
Spanning nearly 1,200 square miles Yosemite is huge! So it's a good idea to do a little research first and decide how you want to tackle the adventure.
Winter in the mountains brings a number of seasonal road closures to be aware of.
There are also height restrictions to drive through many of the tunnels that can block access for RV campers and large travel trailers.
In this post we're going to cover the best time of year to visit Yosemite, how to get there, and how to get around.
The Best Season To Visit Yosemite National Park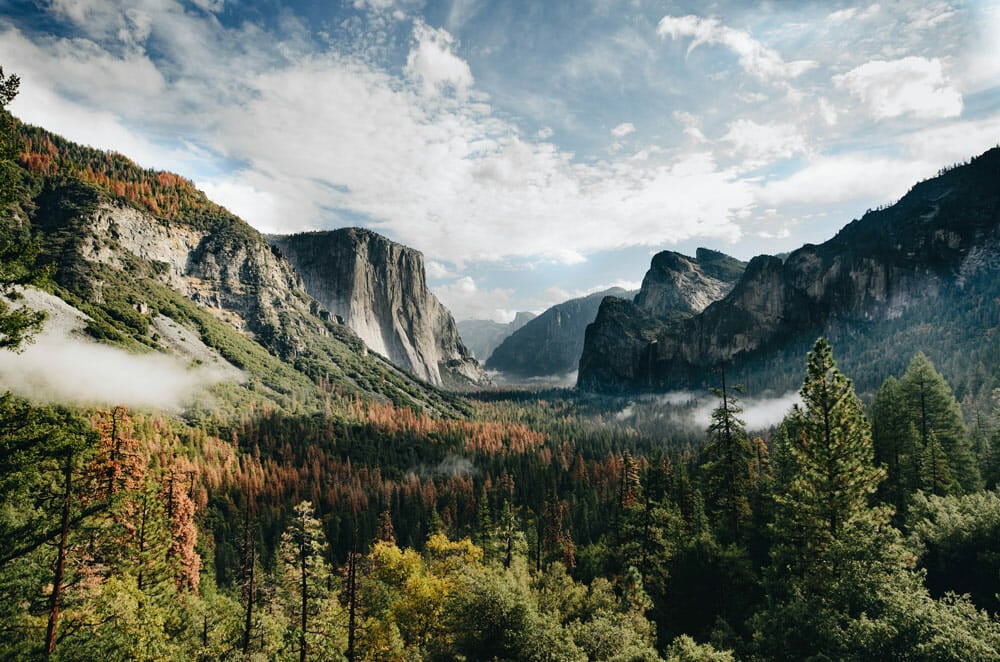 Visiting Yosemite in Spring
Yosemite is famous for its waterfalls. During the spring (April and May) the remaining snow is melting fast and water flow is at its peak.
The wildflowers will be will be in full bloom. And if you get there early enough, you might just miss the summer rush.
Visiting Yosemite in spring will give you the best chance to see wildlife, and the most ferocious waterfall displays.
Visiting Yosemite in Summer
Summer is of course, the most popular season for visiting Yosemite. If you visit during this time expect big crowds.
Nevertheless, it's a large park – and if you visit the lesser known areas like the east and far north sides, you're still going to be in for a treat.
Pack the water because temperatures in mid-summer to push into the 90s. Arrive early to avoid the biggest traffic jams and secure your parking spot.

Visiting Yosemite in Fall
Autumn is significantly less crowded than the summer months. Especially if you can wait until after Labor day.
While the waterfalls will have considerably less water than the spring, you'll get cooler temperatures.
The leaves begin changing colors in in September and October. Visiting Yosemite in Fall can be one of the most picturesque times of the year.
If you're into photography or drawing, the changing leaves will really make your pictures pop.
Autumn is one of the best times of year for hiking half dome.
Visiting Yosemite in Winter
Winter is the least popular time to visit Yosemite. There are considerably less crowds, and some of the roads and amenities will be shut down for the season.
Nevertheless, there are still plenty of things to do in winter!
If you're new to the area, you might be surprised to know that Yosemite has its own ski area and lifts. You can spend the night at the park lodge then hit the slopes for skiing, snowboarding and sledding fun.
If you're lucky, during the last two weeks of February you can witness the Yosemite Firefall.
When the sunset hits Horsetail waterfall just right, the whole thing bursts into color. Illuminated in red and orange the waterfall transforms into a spectacular "wall of fire."
You can view it from many different angles when it occurs.
Is December a good time to go to Yosemite?
December is a great time to visit Yosemite because there are considerably less crowds and plenty of activities to do in winter.
What is the coldest month in Yosemite?
January is the coldest time of year to visit Yosemite National Park. the average lows are around 30°F (-1°C).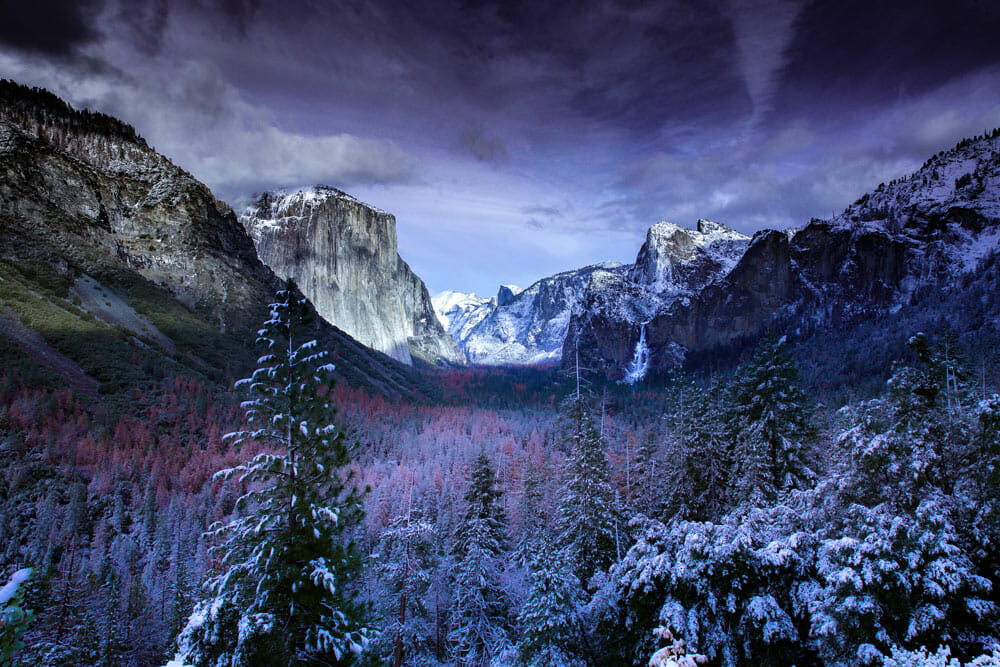 Seasonal Closures
A big thing you need to keep in mind when visiting any National Park is seasonal closures. The park service will close certain roads, campgrounds, and buildings throughout the year when they become icy or impassable.
While it's not possible to predict exact closure dates we can look at past data to get an average of when roads will be closed.
In Yosemite, the three main road closures to be aware of are:
Tioga Road (typically closed November – May)
Glacier Point (typically closed November – April or May)
Mariposa Grove (occasional closures in winter)
Tioga Road: Runs from the east entrance of Tioga Pass past the Tuolumne Meadows into Yosemite Valley. The road is closed every year due to snow and slippery conditions.
The east end of Yosemite is the least visited area of the park. In fact, you won't even be able to get into the east entrance during the winter.
Glacier Point Road: Leads to a high viewpoint overlooking Yosemite Valley. Heavy snows and high altitude keeps this area impassable every winter.
Mariposa Grove Road: This is located on the far south end of the park right as you enter through Fish Camp. It is a short road that sidetracks off to the Mariposa Grove hiking trails.
This road is not closed every year, only when weather is especially bad. Mariposa road closures will not prevent you from driving from the South Entrance into Yosemite Valley.
Additional Resources
Yosemite is a big place with that offers something to everyone. It's impossible to cover all of the things to do and places of interest you can experience.
If you're serious about getting the most out of your Yosemite visit here there are many books and guides to check out. Happy travels!