Camping In Yosemite | Best Tent, RV & Camper Van Campsites
By
on
This post may contain affiliate links. As an Amazon Associate, I earn from qualifying purchases. Please read my full disclosure.
Camping in Yosemite National Park California is the best way to experience nature, see one-of-a-kind sunrises, and hop on the Yosemite Valley hiking trails before the crowds.
In this article, we'll cover the best Yosemite campgrounds, what to expect from each one, and where to find camping outside the park.
Visiting Yosemite in an RV or camper van? We'll tell you where to camp and what height restrictions to be aware of. Plus advice on the best time of year to tent camp, seasonal closure information, and the best places to camp outside of the park.
Camping at Yosemite National Park
There are 13 campgrounds in Yosemite National Park. 7 of them require reservations and the rest are available on a first-come, first-serve basis.
Reservations are open up to 5 months in advance on the 15th of each month at 7am Pacific time. You can find campground reservation information here. From May through October, reservations will fill up on the first day available – sometimes within seconds!
When it comes down to it, reserving a campground in Yosemite is a little like winning the lottery. You'll want to set your calendar and have the browser ready the day they become available.
Campgrounds in Yosemite Valley
South West Yosemite Campgrounds
| Campgrounds | RV Max | Reservation Required? | # of Sites | Daily Fee |
| --- | --- | --- | --- | --- |
| Wawona | 35 ft/ 35 ft | April 8 - Oct 1 | 93 | $26 |
| Bridalveil Creek | 35 ft/ 24 ft | No | 110 | $18 |
Campgrounds in North West Yosemite
Central and East Yosemite Campgrounds
*Campground data obtained through NPS.gov updated 3/2019
Camping in Yosemite National Park
First-come, First Serve Campgrounds
First come, first serve campsites are little easier to get. To claim a campsite, go to the destination of your choice and fill out a self-registration envelope. You can register multiple nights at a time and there is a maximum of 6 people per campsite.
During the busy season, you'll want to get there in the morning for any chance of getting a space. Have a backup plan ready in case the campsites are full.
Can You Take An RV Camping In Yosemite?
While you can take an RV, there are no RV hook-ups in Yosemite National Park. Most campgrounds limit RVs to 35 feet in length.
Electricity
None of the campsites in Yosemite have electric outlets.
Water
All of the campgrounds have water on tap except for Tamarack Flat, Porcupine Flat, and Tuolumne Meadows. Those campgrounds have creek water which you can boil.
Showers
There are no showers in any of the Yosemite campgrounds. The only showers available in the park are at Half Dome Village in Yosemite Valley.
Dump Stations
There are three dump stations in Yosemite: Upper Pines campground, Wawona campground, and Tuolumne Meadows campground. Upper pines is the only dump station that is open year-round.
Pets
Pets are allowed on-leash at all of the campgrounds except Camp 4 in Yosemite Valley.
Sleeping In Your Car
You are only allowed to sleep in your vehicle at a designated campground. There is no overnight parking anywhere else in the park.
Backpacking and Back Country Camping in Yosemite
The backpacking in Yosemite is endless and we could write more than a few articles on this subject. Over 95% of Yosemite is wilderness! There are 5 backcountry campgrounds at Yosemite that require a wilderness permit. These cost just $5 and are used to limit the number of people on the trails. The most popular back country trails like Half Dome and the John Muir trail require an extra application.
You can learn more about the back country wilderness permits here.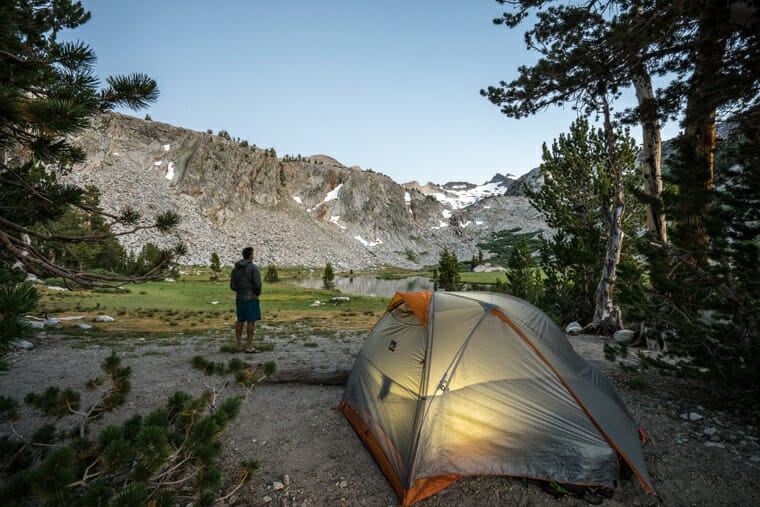 When Is The Best Time of Year To Camp In Yosemite?
There are only four campgrounds that are open year-round in Yosemite: Upper Pines, Camp 4, Wawona, Hodgdon The rest are open seasonally and the dates change every year depending on weather conditions.
We've analyzed the last 10 years of park statistics to give you an idea of when these campgrounds are most likely to be open. From this data we can draw a few key conclusions: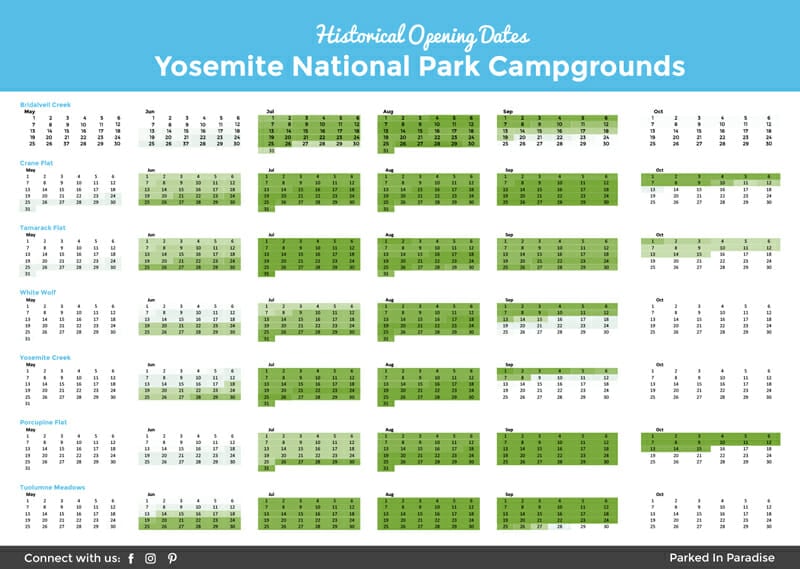 Upper Pines, Camp 4, Wawona and Hodgdon Meadow are open all year round
Lower Pines and North Pines are always open April – October
Bridalveil Creek and Yosemite creek have the shortest seasons (Mid June – September)
Yosemite creek is always the earliest to close (Early September)
In most years the campgrounds are all open by the end of June
Crane Flat and Tamarack have the longest seasons lasting into October
August is the best month to guarantee open campsites in Yosemite
July and September are the next best months for camping
Camping Outside of Yosemite
With the variability in available campsites it's always good to have a backup plan outside the park. If you are road tripping in an RV or motorhome you'll also want to camp outside the park because the logistics will be so much easier.
There are TONS of options for campgrounds, weather you want to stay somewhere private with every amenity, or on public lands. If camping is not for you, we recommend getting an Airbnb nearby.
Yosemite is surrounded by National Forest so there is a lot of opportunity to camp legally for free. We suggest using the website freecampsites.net for recommendations.
We're not going to list all of the different places to park your RV overnight near Yosemite. But we will give you some suggestions.
Camping Near The Big Oak Flat and Hetch Hetchy Entrance
There are 7 public campgrounds in the Stanislaus National Forest located right outside of Big Oak Flat. They are run by the National Forest Service where you can make reservations. These campgrounds are inexpensive and may have limited facilities. The closest town to the Big Oak Flat Entrance is Groveland.
Camping Near The Arch Rock Entrance
The Arch Rock Entrance has 6 public campgrounds nearby in the Sierra National Forest. You can see details and make reservations through the National Forest Service. The closest town to these campgrounds is Mariposa.
Camping Near The South Entrance
The South Entrance has 7 public campgrounds close by in the Sierra National Forest. Reservations can be made through the National Forest Service. Fish Camp is the closest town to these campsites and the South Entrance to the Park.
Camping Near The Tioga Pass Entrance
Near Tioga Pass there are 9 public campgrounds run by the National Forest Service. These campgrounds are seasonal because Tioga road is closed during the winter. All of these are high elevation campgrounds located in the Inyo National Forest. The closest nearby town is Lee Vining.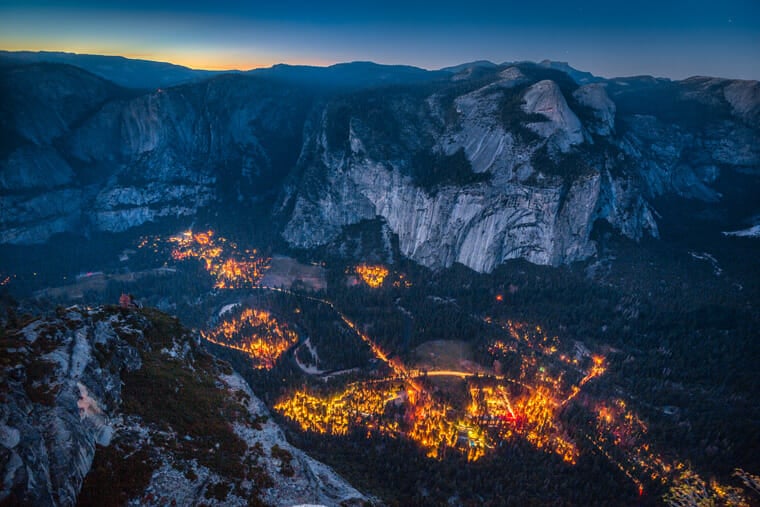 Hotels and Lodging In Yosemite
There are 9 Hotels, lodges and canvas tent cabins that can be booked inside of Yosemite. You can book these up to one year in advance and they fill up quickly! You can find out more information about all of these options and book accommodations here.
Taking Your Dog To Yosemite
Unfortunately like most National Parks nearly all trails are closed to dogs. While you can bring your pet to Yosemite, they're only allowed on paved paths and in the campgrounds. Dogs must be on a leash at all times and are not allowed on the shuttle buses or in any buildings.
There are just a few exceptions to the rule. Dogs are allowed on these Yosemite trails:
Wawona Meadow Loop
Chowchilla Mountain Road
Four mile, and 11 mile fire roads in Wawona
Carlon road trailhead to Hodgdon meadow
Big Oak Flat Road from Hodgdon Meadow to the Tuolumne Grove Parking Lot
All of these trails are short so don't expect to take your pet on a wild adventure. There is a dog kennel located in Yosemite valley that is open May – September. Pets must have all their vaccinations and space is limited.
We recommend either leaving your dog at home or finding a sitter before you enter the park. Personally, we like to use Rover.com when we travel.
Getting Around
Yosemite was the 5th most visited National Park in 2018. There are tunnels, winding roads and small parking lots throughout the area. Tire chains will also be required during the winter in the majority of the park.
If you choose to drive a personal vehicle, expect long lines and wait times especially during the peak summer season. The best advice is to arrive early, especially if you plan to drive.
Can You Take An RV or Travel Trailer To Yosemite?
Class B and Class C camper vans should have no problem navigating Yosemite. While it's possible to drive larger motor homes into the area, we don't recommend it. Tunnels will greatly restrict the height and length of your vehicle.
To get through the main tunnels on Big Oak Flat road and Wawona road you cannot drive anything taller than 10 feet 2 inches and 45 feet long.
If you plan to travel to Yosemite in an RV it is best to find a campground located outside the park and take a shuttle or bus in. The areas surrounding Yosemite are very friendly to public transportation. Take advantage of that and relax while the bus driver handles the winding roads.

Free Shuttle Services
There are a number of free shuttle services operated by the park that allow you to visit all of the most admired destinations.
Yosemite valley has a shuttle service that operates year round. The shuttle runs every 20-30 minutes on a loop through visitor centers, campgrounds and starting points for hikes.
The valley shuttle makes 19 stops and you can hop on at any point. In the popular months, you can expect long lines to get onto the shuttle so plan your route accordingly.
Seasonally, there are free shuttle services open to Mariposa Grove (near the South Entrance), the Yosemite ski and snowboard area, and Tuolumne Meadows on the East end.
Other Things To Do In Yosemite National Park
Auto tours
Skiing and snowshoeing
Biking
Birdwatching
Fishing
Horseback riding
Boating
Additional Resources
Yosemite is a big place that offers something to everyone. It's impossible to cover all of the things to do and places of interest you can experience. If you're serious about getting the most out of your Yosemite visit here there are many books and guides to check out. Happy travels!