Best Portable Camping Showers (Review)
By
on
This post may contain affiliate links. As an Amazon Associate, I earn from qualifying purchases. Please read my full disclosure.
Just because you love wild outdoor adventures doesn't mean you can't stay fresh. Portable camping showers are a convenient way to stay clean whether you're in the middle of the wilderness or chilling all day by the beach.
If you're looking for the perfect camping showers, then this guide is for you. We've put together a list of the best features to look for in a portable outdoor shower. Read this and enjoy the great outdoors without stressing about sweat and dirt.
Features to Look for In A Portable Camping Shower
Nothing beats a family camping trip. What isn't so great is the stress of dirt, sweat, and grime that you may not get a chance to rinse off. Even worse is the everlasting smell of bug spray that never seems to go away.
An excellent solution is camping with a portable shower. A halfway decent camping shower can easily enhance any fishing trip or wilderness adventure.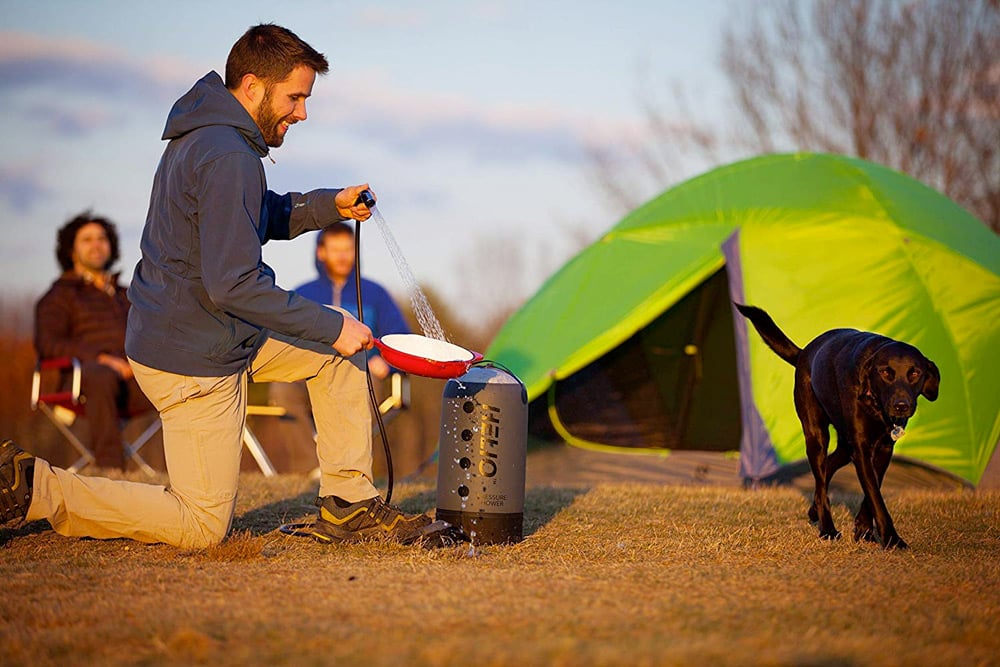 Capacity
The capacity of your outdoor shower is of the utmost importance. The last thing you need is to use up all the water before your whole group has had a chance to rinse off.
If you're going on a long-distance or a long-interval camping trip, then the capacity of your portable shower is even more critical. When you're choosing the perfect portable shower, always ask yourself these questions to find out how many gallons you need:
How many people are using the shower?
How often will they be showering?
Where is the source of water going to come from?
A 5-gallon portable shower can release water for about 4-5 minutes depending on the flow rate. You can spread that out between 2-3 people if you're being conservative. Don't expect the water pressure to be the same as your home shower. Many of these showers are designed to be more of a rinse than a full-on shower.
Ask yourself if you have a source of water in your RV, camper or campsite so you can supply the camp shower if the need arises. If you plan to pack in all of the water, you might want to go with a smaller shower for convenience.
Portability
When choosing any camping equipment portability is especially important. Your shower is no exception.
If the portable shower is too big, you'll never want to take it anywhere. Ask yourself how much the shower weighs, both empty and full. Is it collapsable? How many gallons of water does it hold?
If you're hiking into a campsite, keep in mind one gallon of water weighs just over 8 pounds. That means you're probably not going to want to carry it too far. Compact, battery powered shower heads might be a good choice in this case because they're easy to walk to a water source.
Shower Hose Length
Length of the shower hose might not be on your mind but it does make a difference. Shorter shower hoses pack up smaller but also leave you less wiggle room. Longer hoses are ideal, especially if you want to use the camping shower for other uses such as a portable sink or rinsing your pets.
Water Pressure
The most annoying thing about outdoor showers can be trying to wash off dirt and sweat from a shower head that doesn't give you enough water pressure. It's challenging to find a portable shower with as much "oomph" as your average in-home shower. Some portable showers rely on a gravity system to push the water out, while others have pumps that do offer adequate water pressure.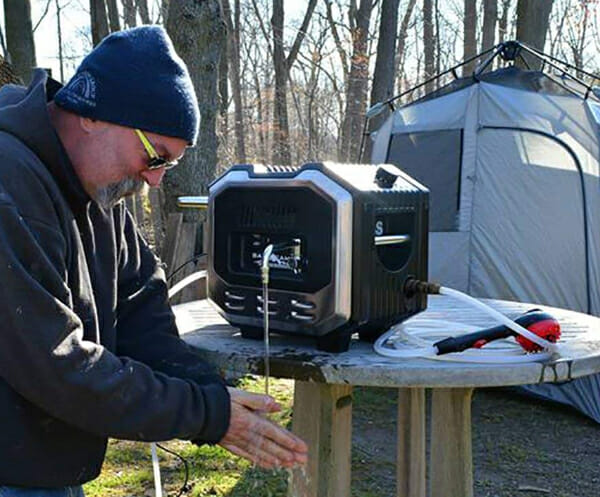 Camping Shower Types
Gravity Showers
These portable shower bags need to be hung above shoulder height and rely on gravity to deliver water to the shower head.
Gravity showers are going to give you the least amount of water pressure. The downside is you won't feel nearly as clean afterward because it's harder to get a good scrub with a trickle of water. The upside is that your water can last longer because the pressure is so low. These tend to be the most compact design because there are less parts involved. That also means they're on the cheaper side as far as price.
Foot Pump Showers
This is a shower bag with flexible plumbing attached to a foot pump. As you apply pressure to the foot pump, water flows quickly through the shower head making it a hands-free campsite shower. A benefit to this type of portable shower is you get nearly full control of the water pressure. There is no electrical power source involved so they're lightweight and compact.
Foot pump camping showers don't need to be elevated to operate. You can place the bag on the ground and use them to rinse out dishes or wash your dog.
Battery Powered Showers (Submersible and Tankless)
Battery powered camping showers come in a wide variety. The two main types are tankless and submersible.
Submersible showers are simply a portable shower head with a rechargeable pump that you drop into a water source. The pump will draw water from your basin and pump it out through the shower head. They are normally controlled by a small button and may have multiple pressure settings.
The biggest advantage to submersible camping showers is there's no limit to the amount of water you can use. Batteries are powerful, and can often continue to pressurize water for up to an hour. Portable, rechargeable showers are extremely lightweight since there is no tank involved. That makes them ideal for camping, hiking or backpacking.
What are the downsides? If your battery runs out, you're out of luck. Many of these can be charged using a USB cord and your car's cigarette lighter which makes them ideal for travel. You'll also have to find or bring along your own water source. We recommend checking out this post on camping water containers if you're not sure what to use.
Tankless hot water showers work similarly to submersible showers. The difference is they draw water into their own reservoir and heat it up first. Then the water gets sent through the pressurized shower head. These are the most expensive option, but also the most similar to the shower you have at home. There are a lot of benefits to the tankless hot water camping shower: They can get extremely hot. You have a nearly unlimited water source. And they have the highest water pressure available. Tankless portable hot showers can also sit on the ground or table and double as a sink.
With all that being said, these systems are bulky. They require propane to heat the water (we'll get into that), and they're expensive. Tankless hot water showers are best for car campers, people with a little extra space in their truck, or large families who want a full bathroom experience.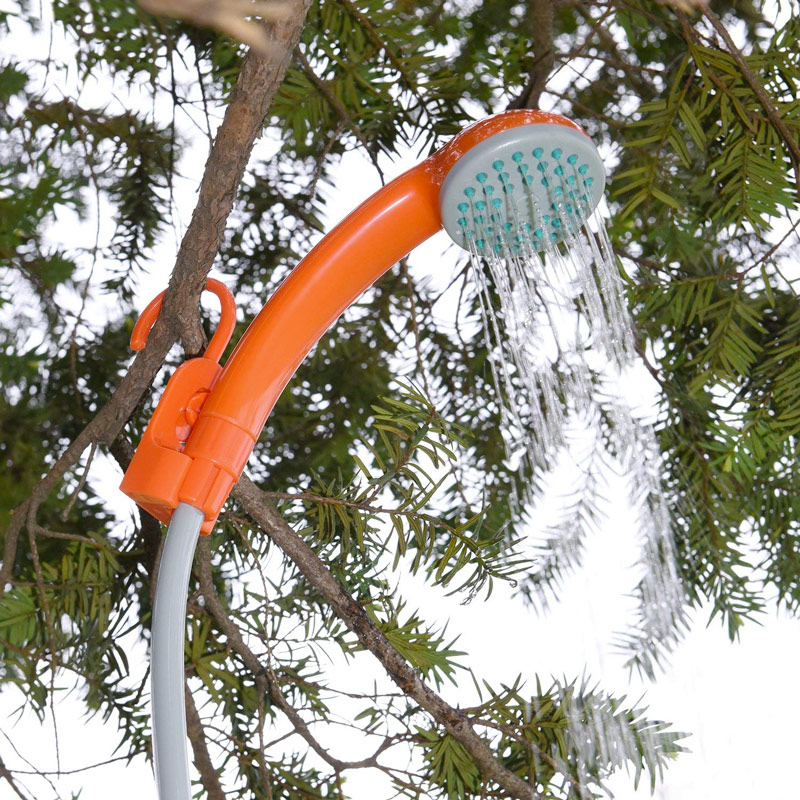 Camping Shower Installation
Most camping showers are meant to be hung on a tree branch or object elevated above shoulder height. If you have a pressurized shower, you can sometimes get away with it hanging lower – or even sitting on the ground. But what do you do if you're camping in the desert and there's no trees?
One option is attaching it to your car. A roof rack or cargo basket might be a good place to start. Alternatively, bring some extra rope camping with you. You can run the rope from the top of your vehicle to another high point and tie your shower bag to that.
Worse case scenario? Grab a friend. They can hold the shower bag up while you take a quick rinse.
Hot or Cold Camping Showers?
Is comfort on the go vital to you? If the idea of a cold shower makes you shiver then you need to pay close attention to the hot water features that your portable shower offers.
Some camping showers have no powered heating system at all, while others use things like solar panels or even propane to heat the water. In most cases, your shower is never going to get sizzling hot, but solar and insulators make a difference.
Tips to make your camping shower warmer:
Place the shower bag in direct sunlight
Heat the water before filling your shower bag
Purchase a camping shower with a solar heater
Look for shower bags that have insulator panels
For a luxury option, invest in a propane heated portable shower
How To Clean Your Camping Shower
Camping shower bags can handle tens of uses before needing to be cleaned. The biggest thing to worry about is mold if water has been sitting stagnant inside for long periods of time. The best way to keep them clean is to dry the bag out completely after use.
To go a step further, rinse it out with a bit of soap and hot water when you get home. Then open all of the valves and let it dry completely before packing it away. Never drink out of a camping shower bag.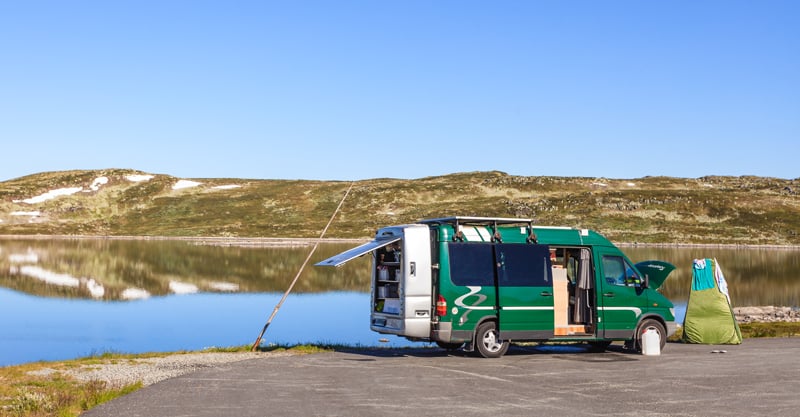 Camping Shower Accessories
While a camping shower and some water is all you need, these two things might make a difference in your comfort level:
Privacy tent: These pop up tents are a good place to shower in the woods if you don't want to be seen by everyone. Look for a shower tent that has enough space to stand up inside but also packs down small. Make sure you get a tent without a bottom! You don't want to end up with dirty shower water sloshing around by your feet.
Eco-friendly camping soap: Backpackers and campers use biodegradable soap because it won't harm the environment and you can use it for more than just showers. Cleaning dishes and washing your hands are other acceptable uses. One thing to know about camping soap is that you shouldn't use it in lakes or streams. You should allow the suds to flow into a hole 6-8 inches deep then cover them afterward so they can safely biodegrade.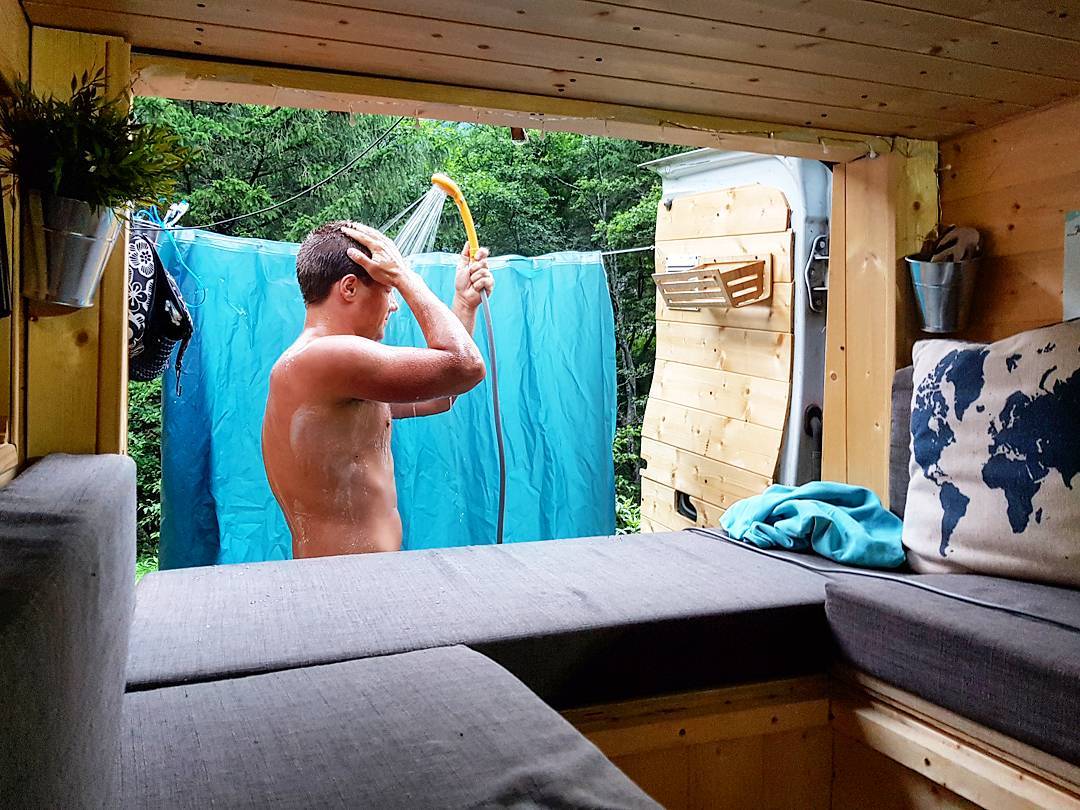 The Best Camping Showers Reviewed
If you love camping, hiking, and trekking but hate the sweat and the grit, consider purchasing a camping shower. We recommend these are the portable showers if you're looking for the best value and ease of use.
BEST VALUE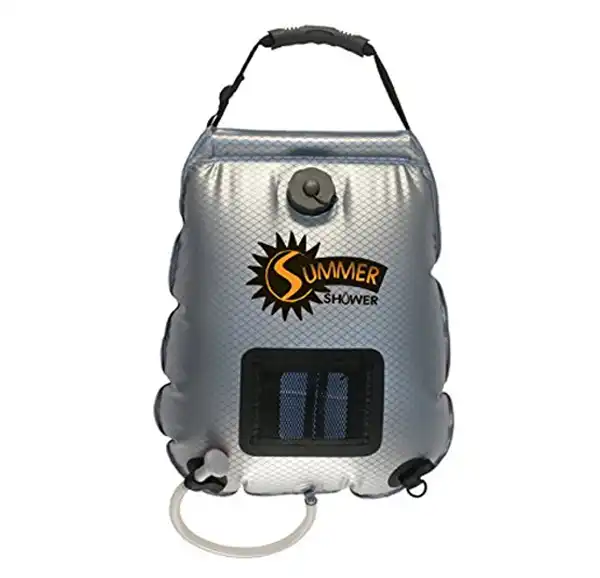 Advanced Elements makes a 5-gallon solar shower that packs down small and produces warm water on the go. It's made with 4-ply insulated construction with a reflector panel so the sun can help heat the water faster. A small solar panel is used to power and display a temperature gage so you know how warm the water has gotten.
The shower bag has side pockets to stuff your shampoo. And there's an 18 inch, gravity fed shower hose to disperse the water.
This is the best camping shower if you're looking for something small and inexpensive. It won't give you blazing hot water and doesn't have the highest water pressure, but it works well for short camping trips.
Pros:
Good value
Extreme portability
Very few parts
Cons:
Water won't get particularly hot
Not the greatest water pressure
BEST FOOT PUMP SHOWER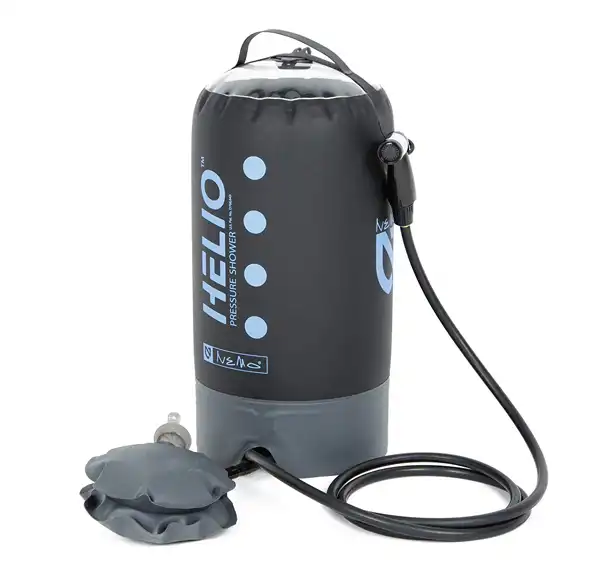 The Nemo Helio shower is another easy-to-compact camping shower bag. This shower uses a foot pump to deliver pressurized water through the sprayer. That gives you full control over the water pressure which is a big benefit over the gravity-fed designs.
Nemo Helio has an 11 liter shower bag which gives you 5-7 minutes of continuous water flow. That should be enough for multiple people to take a quick rinse. A 7 foot hose means you don't have to stand directly under the bag and because it's pressurized you don't need to hang it too high to operate.
This foot pump camping shower is perfect for someone who wants more flow than a gravity-fed system without the high price tag. It's size and portability makes the shower ideal for camping, backpacking, canoe trips and beaches.
Pros:
Reliable with no power source
Controlled water pressure
Lightweight and compact
Cons:
No heating system
Large capacity could get heavy when full
BEST SUBMERSIBLE SHOWER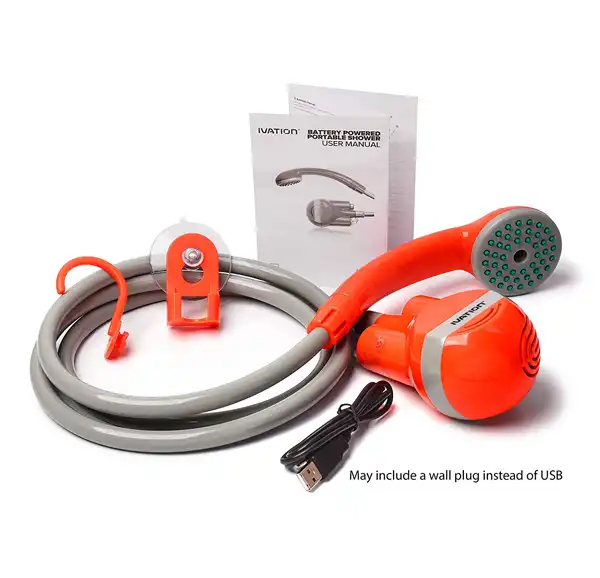 One of the most convenient and lightweight shower options to take camping is a submersible shower. The Ivation portable shower doesn't contain a water reservoir. Instead, you can drop the pump into nearly any water basin to create an instant camping shower.
The Ivation uses a rechargeable battery to operate which can last for up to 60 minutes of shower time. Then, you can recharge the battery with a 12v USB cord and your car's cigarette lighter. All of these features make it the perfect solution for car camping or large groups of people.
While the submersible shower doesn't have a hot water heater, you can easily heat your water basin to the perfect temperature before using it.
Pros:
Pressurized sprayer nozzle
Full battery charge lasts up to an hour
Great for large groups of campers
Cons:
No water heater
No water reservoir
PORTABLE WATER HEATER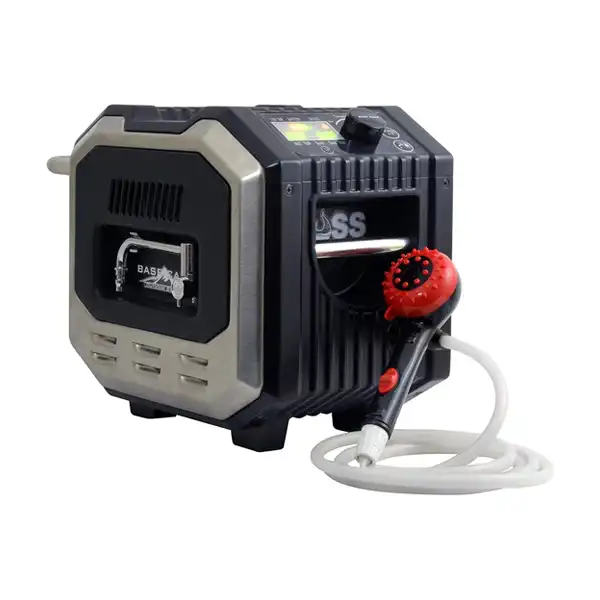 A premium camping shower that stands out from others on the list is the Mr. Heater BOSS. This tankless shower uses propane and 12v electricity to heat and pressurize water up to 45°F above baseline.
The heater comes with a built-in rechargeable battery which lasts for up to 40 minutes of run time. It also has a built-in sink faucet to use alongside the shower head.
A lot of extra features are included with this camping shower. For example, there's a control panel that displays temperature settings, battery level, over-temp indicator, and water inlet/outlet temperature.
To be clear, this is not the type of shower you would take backpacking. It is powerful, bulky and requires you to pack a tank of propane. This shower is best for car camping trips, van life, overlanding, and off-grid adventures. You need to have space in your vehicle to bring the Mr. Heater BOSS.
But, if you have room and can keep the unit charged–its nearly indistinguishable from your home shower. You'll benefit from the highest water pressure, the hottest temperatures, and a seemingly endless supply of water. Enjoy!
Pros:
Highest water pressure
Hottest water
Separate sink faucet and shower output
Cons:
Most Expensive
Bulky
Requires propane fuel
Wrapping It Up
Imagine if the next time you went camping with friends or family, you didn't have to cut short and rush home in anticipation of rinsing off. How would it feel if you could finally unwind, relax, and have some fun? If you spend time on the beach, in the woods, or at your favorite campsite, then you'll find that a good camp shower is worth its weight in gold.
Looking for the cheapest shower that will still get the job done? Then the Advanced Elements camping shower is your best bet. Looking for a low-tech backpacking shower that still offers a pressurized sprayer? The Nemo Helio is perfect for you. The Ivation portable outdoor shower is the best bet for a compact and inexpensive tankless shower.
Finally, if you want to bring the comforts of a home shower to your campsite consider the Mr. Heater BOSS. It will give you the best pressure and hottest water in a portable camping shower.
Take a look at these similar articles: