15+ Amazing Van Life Shower Ideas
By
on
This post may contain affiliate links. As an Amazon Associate, I earn from qualifying purchases. Please read my full disclosure.
Some of the most luxurious camper van conversions come with bathrooms built-in. These bathrooms can include showers, toilets, hot water plumbing, and even soap dispensers!
In this article, we're going to take a look inside the coolest van life shower ideas. We hope this article will give you an idea of how to outfit your van–or at least some pictures to drool over while you plan your own build.
Keep in mind, not every camper needs a bathroom. In fact, you can get by with a simple portable toilet instead.
No room for a shower? Read this article about how to find free, public showers when living in a van
Our Favorite Van Life Shower Ideas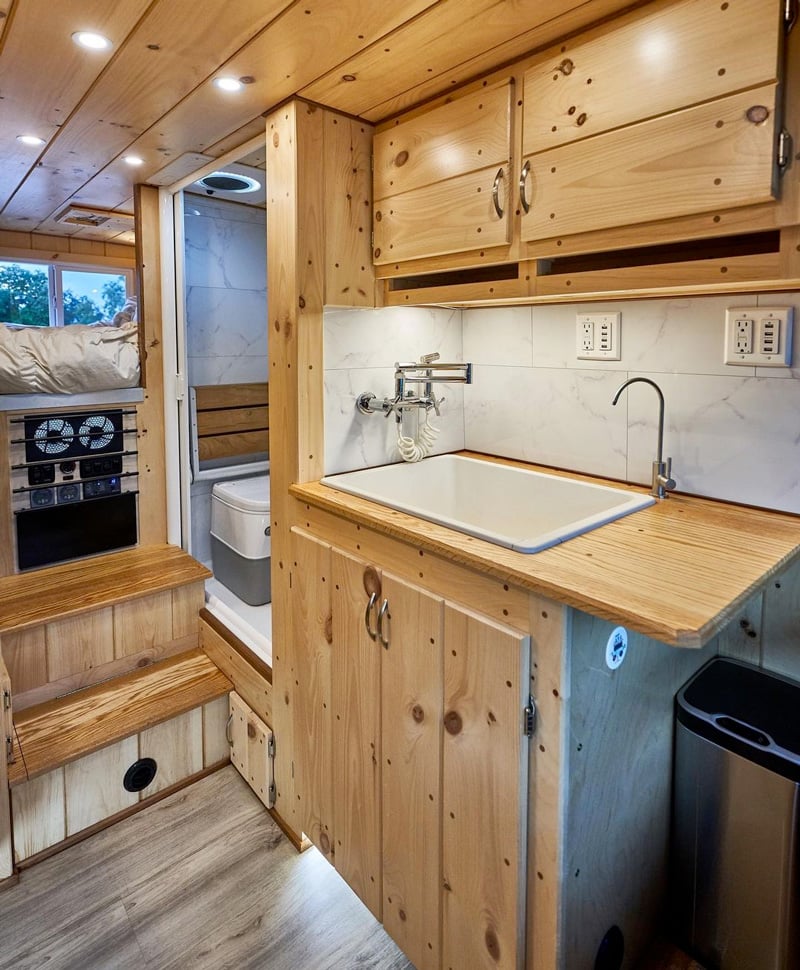 The Horo Company was founded by an adventurous couple who love to live life on the road. They built this gorgeous Dodge Ram ProMaster with a wet bath inside. The bathroom includes a shower and portable cassette toilet.
A cassette toilet works similar to the one you have at home. To use one simply do your business, then use the hand pump to flush the waste into the reservoir below. Chemicals will break down the components.
Then when the waste reservoir gets full, you can simply dump the contents into a waste station or a public restroom.
We like these types of toilets because they're portable so they'll fit in the tiniest of camper vans. And you don't need a full bathroom installation to use one–perfect for van life!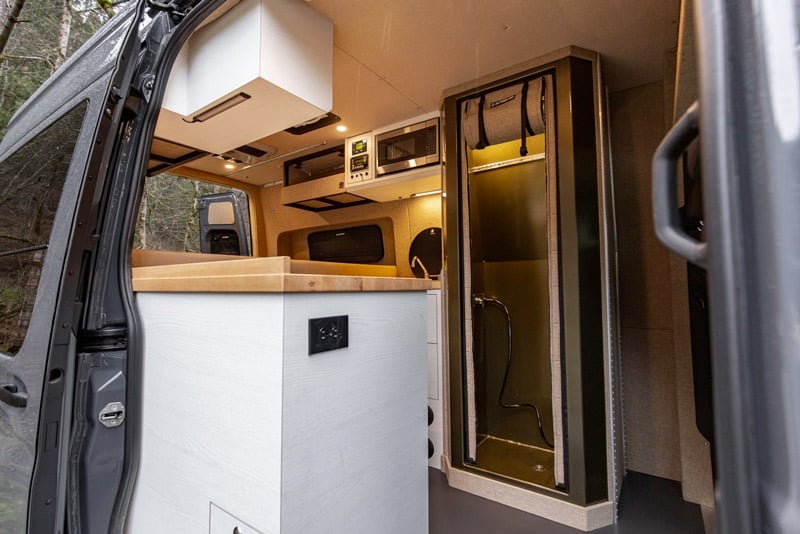 Outside Van is one of our favorite camper conversion companies. They build over 100 new rigs per year so they know exactly what they're doing when it comes to bathrooms.
One of the things that we love about their van life designs is that many campers include a fully enclosed aluminum shower.
If you're looking to build your own camper van, you may already be aware that installing a hot water heater is not the most straightforward process. It involves plumbing, freshwater tanks, waste water tanks, and a 12-volt water pump.
Fortunately, we've created a water system guide with plumbing diagrams to help you design your own camper shower to put in the bathroom.
Camper Van With Shower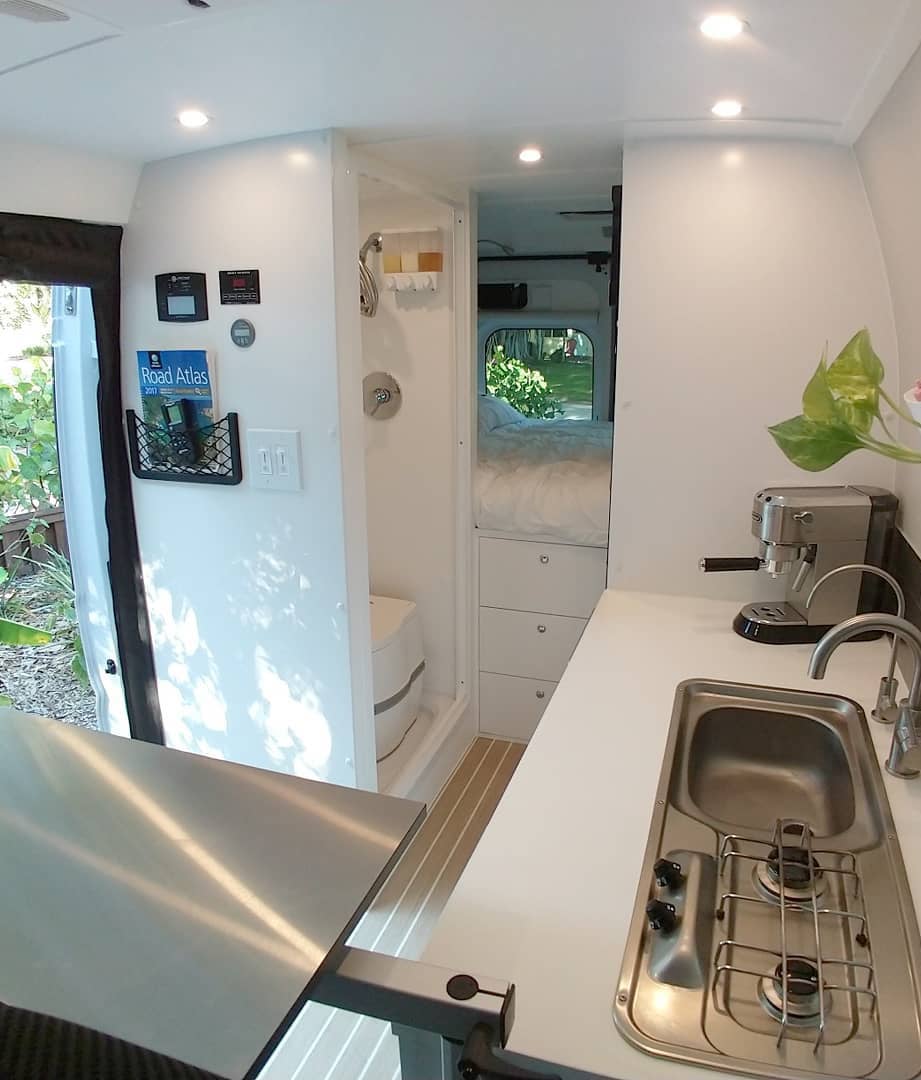 Another rig that uses a combination of a shower and portable chemical toilet is this bathroom design by Zack–who sometimes posts.
We love how these tiny bathrooms make excellent use of space inside the camper. The toilet can be pulled out when it's time to shower. And the accordion door makes a discreet place to sit down and do your business during the day.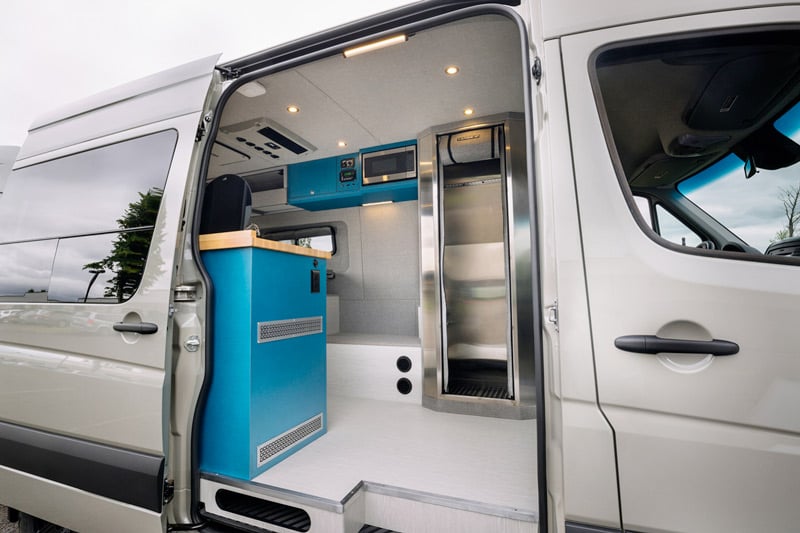 This is another build from Outside Van that includes a fully enclosed aluminum shower.
One thing that's cool about this bathroom is the fact that it uses a waterproof canvas as the door. You can roll up the canvas when not in use to dry everything out. It's lightweight and easy to clean.
What about smells?
We recommend installing an RV vent fan into every diy camper van build. Not only will this help keep smells out, but it will keep you cool in the summer with constant air circulation. And it will keep your interior dry and moisture-free during the winter.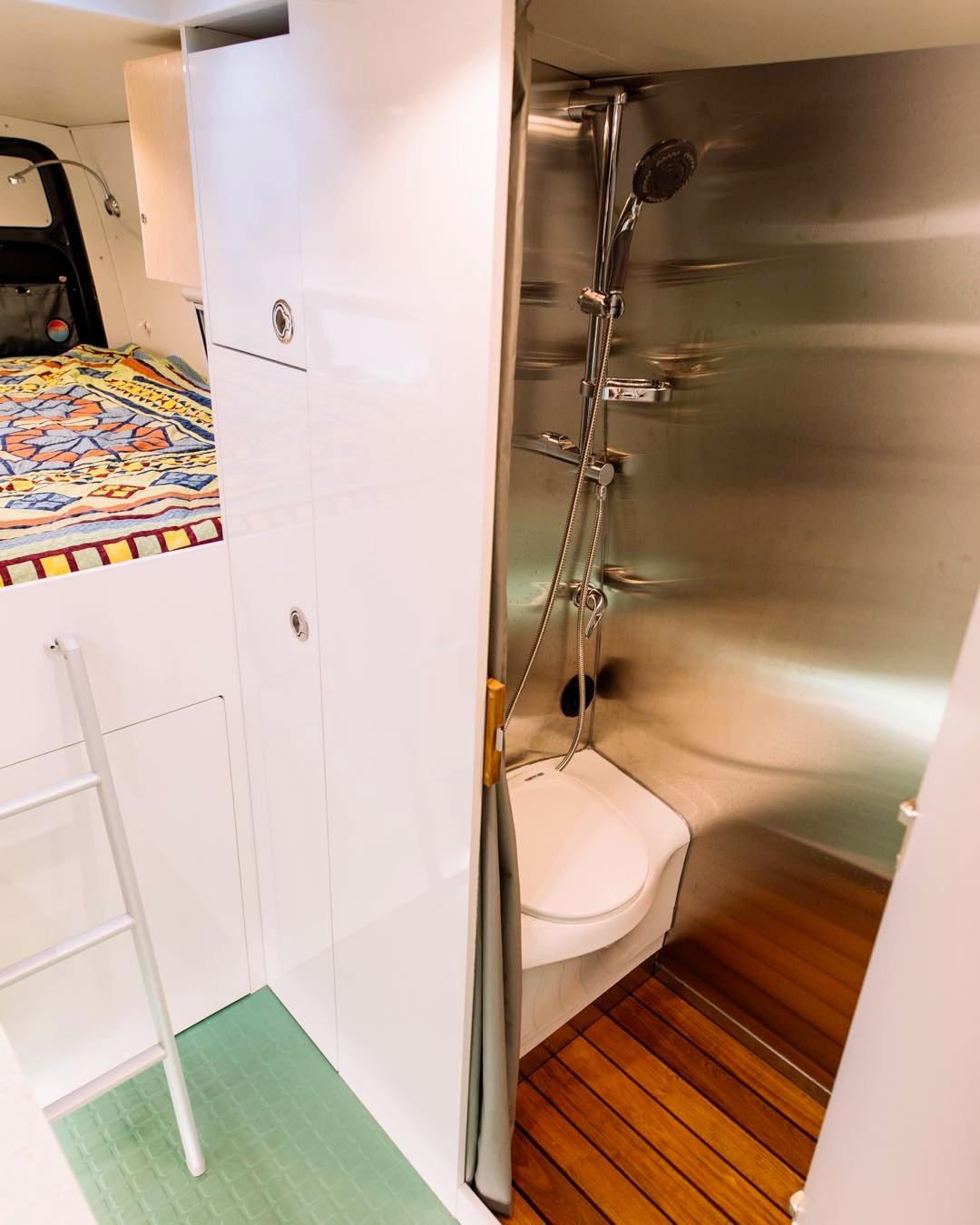 This is a bigger camper van bathroom designed by NomadVanz. The wet room has a gorgeous wooden floor where water is re-directed straight into the gray water tank below.
A larger, chemical toilet is included right inside the bathroom.
These types of RV toilets are very common in motorhomes and travel trailers. They work just like the portable version but the wastewater tank can be accessed from outside the vehicle.
With these bigger toilet setups, you can go longer without emptying. If you plan to dispose of your waste less frequently, make sure to use RV safe toilet paper which will completely dissolve and leave more space in your tank.
Camper Van Bathrooms With Toilets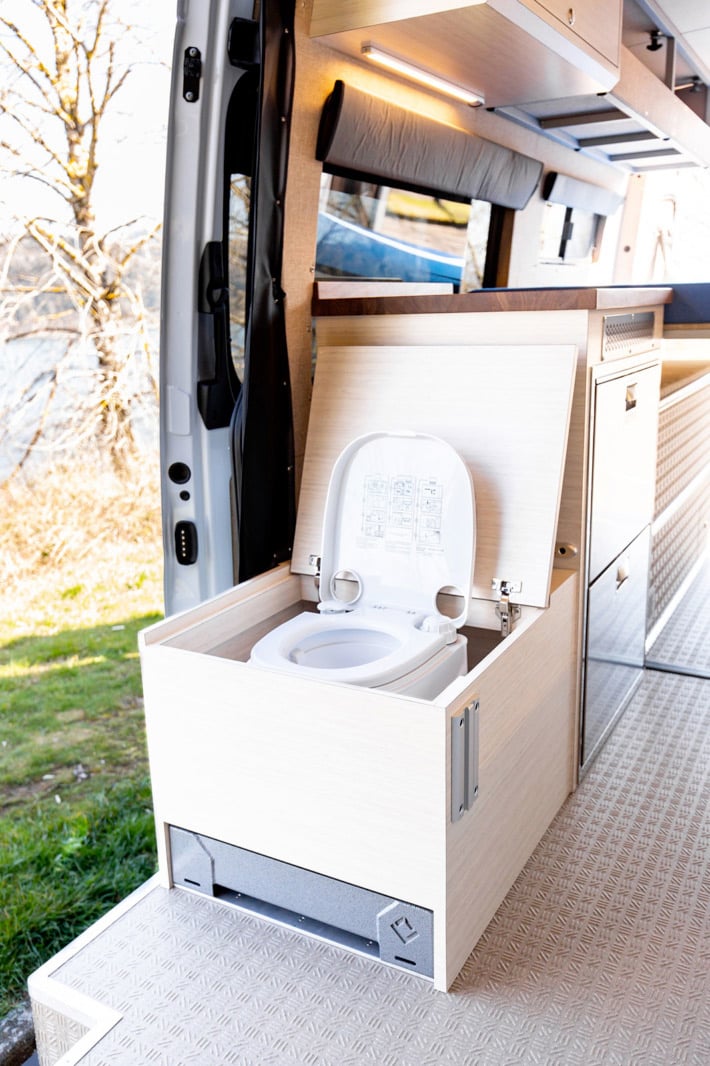 If you're looking to go the more minimalistic route, then a hidden toilet may be all you need. Again, in this case we like to go for a portable camping toilet which is easy to move around in and out of the van.
They can be placed in bathrooms, under cabinets, or even in the great outdoors.
There are many types of van life toilets to choose from. The cheapest is a simple bucket toilet, while the more expensive chemical toilets can cost upward of $100.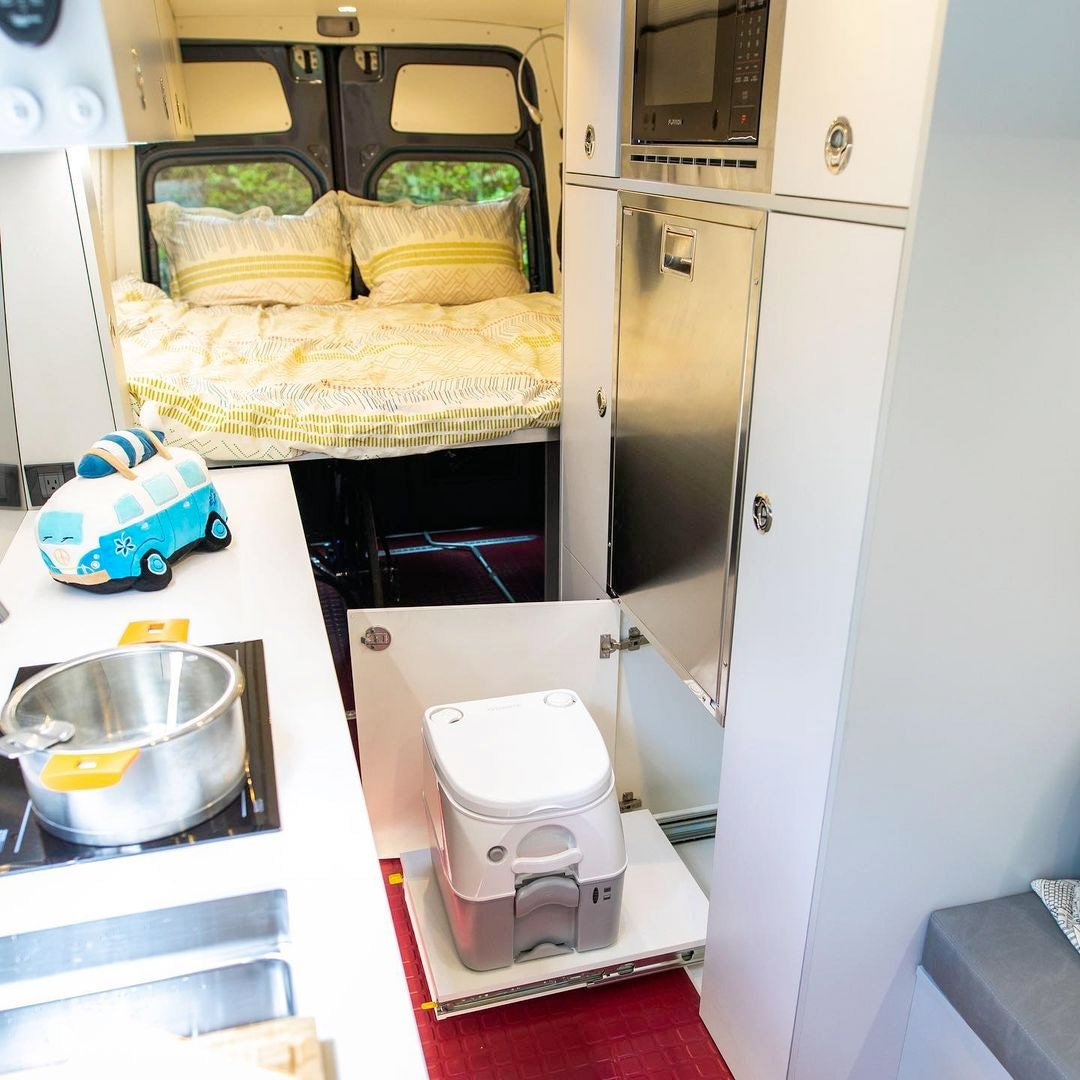 We like how NomadVanz hid their toilet beneath the fridge in this mini bathroom design. The pull-out cabinet keeps the throne completely discreet but also leaves plenty of room for storing toilet paper or other bathroom accessories.
Composting Toilets In A Van Life Bathroom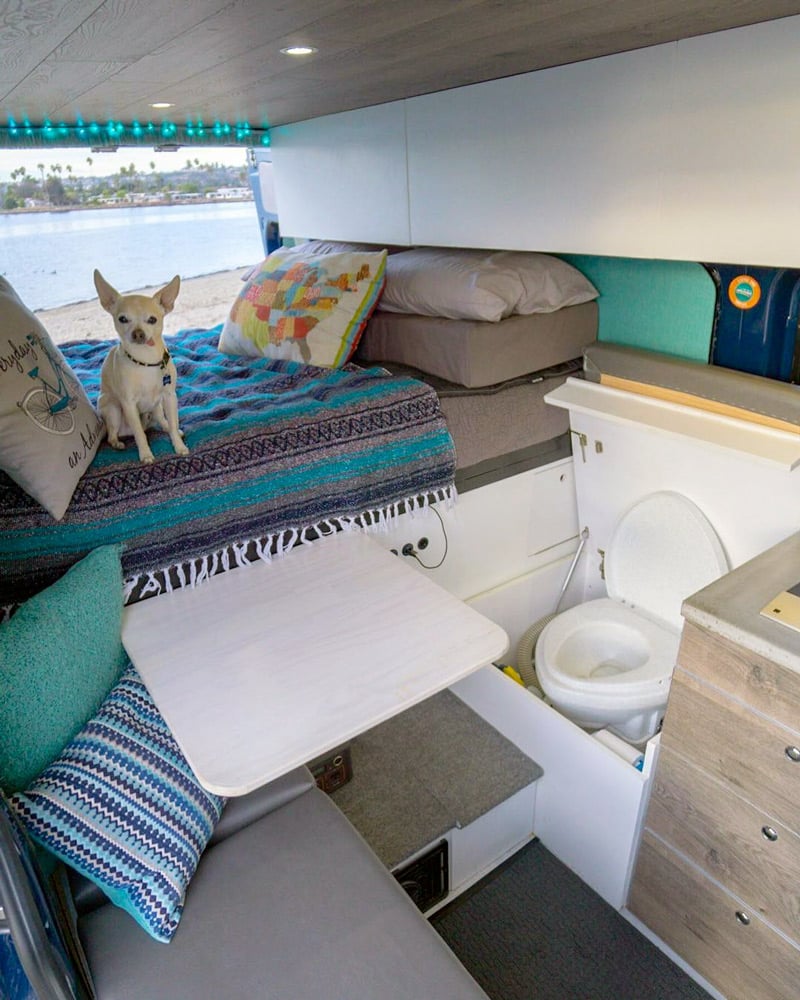 Another type of toilet we've yet to mention is the portable composting toilet. This is a more advanced design that uses coconut coir or peat moss to break down waste in an eco-friendly way.
Composting toilets keep the smell down by separating solid from liquid waste products. They also utilize a small, 12v fan to re-direct smells outside the bathroom.
Many RV campers prefer the composting toilet because they are eco-friendly, simple to dump, and can last weeks without getting full.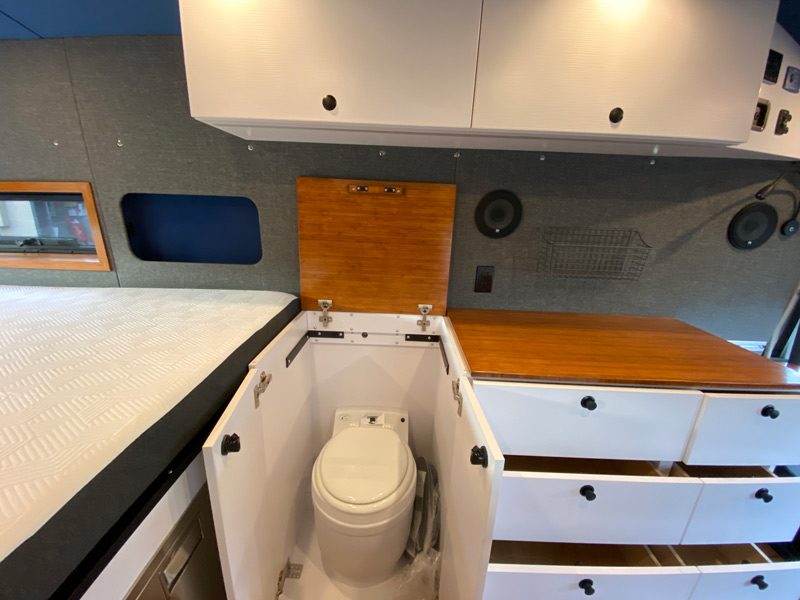 If you'd like to build a composting toilet into your camper van bathroom, you should be aware that these are some of the most expensive products on the market.
However, many campers swear by them and will go to great lengths to replace their standard RV toilets with this version.
That's because composting toilets are the best solution for boondocking or traveling for long periods of time like in van life. They also make a great addition to your bathroom because they're so comfortable it will feel like being back home.
Beautiful Van Life Shower Ideas And Designs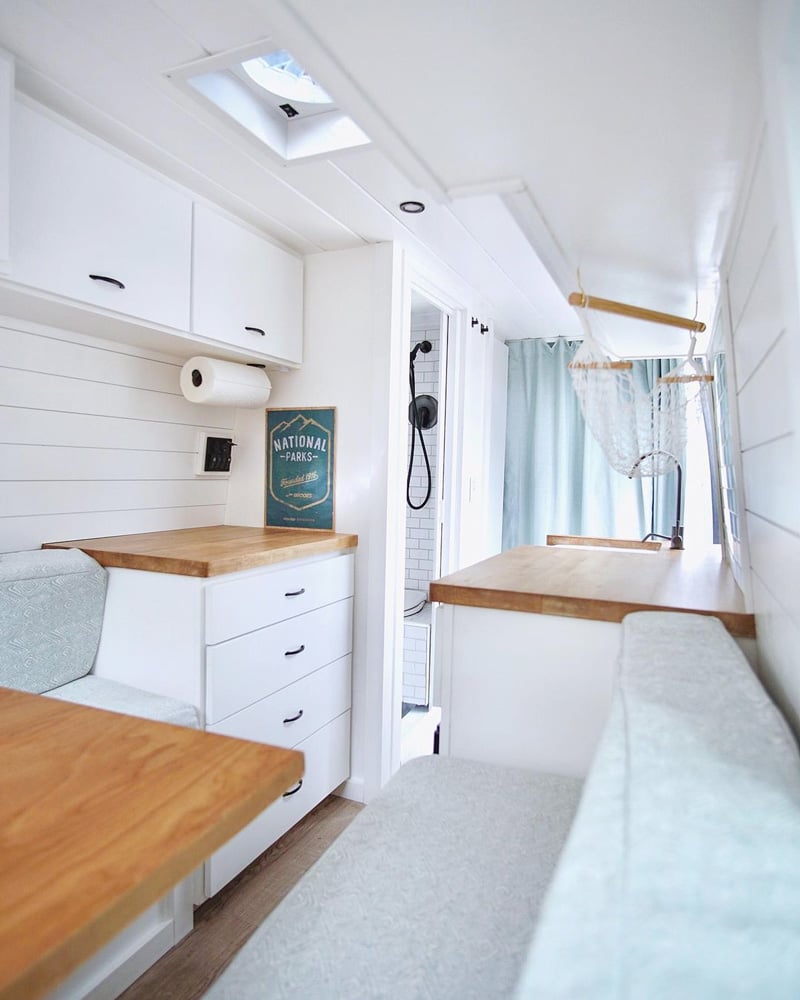 Sara and Alex James have designed a number of camper van conversions and each one is more beautiful than the next. We love that all of their builds include a full bathroom with toilet and shower.
If you're going to be spending any amount of time on a sandy beach that's a must-have!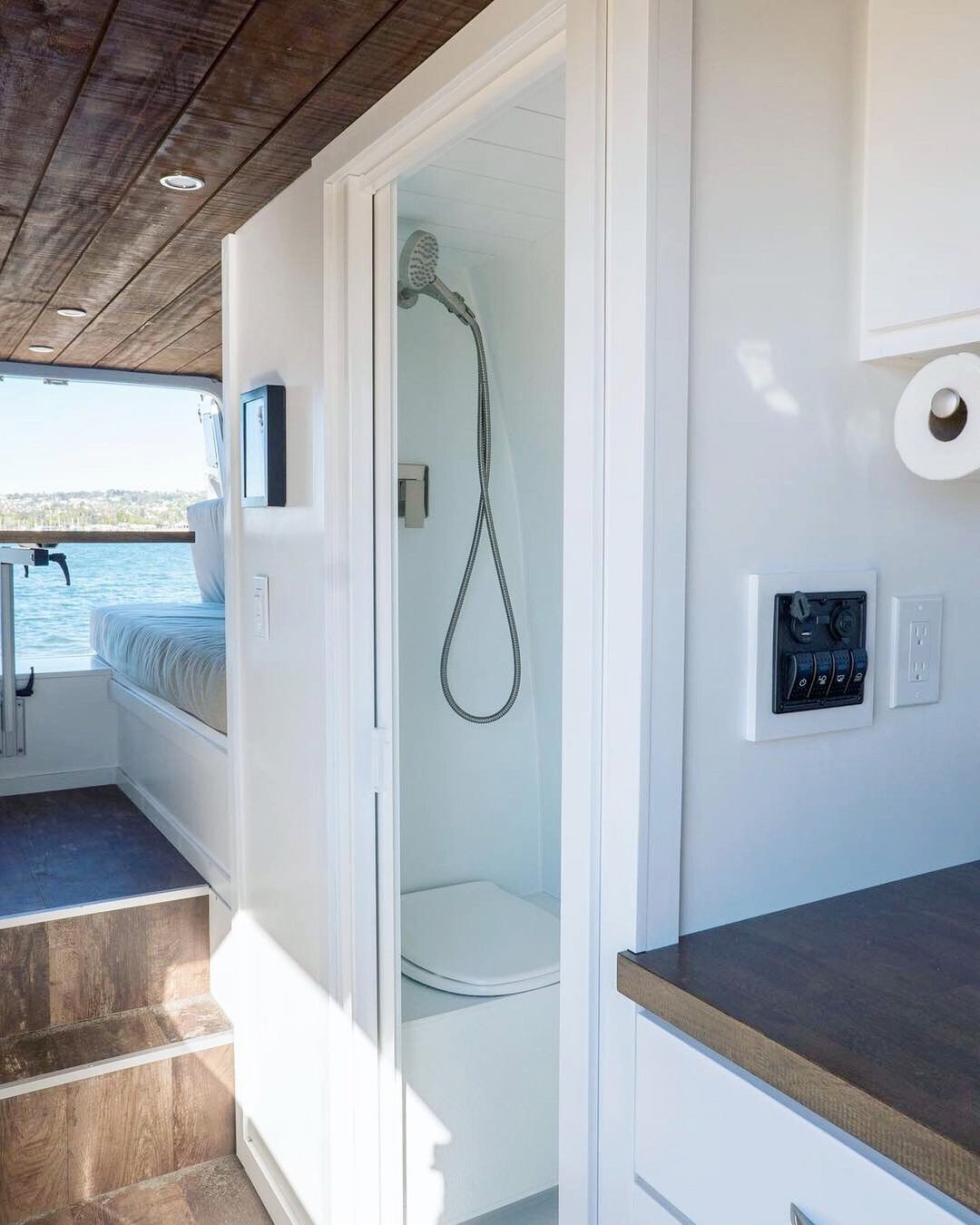 The bathrooms they design use a cassette toilet and comforting RV shower head.
These shower heads conserve water by adding air to the water stream which can increase pressure even if your pump can't produce enough gallons per minute.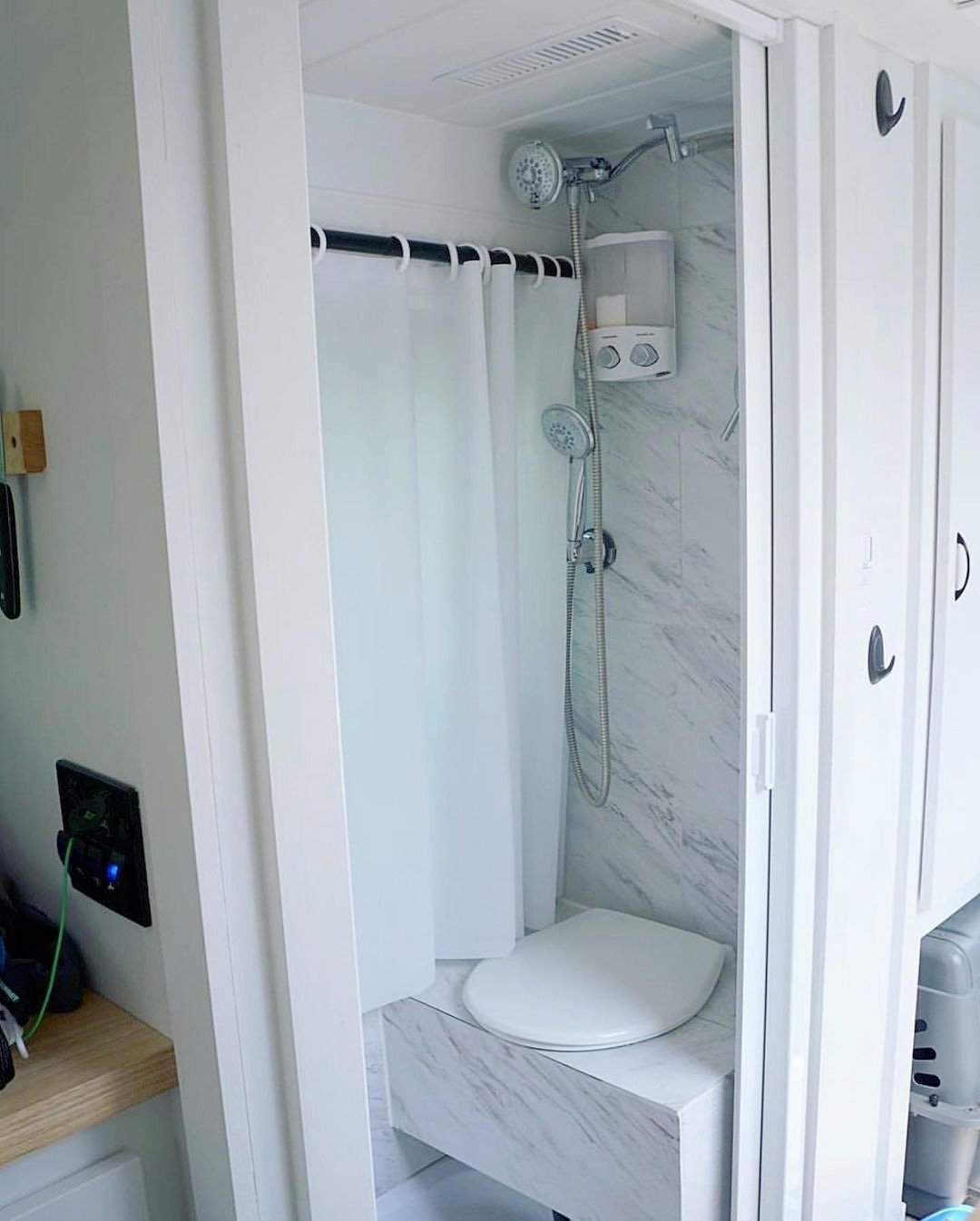 We like that the campers Sara and Alex have designed are so light, bright and beautiful.
The white colors and tiling make these bathrooms feel like something you would find in a beachside condo. They also make great use of space tucked between the closet and the kitchen.
More Small Camper With Bathroom Ideas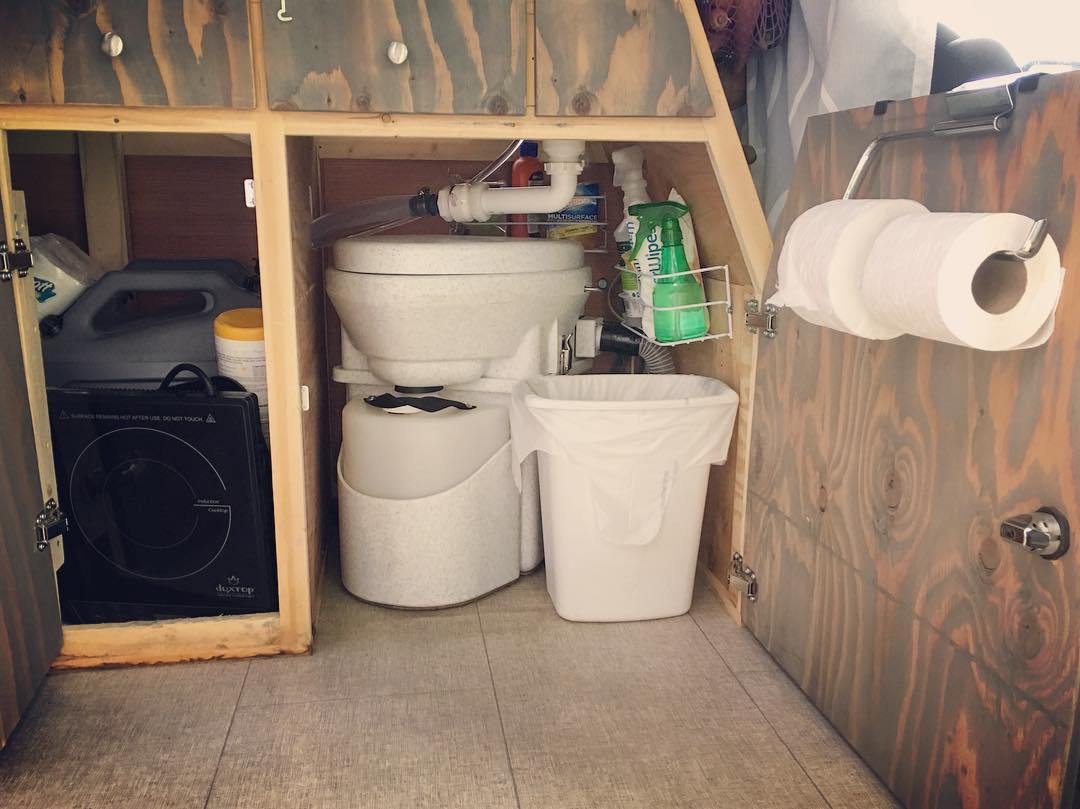 This composting toilet design shows that you don't always need to leave room on top to walk into a bathroom.
In this case, the toilet can be pulled out from under the shelf when needed then tucked away for travel storage.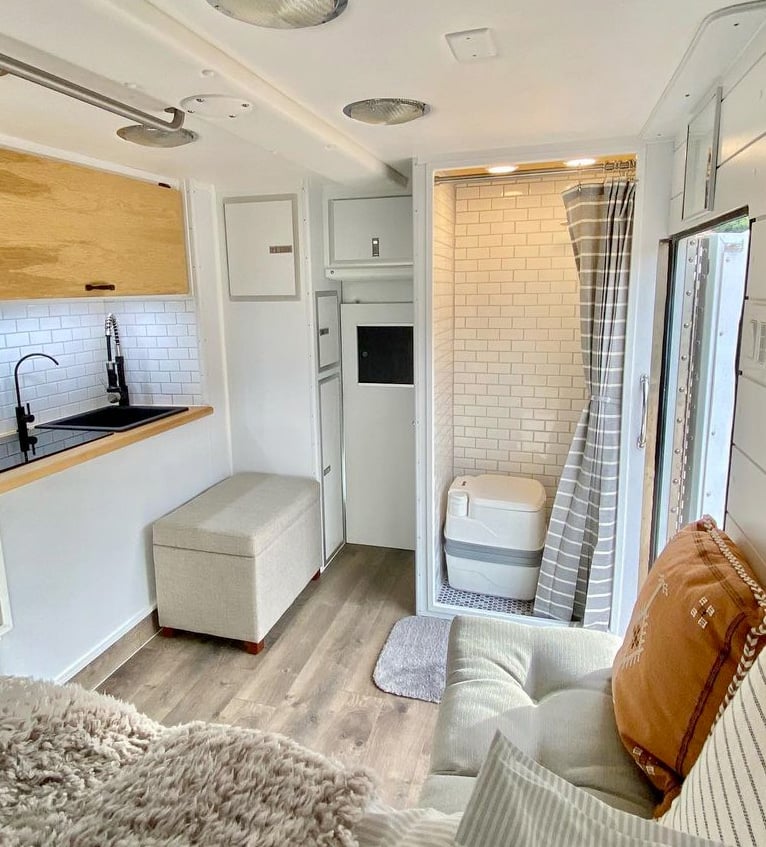 One of the most beautiful bathrooms we've seen is nestled inside a custom ambulance conversion. It features a portable chemical toilet that can be pulled out when it's time to shower.
We like that this shower is so large inside and it's just steps away from the great outdoors.
Van Life Shower Alternatives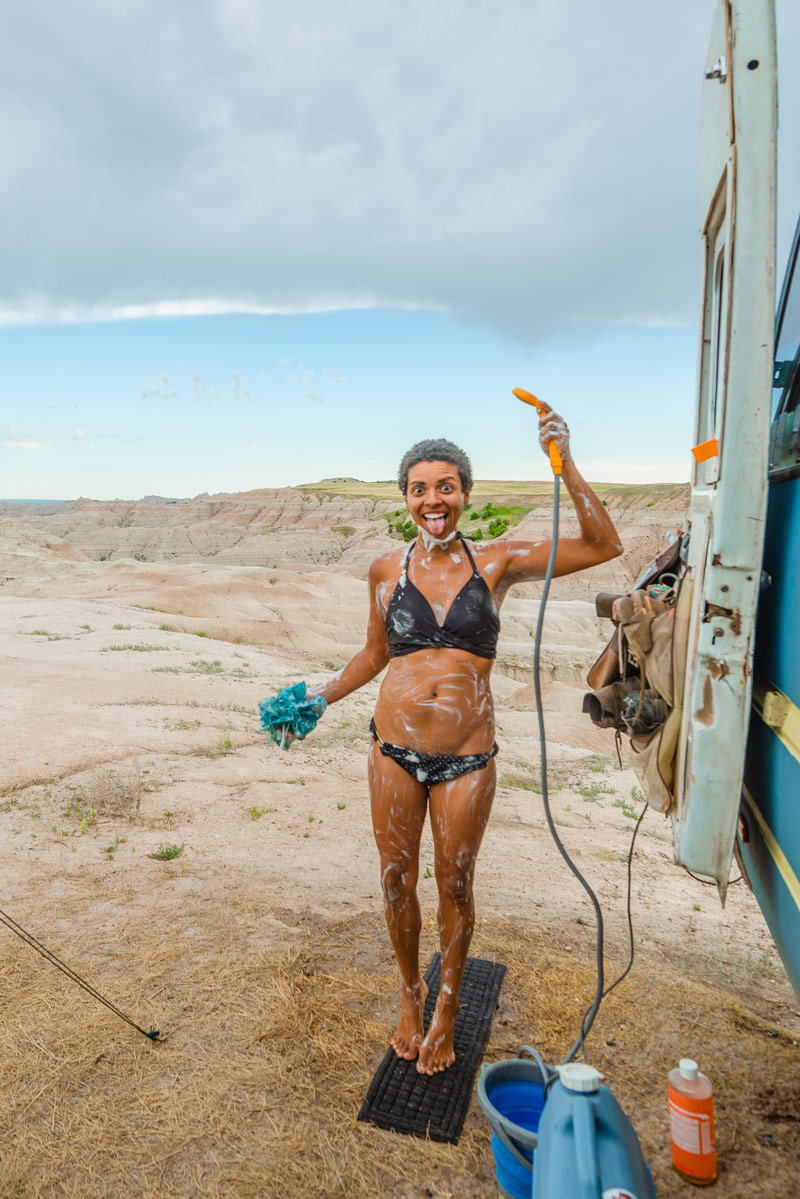 One thing we've commonly seen in budget builds are exterior showers. There are many different ways to shower on the road which don't involve a full bathroom setup.
Submersible shower heads are battery-powered and can be used with any large bucket of water. Just stick one end in the bucket, and you'll get pressurized water out the other end! You can heat up your water bucket ahead of time to create a more comfortable wash.
For those who want hot showers that can be adjusted to the perfect temperature, portable showers like the Mr. Heater BOSS Basecamp use propane and a rechargeable battery to deliver warm water out of the shower head or sink faucet.
What About The Toilets?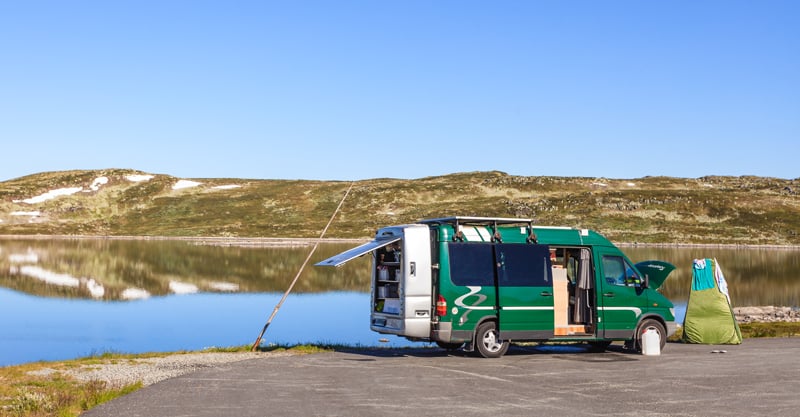 If you don't want to add an entire bathroom just for a toilet, there are alternatives for that too. A toilet tent is a great solution for those who want privacy but don't have quite enough space in the vehicle.
Alternatively, products like the SheWee or GoGirl. are designed for females to make going #1 on the road a little bit simpler.
Finally for the most rugged travelers, a portable shovel may be all you need! The boy scout method is a tried and true alternative for going #2 when you're out boondocking.
That's A Wrap
Hopefully these options have provided you with some clarity about the best way to add a bathroom to your camper. Check out some of these related articles for the most comfortable van life solutions: