Best Portable Toilets For Camping And Van Life
By
on
This post may contain affiliate links. As an Amazon Associate, I earn from qualifying purchases. Please read my full disclosure.
"So I have to ask… where do you go to the bathroom?" This is the first question asked by friends after we give them a tour of our camper van. It was also my biggest concern about camping full-time.
Much to our surprise, I can happily say we've been on the road for over a year, and finding bathrooms has never been an issue.
Fortunately, there are a number of ways to solve the portable toilet problem. The most common are: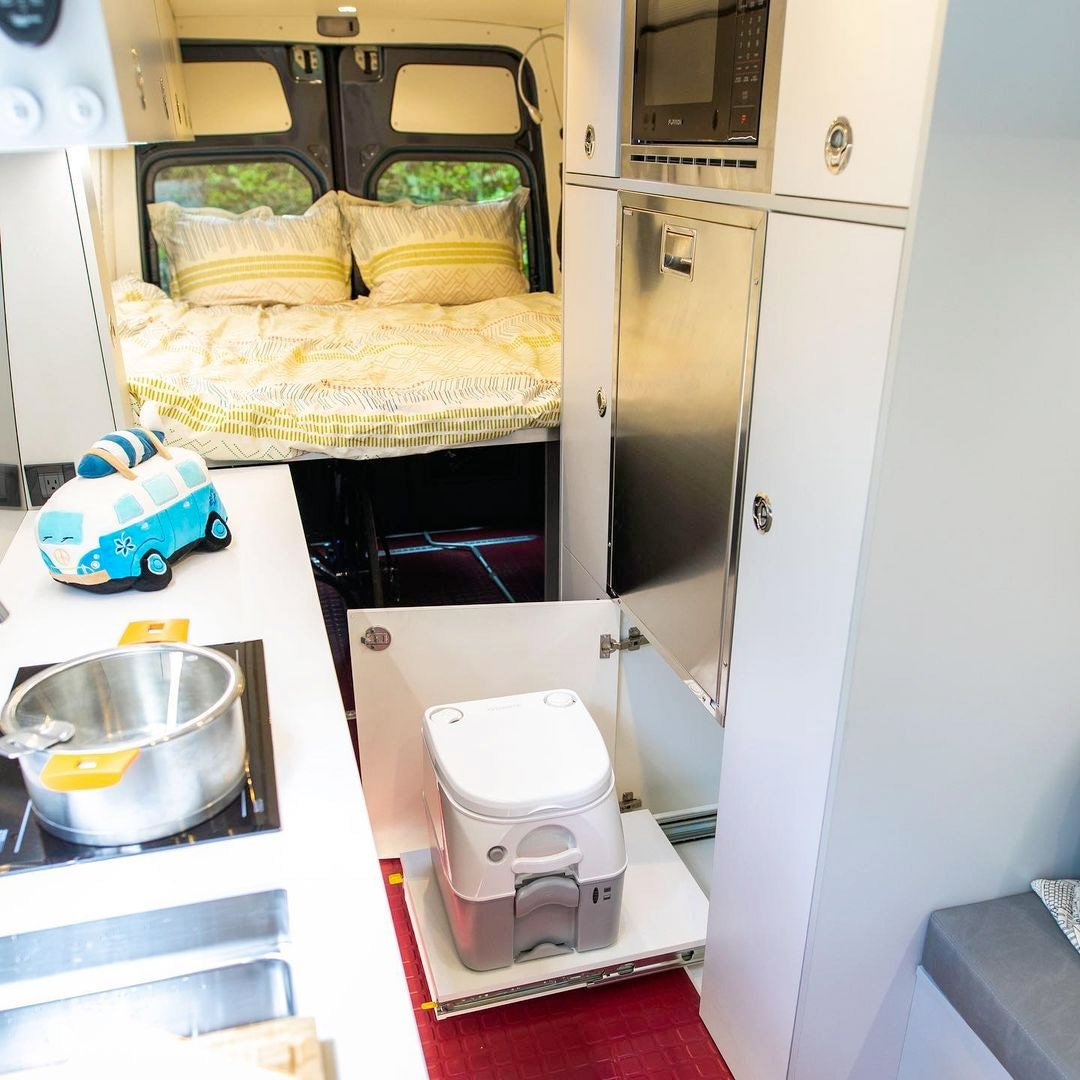 So where do we go to the bathroom? And why is this not a problem?
For one, we consider ourselves adventure campers. We spend 95% of our time on camping on public lands, in state parks, or private campgrounds. Almost all of these places have either bathrooms or vault toilets.
For the times when there are no bathrooms available, portable camping toilets are the perfect solution.
Going #1: The Pee Bottle
Guys, you have it easy on this one. The pee bottle (also known as a piss pot) is the original portable toilet. Just make sure you get one that seals shut and close it tight. I've read more than one horror story of someone knocking it over in the van!
What about the girls? Similarly, a funnel can be used to guide your pee straight into a bottle. There are companies that make fancier versions like the SheWee or GoGirl.
These products make it easy to aim your urine out in nature with no need to squat. Afterward, they can be cleaned, folded, and packed away discreetly making them the perfect portable travel toilet.
To clean a pee bottle, first rinse it with hot water and dish soap. It can then be sterilized with a mix of baking soda and vinegar.
BUCKET TOILET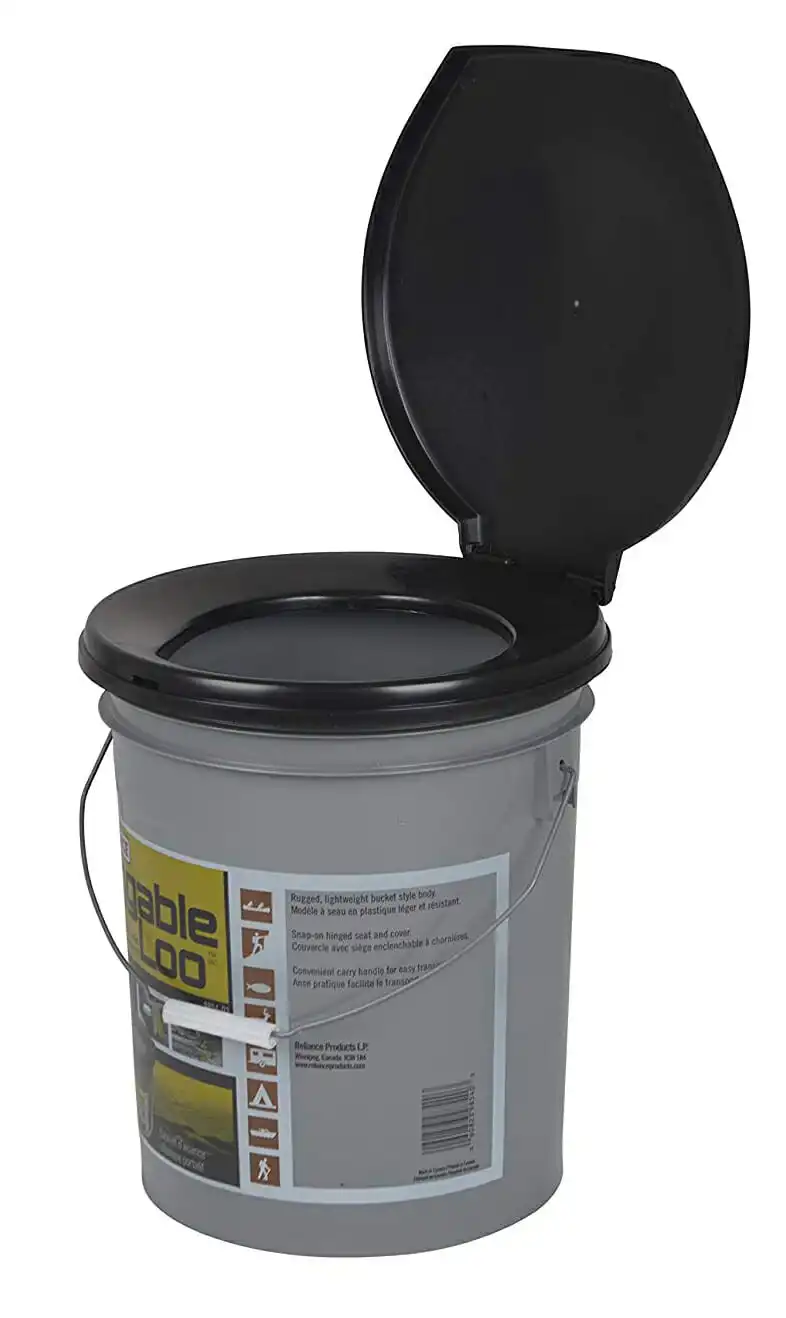 Portable Bucket Toilets For Camping
Bucket toilets are the cheapest portable toilets for a weekend camping trip.
To use a camping toilet:
Line the bucket with a plastic bag
Do your business
Cover waste with either saw dust, kitty litter, or peat moss to keep the smell down.
Dispose of the plastic bag in a dumpster just like dog poop bags or diapers.
The Luggable Loo is perhaps the most popular portable camping toilet. It is essentially a 5-gallon bucket that comes with a toilet seat and lid. The snap on lid will allow you to keep everything closed up and even use it as a separate seat as needed.
Slightly more expensive versions can be purchased that include rubber gaskets sealing the lid to reduce smell.
Each of these will operate in the same way requiring separate toilet bags and a gel or saw dust covering to keep things fragrance-free.
There are a few key components to making an experience with a DIY toilet more pleasant.
For maximum odor control: dump the bag between each session. Keep solid and liquid waste separated. This is essential to reducing unpleasant smells.
| Pros Of Using A Bucket Toilet | Cons Of Using A Bucket Toilet |
| --- | --- |
| Inexpensive | Requires Bags & Compost |
| DIY Potential | Smelliest |
| Extremely Portable | Easy To Knock Over |
| Easy To Dump | Not A Tight Seal |
| | Must Separate #1 and #2 For Odor |
| | One Time Use Is Ideal |
Build Your Own Toilet
If you don't want to purchase a ready-made portable toilet, it's easy to build your own. A 2-5-gallon bucket can be purchased at any hardware store or Walmart.
Chances are, you're going to want to sit on something other than the sharp, thin lid at the top of a typical bucket.
The cheapest route to go is purchasing an inexpensive pool noodle or ring of foam that can be sliced down the middle and placed over the rim of the bucket. This will serve as a stable seat.
Disadvantages of a camping toilet
The downside to a DIY toilet is that it can't be closed and needs to be emptied on a frequent basis. To combat this, there are a few inexpensive toilet options that operate in much the same way but provide more comfort and a sealable lid.
The Folding Toilet
A folding toilet works just like a regular camping toilet. The legs make these camper toilets easier to store and more portable for a small vehicle.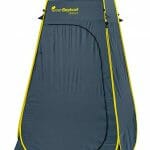 Camping Toilet Tents
If you're camping, or staying in one place for long periods of time consider purchasing a toilet tent.
Portable toilet tents can be used outside the van or in a campsite to add a lot of privacy. They pack down small and are simple to set up.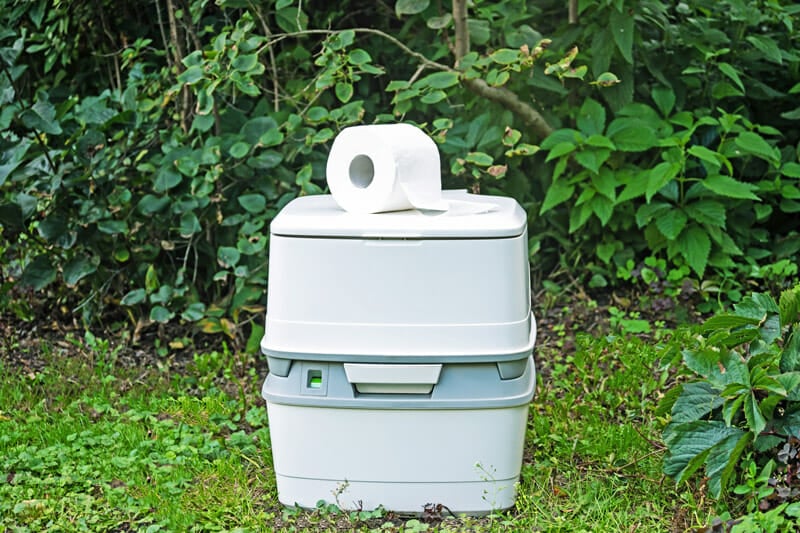 Chemical (Cassette) Camping Toilets
Cassette toilets (also known as chemical toilets), are common among the RV community.
They are similar to the toilet you have at home and will flush your waste away into a black water tank below.
These portable toilets do not use any electricity or batteries making them completely portable and great to take camping.
They are also lightweight and compact which allows them to fit inside of a small campervan.
CHEMICAL CASSETTE TOILET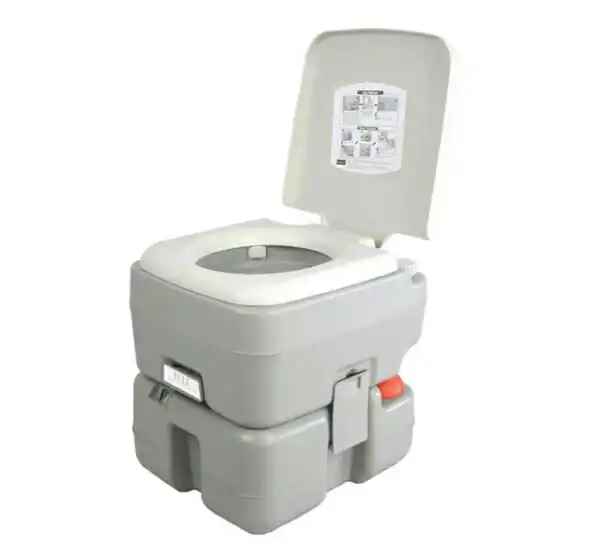 How Does A Camping Cassette Toilet Work?
There are four main parts in a cassette toilet:
Toilet seat with lid latch
Fresh water holding tank
Water Pump
A detachable chemical reservoir that sits on the bottom (waste tank)
You fill the fresh water holding tank with water and the chemical reservoir with toilet disinfectant. To use the portable toilet: simply do your business, flush it with a hand pump, then empty the waste tank later.
What happens to poop in a portable toilet?
The solid waste will get broken down into a liquid form making it simple to clean. There is also minimal smell.
How To Empty A Cassette Toilet Waste Reservoir
The waste tank will have latches so it can be separated it from the toilet seat and lid. Most come with their own handle that makes carrying it to a RV dump station or marina easy. Pour the contents down the appropriate waste area.
Where do you empty a camping toilet?
Portable camping toilets can be be dumped in a residual toilet or porta potty. This is a clean solution and you won't have to worry about touching anything. The waste receptacle can be washed out with water and ammonia to deodorize future smells.
Top Portable Cassette Toilets:
▸ SereneLife Outdoor Portable Toilet
▸ Camco Standard Portable Travel Toilet
▸ Thetford Porta Potti 260B
| Pros Of Using A Chemical Toilet | Cons Of Using A Chemical Toilet |
| --- | --- |
| Minimal smell | Need A Chemical Disinfectant |
| Robust | Not As Easy To Find A Dump Station |
| Completely sealed | May Freeze In Winter |
| Can be used multiple times | More Parts To Break |
| Can Go #1 and #2 In The Same Area | Requires Fresh Water To Operate |
Cassette toilets make some of the best portable camping toilets van life. They will be the most familiar to use and you do not have to separate solid from liquid waste.
Most parts such as the pump or valves can be replaced if they get damaged so they are long lasting.
Disadvantages
Aside from not being purely environmentally friendly, a downside to the chemical toilet is that the liquid could freeze in winter and damage the toilet.
To prevent this, purchase an environmentally safe anti-freeze from an RV dealer. For a quality portable flush toilet, you can expect to spend roughly $100.
Because waste is hidden in a reservoir, you may not be able to tell when the toilet needs to be dumped.
On some models, you may have to physically remove the waste compartment to check. In other models, an indicator will change colors when the toilet gets full.
BEST COMPOSTING TOILET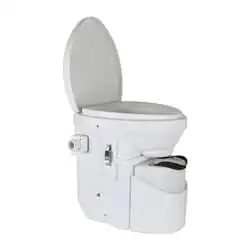 Nature Head
Portable composting toilet with a close-quarters spider handle design. Eco-friendly, easy to install, minimizes odor, and allows you to travel weeks without emptying.
CHECK LATEST PRICE
Portable Composting Toilet
Composting toilets are often used as an alternative to RV toilets. People like them because they are environmentally friendly, do not use chemicals, and can last longer in-between emptying.
While these are great toilets to install in a campervan or RV, they do require 12v electricity so they cannot be used as a stand-alone toilet portable camping toilet.
A composting toilet requires an extensive amount of setup. They are also more expensive than a portable cassette toilet.
How Does A Portable Composting Toilet Work?
With a composting toilet, odor is kept to a minimum by separating liquid and solid waste.
There is a liquid diverter door that can be operated using a lever that will divert liquid waste to a frontal bottle.
The lever can be moved the opposite direction to allow solid waste to fall directly into the composting bin. It is not possible to use both at the same time.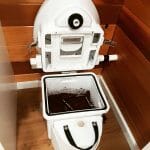 The main parts of a composting toilet are:
Toilet seat with lid latch
Liquid waste bottle
Solid waste bucket
Trap door liquid diverter
Composting crank
Vent Fan
Exhaust Hose
Composting toilets have a small ventilation fan that will pull clean air in, and vent exhaust through a pipe outside of the vehicle.
This means when setting up a toilet, you will have to build in an external exhaust and hook up the toilet to electricity.
The exhaust fan is very small and will draw as little as 0.1 Amps. Due to the exhaust system, there is no odor associated with composting toilets except when cleaning it out. During this process, it smells like soil.
How To Dump A Portable Composting Toilet
Liquid waste must be emptied on a frequent basis and sometimes it can be difficult to tell when it is getting full.
Solid waste will fall into a mix of either coco coir or peat moss. After depositing solid waste into the composting mix, you will have to turn a crank to mix everything together.
The solid waste in composting toilets can be dumped into a garbage bag and disposed of in a trash can. Because everything is separated, you should only have to dispose of solid waste every few weeks for two people.
Composting peat moss or coco coir comes in bricks that can be broken down and mixed with distilled water when getting the toilet ready for the next round of use.
Great For Camper vans and RVs, Will Not Work At Campsites
In our opinion, composting toilets make a great alternative for RVs or campervan conversions.
They are not good for campsites because they are not portable and require electricity and ventilation. That said, composting toilets are environmentally friendly and easy to use once installed.
Top Portable Composting Toilets:
▸ Nature's Head Composting Toilet With Spider Handle
▸ Nature's Head Composting Toilet With Standard Crank Handle
| Pros Of Using A Composting Toilet | Cons Of Using A Composting Toilet |
| --- | --- |
| No Need To Store Chemicals | Quite Expensive |
| Completely Sealed | Liquid And Solid Waste Must Be Separated |
| Can Be Used Multiple Times | Liquid Needs To Be Dumped Frequently |
| Does Not Require Water | Takes A Long Time To Dump |
| Minimal Smell | Electric Fan Must Be Hooked Up |
| Less Environmental Impact | Needs An Exhaust Hole For Fumes |
| | Need To Mix Waste And Compost After Use |
| | Requires Peat Moss Or CoCo Coir Compost |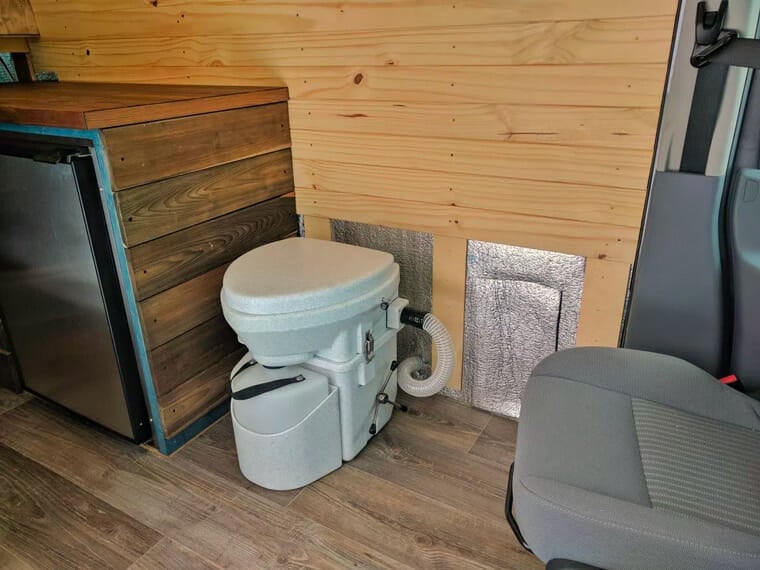 Tips for placing a toilet in your van
When you're living in a van, space is limited. That's why it's important to have a well-thought-out plan for your toilet situation. Here are a few tips to help you build a DIY camper van conversion with a toilet that works for you:
Choose the right location. You'll want to consider both privacy and convenience when choosing where to place your throne.
Consider your water supply. With some toilet options, you'll need to have a way to store and transport fresh water for flushing it.
Decide on a waste solution. Depending on your toilet type, you may need to find somewhere to dump out your waste with varying regularity. Make sure you have planned for this – it can be illegal and dangerous to dispose of human waste in the freshwater supply of a city or town.
Consider ventilation.
Portable Toilet FAQs
Do camping toilets smell?
Depending on the type of camping toilet that you choose there may be some smells. Composting toilets are the least smelly, and bucket toilets are the most. There are various steps you can take to make your camping porta potty less aeromatic.
Can you poop in a portable camping toilet?
Yes, all portable toilets are designed for both liquid and solid waste.
What do you do with toilet paper?
With most portable camping toilets, it is generally best not to wash toilet paper down with your waste. This could clog the system of chemical toilets and quickly fill up your composting toilet.
The best-case scenario is to have a separate bin where toilet paper can be stored until it is thrown away. If you really want to mix toilet paper in with your waste, there are special quick-dissolve toilet papers made specifically for this scenario.
The best-case scenario is to have a separate bin where toilet paper can be stored until it is thrown away. If you really want to mix toilet paper in with your waste, there are special quick-dissolve toilet papers made specifically for this scenario.
So What Is The Best Portable Toilet?
As with everything else in the van life, personal preference plays a huge role in what type of toilet you will want to use.
We decided to not hassle with anything and use public facilities, but there are plenty of portable toilets available for people who want a more private and homey experience.