The Best RV Safe Toilet Paper For Camping (Review)
By
on
This post may contain affiliate links. As an Amazon Associate, I earn from qualifying purchases. Please read my full disclosure.
The last thing you want to do after a long day of travel is deal with a clogged RV toilet. Often, the main culprit of sewage issues is putting the wrong items down the toilet; and that includes toilet paper!
Yes, there is a difference between RV safe toilet paper, and the stuff you use at home. In this article we're going to explain how to find the best RV toilet paper for wiping your bottom and keeping your plumbing system clean.
BEST BUDGET BUY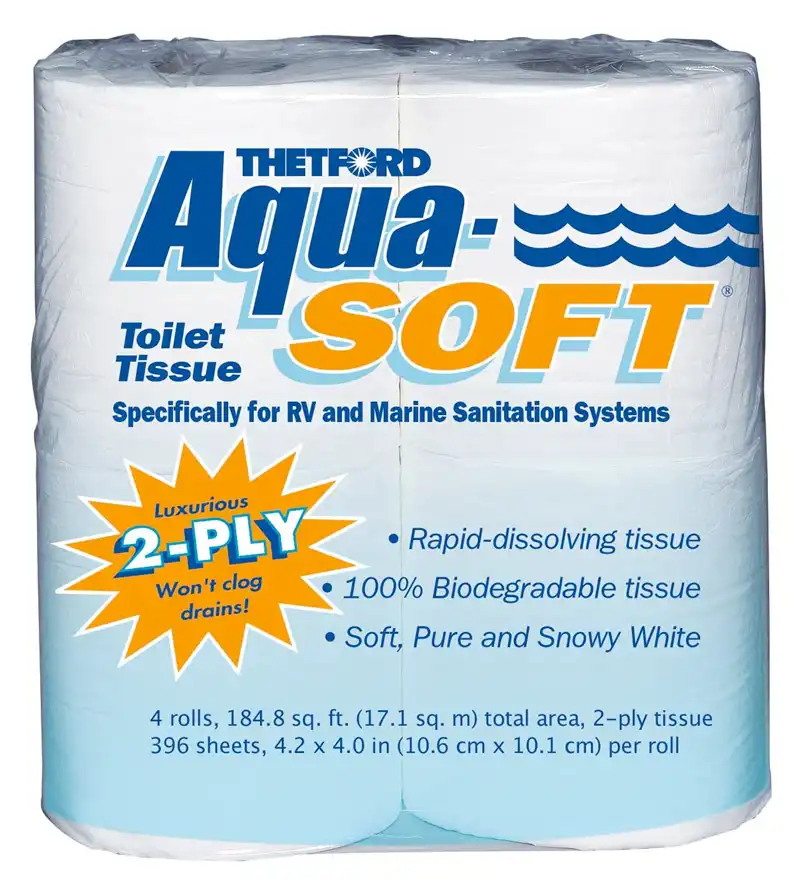 BEST QUANTITY VALUE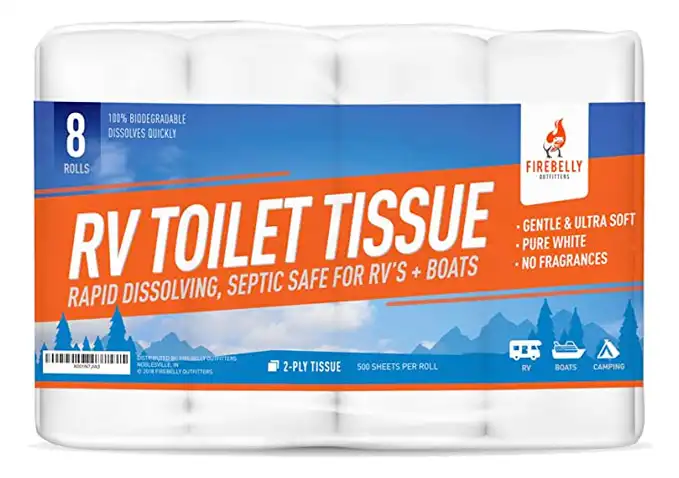 SOFTEST 1-PLY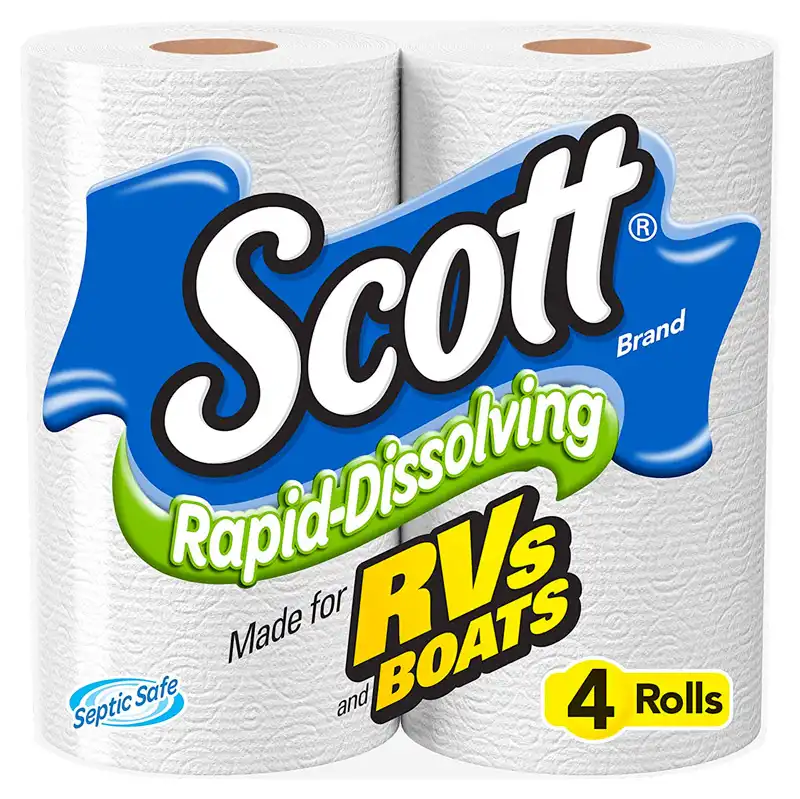 Is RV Toilet Paper Necessary?
At first glance, toilet paper designed for RVs and travel trailers does the same job as toilet paper for traditional homes or restrooms. It's typically designed to disintegrate quickly to avoid clogging sewage systems. However, there are a few qualities that make it stand out from home toilet paper.
If you don't want to waste time cleaning clumps out of your waste system, it would be best to use toilet paper that dissolves within minutes of flushing.
Unlike ordinary toilet paper, rapid-dissolving camping toilet paper won't risk buildup in your RV's cesspool. It's made to break down quickly in the waste tank.
Fortunately, not all quick dissolve toilet tissues are razor-thin. You can find brands that will liquify easily while still keeping your bum clean.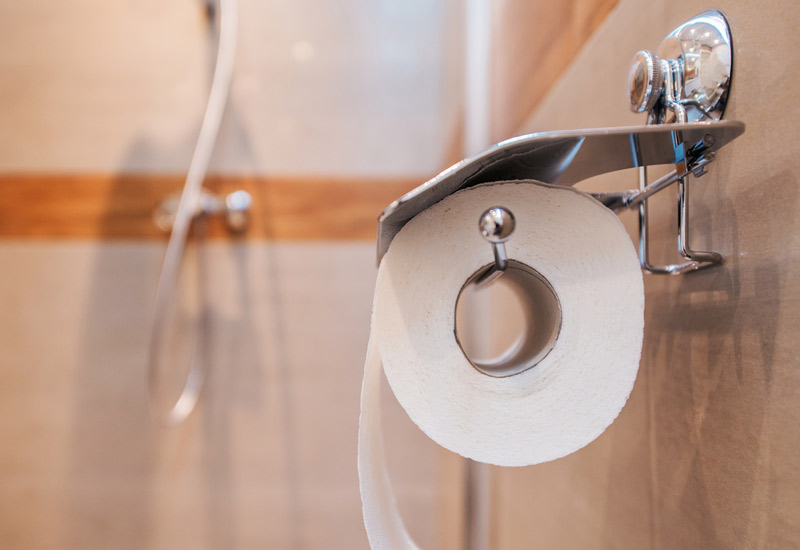 Save Money With RV Toilet Paper
By investing in camping toilet paper, you can spend less money buying chemicals to break down paper or hiring services to clean or repair your waste system.
Many RV toilet paper brands are environmentally friendly and use material from designated locations for production. If you're searching for toilet paper without chemicals that disintegrates quickly, it would be best to pay close attention to these factors, as some brands may not be environmentally friendly.
RV toilet paper can also double as paper towel alternatives when you're traveling due to its absorbency. It's an ideal way to save money and resources while on the go. It makes the perfect addition to your camper van bathroom!
How To Save Space In Your RV Waste Tank
If you do a lot of boondocking, you're well aware that the waste tank is one of the largest limiting factors for how long you can travel before making a pit stop at a sewage station.
Because of the way RV toilet papers dissolve, they're going to take up less space in your waste tank and allow you to travel longer.
Campers who want to stay on the road even longer, can consider investing in a black water expansion tank. These portable waste tanks can be filled with sewage as you would do at an RV dump station. Then you can simply continue traveling with more storage space for your waste.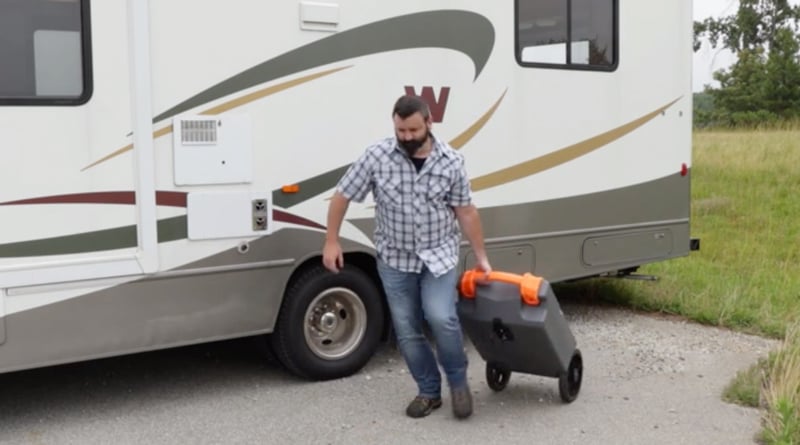 What Qualities to Look for in Camping Toilet Paper
When selecting RV toilet paper, you're typically inclined to find some that you wouldn't want to waste. Before choosing the right toilet paper for your RV, there are several characteristics you should consider.
Strength
Typically, you'll want to have toilet paper that can hold together before reaching the toilet. If the paper falls apart after wiping, it might not hold up for you. Strength also applies to how well the toilet paper can retain and absorb per sheet.
Durable and absorbent toilet paper should also have enough strength to withstand most septic environments as they flow through your sewage system. The stronger the toilet paper, the fewer sheets you'll have to use and puncture during each use.
Comfort
Most people prefer using RV toilet paper made with softer material. If your toilet paper doesn't consist of softer material, your bottom may feel sore and chafed due to its coarseness. Softer toilet paper also tends to dissolve considerably well in most systems.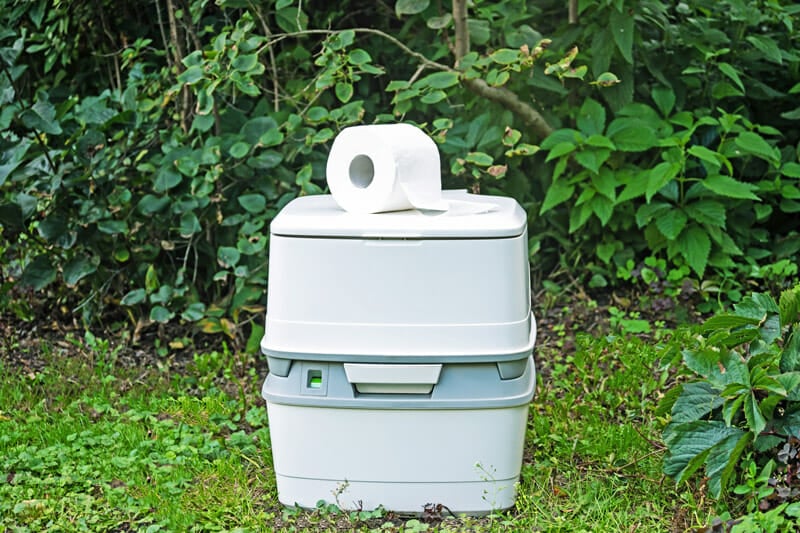 Quantity Per Roll
If you want to stock up on RV toilet paper, consider how many rolls are in each pack. Depending on how much toilet paper you and others may use, buying them in bulk would be the most viable option if you want to balance your budget. The number of sheets per roll also plays a part in how much toilet paper you'll use.
Chlorine-Free Properties
It would be best to use RV toilet paper that doesn't contain bleach or chlorine. Some manufacturers used these chemicals to give the paper its white and bright appearance. These chemicals can lead to puffiness and irritation on your skin and other parts of your body.
Chlorine-enhanced toilet paper isn't biodegradable and harms the environment by polluting water and air.
Ply Layers
Some people may have a particular preference for their toilet paper's ply layering. The critical difference between one-ply and two-ply toilet paper is how many layers a sheet has.
While most people consider two-ply as the better choice, some types of one-ply toilet paper may be thicker and more robust than two-ply. One-ply also tends to be less expensive, easier to access on the market, and dissolves quicker in cesspools due to its single layer.
Dissolving Time
Some RV toilet paper brands may dissolve quicker than others. Typically, your toilet paper should absorb and dissolve within a few minutes. The dissolving time may also vary depending on how many sheets you use.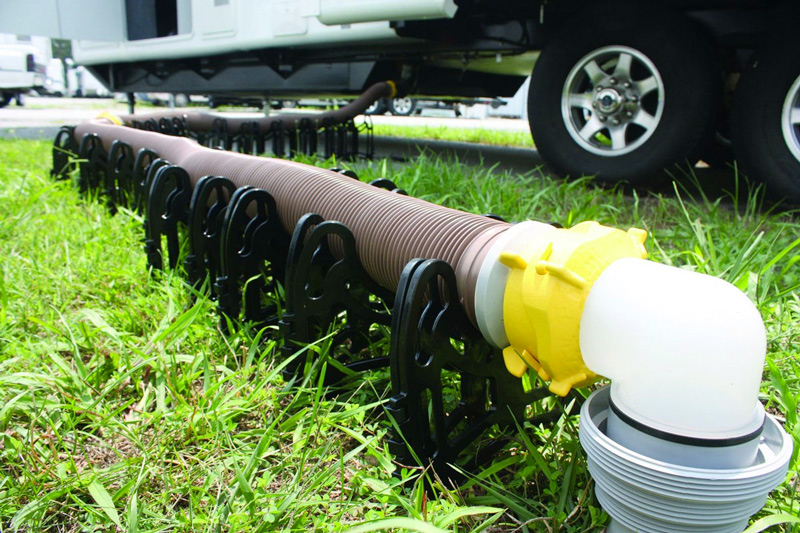 How to Test Your RV Toilet Paper's Quality
Most RV toilet paper should dissolve in a septic tank within minutes. To verify if your toilet paper has superb absorbing and dissolving characteristics, you can run a simple test using a sealed cup of water and a few sheets of RV toilet paper.
After filling the cup with a small amount of water, place your toilet paper sheets in it and seal the cup shut. Next, shake it vigorously twice. As you shake the sealed cup, check to see if the paper absorbed any of the liquid.
If it begins dissolving, it has excellent quality. If it doesn't and splits into small chunks, it may not be appropriate for your RV's septic tank.
Why Can't I Use Home Toilet Paper for My RV's Bathroom?
While nothing is stopping you from using any toilet paper for your RV, it wouldn't be wise to use home toilet paper. Due to its thickness, most RV septic tanks can't easily dissolve regular toilet paper, leading to inconvenient clogging and cleanup.
The Best RV Toilet Papers
---
BEST BUDGET BUY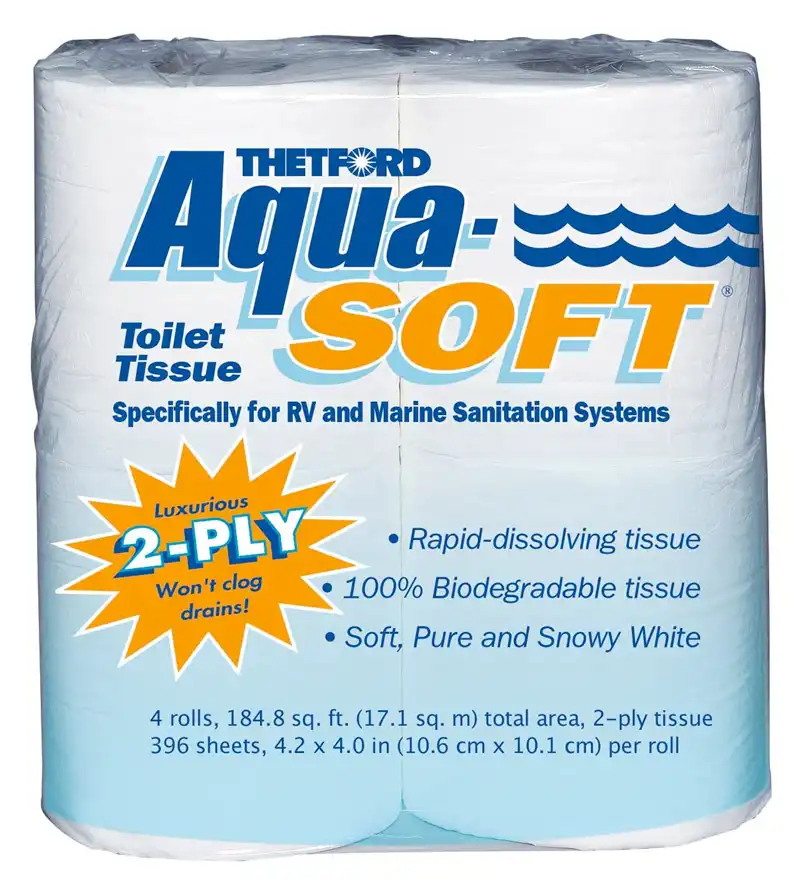 This toilet paper is ideal for RV and marine vehicle waste systems due to its durability and rapid dissolving RV toilet paper rate. This Thetford RV Toilet Paper Pack is affordable on most budgets, making it ideal for families to buy it in bulk.
Aqua-Soft's two-ply sheets give it extra layering for absorption and comfort. It may not be thick enough for some users, but it gets the job done. If you don't want to risk making a huge mess and cleaning your RV's bathroom or tank, this toilet paper might be the one for you. It's easy to flush and won't build up in your system.
It also has no chemical fragrances that may incite allergic reactions when rubbed against your skin, making it ideal for people with sensitive bodies or fragrance allergies.
Two-ply tissue
396 sheets per roll
It has no fragrance
It rapidly dissolves to prevent clogging
---
BEST QUANTITY VALUE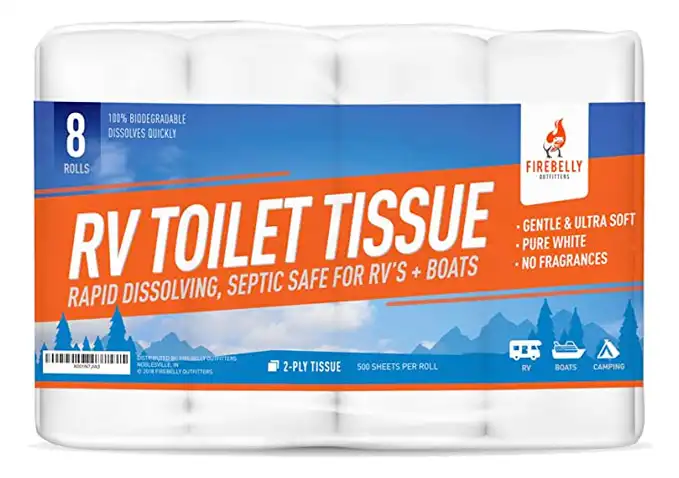 This Firebelly Outfitters RV-safe toilet paper is ideal for people who prefer buying their toilet paper in bulk. Each toilet paper roll has 500 sheets and comes in a pack of eight. This RV toilet paper might be an ideal choice for people who share a bathroom with several people. Depending on your situation, each roll may last longer than other brands with fewer sheets per roll.
It is biodegradable and appropriate for several sewage systems or tanks due to its quick dissolving properties. Although some may consider this choice to have thin layering, it's an ideal option if you want more toilet paper access. If you don't want to risk potential clumping, it would be best to know how many sheets you use when wiping and flushing.
Two-ply layering
500 sheets per roll
Made with biodegradable materials
It dissolves easily
---
SOFTEST 1-PLY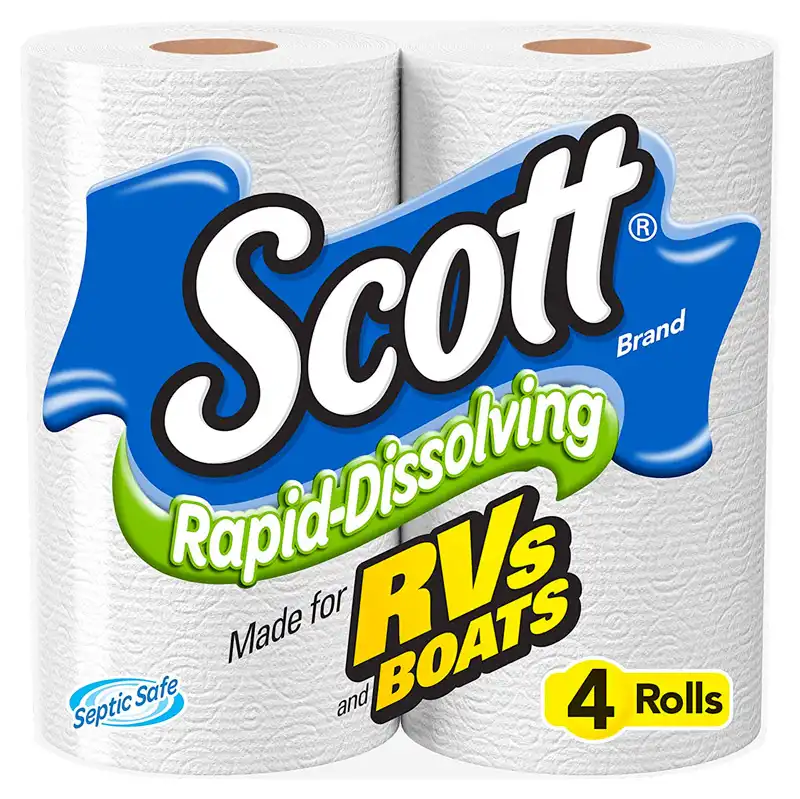 Scott RV toilet paper may be one-ply, but it performs well as a soft and absorbent option. Although it uses one-ply layering, it breaks down camping toilet paper at a rate four times faster than other leading brands. If you're concerned about clogging your RV's cesspool, this option might be best suited for you.
Its gentle touch is excellent for people with sensitive skin, and it prevents rashes from developing on your rear. Each roll has a lower sheet count than other brands, so it would be wise to buy Scott RV toilet paper in bulk if you share your living quarters with others.
It also has no perfumes or scents embedded in it, making it valuable for people with chemical allergies.
One-ply tissue
264 sheets per roll
Strong absorbance and dissolving ability
Perfume and fragrance-free
---
That's A Wrap!
Having RV-safe toilet paper can help you save money and resources wherever you go. There are several factors to consider when picking a pack that suits your RV lifestyle, such as absorbency, disintegration rate, and sheets per roll. If you're on the go, you should always have efficient RV toilet paper on hand.
Pick the Firebelly Outfitters RV Toilet Paper if you and your peers frequently use toilet paper and want to stock up on larger quantities in case of an emergency.
If you prefer using one-ply toilet paper to reduce clogging in your tank, we recommend picking the Scott Rapid-Dissolving Toilet Paper.
The Aqua-Soft Toilet Tissue is best suited for people looking for the most affordable option that's also absorbent and soft.
You Might Also Like: