DIY Box Truck And Retired Ambulance Conversions
By
on
This post may contain affiliate links. As an Amazon Associate, I earn from qualifying purchases. Please read my full disclosure.
Box truck and ambulance conversions offer a rectangular frame with straight edges and plenty of interior space. That makes them one of the best camper vans for van lifers who want a little extra room–not to mention the cool factor!
We've pulled together some of the coziest, most modern, and unique conversions on the internet for your inspiration.
Who knows? Maybe the next time you see a retired ambulance for sale, you'll consider it for life on the road.
DIY Retired Ambulance Conversions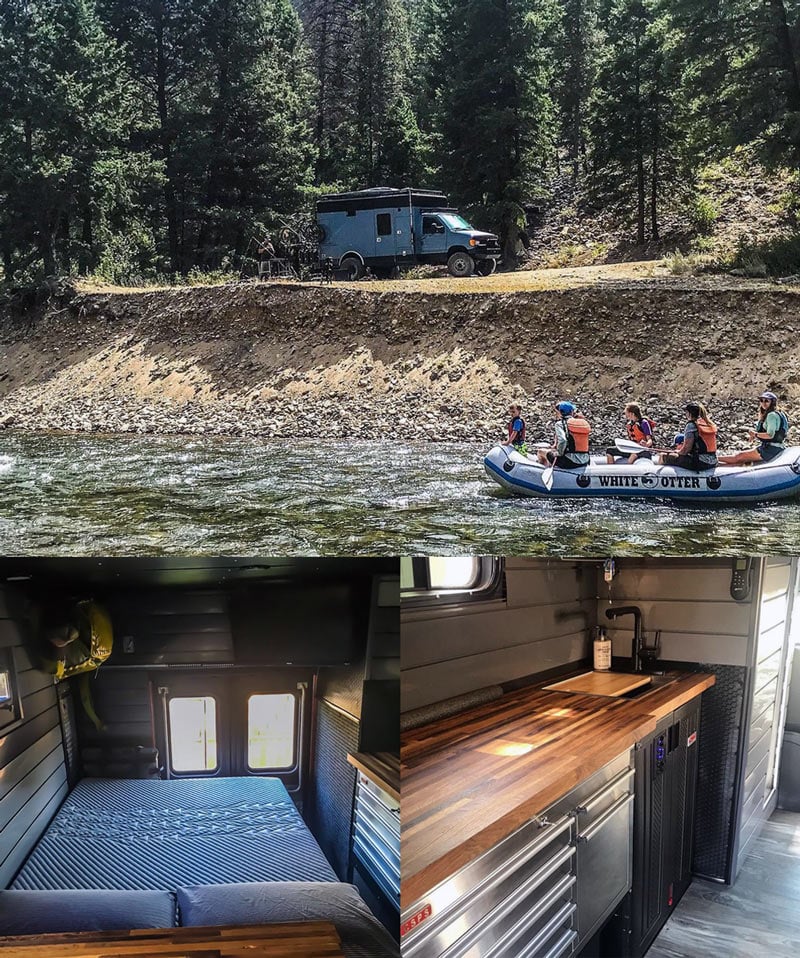 Since 2006, Fornya Design Co has been building, restoring, and designing custom vehicles. This conversion is a 2006 Ford E350 Turbo Diesel Fire Rescue perfect for adventure!
We like the simple metal and wood design This camper comes equipped with an indoor/outdoor shower, and a cassette toilet for when you're off the grid.
The vehicle utilizes both shore power and a generator to run a fridge/freezer combo, Maxxair fan, and Mach 10 air conditioner.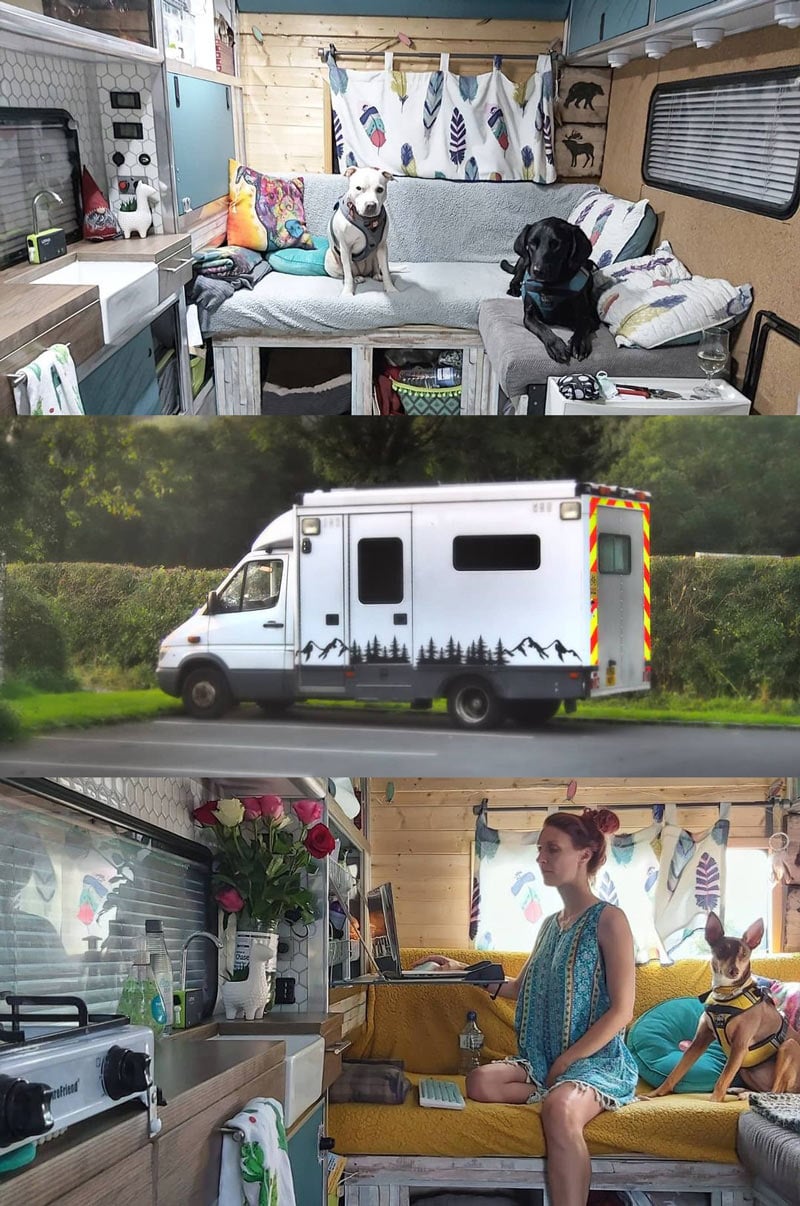 Ben and Jenna wanted a custom-built ambulance camper to travel with their three dogs. We like this cozy interior with plenty of seating and storage space.
The ambulance was designed by a semi-retired engineer at Criftin's Campers in North Shropshire, UK.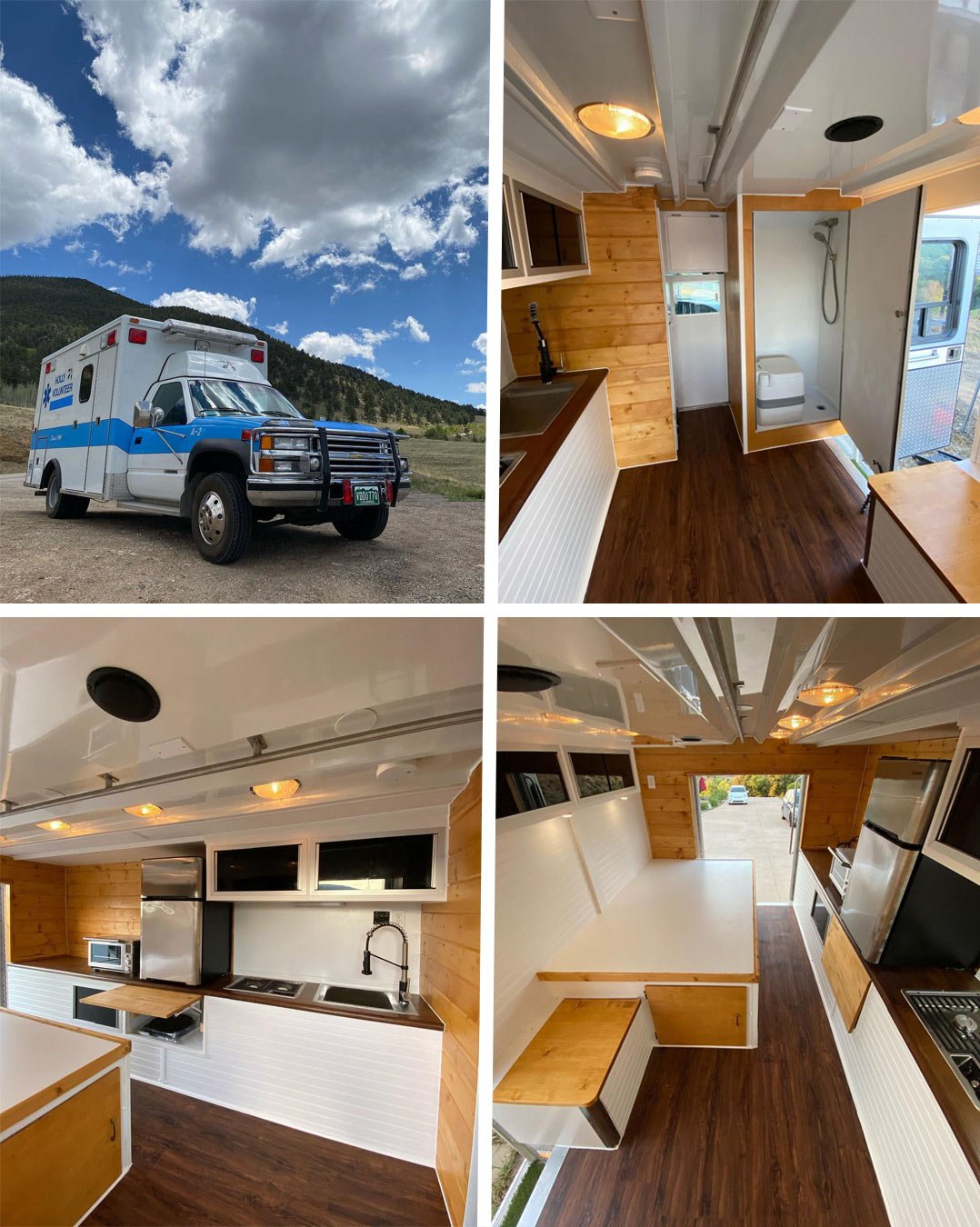 One of our favorite modern retired ambulance conversions is this design by Steve and Eva. The ambulance itself is a 1999 Chevy 3500, 4×4, with a 6.5 Detroit diesel engine.
The ambulance has a designated bathroom and huge kitchen. The sink and shower are heated with an electric Bosch water heater.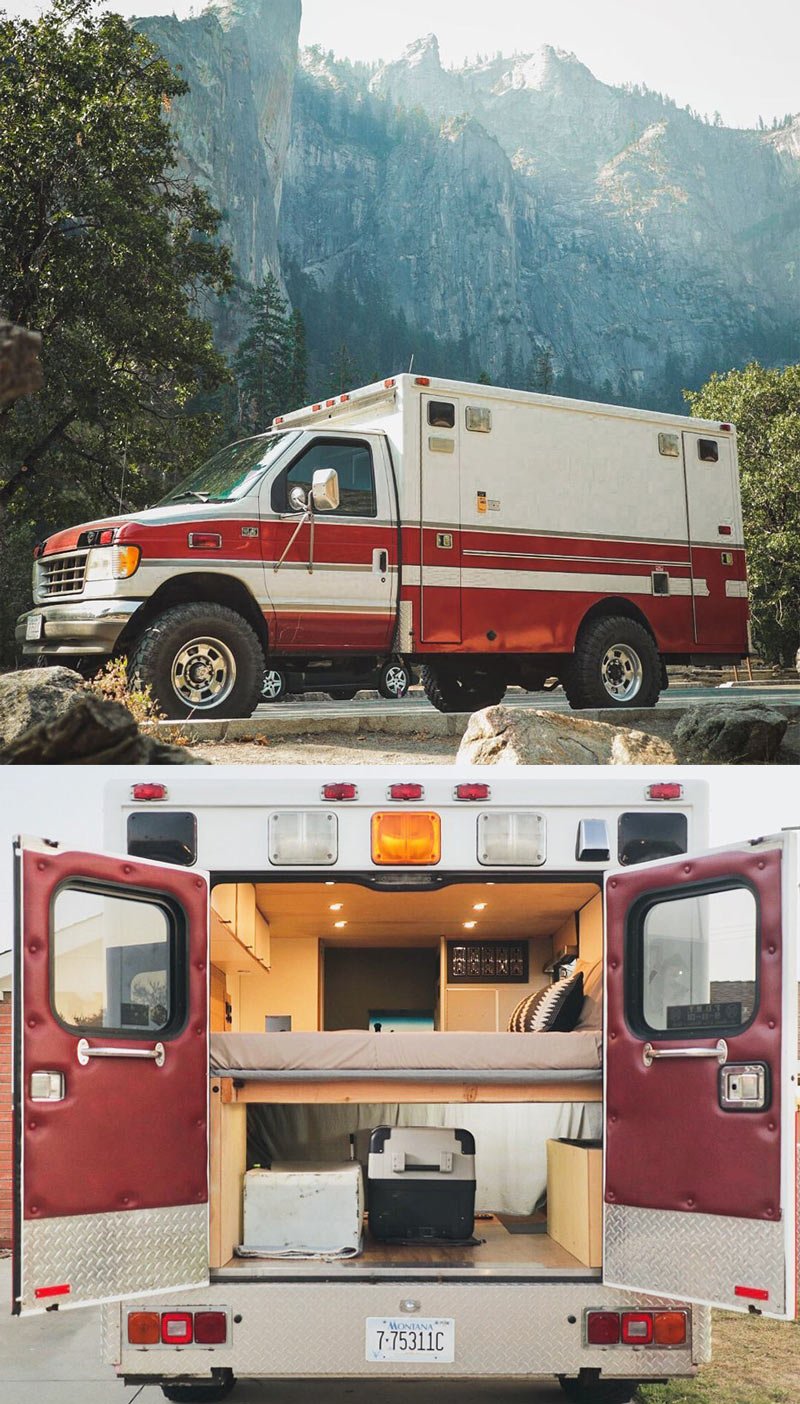 Brian built this custom 1995 E350 Ambo Conversion to travel with his son. The simple design has a queen-sized bed, composting toilet, two water tanks for a sink/shower, and a 12v refrigerator.
The ambulance is still a work in progress, but there's enough complete to go on some epic adventures.

This self-converted 1995 F350 Adventure Ambulance has a modern and spacious style so you can relax inside and out.
There is lot's of hidden gear storage in this truck with multiple locking exterior boxes, a slide-out table, extra storage under the seats, and a small closet.
DIY Box Truck Conversions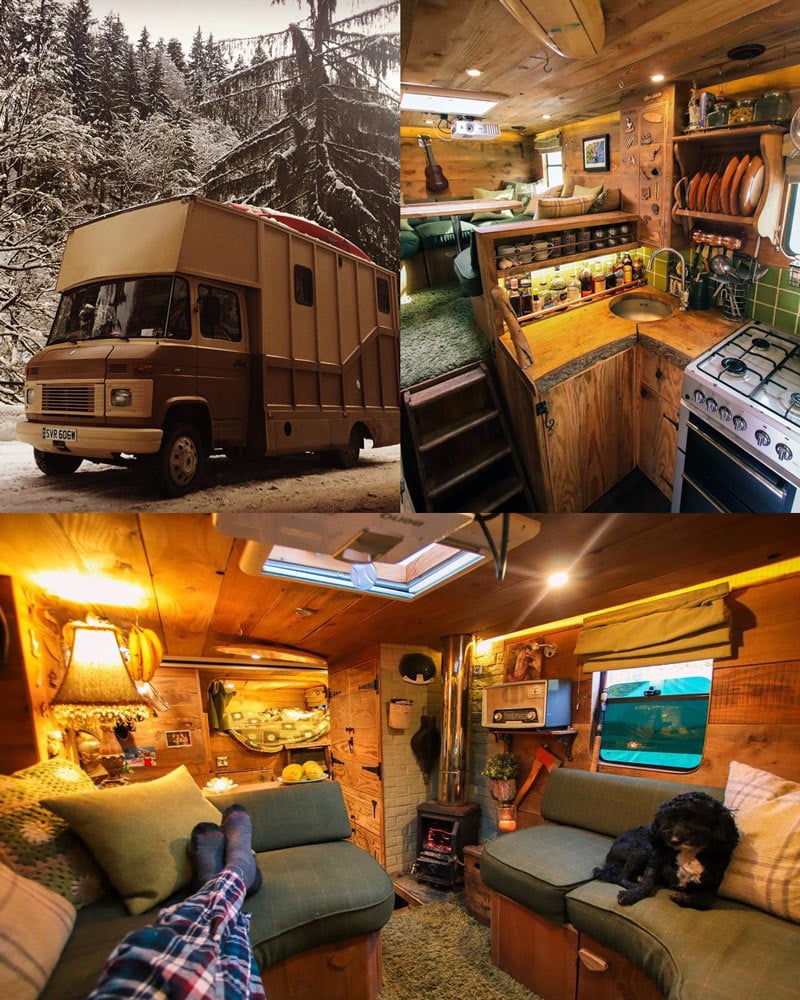 Guy is an ex-surveyor who spent nearly $15,000 converting a former horse box. The interior is designed mainly with Douglas fir giving it a comfortable aura.
A wrap-around couch at the back leaves plenty of room for multiple friends to enjoy the view out the back window and relax in the evening. There's also a lofted bed, mini fireplace, and small kitchen complete with a sink, oven, and stove.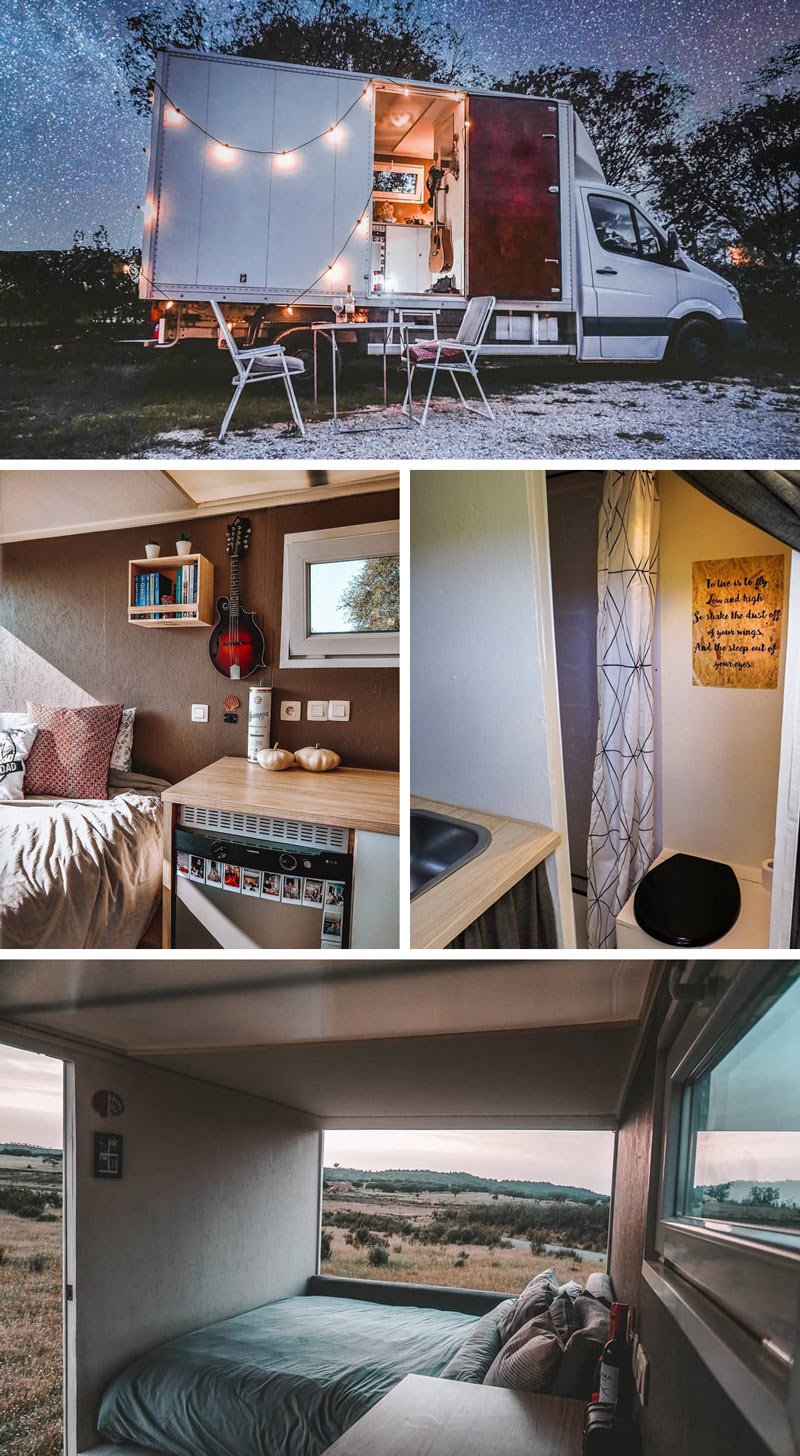 One of the more basic and beautiful box truck builds we've come across is this design by Charlotte and Ken.
This oversized truck has a Mercedes Sprinter base and inside you'll find a shower, toilet, four-burner gas stove, refrigerator and full-sized bed.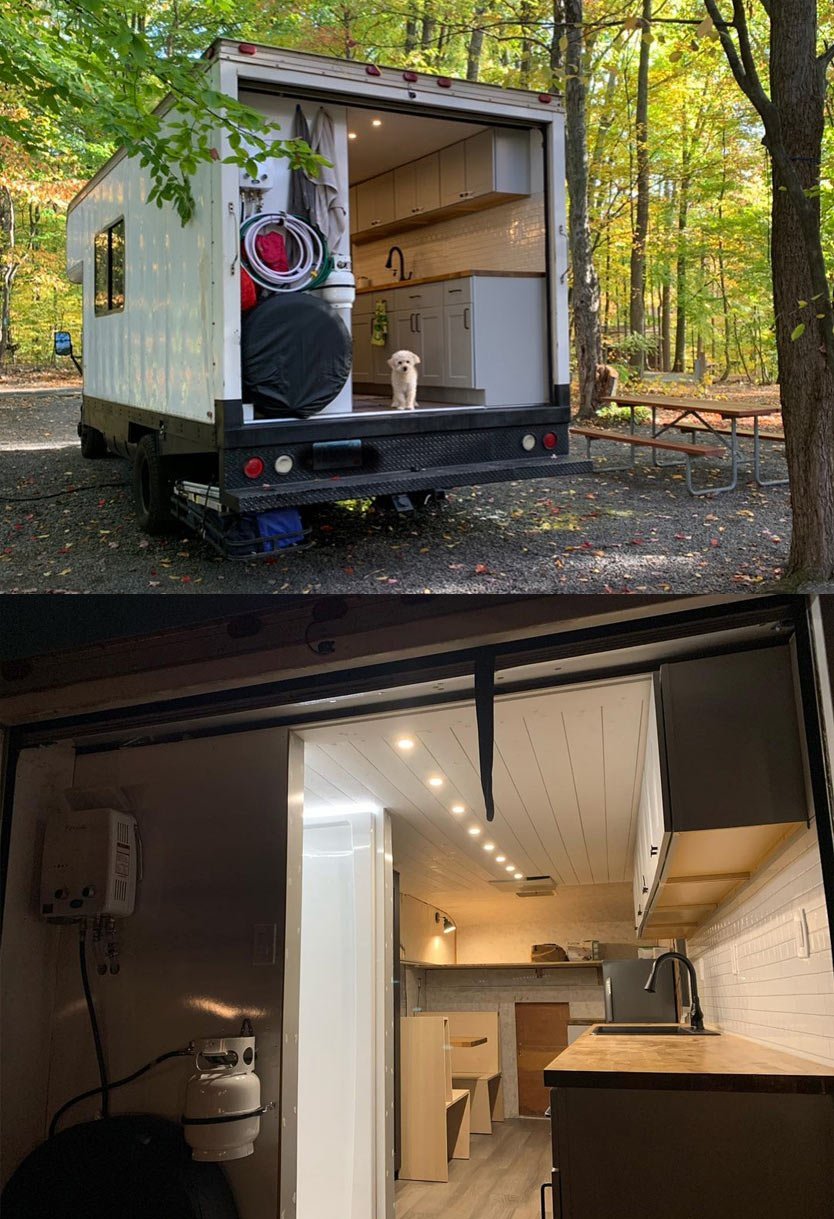 Jeff and Alyssa designed this custom box truck conversion out of a Ford E450. The truck has a spacious kitchen and dinette, dedicated bathroom with interior shower, and it's powered with a mix of solar and shore power.
The Most Unique House Truck Conversion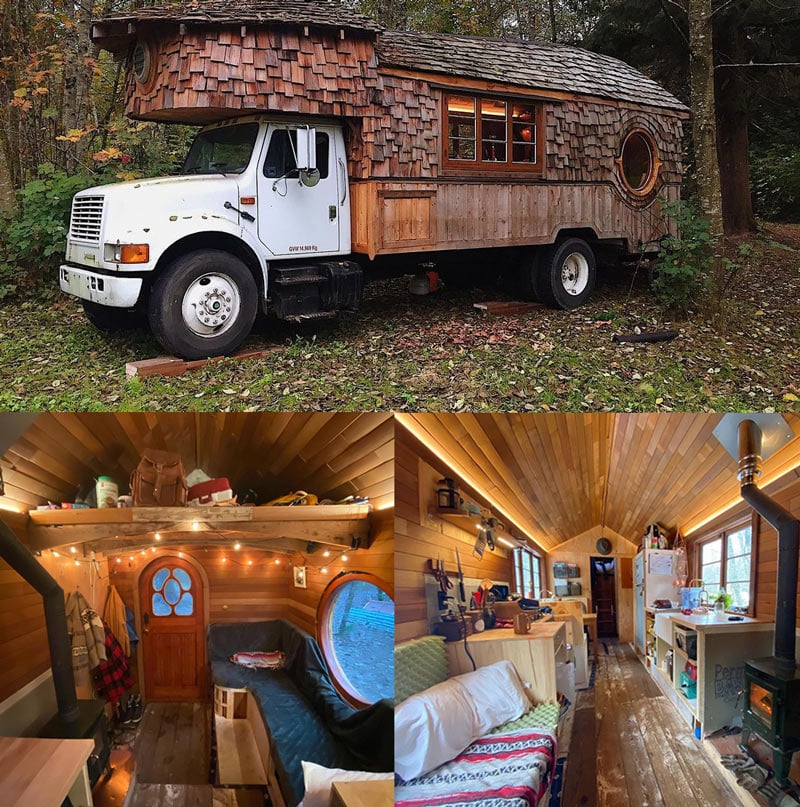 One of the most unique builds we've seen is this house truck art project by Kai. The base is a 5-ton truck with a modified frame. Kai says:
"The frame has been extended and dropped behind the rear axle for added head room in the interior of the house. It is illegal to modify a trucks frame between the axle, but welding behind the rear axle doesn't effect the structural integrity of the frame."
The Ugly Truckling has many one-of-a-kind features including dutch doors, stained-glass windows, antique locks and cedar exterior.
Inside you'll find a cozy, mini wood-burning stove, Girard on-demand tankless water heater, couch, loft, and kitchen!
Check out these other unique designs: