Dodge ProMaster Conversions Ideas and Examples
By
on
This post may contain affiliate links. As an Amazon Associate, I earn from qualifying purchases. Please read my full disclosure.
Want to build a camper van? Taking a look at what others have done with their Dodge ProMaster conversions is the perfect way to inspire your own build. It's easy to see how ideas evolve and which layouts other van lifers tend to choose.
When it comes to planning your camper van layout our first suggestion is to start saving images of van builds you like and draw from your favorite parts. Instagram and Pinterest are great places to do this and will give you a lot of ideas to sift through. In addition, we've rounded up our favorite Dodge ProMaster camper conversions below. Happy travels!
Dodge ProMaster Conversion Ideas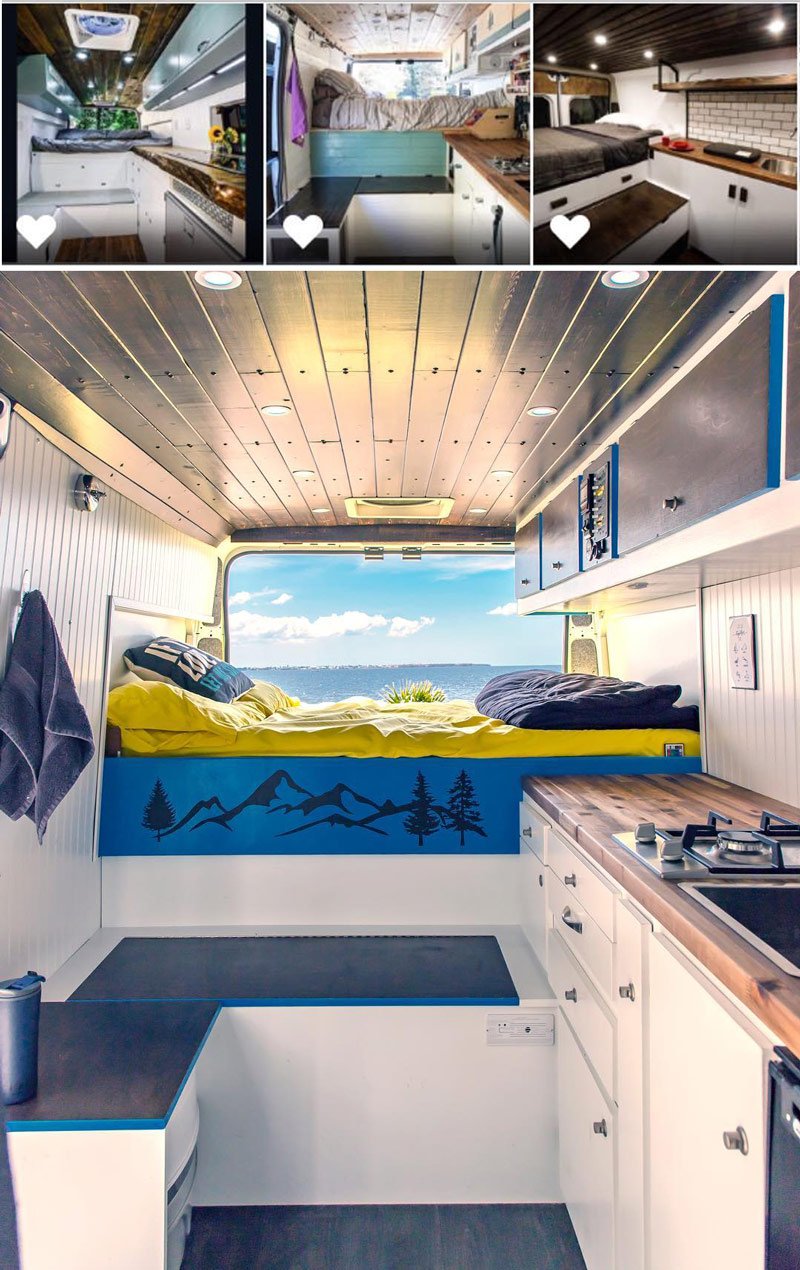 Colin and Lisa from @damn.vaniel saved ideas from Instagram and created their own version of a ProMaster conversion. You can see many of the shared elements like a fixed platform bed with a bench in front, and storage area pushed to the right. One of the things that stood out about this build is they kept their inverter outlets and battery monitor within reach and easily accessible on the self above the bed. We also really like the touch of color and mountain painting for decoration.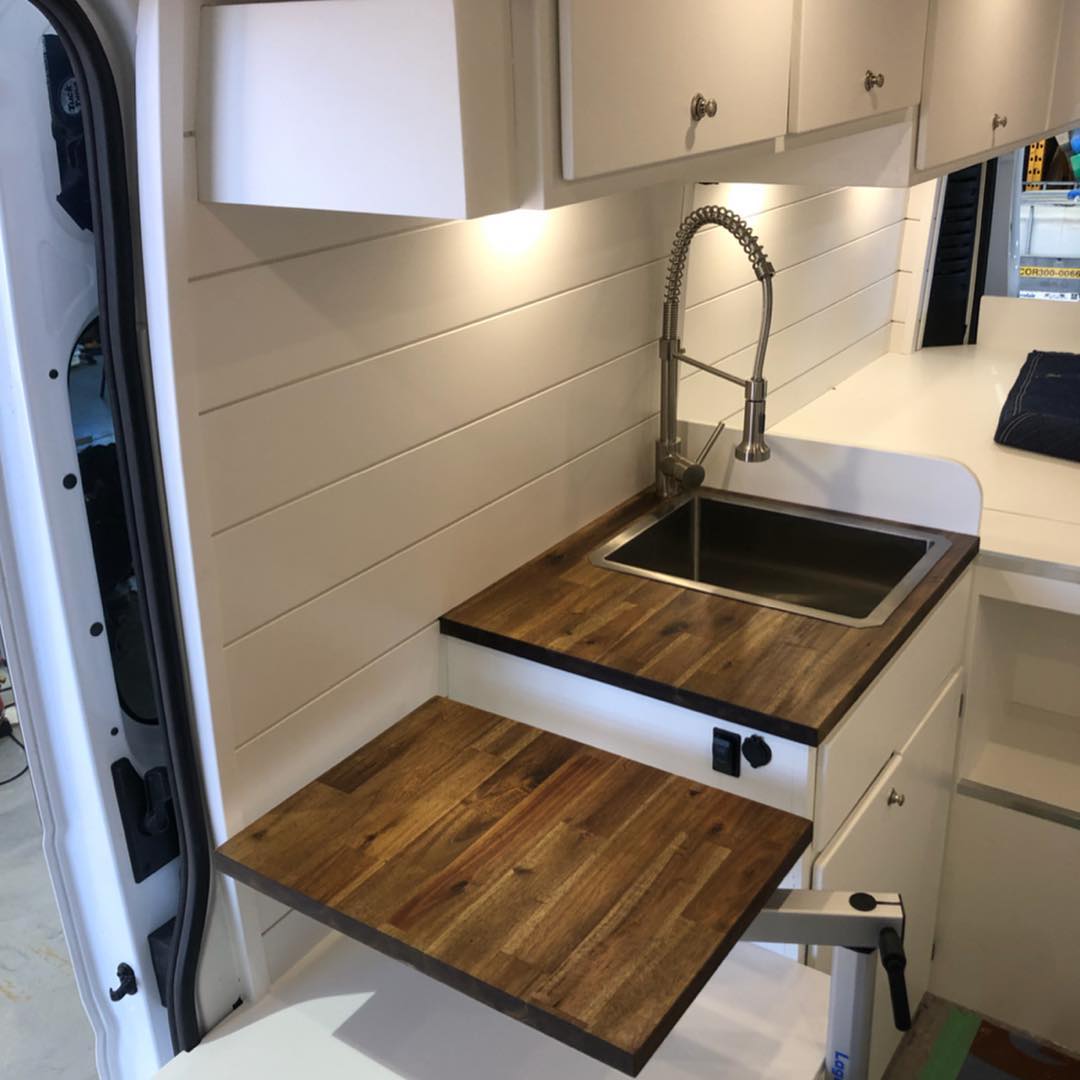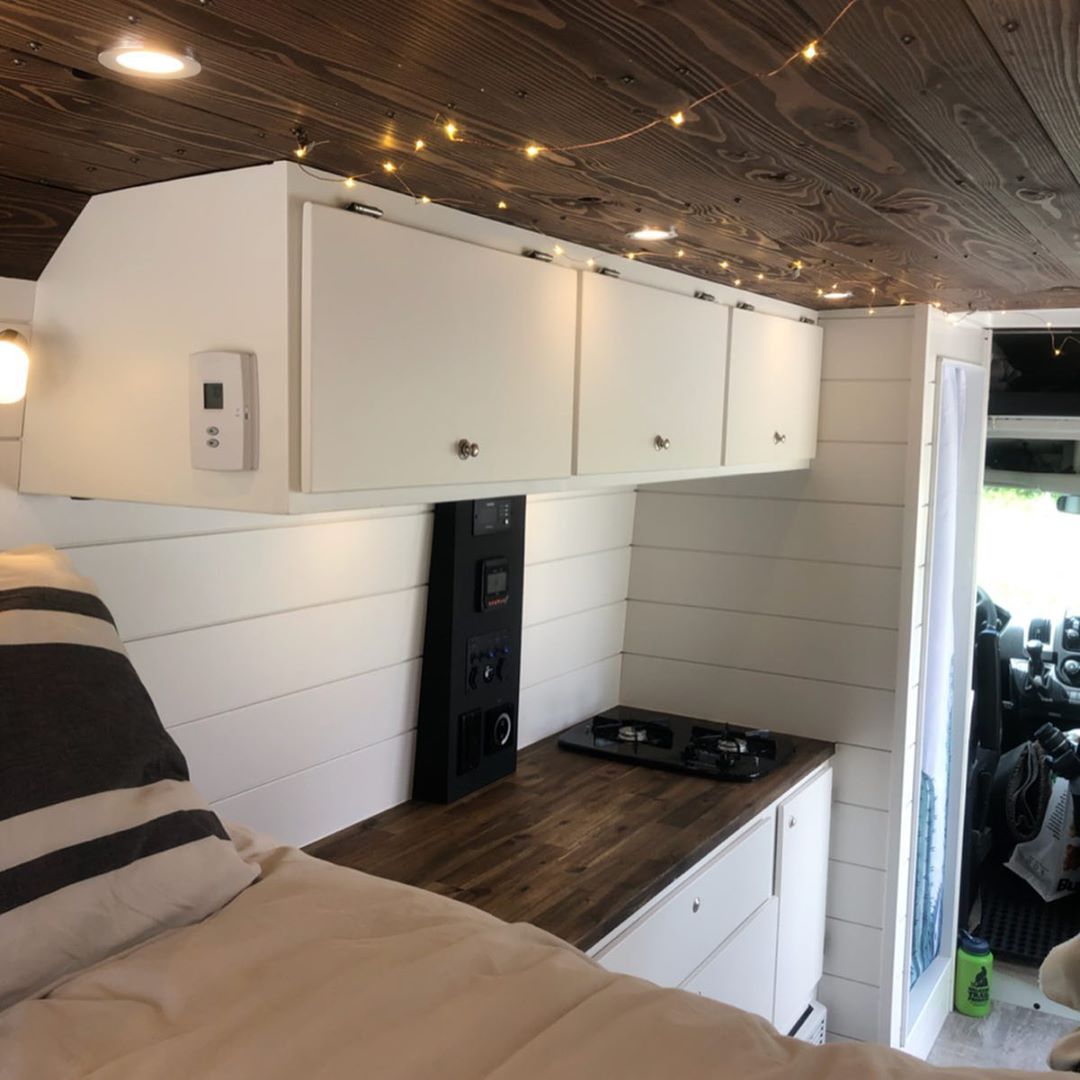 Chelsea and Scott converted a Dodge ProMaster 3500. They used both sides of the van when building. That includes placing a sink and 12v refrigerator on the passenger side next to the door; and adding a stove top and shower on the drivers side. This layout brings a ton of extra storage space!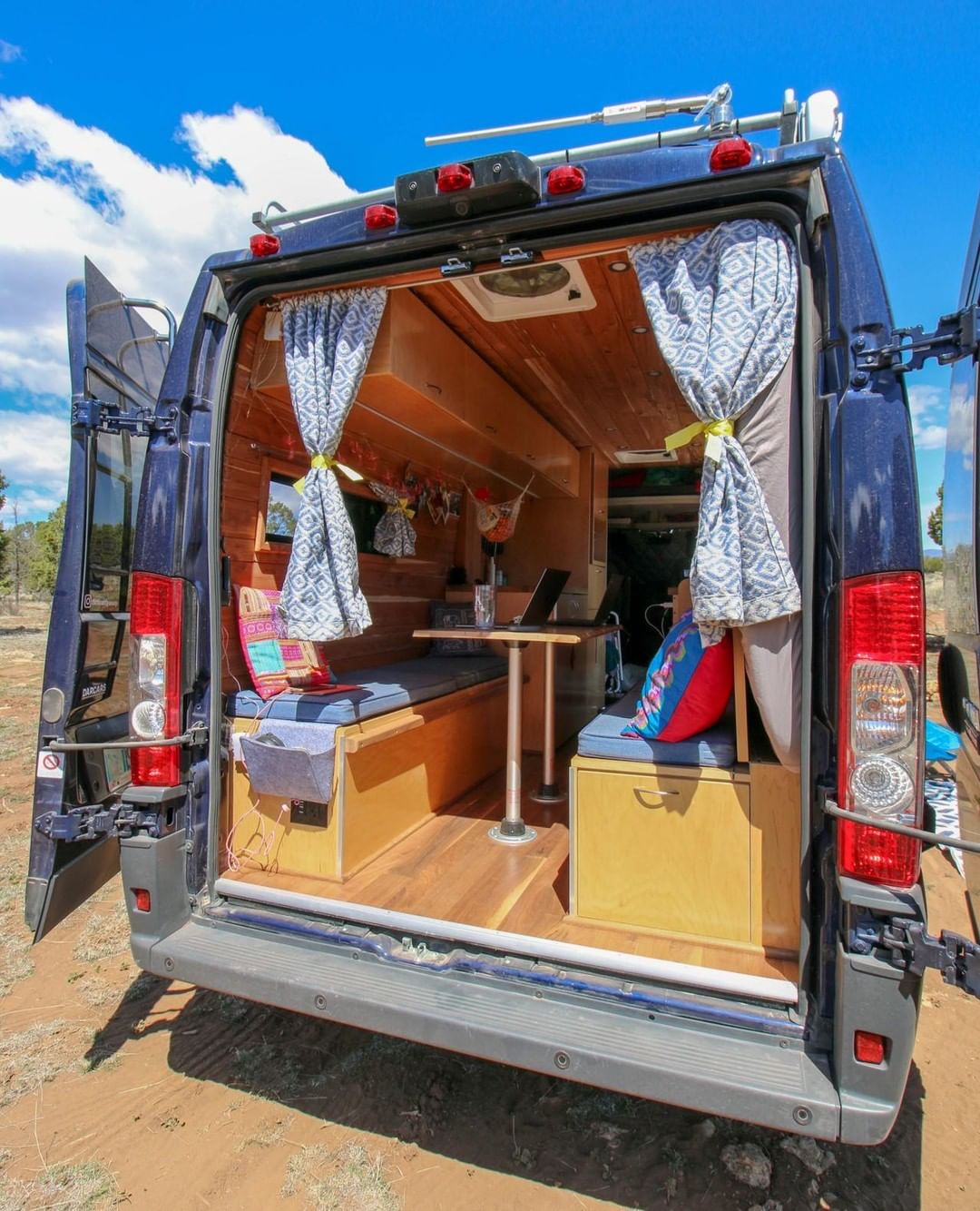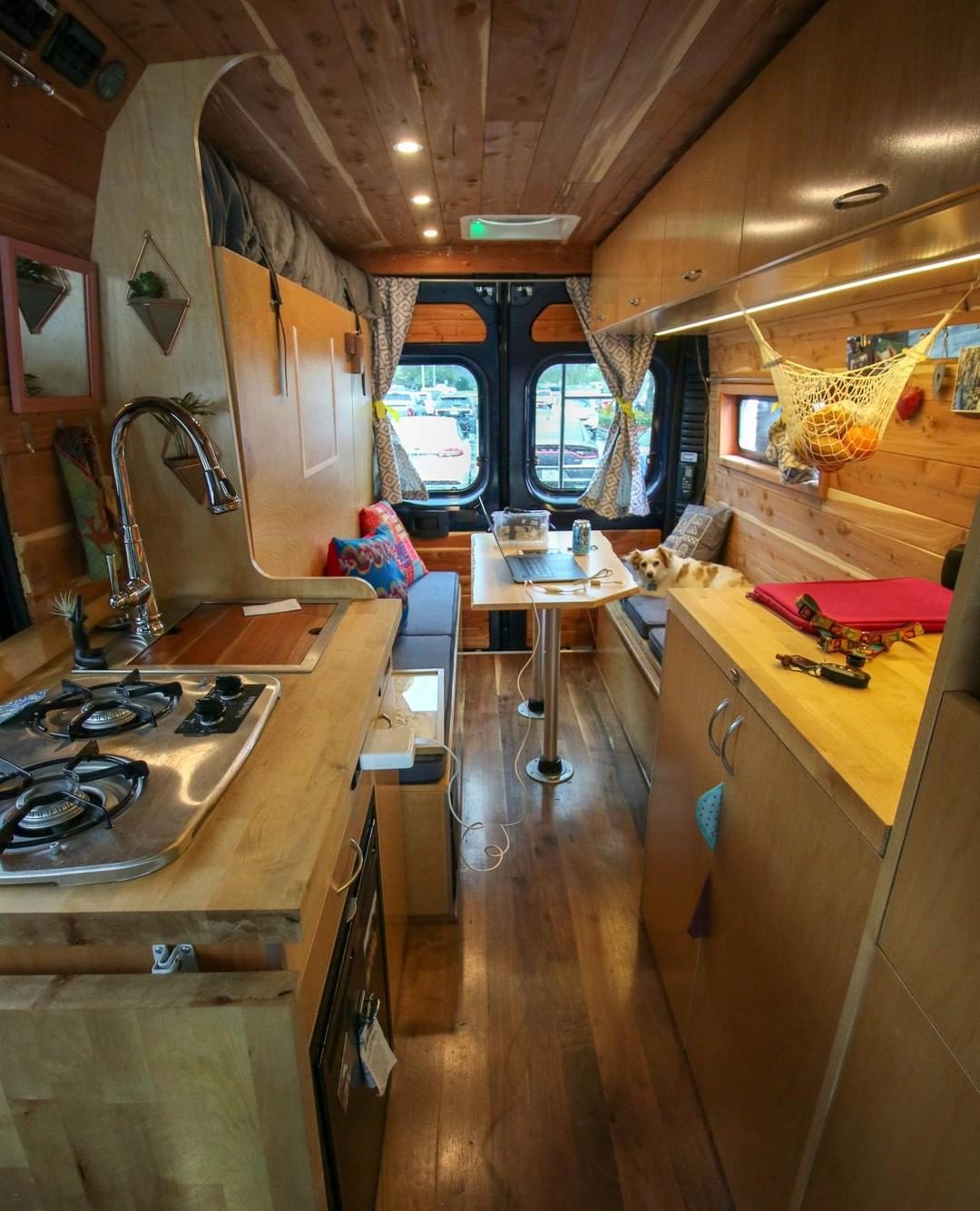 Lauren is a solo female van lifer traveling in a DIY Ram ProMaster. Because she works remotely, having a desk and proper seating was essential to her build. Her camper van has benches on both sides and a removable table. At night, she can fold down her murphy bed from the passenger wall.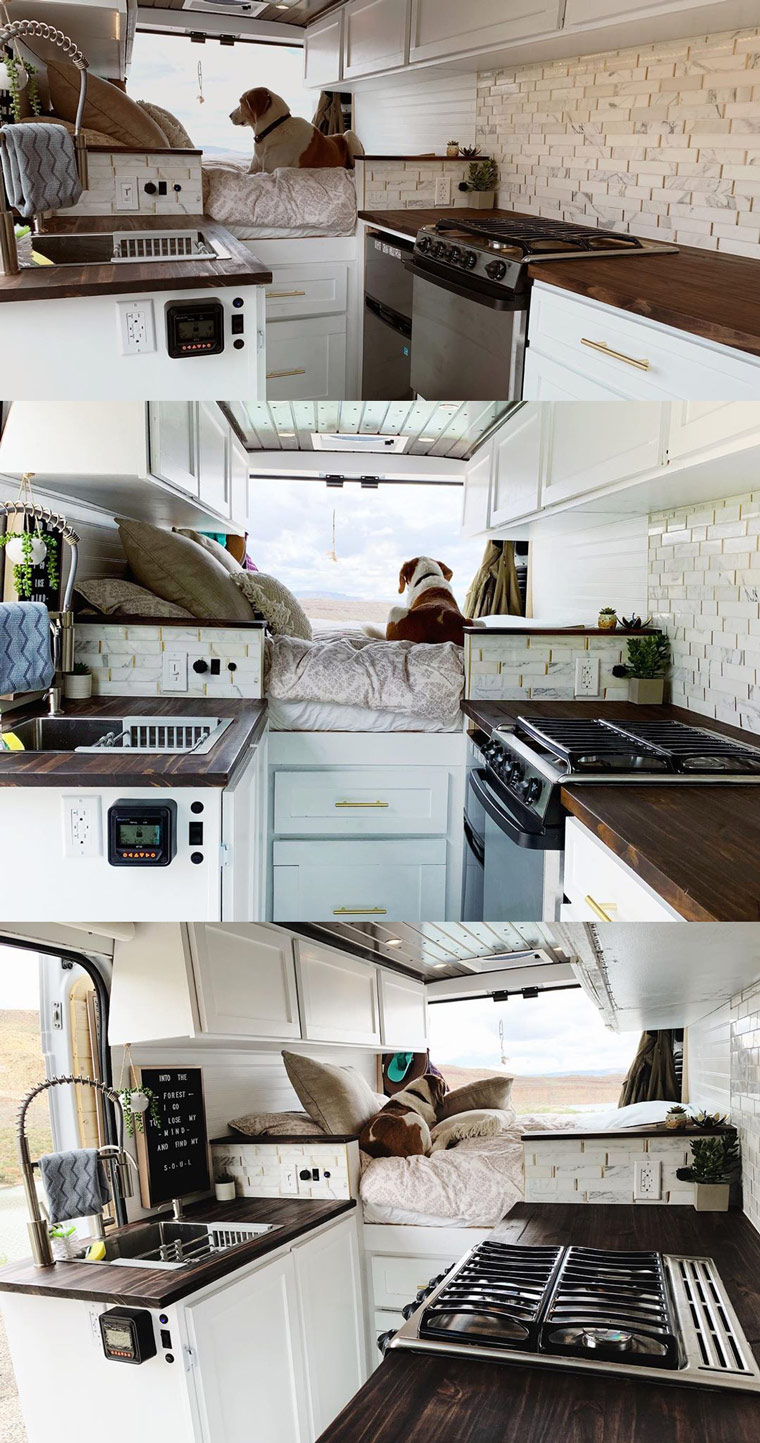 Kate and Dave living full time in a Dodge ProMaster conversion. Their build looks simple, but it's really functional with a propane stove top/oven combo, sink with a 12v pump and just enough space for their dog Dug. We like the basic layout of this camper van and contrasting light and dark colors.
The coolest DIY Dodge ProMaster Conversion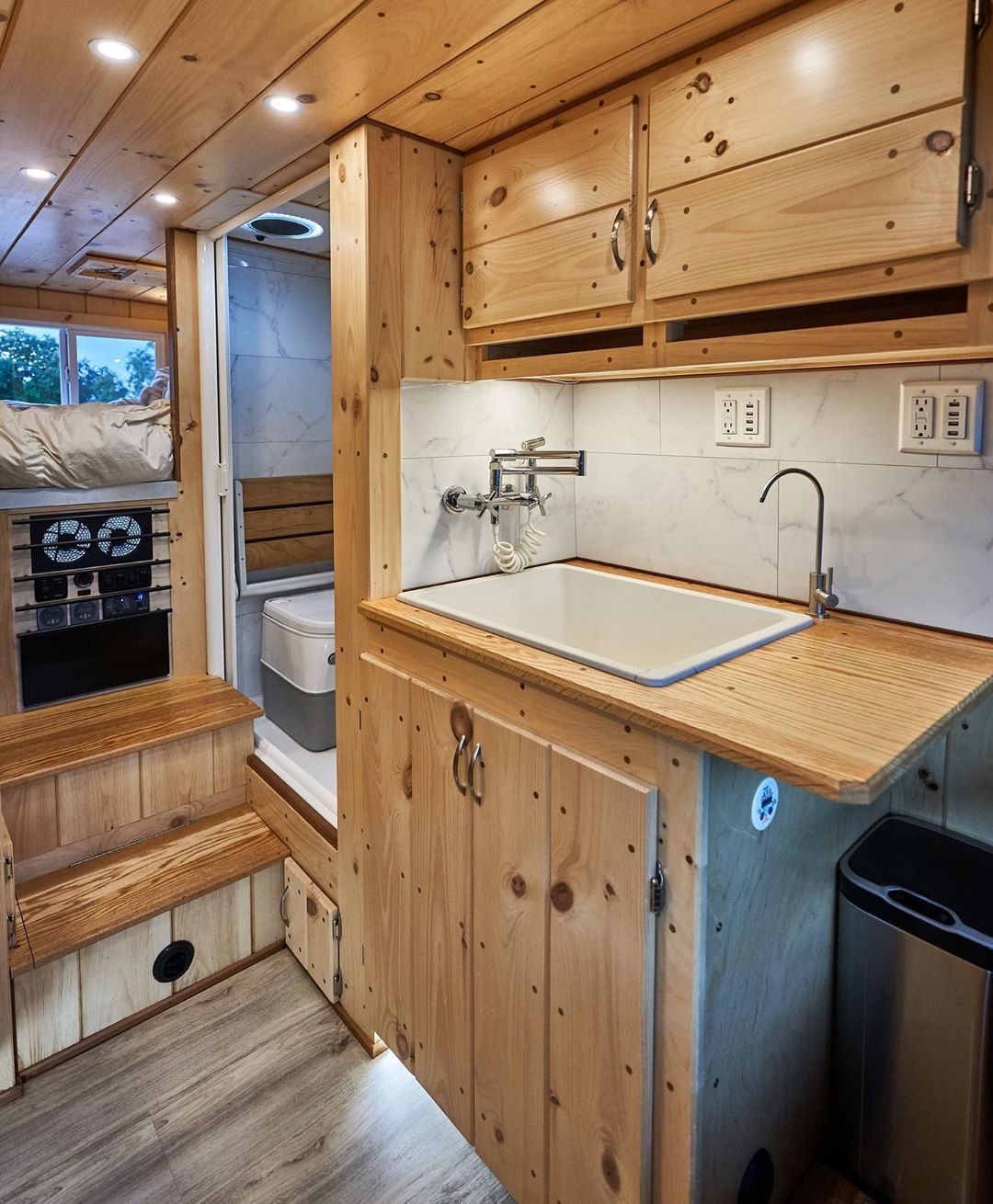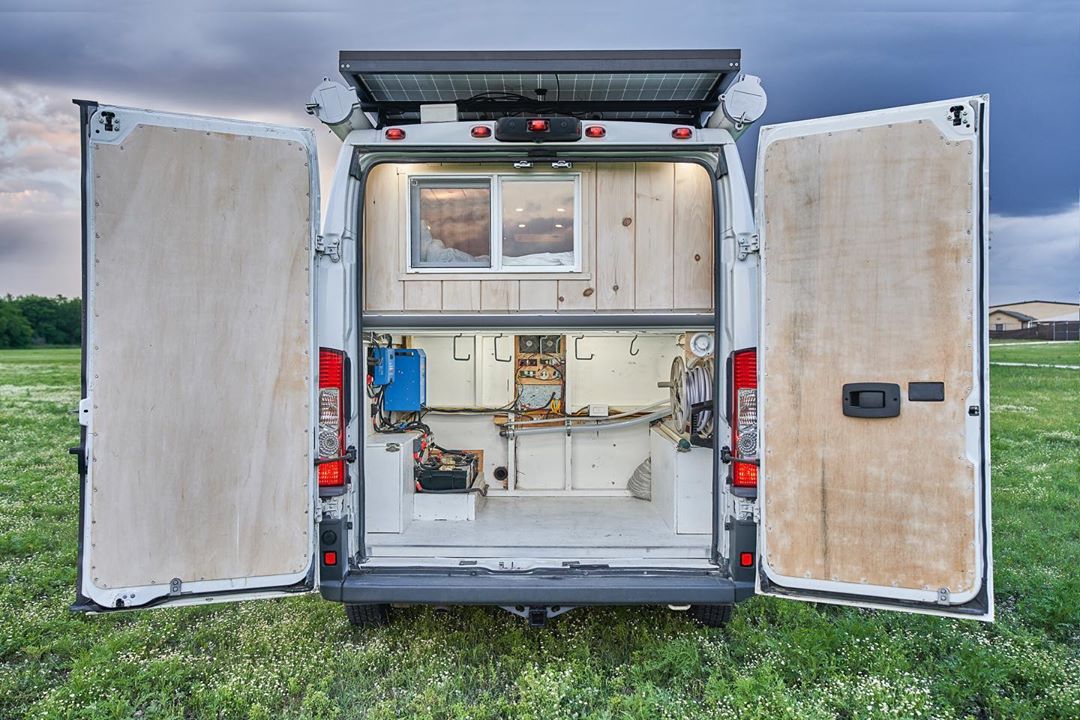 Ethan and Belle built this custom DIY Dodge ProMaster camper. Ethan is an electrician and packed 1000W of solar on the roof as well as 600Ah of Lithium batteries! His father is a carpenter and did some fantastic woodwork as well.
This van has all of our dream features like a water heater, air heater, shower, TV, air conditioner and a microwave oven! Be sure to watch the video below for a full tour of their conversion.
Dodge Ram ProMaster Conversions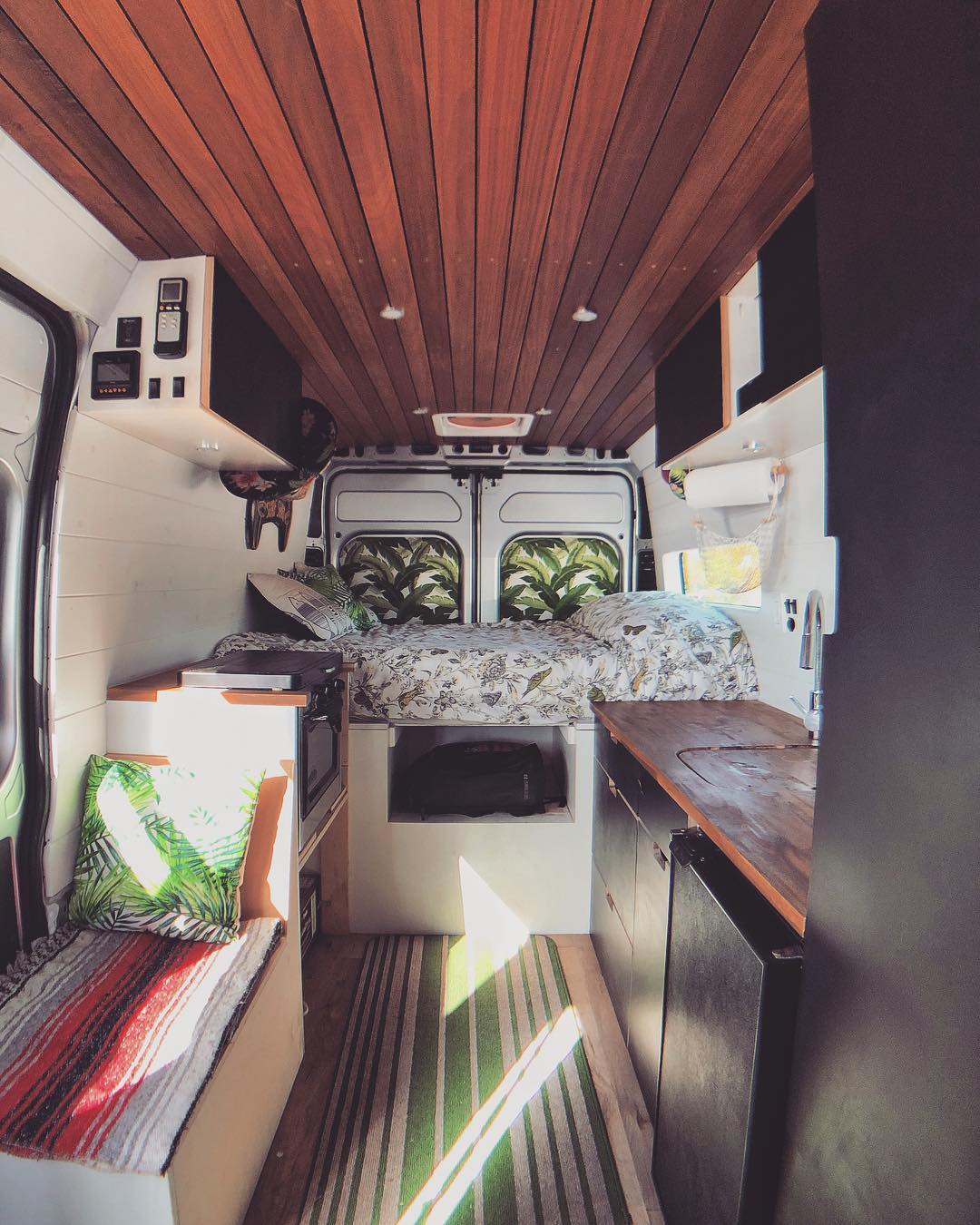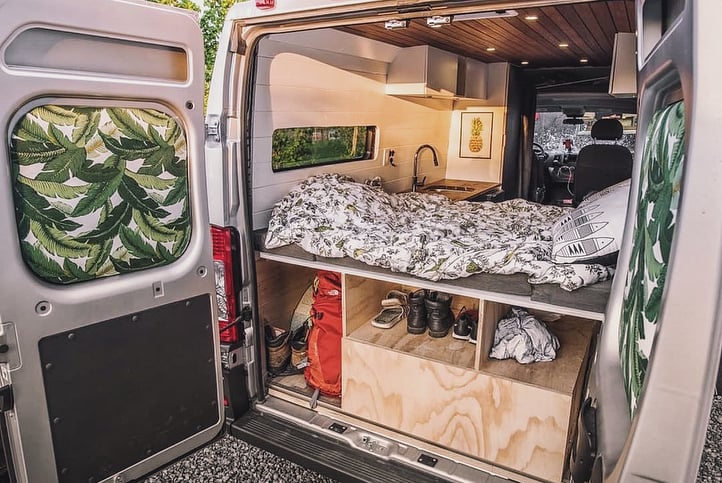 Jef from @onewayvanway built this self converted Ram ProMaster. We love the kitchen and dark colors he used. The build has beautiful lighting and cozy seating for both himself and his travel dog Rocky.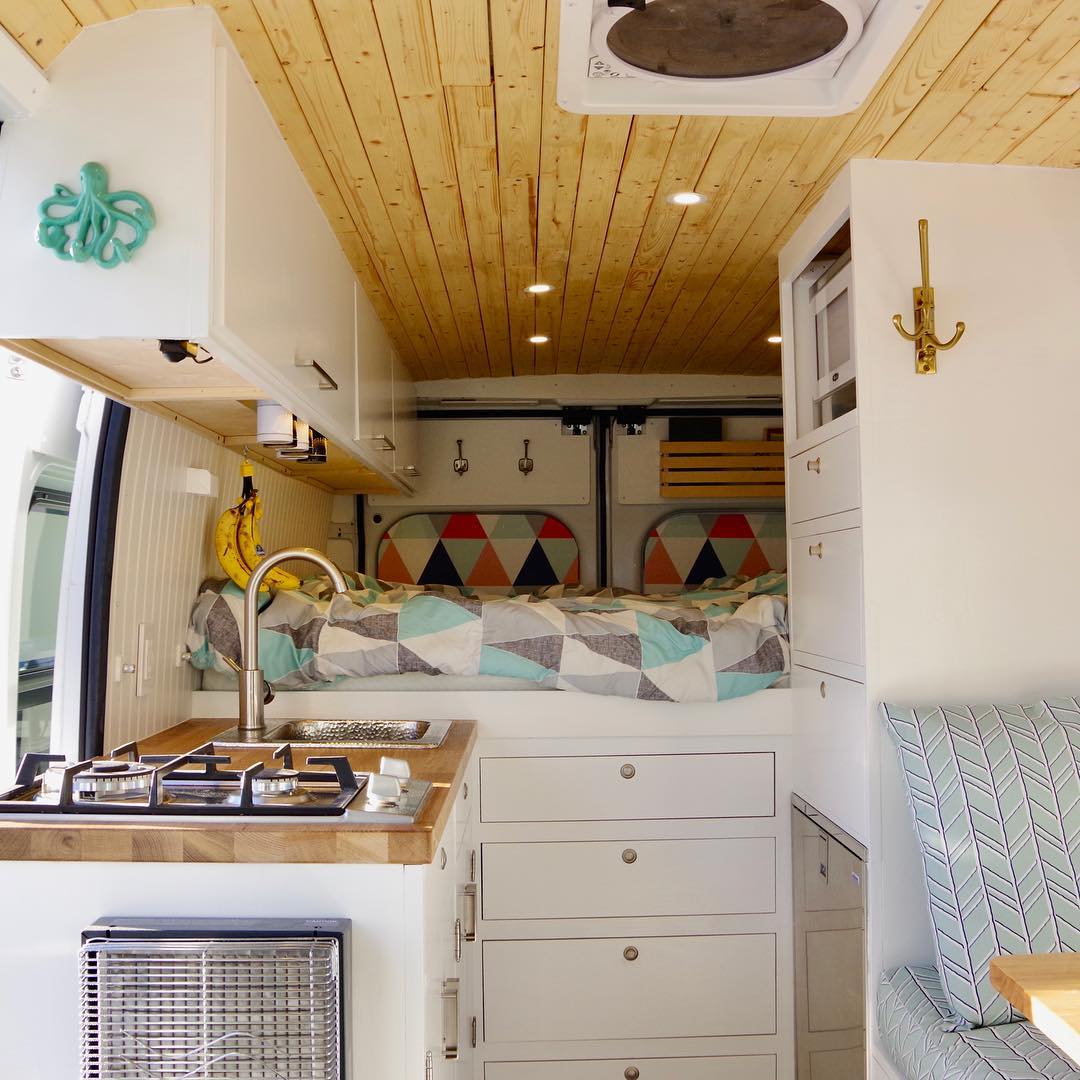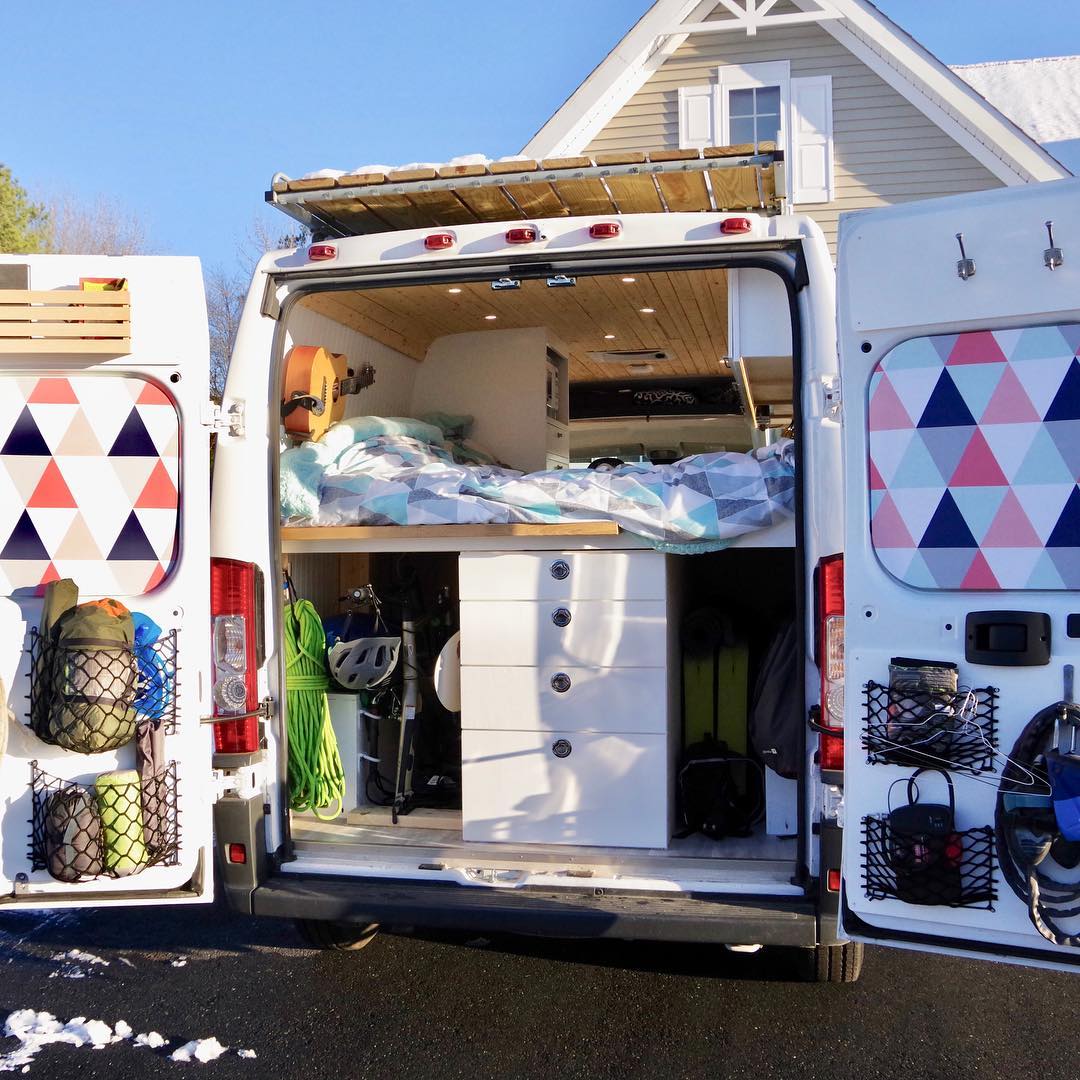 Kara is a web developer and solo female van lifer who lives in a Dodge camper van full time with her dog Rocco. This is a self-built 159″ ProMaster. We liked the bright colors she used and storage attachments on the back doors. She cooks on a built-in propane stove top and works on a desk right behind the driver's seat.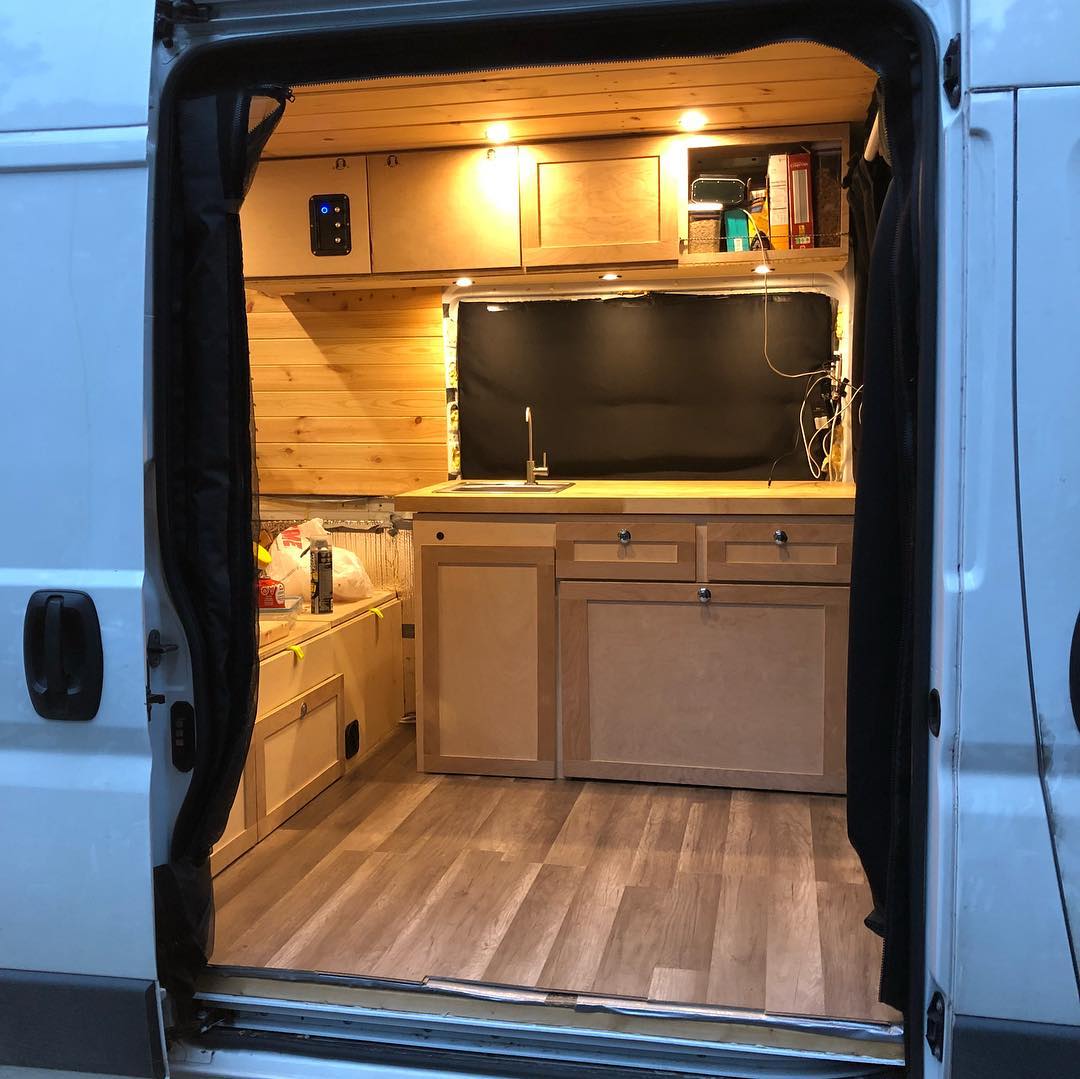 Dennis is a structural engineer and full time van lifer. He did a DIY conversion of a 2017 Ram ProMaster 2500. We like the clean woodwork and cozy design of the interior.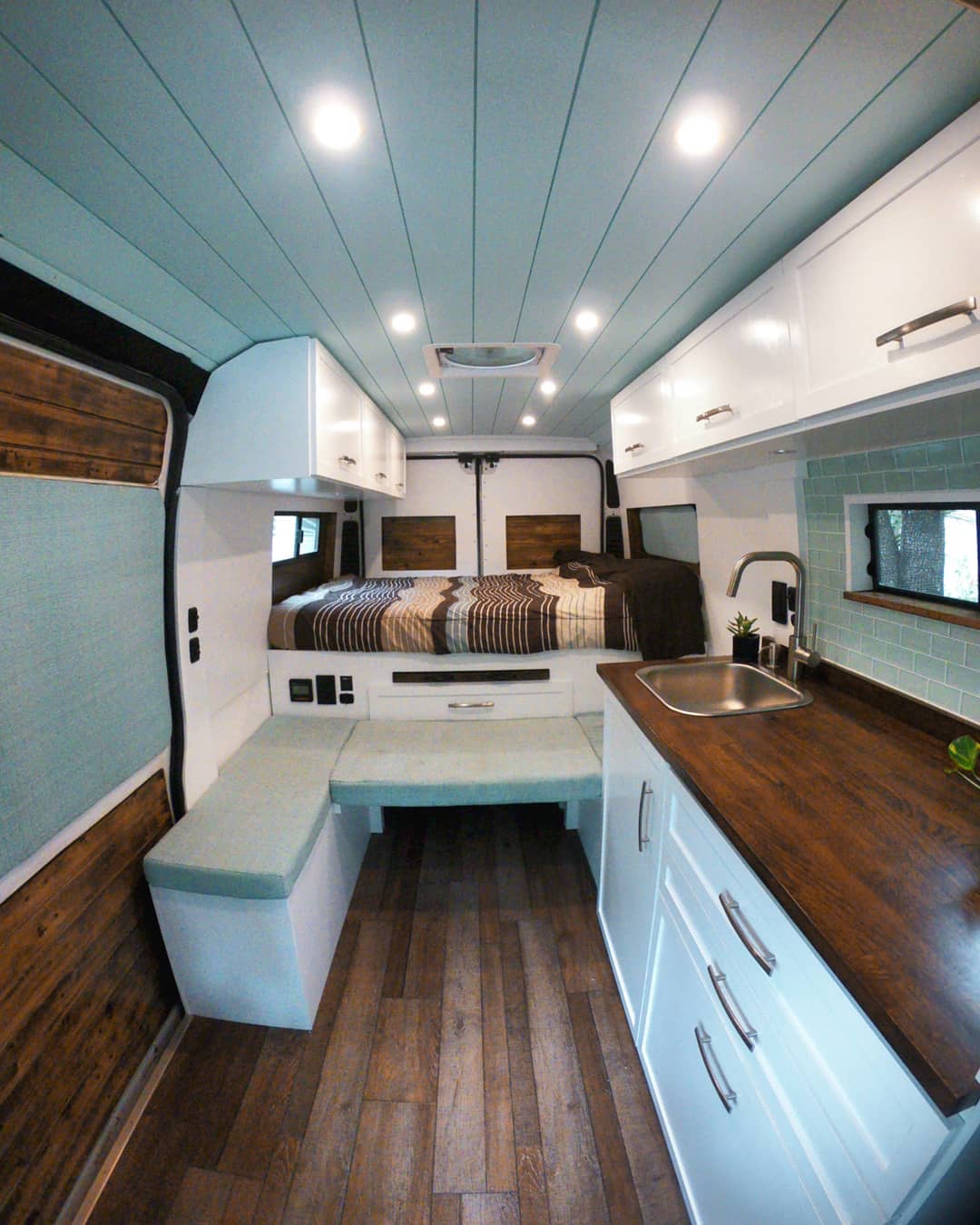 Kyle and Shaina live and travel in this Dodge ProMaster conversion van. They decided to build shelving on just one side of the van to leave extra room for the two of them plus their three dogs. They built a slide out table underneath the mattress and cook on a portable stove top.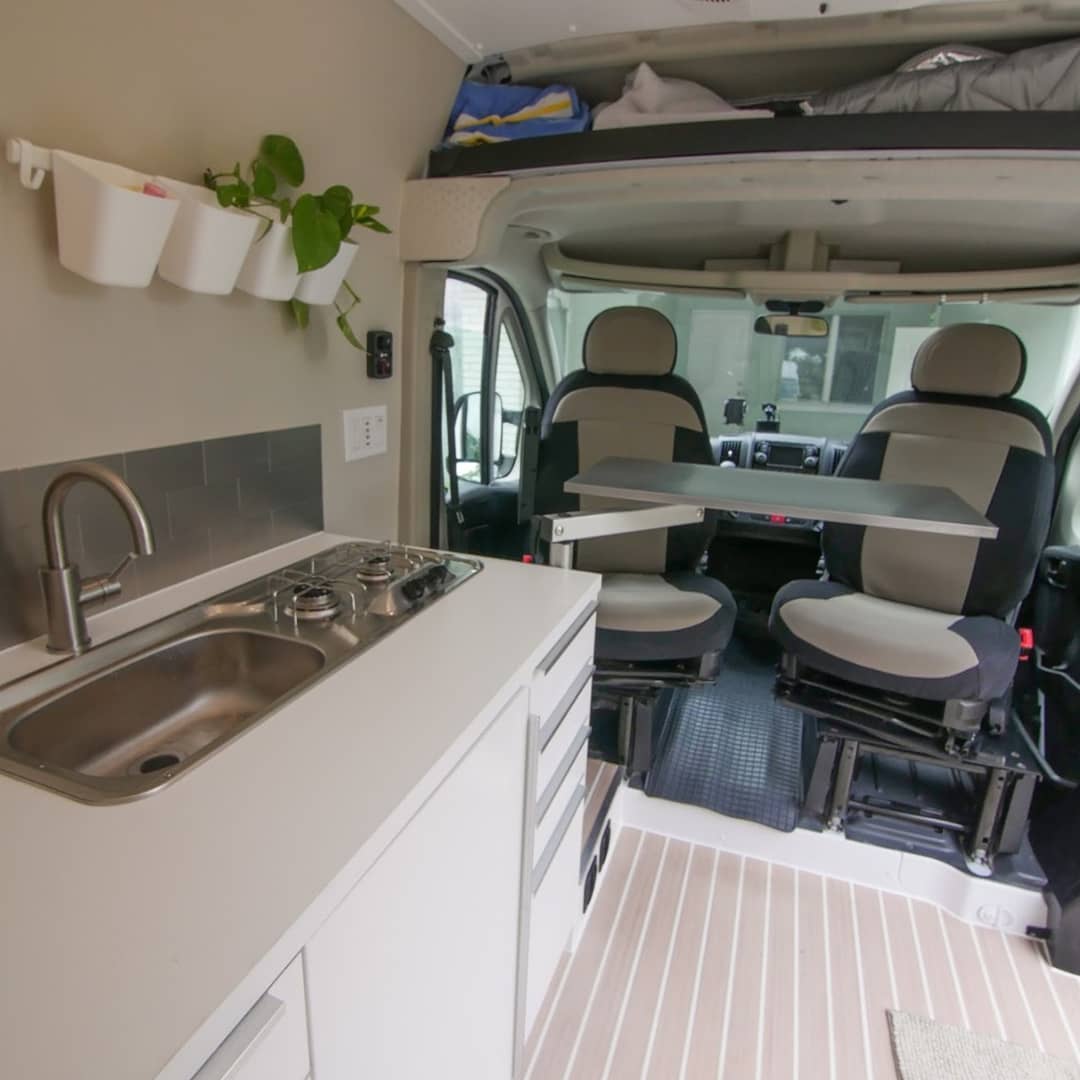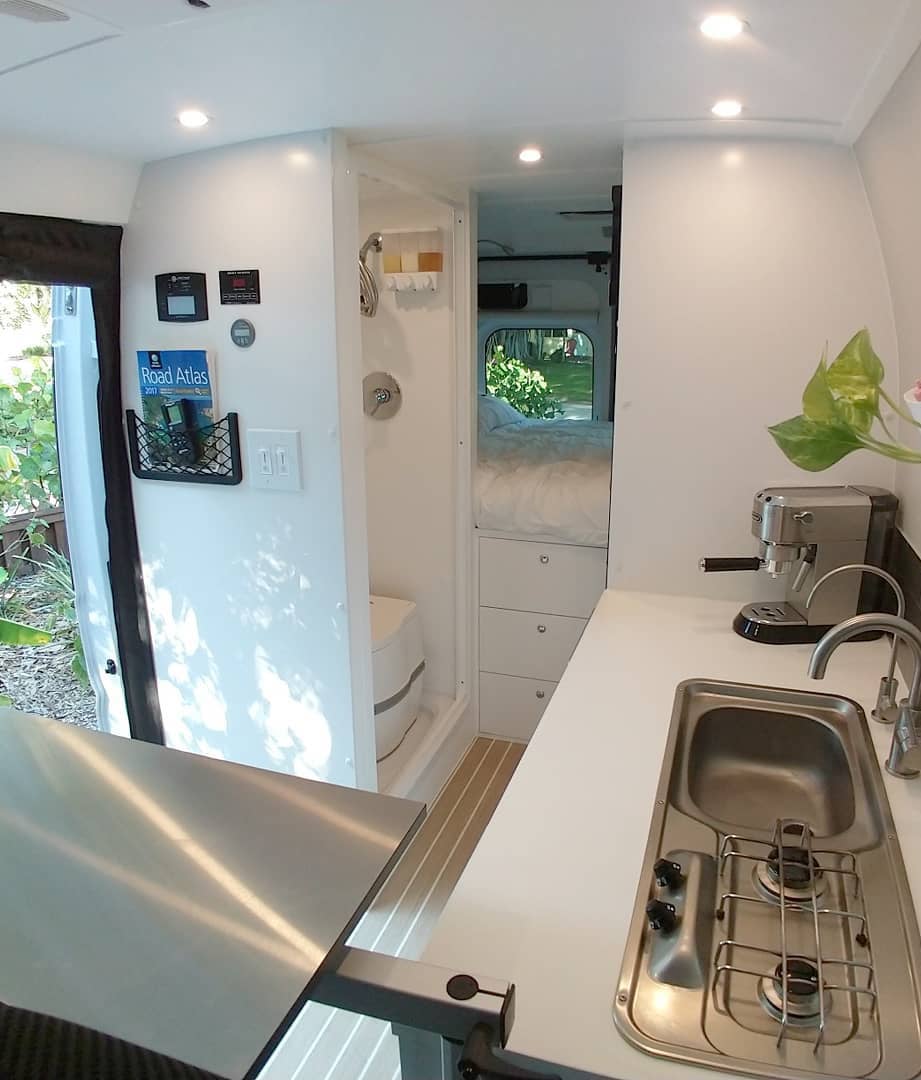 Zack loves travel and adventure. He built this (second!) DIY Ram ProMaster 159″ and travels all over the USA. His van may look simple, but it includes plumbing, a hot water heater, shower, toilet, and 400Ah of battery power. We like the table which is on a swivel mount to make the perfect little work space.
Dimensions
If you want to design you own camper van, it's best to start with the dimensions. We've created a useful table containing all of the interior and exterior RAM ProMaster dimensions from 2014 onward so you can find out exactly what fits in your vehicle. Check it out!
Dodge ProMaster Camper Vans
We hope these ProMasters have given you some ideas for your next camper van build. After all, they are one of the best vans for van life.
Check out our other posts on Sprinter van inspiration, Ford Transit Conversions, Ford Transit Connect conversions, and read through our build a van guide to start your own adventure travel build!