11 Camper Van Bed Designs For Your Next Van Build
By
on
This post may contain affiliate links. As an Amazon Associate, I earn from qualifying purchases. Please read my full disclosure.
Want to create a unique van build but don't know where to begin? First and foremost your van is where you sleep, so it makes sense to start with the bed! These campervan bed designs show creative and practical ideas for your van build.
Whether you're looking for a permanent fixture, or something with more flexible storage for van life, we've got you covered with inspiration from the simple and practical to the unique.
While looking through these builds by other vanlifers, be sure to keep in mind the layout and surface area of your van build.
But don't be too worried about making the perfect layout; If you find your needs change you can change your layout too!
There are two main types of bed designs: the platform bed, and the convertible bed. In this article, we'll go over the pros and cons of each and discuss how to choose the best bed for your camper.
The Platform Bed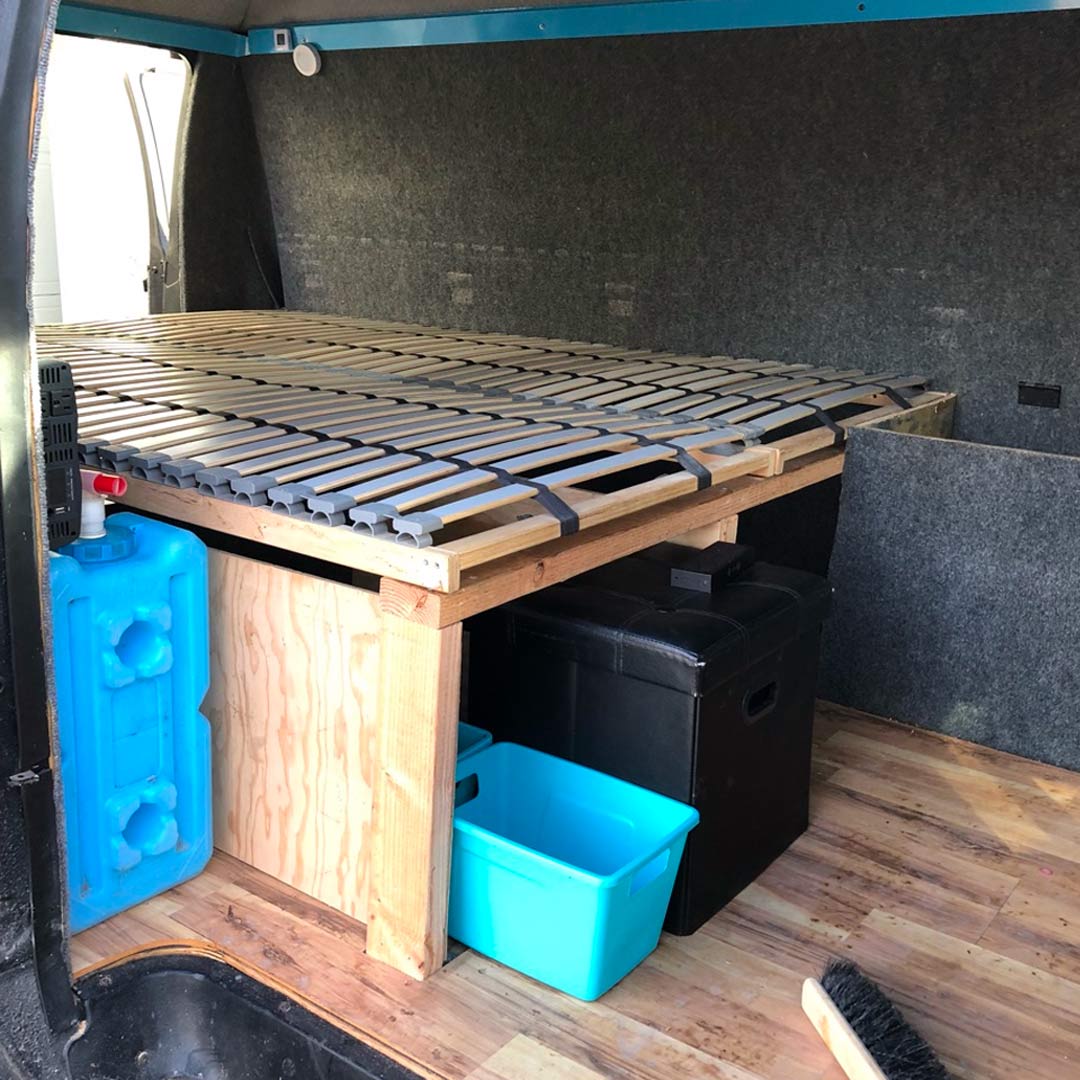 Platform Beds
The platform bed is probably one of the most standard bed designs around, and the design we chose for our van build.
Platform beds have one dedicated bed space that stays in a fixed position. We like this type of bed because it's always ready to go – no assembly required!
Fixed position beds leave lots of room for storage underneath; this area is known as the garage. You can fit bikes, clothes, water, camping refrigerators, or other adventure equipment.
The downside to fixed beds is that they don't leave a lot of room for seating.
The bed is already assembled every night
Large storage area underneath
Keep overhead space in mind.
When we first started out van build, storage was our main concern, so we built the bed high to fit bicycles underneath.
Over time we've learned headspace was a greater concern for us and we ended up lowering the bed at least 9 inches.
We were able to purchase pre-made slats from Ikea for some extra spring cushion below our mattress. We also chose to bought a 5″ memory foam mattress (queen size) to place on top.
Nomad Vanz vehicle with flares installed.
Adding Flares
Most vans will only fit a queen or full-sized mattress running length-wise which means you lose a lot of space within the vehicle.
Dodge ProMaster vans are the exception to this because they are wide enough to fit a mattress in any direction without cutting it down.
Flares are fiberglass panels that can widen the useable space in your van. They can be added to a Sprinter, ProMaster, Transit and Nissan NV.
With flares, you can install your mattress width-wise and gain a few feet of useable space. They are not cheap and require professional installation.
Another downside is that you won't be able to insulate well where the flares are installed.
Standard Mattress Sizes
| Mattress Type | Dimensions (inches) | Dimensions (centimeters) |
| --- | --- | --- |
| King | 76 x 80 | 194 x 204 |
| Cal King | 72 x 84 | 183 x 214 |
| Queen | 60 x 80 | 153 x 204 |
| Full XL | 53 x 80 | 135 x 204 |
| Full | 53 x 75 | 135 x 191 |
| Twin XL | 38 x 80 | 97 x 204 |
| Twin | 38 x 75 | 97 x 191 |
RV mattresses have unique sizes including short-queen and RV bunk. You can also purchase toppers that are sized to fit accordingly.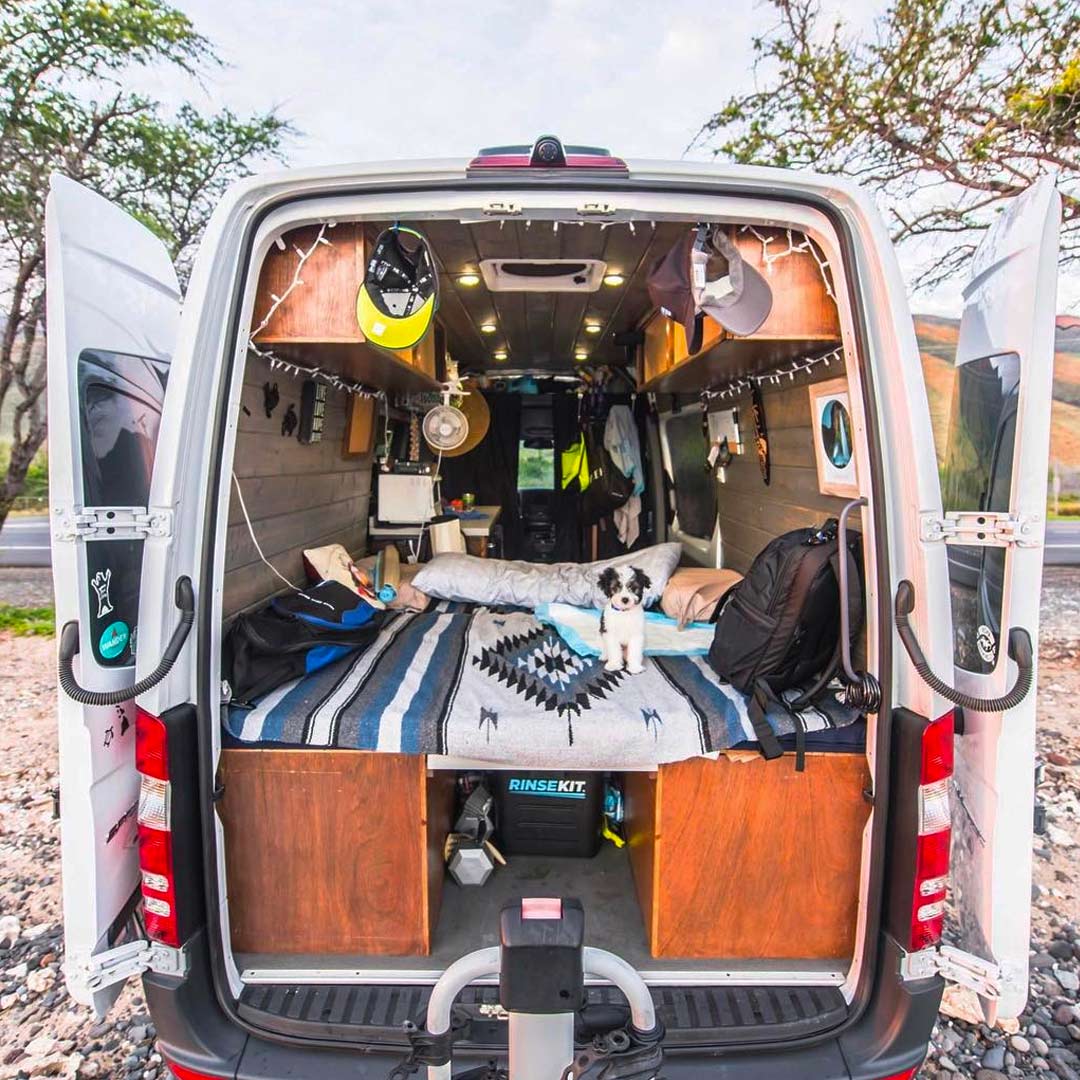 Convertible Beds
Convertible beds fold up when they're not being used to leave room for dinettes, sofas, or large pieces of adventure equipment.
These types of beds are convenient if you need a comfortable workspace, or if you want to host more than two people in your van.
The downside to convertible beds is that they take some assembly time.
These types of beds are also inconvenient if you're sleeping schedule is not on par with your partner.
Leaves room for a workspace
Great for entertaining
The Table Bed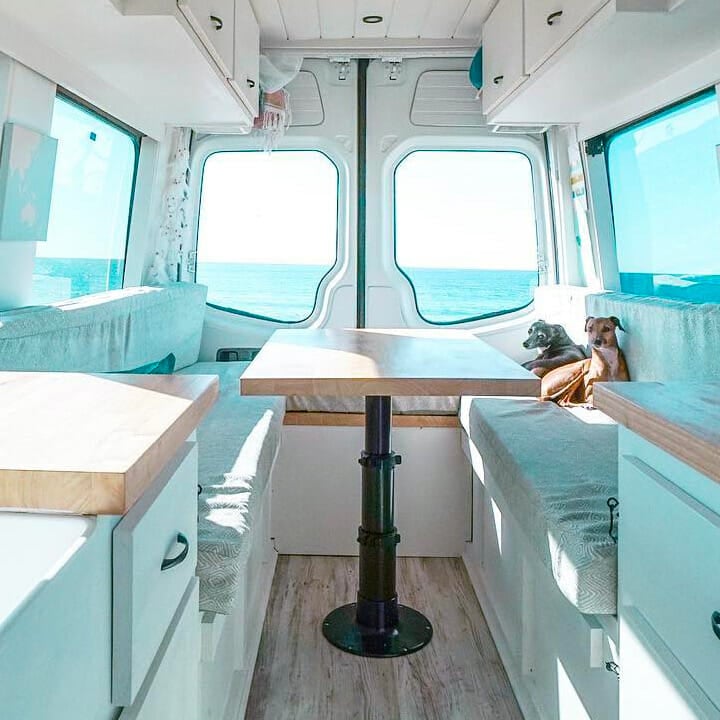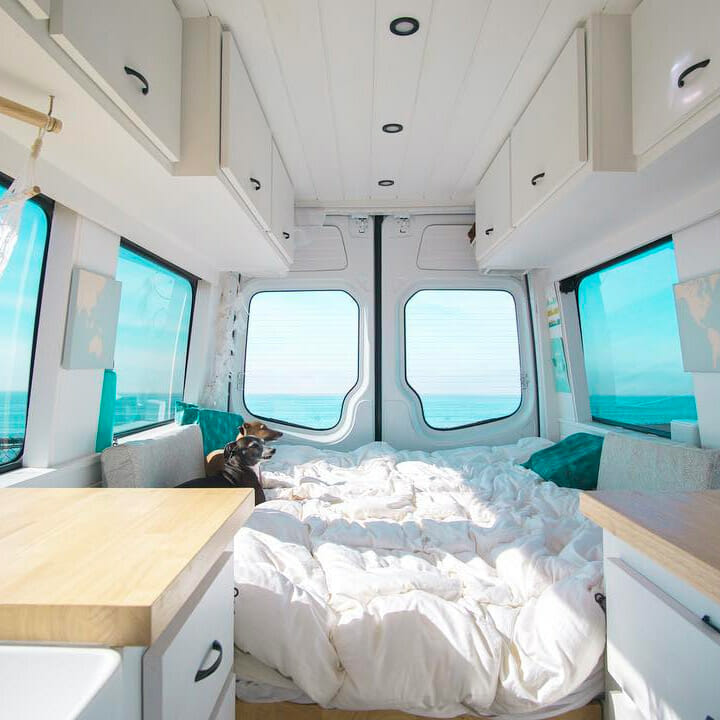 We've seen this design a lot, and it's certainly a good way to get the most out of what little space there is in a van.
This type of bed design allows for the dual purpose of both a bench cushion and a sleeping spot. @saraandalexjames use this design in their 2008 Dodge Sprinter.
It allows them ample room to work on the road as well as stay comfortable at night.
Wanna make this? Read our post on which mattress to get and how to cut it!
The Flip Bench Bed Design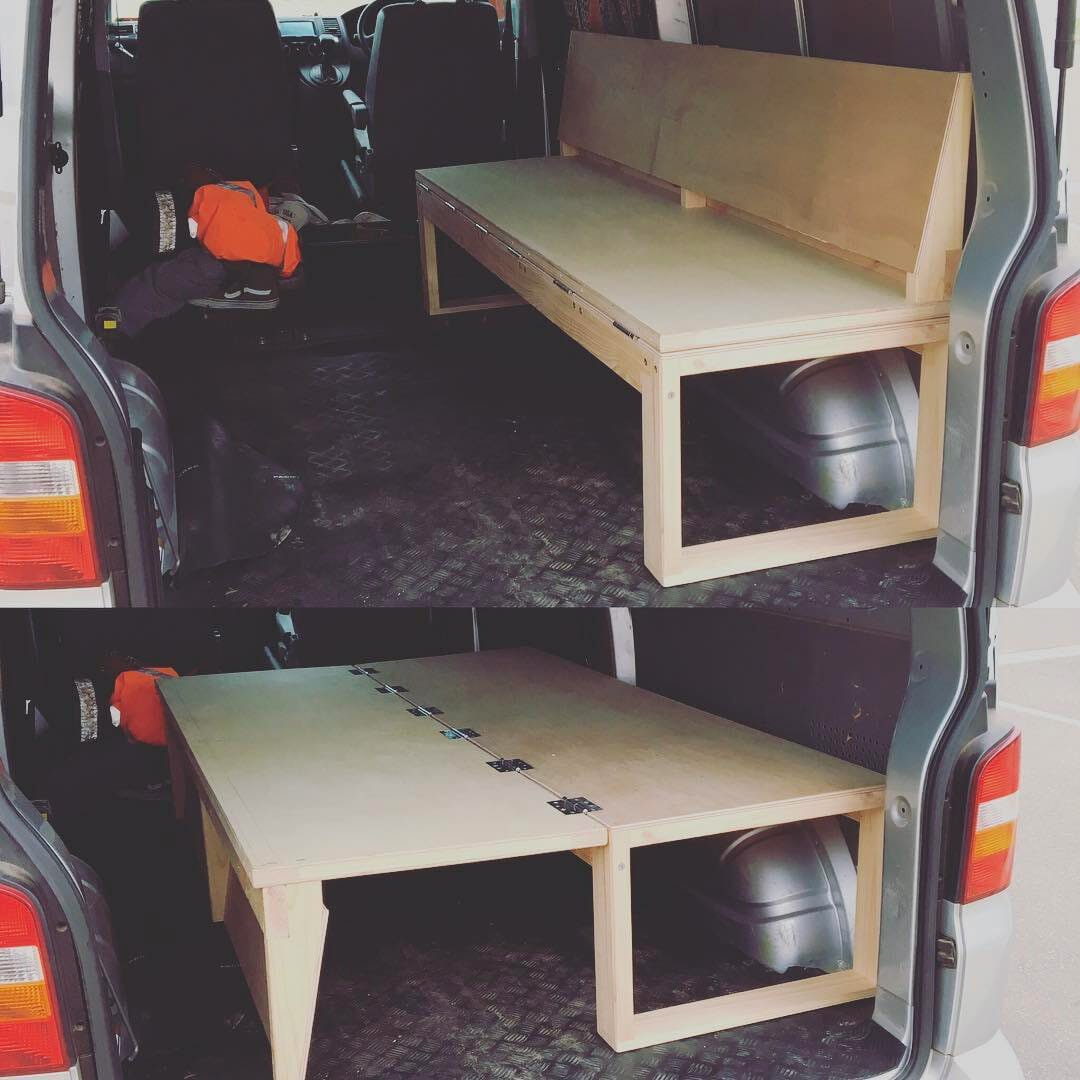 This is the first time we've come across this design. @jakeheard and @dannyogrds built a bench that flips open into this cool single bed design.
All it needs are some cushions and it's good to go! This bench would make a great space saver for someone who also needs an area to sit straight up on the road.
Slide Platform Bed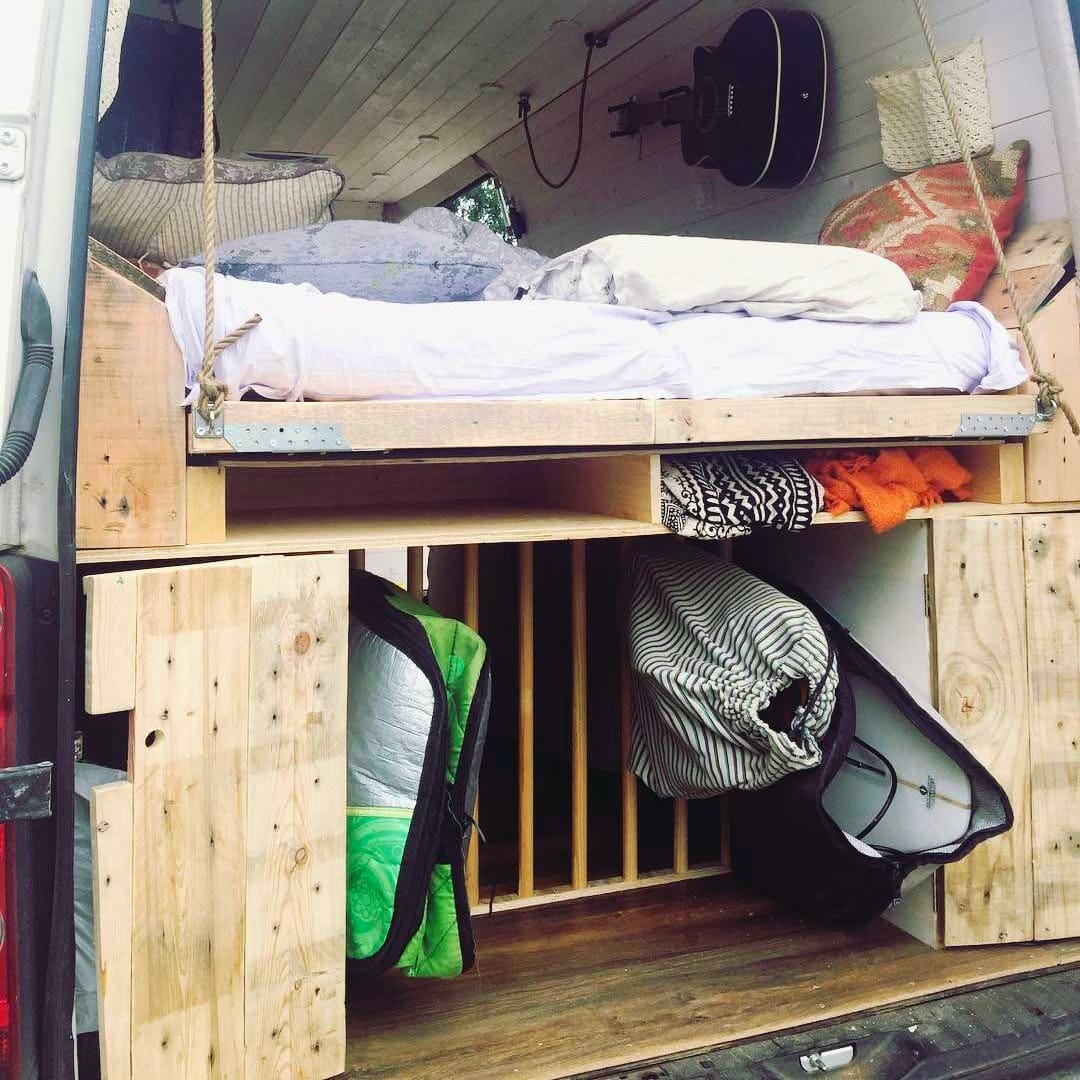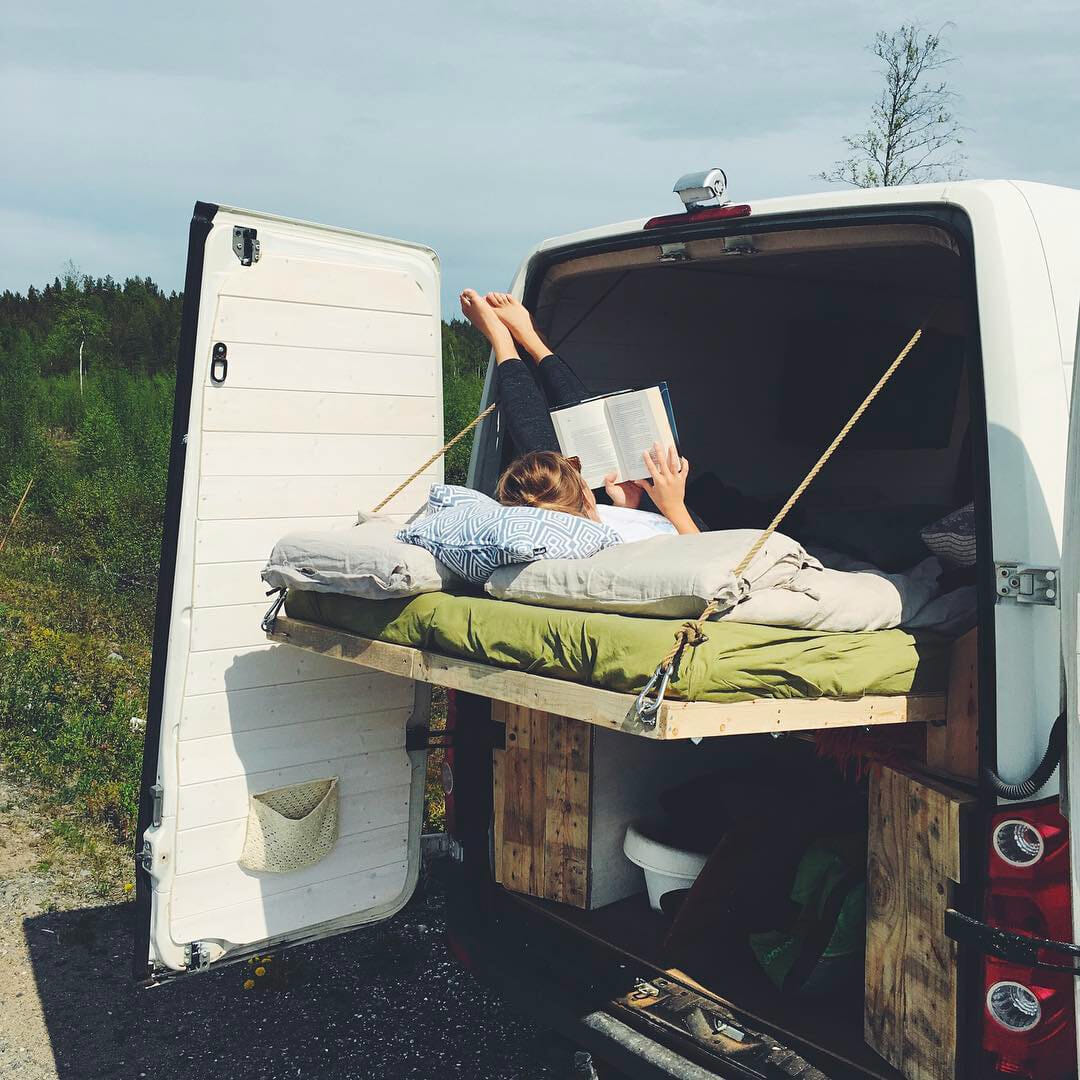 One of the more unique designs we've seen is this slide out platform bed by @surftripping. During travel, the bed can be pushed flush against the back wall.
Once you find a cool place to park, the whole platform can be slid out so you can hang out in the sunlight and sleep under the stars.
Bunk Bed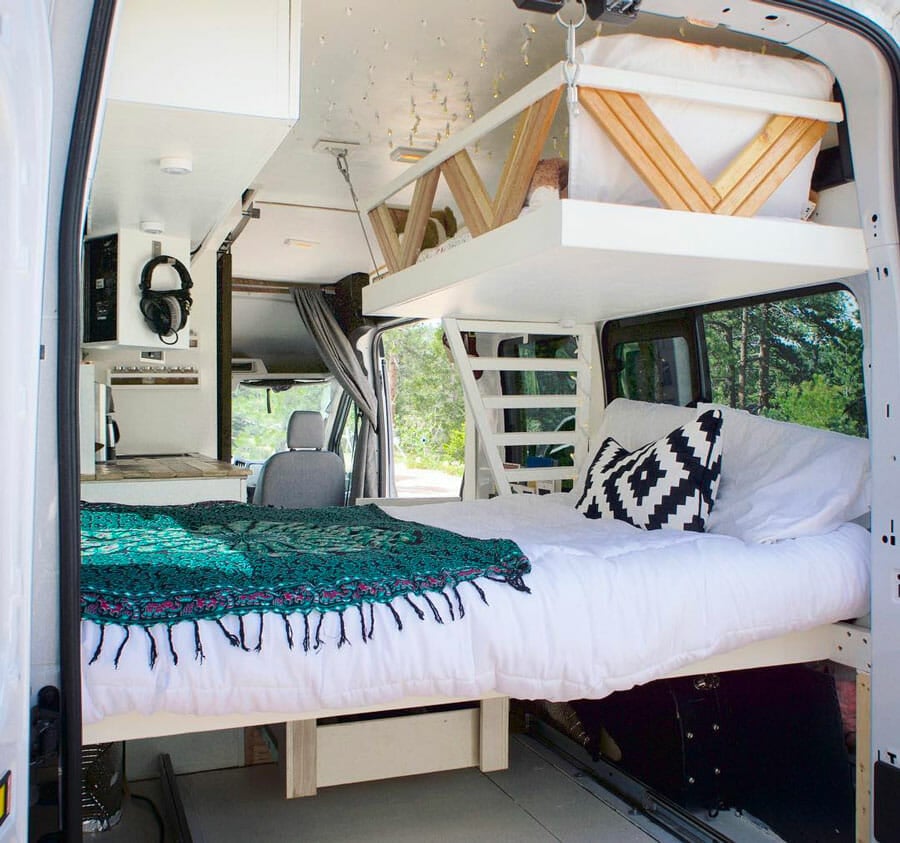 @fitetravels is a family of three that needs space for everyone to sleep as they adventure in their Ford Transit.
They've come up with an interesting way to fit all three beds in a van without it feeling too overcrowded.
The bunk bed system hangs from the ceiling and has a little ladder to climb up at night.
Murphy Bed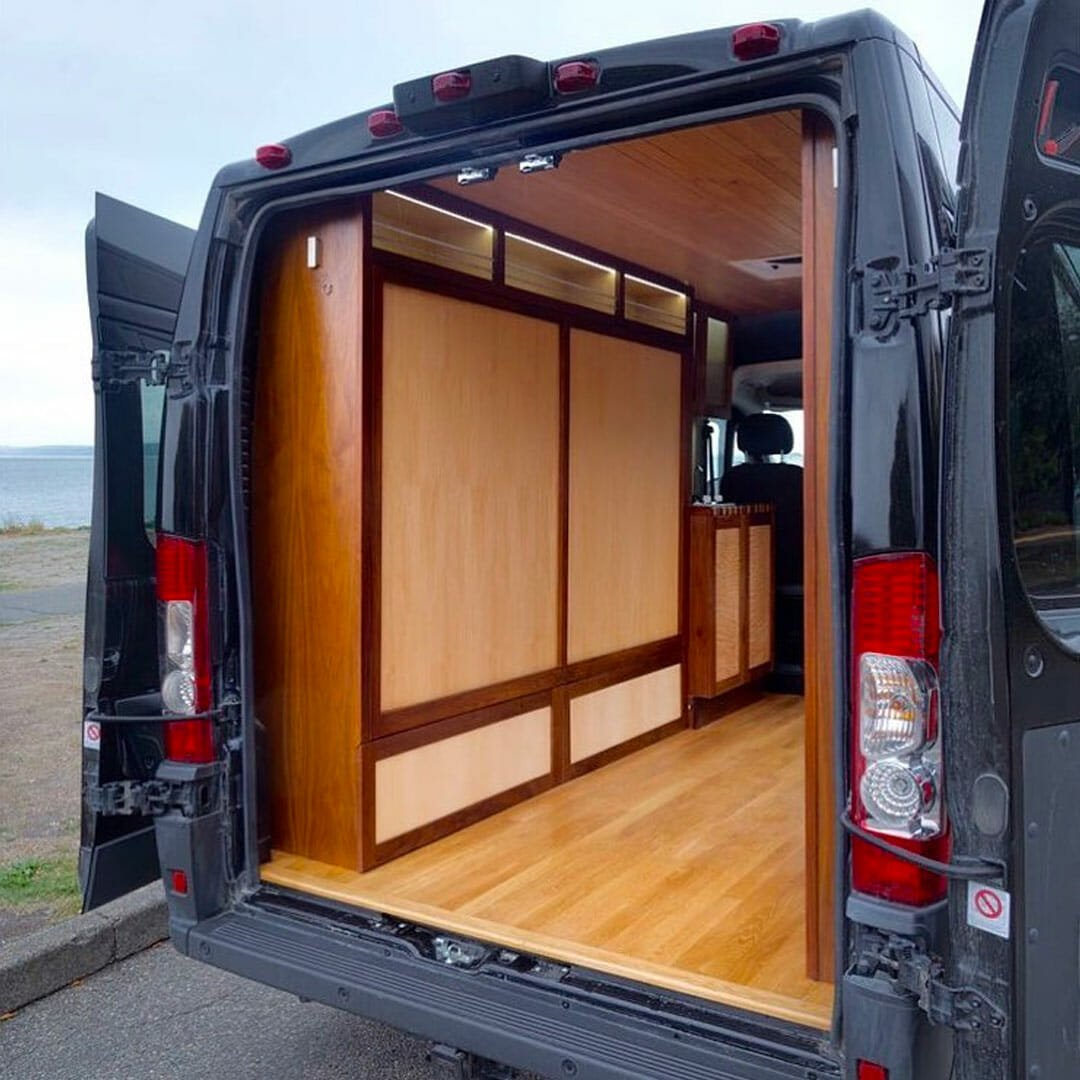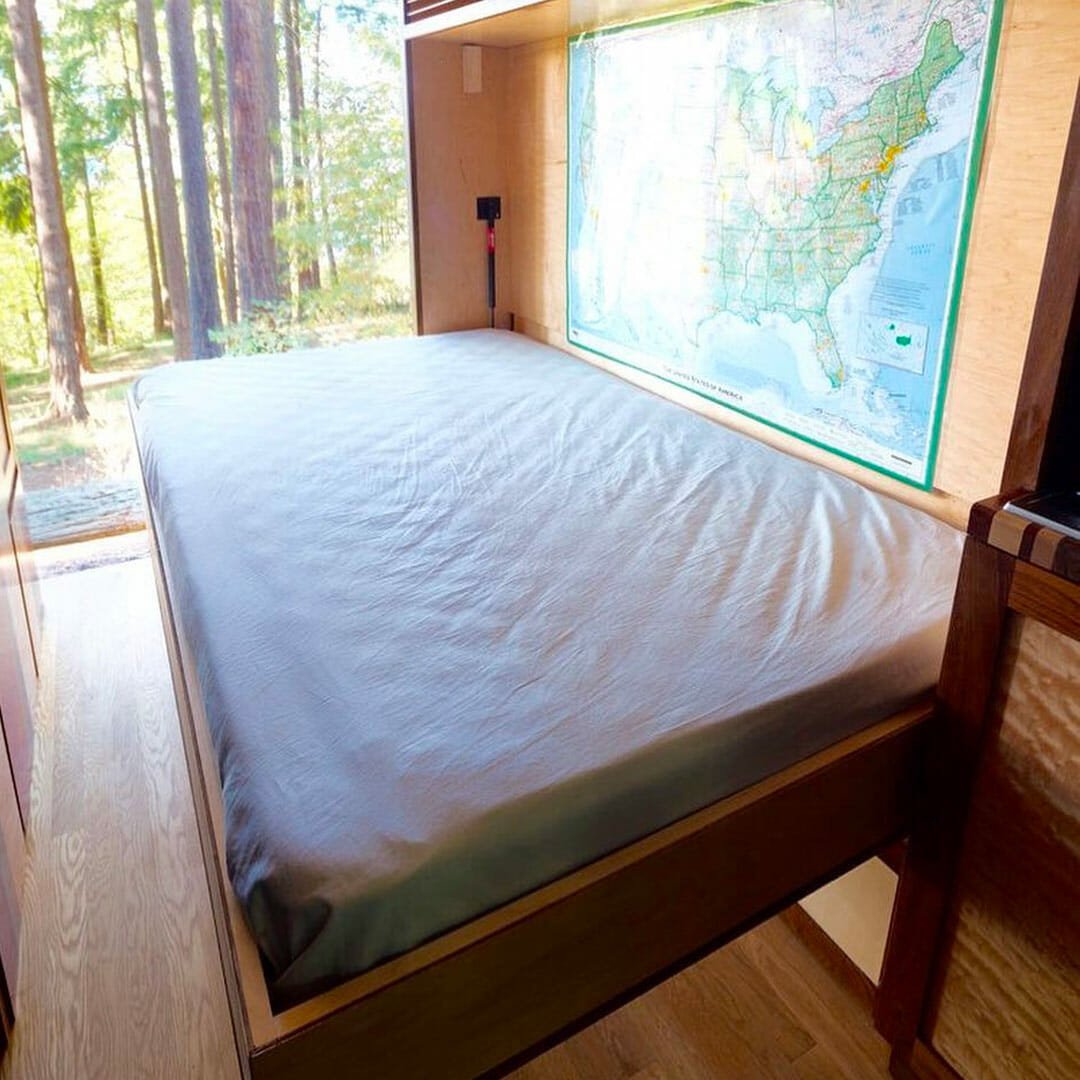 If you are into construction, this murphy bed by @rydawell might be perfect for you! This is one of the cleanest and most organized builds we've come across.
It leaves an insane amount of space to fit bikes, surf boards or anything else you could ever want to travel with!
Drawbridge-Style Bed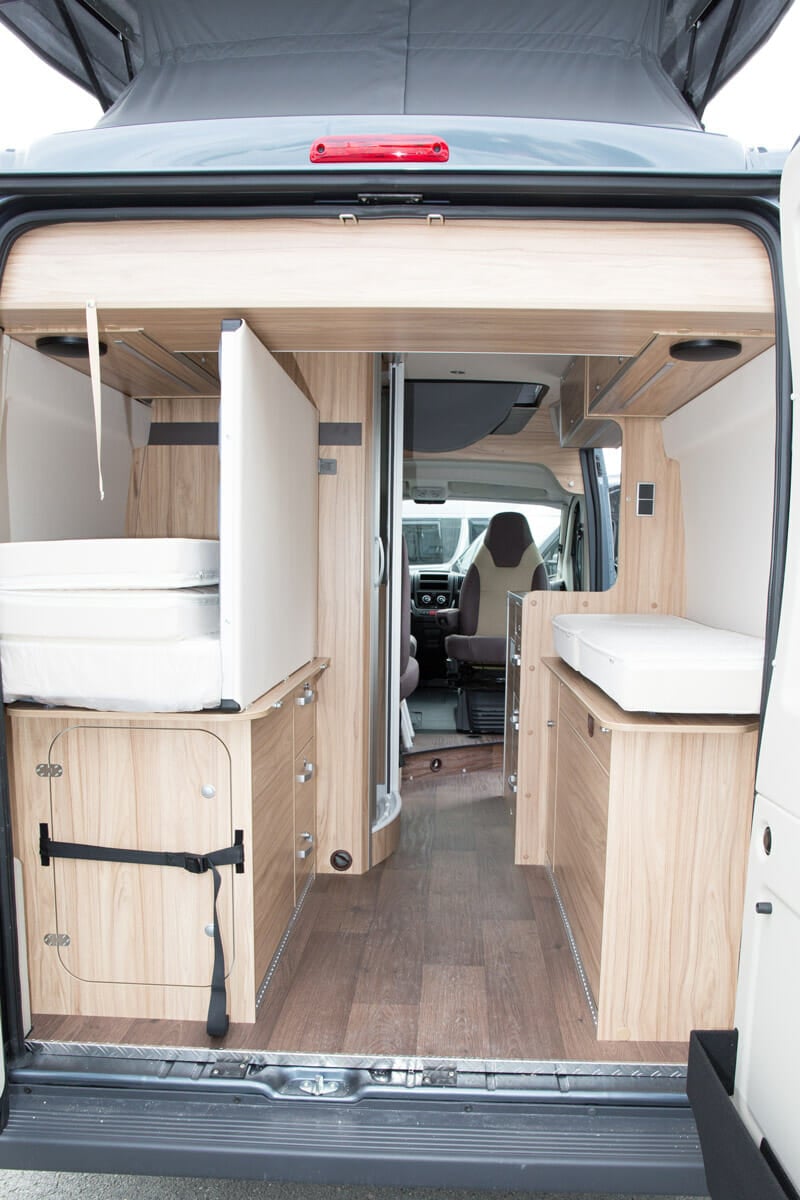 Beds with a drawbridge style mattress close to one side similar to a murphy bed but the mattress folds like an accordion instead of staying flat.
These types of beds take up less room than the murphy style, but they are more inconvenient to assemble.
Couch Bed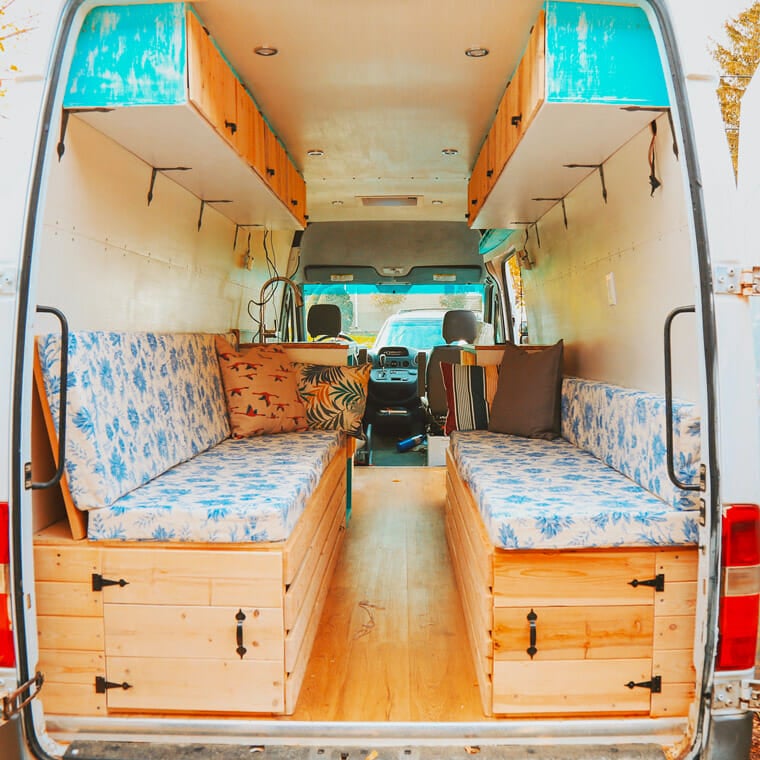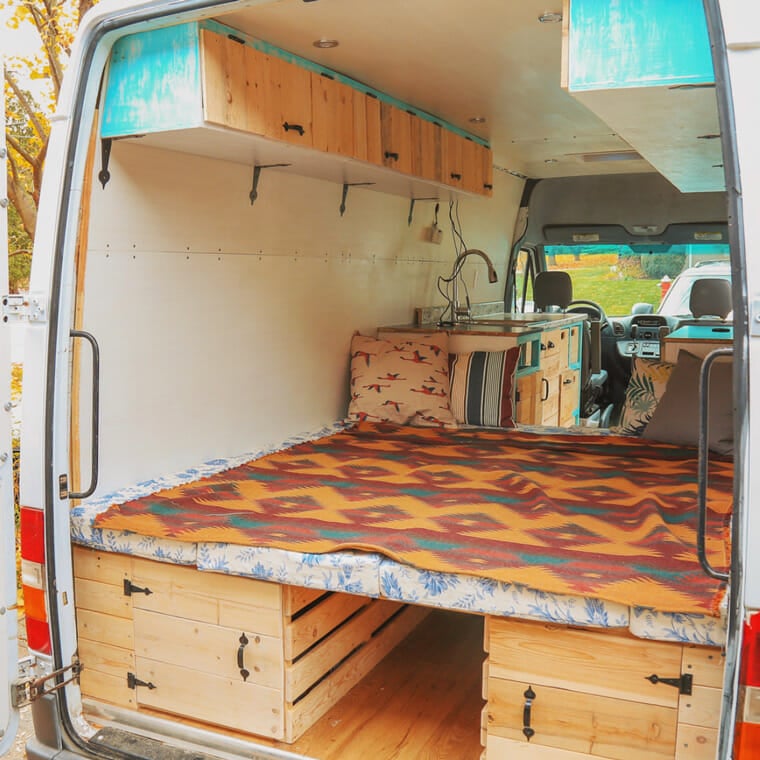 The couch bed is a common solution for van lifers. There are a number of different ways a couch bed can be built. @dont_know_road used benches that fold down to hold cushions in place whether you feel like sitting up or laying down.
We also love the bedsheets!
Slider Bed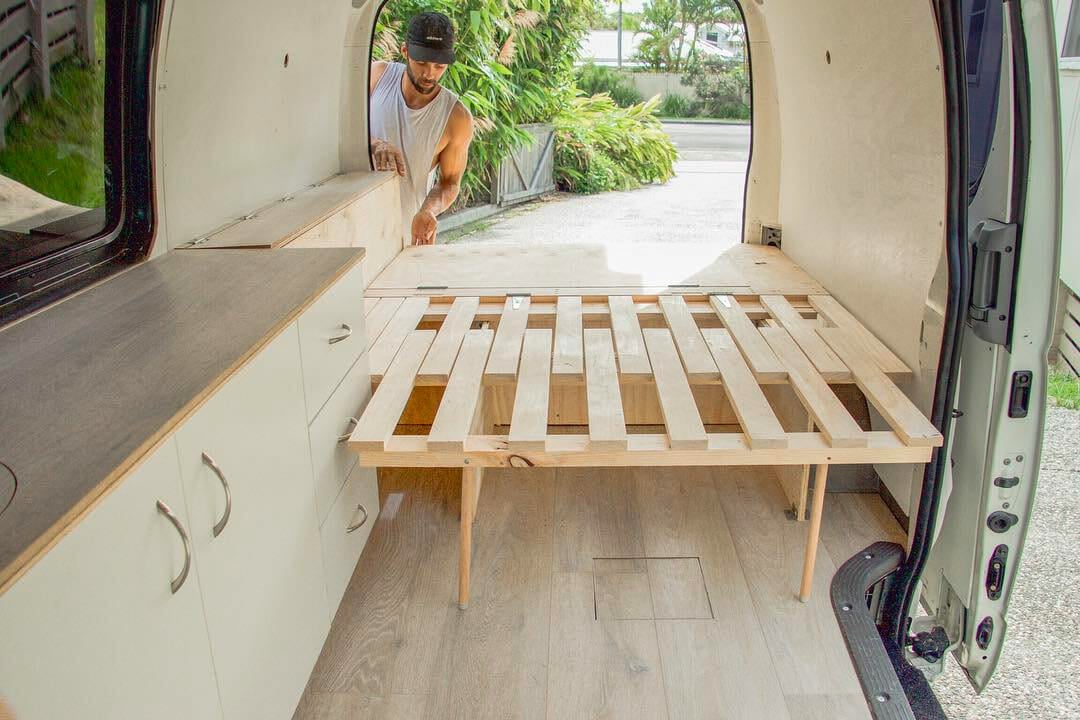 Another common technique is the slider bed. This one by @heytess_ shows how you can push in the slats, and lift up the back to create seating.
Slider beds make for a good multi-purpose solution when it comes to building out a van.
Custom Shaped Bed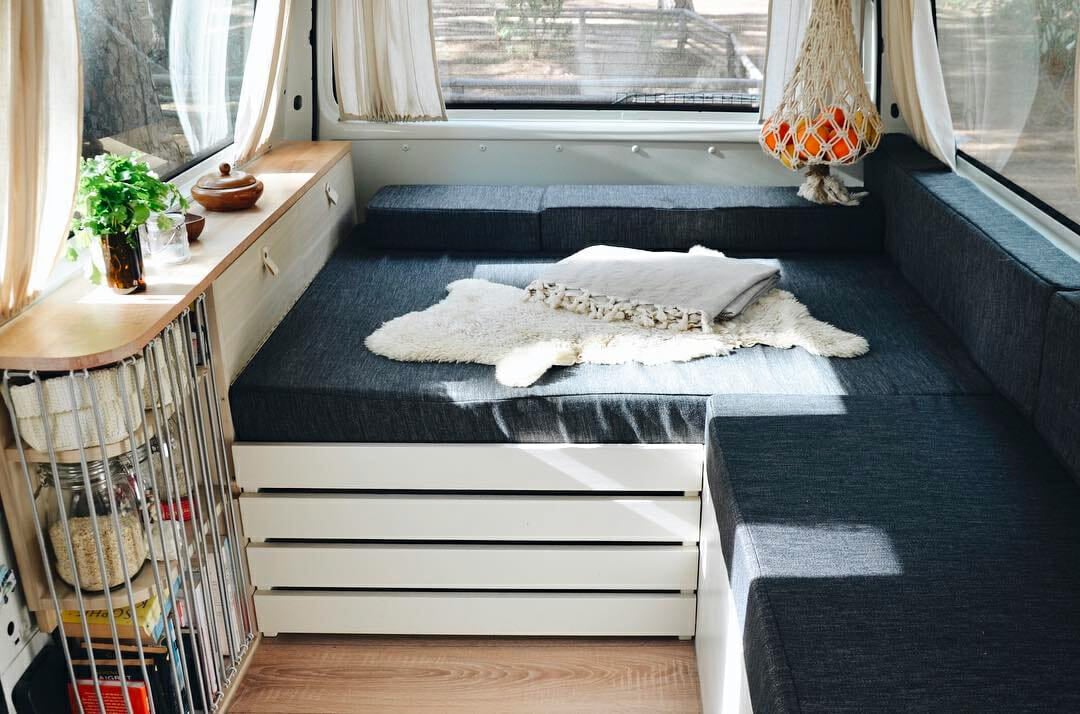 Not everyone needs a perfect square bed, sometimes a different shape will give you the biggest bang for your buck. @a_hiace_called_home built an L-shaped bed to serve as both a permanent fixture, and a sleeping spot for two people.
Bed Bench Seats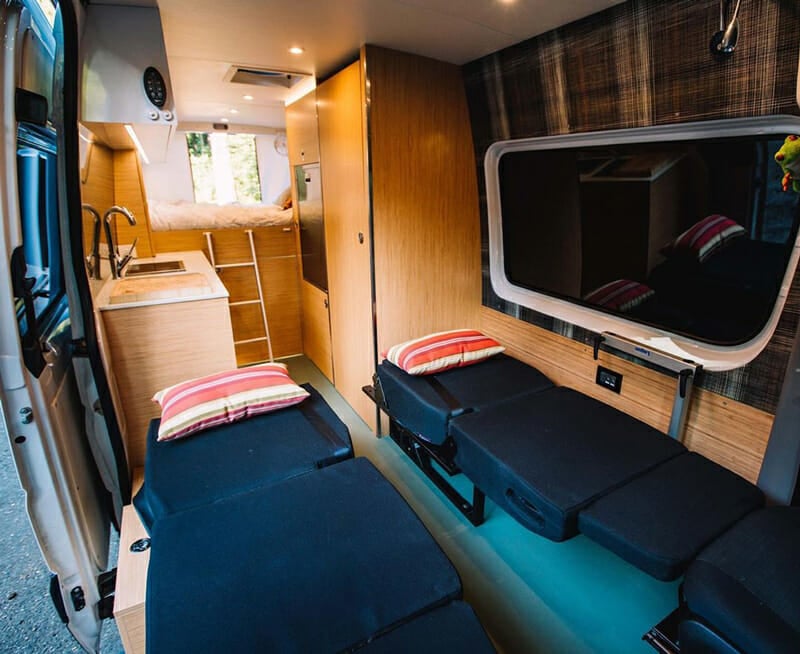 One of our favorite van builders Nomad Vanz designs these custom seats that can fold down into a bed.
With this seating design, you can comfortably fit four people sleeping inside the camper at once!
Drop Down Bed Systems
If you scour YouTube there are a number of people who have designed custom drop-down bed systems.
These are a hybrid design between a platform bed and a convertible one. This design by Brian Rogers uses lift supports to raise and lower the bed from the ceiling.
Camper van bed alternatives
If construction is not your thing, don't be discouraged! Simply throwing a mattress or ground pad on the floor along with a sleeping bag will work nicely.
Not all vans need to be fully constructed, and using less wood will save on weight helping gas mileage in the long run.
Hammock
With a minimal living situation, one option is to string a hammock across the inside of the vehicle. This is a perfectly reasonable solution if you enjoy the sleeping style of a hammock at night.
What Are Some Good Mattress Choices For Camper Conversion?
Choose a mattress based on your available space and comfort level. We like the gel-infused memory foam because they are slim, breathable, and easy to cut. Listed below are a few popular size options.
Folding Mattresses for Camping
You can also purchase mattresses that already have pre-folds included. These are good for creating bench seats or drawbridge-style beds.
4-inch Trifold Mattress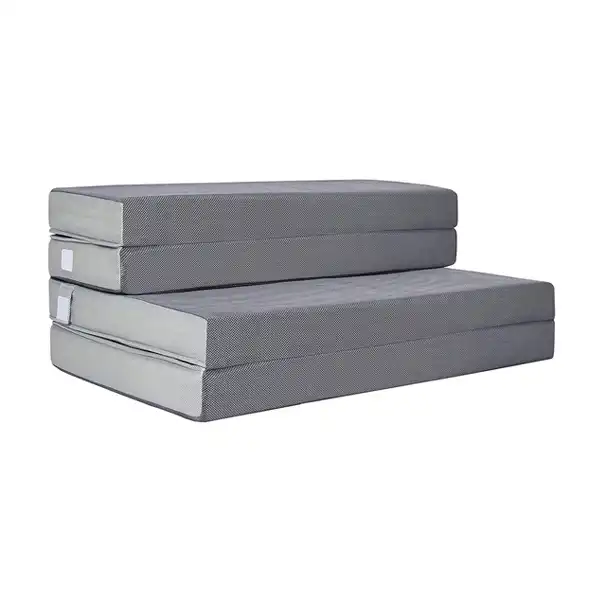 Continue Reading: