Best Double Sleeping Bag For Car Camping Couples And Families
By
on
This post may contain affiliate links. As an Amazon Associate, I earn from qualifying purchases. Please read my full disclosure.
When the sun goes down and the temperature drops, you find yourself looking for every bit of warmth within the tent. Why not cozy up next to your partner with the best double sleeping bag?
2 Person sleeping bags are ideal for car camping couples and families. You can stay warmer by sleeping in close proximity to each other, and there's less gear to pack and store at the end of a camping trip.
In this article, we're going to discuss features to look for in a double sleeping bag. We'll also cover the best bags on the market today, and accessories to make your overnight trip more comfortable.
What Is A Double Wide Sleeping Bag?
As the name implies, a double wide sleeping bag is simply a sleeping bag designed to fit two people. These bags are bulkier and heavier than two single bags so they are best for car camping or truck camping. Double sleeping bags are not something you would want to take on a backpacking trip.
The most significant benefit of a 2 person sleeping bag is the fact that you get to stay close to your partner. Nothing is more romantic than cuddling up for a night under the stars.
Large sleeping bags are also great for children and families. Kids love the fact that it makes the campground feel like a giant slumber party. Having a wide, comfortable space for the kids to sleep is great way to create lifelong memories as a family.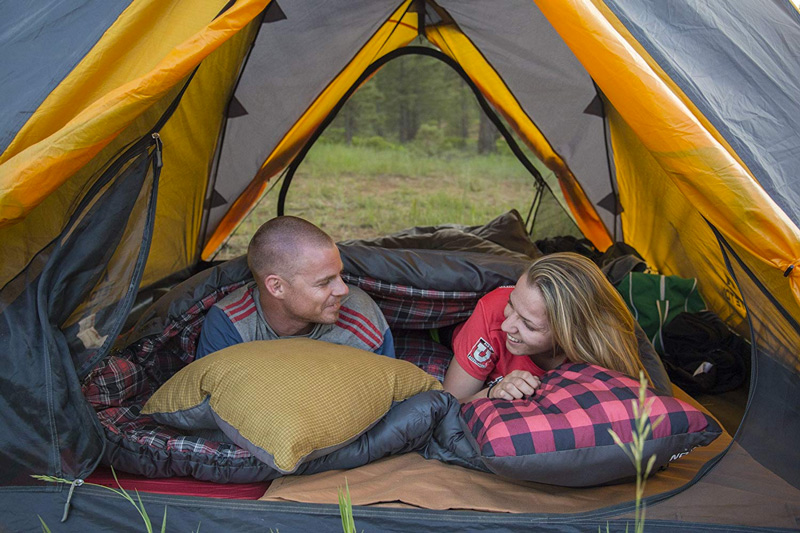 Features To Look For In A Double Sleeping Bag
Not all sleeping bags are built the same. It's easy to get distracted by big brand names and think you need to go out and spend an arm and a leg on the best doublewide sleeping bag available. There are a number of features to pay special attention to when you're shopping around. We've listed some of the most important ones below.
Weight
It's no secret that double sleeping bags are bulky. If you never considered that a sleeping bag could weigh nearly 10 pounds, you've probably never encountered a 2 person bag before. These get heavy, and if you're a serious hiker and camper, you'll start to feel that extra weight after a while.
When you're parking your car ten feet from the campground, the extra weight won't matter much, but try hiking 12 miles and you'll quickly learn that every ounce matters.
For this reason, you should only consider doublewide sleeping bags if you have the space in your adventure vehicle or RV. We recommend not looking at the weight of the bag–because they're all going to be heavy–but instead considering the features and materials.
Choose a bag that's going to be the most comfortable for you, despite the weight.
Size And Shape
Size matters, and might be the biggest consideration when choosing what to purchase. You need to make sure you have enough space for two people, but not so much that the bag is oversized for no reason.
While the product may be bulky, a big advantage is that it only adds one item to your packing list rather than two. That makes set up and take down easier at the campground, and there's less gear to keep track of.
You also won't feel as tightly packed in a larger bag because most styles are square and don't wrap your body up like a mummy bag.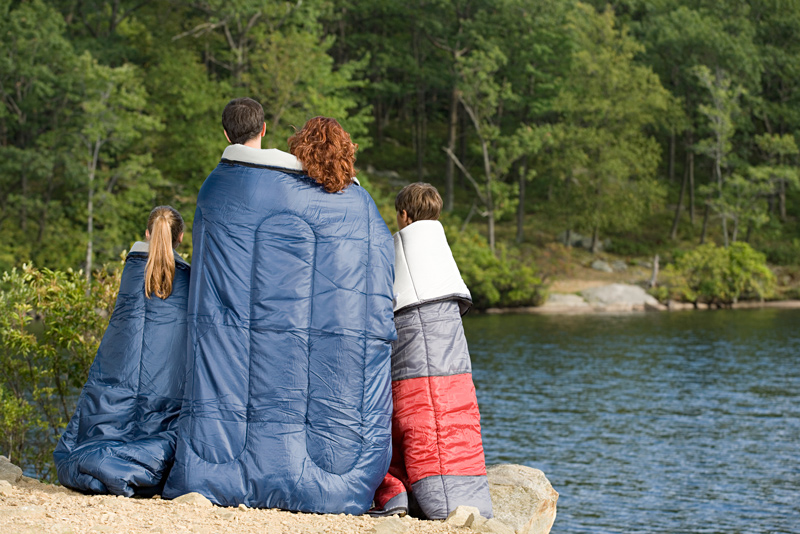 Dual Use
Most individual sleeping bags cannot be zipped together to form one large one. But many double sleeping bags can be unzipped into two single bags. That makes double bags more versatile than single bags.
This also allows for more ventilation throughout the night because you can unzip large sections of the bag all the way to the bottom which you can't always do with a tight mummy style bag.
Shell Materials
The shell is the material used on the outside of the sleeping bag. There are four different materials you should know: polyester, nylon, ripstop, and DWR.
Polyester is great for moving moisture away from the body, and it works well if you're sweating. This material is also lightweight, so it generally makes for a lighter sleeping bag.
Nylon is durable and resistant to cuts or abrasions. The material is also windproof and water-resistant, so you'll have better luck if you plan on sleeping out under the stars.
Ripstop is a woven fiber you'll find in both nylon and polyester. This material increases the strength of the shell, so if you plan on beating your sleeping bag up, you might want to look for one that includes this material.
Durable Water Repellent (DWR) is a water treatment to help water bead and roll off your bag. This feature is especially helpful in wet and humid environments.
Insulation
Because weight is less of a consideration in double sleeping bags you can focus more on quality and warmth. You'll generally find three different materials on the inside of your sleeping bag. These materials are cotton, polyester, and down.
Cotton is affordable and easy to carry, but you want to make sure you don't get it wet. If cotton gets wet, it will get cold quickly, resulting in discomfort or worse.
Polyester is popular for insulation and its lightweight and compressible. This material makes it easy to transport, and it holds up a bit better if it gets wet.
Down is an expensive and all-natural material. It's lightweight, but it also loses warmth if it gets wet. You want to make sure you pair a great shell with excellent insulation for warmth and safety when it gets cold.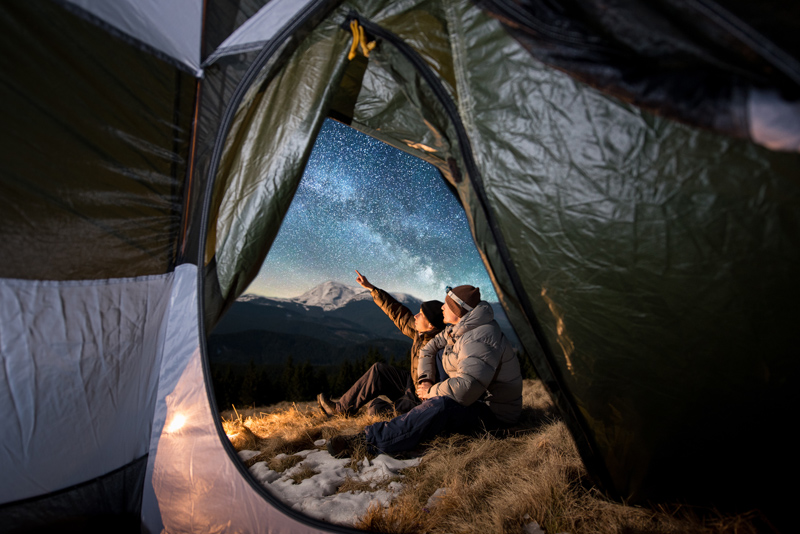 Temperature
An often overlooked area with a double-wide sleeping bag is temperature. Most people assume that because they have two people in the bag, they'll always be warm. This consideration is not always true because you may have a lot more open space in a down double sleeping bag.
When you're shopping, think about how you plan on camping. Are you camping in the winter? Do you generally get hot or cold at night?
If you plan on camping in freezing temperatures, you might need to go for a single sleeping bag to keep your warmth. Many double sleeping bags have ratings for 32 degrees and higher.
Double wide bags that can separate into two individual sleep sacks tend to fare worse in freezing temperatures because cold air can seep in through the zippers. For 4-season camping, consider bags that are one solid piece, all the way around.
Sleeping Pads
While you can always push two sleeping pads together, with a 2 person bag it makes sense to use a 2 person pad. Double sleeping bags work especially well when placed on a camping air mattress or double wide pad. That's going to prevent your matting from slipping out from under you during the night.
These are a few pads and mattresses we would recommend for your packing list:
Best Double Sleeping Bags Reviewed
We've taken a look at the most popular options out there and narrowed down list to make it easier to digest. Below you'll find our favorite choices when it comes to sleeping bags for couples.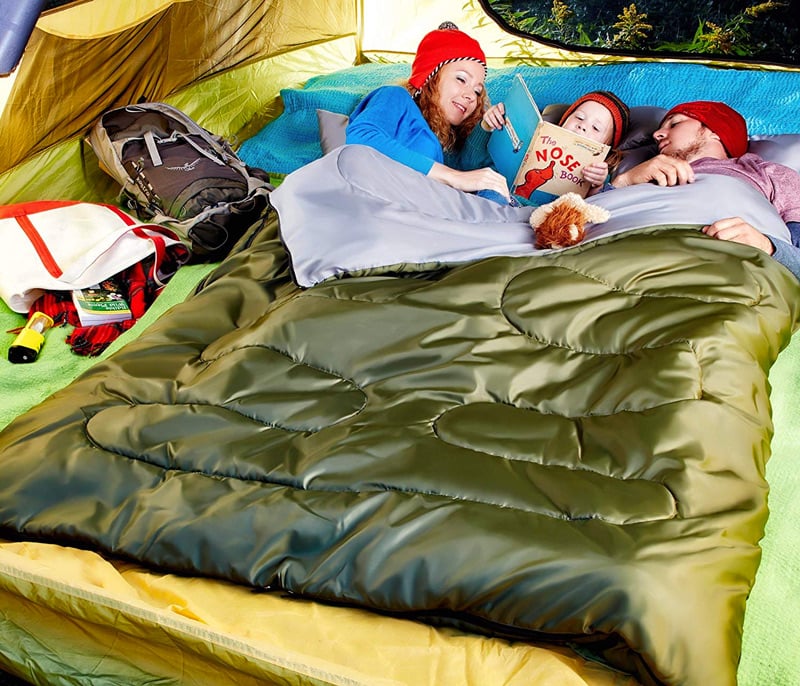 TOP CHOICE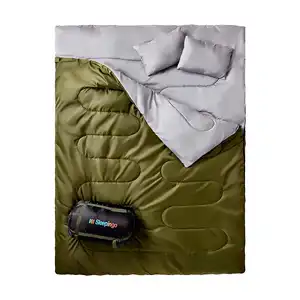 The Sleepingo double sleeping bag is is the lightest on our list. It weighs just under 6 pounds and is rated for temperatures of 32 degrees and higher. That makes it comfortable for mild weather camping and an especially useful piece of gear for summer.
This bag comes with individual zippers and travel pillows so you can unzip the two pieces and scurry off to your individual corners of the tent. We like this design because it's affordable and versatile.
MOST AFFORDABLE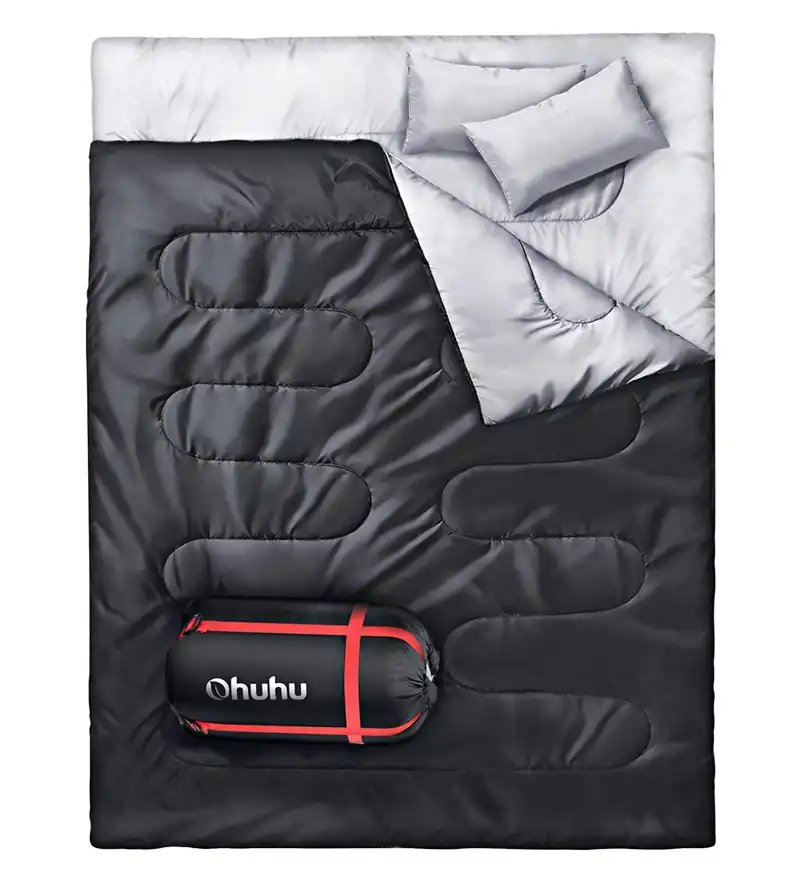 If you're looking for something that won't break the bank, our favorite is the Ohuhu 2 person sleeping bag. This is another bag built for summer that will keep you warm down to 32 degrees fahrenheit.
The shell has a 210T polyester, which is water-resistant but not completely waterproof. As for insulation, it contains a comfortable cotton filling.
The bag comes with two small pillows to offer neck support, and a carrying bag. Much like the Sleepingo, this one fits two campers but can also break down into separate individual sleeping bags.
BEST FOR COLD WEATHER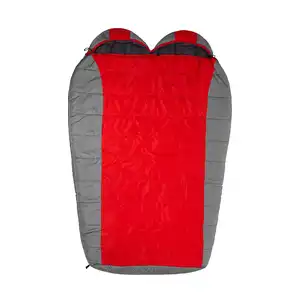 The TETON Sports Tracker Ultralight is the bag of choice for 4-season campers. This sleeping bag can hold up in severely cold temperatures dropping down around five degrees.
This is the only bag we've reviewed that gives each camper their own head rest. Plus each mummy hood can be cinched shut to keep the cold out.
While the sleeping bag doesn't split, there is plenty of ventilation for the warmer nights. you each get your own zipper to let some air in if you get hot.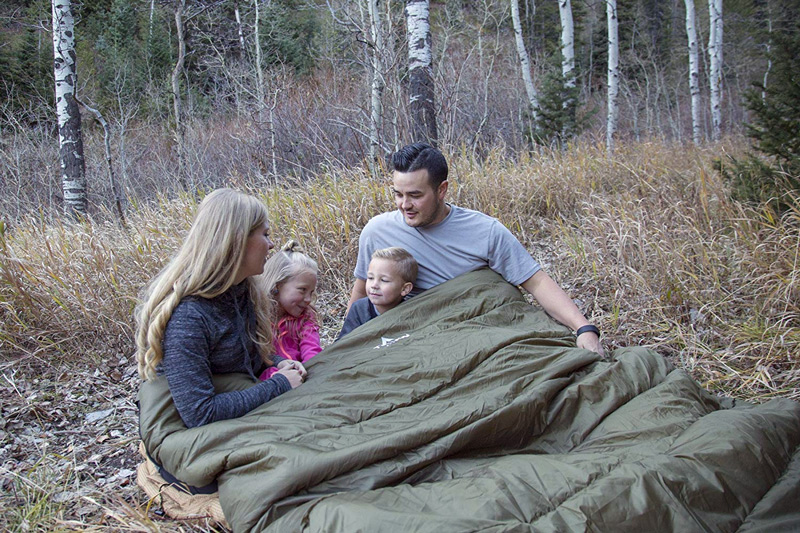 BEST EXTRA LARGE BAG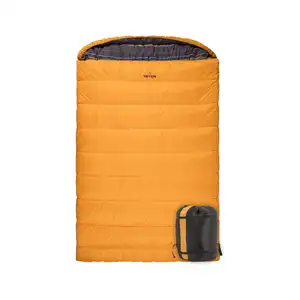 If you and your partner are looking for a lot of space to move around, the TETON Sports Mammoth should be at the top of your list. This bag is likely larger than your mattress, so it's more for the recreational camper who values creature comforts.
At 16 pounds, and 94″x62″ this bag is larger than a queen sized mattress so there's more than enough room for the largest campers–or even a small family.
Not only is it big, but this bag is extremely warm. There are two versions available that get comfortable down to 20 degrees and zero degrees fahrenheit respectively, so you can easily use it year-round.
Final Thoughts
By this point, you should have a solid understanding of how to pick the best double sleeping bag. If you're looking for a good balance between size, comfort, and affordability, we recommend the Sleepingo. The Ohuhu bag is the cheapest choice.
For serious campers, the TETON sports ultralight is best for cold weather camping. The TETON sports mammoth is great if you need a lot of space or want to camp below freezing temperatures.
Continue Reading: