Best Hanging Tree Tents For Camping With 3+ People (Review)
By
on
This post may contain affiliate links. As an Amazon Associate, I earn from qualifying purchases. Please read my full disclosure.
Hanging tree tents are a cool upgrade to the traditional camping hammock. With a suspended tent you can sleep among the trees with your friends and off the uncomfortable earth.
Not only do tree tents look beautiful, but they have a lot of advantages compared to your standard tent as well. In this article, we're going to cover the best suspended tree tents. We'll also give you information on what to look for, and the best hammock tent for your camping trip.
Get 10% off Tentsile Tents using this code at checkout: PARADISE
TOP CHOICE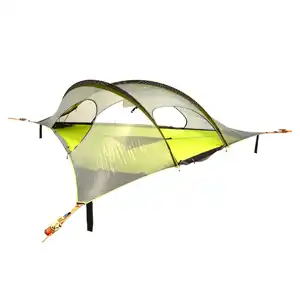 MOST DURABLE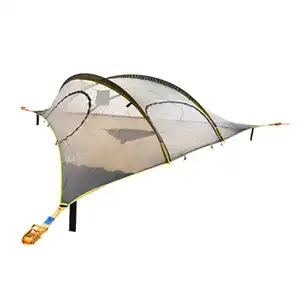 BEST 2-PERSON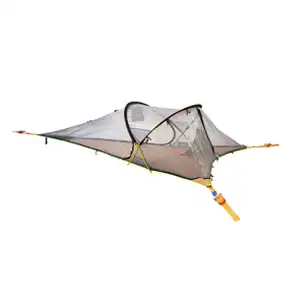 What Is A Suspended Tree Tent?
Also known as a multi-point hammock, tree tents use 3 (or more) anchor points to suspend a canopy above the ground.
Tree tents typically sleep two or more campers. Some of the largest designs can suspend groups of six.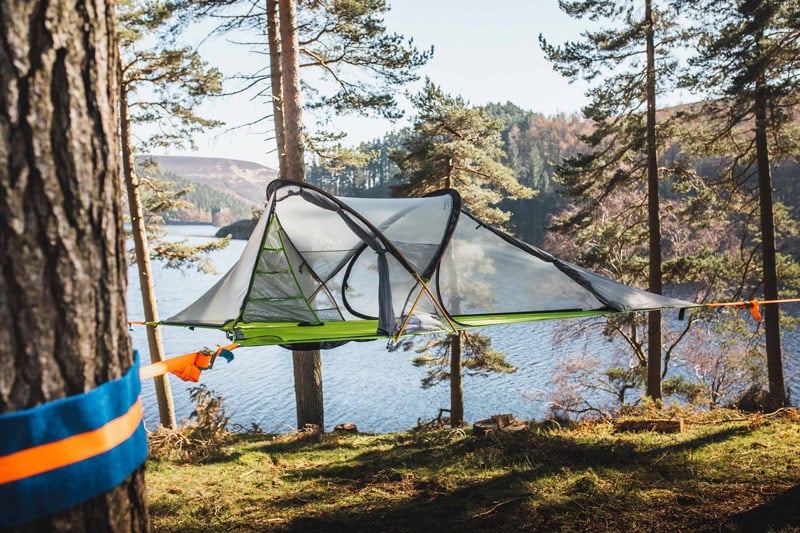 Tree Tent Advantages
Comfort: Tree tents are suspended off the ground so you can hang over the water, rocky surfaces, or on slopes. There's no need for a ground pad unless you want some extra insulation.
Hanging with friends: Many people enjoy hammock camping. But hammocks are traditionally designed for solo campers and backpackers. Tree tents are made for groups. The layout is constructed so you can sleep comfortably next to your partner or family members without getting "too close." Some sleep systems also have separate bays so you won't roll into your friends.
Stackable: You can stack tree tents on top of one another, or mix and match them with hammocks to create a group hang environment. This is a cool way to hang out with your friends late into the night in comfort.
Clean: Regular tents are flat on the ground so you end up getting dirty and stepping into the dirt every morning. Tree tents are suspended so they stay clean all night.
Versatile: One of the concerns that campers have with tree tents is they won't work if there are no trees! Fortunately, the top brands come with conversion kits so you can set up the suspended tent like a regular tent on the ground if necessary.
Bug Protection: Hammocks require a separate bug net. And regular tents have you sleeping on the ground next to snakes and other critters. Suspended tents keep you away from all of the bugs and come with netting to protect you throughout the night.
They look awesome: This may sound vain, but tree tents just look cool. If you're looking for the picturesque Instagram shot, or you want to wake up among the trees, there's no better way than with a hammock tent.
A good place to hang out: Suspended tents aren't just for sleeping. They also make a great place to relax with a good book or chill with a beer. Because these tents are elevated off the ground, it doesn't take much effort to get in and out of them so you'll be more likely to use it as a rest spot.
Fun for kids: Kids love tree tents! They are fun to climb around and will leave them with endless hours of entertainment.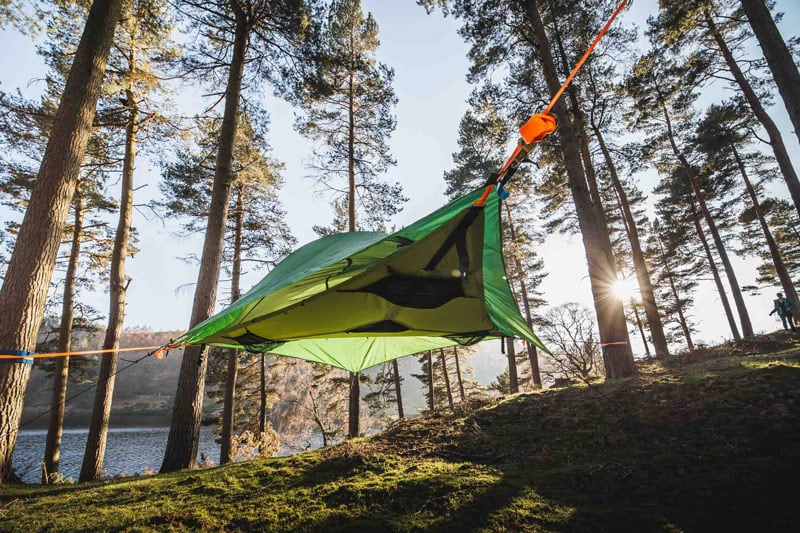 Disadvantages Of A Suspended Tent
This wouldn't be a fair article if we didn't list off some disadvantages, and there are a few. Tree tents are a great accessory for a specific type of camper, but not everyone is going to be in love with them.
Requires sufficient trees: If you're someone who does a lot of camping in the desert, a tree tent might not be for you. With a multi-point hammock, you can get creative hanging them off of boulders, or simply placing them on the ground. But if you don't regularly go camping with sturdy trees maybe stick with a regular family camping tent.
Heavier than a standard hammock: If you're used to hammock camping, then a suspended tent is going to feel like a lot of excess weight. These kits come with a lot more parts included so they are great for car camping.
Cannot mix and match parts: Multi-point hammocks are oddly shaped so you're unlikely to compatible equipment from other outfitters. What you see is what you get with these hammocks, so choose wisely.
Not great in freezing weather: Similar to a regular hammock, suspended tree tents are not the most insulated. With this design, you're going to get 360 degrees of air circulation so they are great for summer camping trips, or mild weather in the spring or fall. We would not recommend camping in a tree tent in the winter unless you have a sufficient under-quilt.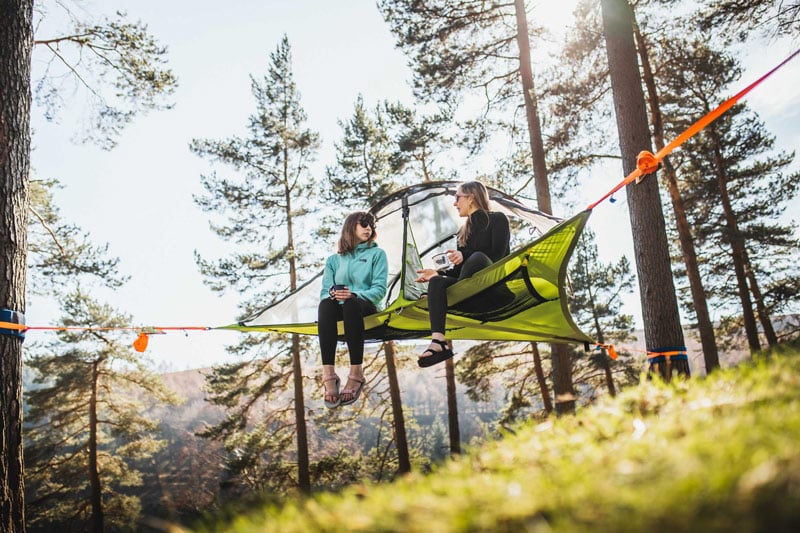 Who Should Use A Hanging Tent?
Ultimately, a tree tent is perfect for groups of campers who love adventure. You should have access to some big sturdy trees and prefer camping in the warm summer months.
Groups of friends
Small families
Kids
Adventure seekers
What To Look For In A Hanging Tent
There are only a handful of manufacturers who currently design tree tents. The most well-known include Tentsile, Multimok, and Clark Outdoor.
Ultimately, you should ask yourself what features you are looking for in a hanging tent.
Capacity
Most tree tents are designed to sleep 2 or more campers, but you also have to take gear into consideration. The perfect tree tent should be able to fit your family and some gear as well.
Consider the maximum load capacity. Much like a hammock, weight makes a considerable amount of difference in how much you can pack.
Tree tents often have underfloor storage nets where you can hang your gear beneath you and out of the way. Some campers keep smaller items in the center of the tent and sleep on the edges.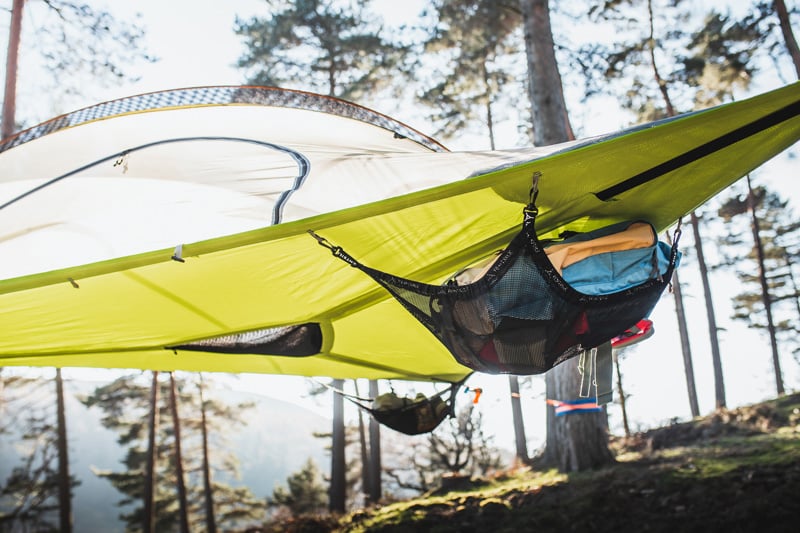 Sleeping Bays
Speaking of sleep, the last thing you want to do is roll into your partner in the middle of the night. Sleeping bays are created with a reinforced strap system so each person gets their own flat area to rest.
Fabric Strength
Fabric strength is measured in deniers which indicates the thickness of a single strand of thread.
Most fabrics range between 40d-80d. Heavy-duty materials range from 100d-600d. The higher the denier, the more durable your tent fabric will be.
Waterproofing
The tent should come with a weatherproof rainfly so you and all of your gear stay dry. Water-resistance is measured by Hydrostatic Head. An HH of 8000mm means that the fabric can resist a water column 8000mm tall.
In short, the higher the hydrostatic head the better!
Bug Protection
Mesh netting will protect you all night from pesky mosquitos and no-see-ums. Insect mesh will also provide you with a nice breeze throughout the day and on clear nights. Make sure you purchase a tent with mesh included and plenty of headspace to sit underneath.
Center Hatch
Some tents come with a center hatch so you can climb into them from the center using a rope ladder! This is a fun feature that will keep you dry if it's raining, or help keep the bugs out on an especially muggy day.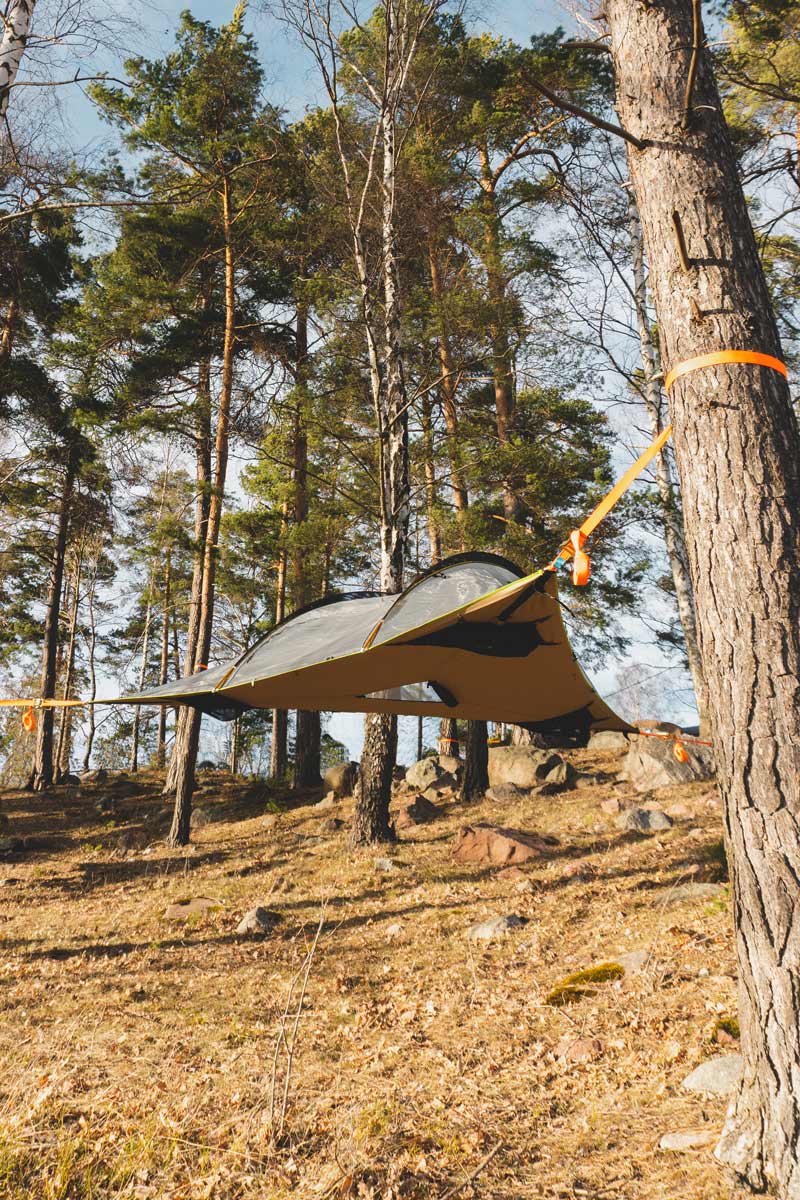 Frequently Asked Questions
Do trees need to be equally spaced apart?
Trees don't need to form a perfect equilateral triangle, but all three points should be less than 90 degrees from each other. There is an iPhone app to help you find the perfect trees.
Are tree tents hard to set up?
Suspended tents will take longer than a ground tent to get the hang of, but after a few tries, you'll quickly become a pro. The biggest difference is creating the base. Setting up the rest is similar to your standard tent. To suspend the base:
Start by laying out your tent in the center of three trees
Attach the tree wraps to the trees
Attach the ratchet straps to the tent
Partially crank all three straps so you can eyeball a center point for the tent
Continue to tighten the ratches until fully tensioned, and lock it in place
Tie up extra tree straps to avoid tripping hazards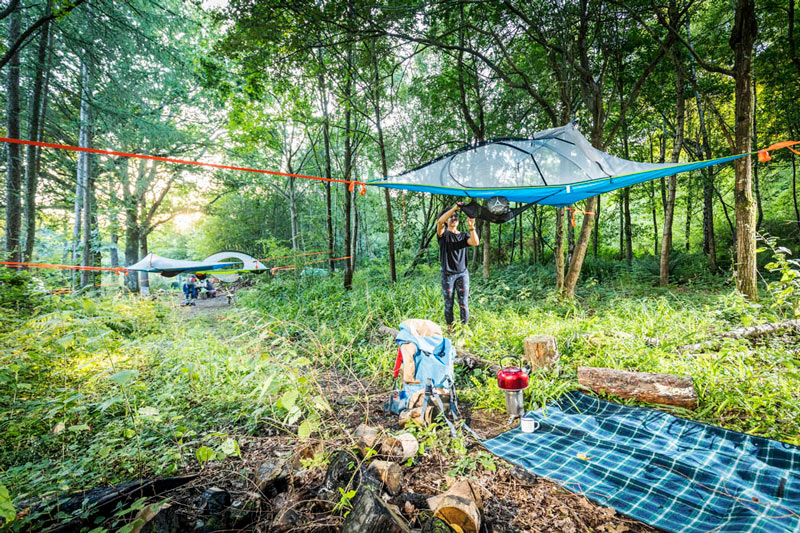 Tree Tent Accessories
For the most part, a suspended tent system should come with everything you need to get camping. But there are a few pieces of gear that will make your trip that much more enjoyable.
Webbing Ladder: Depending on how high you intend to hang your tent, a rope ladder is going to come in handy. These are especially useful if you're doing group hangs or creating stackable sleeping systems.
Ground Conversion Kits: Conversion kits consist of an extra set of poles, rainfly, stakes, and guy lines to help you convert the tree tent into a regular tent. These are inexpensive and definitely worth the money if you plan on going camping in new areas where you don't always know the status of the trees.
Backyard Hammock Stand: Did you know you could buy hammock stands specifically for tree tents? Well, now you do. These hammock stands have three points of attachment for a tree tent so you can relax comfortably anywhere–no trees required.
Extra Insect Mesh Enclosure: One of the nice things about tree tents is that you can use the space underneath and essentially double the campsite area. Insect mesh enclosures is an extra piece of fabric plus a floor so campers can sleep on top of one another and you can comfortably pack more people into a smaller amount of space.
Get 10% off Tentsile Tents using this code at checkout: PARADISE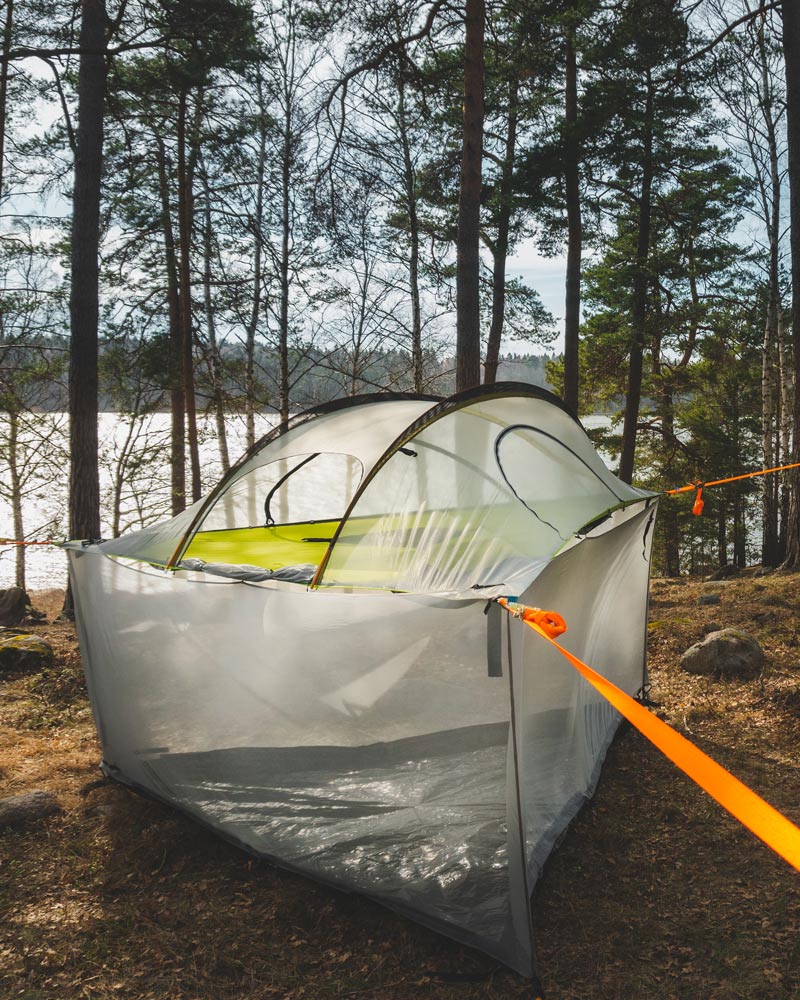 The Best Tree Tents For Camping
You're going to notice nearly every product on this list is from Tentsile. That's because they are one of the most accessible manufacturers, have great customer service, and there are very few other companies that produce comparable tents.
But, if you're looking for some competitors, consider tents from Multimok, Clark Outdoor, or Treez Tree Tents.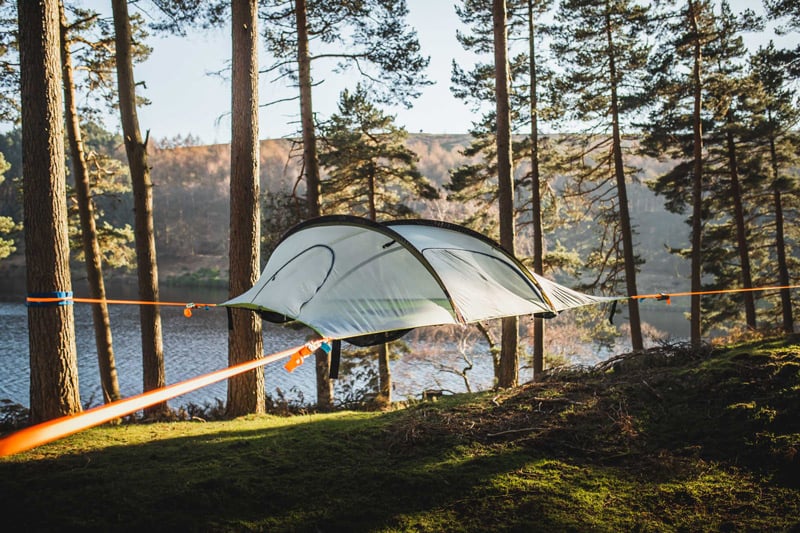 The Tentsile Stingray is a flagship tent perfect for three campers and their gear. It holds a maximum of 800 pounds so there is plenty of room for your standard outdoorsman.
We love the triangle stingray tent because it has so much space for storage. There are pockets in each corner for individual storage, underfloor storage nets, and the center has a loose hatch where you can keep drinks, phones, or other small items.
The hatch in the middle also lets you climb into the tent from the center if you are hanging high!
Loops lined across the top of the tent are available for hanging fairy lights, carabiners, and other gear as well. The Tentsile Stingray is compatible with a lot of accessories including a ground conversion kit which makes it a good choice for any type of camping.
Get 10% off Tentsile Tents using this code at checkout: PARADISE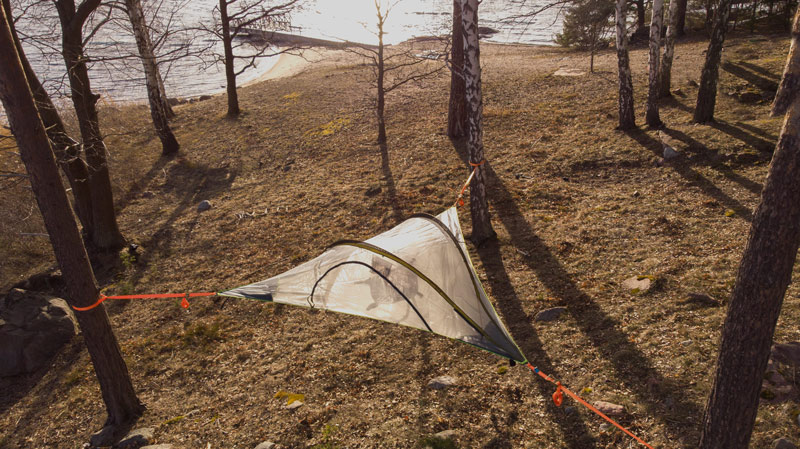 The Tentsile Safari Stingray tent was designed using the same base model as the stingray, but with upgraded components. Just like the stingray, this tent sleeps three and has a weight capacity of 880 pounds. It also has 3 internal and 3 external storage compartments for gear.
What is the difference between the Tentsile Stingray and Safari Stingray?
Rainfly Construction: The Safari Stingray uses a 8,000HH (hydrostatic head) rainfly with PVC-coating for UV resistance. The standard Tentsile Stingray has a 5,000HH PU-coated polyester rainfly
Floor Fabric: Safari Stingray has a 450D (denier) floor fabric as opposed to the Stingray which has 250D fabric.
Thicker poles: The Safari Stingray pole diameter is 11mm compared to the Stingray which uses 8.5mm poles.
Put simply, the Safari Stingray has thicker materials and thicker poles making it a more durable tent overall. Because of the added materials, this tent is about 9lbs. heavier than the Tentsile Stingray. But with that, you'll get a tent that will last longer.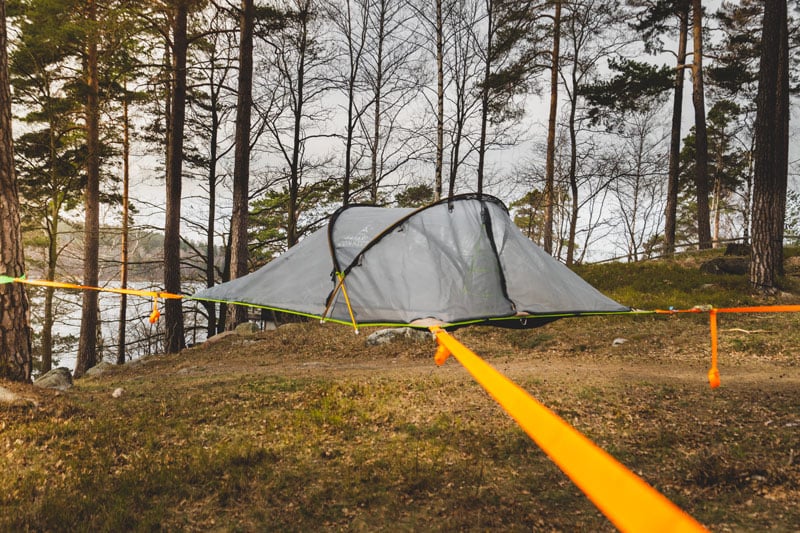 A multi-point hammock can make a much more enjoyable camping experience with a partner than a double hammock. You'll get to sleep next to each other and have a place to relax throughout the day.
Our favorite tent for couples is the Tentsile Safari Connect.
This tent is designed for two campers plus their gear. It's smaller than the 3-person tents, but can still carry an impressive 880 pounds of weight. We like the Safari Connect because it comes with the same enhanced materials as the Safari including 8,000HH rainfly and 450D floor fabric so this tent will last a long time.
That's A Wrap!
Camping in a suspended tent is a one-of-a-kind experience that keeps you away from critters on the ground and up in the trees where the air is breezy. There are a few tents on the market designed to fit between 1 and 6 people with our favorite being the Tentsile Tents.
If you're looking to try out a tree tent, we recommend the Tentsile Stingray for groups of three. For a more durable solution, consider the Safari Stingray. Couples camping together should take a look at the Safari Connect which is designed for two campers plus their gear.
Get 10% off Tentsile Tents using this code at checkout: PARADISE
You Might Also Be Interested In: