Truck Camping vs Van Life With The Hawk From Four Wheel Campers
By
on
This post may contain affiliate links. As an Amazon Associate, I earn from qualifying purchases. Please read my full disclosure.
We recently got the opportunity to compare truck camping to van life with the Hawk pop up camper from Four Wheel Campers.
This pop up came atop a 1-ton Dodge Ram and was taken on an adventure through the Humboldt-Toiyabe National Forest. One thing became immediately obvious, truck campers are very different than camper vans.
We go into the pros and cons of truck campers in this post, but nothing beats direct experience like taking the Hawk for a test drive.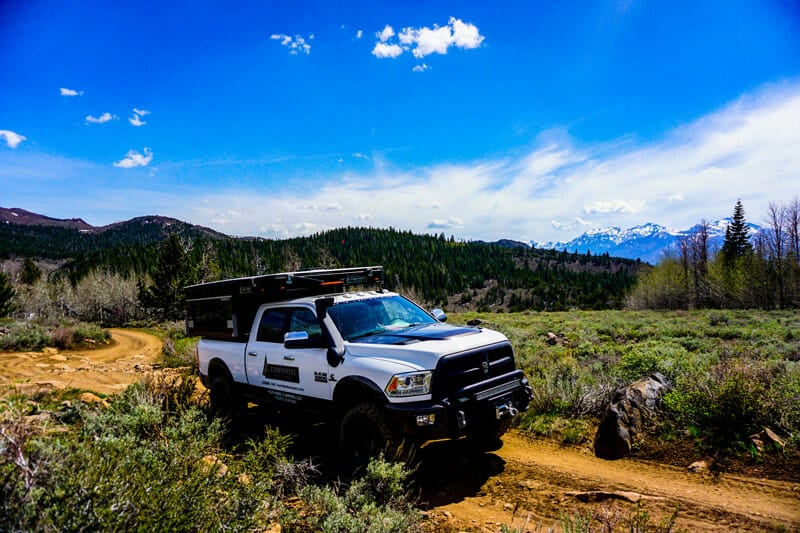 The Hawk Truck Camper
First, some gear specs to set the tone.
This is a Dodge Ram 3500 with some serious work done to it. It's been upgraded by the company AEV with the Prospector XL package. You can find more details on their website. But essentially, the upgrade creates a backcountry machine out of the work truck. All while maintaining a low center of gravity, and ability to handle the extra weight of a truck camper.
Speaking of the camper, the Hawk model was built out from the factory with a full king-sized bed, propane stovetop, refrigerator, forced air furnace, and exterior shower.
These pop-up campers come in dimensions and styles based on your truck bed length. Four Wheel Campers sells models that are slide in, flatbed, or a simple topper.
The Hawk is a slide-in camper that fits a standard 6′ bed length. You can custom order the build-out based on what amenities you want and what your budget is.
Serious gear for serious fun!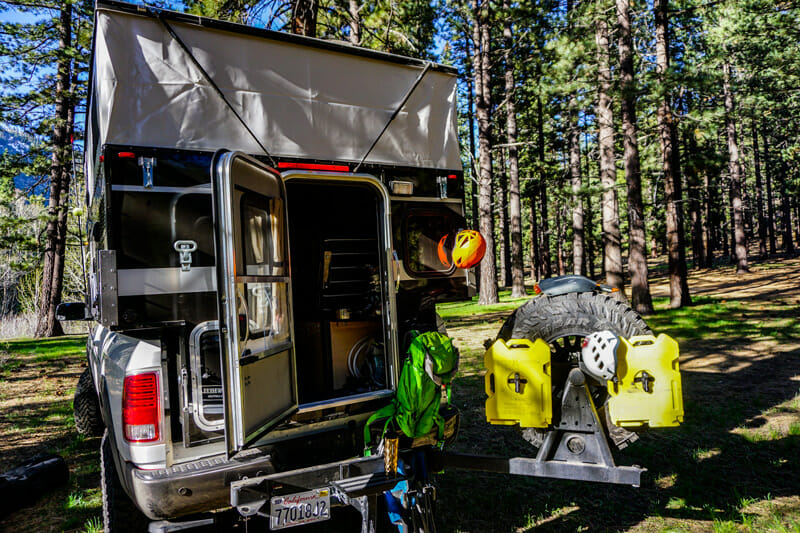 Off-Grid Truck Camping
With this rig you're able to push along technical four-wheel-drive trails nearly anywhere the truck can go. Because of the low profile, overhanging branches aren't given a second thought. When you pick a campsite, gas-assisted struts make it easy to pop up the top. And there is plenty of space to comfortably cook, sleep, and hang out.
Easily glides along technical trails
Low profile
The overall feel and interactions of the camper were are sturdy and definitive. That's something that isn't easy to do when saving weight is a high priority. Assembly and takedown are simple to the point where you feel like you're missing something!
Coming from the van life world, we were expecting set up and takedown to be a noticeable hindrance. But with any rig, once you find your campsite there is always some rearranging to take care of. In our van, we regularly have to shuffle things around before settling in for the night.
The assembly of this truck camper was different but not noticeably less convenient.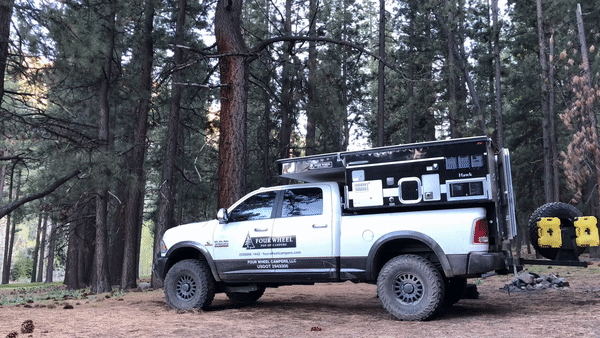 Sleeping In The Hawk Truck Camper
The bed is comfortable and stiff. A 40-degree sleeping bag is appropriate for nights with temperatures in the low 40s. Turning on the furnace to test for a couple of nights results in comfortable sleep with only sheets. The heater throws heat out with amazing ferocity, within five minutes the entire camper can be at a comfortable temperature.
Because the bed is higher in the loft area, the heat can tend to oversaturate that area–a situation we don't normally encounter with the van. For mild night temps, you might find it too warm overnight with the heater on. Fortunately, there is an appropriately placed vent above the bed to fine-tune the cabin air.
We appreciated the ability to easily heat and cool the camper. A built-in furnace is not something we're used to in our standard camper van.
Adjustable temperature control – both hot and cool air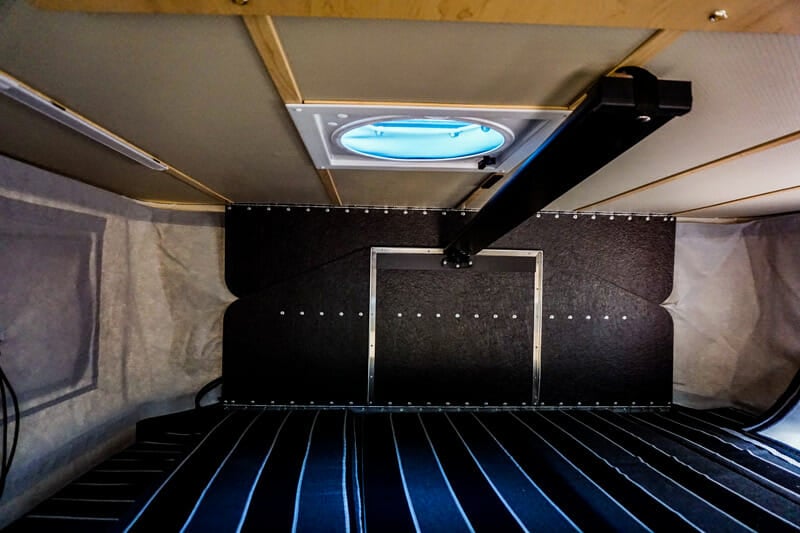 Truck Camping Plumbing System
The plumbing works similar to what you find in the pro-built RV industry. This camper comes with a sink, electric water pump, and direct spark ignition (DSI) 6-gallon water heater.
The hot water is hot; hot enough that you could make a cup of tea with it straight out of the faucet. This is a feature that I didn't know I wanted!
There was also a convenient outdoor camping shower. This rig has a 20-gallon freshwater tank capacity which is more than double what we normally travel with in our camper van. When it comes to the bathroom, this rig had a portable cassette toilet–the same that many van lifers use.
Hot water heater
External camping shower
Large freshwater tank capacity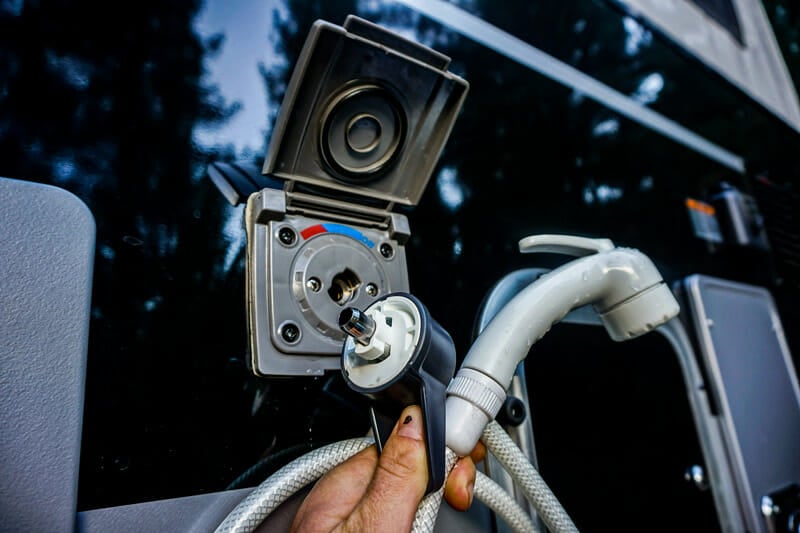 The Electric System
One thing nice about truck campers is compared to a DIY camper van is that the plumbing and electrical can all be planned and wired in proper order. Because of this, every system is located in easy to access compartments.
The wiring and plumbing are accessible via hatches, rather than having to open the rear doors or dig underneath the bed area to find. This made running the batteries all night reassuring.
Conveniently located electric system
Although there is no solar installed on this rig, the Hawk camper is pre-wired for solar. This essentially means you can get an upgrade package (or add your own) portable solar panels and a charge controller. The wiring is already in place so you don't need to mess around with designing an electric system.
The battery bank with power converter and smart charger supplied more than enough energy for a 4-day trip. This is quite appropriate for people who spend a lot of time exploring in their vehicle because the batteries charge while driving. If you were to spend more time stationary, a solar upgrade might be appropriate.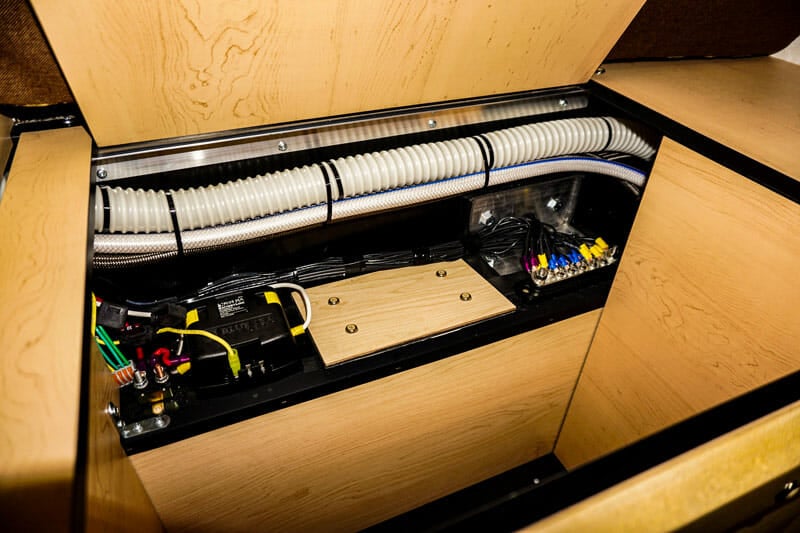 Dinette
Once you assemble the pop up camper, much of the bed space will overhang the cab. This makes the floor plan much more open than you would expect. There is plenty of room for two people to sit and work in the camper at once.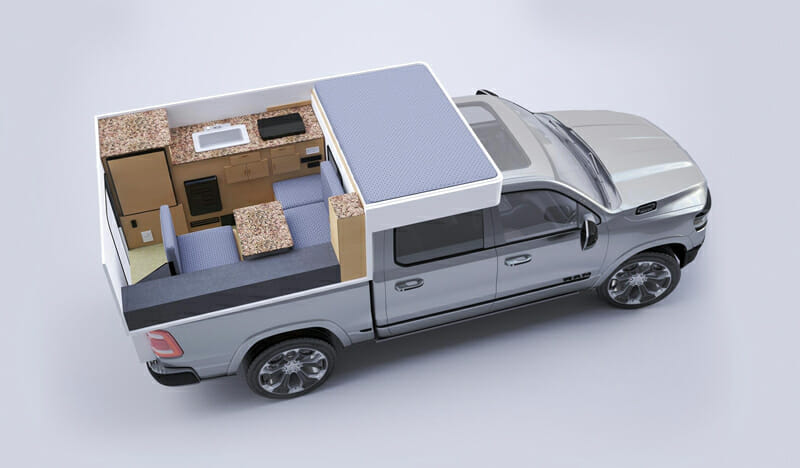 Lack of an appropriate workspace was one of our biggest regrets when building our van, so it is nice to find that in a truck camper. I would expect if we were traveling in rainy weather this would be even more convenient than our current camper van set up.
Large, open floorplan
Dinette big enough for activities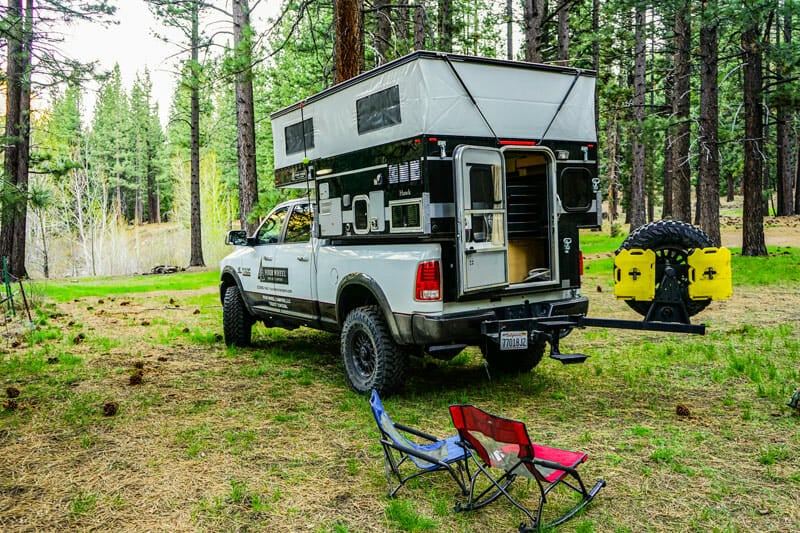 Truck Camping Storage
There were a lot of convenient and easy to reach compartments in the camper. However compared to a van, gear storage is limited. For week-long excursions, it is quite adequate–or even extended vacations.
For those living full time as many van life folks do, you will need to find some way to boost your storage for living amenities, laundry, work gear, or any of the other small things that add up when you are carrying your life with you.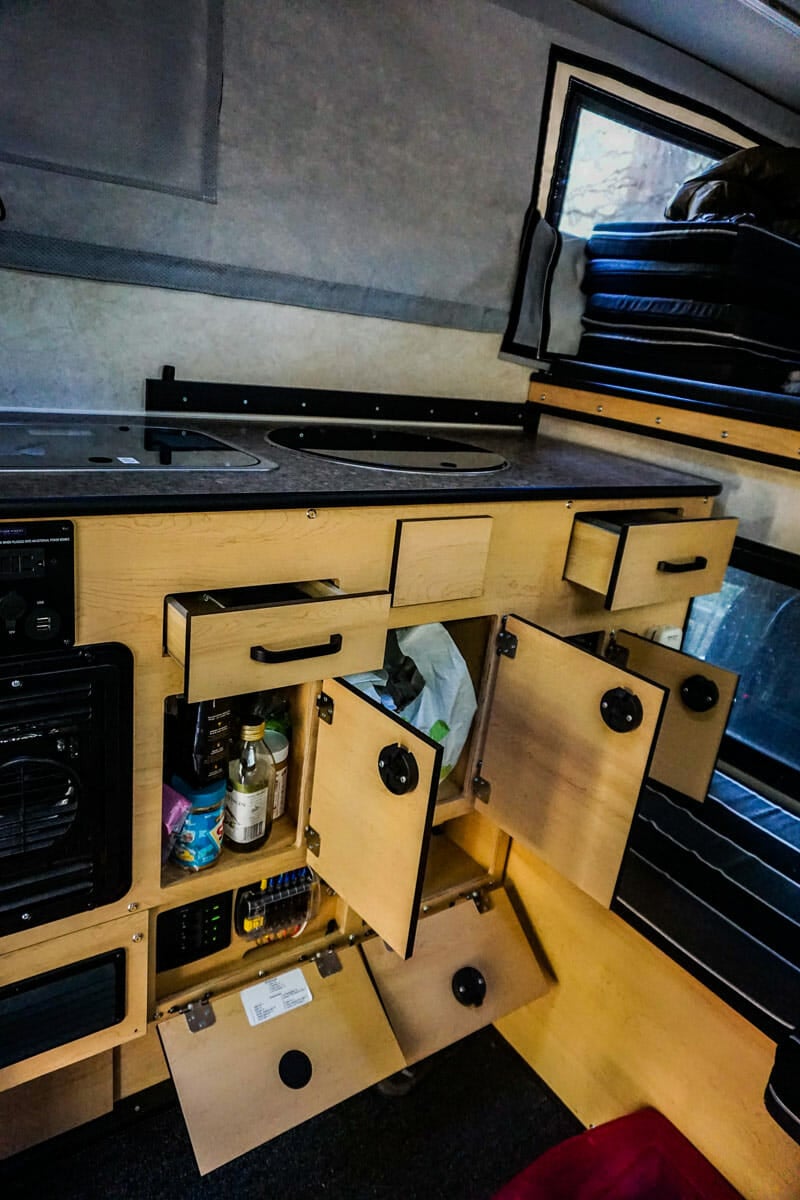 Off-Roading
The Hawk camper was taken down trails that a stock camper van would not survive on (and I say that with a good amount of Arizona rock crawling experience). The lowish center of gravity came in quite handy and is confidence-inspiring.
This is the biggest difference between truck camping and van conversions that you will notice. You can take a truck camper anywhere; not to mention the overbuilt drivetrain is so much more manageable in a truck than in a van.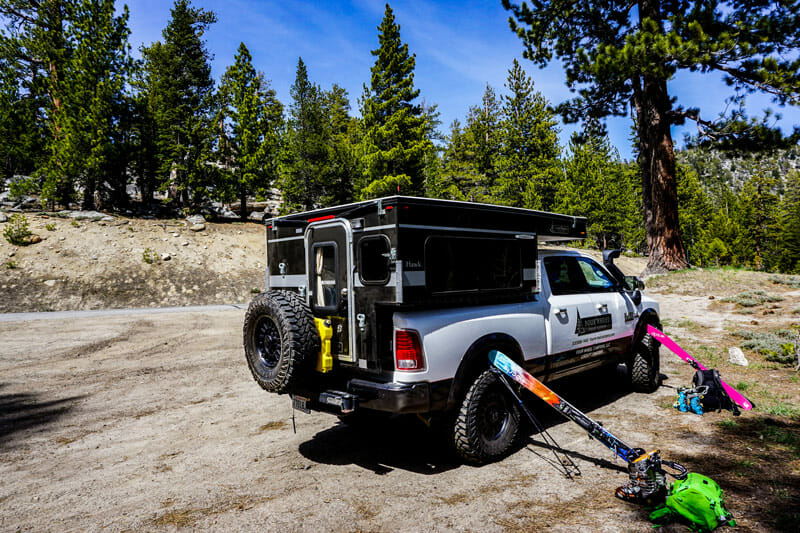 While driving, the Hawk stays in place nicely and had no problems–although after a lot of jostling you will need to tighten the four tensioners following a stretch of rough wheeling.
With that said, the size and weight are noticeable compared to an unloaded truck.
Oversized tires do not help with braking. And the center of gravity, while being adequate, is still higher than if you were carrying the same load flat in the bed. While it is impressive in capability, this truck would get caught up on the narrow, low jeep trails that you will often find the further you go out. But now we're talking about a very specific set of limitations!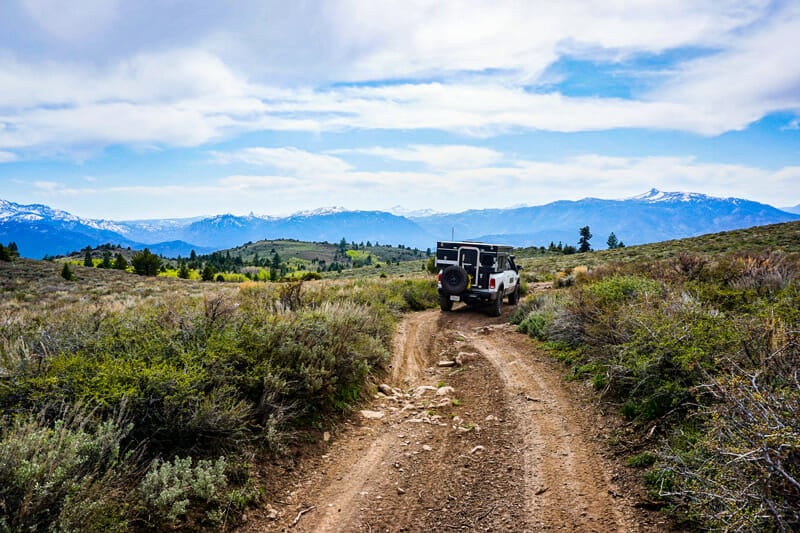 The Verdict
Truck camping is awesome!
Overall, adventuring in one of these campers again is high on our priority list. Being able to go deep into the wilderness with reliability and comfort is hard to beat! With the abundance of trucks available, it is quite achievable compared to trying to source and maintain a four-wheel-drive van.
Continue Reading: