Pop Up Truck Campers For Adventure Travel
By
on
This post may contain affiliate links. As an Amazon Associate, I earn from qualifying purchases. Please read my full disclosure.
Pop up truck campers are a great alternative to the traditional camping tent. They have amenities you would find in a larger RV, but they're designed to slide in the back of a pickup.
Our favorite part about popup campers is that you can easily fit your vehicle into a regular parking spot, and you won't run into height restrictions.
These campers are perfect for anyone who wants to drive around town to grab supplies, but also travel off-grid for boondocking. We recently compared truck camping to van life. In this article, we want to go over some of the benefits of a popup camper.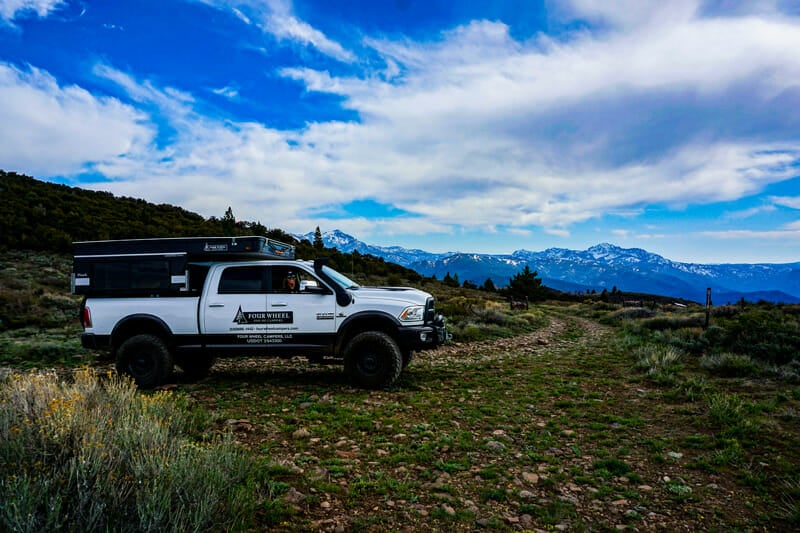 What Is A Pop Up Truck Camper?
As the name implies, a pop up truck camper is designed to fit in a truck bed. It can expand vertically for camping and collapse into a low profile camper for transportation. This unique design means they are especially lightweight and aerodynamic.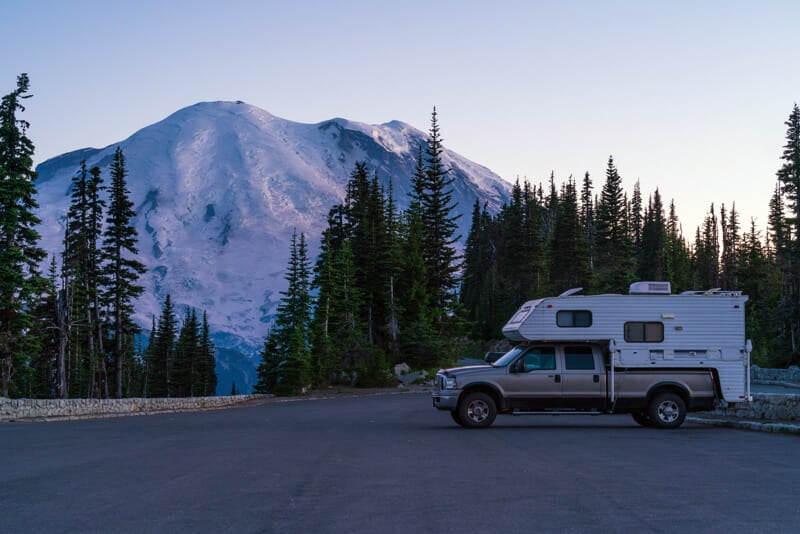 Pop Up Camper vs Hardwall Truck Camper
Truck campers come in a variety of forms. The popup versions weigh less than hard-sided campers. They also tend to be cheaper and more fuel-efficient. The low profile of a popup camper makes them easier to store and easier to drive.
Assembly of the higher end campers will take less than 5 minutes. They use gas-assisted struts so they doesn't require much muscle power on your part.
Popup campers also have a lower center of gravity than traditional truck campers. This makes them easier to maneuver and you can really get them off the beaten path.
Weigh less
Cheaper
More fuel-efficient
Easier to store
Better handling
Lower center of gravity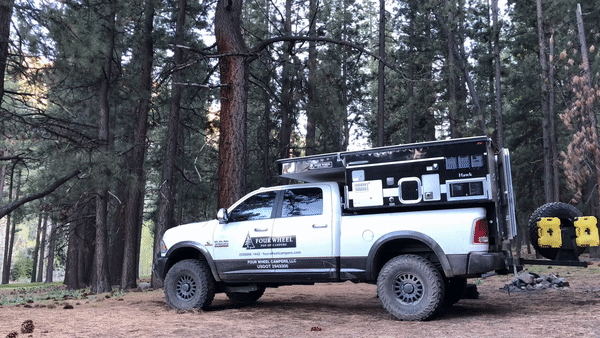 Pop Up Truck Camper vs Pickup Truck Tent
There is a night and day difference between a truck camper and a camping truck tent.
For one, truck campers are quieter and more comfortable to sleep in. They have climate control and are wind-resistant. In a popup, you'll get amenities like a refrigerator, electric ports, portable toilets, and an exterior shower. All of this requires minimal setup so you can hit the trails faster.
Built-in dinettes can also serve as a workspace and give you a place to hang out in poor weather.
Quieter
Simpler setup
Comfortable to sleep in
Taller ceiling height
Climate control
More storage
Kitchen and dinette
Wet room
Lights and electric ports
Refrigerators and built-in stovetops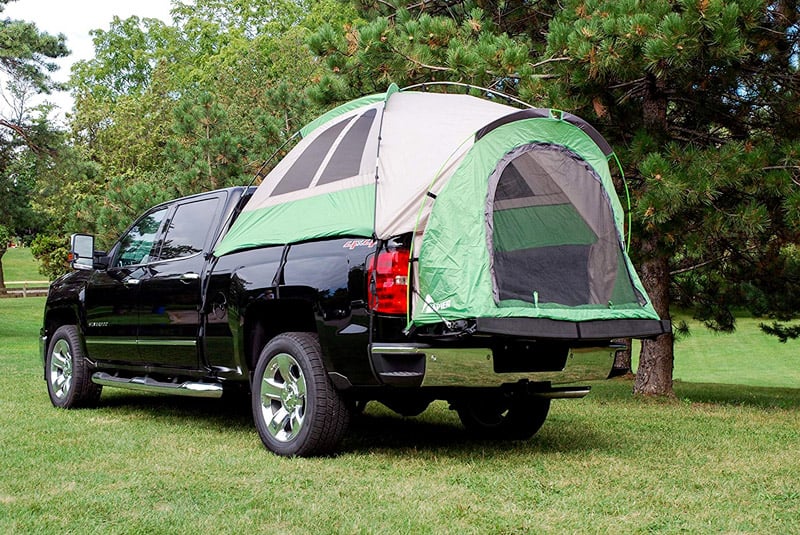 What Are The Best Trucks For A Pop Up Camper?
Truck campers are designed to fit in a wide variety of full-sized pickups, mid-sized trucks, and even flatbed trucks. Some models can fit in short-bed trucks that are only 5 feet long. Examples of the most common vehicles you'll see these campers on are:
Ford F-150
Ford F-250
Chevy Silverado
GMC Sierra
Toyota Tundra
Toyota Tacoma
Nissan Frontier
Ford Ranger
Chevy Colorado
GMC Canyon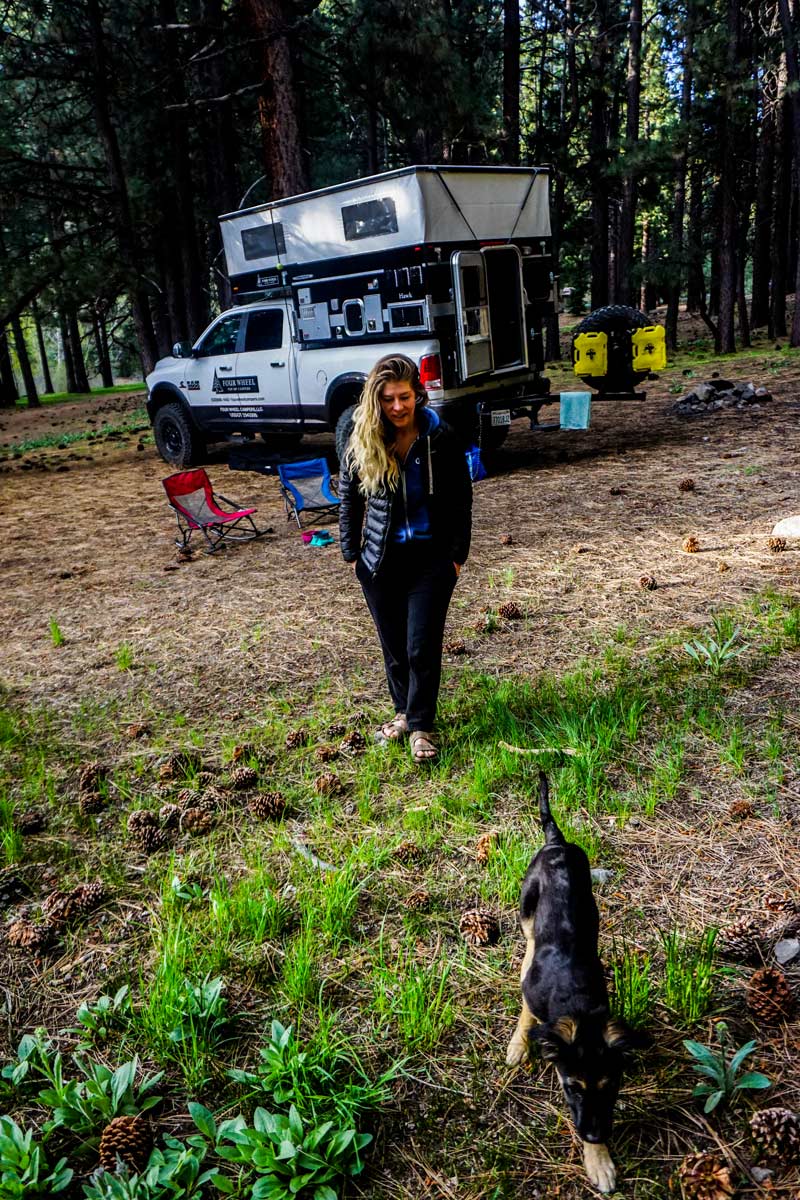 How Does A Pop Up Truck Camper Work?
You can store a truck camper in your garage or backyard on a set of camper jacks. When it's time for adventure, just drive your truck under the camper, lower the jacks, and connect the camper tie-downs.
Every manufacturer is going to have its own installation process. But once you get the hang of it, installation or removal of the camper shell should only take about 30 minutes.
Campers are typically installed with the tailgate removed. The exception to this is if a long bed camper is assembled on a short bed truck. In that case, the tailgate remains attached in the down position.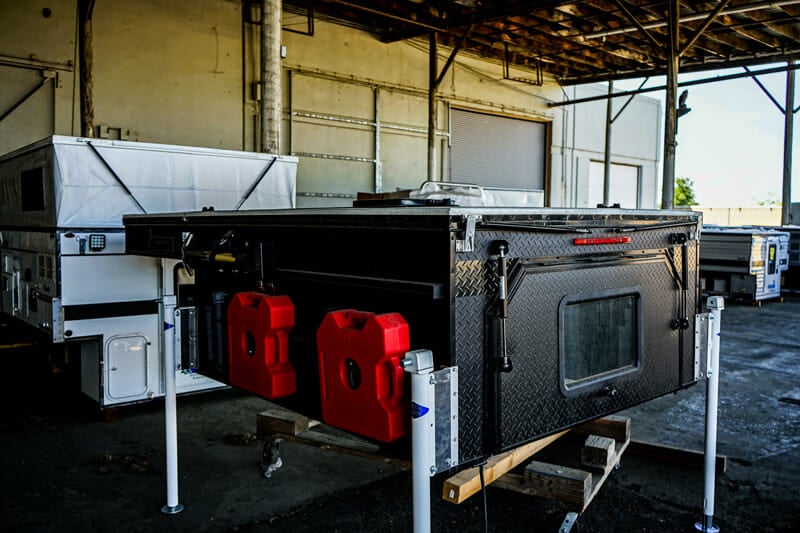 Truck Suspension
Even with the most heavy-duty trucks, it's a good idea to upgrade the rear suspension before adding a camper. Luckily, this is a one-time install process so it's not something you would have to do every time.
A build-specialist for your camper can do this for you, or if you're buying used, you can DIY the system. This often involves upgrading your leaf-pack with overloaded springs.
Preparing The Tires
With the added weight of a camper, it's common to upgrade your truck tires so they can more appropriately handle all of your gear. Most trucks are sold with either "P" (Passenger) or "C" (6-ply) type tires.
But with a camper added, the typical recommendation is to use "D" (8-ply) or "E" (10-ply) rated truck tires.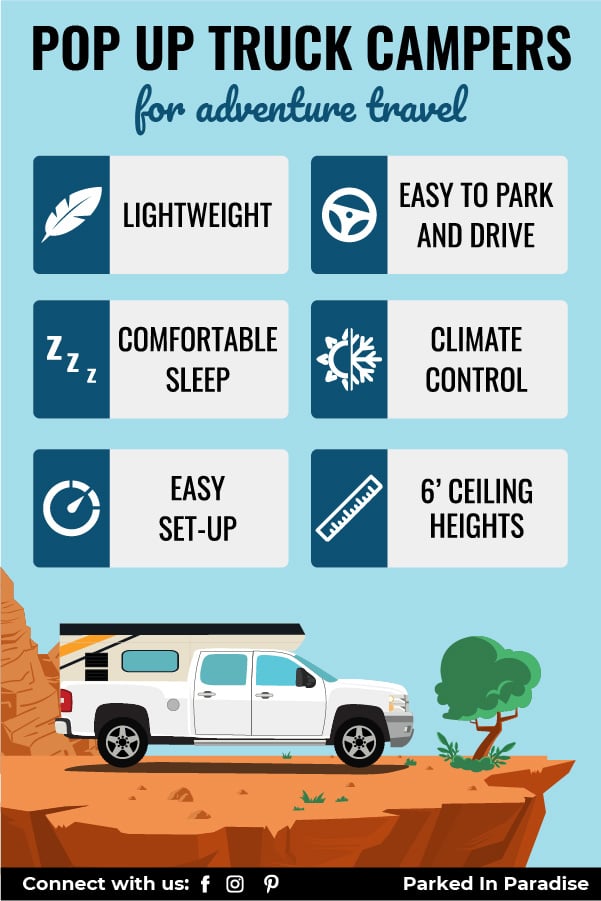 Frequently Asked Questions
How Much Do Pop Up Truck Campers Weigh?
The lightest pop up truck campers like the Project M by FourWheelCampers weighs under 400 pounds. Meanwhile, heavier models can weigh up to 1,900 pounds.
Campers are listed by their dry weight, meaning no liquids, gear, or passengers are included.
How Many People Can They Sleep?
Most truck campers are designed to sleep 2 people comfortably. That makes them perfect for adventure couples, or camping with your dog.
Ceiling heights can expand up to 6 feet 6 inches so most people have no problem standing inside.
How Much Do They Cost?
Pop up truck campers can cost anywhere from $8,000 – $40,000 new. However, you can expect to spend significantly less on a used model.
Can You Carry Kayaks, Canoes, or Bikes on Top?
Most pop up campers are surprisingly strong when it comes to hauling gear. But the biggest thing to take into consideration is weight distribution.
You should always follow the manufacturer's recommendations. In many cases, a roof racking system should be used for campers carrying over 100lbs. of gear.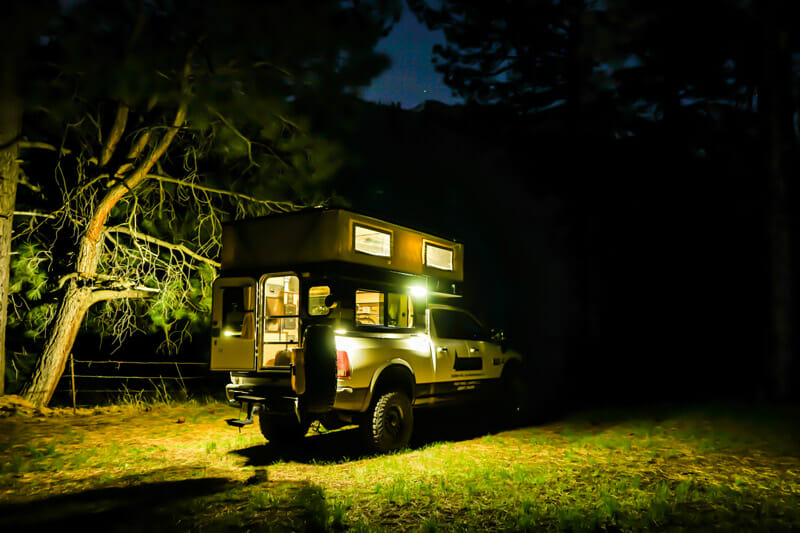 What Are The Features And Amenities?
Spending the night in a pop up truck camper is similar to going on a luxury camping trip. It has many of the same amenities you would find in a larger RV or camper van. Every model comes with a comfortable bed, extra seating, a small kitchen area, and dinette.
Larger versions can also come with an outdoor shower, cassette toilet, or even a wet room!
Look for these extra features in a popup camper:
Sink with electric water pump
Hot water heater
Toilet
Shower
Stovetop
Refrigerator
Storage space
Bluetooth speakers, stereo and USB ports
Interior lighting
Power lift assist
Battery bank
Propane regulator and compartment
Large freshwater tank
Solar panel prep
Exterior lighting
Vent fan
Electric heater or furnace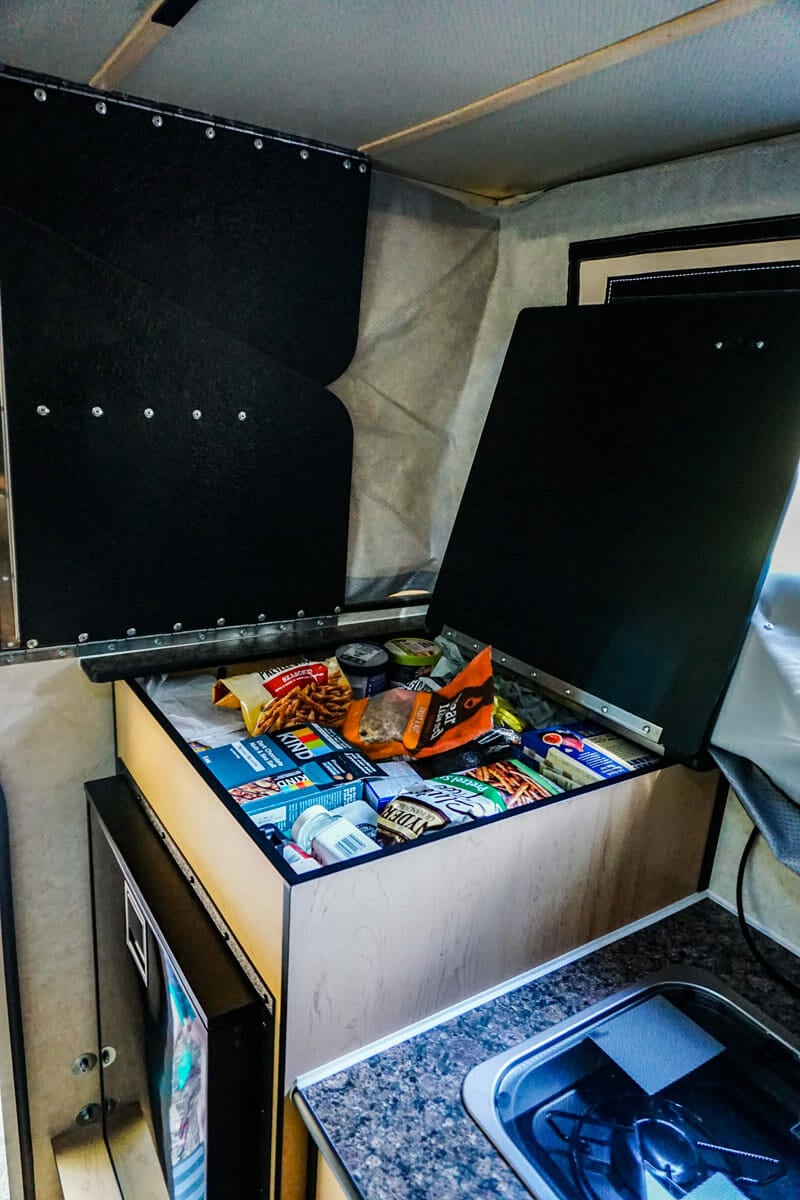 Tips Before Purchasing A Small Truck Camper
Pop up truck campers are best for shorter camping trips or weekend warriors.
Because these campers are not as cheap as buying a pickup truck tent, we recommend renting one to test the waters before diving in. Don't be afraid to buy used. There are many on the market that are only a season old!
Truck Camper Accessories
While a new pop up camper should come with everything you need, there are two things you'll want to pay special attention to: Leveling blocks and camper jacks.
Leveling blocks or wheel chocks are designed to level your camper. These are placed underneath the wheels of your pickup truck to keep the camper flat.
Camper jacks either come included or as an add-on feature. Jacks are necessary for storing the camper outside of the truck bed. Many travelers choose to store the camper on jack stands during the off-season and re-install it for the summer months.
Companies That Make Pop Up Truck Bed Campers
There are a number of companies that manufacture pop up truck campers. Listed below are some of the most noteable.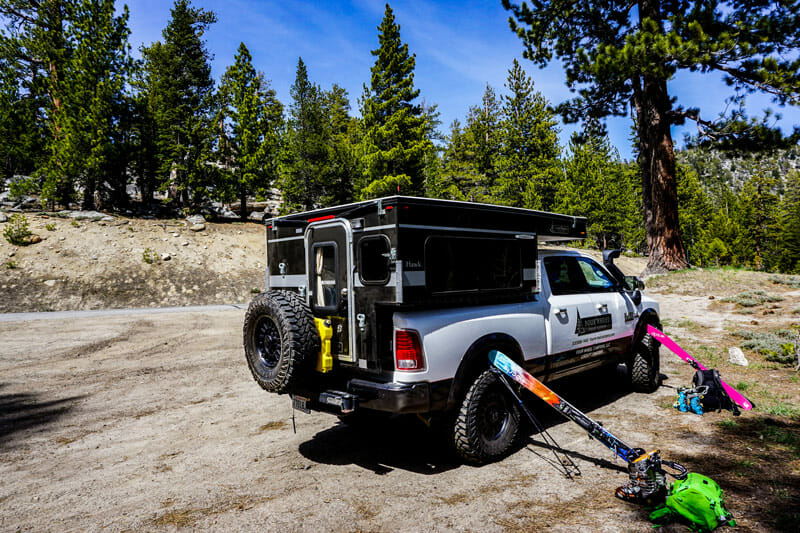 Lightest Truck Camper
The most lightweight popup truck campers are manufactured by Four Wheel Campers and Budutec.
Our favorite is the Project M because it weighs under 500 pounds. Project M comes in 4 different sizes so it can fit a small truck, mid-size, full-size and works on both long and short beds.
Despite its small stature there is still a significant amount of space for storage and 60″ of height above the bedrail of your truck.
| Four Wheel Campers | Base Weight (lbs) | Bundutec | Base Weight (lbs) |
| --- | --- | --- | --- |
| Project M | 390 | Riptide | 735 |
| Fleet | 1045 | Topi | 1380 |
| Swift | 935 | Wild | 1630 |
| Granby | 1095 | Sable | 1400 |
| Hawk | 1100 | Bushbaby | 1395 |
| Raven | 1040 | Bivak | 500 |
| NorthStar | Base Weight (lbs) | Outfitter Manufacturing | Base Weight (lbs) |
| 600SS | 1258 | Juno | 2105 |
| TC650 | 1405 | Apex | 1905 |
| T800 | 1510 | Caribou | 1110 |
| 650SC | 1610 | Caribou Lite | 1050 |
| 850SC | 1785 | | |
| Hallmark | Base Weight (lbs) | Hallmark cont. | Base Weight (lbs) |
| Cuchara | 1893 | Milner | 1212 |
| Ute | 1643 | Nepal | 1212 |
| Everest | 1643 | LaVeta | 1212 |
| Guanella | 1262 | EXC | 995 |
| K2 | 1262 | | |
*Phoenix pop up campers are not listed because every model is custom designed to order.
Truck Campers For 1/2 Ton Pickups
When it comes to campers that fit 1/2 ton trucks, there is a lot more variety. Hallmark RV has the largest selection of campers, but Four Wheel Campers has the lightest pop ups overall. That means you can pack more gear into your camper without putting too much stress on the pickup.
Final Notes
Truck campers combine a lot of great features into their niche of the RV market. They can be stored in the offseason and used as frequently or infrequently as your lifestyle allows. It is great to have the option of replacing either the truck or the camper as needed, whereas with an RV the whole unit cannot be separated.
For those people who own a truck you are that much closer to a comfortable camping experience!
Continue Reading: