Why We Chose A Jeep Wrangler & Camper To Travel Around North America
By
on
This post may contain affiliate links. As an Amazon Associate, I earn from qualifying purchases. Please read my full disclosure.
Traveling around North America in a van seems to be the most popular trend among young and minimalists' travelers. Van life seems to cover every aspect of living, traveling, staying small and off-road ability while still being affordable.
The whole van life trend didn't seem to fit us though, as we knew we needed more room. The thought of having to pack up our home every time we needed to drive somewhere also did not suit us too well. We wanted to be able to set up our home and not have to pack things up or move it for as long as we wanted to stay in an area.
We chose to go with a Jeep Wrangler & a Geo Pro camper to travel and live out of fulltime. We felt that it was truly the best of both worlds for off-roading and fulltime living. With our 19-foot Geo Pro 19fbs and our 2017 Jeep Wrangler, we would have more room than a van. The great part about this setup is that we can park the camper conversion and use the Jeep as our daily driver and adventure vehicle.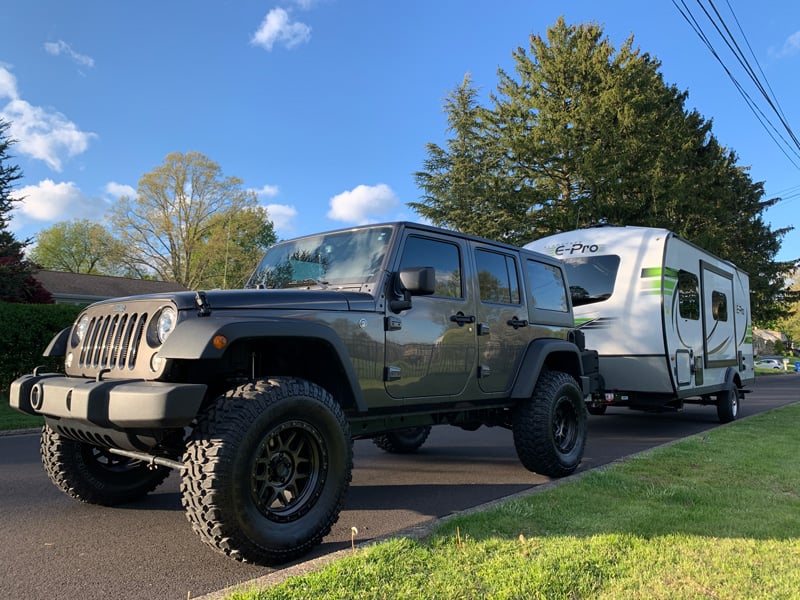 Back in August of 2018, we purchased a 1977 Class C camper for $650 with the idea of renovating it. We had purchased this with the plan to road trip around the USA and Canada for the summer of 2019. As we started to renovate the RV and found out that it had a lot more problems than we thought, we ended up selling it after a few months. We decided that we would instead travel around Southeast Asia for 3 months during the summer of 2019.
Our trip to Southeast Asia was amazing, and at the end of the trip, we started discussing what we wanted to do the following summer. This is when we really got the idea to start living on the road fulltime. During our last few weeks in Thailand, we began discussing what type of RV or Trailer we thought would work. We narrowed it down to a Jeep towing a trailer so we could off-road, adventure, and still have a stationary home with the camper.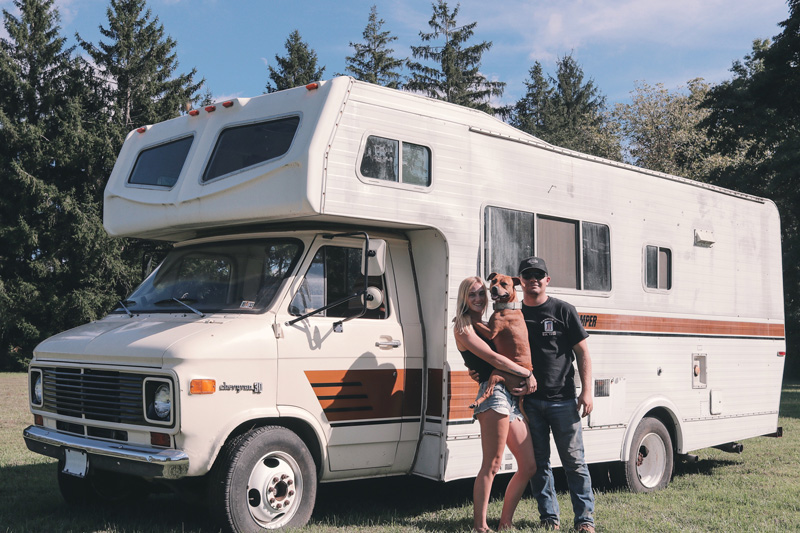 Choosing a vehicle for living on the road – Geo Pro 19fbs Camper Conversion
There are four main reasons that decided to live and travel with our Jeep over other common trends. We debated between a Class C RV, Van Life, 5th wheel, and Jeep Life for over a year until we finally made a solid decision. Building a custom van was going to take a lot of time and money to build.
We also felt it didn't have enough room, no matter what wheelbase we went with. Maddie and I also originally loved the idea of a 5th wheel, but it meant we would have to buy an expensive truck and either a new 5th wheel or remodel an older one. Both the Van and 5th wheel options didn't suit us because of the amount of money it would cost and Maddie wouldn't be able to bring her Jeep along.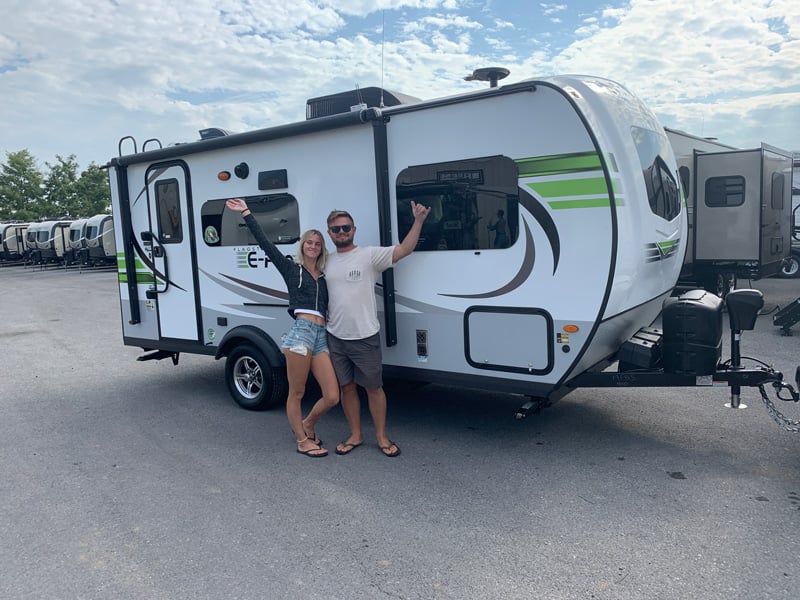 The #1 main reason we got the Geo Pro is that Maddie really wanted to have a Jeep while we traveled and lived on the road. She is a huge Jeep fan and wanted to be able to off-road and customize her Jeep as we traveled. Maddie owned a 1997 Jeep TJ prior to living on the road and was persistent about purchasing a new Jeep, which she did!
James was originally open to almost anything, but with Maddie wanting to have a Jeep it limited us to either a motorhome or a small travel trailer. We could either tow the Jeep behind an RV or tow a small camper under 3,500 pounds with the Jeep. It took us a long time to figure out if we wanted an RV or travel trailer. Both options had their benefits whether it was cost, space, storage, gas mileage, and reliability.
We chose the Jeep and Geo Pro over the Class C because it would be cheaper and more reliable in our opinion. We could buy a brand-new camper for around $20,000 compare to a new class c for $60,000. The travel trailer is also a lot cheaper for insurance purposes because there is no motor or other expensive features.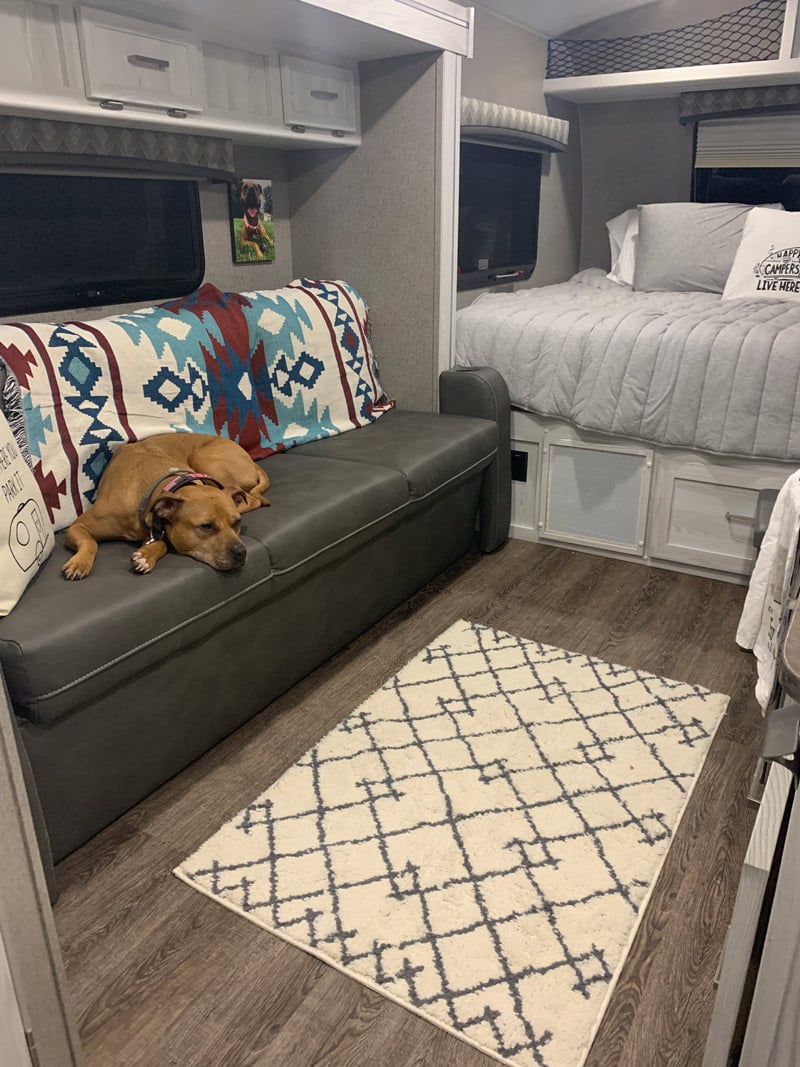 Working on the Road & Space
When we started planning to live on the road fulltime we knew that we wanted online / remote jobs. A lot of people travel to certain locations to work as a tour guide or work in shops, but we wanted more freedom than that. We wanted to be able to work in our camper so that we could travel and go anywhere at any time. This is another reason that we needed more space than a camper van because we were both going to be working at the same time.
It would have been possible to travel for a few years without working, but we would have depleted all of our savings. We eventually plan on buying a house after a few years on the road, which is why we wanted to work and save money for our future.
Our Geo Pro 19fbs has an open layout with a couch, bed, and a table for working. We would generally both be working together inside, with Maddie on the bed and James on the couch. I'm sure a lot of you are probably thinking that isn't a lot of room and we are still bunched together. We knew before purchasing any trailer, that our workspace was going to have to be somewhat small.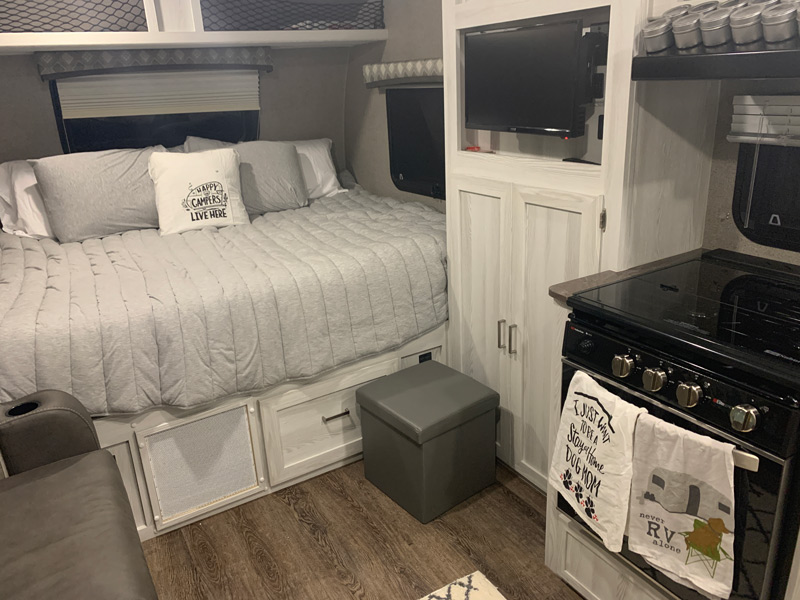 A Jeep Wrangler can only tow 3,500 pounds compared to an F350 which can tow over 20,000 pounds. This weight limit restricted the number of trailers we could look at. The Geo Pro 19fbs was the longest camper we could find under that weight limit that met all of our needs. So… we knew what our limit was which meant we understood how "small" our workspace and living space would be on the road. We could also take the table outside to work outside on nice days which was a huge benefit.
The Geo Pro 19fbs was the perfect fit for us because of the weight, length, and room it offered inside. Our Geo Pro also has a slide-out which expands the interior space a lot, compared to other model trailers which did not. Our model Geo Pro also had a bunch of storage compared to other brands and we were able to fit all of our clothing and two weeks of food inside.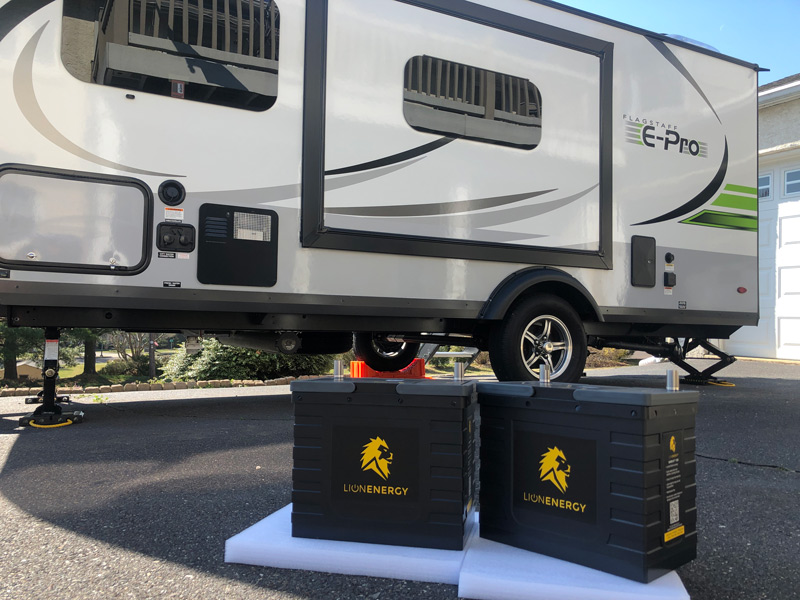 Boondocking & Solar Power – Geo Pro 19fbs Camper and Jeep Wrangler
Traveling fulltime on the road can become very expensive depending on how you decide to travel. After being on the road now for 3 months, we have found that the average full hookup campsite is around $35-$45 per night. This means that on average we would be spending around $500 every two weeks on campsites.
We knew that we wanted to boondock as much as possible and live "off-grid". This meant that we needed a camper with solar power, an inverter and a decent size freshwater tank. The Geo Pro 19fbs holds 36 gallons of freshwater and came with solar from the factory. This was a HUGE benefit for us to have from the factory because we could boondock immediately. Adding solar power and an inverter to a camper can cost upwards of $5,000. The 100w solar panel is nothing crazy, but it was enough to allow us to boondock before we went fulltime.
We realized the 100w panel alone was not enough and spend around $600 to upgrade to 400w of solar. The 400w of solar panels were a huge upgrade and we were able to boondock for 8 days straight in Ohio without running out of power.
The Geo Pro 19fbs model also holds 36 gallons of freshwater which is as much as some larger campers. The 36 gallons have been able to last us 7 days which is a pretty long time for such a small trailer.
After looking at numerous different models of trailers including NoBo, R-pod, and the Geo Pro we decided on the 19fbs. We felt the Geo Pro was our best option for the price and it already included solar power and an inverter from the factory.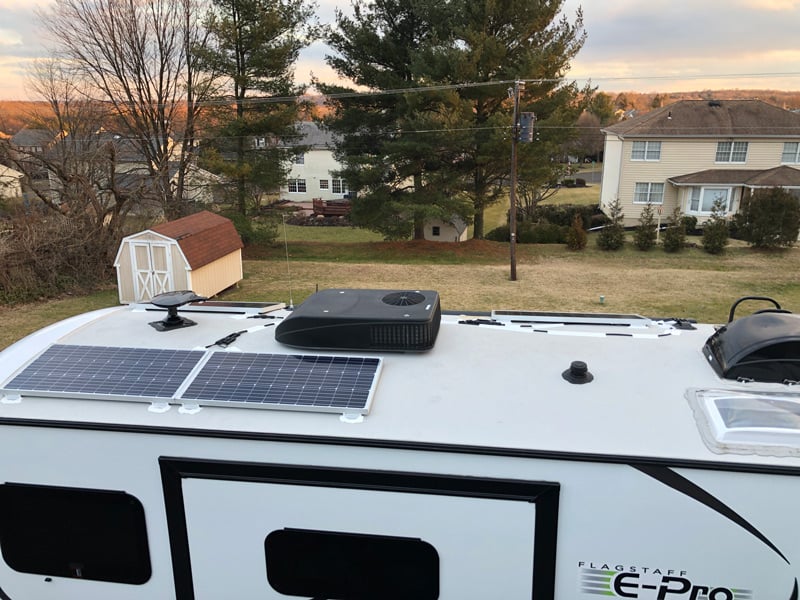 Off-roading in our Jeep Wrangler & Geo Pro 19fbs Camper
Off-roading and versatility sort of play hand in hand with boondocking. Maddie wanted to keep her Jeep Wrangler and we also wanted to have a camper that could "off-road". We didn't plan on doing anything crazy with the Geo Pro but rather just have the ability to reach awesome boondocking destinations.
Our Jeep Wrangler has a 4-inch lift with 35-inch mud-terrain tires. We use the Jeep to explore and adventure unique places during the day that any normal SUV or truck couldn't. We wanted to pair the Jeep with a travel trailer that would be able to reach some of these amazing destinations also.
The Geo Pro series travel trailers come with torflex suspension which rides smoother than traditional leaf springs and last longer. The Geo Pro also sits higher than your average 19-foot travel trailer which gave us additional ground clearance to go over rocks and ruts in the road.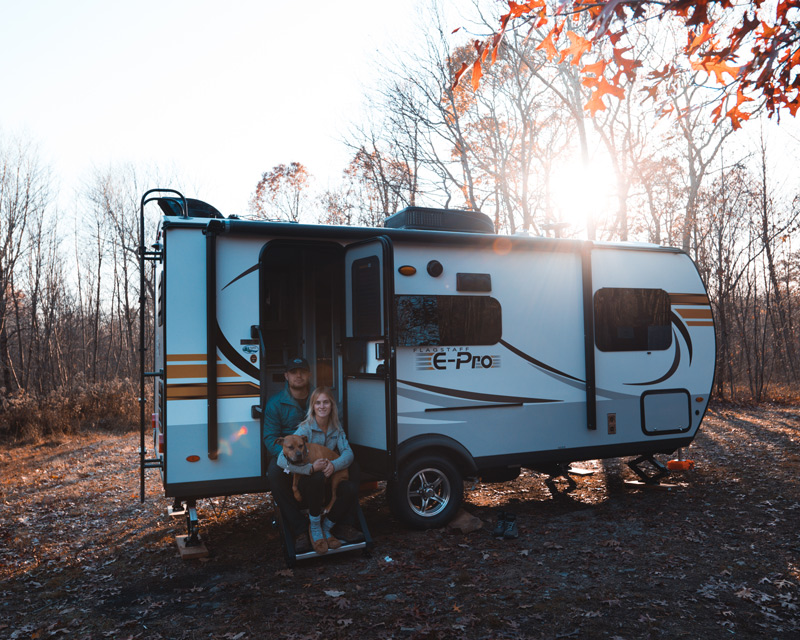 Towing a Geo Pro 19fbs with a Jeep Wrangler – Fulltime Living
The solar capabilities and off-road readiness of the Geo Pro are what initially got our attention. The travel trailer was ready to go from the factory for boondocking and adventuring where normal camper wouldn't go.
The camper also paired perfectly with the Jeep Wrangler in that it was underweight and short enough to tow with JeeThe spacious interior of the Geo Pro also allows us to feel comfortable and "at home" while living on the road. It was super important for us to feel like we had a home on the road. We did not want to feel as if we were living in a camper and rather a home.
Pairing our Jeep Wrangler with a small travel trailer worked for us in so many ways. We have plenty of room, off-road capabilities and can boondock almost anywhere!
Read Our Other Interviews