5th Wheel Vs Travel Trailer, Pros And Cons Comparison
By
on
This post may contain affiliate links. As an Amazon Associate, I earn from qualifying purchases. Please read my full disclosure.
Towable campers come in all shapes and sizes. From lightweight pop up campers to large 5th wheels and everything in-between.
We like towables because you can unhitch them at a campsite, then drive your smaller tow vehicle elsewhere.
The largest and most luxurious towables are travel trailers and 5th wheels. They can comfortably house a family and have toilets and showers built-in so you don't need to rely on the campground amenities.
Although these two campers are similar, there are major differences between the two.
In this article, we're going to discuss the pros and cons of each, and how to decide on the best towable camper for you.

Overview: 5th Wheel VS Travel Trailer
| 5th Wheel | Travel Trailer |
| --- | --- |
| Larger, taller, longer | Smaller, shorter |
| More slide outs | Lightweight |
| More basement storage | Less expensive |
| Luxury amenities | Better gas mileage |
| Easier to hitch | Variety of tow vehicles |
| Easier to drive | Smaller hitch |
| Weighs more | Not as luxurious |
| More expensive | Less storage |
| Pickup truck required | Harder to hitch |
| Worse gas mileage | More sway |
Aesthetics
Before we get into the pros and cons, you should know what they look like. 5th wheels have a long tongue that sits over the back of a pickup truck. They tend to be larger and weigh more.
Travel trailers can be towed with a Jeep, SUV, truck, or any vehicle that has a high tow capacity. Overall they tend to be smaller and lighter. We'll get into some of the specifics of each camper below.
Tow Vehicle Capacity
A pickup truck is required to tow a 5th wheel camper. Many 5th wheels require at least a 3/4 ton truck, although there are a few campers that can be towed with a 1/2 ton truck.
You can get away with a smaller tow vehicle if you purchase a travel trailer. Weight distribution hitches can help you safely tow the maximum weight that your tow vehicle is rated for.

How much can your vehicle tow?
If you already own a tow vehicle, start by finding the Gross Vehicle Weight Rating of the truck (GVWR). This can be found on a sticker inside the driver's door or by using this tow guide calculator by Camping World.
The trailer, tow vehicle, and all contents and passengers combined should not exceed your vehicle's towing capacity. This is known as the Gross Combined Weight Rating (GCWR).
RV Dry Weight + Passenger's Weight + Cargo + Liquids + Tow Vehicle = GCWR
Total weight must not exceed towing capacity.
Tow Vehicle Considerations
Consider the type of vehicle that you want to use when driving around town. If rock crawling in a Jeep is on your radar, then a travel trailer would be the best solution.
Pickup trucks can tow both types of campers, but large families might feel cramped in one. And if you get a 5th wheel, the hitch will take up the majority of the truck bed.
The cheapest solution is to use the vehicle that you already own. But if you're going to be purchasing a new truck anyway, consider the cost of both the truck and a camper.

Towable Camper Size
Of course size and weight is going to vary depending on the type of camper, but in general:
5th wheels are larger than travel trailers. That makes them ideal for big families or campers that want the most comfortable experience.
5th wheels weigh more and require a bigger tow vehicle.
5th wheels are longer and can reach a length of 28 feet or more.
Weight
The average dry weight of a 5th wheel is around 15,000 pounds, but you can find campers up to 20,000 pounds. Comparatively, travel trailers can range anywhere from 2,500-8,000 pounds.
Length
5th wheels often range between 28-36 feet long. That makes them harder to park and maneuver in smaller campgrounds. You always have to consider the total length of the tow vehicle + camper when researching length restrictions.
Travel trailers come in a wider range of sizes, you can find some as short as 10 feet, or others up to 35 feet long.
Height
5th wheels are normally taller. They have an exterior height up to 13.5 feet from the ground. This height the living area look and feel much more spacious. But it's good to remember that the bedroom section which sits above the pickup truck will have a lower ceiling because of the multi-level design.
Travel trailers typically stand 10-12 feet tall. This makes them more convenient for driving through tight tunnels or into parking structures. You'll also get better gas mileage with a camper trailer because of the lower profile.

Basement Storage
Similar to a Class A motorhome, 5th wheels have a larger basement storage area than travel trailers. That makes them ideal for carrying large camping toys, bigger propane tanks, or bulky outdoor gear.
Tow Vehicle Storage
As mentioned earlier, you need a pickup truck to tow a 5th wheel. Unfortunately, you don't get to take advantage of that truck bed space. A 5th wheel hitch sits in the truck bed and takes up nearly all of the space so you won't be able to pack an ATV or dirt bike in the truck like you could with a travel trailer.
Gooseneck connectors are lightweight hitches that can leave more space for gear in the truck bed, but you still won't get the generous amount of space you would with a regular trailer.
Expenses
The combination of a larger camper plus a powerful tow vehicle means a 5th wheel is more expensive than a travel trailer. But the high price tag comes along with greater amenities and more extravagant features as you'll see below.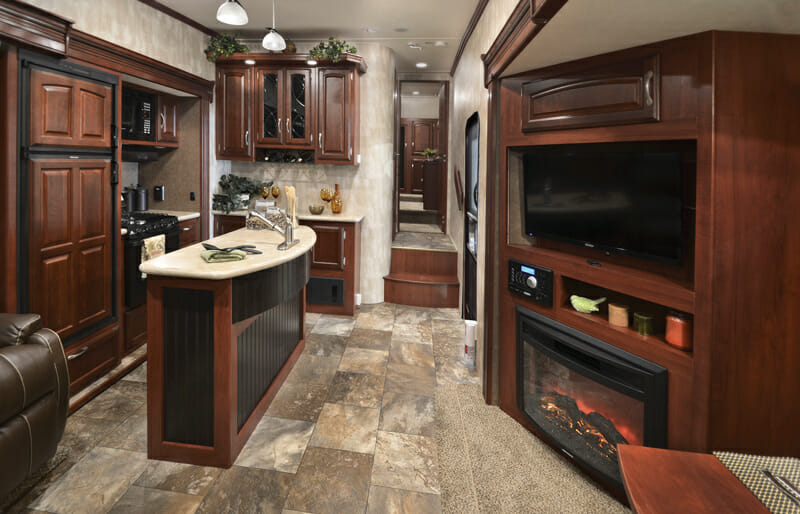 Toy Haulers
Toy haulers can be bought in both the fifth wheel and bumper pull trailer form. Toy haulers are designed with living quarters in the front and a large "garage" in the back which can be used to haul things like ATVs, dirt bikes, kayaks, and canoes. They are some of the most expensive RVs you can buy.
Amenities
Because fifth wheels are larger and can handle the weight, they are typically more luxurious than travel trailers. It's common to find fireplaces, multiple bedrooms, or large living areas and kitchens in a 5th wheel.
5th wheels are less restricted by carrying capacity when it comes to water, propane, or campground toys as well.
Slide Outs
Many 5th wheels have 3-5 slide outs that further extend the living space of the RV.
Travel trailers, on the other hand, sometimes have slides outs, but you're unlikely to find more than two. Slideouts add a lot of weight to the camper so they're not as common in lightweight trailers.
Campground Set-Up
Because of all the slideouts, 5th wheels can take longer to set up once you reach your destination. That means they're best suited to longer camping trips when you plan to stay parked for a few days at a time.
Travel trailers are easier to pack up and go from that standpoint.
Multiple Levels
5th wheels have a second level that juts out over the pickup truck. Typically, this contains a bed that you have to climb into using a small set of stairs. This adds more space and allows campers to sleep further away from each other. But, people with mobility issues might not enjoy the extra set of steps.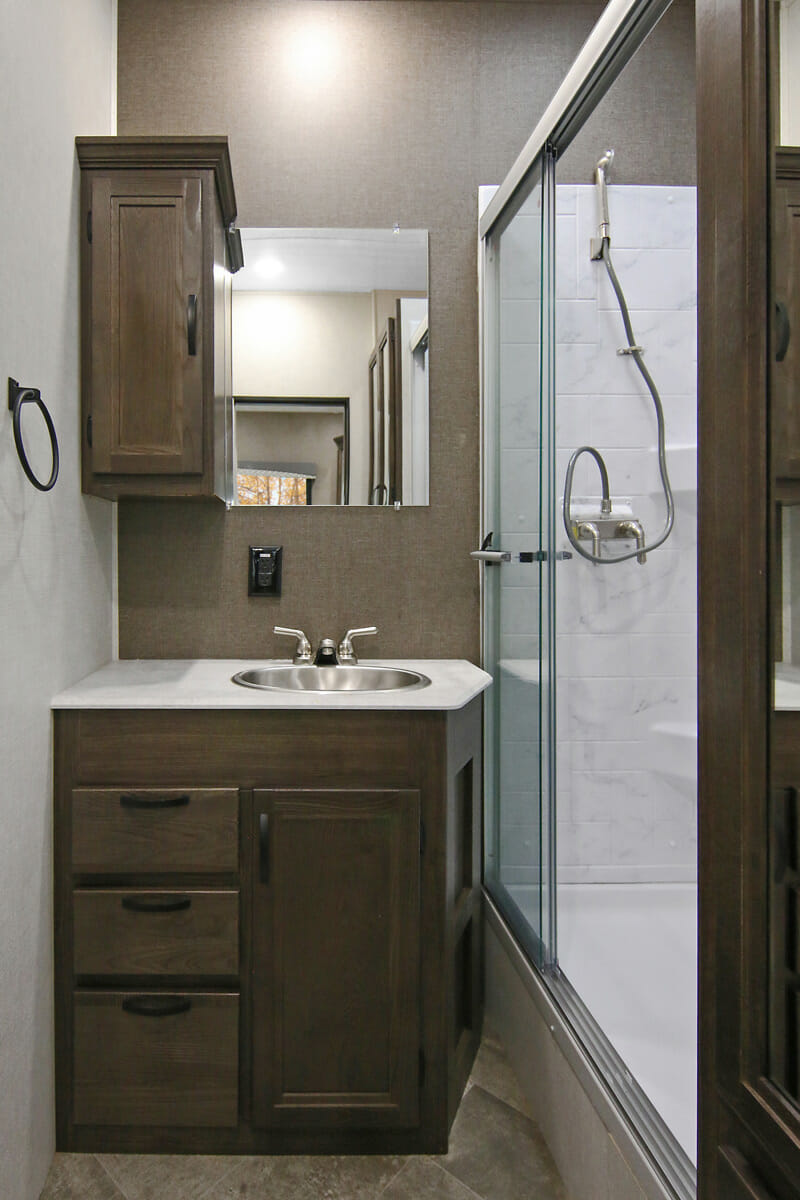 Bathrooms
It's common to find 1.5-2 bathrooms in a 5th wheel camper. Whereas travel trailers typically have just one. This makes the fifth wheel better for large families or campers who enjoy their privacy.
Temperature Control
A common complaint among 5th wheel campers is that the temperature can be difficult to control. Varying ceiling heights and multiple levels can contribute to an uneven heat distribution throughout the camper.
The bedroom that sits above the truck bed, in particular, can heat up faster than the rest of the camper because of the smaller space.
Travel trailers are more square and have an invariable ceiling height so it's easier to keep the temperature consistent throughout.
Generators
It's a common feature to find onboard generators located in the basement storage area of a 5th wheel. Most travel trailer owners use a portable generator that's stored on the outside of the vehicle or nothing at all.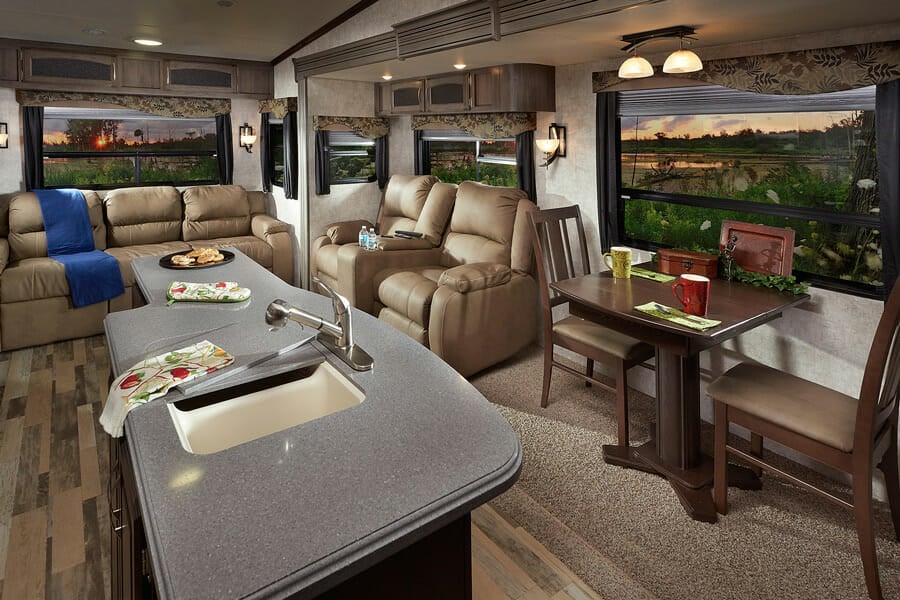 Hitching
5th wheels use a special hitch which sits in the bed of a pickup truck, while travel trailers use a standard ball and coupler hitch.
Single travelers find 5th wheels easier to hitch and unhitch. The tongue design allows you to easily guide the coupler by looking through the cab window without a spotter.
But 5th wheel hitches are often permanently installed in the truck bed so they take up a lot of space that could otherwise be utilized for gear. That eliminates the need for safety chains, load levelers and sway bars.
Travel trailers use a ball and coupler hitch which takes up no additional space if you have a truck. But, these can be tricky to hitch yourself without a spotter or hitching guides.
Driving
5th wheels might be longer, but that doesn't make them more difficult to drive. With a fifth wheel, the hitch sits over the rear axle of the tow vehicle. That pivot point gives it a larger turning radius and the camper is less likely to sway in the wind while driving.
Ideally, you wouldn't need to back up a tow vehicle much, but 5th wheels are more challenging to back up than conventional trailers.
Travel trailers are more prone to sway in the wind and generally harder to maneuver. You can make the drive more smooth by installing sway bars, but they will never be as comfortable as a 5th wheel camper.
Additional Towing Capacity
Laws vary by state, but in many cases, you can only tow a secondary toy like an ATV or boat behind the camper if it is a 5th wheel. Most states do not allow you to tow behind a travel trailer.

5th Wheels VS Travel Trailers: Which One Is Better?
The best camper is the one that fits your travel style. If you're someone who values homestyle amenities and needs extra space, privacy, and more room to spread out, we recommend the 5th wheel. A fifth wheel camper is also a great solution if you already own a pickup truck capable of towing.
Travel trailers are great for campers who want to save some money, use any type of vehicle, and don't mind being packed a little closer together.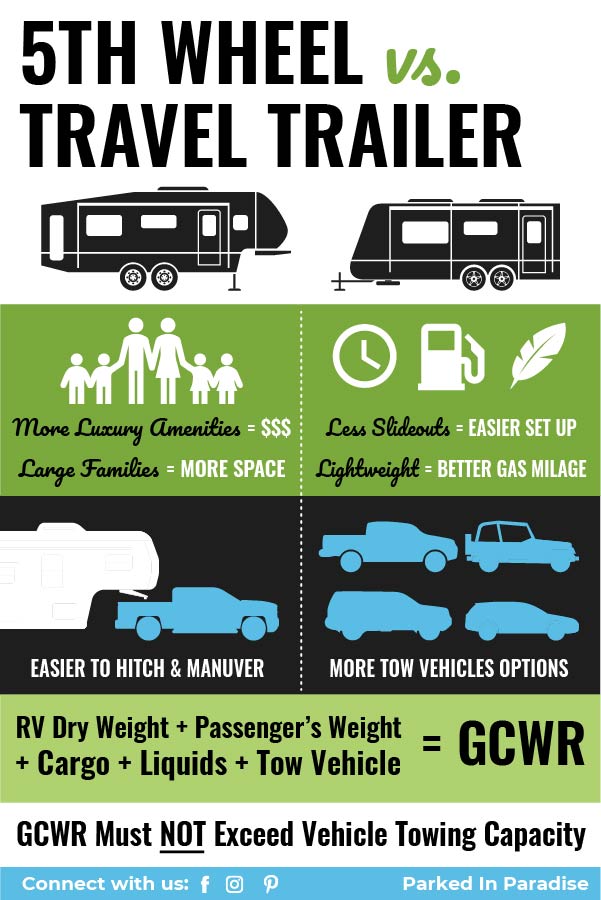 Try before you buy
If you have the opportunity to test out a few campers before committing to a purchase, we highly recommend doing so. Renting a camper will help you get a clear vision of your wants vs your needs and the pros and cons of each type of vehicle.
RV rental companies like Outdoorsy and RV Share allow you to rent both types of vehicles, and you can rent the tow vehicle as well.
Continue Reading: