The Best RV Bike Racks on the Market (Review)
By
on
This post may contain affiliate links. As an Amazon Associate, I earn from qualifying purchases. Please read my full disclosure.
When you're in the market for an RV bike rack, there are a few things to keep in mind. You want to get a rack that is easy to use, fits the correct number of bikes, and is compatible with your motorhome.
In this article, we'll take a deep dive into the best RV bike racks to help you with your buying decision. From a bumper bike rack to an RV ladder bike rack, we'll go over the most popular options available.
Why Use An RV Bike Rack?
If cruising around the campground on a bicycle is important to you, then you'll want an RV specific bike rack to transport your gear. A bike rack will save space inside your motorhome during travel. They protect your ride; preventing scratches and tangled components.
Finally, you'll be more likely to pack your bikes if you have a safe and easy way to bring them on your adventure.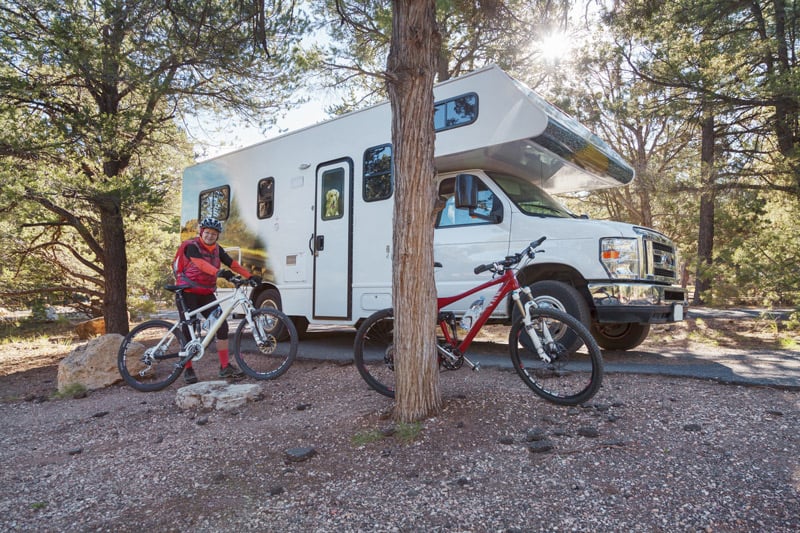 Bike Capacity
One of the most important factors when looking for a bike rack is how many bikes you plan to carry. Most racks are built to support two bikes. While others are designed to hold four, or even six bikes at a time. Consider the type of bikes you plan to travel with: mountain bikes, road bikes, or children's bikes. Each kind takes up a different amount of space.
Oftentimes, children's bicycles require an adaptor to be used with an adult-sized bike rack.
Type of Mount
There are four main types of mounts that RV travelers will use to transport their bikes: front mounts, ladder mounts, hitch mounts, and bumper mounts.
Each mount serves a different purpose. If you have a fifth-wheel for example, you may end up with a front mounting setup because it won't interfere with your trailer hookup. For a full-size motorhome, you will likely want a hitch bike rack or an RV ladder bike rack because they will be easy to install and access.
Ladder mount
If you own a motorhome with a ladder in the back, storing your bikes on that is a cheap and easy way to get from point A to point B. These mounts typically come in one or two pieces and have bolt-on installation.
A big benefit with this type of rack is you don't have to worry about reinforcing bumpers or hitches. These racks are also easy to load and unload the bikes. The biggest downside is height could become an issue if you're a shorter traveler because some ladders sit high on the back of the RV.
Most ladder mounts will hold two bicycles. But unlike hitch or bumper mounts, a ladder mount doesn't have the highest weight capacity. You'll want to be sure to check your racks limitations because some racks can only hold 50-75 pounds at a time.
Best for motorhomes with a ladder and 1-2 bikes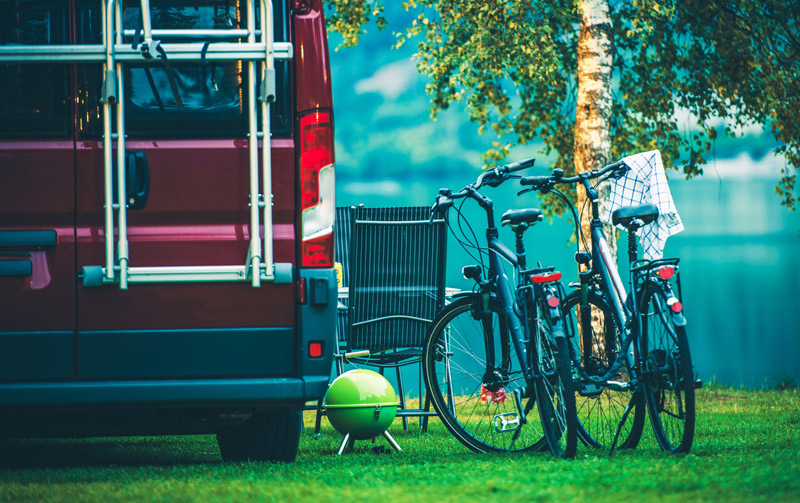 Hitch mount
Hitch mounts are the most popular choice. Not only are they easy to install on an existing hitch receiver, but they're also simple to access. There are two main types, platform, and hanging mounts. Both mounts sit lower on the back of your vehicle making them easy to reach.
The best part about a hitch mount is they can hold up to five bicycles at a time making them perfect for large family camping trips.
While hitch mounts can fit on most vehicles, but you'll want to look for a rack specific to RV or travel trailers. That's because trailers can have different suspension and suffer higher vibrations than your commuter vehicle. Weight distribution hitches for travel trailers can help reduce the amount of sway.
Regardless, you'll want a rack designed to withstand a large amount of vibrations and sway.
If you don't have a compatible hitch or receiver, you may need to purchase a hitch adaptor.
Best for ease of access and transporting 1-5 bicycles at a time
Bumper mount
Bumper mounts are most often positioned on the front bumper of your RV. These are convenient because you'll still have access to the ladder and hitch on the back of your motorhome for additional storage. They also work well as a bike rack for travel trailers if you don't have a lot of options.
Bumper mounts do require more setup than ladder or hitch mounts and they don't work well with every motorhome. RV manufacturers place weight restrictions on the bumpers. These racks work best with a bumper that is highly reinforced with steel construction.
The good news is, once you install these bike racks, they can hold up to four bicycles at a time and will leave you with good visibility. This is another rack that makes accessibility easy so they are perfect for frequent rides.
Holds up to four bicycles and leaves room for additional storage on the back of the RV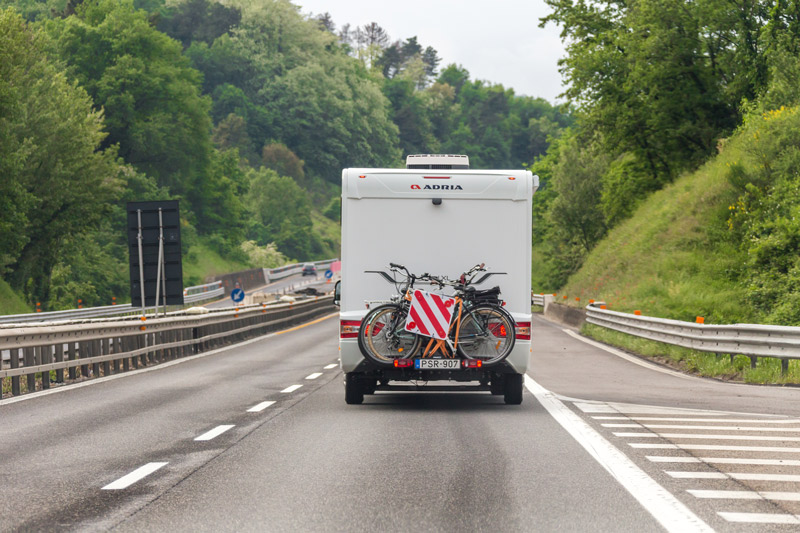 Front mount
Front mounts are sometimes called A-frame mounts or trailer tongue mounts. They attach to the front of a travel trailer above the propane tank. These mounts can be more difficult to install than some of the others, and they tend to be harder to load and unload your bikes because of the angle. Most front mounts are designed to hold two bicycles.
Good option if you own a travel trailer, and do not need to load and unload bikes frequently
Features To Look For In An RV Bike Rack
You can quickly narrow down options by deciding on the number of bikes you intend to transport and the type of mount that will work best for your RV. Once you know what type of rack you want, it's time to pick the best choice based on features.
Quality Materials
The most important buying factor with almost anything is the quality of the materials. When you purchase an RV bike rack, you want to make sure it will hold up for a long time.
Powder-coated bike racks are great because this type of treatment extends the life of the metal. This will ensure the mount won't corrode over time, causing the rack to break and crack prematurely.
Check the weight distribution rating before purchase and make sure the rack can handle the size and number of bikes you own. Mounts designed for motorhomes and travel trailers are built to withstand high vibrations and bumps on the road.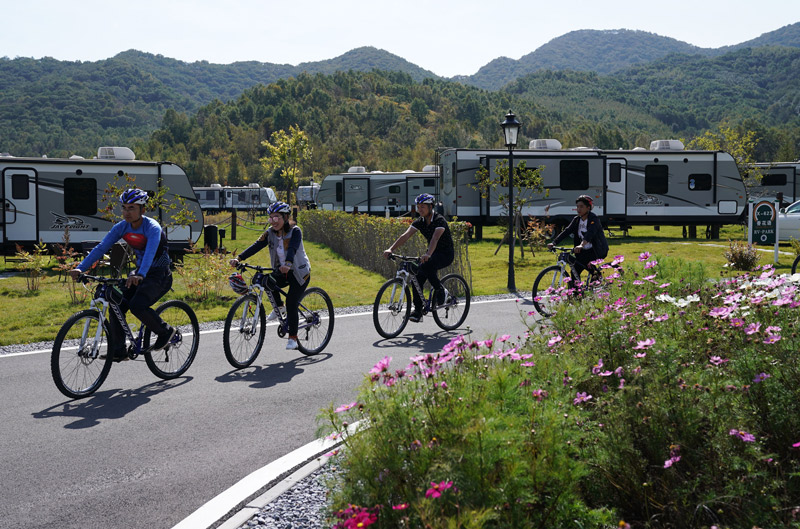 Ease of Use
Consider how you plan to use the rack. Will you be loading and unloading bikes frequently? Racks that are easy to reach like hitch mounts and bumper mounts will make you more likely to want to take your bike out for a spin.
Alternatively, ladder mounts utilize the equipment you already have which is nice; but they also sit higher which may be a problem for shorter campers.
Affordability
Price is always a factor when we're buying anything, and you shouldn't have to put a big dent in your adventure when you buy a bike rack. There are plenty on the market that go for a modest price and get the job done fine.
Make sure you purchase your RV bike rack from a reputable company that offers its products at affordable prices.
Installation Process
Another critical component of the best RV bike rack is that you can install it quickly and easily. You shouldn't have to worry about too many variables when installing the rack.
Installing your bike rack depends a lot on the type of rack you have and the type of RV you have. Here are some great resources you can use to help install the right bike rack for your RV style.
The Best Bike Racks Reviewed
Now that you understand how to choose the best bike rack we'll recommend some of our favorites. We chose these racks based on quality materials, high user ratings, and usability.
LADDER MOUNTED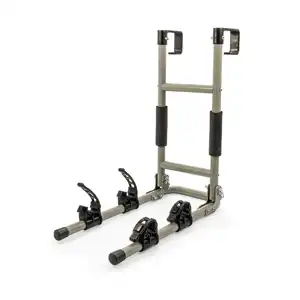 The Camco ladder mount fits any standard ladder and comes with bonus straps for extra security. You can easily fold it up, so it stores in your RV or garage when you don't need it.
We like this bike rack because it's produced by Camco, one of the leading RV product producers in the US. The rack easily holds two bikes with a maximum weight of 60 pounds.
HITCH MOUNTED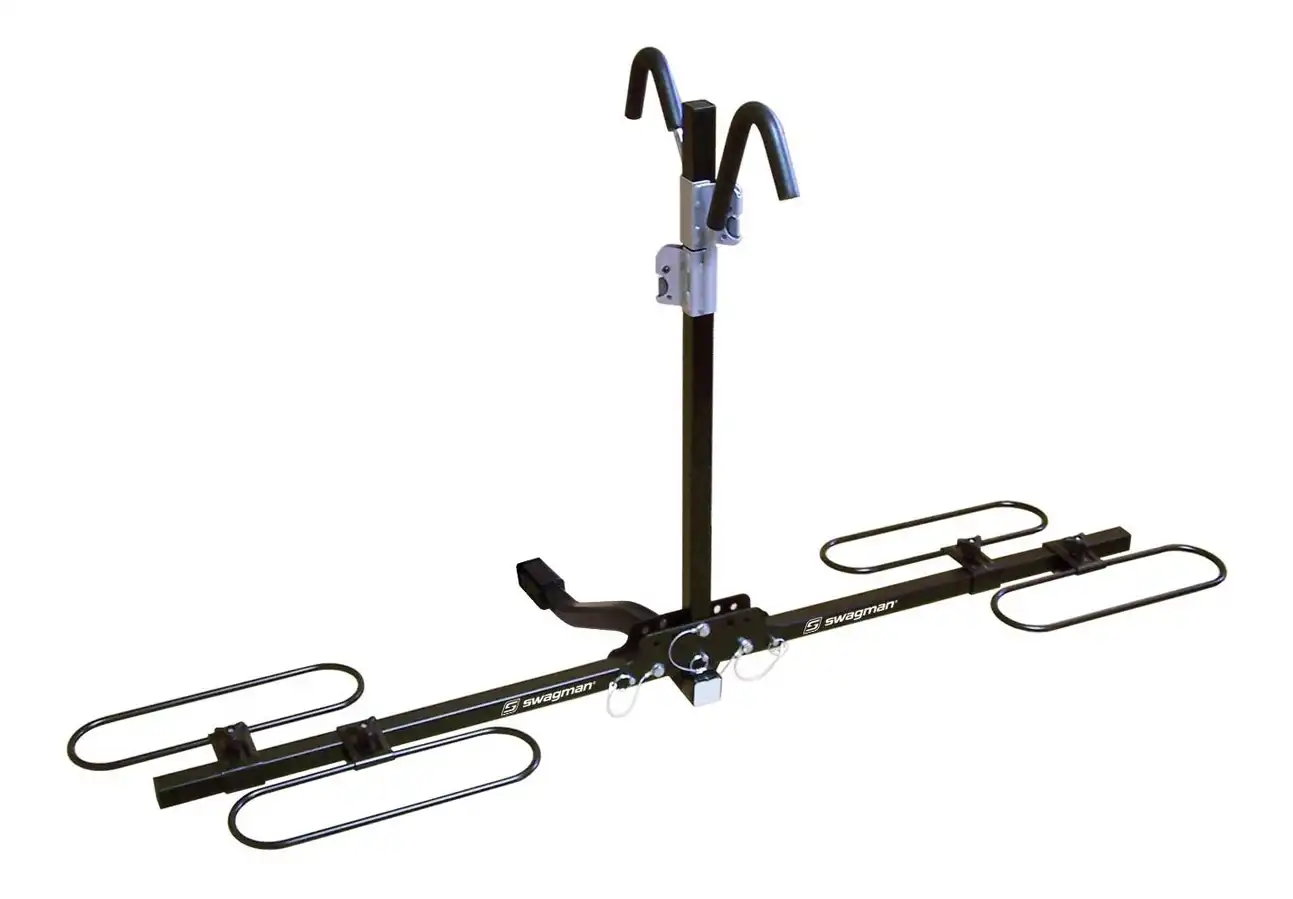 The Swagman XC is our favorite hitch mounted bike rack because it comes in one piece and takes only a few minutes to install.
This bike rack allows you to transport two bikes, each with a weight capacity of 35 pounds. There is an upright ratchet arm that adjusts to different bike frame sizes–including children's bikes.
BUMPER MOUNTED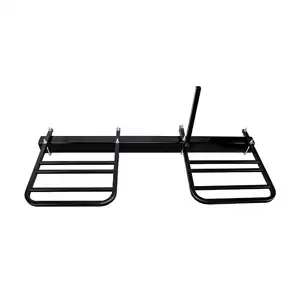 When it comes to bumper-mounted racks, Quick Products is our top choice. This is a durable, powder-coated steel bike rack that mounts to the bumper and securely holds two bikes up to 30 pounds each.
We like this rack because you can use it to transport other items besides bikes if you have the means of securing them in place.
4 BIKE HITCH RACK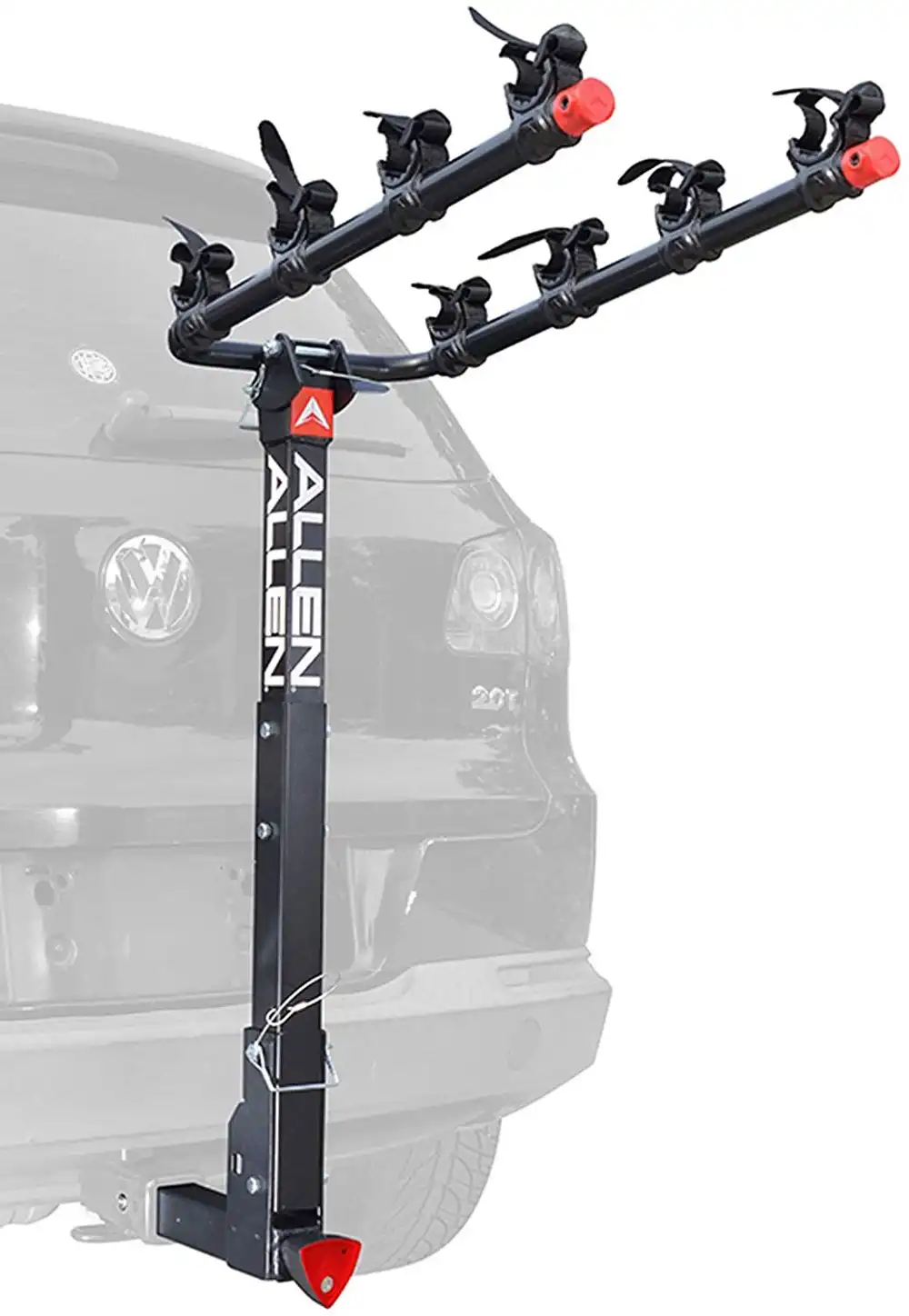 If you're looking to transport bikes for the whole family, our favorite 4-bike rack is the Allen Sports hitch rack. It mounts directly to the hitch of your trailer. and has a padded cradle that swives 360 degrees, accommodating bikes of all shapes and sizes.
The rack sits low and is easy to access. It also folds out of the way if you need to reach behind it. Allen Sports is also the only bike rack on our list that comes with a lock and two keys included to keep your bicycles safe and secure at the campground.
Final Thoughts
By this point, you should know everything you need to know about RV bike racks. Maybe you've even decided on one, and you're ready to make a purchase. Make sure you look thoroughly through the options, so you decide on a rack that makes sense for your style of RV.
If you're looking for a rack that will accommodate the whole family, we recommend the Allen Sports 4-bike hitch rack. The Camco RV ladder mount will work best if you have a big rig with a ladder already in place.
The Swagman XC is our favorite hitch-mounted rack, and Quick Products is our favorite bumper-mounted rack which will work well for motorhomes with a strong, steel constructed front bumper.
Continue Reading: