The Best RV Security Systems (Review) & Theft Prevention Tips
By
on
This post may contain affiliate links. As an Amazon Associate, I earn from qualifying purchases. Please read my full disclosure.
Cruising around to new places is the best part about traveling in an RV. But with every new destination, it's hard to distinguish between safe cities, and those with more opportunistic inhabitants.
RVs are particularly vulnerable to break-ins.
They tend to have poor security systems, and they're located in places where people come-and-go frequently. Not to mention, there are a lot more valuables in an RV than a camping tent.
Theft from an RV is even more devastating because not only are you losing travel supplies, but you're missing part of your home as well. We always recommend having some sort of security system in place; and security monitors are a big part of that equation.
First Steps: How To Secure Your RV
If you're a weekend warrior, or don't have the funds for a full security system right now there are still a number of steps you can take to protect your property.
Dogs are great deterrents. Even in a home, burglars are less likely to break into a residence with a dog. Pets do an excellent job of alerting you or fellow campers of a potential break-in before it happens. If you don't own a dog, simply placing a water bowl or pet toy outside the door of your camper might do the trick.
Chock your tires. Most RV break-ins are opportunistic with thieves just looking for a quick grab-and-go. But if you want to prevent someone from stealing your camper, make sure to chock your tires and jack up your trailer. This simple act will make stealing a motorhome significantly more annoying.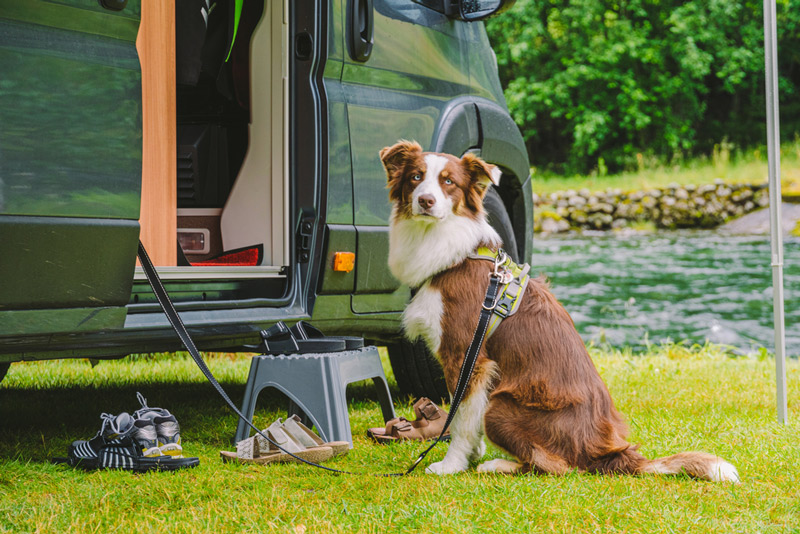 Secure or pack away outdoor items. Generators, bicycles, tools and propane tanks are particularly vulnerable for theft. Whenever you leave your campsite for an extended period of time make sure you pack up or lock and pieces of outdoor equipment.
Install a trailer hitch lock. Hitch locks ensure that any would-be thieves can't just connect your trailer to their truck and drive off.
Get to know your neighbors. If you're a long-term camper, chances are good that you'll be able to connect with other full-timers in the RV park. We highly recommend getting to know your neighbors so you can keep an eye on each others rigs when you go out for a hike or grocery run.
Do You Even Need an RV Security System?
With all of the precautions available, do you even need a security system?
If you are a full-time traveler, we recommend you get one. Not only for peace of mind, but also because your RV is your home. And you could end up lost without it–literally.
For those who only travel part-time, RV alarm systems are still important. Many break-ins occur while the camper is in storage. So a security system is the perfect way to prevent or catch that perpetrator in the act.
RV security systems vary in their components. A system can be a single camera or a conglomeration of several cameras, alarms, and sensors. Whatever the makeup, they're all designed to keep you safe.
While many home security systems can also work for RVs, there are certain things you should look for when picking systems for your home on wheels.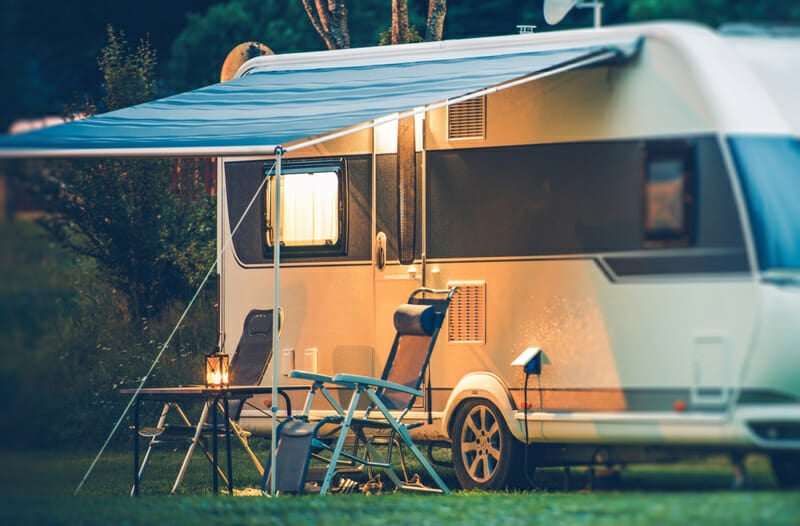 Features to Look for in an RV Security System
Finding and choosing a travel trailer security system depends on what you need and what your price range is. Not everyone needs a multi-piece system while others require a full-fledged host of devices to maintain the degree of safety they desire.
Easy and Appropriate Installation
Of course, everyone wants their devices to be easy to hook up and start using. Security systems are no exception, and you should always be aware of what it will take to set up any given product. Don't look for something overly complicated because chances are, it's an unnecessary difficulty you can do without.
You need to keep in mind another aspect, especially if you're looking at systems aimed at home users. It needs to be possible that the system can be installed in your RV. A product with a lot of nuts and bolts isn't going to work in an RV as well as a house.
Anything that attaches to the RV, especially on the outside, must be immovable once it's installed. Your investment will mean nothing if it falls off the vehicle while it's moving!
You'll also want to veer towards devices that don't require a powerhouse to run them. RVs don't have the same energy capabilities as a home, and you don't want a security system sucking up your vehicle's energy.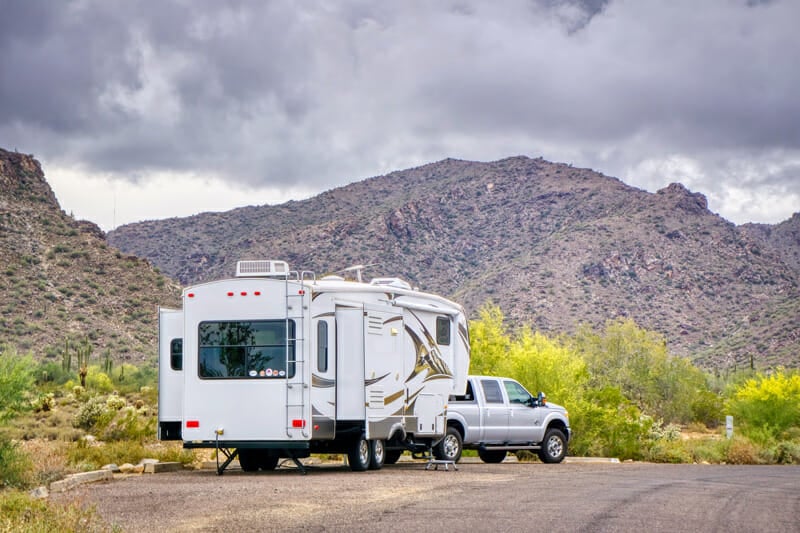 Monitoring Methods
A security system should alert you of intruders and provide a way to surveil the situation. Most modern setups allow a connection to the cameras or sensors in a system. You can usually access these through your phone or a computer.
While at this point it's fairly common, you should always make sure any security system you buy has this feature. For RV security, it's preferable to monitor the system through your phone unless you're planning to bring a laptop or computer.
Battery Life and Power Options
Since you're going to be on the road or in the wilderness, you'll need to consider your battery options. Although RVs provide a lot of power, they're still not the same as a house, so you need to consider your security setup accordingly.
A lot of models are battery operated or even utilize solar energy. Others will need to plug directly into shorepower. Though it's wise to avoid a lot of wires and plugs in the interest of simplicity and ease.
Remember, the system will need to run even when the RV is turned off, possibly for several hours. So make sure its battery life can handle that duration.
Detection Notifications
When suspicious activity occurs, you need to know about it. As with monitoring methods, most personal surveillance setups these days come with a way to notify you quickly when something is amiss. Many systems allow communication with your mobile device so that you're in-the-know at all times.
However, just because this is a common feature doesn't mean it's a give-in. Always check that a system provides detection notification unless it's a simple device. You also need to be sure whatever method they use to notify you is compatible with the technology you already have.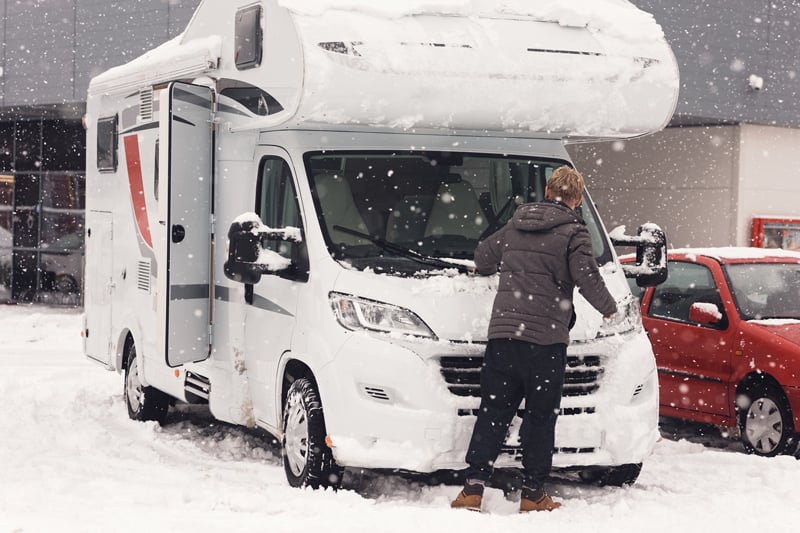 Weatherproof
RVs are meant for adventures and long travels, so your accompanying security system should be able to withstand wind, rain, sleet, snow, and whatever else your journeys throw at it.
Cameras and other components designed for outdoor use are a necessary choice considering that all or part of the pieces will be outside in varying conditions.
Price
High-quality security systems are investments, but there are some less expensive options on the market. Door and window alarms tend to run a little cheaper. Cameras, sensors, and included monitors run up the tab as they are more involved devices.
It's best to have a clear picture of your needs before making a purchase. Make sure you understand what you'll use every piece in a setup for before plunking down a large amount of money you may not need.
On the flip side, don't skimp where you need it. If you're keeping a lot of valuables in your RV, it may be worth the investment for you to buy a more complex system.
Best RV Security Systems Reviewed
Top Choice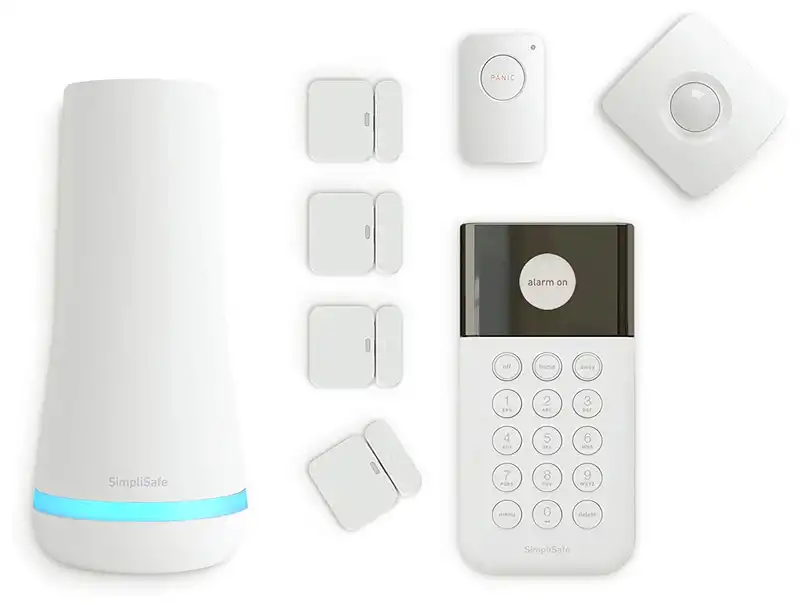 It's hard to beat this SimpliSafe for RV system as it's a well-rounded and effective setup. This 8-piece set comes with a base station, four alarms for doors or windows, a motion sensor, and a panic button.
This setup allows you to arm various points of your RV that the base station tracked, which sends notifications to an online log. Although it doesn't come with a camera, the log's included timestamps let you know when events took place.
It's battery-powered, so you don't have to worry about draining your vehicle's power. It's easy to install with minimal wires and complexities that are liable to get in the way. The exterior alarms are also weatherproof.
One thing we really like about the Simplisafe system is that it does not use WiFi. And it only uses cell-phone service to contact the dispatcher if an event occurs.
The 8-piece set only comes with one sensor, but you can buy and sync more to your system for increased security. With the door alarms and sensors, there's almost no point in your RV that won't be protected.
Features:
Four alarms for doors or windows
Online incident log with timestamps
Battery-powered
No WiFi required
Can purchase extra sensors
Best Solar Powered Alarm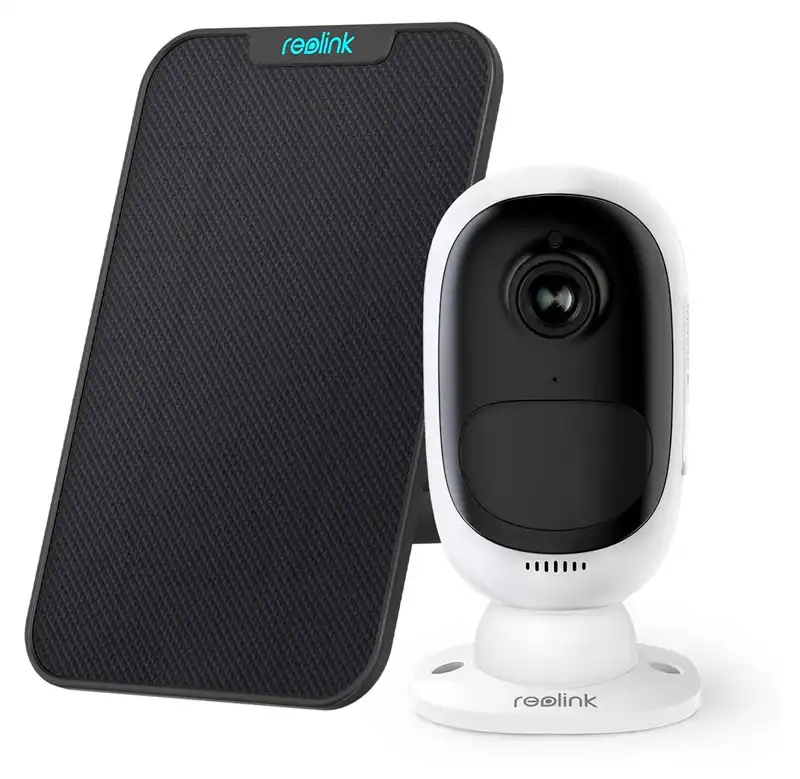 The Reolink outdoor security camera is a simple wireless device setup that relies on solar and battery power. A solar panel hooks into the camera that keeps it active and charges the battery simultaneously.
The camera also comes with a two-way speaker if you have a visitor with whom you need to communicate. It's a weatherproof setup that hooks up to your mobile device, Alexa, or Google Assistant.
The system relies wholly on WiFi, so having a connection is a must if you choose this model. Fortunately, many RV parks have WiFi these days so it's perfect for anyone who likes to stay at RV campgrounds.
That said, this piece of equipment might not be the best choice if boondocking is your primary mode of travel.
Using the WiFi, you can allow up to 10 family members and friends to tap into the video screen and view the footage live.
The 130° field of view also has night vision in color. The footage gets saved to a 64GB SD card, so you can review it as you need to. Once space runs out, the device starts to delete the oldest footage as it records a new video.
Features:
Solar powered and weatherproof
Easy to set up with minimal wires
Stores up to 64GB of footage before
Connects to your phone for easy surveillance
Requires WiFi Connection
Best Door Alarm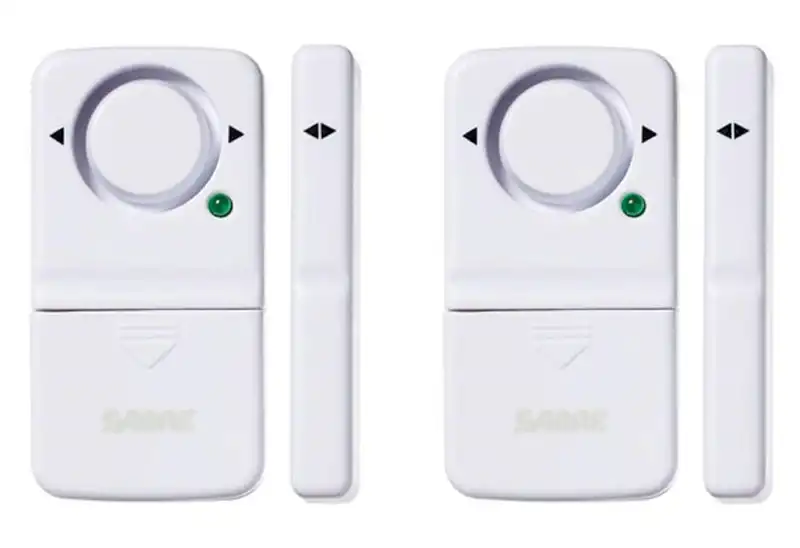 The SABRE wireless burglar alarm system is a simple device that also serves as an RV alarm system. This is an affordable option if you want something that will alert you of intruders. If you're away from the RV but still within earshot, this small device sounds a blaring alarm you'll definitely be able to hear.
It's also easy to install and runs on replaceable batteries. Since it's just a sound alarm, it does nothing in the way of catching evidence of someone's intrusion. However, with an alarm that's as loud as a chainsaw, sometimes a good scare is enough to send intruders running.
As a friendlier setting, you can also set it to chime when you open the door, so it serves as a doorbell. Or if you don't need it for a certain time, you can turn the device off. It's an easy and inexpensive way to add some security to your RV.
Features:
Inexpensive but effective
Loud alarm
Easy to install
Chime setting for everyday use
Best Vehicle Alarm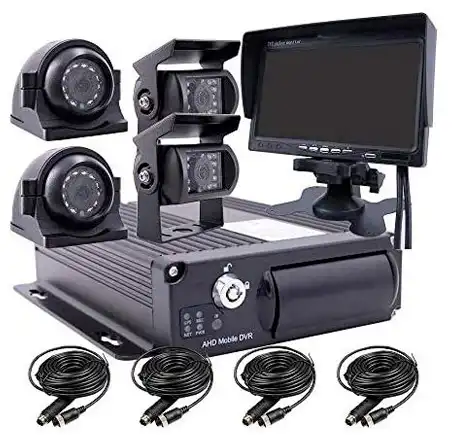 This JOINGLO video recorder kit is a security system that covers all bases. It comes with four cameras and a monitor that connects to your RV. This system hooks into your vehicle's battery to record up to 24 hours of surveillance footage.
Although a more complex and wired setup, it's still not overly-complicated and suits the size of an RV well. It also has a G-sensor that detects crashes and sudden movements to record all incidents.
The computer can hold two SD cards of 256GB of storage each for a total of 512GB. You can also view one, two, or four camera views at once on the screen. Ideally, each camera is placed on the four corners of the vehicle, giving you a complete view of your RV's exterior.
While this system doesn't come with a WiFi or smartphone connection, you can purchase a separate extension that allows you to tune into the cameras from your phone.
Features:
Four cameras for each point of your vehicle
G-sensor detects crashes and sudden movements
Large footage storage
WiFi potential
That's A Wrap!
At the end of the day, what it comes down to are your needs. If you want a simple and affordable level of security, go with the SABRE door alarms. The Reolink camera is perfect for those who want a weatherproof kit that is solar powered.
If you want to keep a tight watch on your vehicle, even while you're driving, then the JOINGLO recorder kit has you covered.
Our top choice is the SimpliSafe security system because it's well-rounded, easy to install, and covers a lot of ground. This is a great overall choice that will keep you feeling safe in your home away from home.
You Might Also Like: