The Best Trailer Jacks For RV Campers (Review)
By
on
This post may contain affiliate links. As an Amazon Associate, I earn from qualifying purchases. Please read my full disclosure.
Unless you have superpowers, hitching and un-hitching your travel trailer from the tow vehicle is going to be nearly impossible. Many people prefer the convenience and accuracy of a trailer jack.
Manual or electric camper jacks can lift and lower the front of your trailer so it's easy to hitch and start camping!
In this article, we're going to cover the different types of trailer jacks, how to select the best one for your needs, and how to use them.
Why Do You Need A Trailer Jack?
A trailer jack attaches to the front of your camper so it can be lifted and connected to the tow vehicle. These are also called tongue jacks.
Technically, an individual might be able to lift a lightweight trailer by hand to connect it to their truck. However, it's brutal on your neck and back, especially if you perform the action repeatedly.
Trailer jacks are required for anyone with a large trailer – even if you're in great shape. It's the simplest, safest, and most precise way to connect a trailer to a towing vehicle.

How Big of a Jack Do You Need?
Generally, when people talk about the size of a jack, they're not referring to its physical size but instead to its lift capacity. Although bigger jacks often have large lift capacities, you can also find some fairly compact jacks that can handle heavy trailers.
Most trailer jacks aren't designed to lift the entire trailer. Instead, they lift only the front part, bringing it level with the hitch on the tow vehicle.
As a general rule, the tongue should support between 15% to 20% of the total weight of the trailer. You can weigh your camper at a certified weigh station, or refer to the Gross Vehicle Weight Rating (GVWR) in your owner's manual.
While specifics vary, a jack with 3,500-pound lift capacity is considered standard.
Always err on the side of large lift capacity. Pushing the limit of a jack can impair its ability to function. Technically, a jack with a lift capacity of 600 pounds could lift up the front of a 6,000-pound trailer, but it's safer to use a much stronger jack.
Weight Distribution Hitches
If there is a weight-distribution hitch installed on your trailer, you'll need a jack capable of lifting the front of the trailer plus the back half of your tow vehicle. Put simply, you're going to need a much bigger jack.
In this case, we recommend taking 50% of the tow vehicle weight + 15% of the max trailer weight and using that as a baseline for your jack weight capacity.
Matching Your Tow Vehicle To The Trailer
Not only is it important to have a jack that can lift the weight of your trailer, but your vehicle needs to be capable of towing as well. Camping World has a towing capacity calculator that can help you find the tow rating of your current vehicle.
The tow vehicle should have a Class 3 or Class 4 hitch that is bolted or welded to the frame. Most campers require a Class 4 hitch.
The ball and coupler should also be sized to match; you can find the sizes stamped on the ball and receiver.
| Hitch Class | Ball | Shank Length | Shank Diameter | Weight Capacity |
| --- | --- | --- | --- | --- |
| Class I | 1-1/4" | 1-5/8" to 3" | 3/4" to 1" | Up to 2,000 |
| Class II | 1-1/4" | 1-5/8" to 3" | 3/4" to 1" | Up to 3,500 |
| Class III | 2" | 1-3/4" to 3" | 3/4" to 1-3/8" | Up to 8,000 |
| Class IV | 2" | 1-3/4" to 3" | 3/4" to 1-3/8" | Up to 10,000 |
| Class 5 - XD | 2" | 1-3/4" to 3" | 3/4" to 1-3/8" | 16,000 - 17,000 |
| Class 5 - CD | 2-1/2" | 3-1/4"+ | 2"+ | 18,000 - 20,000 |
Manual VS Electric Trailer Jacks
Trailer jacks come in either manual or electric versions.
Manual jacks are the least expensive option. They use a simple crank mechanism to raise and lower the camper and require a lot of physical exertion on your part. This makes them a bad option for seniors or anyone with reduced strength or mobility.
If you're looking to save some money, manual jacks are inexpensive and durable. You can expect them to last for years because of the minimal parts involved.
Electric camper jacks (also known as power tongue jacks) are the easiest to operate. You simply flip a switch or press a button to activate the motor; some of them even come with a remote control. Electric jacks are only a little more expensive than the manual version so they are highly recommended if you can spare the change.
Though there are more parts involved, electric jacks have a manual crank backup so if the motor fails you can still raise or lower the trailer. Electric jacks are easy to install and draw a small amount of 12v power from your battery bank during operation.
If you have a weight-distribution hitch, electric camper jacks are required!

How To Hitch A Trailer
Before successfully hitching your camper, you'll need to securely install the trailer tongue jack. Most are either welded or bolted and stay permanently attached during the drive.
Start by placing your trailer and tow vehicle on a level service. Use wheel chocks on the trailer so it doesn't roll.
Lower the trailer jack onto a solid surface. If your jack doesn't have a footpad you should either purchase one as an accessory or use a solid block of wood underneath. Crank your camper up using the jack.
Tip: If it's your first time lifting the camper, take measurements from ground to top of the ball on your tow vehicle. You can make a mark on the jack when it's extended using a sharpie so you know how high to lift the trailer next time.
Back up the tow vehicle and align the hitch ball directly below the coupler. This is easiest with two people, but if you're on your own, you can use a backup camera or hitch aids to help you with the process.
Set the emergency brake on your tow vehicle. Then make sure the coupler latch is released and open. Carefully lower the camper jack. Afterward, secure the coupler's locking device which is either a safety pin or clip.
Next, attach the safety chains. They cross underneath the tongue of the trailer. These chains keep the trailer attached even if it accidentally breaks away from the hitch. They're often considered the most important safety feature when towing a trailer. Make sure the chains have enough slack to allow the trailer to move when turning corners, but not so much that they'll drag on the ground.
Finally, you'll need to attach the trailer's lights and braking system. Most trailers have a simple connector that plugs into the vehicle's electrical system. These are normally either a four-way or seven-way connector. Test your flashers, parking lights and brake controller.
Remove the wheel chocks and fully retract your tongue jack before driving!
Weight Distribution Hitches
With a weight-distribution hitch, there are a few additional steps to follow. You'll need to connect the spring bars by raising the ball and coupler above level.
A spring bar goes from the hitch to the chain on the A-frame chain mount. You can tension it with a cheater bar then use a pin to hold it in place. The chain links should be the same length on both sides.
To level the trailer: adjust the ball mount
To level the tow vehicle: adjust the spring bars
You can mark the appropriate chain link to make leveling easier each time you hitch up.
How To Unhitch A Trailer
Start by parking the trailer and vehicle on a flat, level surface. Never disconnect a trailer when it's parked on an incline. Place wheel chocks or x-chocks between the trailer's tires to provide additional protection against accidental movement.
If your camper needs to be leveled, level it before you detach using leveling blocks or risers.
Disconnect the safety chains and any electric wires between the camper and the tow vehicle. Store them out of the way, so they don't become tangled.
Detach the coupler and raise the trailer enough to clear the ball using your jack. Drive the tow vehicle a few feet forward. Lower the camper onto appropriately sized stabilizers to hold it in place.

Features To Look For In A Trailer Jack
Deciding between an electric or manual jack and choosing the right size is imperative. Afterward, you can take a closer look at the special features each jack has.
Tube Size: Most A-frame couplers are designed to fit a jack with a standard 2-1/4″ tube size. You'll want to double-check that the sizing of your coupler and jack match before buying.
Footpad: A footpad is necessary if you want to jack the trailer on any soft surface like grass, dirt or gravel. Many jacks will come with their own footpad included, but if yours doesn't consider purchasing a trailer jack foot.
Alternatively, you can use a sturdy block of wood.
A-Frame vs. Side Mount:
A-frame jacks are used with campers, landscape trailers, and other types of A-frame utility trailers. You can bolt or weld them in place. Most use a drop-leg to raise and lower the trailer.
A side-mount jack pivots. You can swing it out of the way when you need to tow. Side-mounting jacks have three types: drop-leg, pull-pin swivel, and pipe mounted.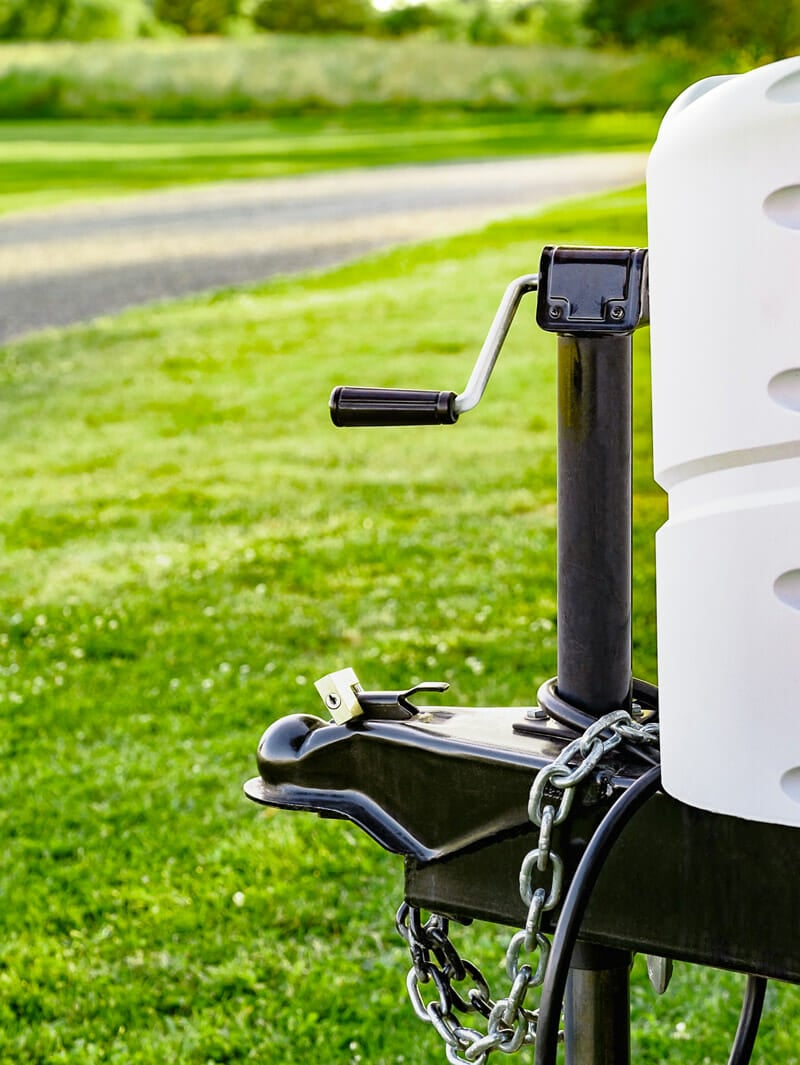 Crank Style: Manual jacks can be cranked either from the top or from the side. Some can be cranked either way. Ultimately, this will depend on personal preference. The shape of your trailer may determine the best crank style for you.
Portability: Welding the jack attaches it permanently to your trailer. While that provides stability, you might want to use the jack on many different trailers, in which case you'll want to attach it with bolts.
If you want maximum portability, choose a jack that folds down when not in use.
LED Lights: Some electric jacks come with LED lights to help you align the trailer at night.
Water Resistance: On an electric tongue jack, proper water resistance is an important feature. You'll want to purchase a jack that has water-resistant electrical components and weather-resistant gear housing. That will ensure that you jack has the longest lifespan and you won't have to resort to a manual crank method in the future.
Best Trailer Jacks Reviewed
TOP CHOICE ELECTRIC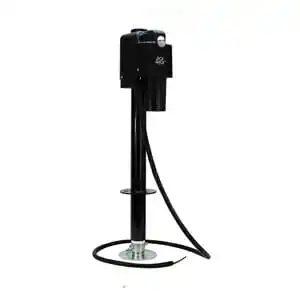 Our favorite electric jack is this option from Quick Products. It has an impressive lift capacity of 3,650 pounds. The jack also has an LED work light, bubble-style leveling cap, and a manual crank for emergencies.
Plus, you can rest knowing all electrical components are protected by a weatherproof vinyl cover. Overall, it's a powerful, reliable, and easy-to-use electric option.
HEAVY DUTY ELECTRIC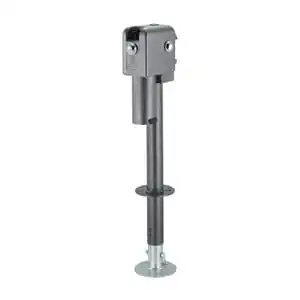 If you have a large camper or weight distribution hitch, the Husky Brute Power Jack is our top choice. It easily raises and lowers any A-frame trailer with the flip of a switch. You get 18 inches of lift with this product which should be more than enough for your camper.
The jack has a friction-reducing ball screw, water-resistant connectors, and a durable finish to survive any weather conditions.
2000LBS MANUAL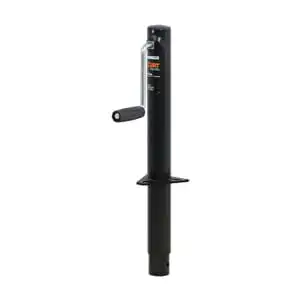 The A-Frame Trailer Jack from CURT is our top choice when it comes to the lightweight manual jacks. It's inexpensive and durable, allowing for 15 inches of verticle movement.
The jack is powder-coated for weather resistance and has a side-winding crank handle. The biggest downside to this jack is that it does not come with a footpad. We recommend purchasing a jack foot separately.
5000LBS MANUAL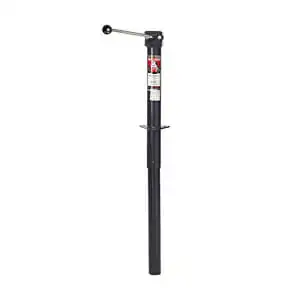 If you want a basic jack that can lift up to 5,000 pounds, the Bulldog Fulton Sidewind is our favorite. It has a 2-1/4″ tube diameter to fit most travel trailers.
The jack is inexpensive and can get up to 15 inches of lift. Similar to the CURT manual jack, this one does not have a footpad so we recommend packing your own.
That's A Wrap!
If you're looking for a no-frills manual option, the CURT jack is our top choice. With a larger camper, we recommend the Bulldog Fulton Sidewind jack.
If you want to save your back, the Quick Products Electric Tongue Jack is our favorite because it's so easy to use and comes with a lot of helpful features. With a weight-distribution hitch or a large camper, we recommend the Husky Brute Power Jack. It's a great bang for your buck and has a lot of durability features.
Don't attach a trailer to your vehicle by hand. A trailer jack is a faster, easier, and safer alternative.
Continue Reading: