The Best RV Stabilizers For 5th Wheels And Travel Trailers (Review)
By
on
This post may contain affiliate links. As an Amazon Associate, I earn from qualifying purchases. Please read my full disclosure.
Some of the most beautiful campgrounds require you to park on uneven terrain. But, leaving your RV on an incline or unstable surface means your camper will be tipping and wiggling every time you take a step.
RV leveling blocks work well for motorhomes with four wheels on the ground, but travel trailers and 5th wheels require a different type of stabilizer.
In this article, we're going to discuss the various types of RV stabilizers and the best ones to use for your camper.
Why Do You Need An RV Stabilizer?
Stabilizers are primarily used for towable travel trailers and 5th wheel campers. They are designed to prevent movement once you've parked your camper. Nobody wants to spend time in an RV that rocks back and forth or feels like it's sinking into the ground. It's difficult to relax in an RV that's not level.
Not only is it uncomfortable, but your RV can become damaged if it sits off-balance for too long. Uneven weight distribution increases the risk of tire damage. Unfortunately, tire damage is a leading cause of RV accidents, so you want to avoid weight imbalances when parking.
Finally, if you own an absorption refrigerator, having a properly leveled RV is paramount. These types of refrigerators are not designed to operate at an angle. The chemicals inside need to stay level for proper absorption or you risk damaging your fridge.

Stabilizers vs Leveling Blocks
Stabilizers are similar to leveling blocks but they have different functions. Leveling blocks are designed to level your camper. Stabilizers are designed to reduce sway, they are not built to lift the entire weight of your camper.
You should use stabilizers in conjunction with leveling blocks.
Wheel chocks and x-chock stabilizers are also effective in helping to keep your camper level. These are particularly useful if you have a set of dual tires, or if you're parking on a steep incline.
How Many Stabilizers Do You Need?
The number of stabilizers you need depends on the type of vehicle you own. Most travel trailers require at least four stabilizers.
Fifth-wheel trailers have a unique weight distribution. They typically need more stabilizers near the rear than the front.
Ultimately, it comes down to weight. You should know the Gross Vehicle Weight Rating for your vehicle. That's the maximum weight the RV can safely carry. It includes passengers, equipment, fuel, and everything else.
While it's unlikely you'll drive anywhere with your RV loaded to maximum capacity, it's a useful number to use when buying stabilizers. Check the stabilizer capacity and use stabilizers that far exceed your vehicle's weight limit.

Types of Stabilizers
There are four main types of RV stabilizer jacks: tripods, scissors, SteadyFast systems, and universal stabilizers. Each of them is designed a little differently and they each have their own advantages.
Tripod Stabilizers
Tripods have three feet that touch the ground with a single point of contact for underneath the vehicle. They're fairly easy and fast to install, requiring no special tools. Tripod stabilizers effectively protect against side-to-side movements, but they're not ideal for stopping bouncing movements.
Scissor Stabilizers
Scissor stabilizers look similar to trailer jacks. They use a crank handle to rise from the ground to the base of your RV. These are easy to assemble and particularly good at preventing bouncing movements.
Although they look like a jack, scissor stabilizers should never be used to jack a trailer. They are designed for side-to-side stabilization, not to hold the entire weight capacity of a camper.
SteadyFast Stabilizers
SteadyFast is a brand that makes stabilizers for 5th wheels and travel trailers. These stabilizers are permanently installed so you only have to attach them once and they can be tightened to level your camper in under 45 seconds.
These stabilizers offer excellent protection against both side-to-side movement and bouncing. They are some of the most effective stabilizers you can buy, but they're also the most expensive.
Universal Stabilizers
Universal stabilizers are a catch-all term to describe the stabilizers that come pre-attached to a camper. Often times if you purchase a new RV they will come with universal stabilizers included. These may or may not be sufficient to fully secure the camper depending on how much weight you put in it and the type of terrain you park it on.
You can purchase replacement stabilizers that are easy to mount and crank down into place. These generally don't have the highest lift capacity, but they do a good job of minimizing sway.
How to Use an RV Stabilizer
Most types of travel trailer stabilizers are either portable or permanent. You place a portable stabilizer underneath the vehicle and crank it up to the appropriate height when parked. Later, you can manually remove them and store it in an exterior compartment of the RV.
Permanent stabilizers are welded or drilled to the underside of the trailer. You can fold them down when needed then fold them back up underneath the camper for driving.
It's important to note that stabilizers aren't designed to level your camper. Instead, they're designed to keep your trailer from swaying and bouncing. You always want to park on as level of a surface as possible. You can't park on a steep incline and expect stabilizers to level your vehicle. For that, you need leveling blocks or wheel chocks.

Features to Look For:
After you choose which type of stabilizer you want, there are a few features to pay special attention to before purchasing.
Weight Capacity
Most stabilizers will have a lifting capacity and a standing capacity. As mentioned a few times before, stabilizers are not designed to lift your camper, they just apply pressure to keep it from wiggling. But it is a good idea to keep in mind how much your fully loaded trailer weighs.
Campers often underestimate this number. You need to account for all items and people inside the trailer, plus any supplies you may pick up during your travels. Generally, you want to estimate on the high side.
Scissor style stabilizers are special because the rated weight capacity is effective only after the stabilizer has been extended beyond a certain length. The weight capacity reduces as the scissors are lowered, so you need to read the owner's manual to make sure you're setting them up correctly.
Materials
The materials a stabilizer is built with makes a big difference in strength and durability. Choose heavy-duty materials such as stainless steel, metal, or aircraft-grade aluminum.
Since your camper will be sitting outside, make sure it has a powder-coated or weather-resistant finish.

Installation And Storage
If the stabilizers will remain permanently attached to your vehicle, installation isn't a huge deal because you only have to do it once. However, if the stabilizers are portable, you want to make sure they're easy to set up and takedown. Additionally, there should be enough storage space in your camper for the stabilizers while you travel.
Most people choose to keep their campground stabilizers stored in the exterior compartments of the RV. Scissor style stabilizers tend to take up less space than tripods.
Stabilizer Pads
There are a number of reasons to use pads with your stabilizers or jack stands. For one, it can protect the asphalt or concrete that you're parking your camper on.
But more importantly, a pad will increase your stabilizer footprint so it won't sink into soft grass or mushy ground. A stabilizer that sinks is going to be ineffective and after a few hours you'll end up with a rocking camper all over again.
Best Trailer Stabilizers Reviewed
TOP CHOICE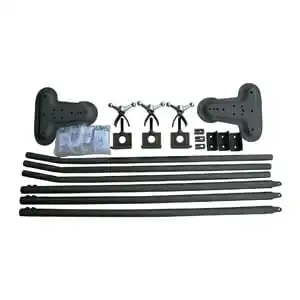 The SteadyFast stabilizer is the most sought-after system if you own a travel trailer or fifth wheel. This is a permanently installed design that can be mounted on a trailer that has 4 jacks (2 in the front, and 2 in the rear).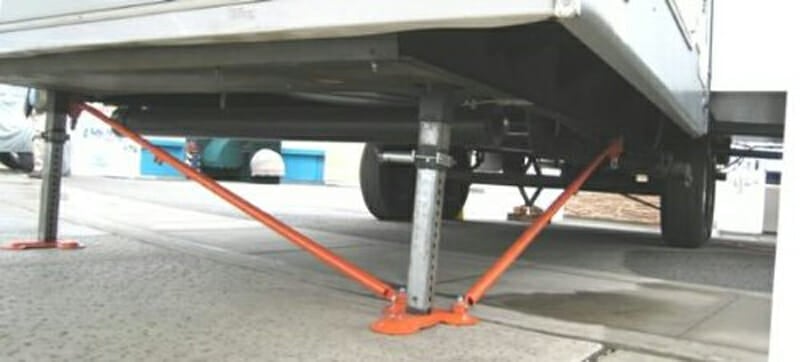 Once installed, the SteadyFast stabilizer can be set up in just 45 seconds once you reach the campground. We like this system because assembly is extremely fast, it doesn't require you to go under the camper, and it comes with its own foot plates.
With a SteadyFast system, you don't have to worry about loading and unloading the jacks. It's also one of the most effective products on the market when it comes to reducing sway.
Features:
Permanent installation; no storage space needed
Fast assembly
Foot plates included
Best at reducing sway
BEST TRIPOD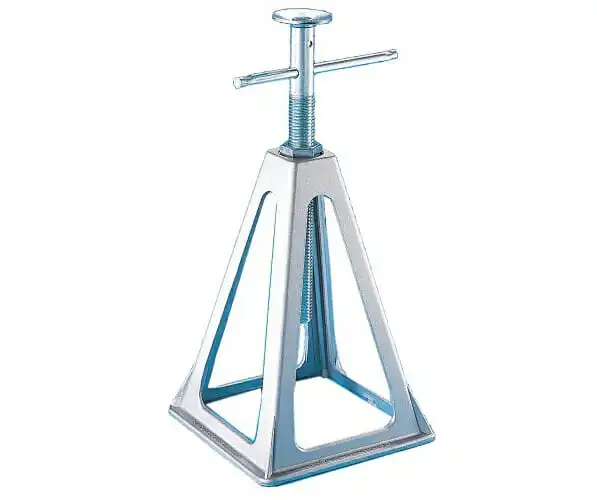 When it comes to tripod stabilizers, Camco's camper stabilizers are our top choice. These tripods work as jacks and stabilizers so they are very strong. The design is simple and straightforward, you just twist a handle to crank the jack into place. They're made from cast aluminum with a water-resistant coating.
Each jack can hold up to 6,000 pounds and the stabilizers are adjustable between 11 and 17 inches. While they're not the fanciest option, they're reliable and easy to use.
Features:
Supports up to 6,000 pounds
Two jacks included
Legs adjust between 11 and 17 inches
BEST SCISSORS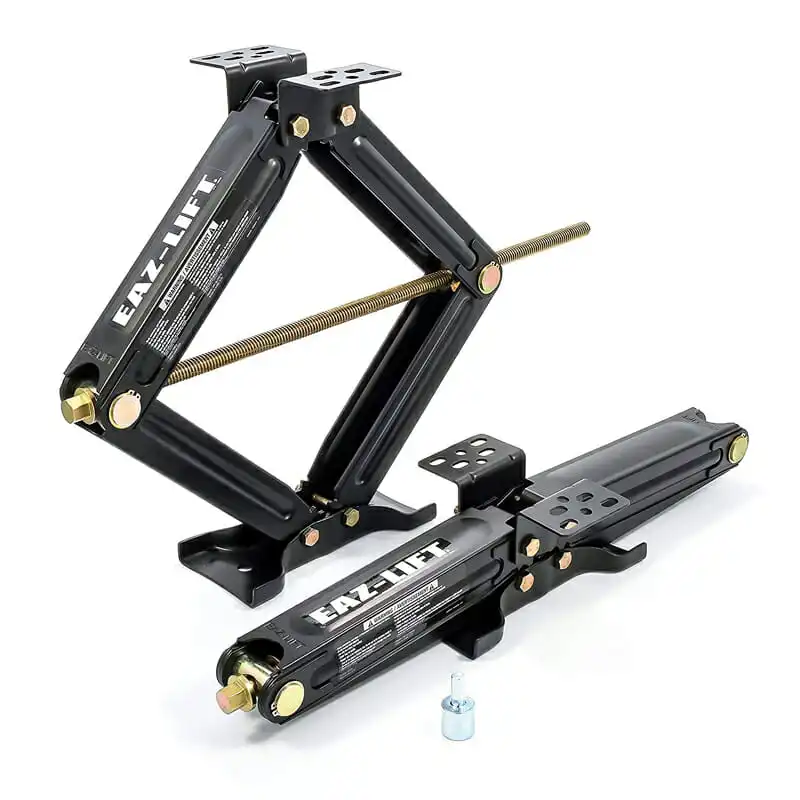 We think the Eaz-lift stabilizing scissors are an excellent choice if you want general-purpose vehicle stabilizers. They are small and portable, and each stabilizer supports up to 7,500 pounds.
The height is adjustable from 4-3/8-inches high to 23-3/4-inches. You can also bolt or weld them in place which makes them especially convenient to travel with. The set includes a pair of stabilizers plus a scissor jack socket for a power drill.
Features:
Holds up to 7,500 pounds
Adjustable height from four to 23 inches
Portable or permanent installation
BEST FOR FIFTH WHEELS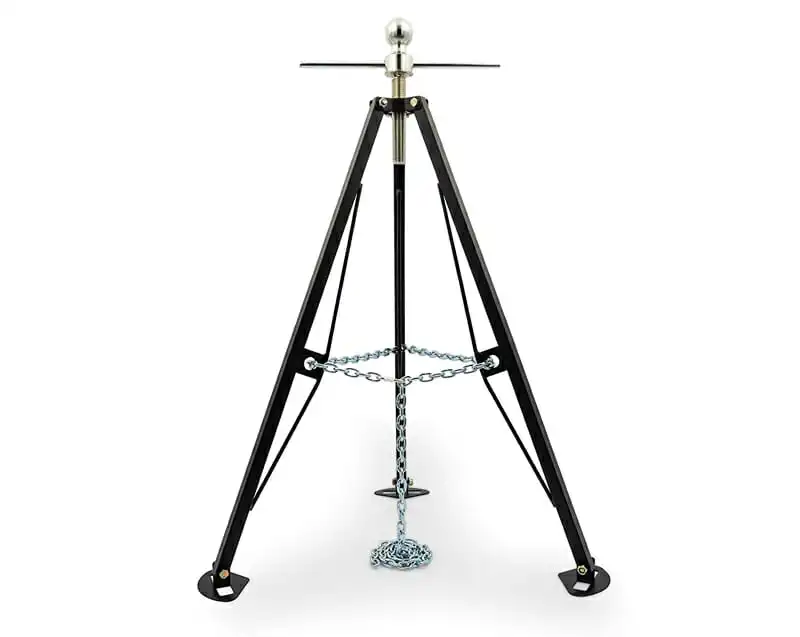 If you own a fifth wheel, the Eaz-Lift heavy-duty tripod stabilizer is our favorite. This tripod is durable and weather-resistant because it's made from heavy-duty steel with a powder-coating for increased rust resistance.
The stabilizer has a 7,500-pound weight capacity, a large footpad, and is adjustable between 30-44 inches to fit most 5th wheels.
Features:
Made from heavy-duty steel
Adjustable from 30 to 44 inches
7,500-pound weight capacity
BEST REPLACEMENT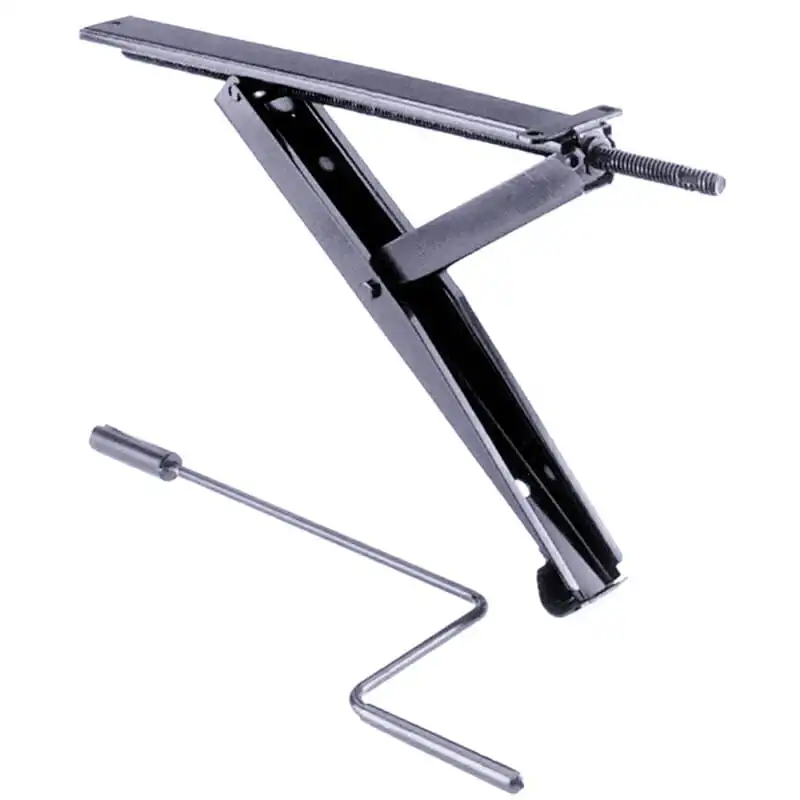 BAL
Designed for lightweight trailers
700-pound lifting capacity and 1,000-pound static capacity
Includes manual crank
CHECK LATEST PRICE
If the stabilizer that came with your camper is damaged or just not doing the job, these tent trailer stabilizers from BAL make excellent replacements because they fit a wide variety of trailers and RVs. They're designed for most types of lightweight trailers with up to 16 inches of space between the frame and ground.
Each stabilizer has a 700-pound lifting capacity and a 1,000-pound static capacity. Each set includes a crank down jack for precise placement. The stabilizers have an E-coating to prevent rust and other water damage.
Features:
Designed for lightweight trailers
700-pound lifting capacity and 1,000-pound static capacity
Includes manual crank
Conclusion
All of the RV stabilizer jacks we've mentioned help reduce movement when parked on uneven ground. You can't always control the ground conditions where you need to park. However, with the right stabilizers, you can remain comfortable and secure in your RV on all types of terrain.
Continue Reading: