The Best RV Shower Heads (Review)
By
on
This post may contain affiliate links. As an Amazon Associate, I earn from qualifying purchases. Please read my full disclosure.
While the experience of taking a shower in an RV can never come anywhere close to showering at home. Unfortunately, stock RV showerheads perform at the bare minimum. They are cheap, inefficient, and low-pressure. It's one of the many ways dealers save on new camper purchases.
Replacement RV shower heads are inexpensive, easy to install, and will make a huge difference in your comfort level.
We've curated a list of the top-rated RV showerheads for campers and travel trailers. We also discuss why you may need to upgrade your showerhead, types of showerheads, and features to look out for when shopping for an RV showerhead.
Why Replace Your Current RV Showerhead?
One of the first things campers will notice when taking their brand-new RV on a camping trip is the poor quality of the shower head. This is one of the key accessories that dealers tend to cut corners on.
RV shower heads are made of cheap parts and inexpensive plastic. They can also be a huge water hog–not good when you want to go boondocking!
Water conservation is the main reason you'll want to replace your RV shower head pronto. And comfort level comes in at a close second.
Water pressure is partially determined by the amount your pump can produce, but the shower head makes an even bigger difference. The more water pressure you have, the quicker you can get the soap off your body and carry on with the day.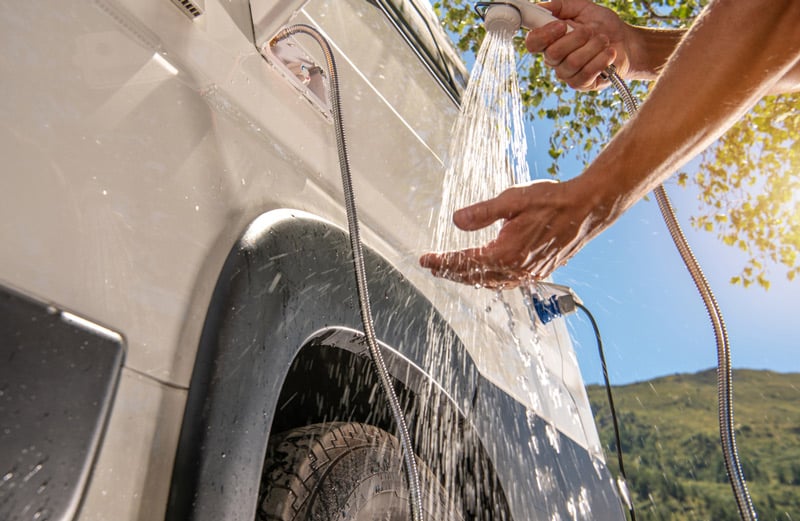 Minimize energy consumption: A good RV showerhead upgrade can help you substantially cut down on already limited RV water and energy supply and have more water available.
Enjoy a pleasant shower experience: Wherever you go, even to the wilderness, you can experience some level of comfort with steady water flow, different spray patterns, and adjustable features.
Protect the environment: A good RV showerhead consumes at least 40% less energy and water, reducing your overall carbon print.
Convert chlorinated and hard water: Premium RV showerheads feature filters that convert hard or chlorinated water to conditions safe for your use.
Clean up conveniently: Modern RV showerheads are designed to make it easier for you to shower in the limited RV shower space.
Durability: A typical store RV showerhead is flimsy, with poorly made fixtures that break too easily.
What To Look For In An RV Shower Head Upgrade
Water Pressure
Did you know that water coming from an outside water source, such as a city water connection at a campsite, is often not monitored? That means the pressure can be too high or too low, neither of which is good.
(That's why you should install a water pressure regulator on the outside of your rig.)
With shower heads, high water pressure is not a problem; it's the low-pressure you need to deal with.
The best RV shower heads can add air to the water stream increasing pressure even with a low flow rate. All in all, that's a great way to conserve water.
Low GPM (Gallons Per Minute)
When on the road or dry camping, a significant concern is water consumption. So you'll no doubt be looking for an RV showerhead with a low GPM rating. These are the perfect size for a camper van bathroom.
We recommend getting an RV showerhead with 2.0 GPM flow or less for the most efficient wash.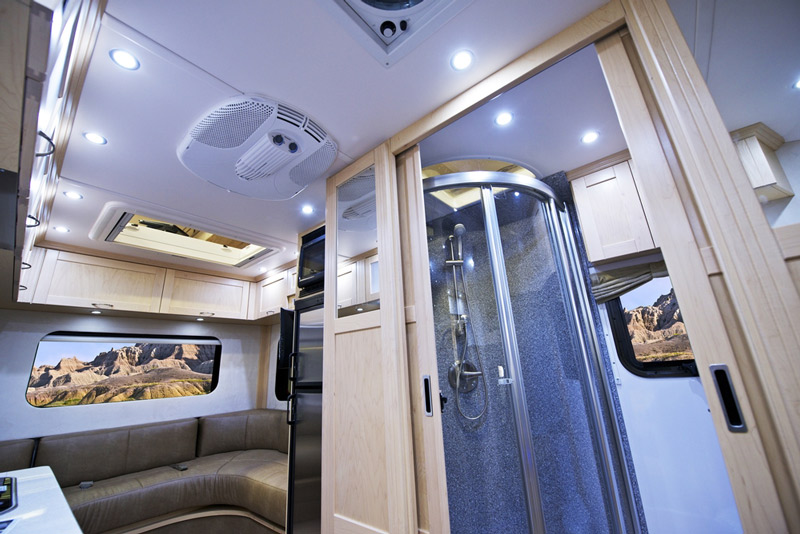 Shut-off Valves And Low-Flow Valves
With water storage being so limited in an RV, having a properly functioning shut-off valve is extremely important.
This is one of the main features that differentiates a camper shower hose from the household kind.
The shut-off valve should be used any time you are not actively rinsing to prevent excess waste.
Shut-off valves will restrict water flow to a trickle. They do not completely shut off the water. This is an energy-saving measure to eliminate the need to keep turning the hot and cold valves off and on again while you wait to get the temperature right again.
Modern RV showerheads come fitted with a typical shut-off button so you can conserve water while you lather up.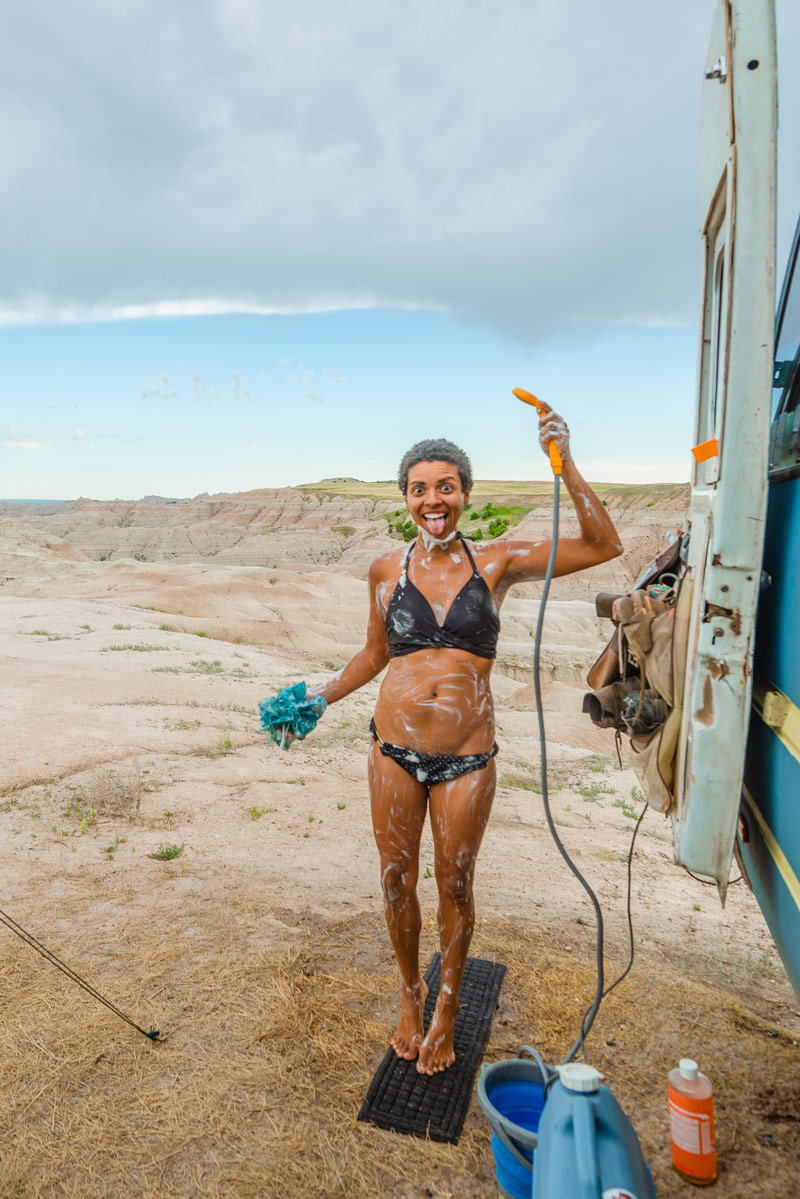 Adding An RV Shower Hose
Often RV showers are small. Tiny is more like it.
Therefore, it's best to skip the mounted showerheads and opt for a handheld unit upgrade that attaches to the RV shower hose. It will be much more convenient to shower while moving the RV showerhead and hose around, instead of twisting and turning your body in that small space. The manipulation also makes it easier to clean hard-to-reach areas.
Pro-tip: shower heads with a long hose are also a great way to clean your pets!
Usually, your rig will come with an RV handheld showerhead. But if it doesn't, an RV shower hose should be on your list of must-have accessories.
The Best RV Showerhead Reviews
TOP PICK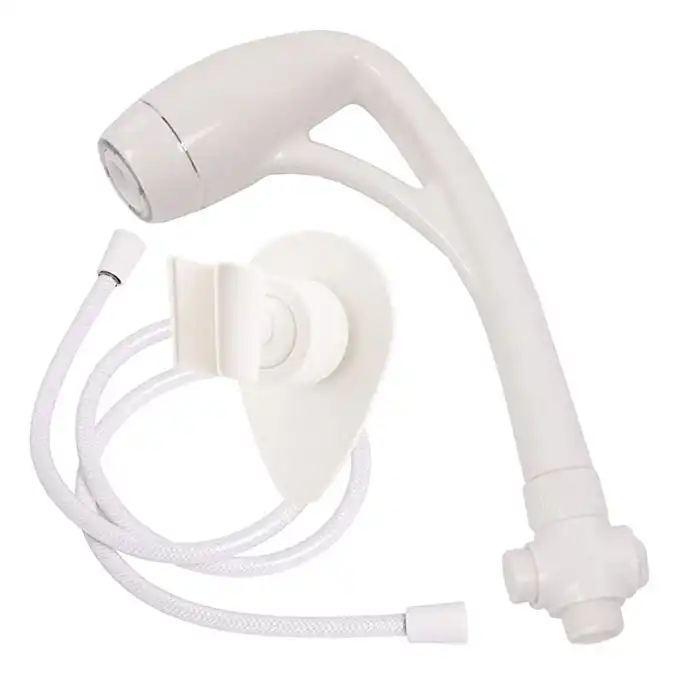 Oxygenics is one of the most sought-after brands when it comes to RV shower heads. They design highly-efficient units with a high pressure, and low flow to maximize performance.
The Oxygenics handheld sprayer kit is one of their best-selling models. This basic design has all of the top features required including the ability to control water flow with the push of a button.
This ensures a consistent water temperature when the valve is selected back to full flow, eliminating the possibility of scalding or freezing.
What's more, you don't need to worry about clogging or mineral buildup even in hard water conditions because the showerhead's interior is non-stick.
Key Features:
Button for controlling water flow
Non-stick interior
On/off water flow control switch
Settings to amplify water pressure
---
BEST VALUE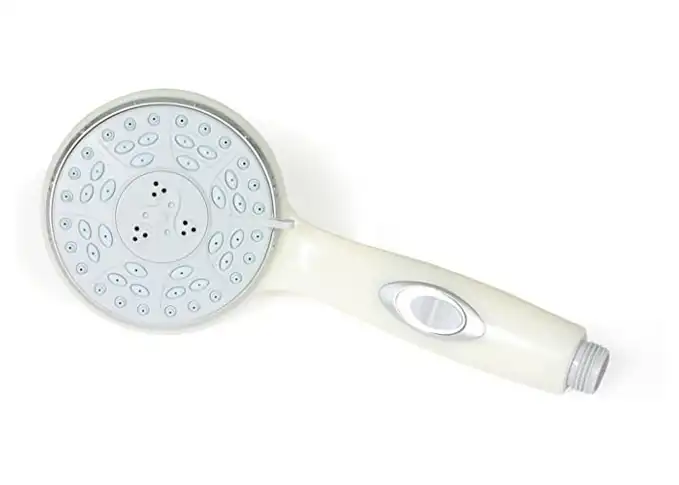 Camco is a leading brand among RV campers. Their ergonomically designed handheld showerhead offers a lot of value at a fraction of the cost of the others on this list.
This Camco design has five spray patterns, including very high-pressure and low-pressure settings. Having multiple settings helps when the pressure at a campground is off or when you need to conserve water as you use your tank's water.
Another essential feature of the Camco is it puts out a nice stream of water whether using outside city water or an internal water tank with the pump while boondocking. And what's impressive about this stream is it's adjustable and easy to change, which is great for an improved shower experience.
The Camco showerhead features an on/off switch, which allows pausing water flow while you shampoo, reducing the amount of water used.
Key Features:
Five spray settings
On/off switch for pausing water flow.
Rubber spray tips for easy cleaning
Adjustable stream
---
MOST COMFORTABLE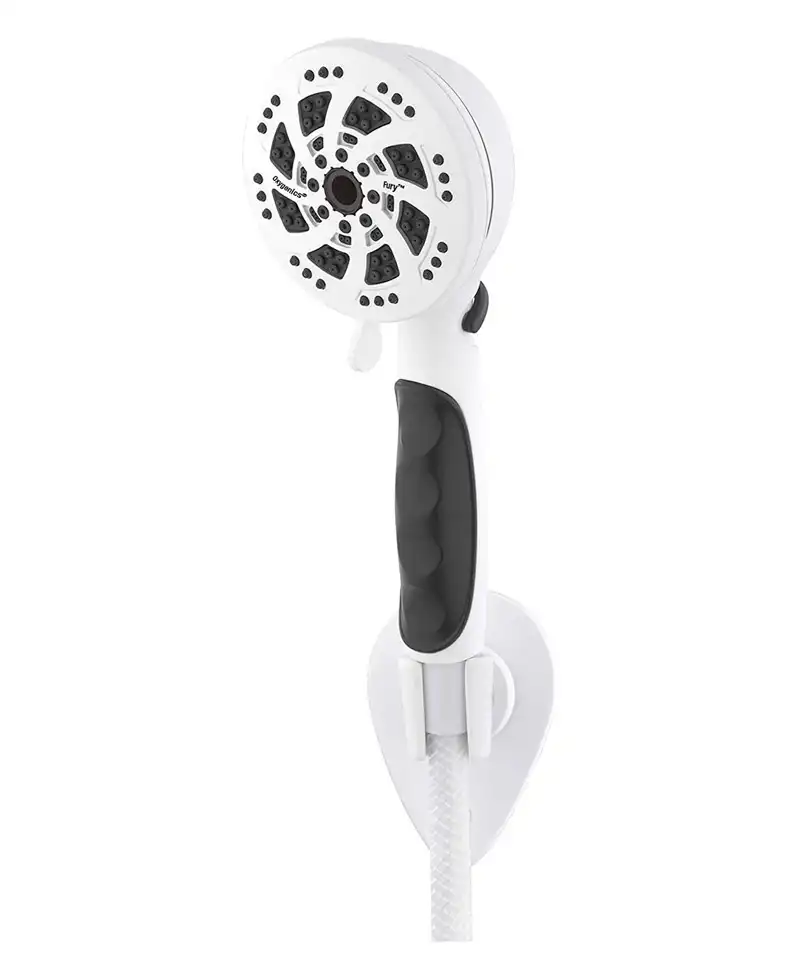 The Oxygenics Fury Hand Held Sprayer is a wall-mounted showerhead with 72″ of hose and multiple finishes that complement existing décor.
It has five spray settings powered by cutting-edge technology, all with perfect water force, enabling a pleasant shower that makes cleaning up easier. Also, it has a comfort control lever, which quickly adjusts shower pressure for a more versatile experience.
You need not worry about the showerhead slipping or dropping, for it comes with rubber finger grips to ensure that doesn't happen.
Further, it has non-stick interiors to ensure no clogging or corrosion, meaning you'll enjoy a consistent performance.
And when it comes to Installing and hooking up this showerhead, it's seamless as it comes with a wall-mount and plumber's tape for quick installation.
Key Features:
Multiple finishes to complement existing décor
Multiple spray settings powered by cutting-edge technology
Comfort control lever for adjusting shower pressure
Rubber finger grips
---
BEST PAUSE SETTING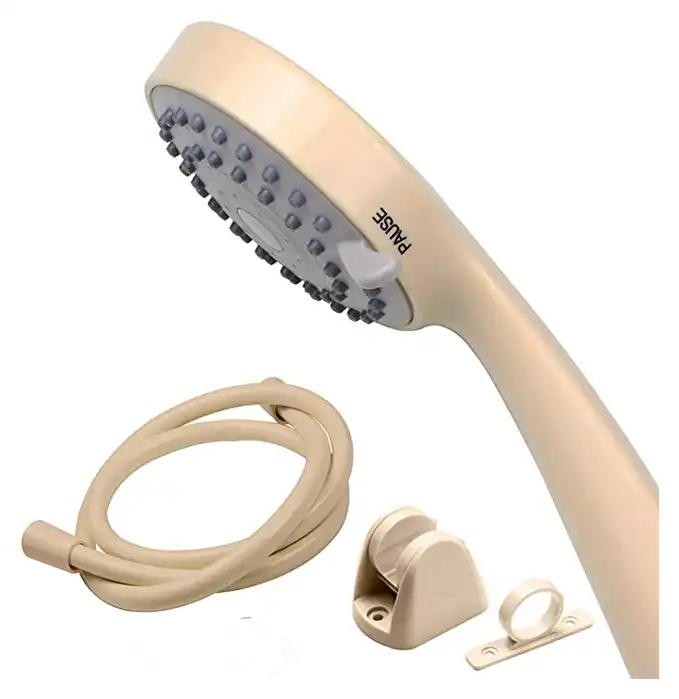 The PIH handheld pressure showerhead is most similar to those you would find in a household shower. It comes with multiple settings that allow for alternative pressure options and gives you the feeling of a high-pressure spa.
Unlike the others on this list, the pause setting is known for its complete lack of dribble. So you don't need to worry as much about conserving water because of its powerful shutoff switch.
The PIH high-pressure showerhead is extremely easy to install, it takes 5 minutes tops. It also comes with a 59″ flexible hose which should be more than enough for your tiny space.
Key Features:
Pause setting that leaves no dribble
Multiple spray options
59″ flexible hose
---
That's A Wrap!
Modern RV showerheads have high-performance features that enable sufficient water flow, water and energy conservation, good pressure, and a steady stream, all at a reasonable price and with no installation headaches. However, there may be a specific one more suitable for your needs.
If you're looking for the most popular showerhead with plenty of customers to back it, the Oxygenics Handheld Sprayer Kit is the way to go.
The Camco showerhead is the best bang-for-your-buck if you want all of the features of a nice shower without breaking the bank.
Finally, for a shower without dribble, the PIH shower head is our top choice.
You Might Also Like: