Top 10 Things To Do In Death Valley National Park
By
on
This post may contain affiliate links. As an Amazon Associate, I earn from qualifying purchases. Please read my full disclosure.
Death Valley National Park is the hottest, driest, and lowest in North America. The unforgiving landscape contains over 600 miles of roads which stretch across the Mojave Desert of California and Nevada.
It may not seem like there are many things to do in such a barren area, but the extreme conditions make visiting Death Valley a one-of-a-kind adventure.
Snowcapped mountains, stunning wildflowers, and mysterious rock formations will keep you captivated for days.
In this article we're going to cover the top 10 things to do in Death Valley National Park. Plus tips for finding the perfect camping site, and must-see activities.
What To Do: Death Valley Top 10
Visit Badwater Basin
Take a ride on Artist's Drive
Visit Dante's View
Explore the Wildrose Charcoal Kilns
Climb the Mesquite Flat Sand Dunes
Experience Devils Golf Course
Hike around Ubehebe Crater
Witness the mysteries at Racetrack Playa
Explore Mosaic Canyon
Catch a sunset at Zabriskie Point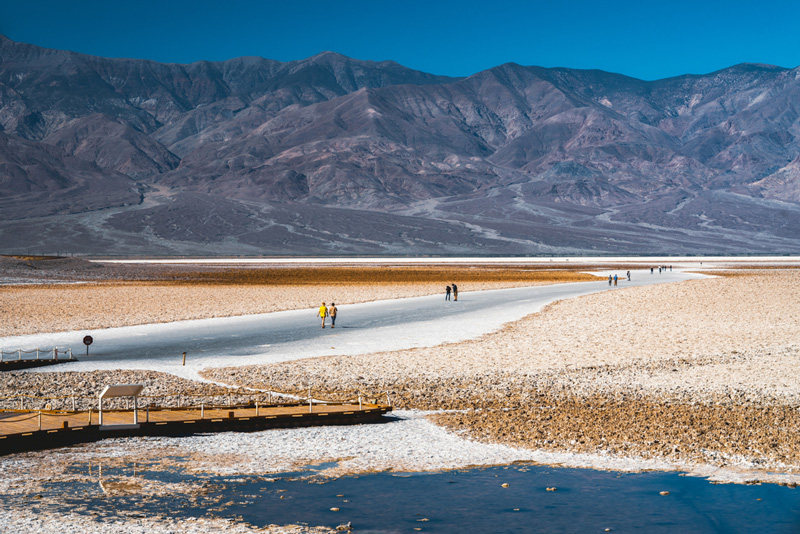 Visit Badwater Basin
One of the most iconic places to see in Death Valley is the Badwater Basin. It's located 282 feet below sea level, making it the lowest point in North America.
The landscape encompasses 200 square miles of salt flats, composed of sodium chloride, calcite, borax, and gypsum.
The hike to Badwater Basin begins right off the parking lot. It's a popular area to visit so you can expect plenty of tourists, but the crowds quickly dissipate the further you get from Badwater Road.
An easy, 1-mile walk across a flat boardwalk will take you to the edge of the salt flat. From there, you can wander through the salt crystals which form unique, geometric polygons that spread endlessly across the basin.
This is an excellent place to take photos and marvel in the surrounding mountains.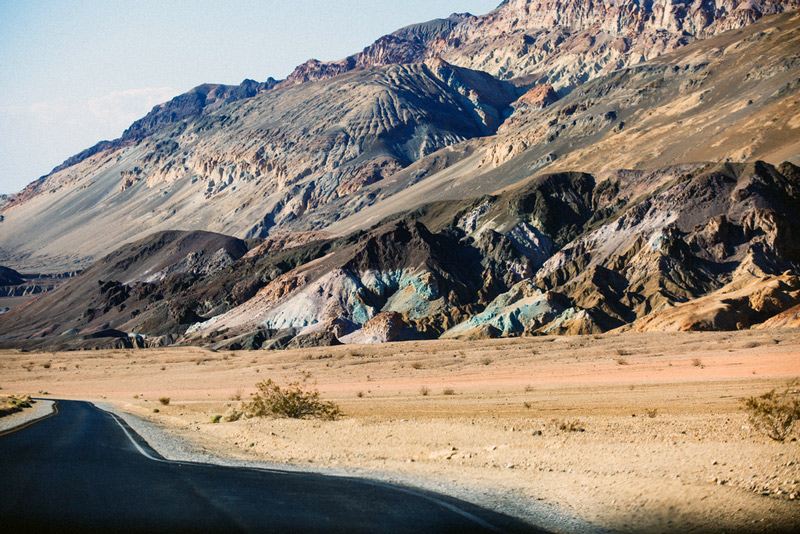 Take a Ride on Artist's Drive
If you're not in the mood for walking around, an excellent alternative is a scenic tour on Artist's Drive.
Artist's Drive is located on Badwater Road between Furnace Creek and Devil's Golf Course. The road itself is about nine miles one direction and takes about 45 minutes to complete.
Along the way you'll roll past colorful eroded canyons and towering mountains. This road is particularly curvy so vehicles longer than 25 feet are prohibited.
If there's one sight you should stop and see during your drive, it would be Artist's Palette, which is located about 5-miles down the road. This is a vividly colored section of the mountainside. The oxidized surface displays several colors that contrast dessert earthly tones, including red, green, yellow, and purple.
If the temperature is not too hot, you can feel free to hop out of the car and explore Artists's Palette on foot. The best time to view these vibrant formations is on sunny afternoons when the colors shine their brightest.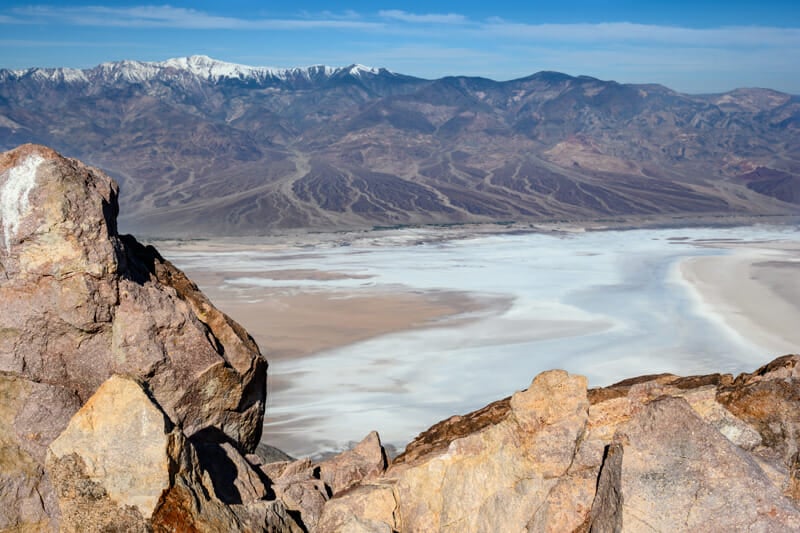 Visit Dante's View
Among the many things to do in Death Valley, climbing to the top of Dante's View will give you the most photographic perspective of the largest National Park outside of Alaska. The viewpoint is perched 5,575 feet high and overlooks Badwater Basin and the Black Mountains.
The high elevation means it's much cooler than the valley floor and the perfect place to get a break from the searing sun.
Many visitors enjoy traveling to Dante's View to watch the incredible sunsets. As the sun drops below the Panamint Mountains you can witness the valley floor change colors.
Night owls also enjoy climbing Dante's View to watch the stars and skies during clear evenings. The sight of a full moon illuminating the white salt flats gives travelers a supernatural aesthetic as they look down towards the surface.
Explore The Wildrose Charcoal Kilns
The ideal blend of history and architecture, the charcoal kilns in Wildrose Canyon could be one of the most unique sites in Death Valley National Park. These ten kilns serve as a testament to our mining roots.
Dating back to the 1800s, the charcoal kilns in Wildrose Canyon resemble giant beehives lining the road. Though no longer functional, the kilns once fueled the smelters that served nearby lead and silver mines.
To get there, prepare to drive about an hour and a half from the Furnace Creek Visitor Center. You can park in a designated area and then it's just a short walk to explore the kilns. There's some uneven terrain, but most visitors should have no difficulty traversing the area.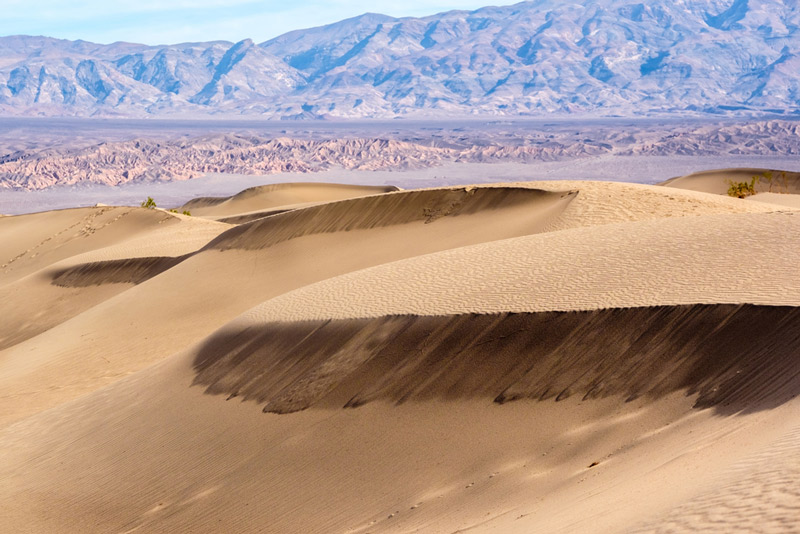 Climb The Mesquite Flat Sand Dunes
Sand is not a particularly exciting or unusual sight in Death Valley until you see the Mesquite Flat Sand Dunes in the middle of the mountains.
Named for the mesquite trees growing strong despite the unique conditions created by the wind, these sand dunes can be especially picturesque during sunrise and sunset.
If you visit during the spring months, you may be surprised by the bright green and yellow colors peeking out from the blowing sands. Ultimately, the yellow flowers give way to mesquite bean pods that make the flour that served as a staple for the Timbisha Shoshone.
Visitors should note that there's no set trail, and some interesting creatures reside in the dunes, so it's important to watch your step. Expect a one and a half hour hike over easy to moderate terrain if you want to reach the tallest dune.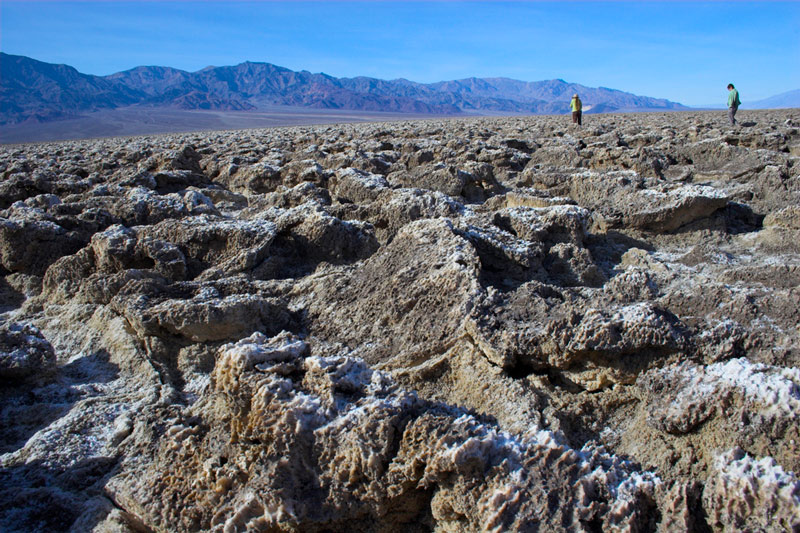 Experience Devils Golf Course
Devils Golf Course is a massive field of jagged rock salts formed by erosion over thousands of years. Only the devil himself could play golf on such serrated spires!
You could certainly make a drive-by to appreciate how the site earned its name, but you'd miss out on one of the best features. As Death Valley's heat causes salt crystals to expand and contract, they make small pops and pings throughout the jagged course.
The wide-open area isn't exactly easy to maneuver, but it's a fun and challenging hike to experience. If you choose to explore the site, be cautious because many visitors walk away with minor injuries, like cuts and twisted ankles.
Fortunately, you can observe Devils Golf Course right from the parking lot so you're not bound to traverse the terrain if you want to keep your skin in-tact.
Hike Around Ubehebe Crater
At half a mile wide and 600 feet deep, Ubehebe Crater is an incredible sight. Also known as Coyote's Basket, this crater formed following steam and gas explosions from maar volcanoes about 300 years ago.
Though you can find other craters around Death Valley, Ubehebe Crater is the largest of the formations. It features colorful layers, and a mud flat at the bottom that marks dried-up lakes.
Although you can see the crater right from the parking lot, the best way to experience it's scale is with a hike! Tourists can walk around the rim which is about 1.5 miles in diameter and even trek down to the bottom.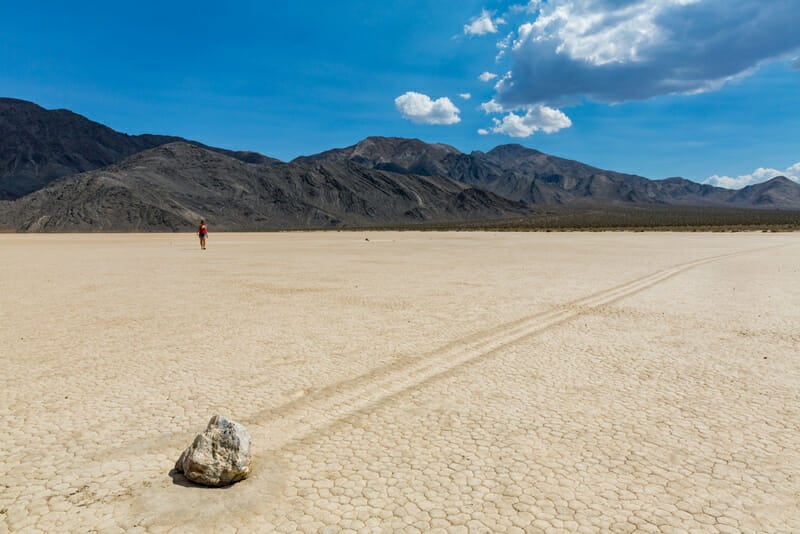 Witness The Mysteries Of Racetrack Playa
Racetrack Playa may be one of most mysterious sites you can visit in the National Park Service. At first glance, this dry lakebed is beautiful though seemingly unremarkable, until you notice the moving rocks.
The dry lakebed earned its name because routinely rocks fall from surrounding mountains above and then proceed to "race" across the landscape.
You can find trails behind each rock that marks its movement. Some manage to travel more than 1,000 feet!
Though it's been a puzzle for decades, some scientists believe they solved the mystery of Racetrack Playa's moving rocks. Using time-lapse photography, it's been predicted that floating ice pushes the rocks along their path. Although no one has actually witnessed this phenomenon.
However, it's still a fun sight to see, and there are several trails to explore, including a challenging six-mile trail once used by miners.
To visit Racetrack Playa, you need a vehicle suited for rough, remote roads. Standard vehicles can't handle the trip and usually end up with flat tires.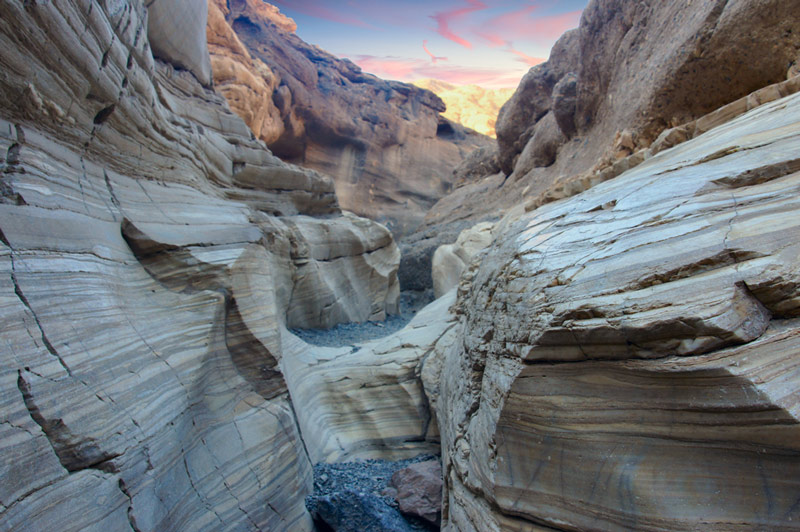 Explore Mosaic Canyon
If you're up for a moderate to difficult hike through mixed terrain, Mosaic Canyon could scratch that itch. Though it's only two miles long, Mosaic Canyon features an array of terrain, including unique rock formations.
As you enter the canyon, it may not look special aside from the unbelievably smooth walls, but stick with it. Traveling deeper leads to new formations, including the natural mosaics for which the canyon earned its name. Various rock bits encased in natural concrete create colorful patterns throughout the area.
Experienced hikers may appreciate the bypass located just beyond the halfway point. Crawl between the eastern boulders to find a hidden route with access to more natural wonders.
Hikers can access this trail at Stovepipe Wells Village. Expect to spend two and a half to three hours to complete the four-mile round trip hike.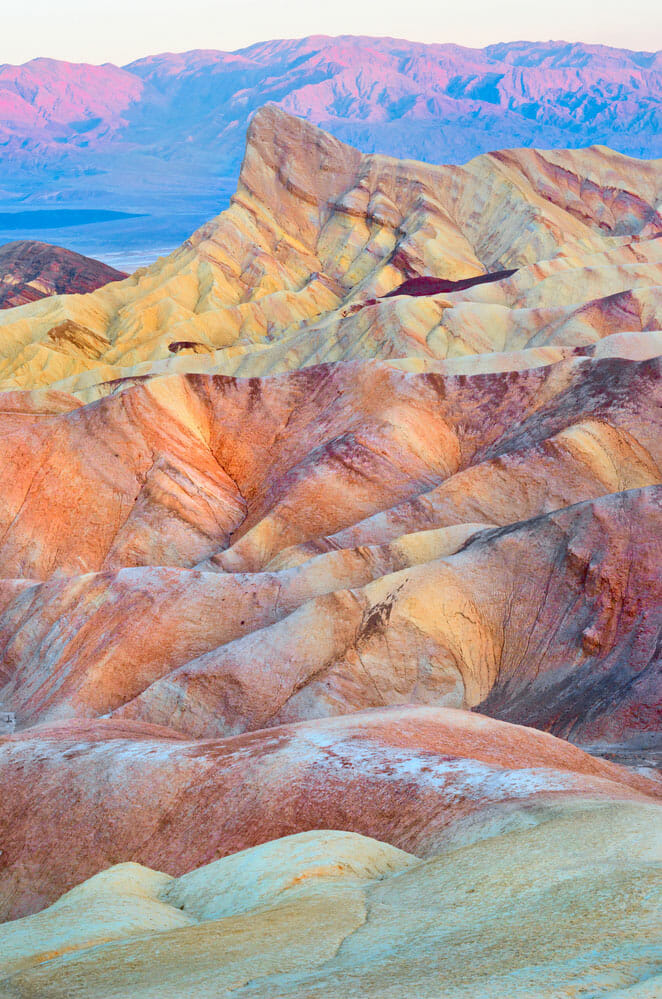 Catch A Sunset At Zabriski Point
Despite its foreboding name, Death Valley boasts some truly stunning scenery, including Zabriskie Point. Possibly the most iconic vantage point in Death Valley, Zabriskie Point is a highlight that visitor's can't miss.
You can experience breathtaking sunrises and sunsets at Zabriskie Point, but that doesn't mean you can't capture stunning photographs at other times. The yellow and brown hills allow you to see for miles in every direction and take snapshots of the Panamint Mountains, Manly Beacon, and even the salt flats.
Visitors at the Furnace Creek Visitor Center can head east on Highway 190. It's an easy trip; expect about a fifteen-minute drive to the parking area followed by a short quarter-mile walk along a paved trail.
Note that hikers who prefer a more challenging trek can take the Badlands Loop Trail from the parking lot. Choosing the tougher path means you can explore various trails and additional Death Valley attractions, including Golden Canyon and Red Cathedral.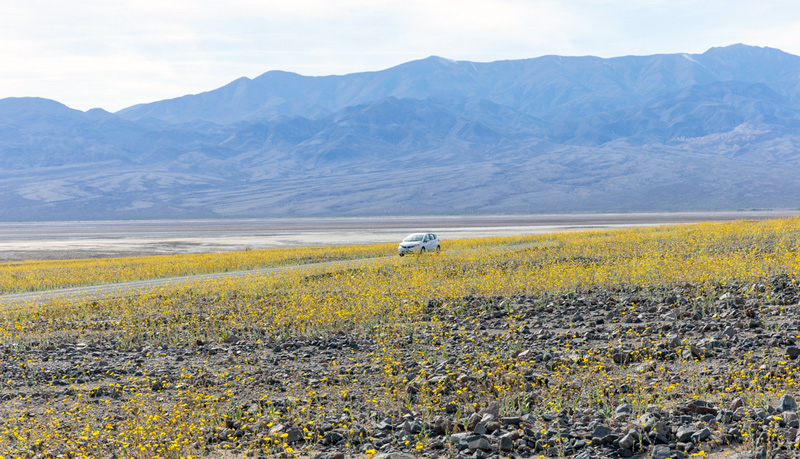 Bonus: Look For The Superbloom
About once every ten years, a rare phenomenon occurs in Death Valley where the park becomes blanketed in colorful wildflowers overnight.
This is an extremely uncommon event which requires the perfect conditions to occur such as well-spaced rainfall, sufficient warmth, and lack of drying winds.
If you're lucky enough to catch the superbloom you'll be delighted with gold, purple, pink and white flowers that sprout for just a few days before retreating to their dormant state.
The phenomenon can occur anytime between mid-February to mid-July and attracts a variety of pollinators such as butterflies, moths, bees, and hummingbirds.
The National Park Service keeps frequent updates on their website when the superbloom is likely to appear.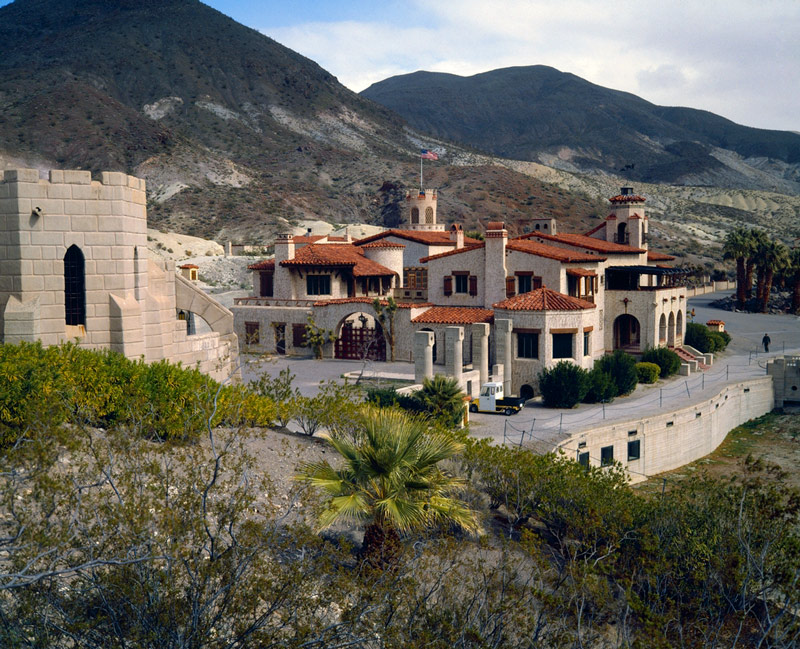 Bonus: Visit Scotty's Castle
Another landmark qualifying as an iconic Death Valley attraction includes the Death Valley Ranch, also known as Scotty's Castle. Its interior reflects how life was during the 1920s and 1930s.
The castle went through several design choices, such as box formations, before settling on an exterior incorporating Spanish-Mediterranian architecture features. Incidentally, the Great Depression halted the castle's construction, leaving it incomplete.
Initially, the castle was built as a vacation home for Albert Johnson and his wife to accommodate their stay in Death Valley's harsh heat. Walter Scott, a prospector, and friend of Johnson, persuaded the public that he paid for its creation from his mine's profits. The castle was also named after him.
Although a significant flood in 2015 caused Scotty's Castle to be closed, you can still appreciate its external beauty and take a photo to commemorate your journey. Before that, rangers would welcome guests and give a tour around the dream house.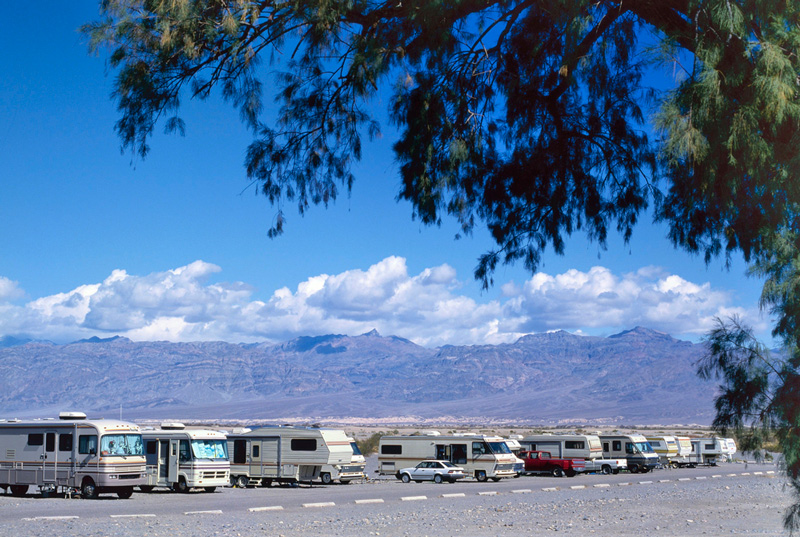 Camping In Death Valley
Death Valley is a very camper-friendly National Park with 9 campgrounds and over 800 sites. The campgrounds at Death Valley are large and flat making them the perfect place to take an RV motorhome or large travel trailer.
A few of the sites are open year-round and you can find both paid and free options available.
Keep in mind that temperatures get ridiculously hot in summer! We would not recommend spending the night there in June, July, or August unless you intend to camp in the more remote and mountainous campgrounds such as Mesquite Springs, Emigrant, or Wildrose.
That's A Wrap!
There are many things to do in Death Valley if you want to seek thrill and beauty. Although some visitors may not enjoy the heat, they may find visiting it a nice change of pace to their busy lives. Perhaps you may learn a few new things if you book a trip.
Whether you want to explore treacherous peaks or learn about the land's culture, there's something for everyone.
You Might Also Like: