The Best Toy Hauler Brands and Manufacturers
By
on
This post may contain affiliate links. As an Amazon Associate, I earn from qualifying purchases. Please read my full disclosure.
Toy haulers are designed for RV travelers who want to bring all of their favorite bulky toys to the great outdoors. A toy hauler camper is designed with living quarters in the front and a large "garage" in the back which can be used to haul things like ATVs, dirt bikes, kayaks, and canoes.
Unlike traditional RVs, toy haulers have stronger axles and a reinforced floor to handle extra weight. Toy haulers come in a variety of shapes and sizes. There are also dozens of brands and manufacturers to choose from.
In this article, we're going to cover the best Toy Hauler brands and manufacturers. Plus tips for finding the best camper for your money.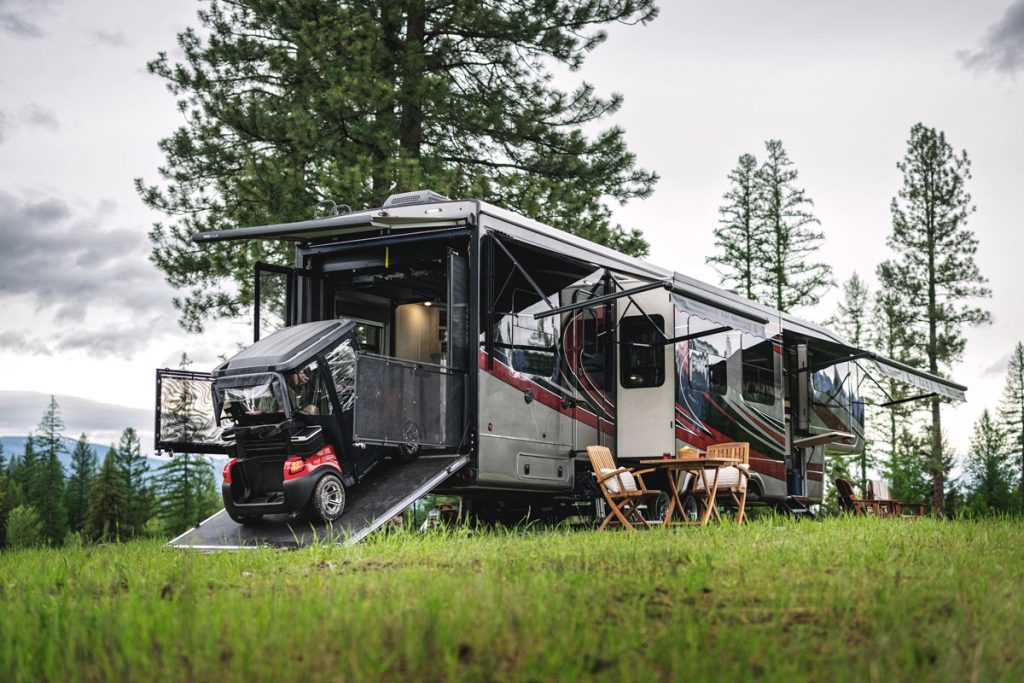 What is a toy hauler camper?
Toy haulers are a type of RV with extra storage space to carry heavy equipment like ATVs, dirt bikes, and canoes. They have boxy construction and come with living quarters in the front and a large "garage" in the back for storage.
The back wall of the camper can fold down creating a ramp to easily move equipment in and out.
Toy haulers are manufactured using heavy-duty materials that have higher weight ratings than traditional RVs. The floor and loading ramp are reinforced to accommodate large equipment.
They also come with plenty of space in the living area so you can comfortably travel with the whole family. Toy haulers typically have roomy sleeping areas, a kitchenette, living and dining space, and bathroom which includes toilets and showers.
Toy haulers are BIG, so they do require a heavy-duty truck to tow them. And they're not very nimble, so you'll be limited in the types of campgrounds you can park at. Fortunately, you'll be able to pack your motorbike in the camper and go exploring far outside the campsite boundaries!
Toy Hauler Features
Large garage and storage area for equipment
Convenient ramp for loading and unloading toys
Reinforced floor for extra weight
Comfortable living area
Sleeping space for 2-10 people
Toy Hauler Brands And Manufacturers In The USA
In the United States, there are currently over 30 brands of toy hauler campers and roughly 15 manufacturers. The majority of toy haulers manufactured fall under the following 5 brands: Thor Industries, Forest River, Northwood Investments, and Winnebago.
There are also 9 independent camper brands which manufacture toy haulers.
Thor Industries

Heartland

Cruise RV
DRV Luxury Suites

Keystone RV Company
KZ RV
Thor Motor Coach

Forest River
Northwood Investments

Northwoods Manufacturing
Outdoors RV

The RV Factory
Tiffin Motorhomes
Winnebago
Independent Toy Hauler Brands
Alliance RV
ATC Trailer
Chinook
Eclipse Recreational Vehicles
Genesis Supreme RV
Gulf Stream Coach
New Horizons
Pacific Coachworks
Sunset Park
What Are The Top Toy Hauler Brands For The Money?
When it comes to value, these brands are consistently rated among the top choices according to frequent campers.
Grand Design
Northwood Manufacturing
DV Mobile Suites
Keystone
Dutchman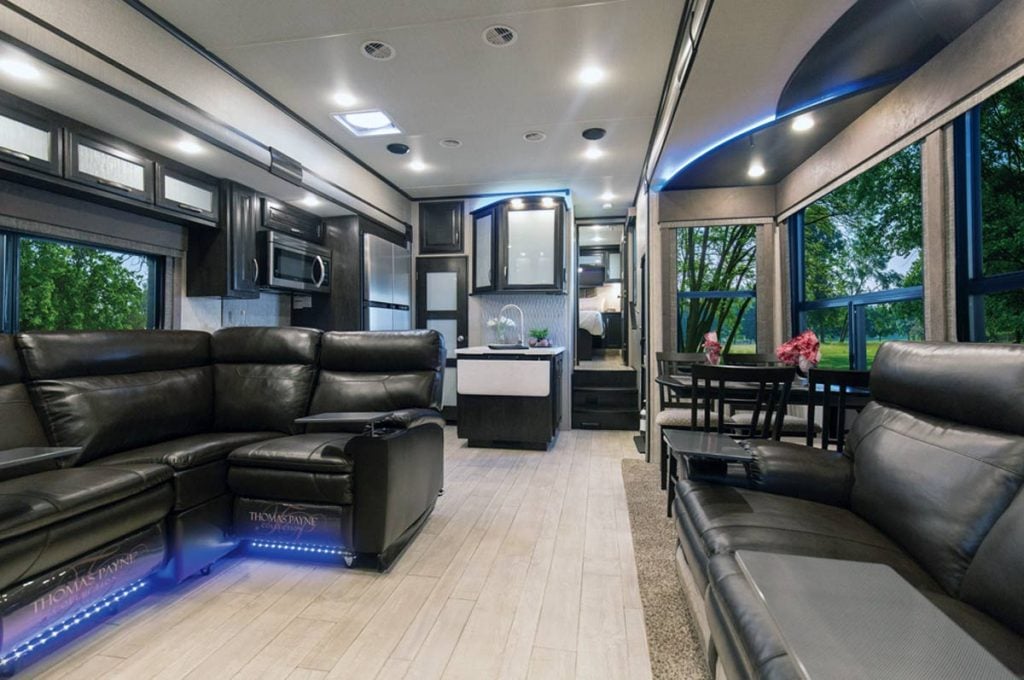 The Grand Design RV company was once an independent brand with a loyal following before being bought-out by Winnebago. Despite its new owners, Grand Design is still consistently rated as one of the best Toy Hauler brands.
The Grand Design Momentum is one of the best 5th wheel toy haulers when it comes to comfort and features. The camper comes with 17 different floor plan options starting at $156,000.
One thing that sets Grand Design RVs apart from the competition is their attention to high-quality manufacturing. Each camper comes equipped with an insulated garage floor, vented attic, and fully laminated walls. They also use a MORryde suspension system and rubber pin box for smoother handling and tow-ability.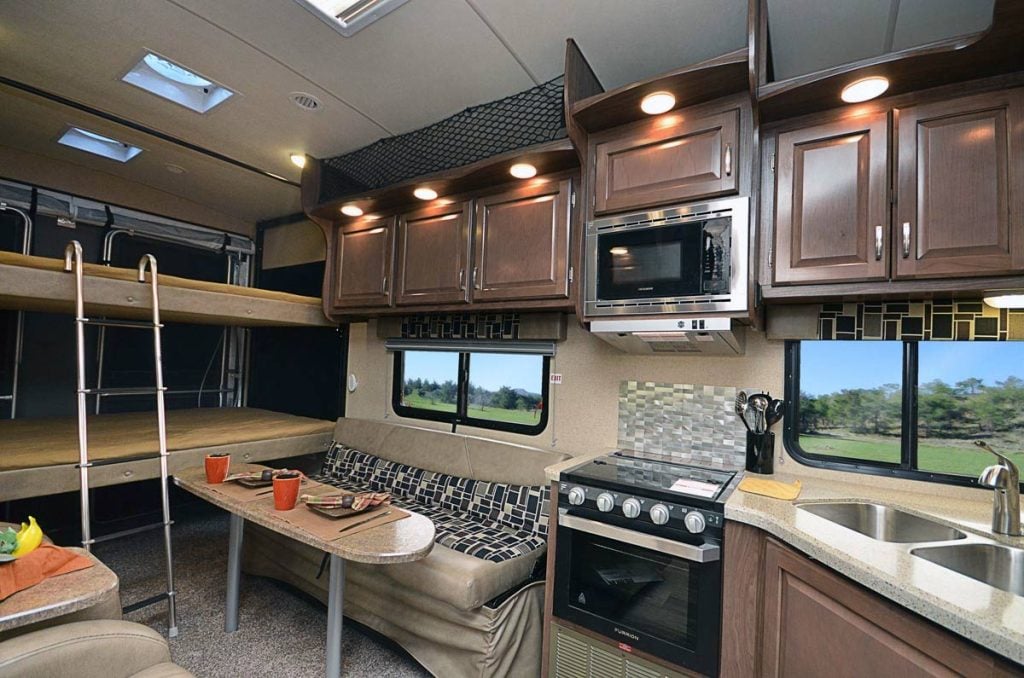 Northwoods Manufacturing and Outdoors RV are two highly-rated independent brands started by Ron and Sherry Nash in La Grande, Oregon.
The toy haulers, 5th wheel campers, and travel trailers they manufacture are some of the most durable campers on the market. The company custom-builds their own heavy duty steel chassis, and uses heavy-gage aluminum wall tubing on all of their campers.
All of the toy haulers are designed for four-season fun. They have designed their own bonded roof truss system which means the ceiling, trusses, and roof plywood are all bonded together. The roof is bowed to prevent standing water so it's also durable and long-lasting.
One of the biggest advantages to buying a Northwood camper is that they hold their value.
The Desert Fox is a bumper-pull toy hauler that comes with two floorplan options. You can comfortably sleep up to 6 people in the largest model and it comes with all of the features you need for extended travel.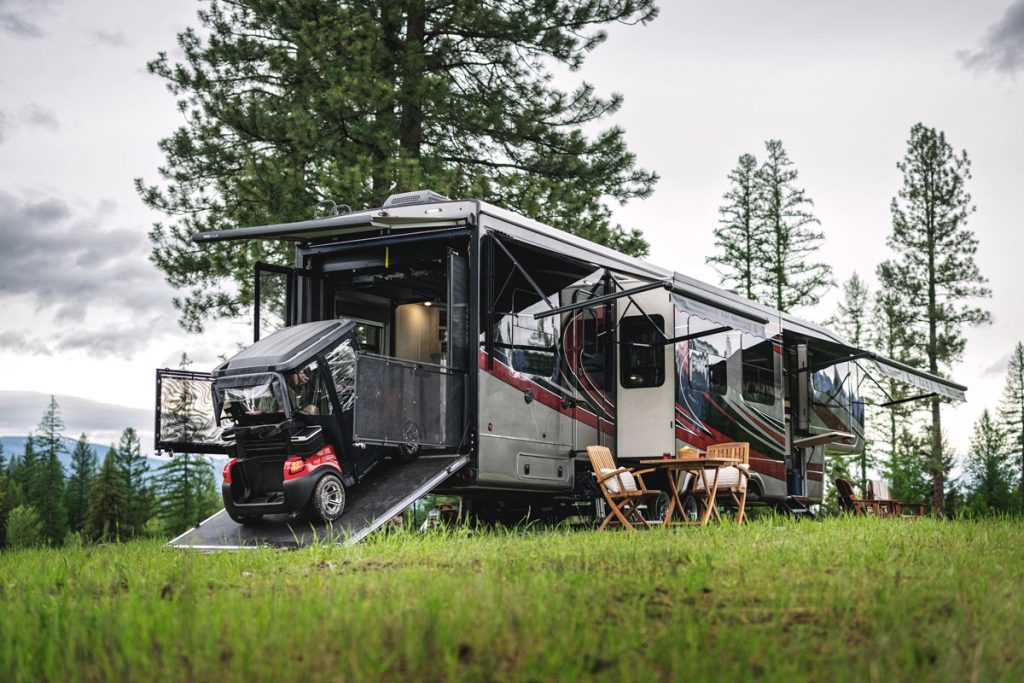 If you're looking for luxury, look no further than the toy haulers from DRV Mobile Suites. From top to bottom you can customize nearly every aspect of your motorhome including fabrics, cabinetry, tile backsplashes, and appliances.
DRV's claim to fame is their triple-box solid steel frame. They say it is the largest and most rigid fifth wheel frame in the industry. This camper is built for year-round comfort. The walls are 3 1/4″ thick to ensure maximum strength and insulation.
The Full House toy hauler comes in 3 different floor plan configurations. Each model can comfortably sleep 5-6 people and campers start at $220,000.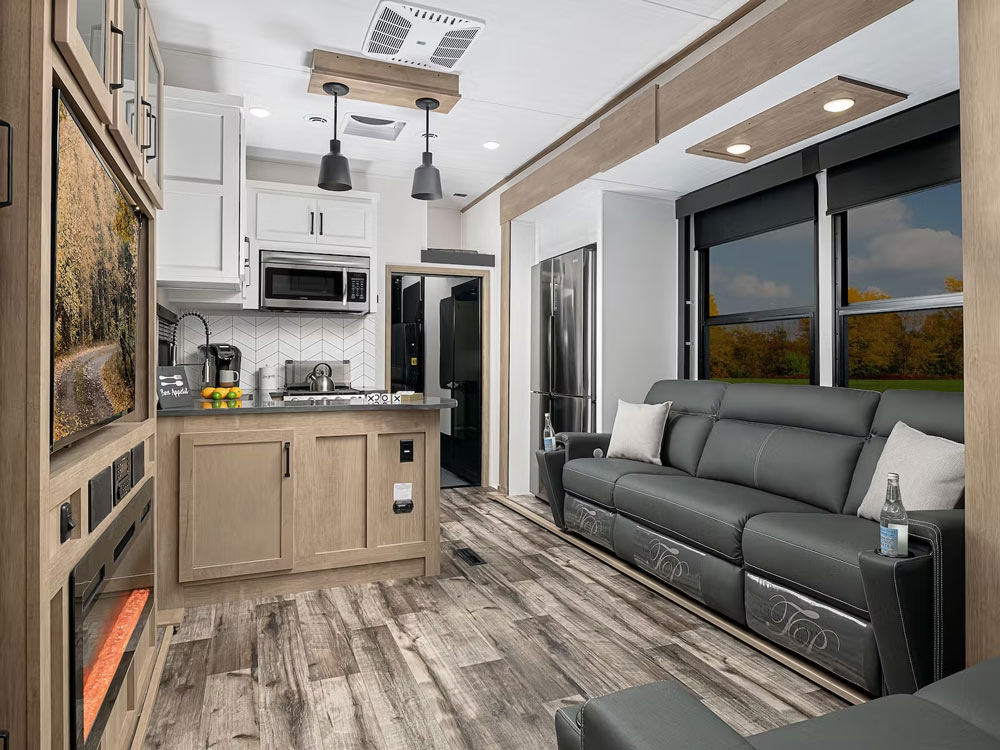 RV travelers who are looking for a more affordable option should consider the Keystone Raptor. The Raptor was one of the first true toy haulers in the market in 2004. Since then, it has gone through several upgrades and continues to be one of the best toy haulers for families.
The Raptor comes with 11 different floor plan options and sleeps up to 7 people comfortably. Inside you'll find an 11-13 foot garage, 1.5 bathrooms, master suite, spacious kitchen, and generous living area.
Keystone campers are manufactured by Thor Industries and the Raptor model starts at $135,000.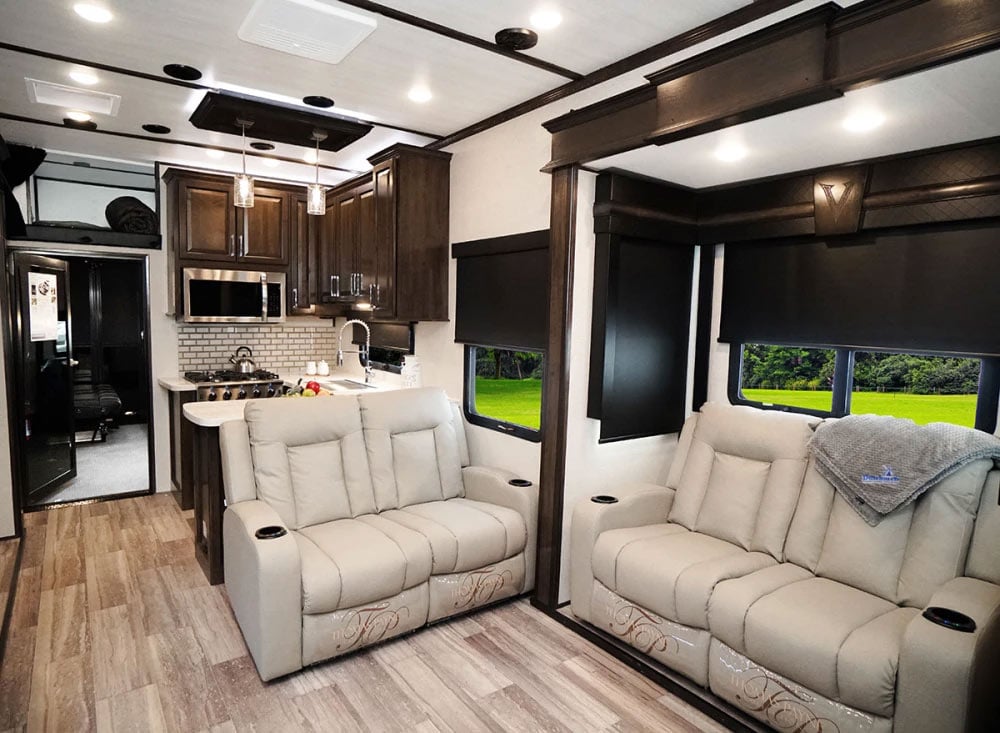 Dutchman is another brand of Thor Industries that specializes in 5th wheels, toy haulers, and travel trailers. The Voltage is one of the best toy haulers for your money when it comes to durably, comfort, and affordability.
Inside the Voltage, you'll find plenty of premium features that are not normally found in base models. For example, you can pick the fabric colors and decor right from the start. The camper comes with 7″ tall slide-outs which are some of the tallest in the industry making the interior feel much more spacious. The Dutchman also has a signature zero-g ramp door which makes it a breeze to lift the toy hauler garage door with minimal effort.
The Voltage comes with 8 different floor plan options which can sleep 12 people comfortably. The toy hauler starts at $156,000.
Types of Toy Haulers
There are two different types of toy haulers to choose from: bumper pulls, and fifth wheel toy haulers. These two campers have many of the same pros and cons that traditional travel trailers vs 5th wheels have.

Best Trucks For Towing a Toy Hauler
Toy haulers are one of the heaviest RV types you can buy so you're going to need a heavy-duty truck to haul it. To keep yourself safe, we recommend a 1-ton pickup truck.
The best trucks for towing a toy hauler are:
Ram 3500
Ford F-350 Super Duty
Chevrolet Silverado 3500 HD
GMC Sierra 3500 HD
If you plan on really loading your camper down with heavy-duty toys then many people recommend driving a dually truck which has an extra set of wheels on the rear.
With lighter toy haulers you can get away with a smaller truck. But you'll need to do your research on each camper and check the GVWR to ensure you can safely tow it.