The Best 5th Wheel Camper Brands And Manufacturers (Review)
By
on
This post may contain affiliate links. As an Amazon Associate, I earn from qualifying purchases. Please read my full disclosure.
Some of the most versatile and luxurious campers on the market are 5th Wheel Campers. These towable trailers are spacious, and have all of the residential amenities.
Similar to Class A motorhomes, 5th wheel campers are ideal for large families and comfortable for full-time travel. They come with a variety of layout options and floor plans.
In this article, we're going to cover the best 5th wheel camper brands and manufacturers. Plus tips for finding the best fifth wheel model for your money.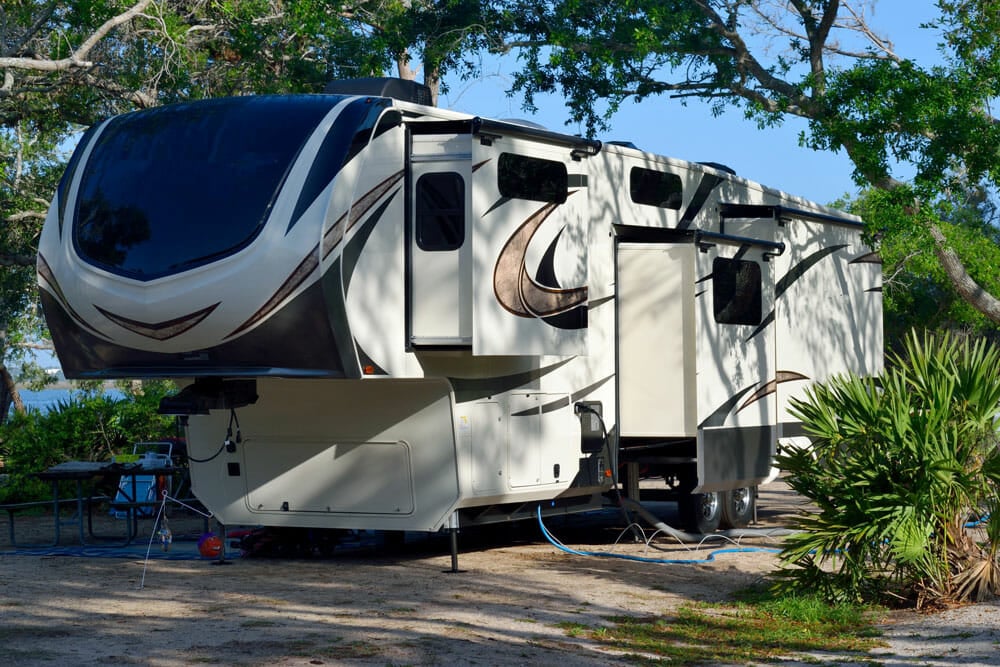 What is a 5th Wheel Camper?
Fifth wheel campers are easily recognizable because they have a large "tongue" that's designed to stick out over the bed of a pick up truck. They typically range from 20-48 feet long can can comfortably sleep up to 8 people or more.
5th wheels often come with luxury amenities such as multiple bedrooms, bathrooms, and seating areas. Many fifth wheels have slide-outs which increase the living space and make the camping experience comfortable and enjoyable.
Fifth wheels have a lot of advantages over travel trailers, and they are one of the most popular RV brands on the market today.

Fifth Wheel Camper Features
Multi-level design
Spacious interior
Easy to hitch and maneuver
Variety of floor plans and layout options
1-2 Bathrooms
Multiple living areas
Slide-outs
Residential amenities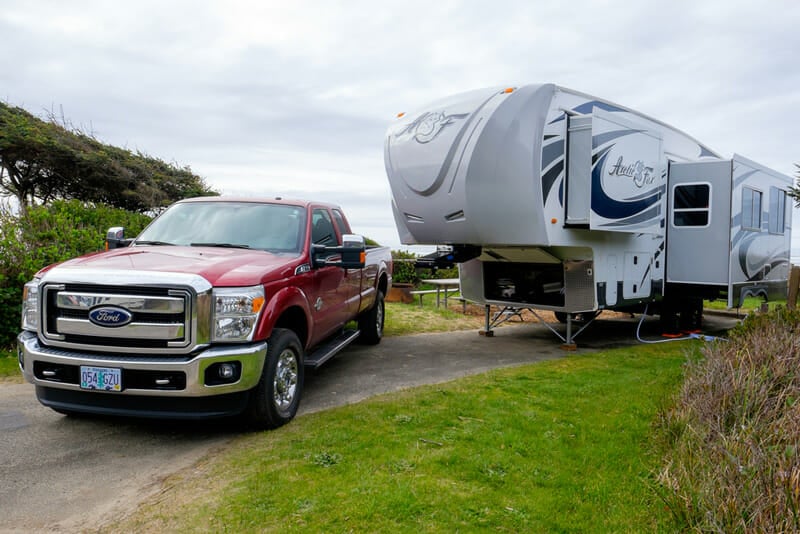 5th Wheel Camper Brands and Models
There are over 20 brands that manufacture 5th wheel campers. But if you follow the money, only three manufacturers dominate the industry: Thor, Forest River, and Winnebago.
Together, these three brands own almost the entire marketshare of 5th wheel campers. We were able to find a handful of smaller, independently owned businesses as well but these are far and few between.
Below you'll find a list of all 5th wheel manufacturers and their brands. Plus, a list of the fifth wheel models they carry.
Thor Industries

CrossRoads RV

Cameo
Cruiser
Redwood
Volante

DRV Luxury Suites
Dutchmen RV
Heartland RV

Big Country
Bighorn
Bighorn Traveler
Elkridge
Landmark
Milestone

Jayco

Eagle
Eagle HT
North Point
Pinnacle

Keystone RV Company

Alpine
Arcadia
Arcadia half-ton
Avalanche
Cougar
Cougar half-ton
Montana
Montana high country
Spring dale
Sprinter
Sprinter limited
Residence

K-Z RV

Durango
Durango Gold
Durango Half-Ton
Sportsman

Redwood
Starcraft
VanLeigh RV

Forest River

Coachman

Brookstone
Chapparal
Chapparal Lite
Chapparal X Edition

Forest River RV

Arctic Wolf by Cherokee
Cardinal
Cardinal Limited
Cardinal Luxury
Cedar Creek
Flagstaff Classic
Flagstaff Super Lite
Impression
Riverstone
Rockwood Signature Ultra Lite
Rockwood Ultra Lite
Sabre
Salem
Salem Hemisphere Elite
Sandpiper
Sandpiper Luxury
Sierra
Sierra C-Class
Sierra Luxury
Wildcat
Wildwood Herritage Glen
Wildwood Herritage Glen Elite Series

Palomino RV

Columbus
Columbus C-Series
Puma
River Ranch

Prime Time Manufacturing

Crusader
Crusader LITE
Sanibel

Shasta RV
East to West RV

Winnebago Industries

Grand Design RV

Reflection
Reflection 150 Series
Solitude
Solitude S-Class

The RV Factory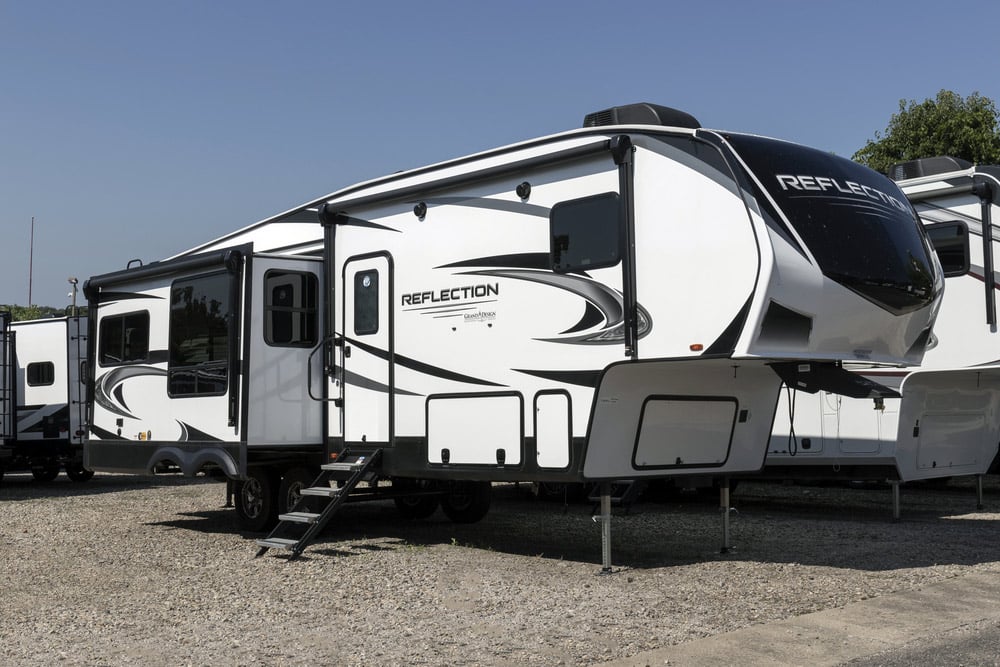 Independently Owned Fifth Wheel Brands
The following brands are independently owned and carry fifth wheel campers. Here is a list of the brands and models:
Allen Camper Manufacturing
Alliance RV
Cruiser RV
Escape Trailer Industries
Eveland's, Inc (Scamp Trailers)
Gulf Stream Coach
Highland Ridge RV

Roamer
Open Range
Open Range Light
Mesa Ridge
Mesa Ridge XLT
Silver Star
Silver Star XLT

New Horizons RV
Northwood Manufacturing

Arctic Fox Grande Ronde
Fox Mountain

Outdoors RV

Glacier Peak Mountain
Glacier Peak Titanium

Rugged RV
What are the Top 5th Wheel Camper Brands For The Money?
With so many different makes and models, how do you narrow down the best brands? As you can see from the list above, most 5th wheel manufacturers are owned by the same 3 companies.
And while you're going to find differences in features and amenities, at the end of the day a lot of these models share the same base design.
Independently owned companies tend to deliver higher quality, but they are often more expensive. It can also be more difficult to find replacement parts or get them serviced.
Even though many of these campers look the same, there are still plenty of subtle differences to distinguish the best brands from the worst.
When it comes to value, there are a few brands are consistently rated among the top choices according to full-time fifth-wheel campers:
Outdoors RV
Northwood
Grand Design
DRV
Best 5th Wheel Campers Review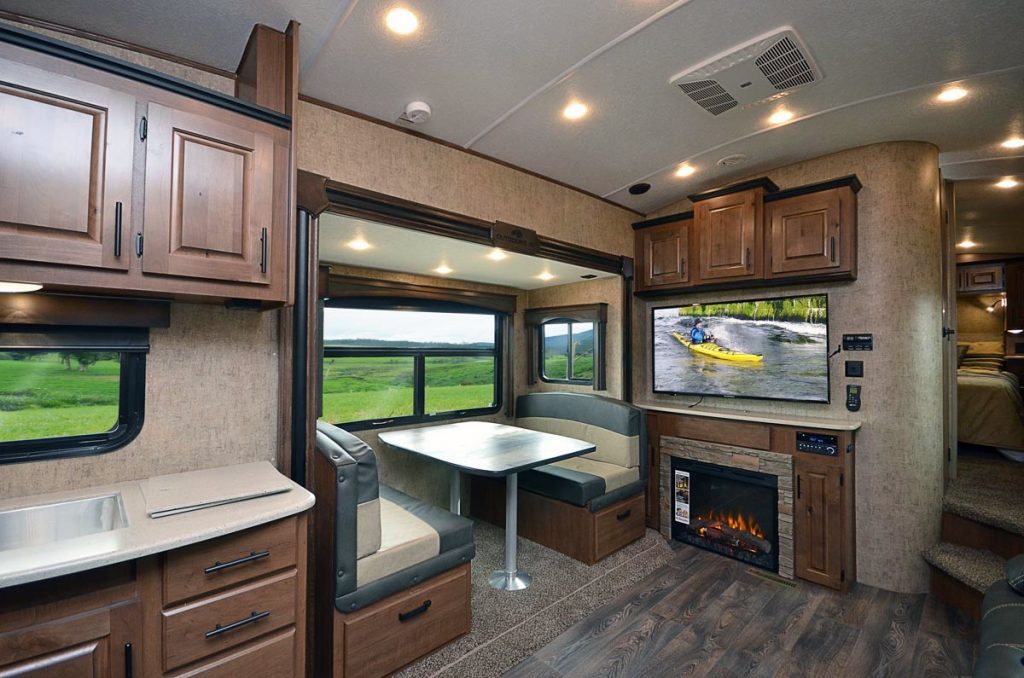 Outdoors RV has been manufacturing campers since 2009. They are based in La Grande, Oregon and build travel trailers, 5th wheels, and toy haulers. Across the web, the company maintains a reputation for high quality.
Even though the camper looks like a home-on-wheels, the biggest draw to Outdoors RV is their build-quality and attention to off-grid camping. Their fifth wheels are designed to withstand the rugged life of boondocking.
Some of the specific high-quality features you'll find include:
Every wall is designed with a 2″ bonded aluminum frame
All slide-outs have a bonded aluminum frame (including the roof)
Custom built off-road chassis
HD KYB Gas Shock Absorbers
MorRyde CRE 3000 Suspension (3" additional Vertical Travel)
80 Gallon fresh water capacity
10 Gallon water heater
Solar Ready Roof Port for Up To 510 Watts
Progressive Dynamics 4 Stage Converter w/ Built-In Charge Wizard
Their Glacier Peak 5th wheel camper comes in 5 different layout options ranging from 27-31 feet. Each option comes with multiple slide-outs to expand the living space and create the most comfortable environment.
Outdoors RV campers are considered luxury fifth wheels. You'll find over-the-top amenities like indoor fireplaces, large entertainment centers, multiple bathrooms, and kitchens that have all the works.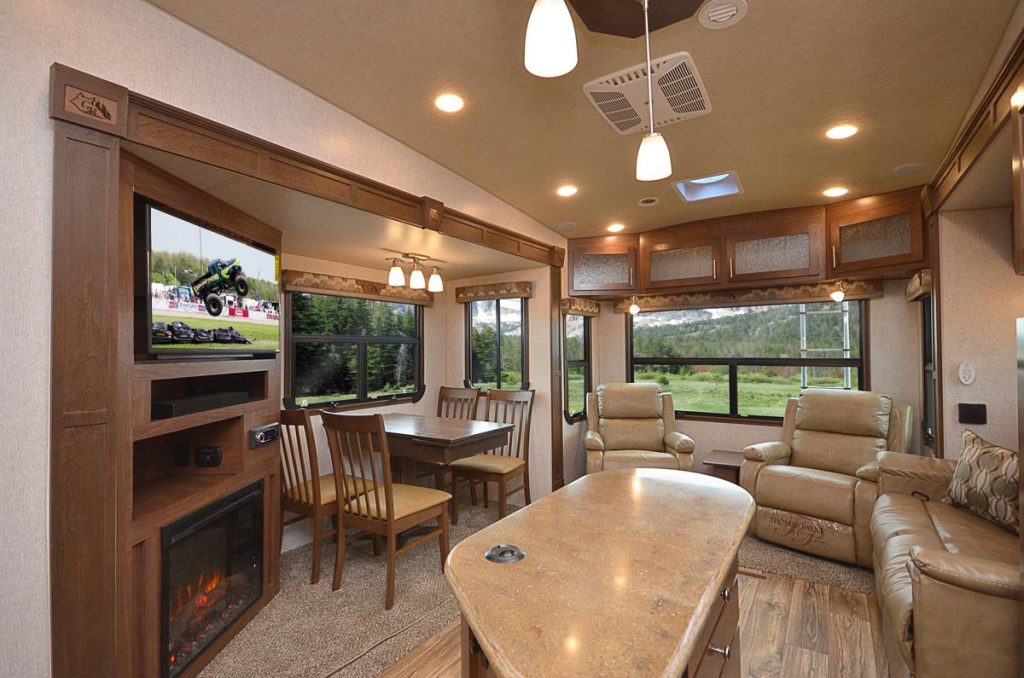 Northwoods Manufacturing is another independent brand known for their high-quality. They make two fifth-wheel campers that come in multiple layout options: Fox Mountain, and Arctic Fox.
The Arctic Fox has everything you could wish for in a high-quality camper. They are one of the few manufactures that build their own custom chassis. And the exterior walls are constructed with heavy-gage aluminum.
Northwoods Manufacturing has its own bonded roof truss system. That means the ceiling, trusses, and roof plywood are all bonded together. In short, the roof is extra-durable, long-lasting, and bowed to prevent standing water.
One of the biggest advantages to Northwood RVs is that they hold their value. You won't find too many used Northwood fifth-wheels on the market because people love them. And campers get snatched up as quickly as they become available.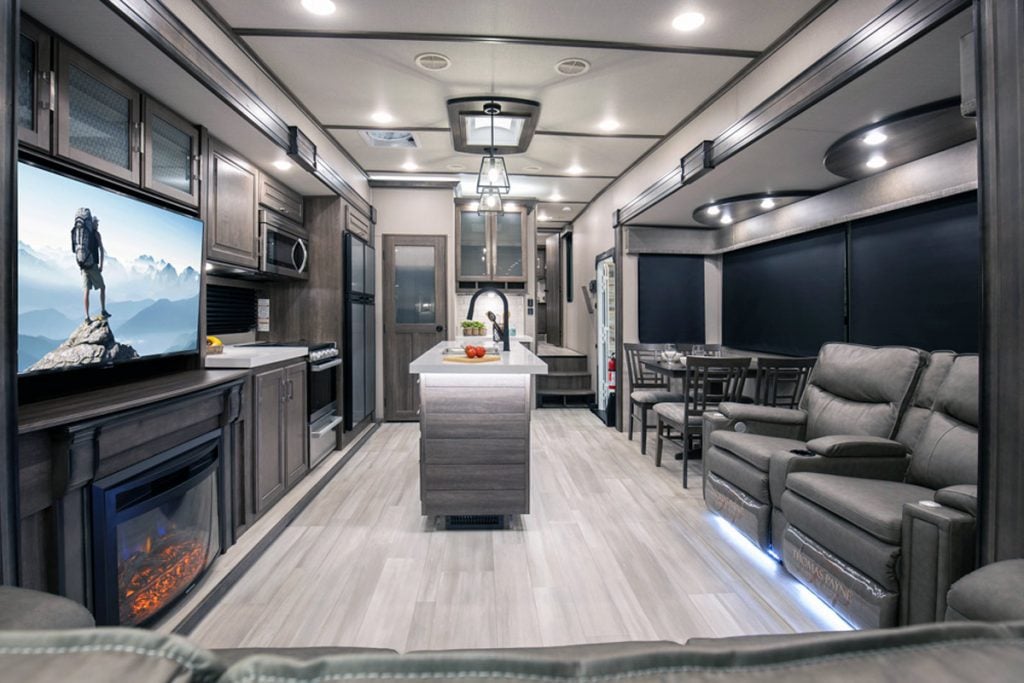 Even though the big three manufacturers dominate the market, there are still a few brands that stand above the rest. Winnebago has always been known for their higher-quality RVs, and the Grand Design Brand has some of the best 5th wheels you can find.
The Grand Design Solitude is made for long road trips and months of full-time travel. The focus is on comfortable living, particularly through all four seasons. The Winnebago fifth-wheel has fully insulated walls, thermal roof design, and a triple-insulated floor.
The heating system pumps out 40,000 BTU's of power and it has a dual 15,000 BTU air conditioning system. You'll feel like you're sleeping in a fancy apartment rather than a fifth wheel while parked at the campground. Some of the living space features include:
Power seats with heat and massage
Solid surface countertops
Hardwood window valances
24″ residential range
Porcelain toilets
Fireplace with electric heater
Stainless steal refrigerator
Oversized kitchen pantry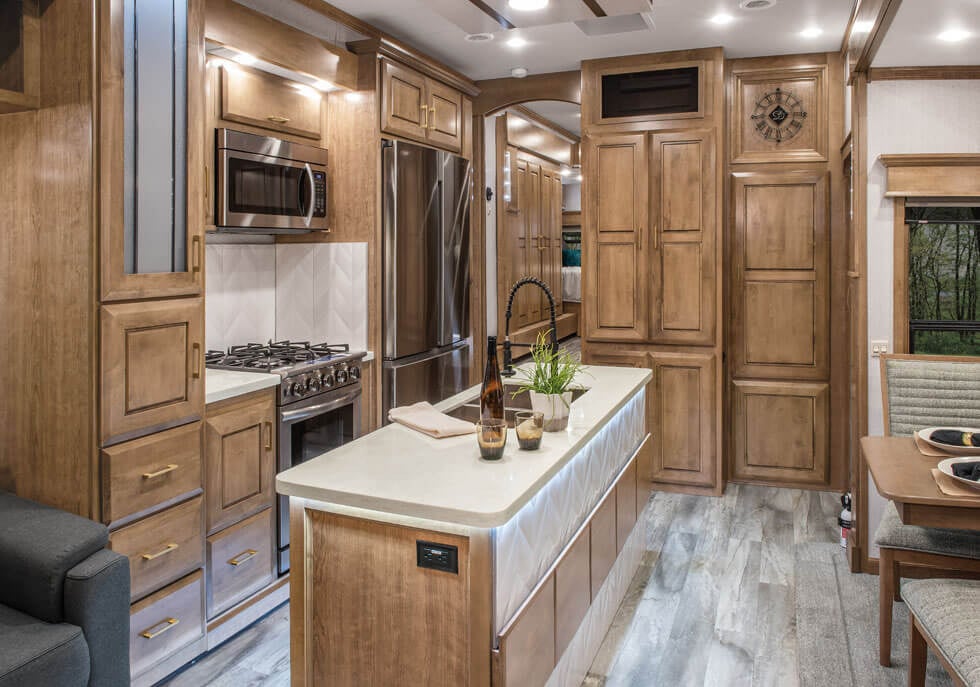 If you have a big pocketbook, one of the most outstanding 5th wheel brands is DRV Luxury Suites. Prices can get well into the $200,000 range and with this type of rig you won't even know you're camping.
From top to bottom you can customize the 5th wheel to include all of your tastes and preferences. You can find solid hardwood cabinetry throughout in your choice of wood species. The camper has over-the-top crown molding, tile backsplashes, and kitchen appliances better than many apartments.
All of the decor is top of the line, but the DRV brand is also known for its solid construction. The camper is built with screwed and glued aluminum stud construction and 3 1/4″ thick walls and slides. It even has residential-rated R16 insulation.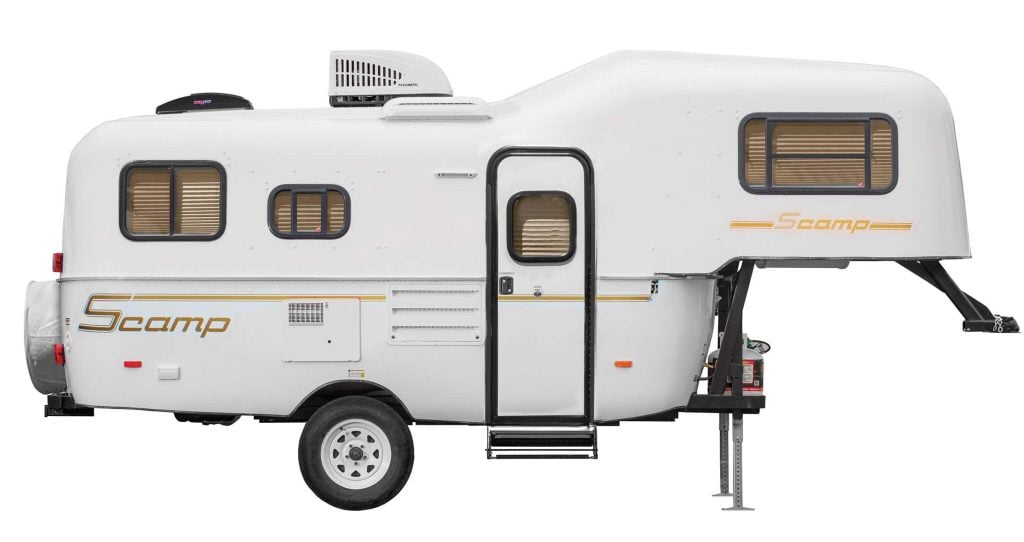 For a more affordable and lightweight option, consider the Escape 5.0 trailer by Scamp. This model starts at around $40,000 so it it more manageable for the everyday camper. What it lacks in big size, the Scamp makes up for in convenient features.
The 5th wheel is aerodynamic and easy to maneuver. Its outer shell is made of smooth, fiberglass construction so it's designed to last for a long time.
The camper sleeps up to 6 people and has options like solid wood cabinetry, conventional oven, glass stovetop, and dry-flush toilet.
What To Look For In A Fifth Wheel Trailer
When it comes to buying a fifth-wheel, the best campers are the most expensive. It should come as no surprise that you'll have to pay to get the higher quality manufacturing.
Consider researching the independently owned companies and attend RV shows to look at the subtle differences between brands.
When it comes to the lower price-ranges a lot of rigs manufactured by the big-3 companies (Thor, Forest River and Winnebago) are going to be more or less the same with different paint colors, trim, and slightly altered floor plans.
There are only so many ways to rearrange a camper! So our best advice is to consider the type of camping that you're planning on doing and find a model with the features you need that fits within your budget.
If you're looking for something more affordable, consider a smaller Class C motorhome.
5th Wheel Toy Haulers
Fifth wheel toy haulers are large RVs with living quarters in the front and a large "garage" in the back. These are designed to haul equipment like ATVs, dirt bikes, kayaks, and canoes.
Toy haulers are some of the heaviest campers on the market. They can also be more expensive than a typical 5th wheel because they require reinforced axles and a heavy-duty frame.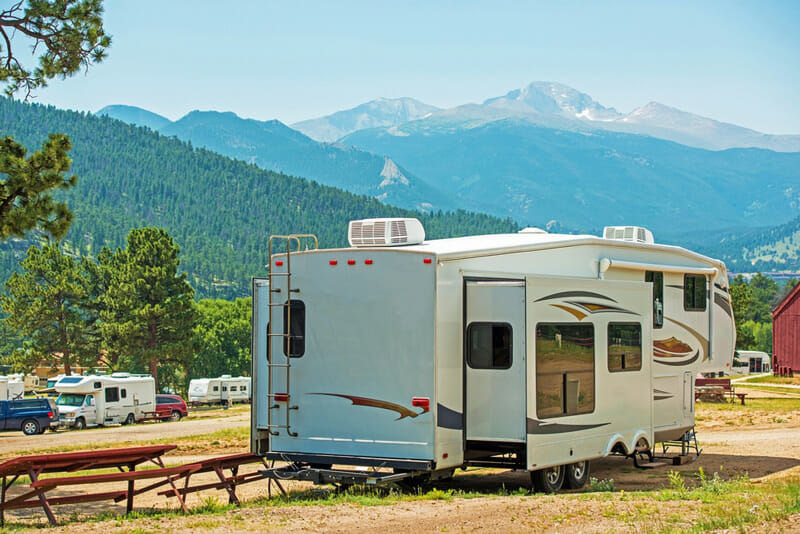 Frequently Asked Questions About 5th Wheel Campers
Why is it called a 5th wheel?
As early as the 1850's horse-drawn carriages used a horizontal wheel on their front-axle which could pivot side-to-side from the horse. The axle made it easy to stabilize and maneuver the carriage.
Then in 1916, The Martin Rocking Fifth Wheel Company patented the kingpin design we know of today.
How tall is a 5th wheel camper?
5th wheels can have an exterior height up to 13.5 feet from the ground. This is the maximum height that most states will allow. However, most fifth wheel campers stand around 13-feet tall.
How wide is a 5th wheel camper?
The average 5th wheel is between 8 and 8.5 feet wide when packed up and ready to drive. At the campground, slide-outs and extend the camper width as much as 3 feet on each side.
How much do 5th wheel campers weigh?
On average, a 5th wheel camper weighs about 12,700 pounds, empty and unloaded. The lightest 5th wheels can be as small as 4,000 pounds.
How much does a 5th wheel cost?
Fifth wheels come in a wide variety of price options. You can buy a used 5th wheel camper for as little as $20,000 while newer versions start around $40,000. The most expensive fifth wheels can be upwards of $200,000.