The Best Travel Trailer Brands and Manufacturers
By
on
This post may contain affiliate links. As an Amazon Associate, I earn from qualifying purchases. Please read my full disclosure.
One of the most versatile campers on the market is the travel trailer. These campers come in a wide variety of shapes and sizes that can accommodate a full family, or solo tourist. Travel trailers can be towed behind a car or truck and are one of the most affordable RV types.
The cool thing about travel trailers is that they have such a large variety of floor plan and layout options. There are also dozens of big-name and independent brands and manufacturers to choose from.
In this article, we're going to cover the best travel trailer brands and manufacturers. Plus tips for finding the best motorhome for your money.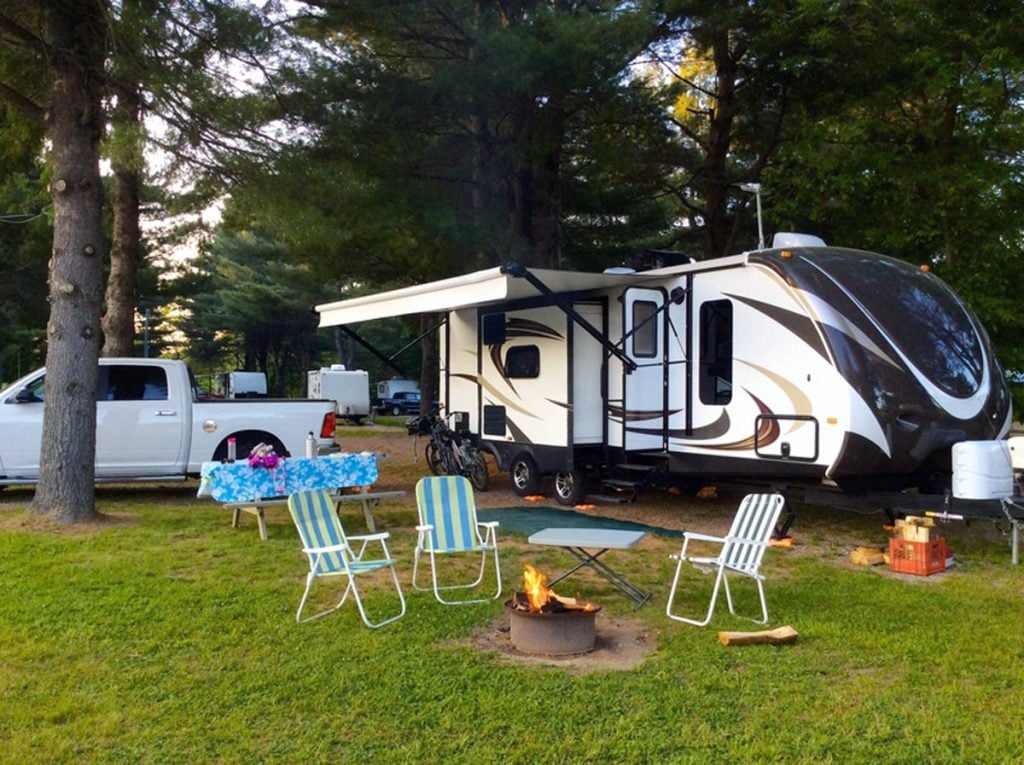 What is a Travel Trailer?
There are many different types of travel trailers. These campers are non-motorized, and towable. They can be hitched to the bumper of a tow vehicle and un-hitched at the campsite.
Travel trailers are designed to include sleeping accommodations and a small kitchenette. Some of the most luxurious models have full bathrooms, and living areas as well. Modern travel trailers will come with simple plumbing systems, generators, and even solar power!
In this article, we're going to focus on the most-common boxy travel trailers designed for a family camping trip.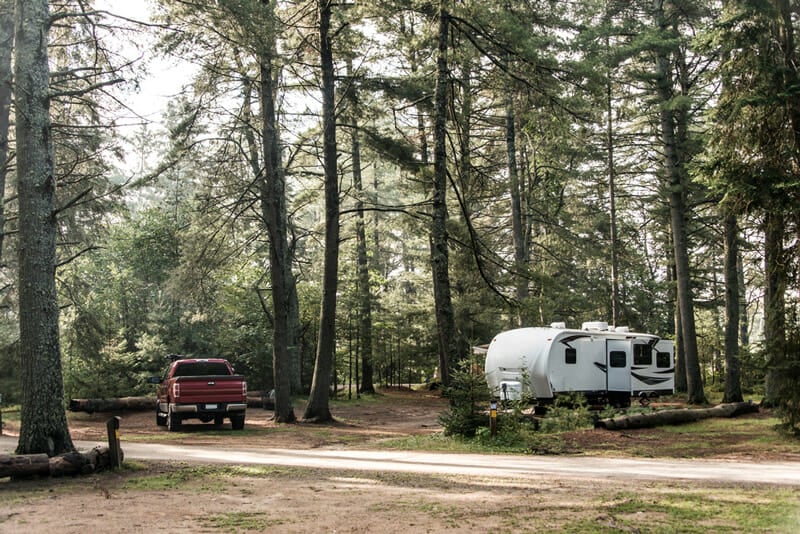 Types of Travel Trailers
Bumper-pull RV: These trailers are the most likely to resemble a standard motorhome. They have a boxy appearance and room for multiple people to camp comfortably. Most bumper pull RVs come with a kitchenette, small living area, tiny bathroom, and several beds. They have hard sides to withstand the elements and require minimal set up and takedown at the campground.
Pop up camper: Also known as tent-campers, these trailers have soft sides that 'pop-up' at the campground and fold down during travel. Popup campers are lightweight and easy to tow. They are designed for 3-season travel and typically offer a more rugged experience.
5th wheel camper: The largest and most luxurious travel trailers. These are easily recognizable for the large "tongue" that sticks out over the bed of a pickup truck. Fifth wheels are often designed with multiple living areas, slide-outs, large kitchens, and bathrooms.
Toy hauler: A cross between a travel trailer and a cargo carrier, toy haulers have a living area in the front and a large "garage" in the back to haul ATVs, dirt bikes, canoes, and other toys.
Destination trailer: Similar to a tiny home, destination trailers can travel but they are meant to be stationary for long periods of time. These trailers are made with heavy, high-quality materials and designed for full-time living.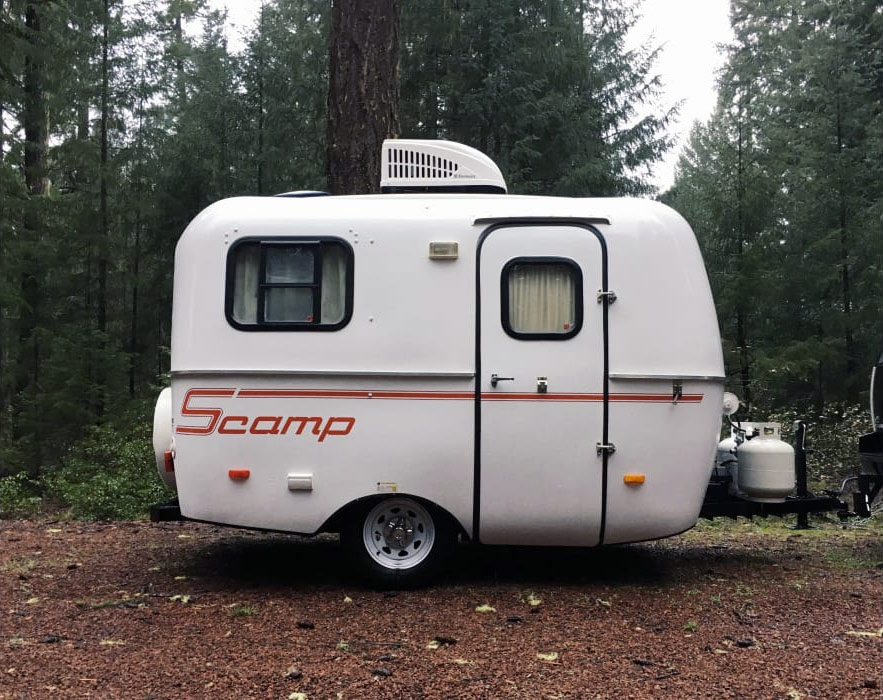 Small Travel Trailers
There are several different types of tiny camper trailers that are lightweight and designed for off-grid travel. Most of these campers are built for 2-people and have minimal amenities.
A-frame campers: These trailers fold down flat during travel and assemble into a classic A-frame shape when parked.
Teardrop trailer: These campers are recognizable for their streamlined design and distinctive "teardrop" shape. They are normally less than 10 feet long and comfortable for two people.
Off-grid camper trailers: Tiny campers designed for off-grid use. The main focus is on gear storage usability. Many off-grid campers come with small kitchenettes and rooftop tents or similar sleeping arrangements.
Travel Trailer Features
Non-motorized and towable
Designed for bumper pull behind a tow vehicle
Can be hitched and un-hitched at the campground
Variety of floor plans and layout options
Includes various sleeping spaces
Small kitchen amenities
Some include bathrooms and even showers
Travel Trailer Brands And Manufacturers In The USA
In the United States there are at least 25 different travel trailer manufacturers. Forest River, Thor, and Winnebago own the largest share of travel trailer brands.
But unlike 5th wheel campers, independent brands dominate the travel trailer industry. You can find a huge variety of family-owned business and smaller independent sellers that produce high-quality products.
Chinook RV
Forest River

Coachmen
Forest River
Palomino
Prime Time Manufacturing
Shasta
East to West

KV Private Equity

Escape Trailer
Off Grid Trailers

Northwood Investments

Northwoods Manufacturing
Outdoors RV

REV
Thor Industries

Airstream
Crossroads
Cruise RV
Dutchman
Heartland
Jayco
Keystone
KZ

Winnebago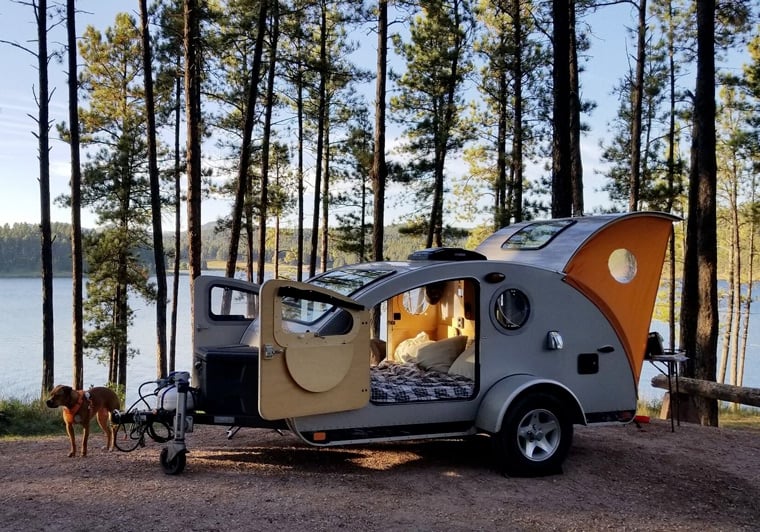 Independent Travel Trailer Brands
The best part about smaller, independent manufacturers is that you can get highly specialized campers that are built to do one thing really well.
Aliner for example, makes A-frame campers exclusively. So you can be sure that every effort has been dedicated to making the best tiny trailer possible.
Aliner
Allen Camper Manufacturing
Braxton Creek
Bowlus
Casita Travel Trailers
Cortes Campers
Cruiser RV
Ember Recreational Vehicles
Eveland's Inc
Genesis Supreme
Gulf Stream Coach
inTech RV
nuCamp RV
Oliver Travel Trailers
Riverside RV
Travel Lite RV
What Are The Top Travel Trailer Brands For The Money?
It's hard to say which travel trailer is the best because there are so many different variables. Are you camping with 8 people or 2? Will you be driving off-grid or staying at an RV park? Do you really need a bathroom?
That said, we can give you a few "safe bets" to choose from.
Best Travel Trailer Motorhomes
Starting with "the big 3," Forest River, Thor, and Winnebago own nearly 20 travel trailer brands. According to consumers, these are some of the highest rated campers in their lineup: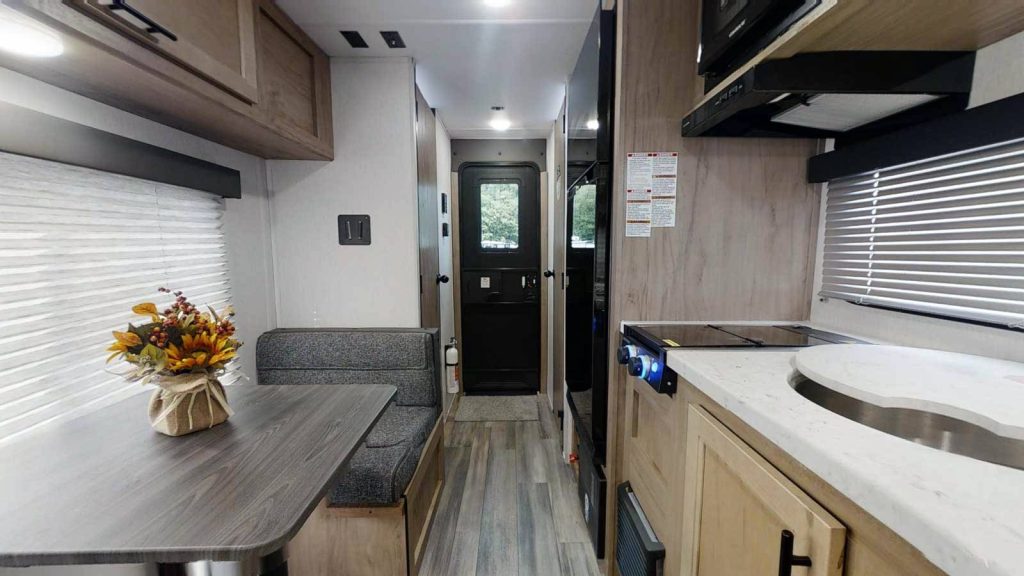 When it comes to bang for the buck, the Wolf Pup by Cherokee is one of the most popular trailers. You can get a new camper as little as $20,000 and it will come with everything you need to make a comfortable camping trip.
The Forest River Wolf Pup comes with 9 different floor plan options so you can pick the configuration that works best for your family.
If you're looking for something simple, the basic camping package comes with a micro kitchen, dinette, queen-sized bed, toilet, shower, and a 26-gallon fresh water tank.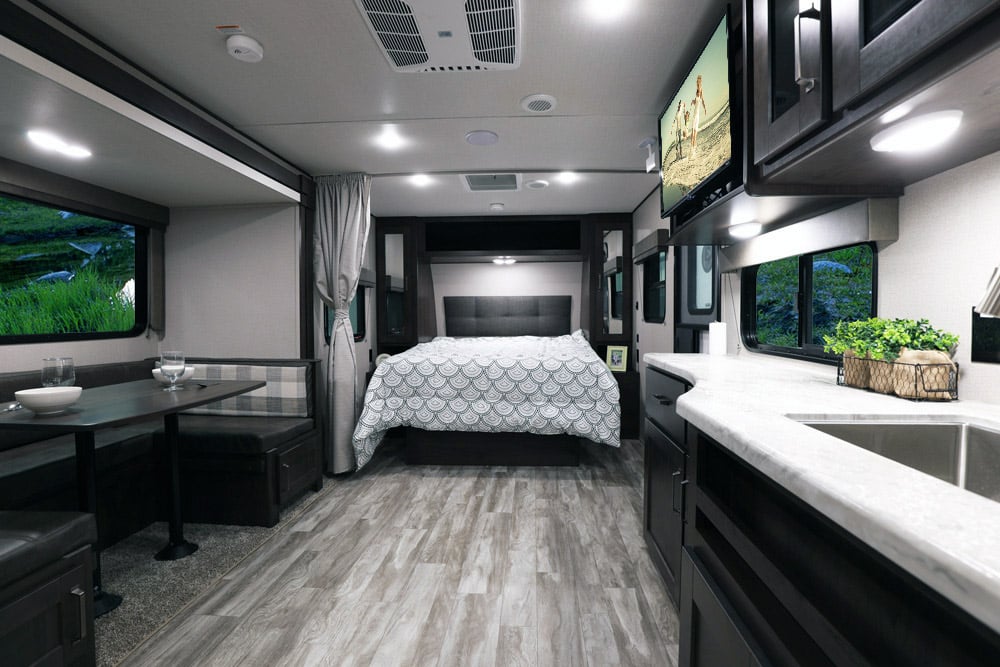 Grand Design RV makes a quality product at a mid-range price point so it's a great choice for the first-time traveler. Grand Design makes 5 different travel trailers that are lightweight but pack every amenity you need for a comfortable family vacation.
The Transcend line for example, has options that includes beds for up to 6 people, theater seating, dinette, entertainment center, spacious shower, and residential furniture. You can find floor plans with multiple slide-outs to maximize space and even private master suites.
Grand Design RVs are fully insulated from the floor to the roof so they are designed for year-round comfort.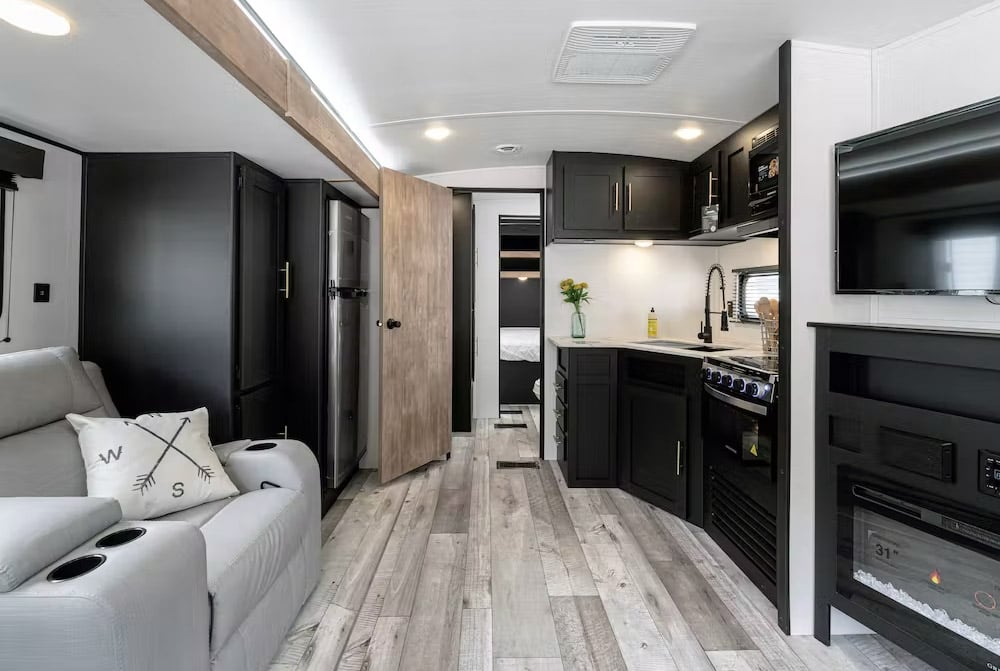 Thor Industries is the king of manufacturing travel trailers. They own 10 different brands which range in quality and price. One brand that is highly regarded for great customer service and holding up over time is Keystone.
Keystone makes a variety of 5th wheels, travel trailers, destination trailers, and toy haulers. The Springdale line is one of their more affordable options while still maintaining high-quality looks and longevity.
The campers range from 21-39 feet long and models start at just $25,000.
Lance has been manufacturing campers since 1965. They only make truck campers and travel trailers so they know how to make a compact, towable product.
Their trailers can sleep up to 8 people and have tow ratings as light as 3500 pounds. They are designed for 4-season comfort and use high-quality construction materials such as stainless steel fasteners, steel chassis, and lightweight aluminum frame.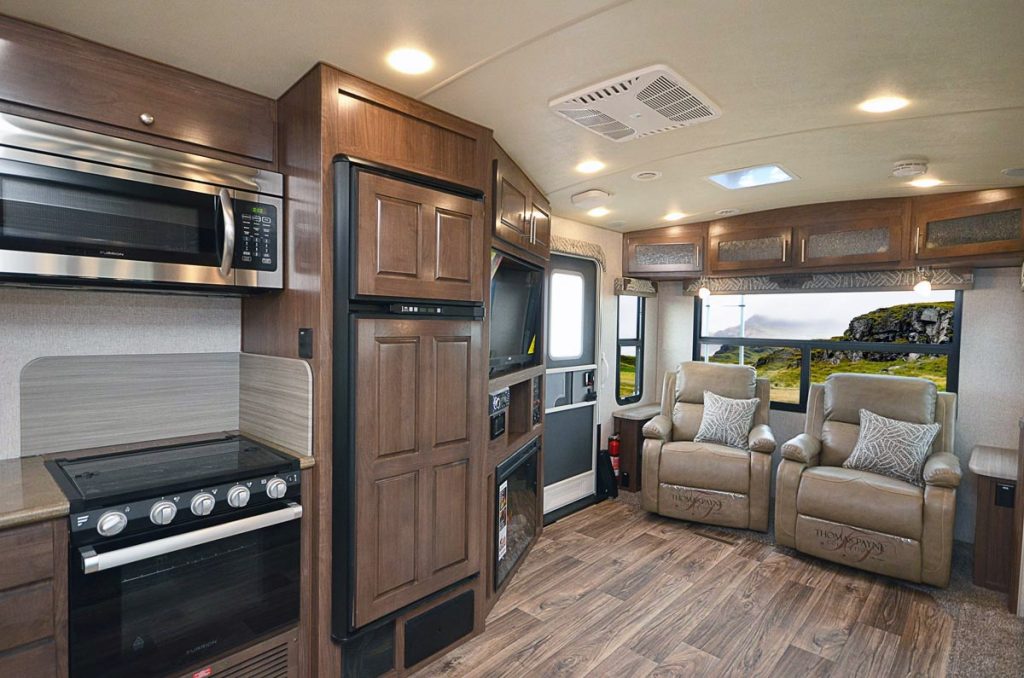 Northwoods Investments owns two of the highest-rated travel trailer brands we could find: Northwoods Manufacturing and Outdoors RV. Both companies are located in La Grande, Oregon and produce fantastic travel trailers.
One thing that sets Northwoods Manufacturing apart is that their travel trailers are designed to take a beating. The company custom-builds their own heavy duty steel chassis, and uses heavy-gage aluminum wall tubing on all of their campers.
All of their trailers are built for four-seasons of use and are designed with a bonded roof-truss system for high load-bearing capacity.
The Arctic Fox by Northwoods Manufacturing comes in 7 different floor plan options and starts at $50,000.
The Best Small Travel Trailer Brands
When it comes to smaller travel trailers, it's important to distinguish exactly which type of camper that you're looking for.
Different brands specialize in A-frame campers, teardrop trailers, pop-up tent campers, and off-grid trailers.
Aliner Campers is known across the industry for their classic, A-frame design.
NuCamp RV manufactures teardrop trailers that are lightweight and portable.
Casita Travel Trailers specializes in fiberglass construction that is leak-proof, rodent-resistant, and lightweight.
Off-grid trailers manufactures the perfect rugged camper for overlanding and adventure travel.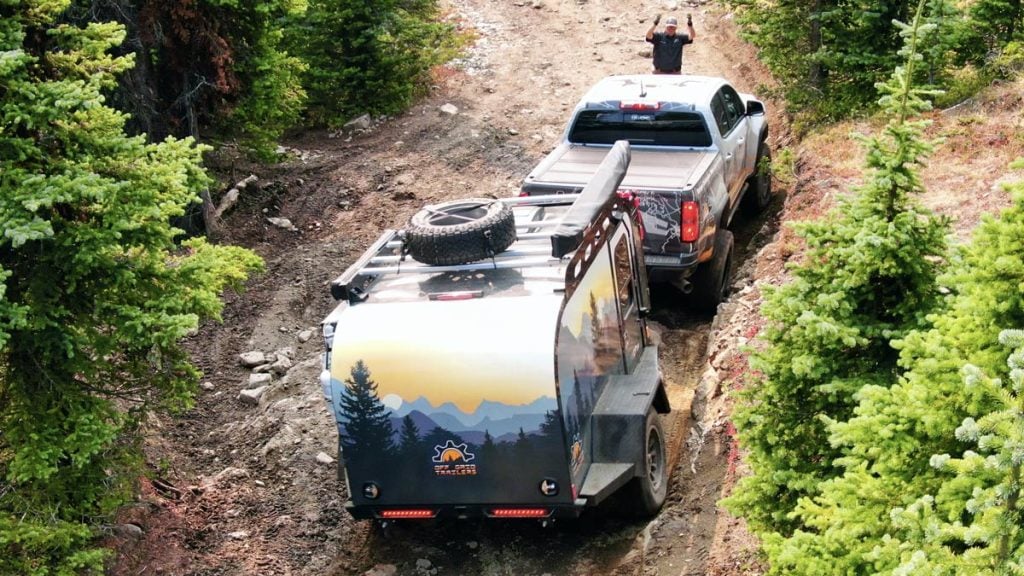 Frequently Asked Questions About Travel Trailers
How much does the average travel trailer cost?
The average travel trailer costs between $15,000 and $40,000. However, there are options available that cost as much as $100,000.
What is the difference between a 5th wheel camper and travel trailer?
A travel trailer is a towable camper that hitches onto the back of a vehicle. A 5th wheel camper is a larger, heavier camper that requires a special hitch to be installed in the bed of a truck.
Is it worth buying a travel trailer?
A travel trailer can be a great investment if you enjoy camping and spending time outdoors. Travel trailers are typically more affordable than RVs and offer more flexibility in terms of where you can camp.
Who makes the highest quality travel trailer?
There is no definitive answer to this question as different people have different preferences. However, some of the most popular travel trailer brands include Forest River, Winnebago, Keystone, Lance, and Northwoods Manufacturing.
What is the most reliable travel trailer?
Northwoods Manufacturing travel trailers are known for their quality construction and long-term durability. Other reliable brands include Lance RV, Winnebago, Forest River, and Keystone.