Camping In Yosemite National Park
Yosemite National Park is one of the most popular parks in America. It's no secret that it's on nearly everyone's bucket list. Spanning nearly 1,200 square miles Yosemite is huge! So it's a good idea to do a little research first and decide how you want to tackle the adventure.
Visiting Yosemite in an RV or camper van? We'll tell you where to camp and what height restrictions to be aware of. Plus advice on the best time of year to tent camp, seasonal closure information, and the best places to camp outside of the park.

When Is The Best Time To Visit Yosemite National Park?
Visiting in Spring
Yosemite is famous for its waterfalls. During the spring (April and May) the remaining snow is melting fast and water flow is at its peak. The wildflowers will be will be in full bloom. And if you get there early enough, you might just miss the summer rush.
Visiting Yosemite in spring will give you the best chance to see wildlife, and the most ferocious waterfall displays.
Visiting in Summer
Summer is of course, the most popular season for visiting Yosemite. If you visit during this time expect big crowds. Nevertheless, it's a large park – and if you visit the lesser known areas like the east and far north sides, you're still going to be in for a treat.
Pack the water because temperatures in mid-summer to push into the 90s. Arrive early to avoid the biggest traffic jams and secure your parking spot.

Visiting in Fall
Autumn is significantly less crowded than the summer months. Especially if you can wait until after Labor day. While the waterfalls will have considerably less water than the spring, you'll get cooler temperatures.
The leaves begin changing colors in in September and October. Visiting Yosemite in Fall can be one of the most picturesque times of the year. If you're into photography or drawing, the changing leaves will really make your pictures pop.
Visiting in Winter
Winter is the least popular time to visit Yosemite. There are considerably less crowds, and some of the roads and amenities will be shut down for the season. If you're new to the area, you might be surprised to know that Yosemite has its own ski area and lifts. You can spend the night at the park lodge then hit the slopes for skiing, snowboarding and sledding fun.
If you're lucky, during the last two weeks of February you can witness Yosemite's famous Firefall. When the sunset hits Horsetail waterfall just right, the whole thing bursts into color. Illuminated in red and orange the waterfall transforms into a spectacular "wall of fire." You can view it from many different angles when it occurs.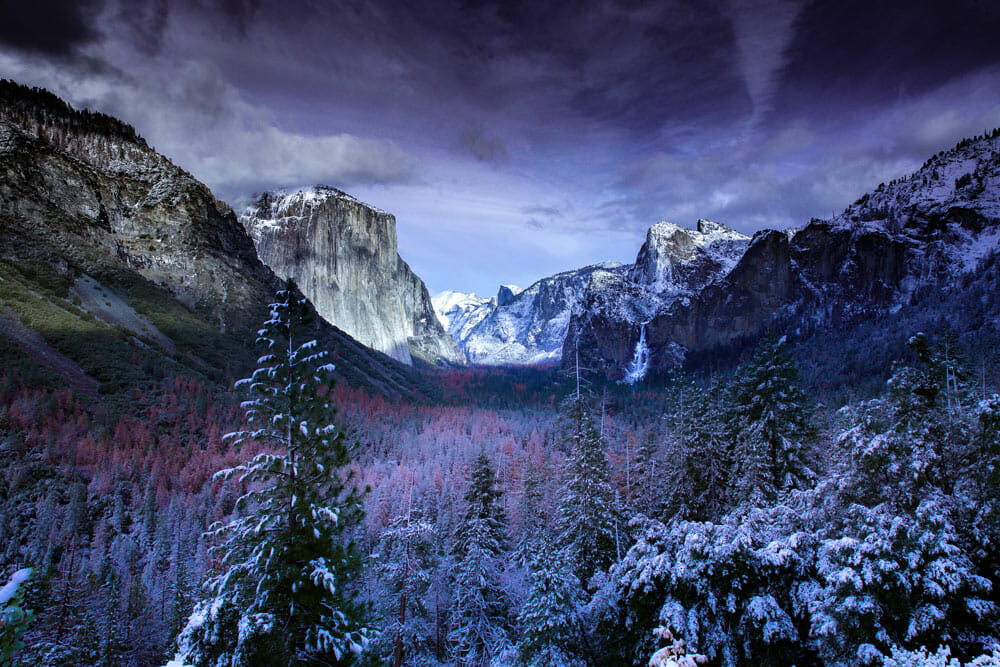 Seasonal Closures
A big thing you need to keep in mind when visiting any National Park is seasonal closures. The park service will close certain roads, campgrounds, and buildings throughout the year when they become icy or impassable. While it's not possible to predict exact closure dates we can look at past data to get an average of when roads will be closed. In Yosemite, the three main road closures to be aware of are:
Tioga Road (typically closed November – May)
Glacier Point (typically closed November – April or May)
Mariposa Grove (occasional closures in winter)
Tioga Road: Runs from the east entrance of Tioga Pass past the Tuolumne Meadows into Yosemite Valley. The road is closed every year due to snow and slippery conditions. The east end of Yosemite is the least visited area of the park. In fact, you won't even be able to get into the east entrance during the winter.
Glacier Point Road: Leads to a high viewpoint overlooking Yosemite Valley. Heavy snows and high altitude keeps this area impassable every winter.
Mariposa Grove Road: This is located on the far south end of the park right as you enter through Fish Camp. It is a short road that sidetracks off to the Mariposa Grove hiking trails. This road is not closed every year, only when weather is especially bad. Mariposa road closures will not prevent you from driving from the South Entrance into Yosemite Valley.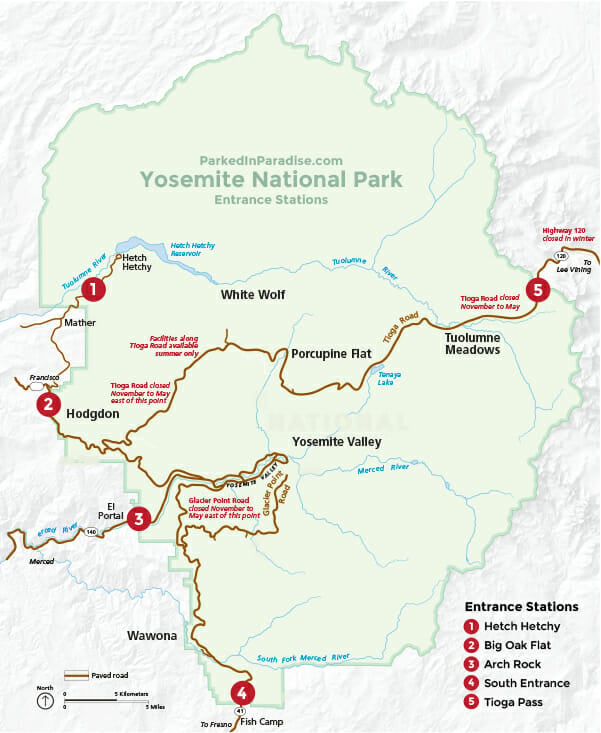 Getting To Yosemite
There are five park entrances to Yosemite National Park:
Hetch Hetchy Entrance (open year-round, limited hours in winter)
Big Oak Flat Entrance (open year-round)
Arch Rock Entrance (open year-round)
South Entrance (open year-round)
Tioga Pass Entrance (closed ~November-May)
1. Hetch Hetchy Entrance (West Side – Northernmost Entrance)
Perhaps the least visited entrance is Hetch Hetchy. It is the north most entrance on the west side of the park. While the entrance is open year round, the hours are limited during the winter to daylight only. There are no visitor centers or campgrounds with full services located here.
Drive highway 120 north past the Big Oak Flat Entrance Station
(Open in maps)
This is a remote entrance. Most visitors use Hetch Hetchy as a starting point for secluded hikes, fishing or backpacking. It's trails have the longest hiking season in the park and are filled with wildflowers and waterfalls.
RV and Trailer Restrictions
There is a max vehicle length of 25 feet on Hetch Hetchy road. There is also a max width (mirror to mirror) of 8 feet. If you have an RV or trailer use the Big Flat Oak or the Arch Rock Entrance instead!
Most Popular Destinations from the Hetch Hetchy Entrance:
2. Big Oak Flat Entrance (West Side)
Big Oak Flat and Arch Rock are the most popular entrances from the west side. You can get here directly from San Francisco which is only about 4 hours away.
Drive highway 120 east (Manteca) to get into Yosemite through the Big Oak Flat Entrance
(Open in maps)
The entrance is open year-round but chains might be required in winter. From Big Oak Flat you're looking at roughly a 45 minute drive into Yosemite Valley. There is a gas station located outside of the park in Groveland, about 25 miles from the entrance.
RV and Trailer Height Restrictions
Big Oak Flat road has a tunnel with a height restriction of 13 feet 8 inches to get into the valley and 10 feet 3 inches to get out.
That means if you bring a vehicle 12 feet tall on the way in, you'll have to exit the valley through either Arch Rock or the South Entrance. There is also a max vehicle length of 45 feet in the tunnel.
Popular Trails To Hike From Big Oak Flat in the White Wolf Area:
3. Arch Rock Entrance (West Side)
The Arch Rock Entrance is easily accessible if you're coming from the west. San Francisco is about 4 hours away from here. Entering through Arch Rock is the fastest way to get to Yosemite Valley from outside the park. It is about a 25 minute drive from point to point.
Take highway 140 east (Merced) to get to the Arch Rock Entrance
(Open in maps)
This entrance is open year-round but chains may be required in winter. The closest gas station is right outside the park in the small town of El Portal.
RV and Trailer Height Restrictions
El Portal road from the arch rock entrance has a tunnel with a height restriction of 12 feet 10 inches and a max vehicle length of 45 feet (single vehicle), 60 feet (combination vehicle), 35 feet (towed vehicle – hitch to bumper).
Most Popular Views Close to the Arch Rock Entrance:

4. South Entrance
The South Entrance to Yosemite National Park is open year-round and will be the closest way in if you're coming from San Diego (8 hours) or Los Angeles (6 hours).
Enter the South Entrance from highway 41 north (Fresno) into Yosemite.
(Open in maps)
From the South Entrance it is approximately a 1 hour drive to Yosemite Valley. You can stop to purchase gas at Fish Camp, right before entering the park.
The main visitor center from this end is Wawona. However, it is only open during the summer months. Throughout the winter, you can take the south entrance right into Yosemite valley and enjoy sights like Inspiration point along the way.
Chains may be required during the winter months depending on weather.
RV and Trailer Height Restrictions
The tunnel into Yosemite Valley from Wawona road has a max height of 10 feet 2 inches to get into the valley and 13 feet 6 inches to get out. There is a max vehicle length of 45 feet.
Most Popular Trails on the South End of Yosemite
Some of the most popular hikes and attractions on the south side of the park are:
5. Tioga Pass Entrance (East Side)
Tioga Pass is the only entrance located on the east side of Yosemite. You'll have easy access to the park from this direction if you're traveling from Reno (5 hours), Las Vegas (6 hours), or Death Valley (4 hours).
To get to the Tioga entrance take US 395 to Lee Vinning (gas station), then take Highway 120 west into Yosemite National Park.
(Open in maps)
The Tioga pass entrance is closed throughout the winter depending on snow conditions (often November-May) and most facilities on the Tioga road are closed in the winter as well.
The sheer size of Yosemite is hard to comprehend until you get there. If you're coming from the east side, it's important to know that the drive from Tioga Pass to Yosemite Valley is about 1hr 45min.
Make sure you leave yourself plenty of gas. The scenery offers breathtaking views, but facilities are far and few between. Cell phone service is spotty or non-existent during the drive.
RV and Trailer Advice
Tioga pass is a steep and winding mountain road. While there are no height restrictions, if you have a large vehicle or you are towing a trailer this is not an entrance to be taken lightly. Especially in bad weather.
Main tunnels within the park are restricted to vehicles under 45 feet and some roads such as Mariposa Grove and Glacier point further restrict these limits to under 25 and 30 feet respectively.
Be sure to use pull outs frequently to avoid overheating the vehicle. Know your towing capacity before you go. This pass ascends as much as 8% in some areas. There is no overnight parking on Tioga road after mid-October until the road re-opens in the spring.
Most Popular Trails on the East Side of Yosemite
There is one visitor center on this side of the park, Tuolumne Meadows. The most popular hikes and sights in this area are:
Entrance Fees
There is an entrance fee to get into Yosemite. For a car, pickup, RV or van the cost is $35 per vehicle for a 7 day pass. An annual pass to Yosemite costs $70 and there are further discounts for seniors, military, and residents with disabilities.
That said, we HIGHLY recommend purchasing an America the Beautiful National Parks Pass. The cost is $80 and gives you one year of entry to every National Park in the US!
This is a fantastic deal and will pay off in just 2-3 visits depending on the park.
Camping at Yosemite National Park
There are 13 paid campgrounds in Yosemite National Park. 7 of them require reservations and the rest are available on a first-come, first-serve basis.
Reservations are open up to 5 months in advance on the 15th of each month at 7am Pacific time. You can find campground reservation information here. From May through October, reservations will fill up on the first day available – sometimes within seconds!
When it comes down to it, reserving a campground in Yosemite is a little like winning the lottery. You'll want to set your calendar and have the browser ready the day they become available.
Campgrounds in Yosemite Valley
South West Yosemite Campgrounds
| Campgrounds | RV Max | Reservation Required? | # of Sites | Daily Fee |
| --- | --- | --- | --- | --- |
| Wawona | 35 ft/ 35 ft | April 8 - Oct 1 | 93 | $26 |
| Bridalveil Creek | 35 ft/ 24 ft | No | 110 | $18 |
Campgrounds in North West Yosemite
Central and East Yosemite Campgrounds
*Campground data obtained through NPS.gov updated 3/2019
First-come, First Serve Campgrounds
First come, first serve campsites are little easier to get. To claim a campsite, go to the destination of your choice and fill out a self-registration envelope. You can register multiple nights at a time and there is a maximum of 6 people per campsite.
During the busy season, you'll want to get there in the morning for any chance of getting a space. Have a backup plan ready in case the campsites are full.
Can You Take An RV Camping In Yosemite?
While you can take an RV, there are no RV hook-ups in Yosemite National Park. Most campgrounds limit RVs to 35 feet in length.
Electricity
None of the campsites in Yosemite have electric outlets.
Water
All of the campgrounds have water on tap except for Tamarack Flat, Porcupine Flat, and Tuolumne Meadows. Those campgrounds have creek water which you can boil.
Showers
There are no showers in any of the Yosemite campgrounds. The only showers available in the park are at Half Dome Village in Yosemite Valley.
Dump Stations
There are three dump stations in Yosemite: Upper Pines campground, Wawona campground, and Tuolumne Meadows campground. Upper pines is the only dump station that is open year-round.
Pets
Pets are allowed on-leash at all of the campgrounds except Camp 4 in Yosemite Valley.
Sleeping In Your Car
You are only allowed to sleep in your vehicle at a designated campground. There is no overnight parking anywhere else in the park.
Backpacking and Back Country Camping in Yosemite
The backpacking in Yosemite is endless and we could write more than a few articles on this subject. Over 95% of Yosemite is wilderness! There are 5 backcountry campgrounds at Yosemite that require a wilderness permit. These cost just $5 and are used to limit the number of people on the trails. The most popular back country trails like Half Dome and the John Muir trail require an extra application.
You can learn more about the back country wilderness permits here.
When Is The Best Time of Year To Camp In Yosemite?
There are only four campgrounds that are open year-round in Yosemite: Upper Pines, Camp 4, Wawona, Hodgdon The rest are open seasonally and the dates change every year depending on weather conditions.
We've analyzed the last 10 years of park statistics to give you an idea of when these campgrounds are most likely to be open. From this data we can draw a few key conclusions: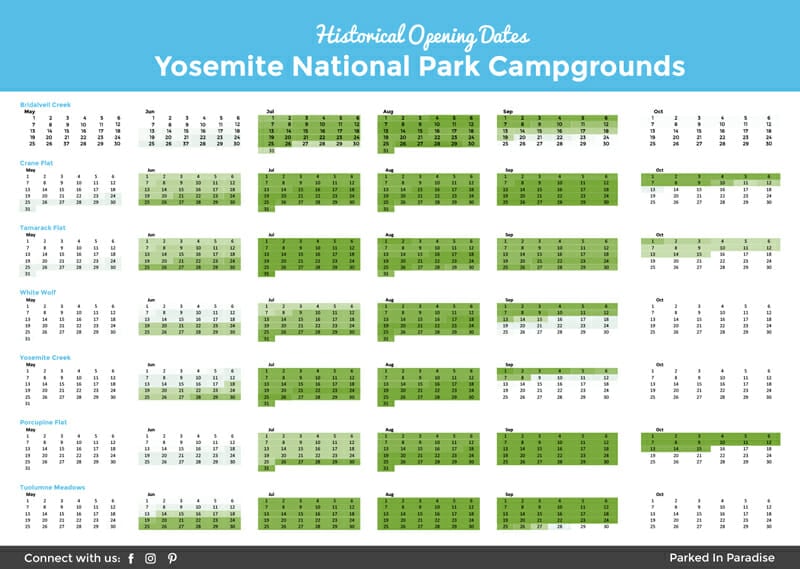 Upper Pines, Camp 4, Wawona and Hodgdon Meadow are open all year round
Lower Pines and North Pines are always open April – October
Bridalveil Creek and Yosemite creek have the shortest seasons (Mid June – September)
Yosemite creek is always the earliest to close (Early September)
In most years the campgrounds are all open by the end of June
Crane Flat and Tamarack have the longest seasons lasting into October
August is the best month to guarantee open campsites in Yosemite
July and September are the next best months for camping
Camping Outside of Yosemite
With the variability in available campsites it's always good to have a backup plan outside the park. If you are road tripping in an RV or motorhome you'll also want to camp outside the park because the logistics will be so much easier.
There are TONS of options for campgrounds, weather you want to stay somewhere private with every amenity, or on public lands. If camping is not for you, we recommend getting an Airbnb nearby.
Yosemite is surrounded by National Forest so there is a lot of opportunity to camp legally for free. We suggest using the website freecampsites.net for recommendations.
We're not going to list all of the different places to park your RV overnight near Yosemite. But we will give you some suggestions.
Camping Near The Big Oak Flat and Hetch Hetchy Entrance
There are 7 public campgrounds in the Stanislaus National Forest located right outside of Big Oak Flat. They are run by the National Forest Service where you can make reservations. These campgrounds are inexpensive and may have limited facilities. The closest town to the Big Oak Flat Entrance is Groveland.
Camping Near The Arch Rock Entrance
The Arch Rock Entrance has 6 public campgrounds nearby in the Sierra National Forest. You can see details and make reservations through the National Forest Service. The closest town to these campgrounds is Mariposa.
Camping Near The South Entrance
The South Entrance has 7 public campgrounds close by in the Sierra National Forest. Reservations can be made through the National Forest Service. Fish Camp is the closest town to these campsites and the South Entrance to the Park.
Camping Near The Tioga Pass Entrance
Near Tioga Pass there are 9 public campgrounds run by the National Forest Service. These campgrounds are seasonal because Tioga road is closed during the winter. All of these are high elevation campgrounds located in the Inyo National Forest. The closest nearby town is Lee Vining.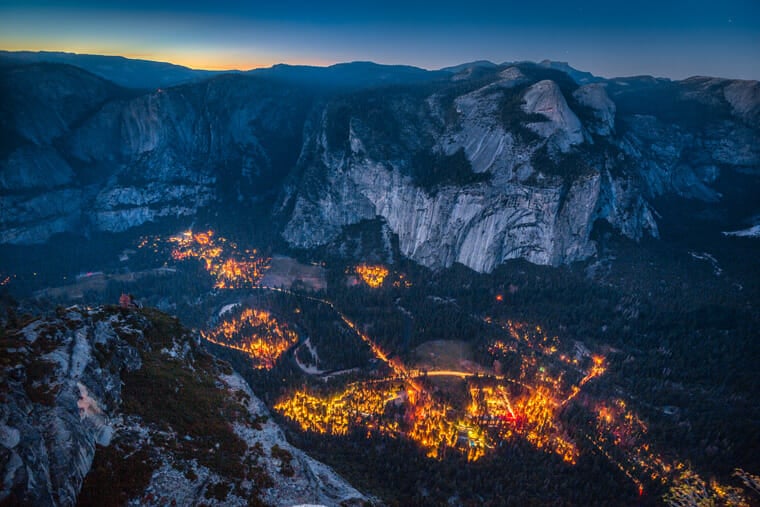 Hotels and Lodging In Yosemite
There are 9 Hotels, lodges and canvas tent cabins that can be booked inside of Yosemite. You can book these up to one year in advance and they fill up quickly! You can find out more information about all of these options and book accommodations here.
Taking Your Dog To Yosemite
Unfortunately like most National Parks nearly all trails are closed to dogs. While you can bring your pet to Yosemite, they're only allowed on paved paths and in the campgrounds. Dogs must be on a leash at all times and are not allowed on the shuttle buses or in any buildings.
There are just a few exceptions to the rule. Dogs are allowed on these Yosemite trails:
Wawona Meadow Loop
Chowchilla Mountain Road
Four mile, and 11 mile fire roads in Wawona
Carlon road trailhead to Hodgdon meadow
Big Oak Flat Road from Hodgdon Meadow to the Tuolumne Grove Parking Lot
All of these trails are short so don't expect to take your pet on a wild adventure. There is a dog kennel located in Yosemite valley that is open May – September. Pets must have all their vaccinations and space is limited.
We recommend either leaving your dog at home or finding a sitter before you enter the park. Personally, we like to use Rover.com when we travel.
Getting Around
Yosemite was the 5th most visited National Park in 2018. There are tunnels, winding roads and small parking lots throughout the area. Tire chains will also be required during the winter in the majority of the park.
If you choose to drive a personal vehicle, expect long lines and wait times especially during the peak summer season. The best advice is to arrive early, especially if you plan to drive.
Can You Take An RV or Travel Trailer To Yosemite?
Class B and Class C camper vans should have no problem navigating Yosemite. While it's possible to drive larger motor homes into the area, we don't recommend it. Tunnels will greatly restrict the height and length of your vehicle.
To get through the main tunnels on Big Oak Flat road and Wawona road you cannot drive anything taller than 10 feet 2 inches and 45 feet long.
If you plan to travel to Yosemite in an RV it is best to find a campground located outside the park and take a shuttle or bus in. The areas surrounding Yosemite are very friendly to public transportation. Take advantage of that and relax while the bus driver handles the winding roads.

Free Shuttle Services
There are a number of free shuttle services operated by the park that allow you to visit all of the most admired destinations.
Yosemite valley has a shuttle service that operates year round. The shuttle runs every 20-30 minutes on a loop through visitor centers, campgrounds and starting points for hikes.
The valley shuttle makes 19 stops and you can hop on at any point. In the popular months, you can expect long lines to get onto the shuttle so plan your route accordingly.
Seasonally, there are free shuttle services open to Mariposa Grove (near the South Entrance), the Yosemite ski and snowboard area, and Tuolumne Meadows on the East end.
Bus Services Into Yosemite
Included in your Yosemite entrance fee is access to the YARTS hikers buses. These buses run from outside the park to the visitor centers and trailheads inside; then back again.
If you don't already have a parks pass, bus tickets range from ~$15-$30 round trip.
You can catch a bus at the main station on Highway 140 year-round. In the summer, buses also run from Highway 120 East, Highway 120 North, and Highway 41 (Fresno). You can reserve and pre-purchase bus tickets here.
Fee-based Tours
There are four bus tours you can take beginning in Yosemite Valley. All of these are fee-based and run seasonally. If you're visiting Yosemite for just a few days, this is a great way to take in many parts of the park without excessive planning.
Valley Floor Tour (2 hours, year-round)
Glacier Point Tour (4 hours to Glacier Point and back)
Grand Tour (8 hours, Yosemite Valley, Glacier Point, Mariposa Grove)
Tuolumne Meadows (8 hours, Tuolumne Meadows and back)
These tours make stops at the most picturesque locations and give you cool facts along the way. They are great for people with limited mobility or those who want to drive through all the sights without the hassle of a car.
Auto Touring Yosemite
If you do choose to bring your own vehicle, one really fun and easy experience to have is listening to an auto tour during the drive. That's especially true if you're coming in through Tioga Pass which is a long route to the valley.
You can purchase an audio tour at the Yosemite bookstores and visitor centers. There are a few different tracks you can listen to depending on the routes you take. The tapes describe the geography and scenery you're looking at while you travel along.
Additional Resources
Yosemite is a big place with that offers something to everyone. It's impossible to cover all of the things to do and places of interest you can experience. If you're serious about getting the most out of your Yosemite visit here there are many books and guides to check out. Happy travels!