What Do I Need To Go Camping – The Complete Guide
By
on
This post may contain affiliate links. As an Amazon Associate, I earn from qualifying purchases. Please read my full disclosure.
A thorough guide on everything you need to prepare you for your next camping trip is here.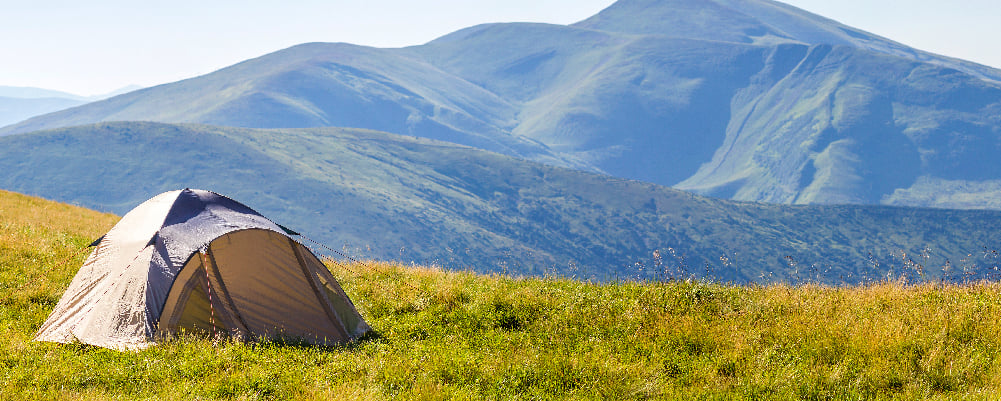 Camping is a hugely popular activity, with 41.76 million Americans having gone away at least once in 2019. One thing that can ruin a camping trip quicker than you can say "s'mores" is when you realize, only too late, that you've forgotten to pack something you'll definitely need.
With so much to remember and so little space for luggage, it can be hard to even know what you should be taking, or if you're packing things that are unnecessary just for the sake of it.
To save you the stress of figuring out what you should pack, I've created a camping checklist that contains every essential you need to take with you on your next trip. From the absolute essentials to specifics about clothing and campfire must-haves, I've got you covered.
So, without further ado, let's start rattling them off! You might want to have a pen and paper to hand…
Essential Camping Gear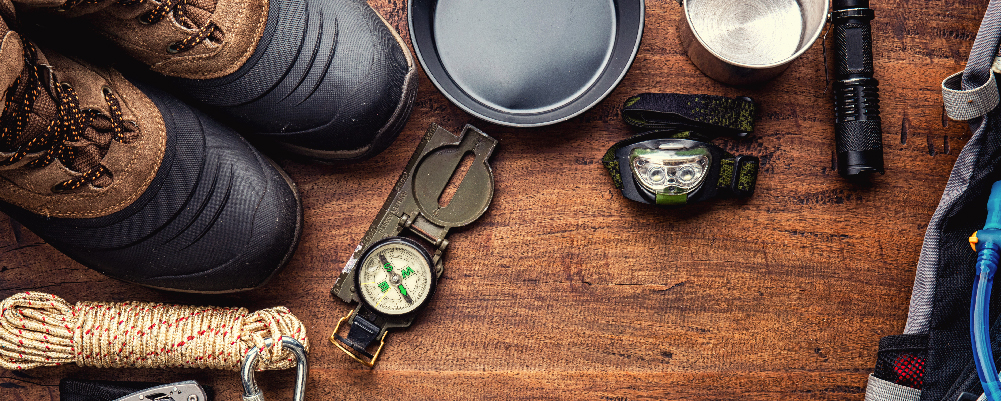 There's some stuff that you can live without when you're camping, so if you forget to pack it, it's not the end of the world. The same can't be said for the following equipment, as each item is an essential piece of gear that you'll need for a successful camping trip.
Tent
Sleeping under the stars might seem like a romantic idea, but in reality there's the weather, outdoor bugs, and noise around you to consider which kind of interrupts the fantasy.
Unless you fancy waking up soaked or covered in bites (if you could manage to get any sleep at all), it's worth investing in a quality tent to go camping in. It's where you'll spend your time when you're not off exploring the local trails or seeing the sights, so if you try to cram yourself into a tent that simply isn't big enough then you'll soon start to regret it.
For more advice on picking the right tent for your needs, check out this article on how to choose a tent for camping.
Sleeping Bag
Again, if you want to get a good night's sleep which is difficult enough already when you're not in your own bed, your sleeping bag is another essential that you won't want to forget.
There are different types of sleeping bags that are designed for use in different seasons, so make sure you've got the right one for your needs before you set off.
Camping Chairs
Even if you're going camping alone, camping chairs are the next essential item on our checklist.
With a chair under both arms, you'll be able to offer a seat to any friendly campsite neighbors or you set them up outside your tent to make it look like you're with other people, as unfortunately, it's not always best to advertise the fact that you're camping alone.
If you're camping with friends or family, try to remember to bring a chair for each person. Trust me when I say it's no fun arguing over who gets to sit in the comfy seat!
Camp Table
Having a solid surface to store things on or to gather around during mealtimes is also useful when you're camping, so remember to take some type of camping table with you.
Think about the size of the group you're going with when you're choosing a camping table, as there's no point trying to fit five friends around a table for two.
You shouldn't need to worry about having enough space in your car, as most camping tables can be folded away for convenience which makes them easier to transport and store.
Lighting
Lighting is another important consideration for camping, as there's only the light of the moon and the stars to guide you at night. With potential fire pits that haven't cooled fully or belongings left lying about in the grass, campsites are full of trip hazards and dangers.
First, think about the type of lighting you'll want after dark. Will a portable lamp do the trick, or do you need something a bit brighter to light the area around you? Just keep in mind your tent neighbors when choosing, as a light that's too bright could keep other campers awake.
You might also want to consider packing some head torches or flashlights so you can travel to the toilets at night easily without disturbing the people around you.
Stove
It's all well and good roasting marshmallows over an open fire, but when it comes to cooking proper meals this can present a few problems. To save burning the edges of your food, it's a good idea to take a camping stove with you.
There are plenty of portable stoves available for a reasonable price, and you'll be able to use it for years to come if looked after properly. Did somebody say "annual camping cookout?"
Cooler
Nothing beats taking a sip of a cold beer that's fresh out of the fridge. With limited or no fridge space available when you're camping, the next best thing is to get a cooler in which you can keep all your drinks so they're not lukewarm when you reach for one.
Pots, Plates, Cups, and Sporks
Finger food such as burgers and hot dogs are great options for camping, but you'll want the option to put together a few decent meals if your trip is planned for more than a few days.
To do this, you'll need to remember to pack some cooking pots, utensils, and cutlery. Plastic cups and plates will save you on washing up duties, but they're not a very sustainable option. Choose paper over plastic if you can and always dispose of them responsibly.
Clothing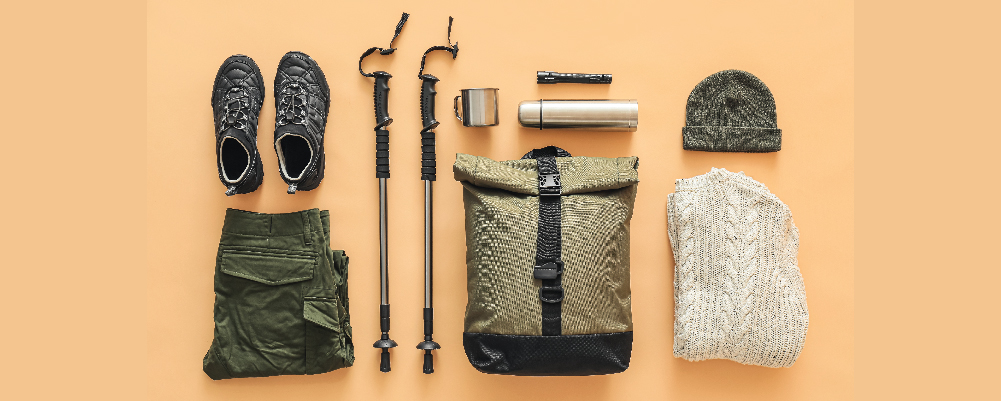 It can be hard to know exactly what wardrobe to pack for a camping trip, so here's a rundown of some of the key pieces of clothes you'll want to take with you.
Walking Boots
With so much nature around you, walking or hiking the local trails is a popular pastime for campers. It's therefore important to make sure you pack proper footwear to avoid blisters forming and ruining the rest of your trip.
Walking boots are great because they're ideal for outdoor activities and they'll protect your feet from the elements no matter what the weather is like. Just make sure you get the sizing right for them, as having walking boots that don't fit is as bad as no walking boots at all!
Warm Socks
Temperatures can drop quite low in the evenings when there's no central heating to keep you warm, but packing a few pairs of cozy socks will keep your toes feeling nice and toasty.
Warm Coat
Similarly, when you're sitting outside in the evenings, there's only so close you can get to the campfire before you end up accidentally setting yourself on fire.
Taking a warm coat with you to shield you from the wind will mean you can stay a safe distance from the fire without spending the night shivering.
Rain Jacket
When it's raining, there's nothing worse than getting soaked through and not being able to dry off. This is hard to do when you're camping, so a raincoat will do a great job at keeping you and your clothes nice and dry underneath it as the rain lashes down.
Gloves
Gloves are great for when it's cold, but they can also come in handy when carrying out camping chores that could damage your hand. Handling wood, for example, will be safer if you have gloves on as you're less likely to get a splinter, so it's worth having a pair to hand.
Underwear
People often joke about packing twice the amount of underwear that you could ever possibly need when you go away, but this is actually sound advice when it comes to camping.
Seeing as there will be limited options for laundry when you're camping, it's better to over-prepare than to under prepare and regret it later when you're wearing your undies inside out.
What About Clothing For Warmer Weather?
The good news is that summer clothes take up less space than winter clothes, so throwing a few lighter garments into your luggage in the hopes that you'll get to see some sun won't hurt you. In the event that the sun does make an appearance, you'll be grateful to have:
A few short-sleeved tops
A couple of shorts and/or skirts
A dress and/or tunic
Sandals or any type of breathable shoe
A hat or some form of sun protection for your head and face
Sunglasses
Food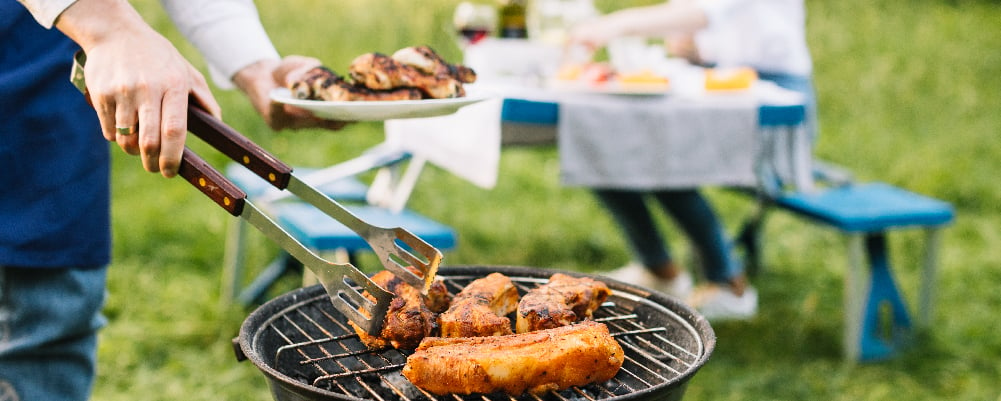 When you're camping out in the woods or at a secluded campsite without many local takeaway options nearby, it'll be up to you to cook your own food while you're away. So, here are some of the things that you need to make sure you pack to take with you.
Portable Fridge
Firstly, you'll need to think about whether or not you're taking a portable fridge with you. This will inform the rest of your decisions when it comes to which types of food you should pack.
If you're going away on a camping trip that's due to last more than a few days, we would definitely recommend picking up a portable fridge to take with you so you can enjoy some good food whilst you're enjoying your time in nature.
Canned Food
Seeing as you'll have limited room in your portable fridge if you choose to take one with you at all, canned food is a great option to stock up on before you go camping.
It's convenient, easy to cook, and has a long shelf life without needing to be kept chilled. You can even save the cans after washing them out and repurpose them for arts and crafts.
If you're concerned about health – don't be. These days, canned food is much healthier to begin with, but if you're looking for some inspiration then check out this article on the 30 healthiest canned foods you should consider picking up in time for your next trip.
Dry Snacks
Thinking along the same lines, it's worth stocking up on dry snacks for when you might not have access to the treats you're used to topping up meals with throughout the day.
To save those 'hanger' pains setting in, choose high protein snacks or foods designed to give you energy, especially if you enjoy taking long hikes or nature walks during your trip.
Tea and Coffee
You could take me as far away from the rest of civilization as you wanted and I would still find a way to make sure I had my morning coffee. Does that sound like anyone you know?
If it does, DO NOT forget to pack the coffee, tea, sugar, and whatever else you put in your hot drinks when you're at home! When you can't go to Starbucks, bring the Starbucks to you.
Creamer
Something that's surprisingly overlooked and often forgotten is creamer, despite almost biblical efforts to remember to pack your coffee. This might not matter too much if you're taking a fridge for milk storage, but otherwise, creamer is about to be your new best friend.
Additional Essentials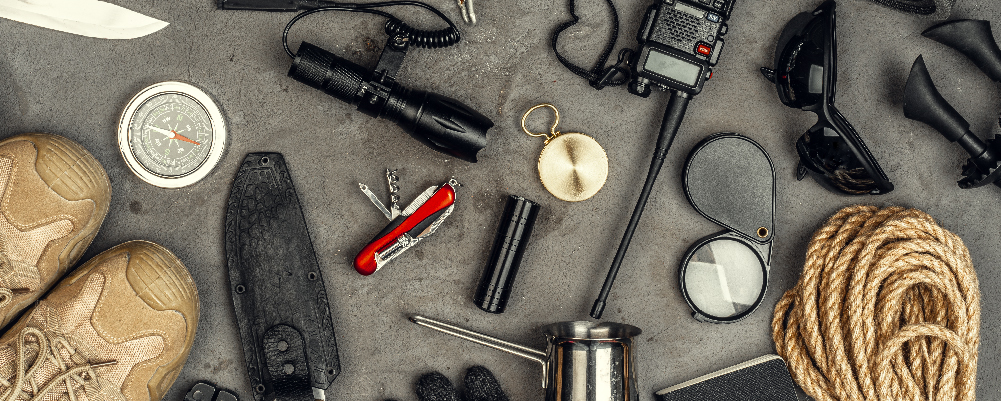 Back to the essentials – once again, everything listed here is something I would definitely recommend taking with you on a camping trip. You might think you won't need something, but you can guarantee that the one time you don't bother, you'll wish you did.
Bug Spray
Being bitten by bugs is one of the more pestilent parts of spending time in the great outdoors, as nature has a way of reminding you that often with beauty comes pain. In this case, pain is in the form of itchy, irritable bite marks that are almost impossible to ignore.
Luckily, modern bug sprays can be really effective at alleviating the soreness that bite marks can cause (definitely not the result of scratching at them incessantly despite knowing that will only make them worse…) so it's worth remembering to pack some when you're off camping.
Toiletries
Campsites will often have communal bathrooms where you can go to freshen up after a day in the open fields followed by a night spent in a tent, so you'll need to take some toiletries.
You can find cute little wash bags or small toiletries bags which means everything can be stored together rather than having it spread out across the other bags you brought with you. The core toiletries include soap, shampoo, conditioner, toothpaste, and SPF, among others.
If you happen to spend the night at a campground that does not have restrooms, you pack pack a portable toilet.
First-Aid Kit
Sometimes camping accidents happen, so it's always better to be prepared in case someone needs attention while you're on your camping trip, no matter how minor turns out.
A good first-aid kit will include the following items:
Bandages in various different sizes
Gauze roll or gauze pads in various sizes
Antiseptic creams
Sterile wipes and solutions
Tweezers
Scissors
Safety pins
A small knife
After-sun relief
Antihistamines to treat an allergic reaction
Anti-diarrhea medication
Eye drops
Hand sanitizer
You don't have to go out and buy all this individually if you don't want to, as there are plenty of first-aid kits available that are already made up, such as this EVERLIT survival first-aid kit.
Maps
Google maps may have taken over these days, but nothing beats having a good, old-fashioned paper map to consult when you're camping.
You can use maps to plan routes, journeys, trails, or to find the nearest store for supplies, so you should at least update your apps so the maps they show you are current and up to date.
Our favorite way to plan road trips is with The Dyrt Pro Trip Planner. The app allows you to add waypoints and destinations to plan your route. It's also helpful for finding free campsites along the way.
Electronics and USB Chargers
Escaping to nature doesn't necessarily mean escaping the responsibilities of life back home, and there are a number of reasons why going off the grid completely is impractical for most people these days.
In order to keep your electronics charged so you can stay connected, remember to take all the necessary charging equipment including USB cables and plugs.
Portable Power Banks
When there's no mains power nearby, relying on the battery life from one charge (taking into account any battery you drained during the journey) means your electronics won't last.
Luckily, there are plenty of affordable portable chargers for keeping your devices in juice, as well as some slightly pricier but also more powerful options, like this Jackery Portable Power Station which is perfect for outdoor camping.
Prepare Passports/Visas if Traveling Abroad
No one wants to be running around on the morning they're supposed to be traveling, trying desperately to locate their passports or visas that are needed when you're going abroad.
However, it is essential that you do as these documents are a legal requirement when you're traveling to another country. We recommend packing these a few days early, just to be safe.
Water/Snacks for the Journey
Although you should try and ration your main food supplies so they last you at least until you arrive at your destination, having water and snacks for the journey will make the whole experience a lot more enjoyable.
Given the traveling part, maybe go for more snacks than water as who knows when you'll next get the opportunity for a toilet break!
Mugs/Cups
There are so many different camping cups and mugs available these days that it can be hard to choose, but there are some great examples on this list of recommendations.
From simple, classic cups to insulated, double-vacuum flasks, there's something to suit everyone and every type of drink, whether that's hot coffee or a sneaky brandy.
Dog Food and Toys if You're Taking Your Dog With You
Lots of families couldn't bear the thought of leaving their dogs in kennels, but camping is one of the few holidays where your dog is most likely able to come with you!
If your campsite does allow dogs, don't forget to pack for them like you would for your own needs. Food and treats are essentials, as are a few of their favorite toys to keep them happy and comforted during the journey as well as entertained while you're away.
Books/Other Entertainment
It's not always sunshine and nature walks when you're camping, so packing some other forms of entertainment will keep you from becoming too bored if your plans don't work out.
Books are the ideal companions for camping, and there's something idyllic about reading in a tent where you can hear the rain hammering down above your head. If books aren't your thing, then think about taking something like a pack of cards or your favorite board game.
Sunscreen
There might not be any nearby stores or supermarkets depending on where your campsite is located, so if the weather takes a turn for the better and you're not prepared, you could end up stuck hiding in the shade or else getting caught with sunburn.
No matter what the weather report is saying or what it currently looks like, it's a good idea to pack some sunscreen so you can enjoy any good weather that does come your way.
Sunglasses
In order to take in the beauty around you, you'll need to be able to see through the sun's glare. Pack a pair of sunglasses and you'll be able to enjoy your camping trip squint-free!
Campfire Essentials

Campfires are a time-honored tradition amongst campers, so if the campsite you're heading to allows them, it pays to be prepared with some of the most important campfire essentials.
Not only will this make it easy when you come to start your fire, but you can also be sure that you're going about it in a safe way, as fire is incredibly dangerous if left unsupervised.
Dispersed camping is legal in a number of places, but you should always be especially cautious when starting fires in wild areas.
How to Start a Fire
Collect Wood
Make sure to use a mix of small twigs (tinder), small sticks (kindling), and larger pieces of wood (firewood) to build a high-burning fire. Not too big though, or the wood won't burn completely and you'll leave charred chunks of it behind.
Build the Fire's Foundation
There are three ways to build your campfire. The first is called the cone, which starts with a mound of kindling, a few loose handfuls of tinder, and then three vertically placed pieces of firewood after the fire is already burning strongly and giving off some heat. The second option is the log cabin, which is when you build a small tower of firewood by placing three logs next to each other leaving some breathing room between them, alternating each layer by turning them 90 degrees. Add some kindling and tinder around the base and on top of the structure, again making sure there is room for oxygen to travel. Thirdly, there's the upside-down pyramid, which starts with four big logs in a row to create the base. Turn the logs by 90 degrees and add another layer of slightly smaller logs lined up in a row. Repeat this step until you have a structure that looks like a pyramid on its head
Light the Fire
Using a match or lighter (or two dry twigs rubbed together if you can), set fire to the tinder. You may find it useful to pack some firelighters which are designed to ignite in a flash.Blow gently at the base where the tinder has caught. This will increase the air circulation so that more oxygen can reach the fire and fan the flames. It will continue to grow from here, so continue to move burning embers to the center until they burn down to white ash.
Extinguish It
More importantly than building a fire is knowing how to safely extinguish it. The campsite authorities may have their own recommendations, but the general method of extinguishing a campfire is to pour water on it from a safe distance so as not to get scalded by steam.Agitate the ashes by stirring them with and add more water, then repeat until the ashes are cool enough to touch. Don't just dump a load of dirt or sand on top, as the trapped heat could cause a wildfire to spark if they're later uncovered again before they've fully cooled.
Containment
Campsites that allow you to build a fire will usually have designated areas for this, and most will have some variation of a containment or fire ring to reduce the chances of it spreading.
It's worth taking your own campfire containment with you, however, on the off chance there aren't any at the site. Always check with the campsite rules to make sure that fires are actually permitted. If they are, assess the land and only place the containment in areas that are away from bushes and dry patches of land, where one small spark could start a wildfire.
A Lighter
Look, let's not kid ourselves. You're probably not going to be able to start a fire by rubbing a couple of dry twigs together. Even in the movies that stuff hardly ever works, so it's better to be prepared and to take a lighter with you when you're next off camping.
It might be worth picking up some firelighters as well, as these can help your fire get going even sooner as they're quick to catch and will fan the flames over the wood with more force.
Grill Rack
Although more campsites are starting to offer those staying there the use of communal amenities, when it comes to grill racks, it's better to have your own. Who knows what was being cooked on that thing before you arrived, or how well it was cleaned up after dinner?
Often available at affordable prices, a grill rack will turn you into the campfire cooking king or queen and you'll be able to whip up delicious meals with no problem.
Marshmallow/Hot Dog Roasting Forks
Toasting marshmallows around the campfire is one of those things that has become synonymous with camping trips, as is tucking into a good burger or hot dog.
Roasting forks make both of these traditions much easier than it would be to roast food over the fire with flimsy, wooden skewers, which can easily catch as they're held in the flames.
Cast Iron Skillet
A cast-iron skillet is the ideal choice of weapon for cooking over an open flame due to its near-indestructible material that even the hottest of fires couldn't ruin.
They're a favorite in professional kitchens and that performance translates to camping. You'll achieve excellent flavor with a little bit of seasoning, and cleaning is even easier.
Simply wipe out the inside of the pan using a damp cloth, and voila! No more wasting water when you're washing up your dinner dishes.
Foil
Tinfoil is the unsung hero of campsite cooking. These simple sheets of aluminum can be used to make quick, easy meals or to keep cooked food covered so it stays fresher for longer. Foil is hugely versatile, and the list of things you can make using it is just as long.
From fish and vegetables to a jacket potato with baked beans and cheese on top, just throw a few ingredients into a makeshift foil packet or pouch and place it in the hot coals until the contents are fully cooked. Even better, there's nothing to wash up after you've eaten!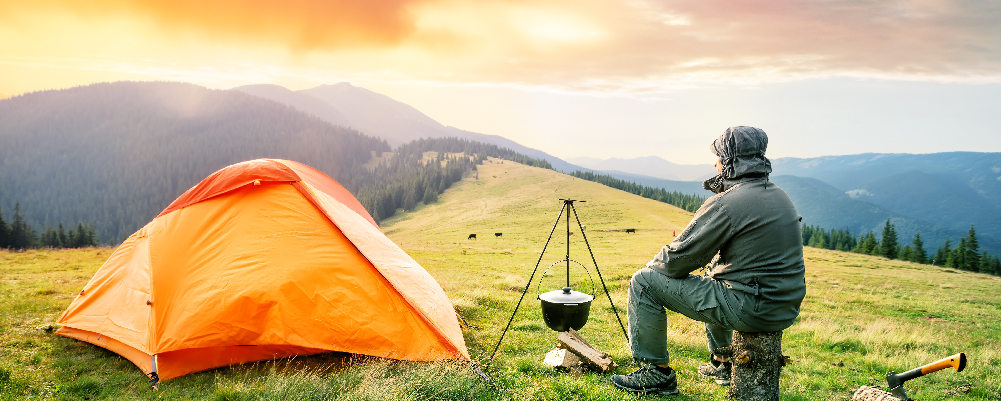 That's A Wrap!
I've covered everything I would personally recommend for camping, and I hope you've found this article and checklist of what you need to take with you helpful.
One good tip is to write out a checklist of things you want to take with you (or print off the lists we've put together for you!) and tick them off as you load them into the car, so that way you'll be able to see if you've forgotten to pack something.
From having no idea to all the right gear, you should now be ready to pack for your next camping trip, feeling confident that there's nothing you could have possibly missed this time.
Happy camping!