The Best Electric Coolers For Family Car Trips
By
on
This post may contain affiliate links. As an Amazon Associate, I earn from qualifying purchases. Please read my full disclosure.
Taking a long family car trip is the perfect way to spend a summer vacation. Whether you're camping, going on a scenic drive, or visiting long distance relatives, nothing beats traveling with the comforts of home.
The best way to save money during a road trip is to pack your own food.
Electric coolers allow you to pack sandwiches and snacks at home, then keep them cold for days or even weeks while you travel.
What is an electric cooler?
An electric cooler acts as a portable refrigerator or freezer when plugged in.
When there is no power available, the insulated design keeps food cold like a large camping cooler.
Portable refrigerator
Portable freezer
Insulated cooler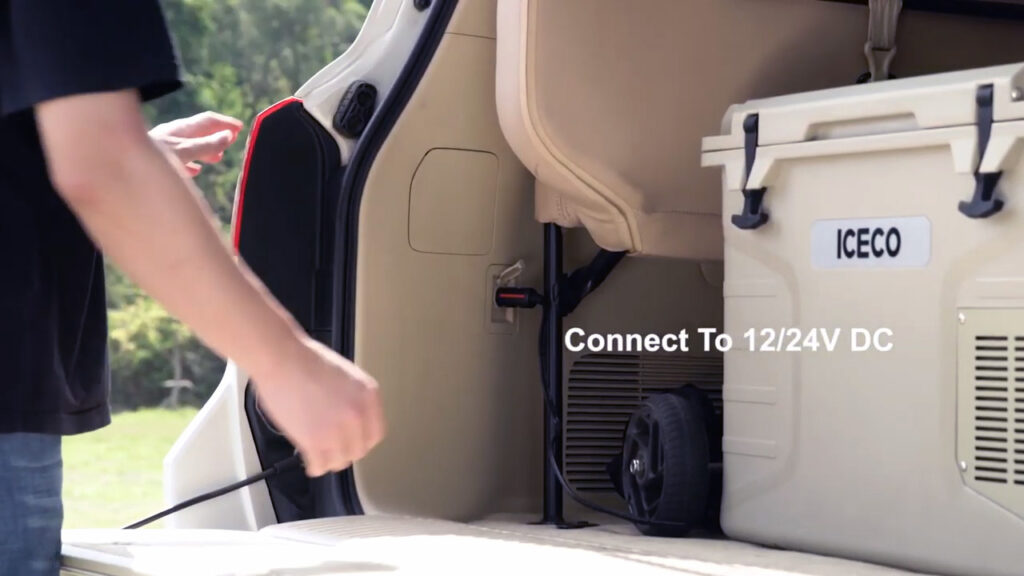 How to power an electric cooler
Electric coolers are perfect for car trips because the best designs can be operated using either AC (alternating current) or DC (direct current) electricity.
That means you can plug them into a standard household wall socket, or with a 12-volt outlet which can be found in your vehicle.
Another popular way to power electric coolers is with a portable power station like a solar generator.
When there is no power available the unit can be used as an insulated cooler.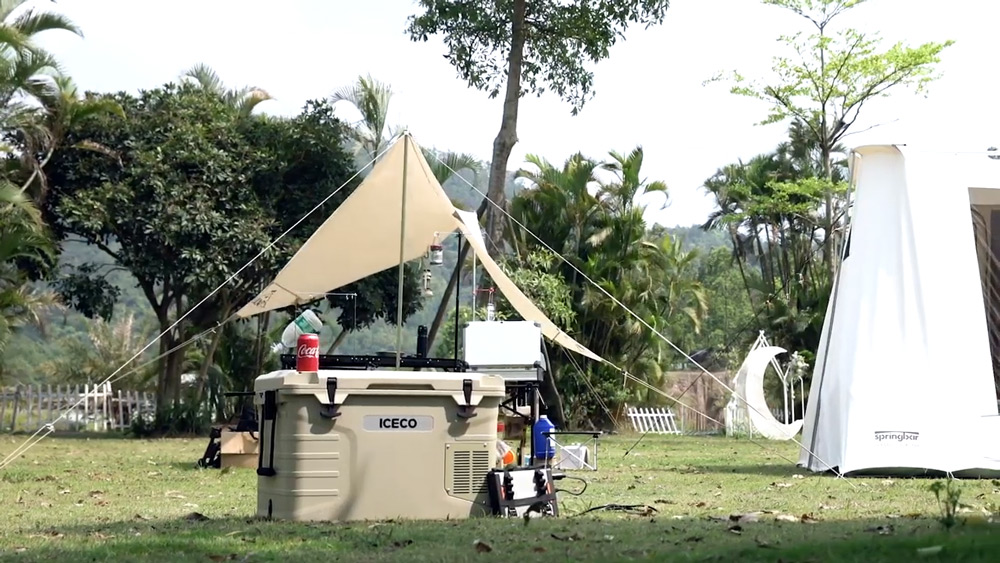 Why Use An Electric Cooler?
3-in-1 coolers are perfect for long family car trips because you can keep them powered and cold while driving, then use them as a cooler when you arrive at your destination.
For multi-day trips, you can roll them into a hotel room or campsite and they are capable of keeping your food fresh for days or weeks at a time.
They also make a great secondary refrigerator for your home like during backyard BBQs or hanging out by the pool.
Car travel
Campsites
Beaches
Fishing trips
Backup refrigerator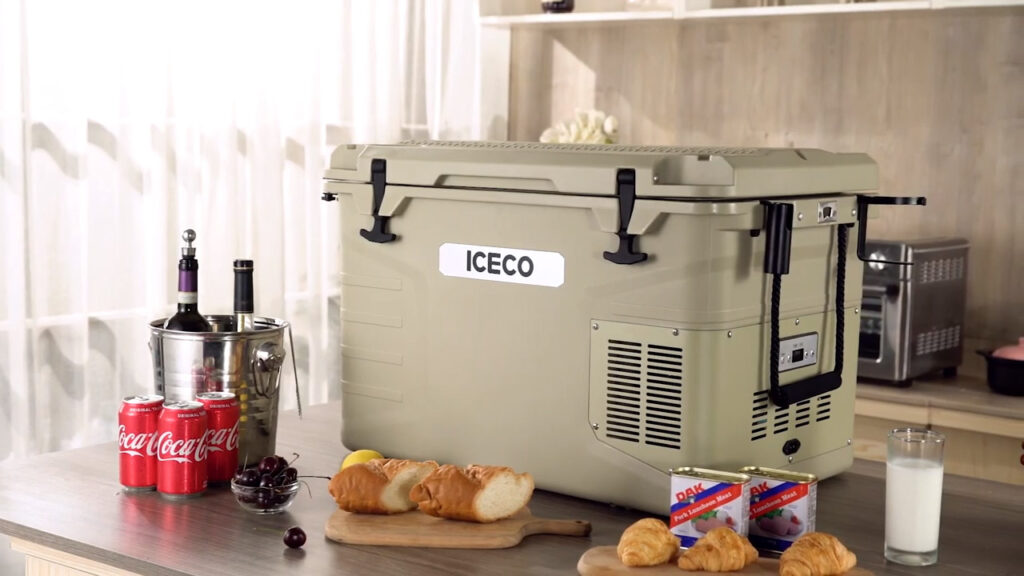 Electric Coolers VS Portable Refrigerators
Many home owners and campers enjoy the convenience of a portable refrigerator or freezer. But there are a few key differences that make an electric cooler better for car trips.
Electric coolers are designed for outdoor use
The motors are engineered to withstand extreme temperatures and constant vibrations that take place during a long drive.
Not all portable refrigerators can handle being tipped, jerked and jostled around. Over time their parts will inevitably wear out and you'll be stuck with some costly repairs.
3-in-1 coolers are energy efficient and designed to run off 12-volt power
A standard dorm refrigerator in an energy hog compared to a 3-in-1 cooler. That's because they lack the thick insulation of a car cooler.
The best electric coolers use a rotomolded design which is common in high-end camping coolers like the Yeti or RTIC. So even without power they can keep ice frozen for days at a time.
Higher insulation means that it takes less energy to keep the fridge cold over long periods of time. And it's less likely to lose the cool air when unplugged.
In addition, electric coolers for cars can use 12V power that you would find in your vehicle. Because of this, they can operate with as little as 60W of power during travel.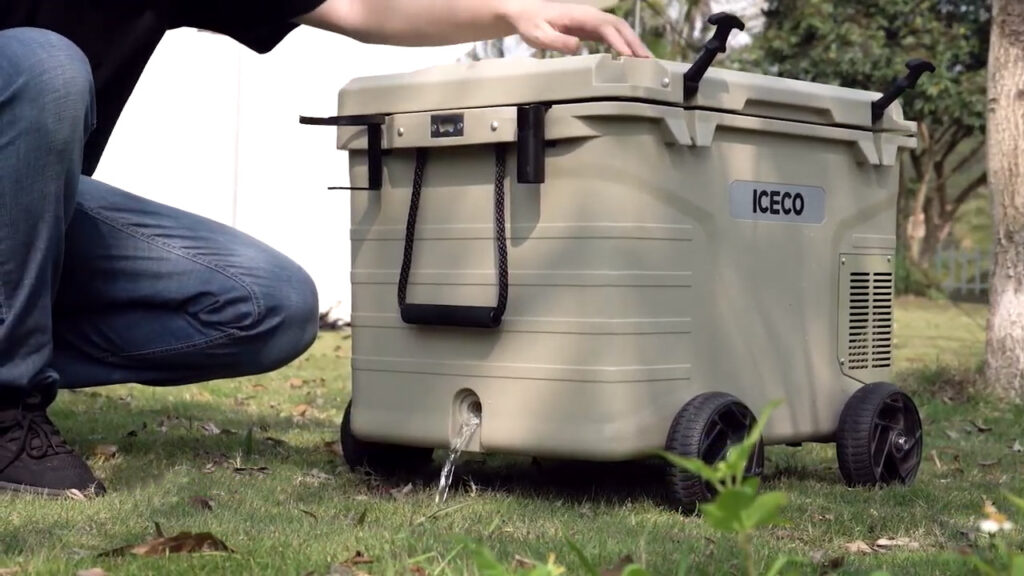 They are easier to transport and clean
The best electric coolers come with thick grab handles that make them easy to transport from your car to your destination.
Some designs like the ICECO JP series even come with wheels so one person can easily move an entire party's worth of food.
You won't find a drain plugs in a portable refrigerator. But electric coolers come with them built-in so you can quickly get rid of any excess liquid that may have spilled or melted when the unit was not powered.
Electric Coolers VS Camping Coolers
When it comes to large camping coolers, electric coolers offer many of the same upsides. The best designs have rotomolded construction for high insulation. They are also easy to transport because of the large handles.
The smooth interior with drain plugs makes them easy to wash out, and large models come with wire baskets to help keep your food organized.
Accessories To Look For
Each electric cooler is going to come with its own unique accessories, and you probably won't find all of them in one model. But a few features to look for include:
Wheels for easy transportation
Large grab handles
Flat top for extra seating
Wire rack for organization
Cup holders
Built-in bottle openers
Bear-proof locking mechanism
Sturdy hinges and latches
High insulation (roto molded designs are best!)
Easy temperature controls
Battery protection settings
Power cord accessories
Energy-efficient motor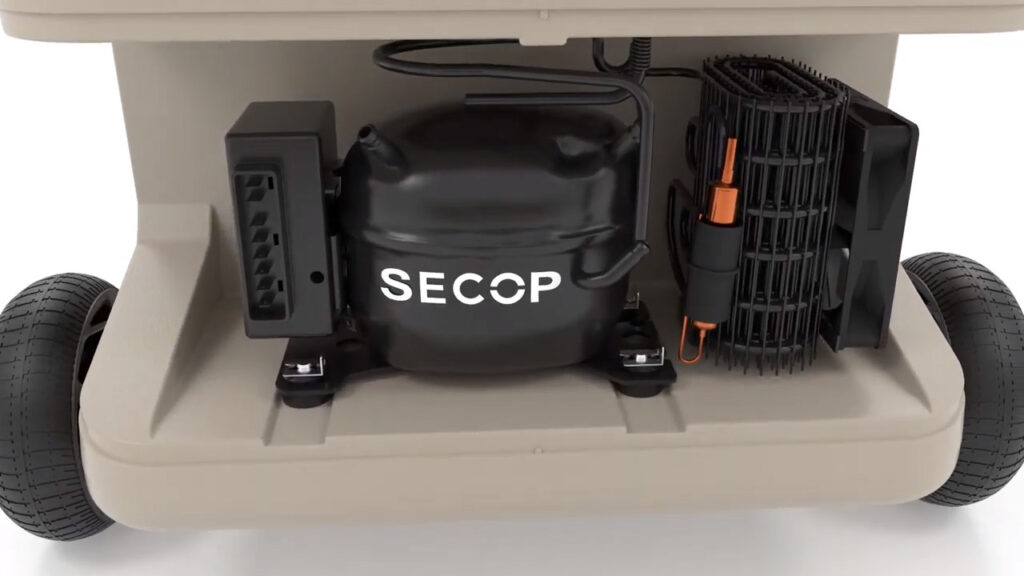 Downsides To 3-in-1 Coolers
There are a lot of things that make 3-in-1 coolers great, but there are also a few downsides which aren't for everyone.
For one, these coolers are much heavier than your typical cooler. That's because they have a motor built-in which significantly adds to the item weight. If you purchase an electric cooler with wheels and sturdy handles, that will eliminate much of the transportation problems but it's still something to keep in mind.
There is also less interior space than you would find in a camping cooler. The motor does take up a significant portion of the unit so you won't be able to store as many drinks as you would in a large cooler.
When purchasing a 3-in-1 cooler, you should always pay attention to the interior volume which is often measured in quarts. That will give you the best idea of how many drinks it can hold.
The Best Electric Coolers For Cars Reviewed
Our Top Choice: ICECO JP60 Pro
One of our favorite electric cooler designs is the ICECO JP60 Pro. This cooler has a 62-quart capacity and can cool down to 0°F which means it can be used as a refrigerator or freezer.
The 3-in-1 design has all of our bucket-list accessories including a wire rack for organization, lots of interior space, sturdy wheels, and large grab handles for transport.
The cooler is also made with a rotomolded design so it can keep food cold in the hottest of temperatures. And it has 3-levels of battery protection so you'll never need to worry about damaging the unit.
Unlike some other coolers we've seen, this one comes with some cool extras like a cutting board, cup holder, and built-in ruler for measuring fish during your lake trip.
The ICECO JP60Pro is currently launching on INDIEGOGO
Portable Fridge Built For Overlanding: ARB
The ARB portable refrigerator was designed with the overlanding community in mind.
While it doesn't come with some of the easy transportation features of the ICECO (wheels and longer carry handles) it was designed with the most extreme conditions in mind.
This 3-in-1 cooler has a stainless steel design and fully weatherproof exterior. The temperature control touchpad is conveniently tucked under the lid so it won't be accidentally bumped or reset during transport.
Weighing 70 pounds, this fridge has a 63-quart capacity and works with 12/24V DC or 100-240V AC power.
Budget Friendly Design: Costway
If you're traveling on a budget, the Costway car refrigerator makes a great choice. This unit comes with all of the basic features you would hope to find in a travel refrigerator, but it is lacking in insulation.
This unit will not keep your food cold for extended periods of time when unplugged, but it will work well for the long drives.
With a 55-quart capacity, this fridge was designed with two separate compartments including a refrigeration area and a freezing area (although there is no dual temperature control).
Smaller Designs and Alternatives
Smaller families, solo travelers, or groups going on shorter trips may benefit from a smaller electric cooler. For that, we recommend the ICECO JP 44.3QT.
This electric cooler comes with many of the same features as its older brother but with a smaller footprint to take up less space and a lighter design.
If a 3-in-1 cooler is outside of your budget, it may be worth considering a large camping cooler for your family. The Titan Roto Cooler 55 is our favorite when it comes to a combination of low price and unique features.
That's A Wrap!
A 3in1 electric cooler is the perfect companion for a family road trip. These coolers can be powered with your car and will keep ice cold for extended periods of time when unplugged.