Best Pop Up Campers For Small Vehicles
By
on
This post may contain affiliate links. As an Amazon Associate, I earn from qualifying purchases. Please read my full disclosure.
Pop up campers fold down small and make a great camping companion. They allow you to sleep comfortably off the ground but are also lightweight and easy to tow.
A popup camper is a step up from sleeping in a regular tent. They have amenities like seating, tables, compact kitchens or even bathrooms depending on the model.
The aerodynamic design will also save you major gas mileage compared to a larger RV.
Small camper trailers can be towed with nearly any vehicle: an SUV, truck or even your compact car!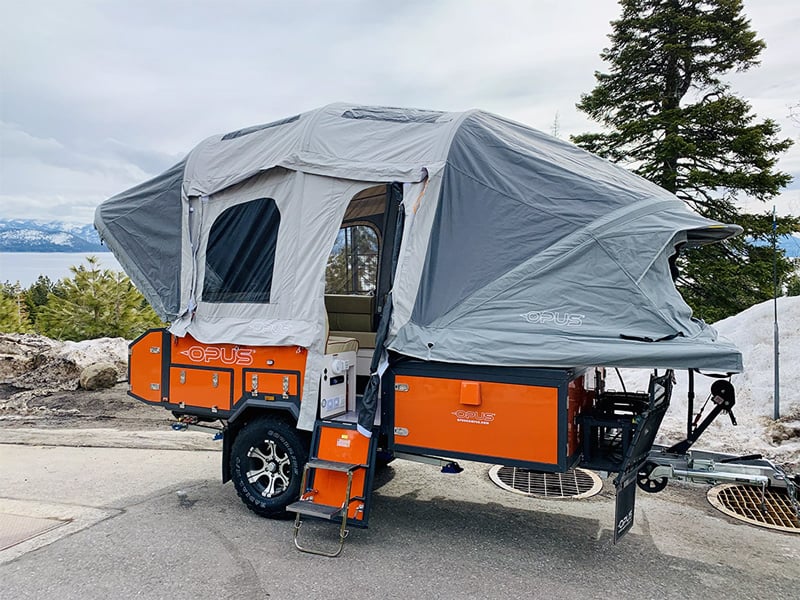 What is a popup camper?
A popup camper expands for camping and collapses into a lightweight trailer for transportation. This unique design means they are especially aerodynamic and towable.
You can recognize a collapsed popup camper because they look short, flat, and wide. At the campground they resemble fancy tent or small trailer.
How much do pop-up campers weigh?
Pop up campers can weigh up to 3000 pounds. But the average weight is between 1,800 and 2,000 pounds.
Small pop up campers weigh under 1,500 pounds
Medium pop up campers weigh 1,500-2,000 pounds
Large pop up campers weigh over 2,000 pounds
Most modern vehicles can tow a small popup, even compact cars. You can check the tow rating of your vehicle by looking at your owner's manual or doing an online search of your vehicle's VIN number.
Checking A Pop Up Camper Weight
A pop up camper is labeled by its "dry weight." That means no extra camping gear, water or propane fuels is considered in the capacity. This is also called the unloaded vehicle weight (UVW).
The Cargo Carrying Capacity (CCC) dictates how much gear you can safely pack into the camper while towing including any cargo and liquids like water or propane.
The Gross Vehicle Weight Rating (GVWR) tells you how much your pop up camper can weigh safely when fully loaded. This includes the camper, tow vehicle, passengers, and all cargo including water, propane and other liquids.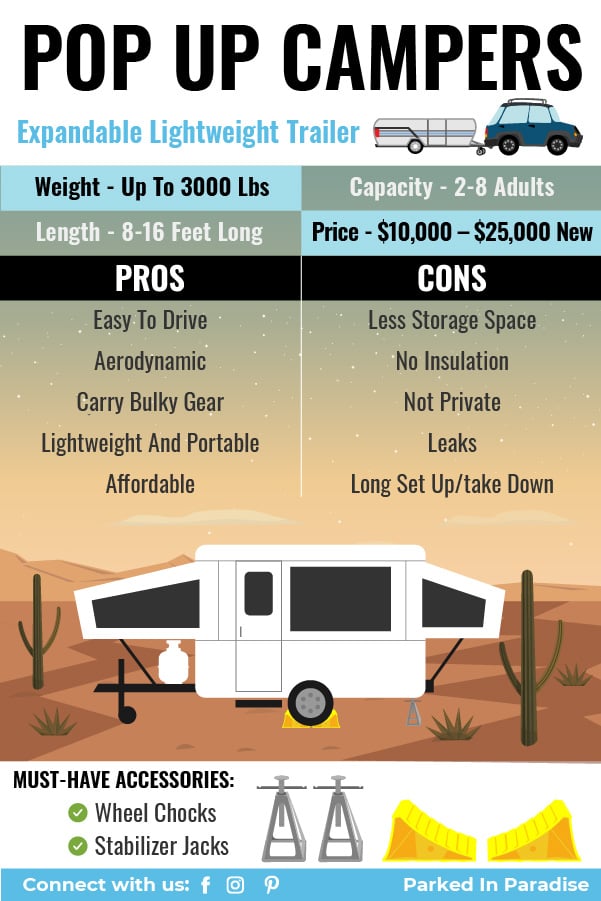 How big are they?
Small pop up campers are 8-16 feet long when collapsed and can expand up to 32 feet in the largest models. They are not much wider than a car maxing out around 7 feet.
Some campers have slide outs that expand the sides making even more room at the campground.
How many people can they sleep?
Typically, 2-8 adults can sleep in a pop up camper. That means you'll only have to set up one "tent" for everyone making it a faster process overall. The beds are also raised off the ground and use real mattresses making them significantly more comfortable than a ground pad.
How much do pop up campers cost?
A popup camper can cost $10,000 – $25,000 new. That is significantly less expensive than a larger travel trailer or 5th wheel. They are perhaps the cheapest type of RV you can buy.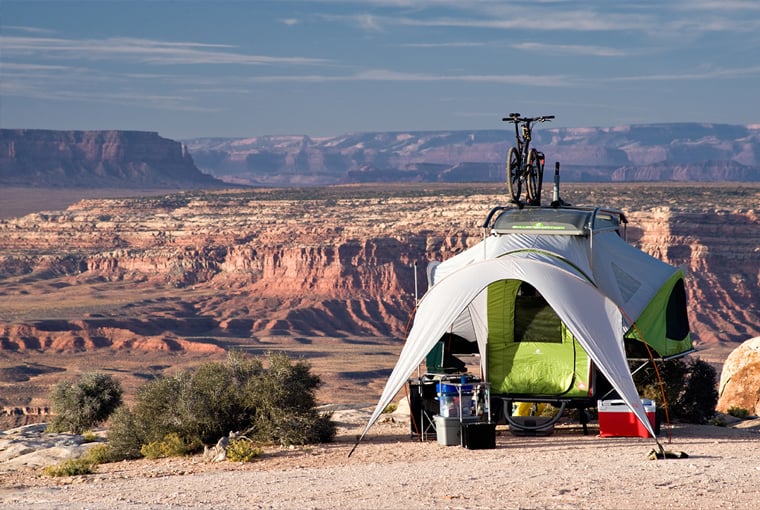 What are the features and amenities?
You can think of a pop up as luxury camping. The most noticeable difference is a comfortable bed, but every model also comes with extra seating and a dinette. That's a big upgrade if you need to do some work; or if you're looking for an indoor surface to play cards or prep food.
Every camper comes with extra features. Some have cabinets for additional storage space, a cooktop or portable refrigerator. Luxury pop up campers will have a toilet or shower built-in!
Look for these extra features:
Sink with electric water pump
Hot water heater
Toilet
Shower
Stovetop and microwave
Refrigerator
Storage and closet space
Bluetooth speakers, stereo and USB ports
Cell phone signal booster
TV outlet with satellite and cable hook ups
Interior lighting
Power lift assist
Battery bank
Propane regulator and compartment
Large fresh water tank
Solar panel prep
Outdoor speakers
Outdoor grill
Exterior lighting
Sky lights
Vent fan
Electric heater or furnace
How do you power It?
If you want to go primitive, power in a pop up camper is not required at all. Just like camping you can use flashlights in the dark, solar powered lanterns, or the light of a nearby campfire.
Alternatively, if you're looking to plug in a mini fridge, stereo or even a small television you have some options. Pop up campers typically come with 12v or 120v hookups so you can plug your rig right into city power. Generators are also an effective way to supply electricity to the camper.
Portable solar panels along with a charge controller work well for small electronics if you're boondocking off grid.
Solar generators come equipped with a charge controller, battery bank, and inverter built-in. It's a plug-and-play system that can power your whole popup.
Why choose a pop up over other campers?
There are a few differences between a pop up camper and a larger 5th wheel or travel trailer. For one, they are significantly easier to navigate. The small size makes them both easier to drive and maneuver.
They are more light weight and portable. Unlike a 5th wheel, you don't need a large truck to tow a pop up camper. Chances are good that you can tow it with the vehicle you already own.
Pop up campers are more aerodynamic which means you'll save a lot of money on gas. Consequently, you can easily carry lighter, bulky gear on top of the pop up when it's collapsed. Canoes, kayaks, and stand up paddle boards are popular items to strap on the trailer during travel.
The design has a higher clearance than a traditional travel trailer. That makes them ideal for off roading and getting to campsites further off the beaten path.
They are the most affordable type of camper.
Pop up camper pros and cons
| Pros | Cons |
| --- | --- |
| Easy to drive | Less storage space |
| Aerodynamic | No insulation |
| Carry bulky gear | Not private |
| Lightweight and portable | Leaks |
| Affordable | Long set up/take down |
What Are The Downsides?
Every trailer has downsides and a pop up camper is no exception. They are similar to a tent with thin sides and no insulation. You won't be able to control the temperature like you would with a standard RV.
Along with that, you'll find that privacy is limited. It's difficult to block out noise or even lights at night with such lightweight materials.
Travelers that purchase older or used popups often complain about leaks in the rain or too much moisture. That can be a problem if you're not properly maintaining the camper. Rips in the sidewalls can occur if you're not careful and it's important to air your camper out after a rainy trip to avoid mold.
Space is limited because you'll have to pack it down before travel. A pop up camper necessitates that you store your gear inside the tow vehicle while you travel. Luckily, they expand quite a bit at the campsite so you won't feel claustrophobic once you get there.
It will take more time to set up and take down a pop up camper than a trailer where you may not have to do anything. That can be an inconvenience. But as a trade off, they are quite a bit easier to hitch and unhitch.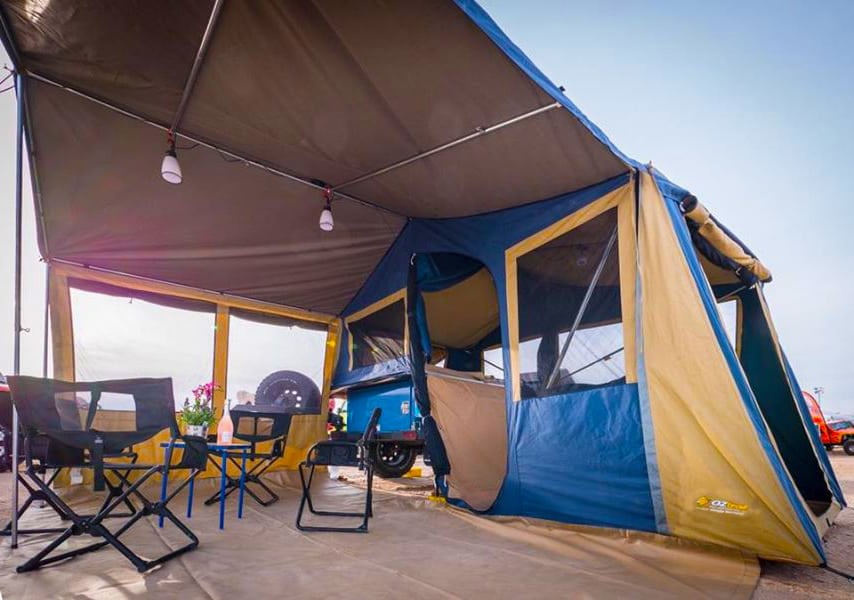 Things to look for before purchasing a pop up
Pop up campers are best for shorter family camping trips or weekend warriors. They are not ideal for long-term living. It is an on-going joke among the RV community that many people will start with a pop up then quickly upgrade to a larger rig because they fall in love with travel.
If you are buying a popup camper to "test the waters" before RV living, we recommend renting one from an RV rental company, or purchasing the cheapest version you can buy. Don't be afraid to buy used. There are many on the market that are only a season old!
Questions to ask before buying a pop up camper
How much does it weigh and how much can your vehicle tow?
How many people will be sleeping in it?
What type of kitchen set up does it have?
Is the stove top compatible with propane? And where can it be stored?
Do you need a toilet or shower?
Where is the water stored?
Where does the power come from?
How difficult is it to set up?
Is it capable of off roading?
Must-have accessories
Most new pop up campers will come with everything you need but there are two things you'll want to pay special attention to: Stabilizer jacks and leveling blocks.
Stabilizer jacks keep your trailer from tipping side to side as you walk around the interior. All pop ups come with two stabilizers built into the frame on the rear of the camper. Small pop ups often don't have stabilizers on the front. If that's the case, you should purchase a jack stand to stabilize the front of the trailer. Stabilizer jacks should not be used for leveling the trailer.
Leveling blocks or wheel chocks are designed to level the camper. They slip under or next to the wheels to keep the camper flat and prevent it from rolling away.
Best Small Pop Up Campers
We've put together a list of ultra lightweight small pop up campers that you can tow with nearly any vehicle. Every camper in the lineup weighs under 3,000 pounds and they are arranged from lightest to heaviest.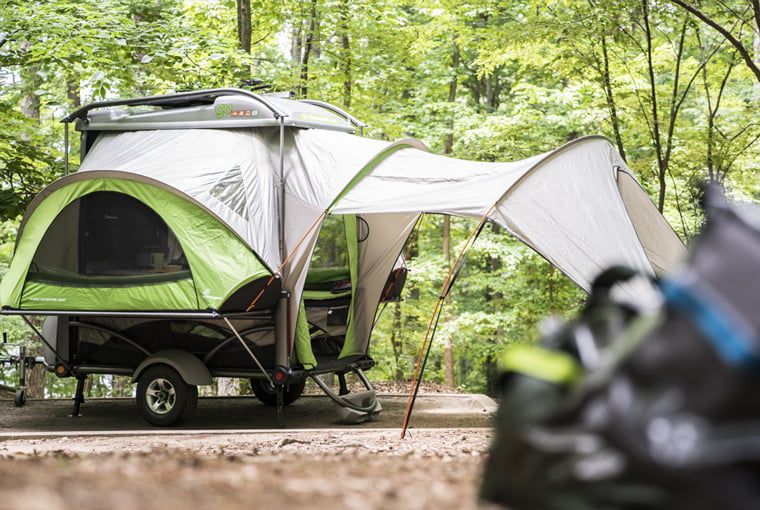 The SylvanSport Go is designed to haul around a lot of toys. It has three modes: camper, gear hauler and utility trailer.
Camper mode is the tent set up. It's comparable to a rugged camping experience and does not come with amenities and extra features like a kitchen or cabinetry. Instead, you'll find sleeping space for up to 4 adults, a standing interior height of 6'5" and a center table with seating.
The beauty of the SylvanSport is that when it's in transport mode you can haul anything from mountain bikes, to kayaks, canoes and heavy equipment.
The full camper weighs just 840 pounds making it the lightest pop up on our list of small campers.
Pop Up Camper Features:
840 pound dry weight
Gear hauler
Utility trailer
Camper mode
Sleeps 4 adults
Dinette table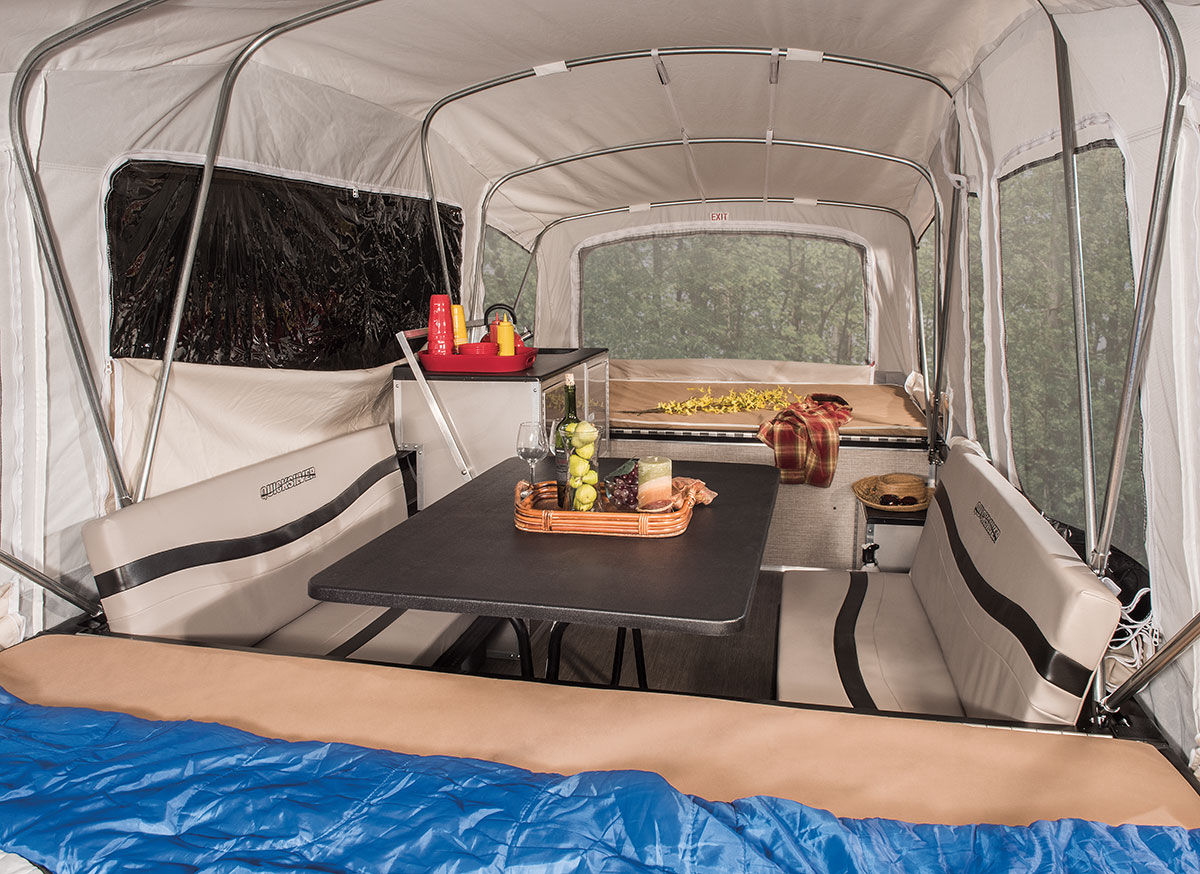 The Livin' Lite trailer adds a lot of additional features you won't find in the SylvanSport. Most noticeably, there are cabinets, counter tops, and a sink built into the interior.
This pop up camper sleeps 4 adults and has fans and lighting for extra comfort. The dry weight is just 994 pounds making it easy to haul.
Outside, the camper is pre-wired for solar and also has a battery box with a 30 Amp converter. There are also a lot of optional packages you can add including a stove top, furnace, awning and air conditioner.
Pop Up Camper Features:
994 pound dry weight
Aluminum cabinets
Sink with hand pump
12v vent fan
Pre-wired for solar panels
External detachable table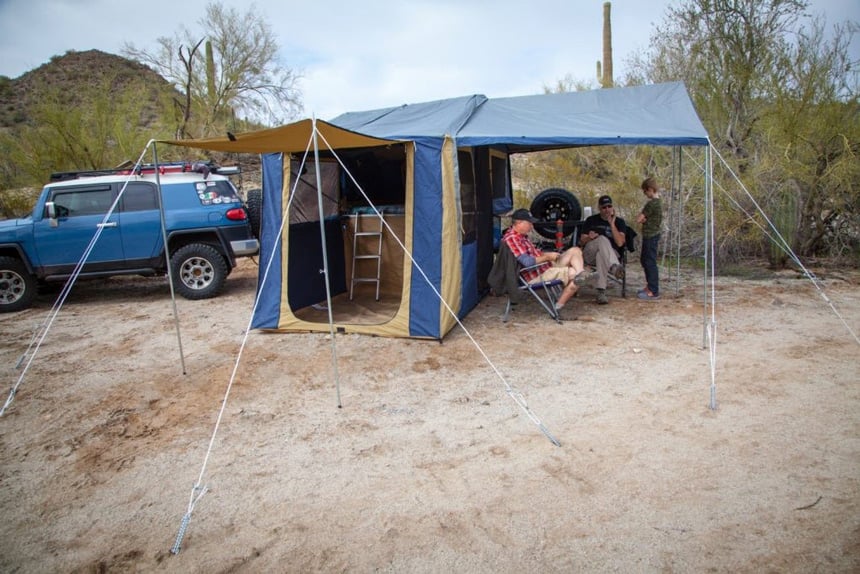 The Turtleback Adventure is a rugged popup that sleeps up to 6 people. It has basic amenities including a dinette, stove, 21 gallon water tank, sink and interior lighting.
The camper comes set up with a single deep cycle battery and charger to run all the electronics. There's also room for a propane tank onboard.
One of the features we like about this trailer is the large sun room that extends from the entrance.
Pop Up Camper Features
1300 pound dry weight
Sleeps up to 6 people
Sunroom
Interior and exterior lighting
18" stovetop
Sink with 12v water pump
21 gallon water tank
You'll feel like you're walking into a small RV when you set up the Coachman Clipper Sport. This pop up camper has a hard roof making it feel even more durable in the worst weather. The camper has plenty of cabinets and counter space and sleeping room for 4 adults.
Inside the camper there's a dinette, sink with pump, and stove top. 23 gallons of fresh water below and 16 gallons above the floor will give ample water for all activities.
Pop Up Camper Features:
1727 pound dry weight
Sleep four adults
Exterior wall mounted propane grill
Hard top design
Cabinets and dinette
Two queen sized beds
Sink and 12v water pump
Interior and exterior lighting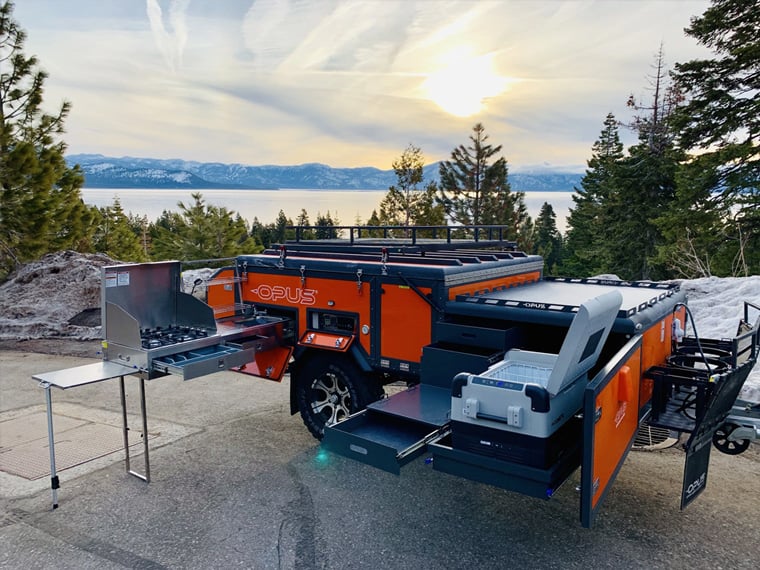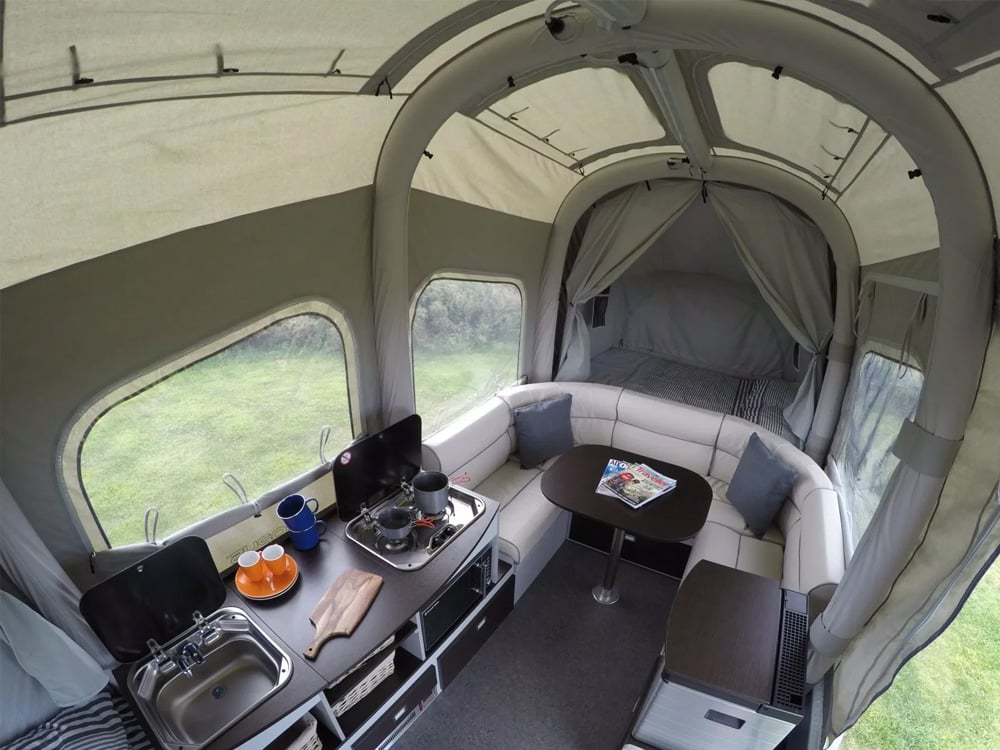 The largest and most luxurious camper on our list is the Air Opus. What makes this trailer unique is that its an inflatable RV. The set up involves opening up the trailer, flipping a switch and allowing the air pump to set up the camper for you. There is a huge amount of storage space inside plus a dinette and room to sleep 4 adults.
Compartments on the outside give room to a 4 burner range, slide out sink and portable refrigerator.
The Air Opus is built for off roading with extra shock absorbers, and a high clearance to take it over any type of terrain.
Pop Up Camper Features:
2870 pound dry weight
Sleeps 4 adults
Slide out 4 burner range and sink
Slide out Dometic fridge
Optional roof mounted cargo rack
Optional hot water heated shower and microwave oven
Who is a pop up camper good for?
Pop up campers are a unique design for the weekend warrior or frequent camper. They are not great for long-term living. Their small and compact design makes them the perfect travel companion for nearly any type of vehicle.
A pop up camper will make you feel like you're camping in luxury without the high price tag of a traditional RV.