The Best Portable Washing Machines For Camping (Review)
By
on
This post may contain affiliate links. As an Amazon Associate, I earn from qualifying purchases. Please read my full disclosure.
When you spend a lot of time off-grid you're not always able to make it to the laundromat. Portable washing machines are compact, inexpensive, and can be taken anywhere.
In this article, we're going to cover the best portable washing machines. We'll cover how they work, what to look for, and how to find the best machine for your camping trip.
Why Use A Portable Washing Machine?
Sometimes laundromats are far and few between. If you're on a long road trip it can be inconvenient to stop in town, and they aren't always open 24/4.
Not all campgrounds have washing machines available, and the cost can add up if you're doing multiple loads at a time.
Manual washing machines are perfect for a camping trip, campervan conversion, or RV traveler who wants one in an emergency. These machines require no electricity and can keep your gear smelling fresh after a long day of hiking.
Camping
Overlanding
Van life
RV travel
Boats
Off-grid cabins
Hunting trips
Fishing trips

Disadvantages To Using A Portable Washing Machine
Before you run out and buy one of these machines, it's important to know some of the downsides.
They are small. You won't be able to do a full load of laundry as you would in a traditional washer. Most of these machines can only hold a few clothes at a time so chances are, you'll need to be doing laundry a lot more often.
They take up space. In direct contradiction to the point above, portable washers aren't exactly tiny. You're still going to need somewhere to store them somewhere, and when you're living tiny every extra inch counts.
Work is required on your end. These are manual machines so you'll either need to operate them with a hand or foot pump which could get tiring. This is not something that you can set and forget.
Water is necessary for the machine to work. While they don't use a lot of it, you're still going to have to carry around extra water containers to account for the water you'll be using to keep your clothes clean.
Not environmentally friendly. All of that soap and excess dirty water needs to be dumped somewhere. You should be mindful of where you're using one of these washing machines. We recommend using one near a dump station or public restroom because you should not dispose of soapy water on the ground!
There is no dryer. It's relatively quick and easy to wash your clothes in the wilderness, but those clothes will need to be air-dried and that takes some time. You'll need to plan ahead because air drying takes a few hours so you won't be able to wash all of your shorts at once. This can be particularly cumbersome in humid environments which will take even longer.
Some washer/dryer combos do exist, but air-drying is typically more effective and won't require the extra muscle power.
How Does A Manual Washing Machine Work?

To get the cleanest clothes out of your machine, you should follow these steps:
Fill wash basin with warm water
Load the clothes
Add soap
Pump or spin the mechanism at least 10x
Allow clothes to soak for 5 minutes
Cycle the clothes another 10x
Release the warm water and fill with cold water
Pump or spin the device at least 10x
Wring and remove clothes
Hang to dry
Drain the washer
The downside to this process is that it does take a lot of water. Ideally, you would do this at a campground with water hookups. But to conserve water you can skip the warm water cycle and wash everything cold.
Where To Drain Your Washer
Do not dump your water into the grass! You should do your washing near a dump station or public restroom so you can dispose of the water in a sink or shower basin.
Drying Tips
Hang drying clothes is your best bet. While some portable washers boast a drying feature, oftentimes your clothes will come out wrinkly or slightly damp. It can also take a significant amount of time and effort to dry them which we feel is not worth it.
Check the weather before you start your laundry routine! If there is any rain in the forecast, see if you can wait another day. You may be able to dry clothes within the tent or RV but it's going to lead to a lot of excess condensation which is probably not worth it.
It's extremely time-consuming to dry clothes in humid environments. Places like Florida make it especially difficult to effectively do your laundry. While there isn't much you can do about the humidity, try doing your laundry on a windy day, or underneath a 12-volt fan. In the worst-case scenario, you may need to use a laundromat drier which will still be cheaper than washing and drying clothes commercially.
Don't forget to pack something to hang your clothes on:

Features To Look For In A Portable Washing Machine
Size
You need to consider both the load capacity and external dimensions of your washer. Storage is probably the biggest limiting factor for someone who does a lot of traveling. Not everyone has room to pack a 5-gallon bucket.
A larger washer can clean more clothes at once, but it's also going to require more water for a single cycle. On the other hand, you'll be doing laundry less frequently which leaves more time for adventure.
Water Carrying Capacity
The best place to do laundry is at a campground with water hookups. But if you don't have that luxury, you need to consider the amount of water that you can carry.
The portable washing machines we've reviewed range from 3-5 gallons per cycle. For the cleanest clothes you'll want to do two rinse cycles so twice the amount of water is needed.

Hand vs Foot Operation
Portable washing machines typically come with either a handle, spinner, or foot pump. The foot pump machines are the easiest to operate, but the hand pump ones will give you more control. Foot pump washers are better for people who have less energy or lower mobility.
Electric Machines
Electric washing machines are more expensive than manual ones. But they also have more complex features like automatic shut-off, dryers, and a faster spin cycle. The biggest downside is that you'll need access to electric hookups which aren't always available.
With a portable electric machine, you won't get so tired washing clothes and they'll get done a lot faster. These are more likely to break over time, however, because manual machines have so few parts.
The Best Portable Washing Machines Reviewed
We like the Lavario portable washing machine because it's large enough to wash a lot of clothes (5 gallons!) and it's simple to operate. The push handle design allows you to lean your weight into it so the machine so it won't require as much muscle power as some of the salad spinner designs.
This machine is robust and has very few parts so it should last a long time. The biggest downside to this product is the size; it measures 24 x 19 x 19 inches. Luckily because of its shape, you should be able to store dirty clothes, blankets, or trash bags inside the wash basin while traveling; in that way, you can double the machine's functionality.
Large clothing capacity
Non-electric
Minimal parts
If you're looking for a washer/dryer combo, one of the highest-rated manual designs is this all-in-one stacked washer. This product uses a spin handle on the top to wash and dry clothes similar to a salad spinner. It is inexpensive and will certainly save a few extra trips to the local laundromat.
The biggest downside to this product is that it's quite small 15.2 x 13.8 x 13.5 inches. So you'll only be able to wash a handful of items at any given time.
Washer/dry combo
Compact design
Economical
The same washing machine effect can be achieved with a handheld washing wand. These washing wands are going to require a little more finesse to make sure you're properly rinsing all of your clothes. It will be harder to achieve an equal amount of pressure on every item.
But this product is going to be the smallest and easiest to pack. It's the most versatile because you can use it with any container. We do recommend purchasing a collapsible laundry bucket to go along with it because it will save space.
Smallest design
Least expensive
BEST FOR RVs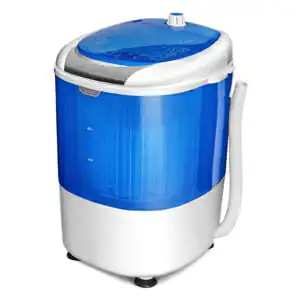 Best For RV Campers: Costway Electric Mini Washing Machine
The Cosway mini washing machine and spin dryer can clean your clothes in 15 minutes or less without the manual labor. This machine measures 22.4 x 15.9 x 14.6 inches which makes it the perfect size for an RV motorhome or camping cabin.
This is an AC powered device so you'll either need shorepower hookups, or a power inverter to operate it.
We like this design because it's lightweight and compact measuring 22.4 x 15.9 x 14.6 inches and weighs 14 pounds. It also doesn't use a lot of power. The washing machine uses 170W while the dryer uses 120W.
Electric powered
Lightweight and portable
15 minute wash time
Clear lid to monitor washing
That's A Wrap!
If finding a laundromat on the road is one of your biggest headaches, consider getting a portable washing machine. These units are lightweight, compact and inexpensive. The portable washing wand is a great solution if you don't have room for a machine but need something to use in emergencies.
The Costwasy mini machine is our top choice if you own an RV and have access to shorepower. The all-in-one stacked washer or Lavario are our top choices for van life.
Continue Reading: