The Best RV Washer And Dryer For Full-Time Campers
By
on
This post may contain affiliate links. As an Amazon Associate, I earn from qualifying purchases. Please read my full disclosure.
If you're a full-time traveller, having a washer and dryer in your RV can be a game-changer. With a washer/dryer on-board you can toss those muddy hiking socks in the laundry and relax outside while the machine does the work.
Laundry machines can save you time, money, and an out of the way trip to a not-so-local laundromat.
These appliances may not be for everyone, but if you're a full-timer on the lookout for a convenient solution to dirty clothes, we've reviewed four of the highest-rated models on the market.
What do you need to do laundry in an RV?
Having a washing machine on-board is something every motorhome owner would love to have, but not every camper should.
First off, these machines take up a lot of space, so it's not something you would put in a temporary camper.
Secondly, they can be a power-heavy appliance so washing machines are not suitable for boondocking.
Finally, you're going to need water hookups, and plenty of space in your gray water tank.
Washer/dryer combos are best suited for full-time travelers or campers doing long, extended road trips.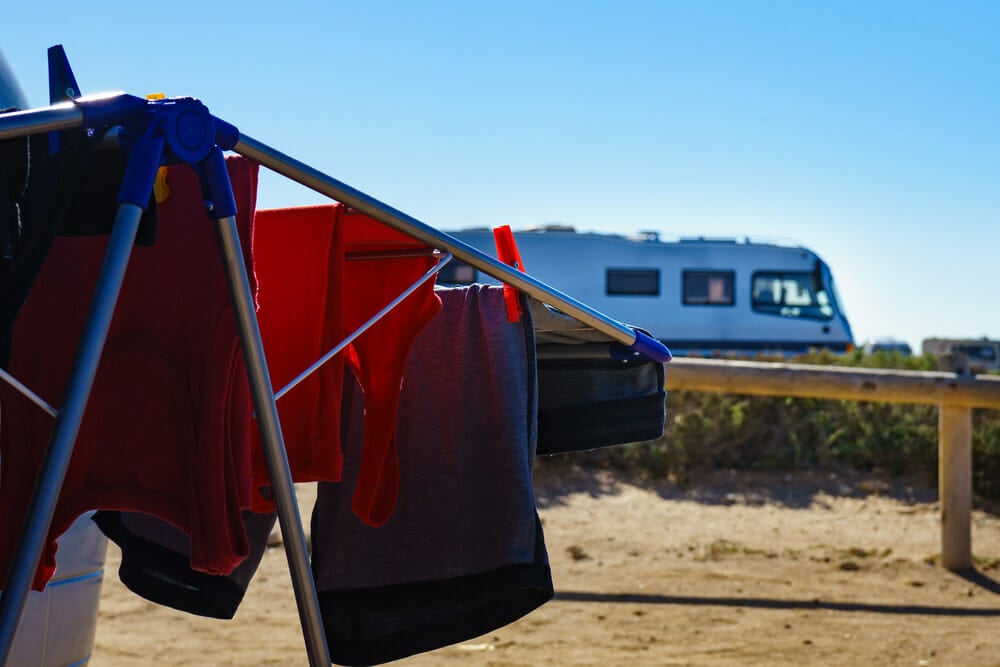 Hand-Crank Alternatives
If you really want to do laundry on the road but don't have enough power or space for a large machine, there are a portable washing machines that work perfectly for camping.
These are designed to be hand operated, or have an extremely low power-draw. They also use minimal water and they're pretty dang effective at getting a few pieces of clothing clean in the middle of your trip.
The Advantages Of Doing Laundry On The Road
If your travel trailer checks all of the boxes: space, power, and water, then I would highly consider looking into a washer and dryer. Many of the newer motorhomes have plumbing for these accessories pre-installed.
Not every RV park has laundry facilities, and the ones that do are coin-operated. That means you have to carry around detergent and a heavy bag of coins. Once you lug everything to the machines, it's not cheap. Plus, you never really know how clean the machines are in those public facilities.
If the park doesn't have laundry available, you'll have to drive all the way to the nearest town and wait while your clothes get washed. That can easily lead to hours of wasted time when you could be doing activities.
Finally, washer/dryer combos let you clean up a few items of clothing while you relax outside in nature. There's nothing more calming than unwinding by the grill while your t-shirts clean themselves inside.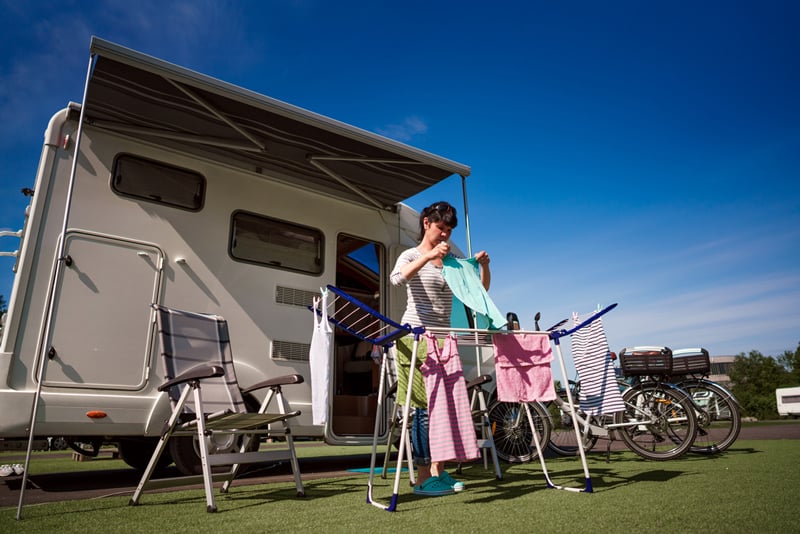 What to Look for in an RV Washer-Dryer
Modern RV washers and dryers are similar to your household machines. They operate in largely the same way, but there are a few key differences that you'll notice right off the bat.
Size
Compact washing machines designed for the road are quite a bit smaller than the ones you would find at home; but that's a good thing. Your washer-dryer should be small enough to fit comfortably in its designated nook but big enough to handle your regular laundry output.
Before you pull the trigger on a given model, be sure to measure the area where you intend to put it to confirm that it's a match.
One thing to keep in mind is that many front-load washers require you to leave the door open an inch or two after the wash to dry out any mildew and prevent mold. In such a small space, that can be a game-changer in which model you choose.
Stacking A Compact Washer Dryer
Whereas most standard washers and dryers are made to sit side-by-side, compact versions are often designed to stack on top of one another. As you might imagine, this is a highly desirable feature for RV owners, particularly those with cozier vehicles.
Stackable appliances allow you to cut the amount of floor space you forfeit in half by elevating one of the units off the ground. As a result, you save two-to-three feet of beautiful, usable room.
While stackable washers and dryers will provide the biggest benefit to people residing in cramped conditions, they're also an excellent choice for oversized RVs and campers, as they free up plenty of prime real estate for other belongings.
Washer/Dryer Combos
Another option is purchasing a washer/dryer combo. These compact units are designed to do it all-in-one and will save you a ton of extra space.
Washer/dryer combos are extremely convenient, but many campers have reported that you have to use smaller loads of laundry for it to work effectively. Generally, the dryer is not quite as adequate as a stand-alone unit so you'll have to pair down on your laundry if you want it to finish without any dampness.
Even so, most campers cannot recommend these units enough because of the convenience and space-saving features.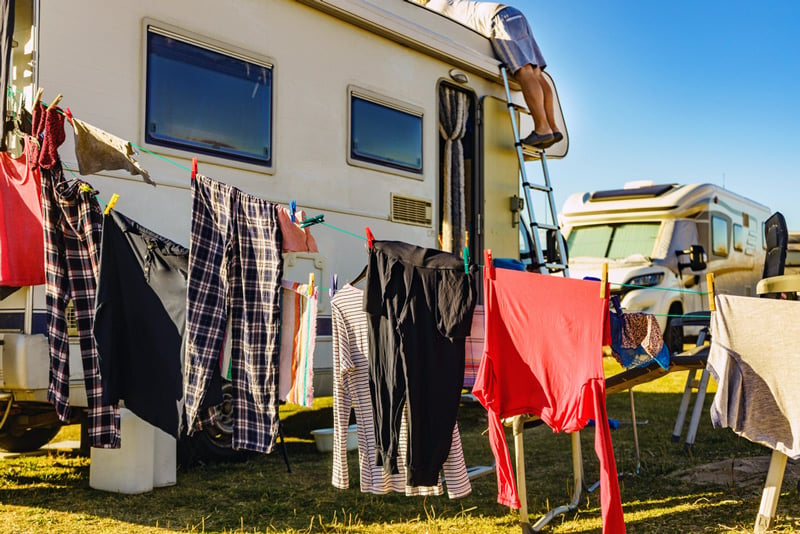 Efficiency
Efficiency is always a major selling point where appliances are concerned, but it's especially crucial if you're working with unpredictable or high-priced utilities. Some long-term campgrounds will charge you separately for electricity use which is another reason you'll want a machine that's energy-efficient.
Larger load capacity and decreased drying times may sound appealing, but if you're powering your RV off a generator or coming out of pocket for your energy usage, you're going to feel it.
A good rule of thumb is to look for a washer with a maximum load capacity of around 12-15lbs (around 1.5-2.5 cubic feet). Lower capacity appliances tend to use less water but don't necessarily hold that much less clothing than higher capacity ones.
With dryers, it's all about voltage. Anything below 220v is good, but 110v is preferable.
Don't forget that you can always save energy by drying your clothes using a clothesline outside. This works especially well in dry climates.
Functions and Features
Every prospective RV camper should ask themselves this question: what do I need my washer-dryer to do? More often than not, the answer you come up with will help you narrow down your options considerably.
Basic washing machines will feature standard cycles like normal, delicate, and permanent press. As you move up through the tiers (and price ranges), you'll get additional functions like quick-wash cycles, custom timers, and water-saving and self-cleaning modes.
If you don't think you'll get much use out of those sorts of extra amenities, it's probably fine to ignore them altogether. They may be worth the additional expense, however, if you value versatility and control.
As far as dryers go, you can usually get away with fewer functions, but things like adjustable heat settings and wrinkle guard can do a lot to lengthen the lifespan of your favorite garments.
Winterization
The term "winterization" refers to the practice of safeguarding washing machines and other appliances against freezing temperatures.
For travelers in chilly climates, frozen hoses, busted pipes, and iced-over inlets are very real and potentially very costly conundrums.
Fortunately, many compact washers come with pre-programmed cycles that allow for easy winterization these days. During the winterization process, you'll simply add a small amount of antifreeze to the water stored in the pump to prevent it from freezing.
While not necessarily non-negotiable, a streamlined winterization cycle can be a good thing to have for those long, cold nights in the great outdoors.
Best RV Washer-Dryers Reviewed
BEST WASHER/DRYER SET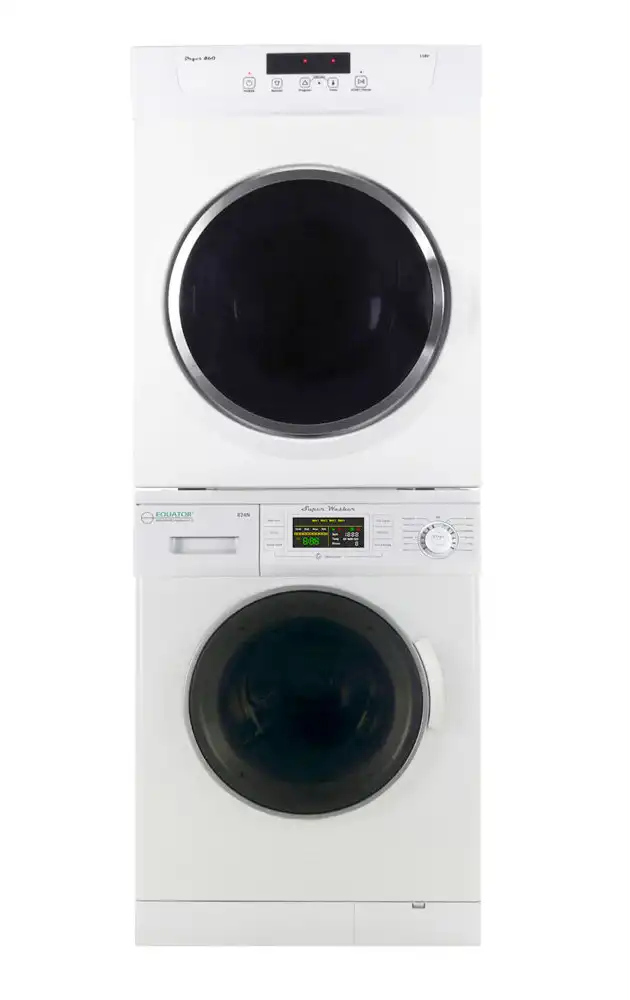 Equator Washer/Dryer Set
Perfectly suited for RV travel, this washer/dryer set can be stacked or packed side-by-side. They're highly energy efficient and come with a 2-minute winterization cycle.
CHECK LATEST PRICE
One of the top-rated washer/dryer sets on the market for RV campers is this stackable duo from Equator. These front-loading appliances can be placed on top or alongside one another for full-on Tetris-style customization.
If one configuration doesn't work, or if you find that the feng shui is off, simply move the units into their alternative position. Both units are conservatively-sized, so they'll slip right into most standard appliance spaces and stay out of the way once they're there.
Along with a dozen wash cycles and accessory settings the dryer includes four separate cycles: low, normal, extra, and damp. Smart sensors are built-in to help campers avoid both over-drying and under-drying to prevent excess energy use.
One thing we like best about these units is that they're perfectly suited for a life of travel. You'll find key features perfect for an RV such as self-clean mode and a 2-minute winterization cycle to get your rig ready for storage.
Features:
Compact cube-like units can be stacked or arranged side-by-side
Water and energy-saving features
Automatic wrinkle guard function
2-minute winterization cycle
---
BEST WASHER/DRYER COMBO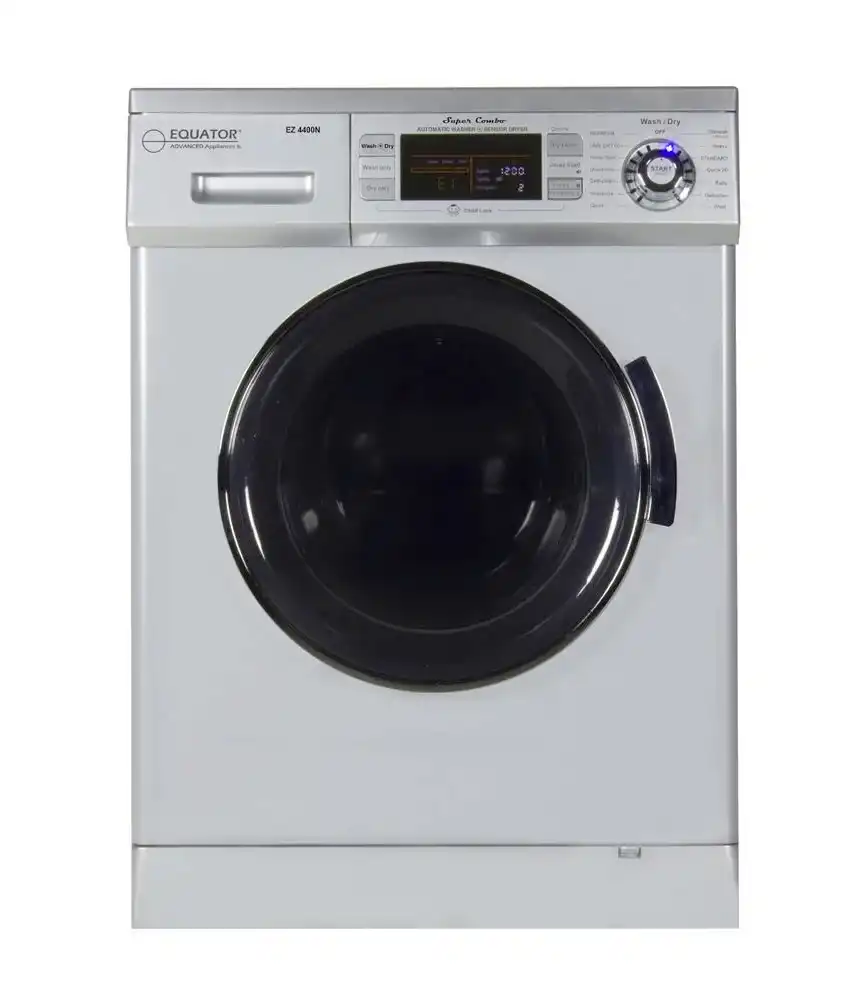 Equator Washer/Dryer Combo 4400N
Our top choice when it comes to space-saving machines that can effectively wash and dry your clothes. This unit has a 13lb. load capacity and will fit into a small space: 33.5in high x 23.5in wide x 22in deep.
CHECK LATEST PRICE
If you're looking for a machine that will save space and allow you to wash and dry clothes without leaving the recliner, the Equator EZ Combo is our top choice.
The machine can operated as either a vented or ventless unit depending on your preferences. It has an extremely quiet operation and 13lbs. of load capacity.
Among the core cycles you'll find useful functions as self-clean, winterize, and quiet modes. There are also seven different wash cycles, and six dry cycles.
Features:
High-performance, adjustable wash functions
Intuitive user control panel and digital display
Dual venting fans for more rapid drying
Quiet, self-cleaning, and winterize modes
---
BEST STANDALONE WASHER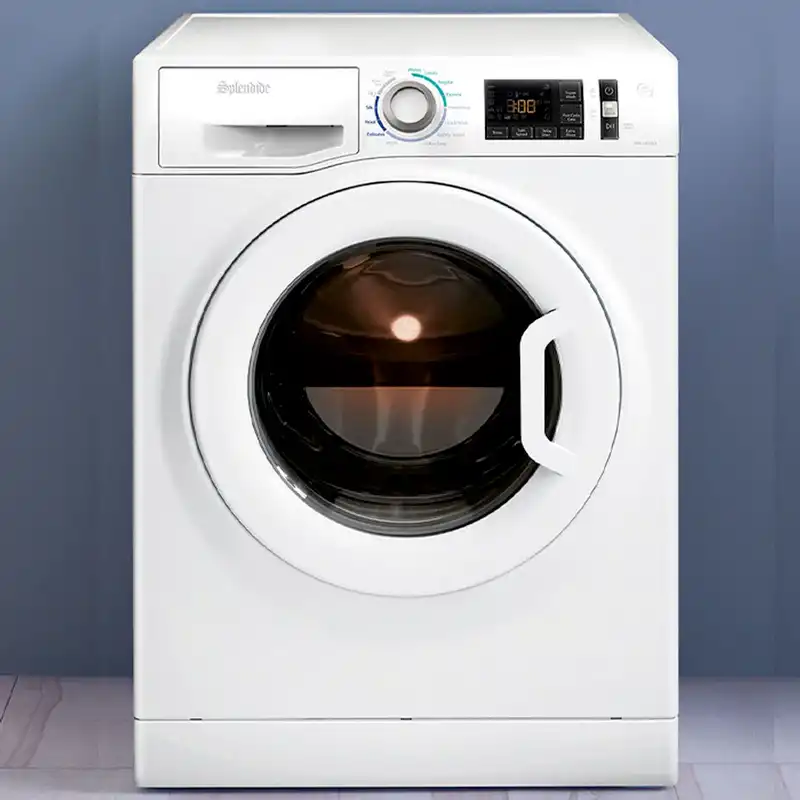 If you're looking for the best of the best to combine with your existing dryer, the Splendide WFL1300XD is our favorite choice because of it's high ratings and RV-friendly features.
This spare, unobtrusive front-loader boasts a whopping nine adjustable wash cycles, including delay start, prewash, bonus rinse, and winterization for those frigid nights. There's even a bonus self-cleaning mode that prevents the washer drum from smelling sour after you've put a few loads through it.
You can either use the WFL1300XD on its own with a clothesline or drying rack on standby or pair it with Splendide's DV6400X Stackable Dryer, which has the same external dimensions. Keep in mind that if you opt for the latter arrangement, you'll have to pick up the company's SK03 Stack Kit separately.
Features:
Nine fully-adjustable wash cycles
Super-silent washing action
Automatic water level and load balancing
Built-in winterization capabilities
---
MOST AFFORDABLE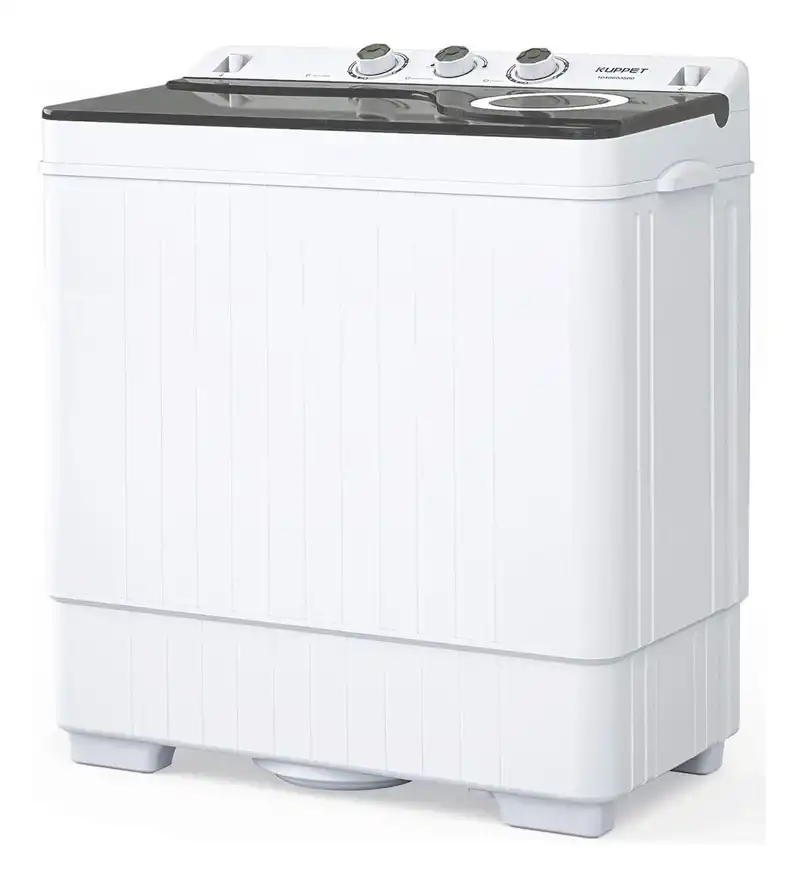 The KUPPET washing machine was designed for all sorts of tiny living situations including dorms, apartments, and RV camping. That means you won't find all of the travel-specific features that you would in the other products we've reviewed.
The major thing that makes this machine stand apart is the price. It's significantly cheaper than the RV units but it is missing some of the energy efficient features that you would find for life on the road.
This top-loading washer has a compartmental design, which makes use of two separate tubs arranged side-by-side within the unit.
One of these tubs washes your clothes while the other spins them to remove excess water. Both can be hooked up to any ordinary external water source using the included hose and inlets.
When you're done washing, a twist of a dial signals the built-in drain pump to flush the used water from the machine through a 56" detachable drainage hose. The extended hose length can be drained into the gray water tank or sewer hookup just outside the RV.
With a 26-pound total capacity (18lbs in the wash and 8lbs in the spin), the KUPPET Compact Twin Tub is roomy enough to hold a decently-sized load of laundry yet still squat and maneuverable enough to reposition with ease.
Features:
Two separate tubs for increased capacity and versatility
Separate timer controls for wash and spin cycles
Built-in drain pump
---
That's A Wrap!
If you're in the market for a serviceable washer with a small footprint that won't drain your bank account, the KUPPET Compact Twin Tub is likely all you need.
For lone roadsters who aren't too fussy about how their clothes get clean so long as they do, there's the Equator EZ 440N Combo Washer-Dryer, a space-saving wondermachine that's ready, willing, and able to pull double duty.
Looking for something that can handle more volume and faster turnover? The Splendide WFL1300XD or Equator Washer and Dryer Set may make a worthy investment, as they both offer increased power and load capacities in exchange for slightly steeper price points.
We feel confident in proclaiming that you can't go wrong with any of these appliances. Ultimately, however, the one that's best for you is the one that accommodates your individual needs, budget, and lifestyle.
You Might Also Like: