Printable RV Campsite Break Down Checklist
By
on
This post may contain affiliate links. As an Amazon Associate, I earn from qualifying purchases. Please read my full disclosure.
After a long RV trip it's easy to forget all of the steps for breaking camp. In order to preserve your RV in the best condition possible–and get home with all of your stuff you should always travel with a checklist!
In this article we're going to cover some of the most important items to pack up when breaking camp. We'll also provide a printable checklist so you can keep a copy for yourself.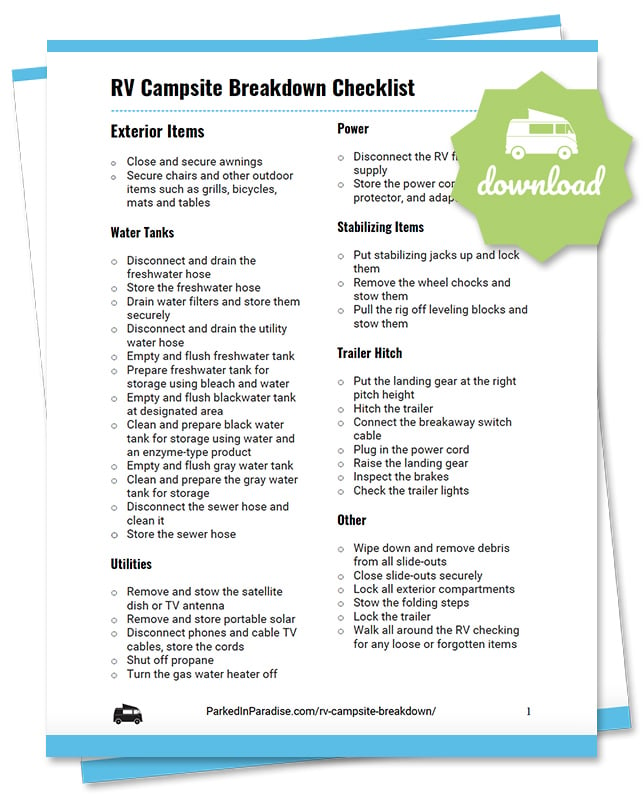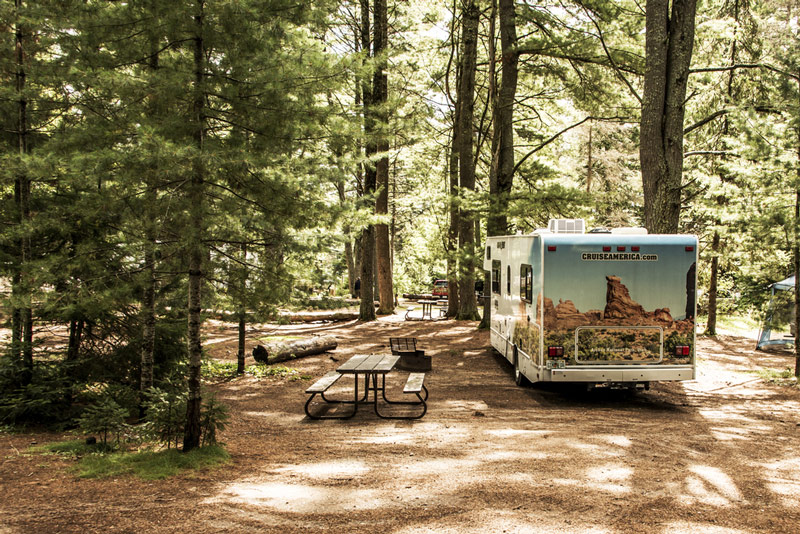 Exterior Items
Close and secure all awnings
Secure chairs and other outdoor items, such as grills, bicycles, mats, and tables
Water Tanks
Disconnect and drain the fresh water hose
Store the fresh water hose
Drain water filters and store them securely
Disconnect and drain the utility water hose
Store the utility water hose
Empty and flush fresh water tank
Prepare fresh water tank for storage using bleach and water
Empty and flush black water tank at a designated area
Clean and prepare black water tank for storage using water and an enzyme-type product
Empty and flush gray water tank
Clean and prepare the gray water tank for storage after cleaning the black water tank
Disconnect the sewer hose and clean it
Store the sewer hose
Utilities
Remove and stow the satellite dish or TV antenna
Remove and store portable solar unit
Disconnect phones and cable and store cords
Store the water pressure regulator
Shut off the propane
Turn the gas water heater off
Power
Disconnect from the power supply
Store the power cord, surge protector, and adapters
Stabilizing Items
Put stabilizing jacks up and lock them
Remove the wheel chocks and stow them
Pull the rig off the leveling blocks and stow them
Trailer Hitch
Put the landing gear at the right pitching height
Hitch the trailer and weight distribution hitch
Connect the break-away switch cable
Plug in the umbilical cord for power
Raise the landing gear
Inspect the brakes
Check the trailer lights
Other
Wipe down and remove debris from all slide-outs
Close slide-outs securely
Lock all exterior compartments
Stow the folding steps
Lock the trailer
Walk all around the RV checking for any loose or forgotten items
Internal Tasks and Items
Utilities and Appliances
Turn the water pump off
Turn the electric water heater off
Turn the pilot lights off
Turn the furnace or air conditioning unit off
Kitchen Area
Empty and turn off the refrigerator
Lock the refrigerator door
Close and lock or secure all cabinets and cupboards
Put loose items away in a secure location
Bathroom Area
Put shower items and supplies away securely
Secure the shower doors to prevent them from sliding during travel
Put loose sink items and any other loose bathroom items away
Windows and Vents
Close all vents
Shut all windows
Slides
Close all slides
Lock all slides
Garbage
Empty all trash cans
Store trash cans in a secure place
Other
Check all interior areas for any loose items and store them away
Turn off all lights
Turn off all fans
Lock the main entry door
Check lights to make sure all are working properly
Check the brakes for proper functioning
Inspect the tires for damage or wear and tear
Check the tire pressure
Check fluid and oil levels
Continue Reading: