The Best RV Refrigerator Fan For Air Circulation (Review)
By
on
This post may contain affiliate links. As an Amazon Associate, I earn from qualifying purchases. Please read my full disclosure.
RV refrigerators are notoriously susceptible to hot temperatures. They need consistent air circulation to keep food at a steady climate. Without one, you might end up with some shelves being too warm, and others growing ice!
Fridge fans crucial to protecting your perishables. Even though your refrigerator probably has one built-in, chances are good that if you camp in the heat of summer it's simply not enough. Fortunately fridge fans are inexpensive, and easy to install; they are the perfect accessory for any full-timer.
BEST HARDWIRED FAN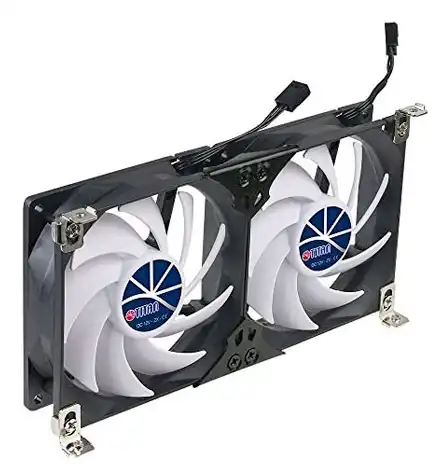 BEST BATTERY-POWERED FAN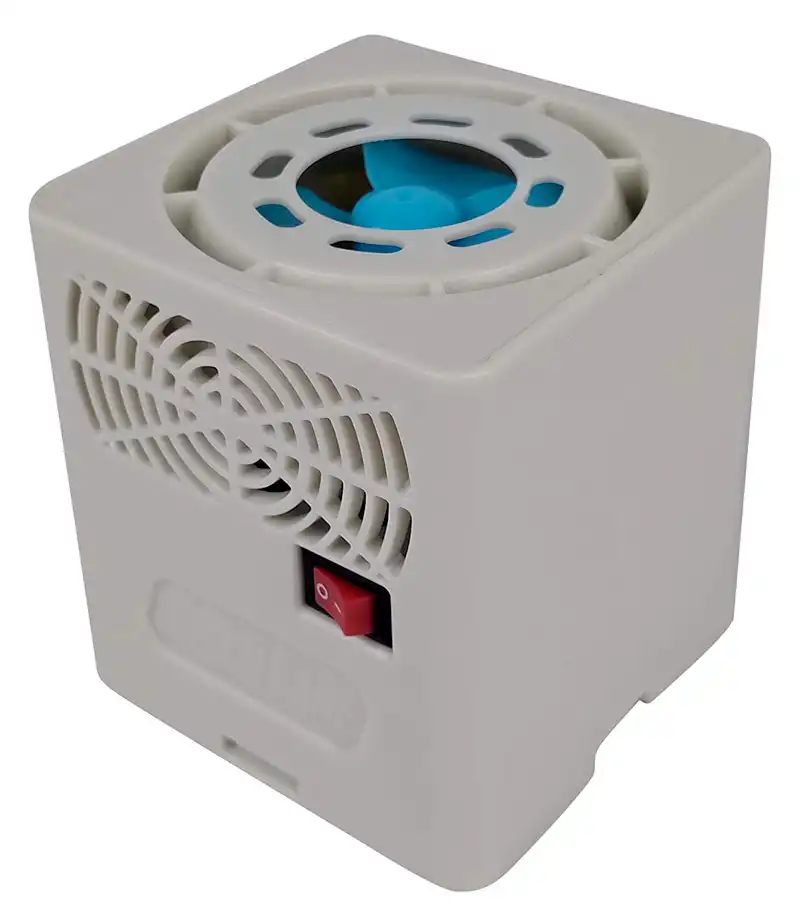 Beech Lane Fridge Fan
Powerful, high-volume fridge fan designed for quiet operation. The motor churns at 3,000 reps per minute and can keep the largest appliances at a steady temperature.
CHECK LATEST PRICE
BEST FOR ELIMINATING SMELLS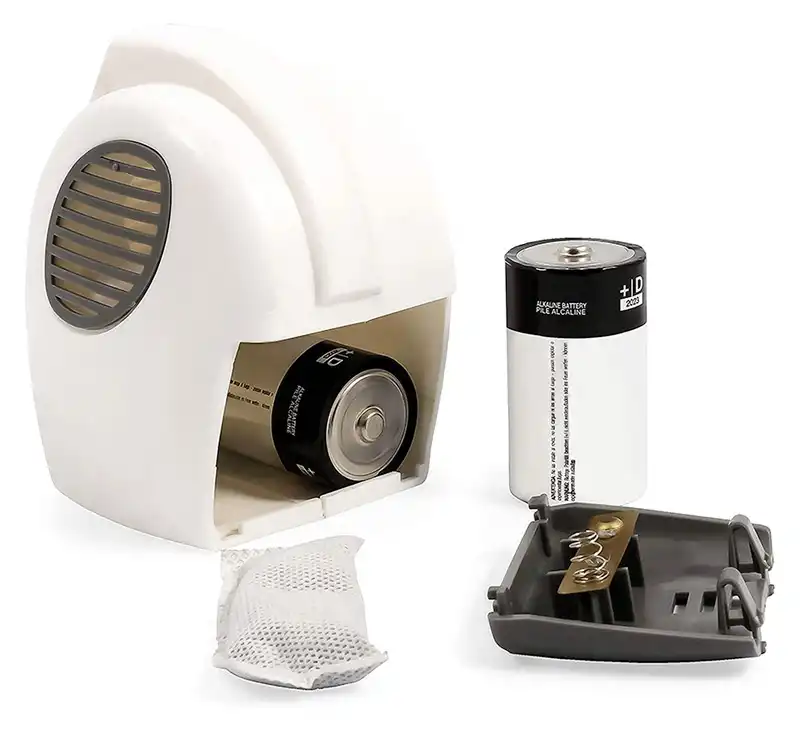 Camco Fridge Airator
This battery-powered unit is perfect for the small camper fridge. It comes with an on/off switch to save power when not in use and a replaceable charcoal pack to absorb odors.
CHECK LATEST PRICE
Difference Between RV and Home Refrigerators
A refrigerator designed for motorhomes and travel trailers isn't made like the one in your home. Your residential fridge has an electric compressor that uses a process of turning liquid into gas to keep your perishables cold.
The fridge in your camper preserves food through a heat absorption system. To function properly, the fridge needs a draft, or convection, to maintain the interior's coolness.
In your RV fridge, heat doesn't escape. It gets caught in a dead space above or behind the unit. This ends up restricting the flow of air. Airflow restriction can keep your contents from staying fresh and overwork the unit until it's possibly burnt out.
Your RV refrigerator fan counteracts this by distributing cool air inside the box. It creates even temperatures throughout the appliance.
In some cases, the fan's design requires attachment to exterior vents or fins. Other devices may require you to set them behind the fridge or on a shelf.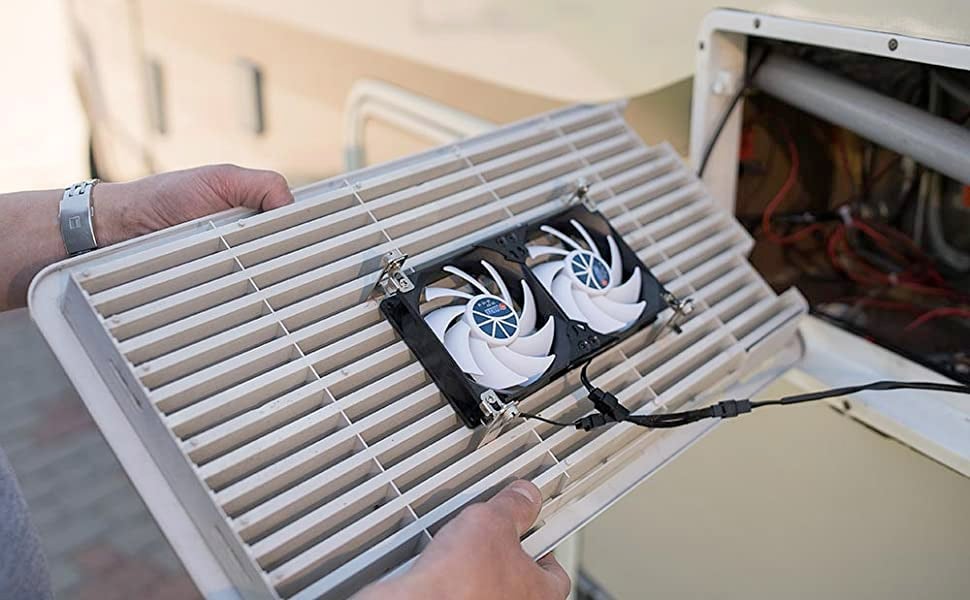 Do RV Fridge Fans Work?
Yes. Modern RV refrigerators are certainly better suited for the task of keeping our perishables safe than they were in the past. Still, an RV fridge can struggle without a fan.
In the hottest of weather, cool air circulation within the fridge is often lacking. Campers have found that they get unwanted cold in one area and warmth in another. A quality refrigerator fan will help distribute cold air evenly throughout the appliance so every shelf receives a consistent temperature.
What Temperature To Set Your RV Fridge
The ideal temperature for your fridge should be somewhere in the vicinity of 34–43 degrees. This should be an even temperature throughout the interior.
When temperatures rise, a fan will push out hot air out of the fridge through the vents. You want a fan with either 12-volt power, or a battery-operated RV refrigerator fan so it is easy to install and will work of DC power.
How Do You Know If You Need A Fridge Fan?
An uneven temperature distribution throughout the inside of your fridge is an obvious sign that your current fan can't keep up.
If you notice that there is ice forming around the fan but your fridge is still warm, then you need an additional fan to circulate the warm air throughout the fridge and distribute the cool air more evenly. Thermostatically controlled fans are the best of the best when it comes to regulation.
When your refrigerator feels warm inside but there is no ice around the fan, that means you need more airflow around the outside coils of the fridge.
The best place to install a fridge fan is on the top shelf of the appliance where it can be aimed across the cooling vents.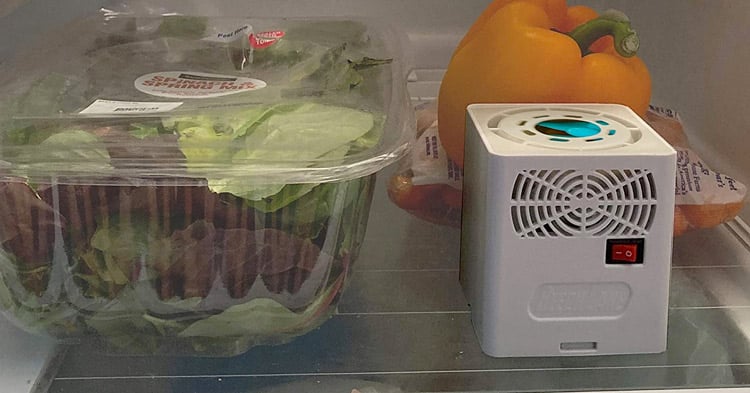 Types of RV Refrigerator Fans
There are two types of fans: fin fans, and battery-powered fans.
Fin fans are wired to the battery bank and installed inside the fridge box. This solution is ideal for anyone camping on a full-time basis and not afraid to get their hands dirty with some light electrical work. They remove heat from the air, allowing your contents to get nice and cold.
Battery-powered fans do not require any real installation. You can simply set them on a shelf, in the back of the fridge and relax. Many campers prefer this solution because they are so simple to use. The downside is you may need to swap out the batteries on a frequent basis.
What To Look For In A Refrigerator Fan
Adjustable Fan Switch
Your fan should evenly circulate air in the fridge interior. But there's always the possibility of overfilling. Even if you're running your fan nonstop, there can be limited circulation. This can result when refrigerators are tightly packed. You can have the exact opposite if there's too much space between items. In this instance, you can have too much air circulating.
With an adjustable fan switch, it's easier to monitor temps in your camper fridge. Control can minimize amperage while managing high volume of air to move through the RV refrigeration operation.
Temperature Maintenance
Where there's unwanted heat, there's the potential for the accumulation of bacteria. This is the last thing you want where you keep your food. By getting a fan that provides a thermostatically controlled airflow into your unit, you avoid the excess combined heat and moisture that can lead to bacteria and other unwanted components.
Tips for Making Your Fridge's Job Easier
When the sun beats down on your ride, your fridge is working harder to stay cool. Whenever possible, keep your outdoor vehicle in the shade. When parked out of the sun, the pressure on the camper fridge fan gets lowered. The lower the impact of outdoor temperatures, the easier it is for the fan to do its job.
It's also a good idea to have the fridge vent on the shade side when parked or at least facing away from the sun. This will improve the fridge's efficiency.
Pack Fridge Well and Fill Open Space
How you store your contents plays a big part in how cold the interior stays. A well-packed fridge helps keep temps low. So, try to stock your refrigerator efficiently.
You can fill excess space with ice packs, cold cans, or frozen juices and water. These items won't create a lot of moisture, nor will they spoil if they thaw. Avoid using frozen food or ice cubes. They are more likely to generate unwanted moisture.
Lower Temps Before Your Departure
Setting the temperature low the night before you leave sets up the fridge to adjust to lowered temps. You don't want to use settings that freeze items. Otherwise, foods are more likely to thaw on the road.
Another idea to avoid freezing is to lower temps a few hours before leaving instead of the night before.
Also, if you minimize opening the fridge, it will stay cold longer.
the Best RV Refrigerator Fans Reviewed
BEST HARDWIRED FAN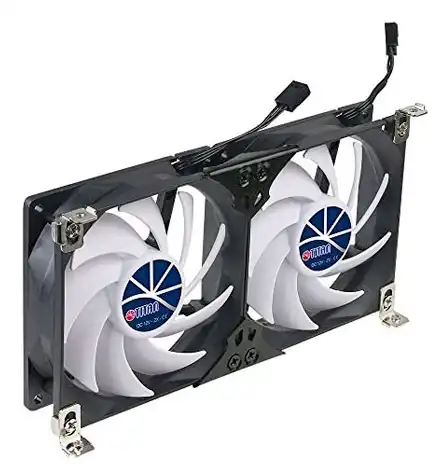 Titan's Mount Fridge Fan is a popular accessory for trailers, motorhomes, and RVs. Engineered for grille and vent mounting, this fan is a full fan kit that will reliably cool the largest of refrigerators. It has six levels of control and ensures comfortable settings.
There is a little DIY involved with this type of fan. But if you're comfortable with hardwiring a 12-volt appliance into your battery bank, it's the best bang for your buck.
Key Features:
6-levels manual controller to adjust to your needs
IP 55 waterproof and dustproof fan which makes it perfect for outdoor use
Rack hook design that easily attaches to the refrigerator vent
Free replacement guarantee for any shipping problems or product defaults
---
BEST BATTERY-POWERED FAN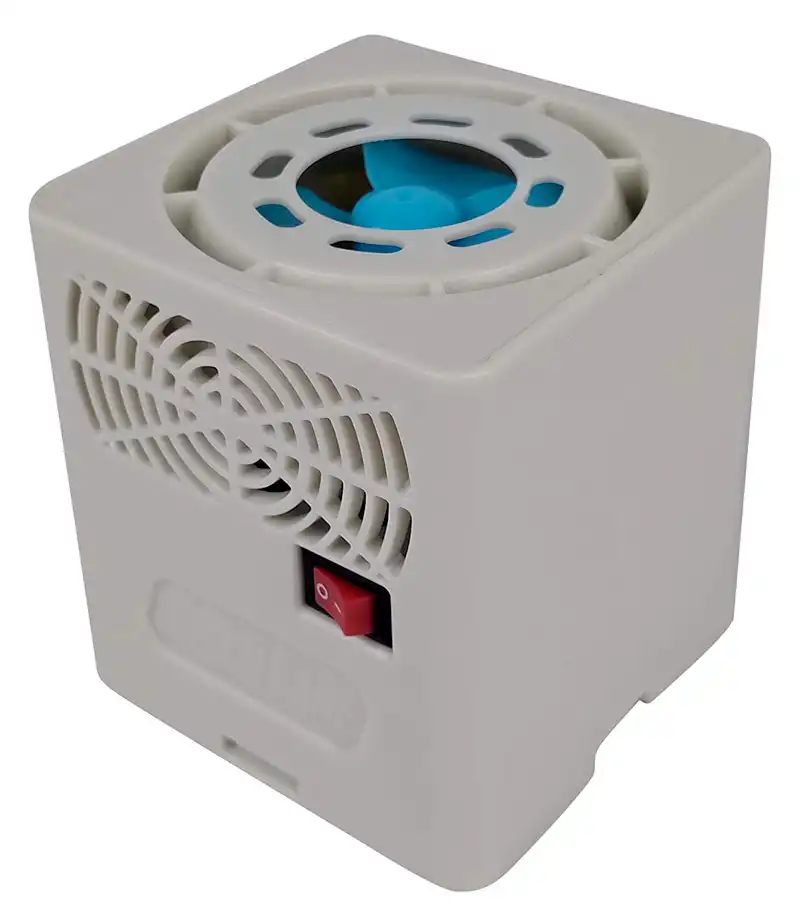 Beech Lane Fridge Fan
Powerful, high-volume fridge fan designed for quiet operation. The motor churns at 3,000 reps per minute and can keep the largest appliances at a steady temperature.
CHECK LATEST PRICE
The Beech Lane Fridge Fan has air intakes on the side and bottom. It provides efficient circulation to keep refrigerated goods safe in even non-motorized campers.
The RV fan has a high-powered 3,000 r/m (reps per minute) motor. That's quite impressive, considering competitive versions offer somewhere in the vicinity of 700 r/m. This model is also known for its quiet operation and ease of installation.
Key Features:
Uses a 3,000 RPM motor allowing high power circulation
Battery-operated for portable use
On/Off switch to help conserve power when not in use
They offer a lifetime warranty that covers the fan if it ever fails
---
BEST FOR ELIMINATING SMELLS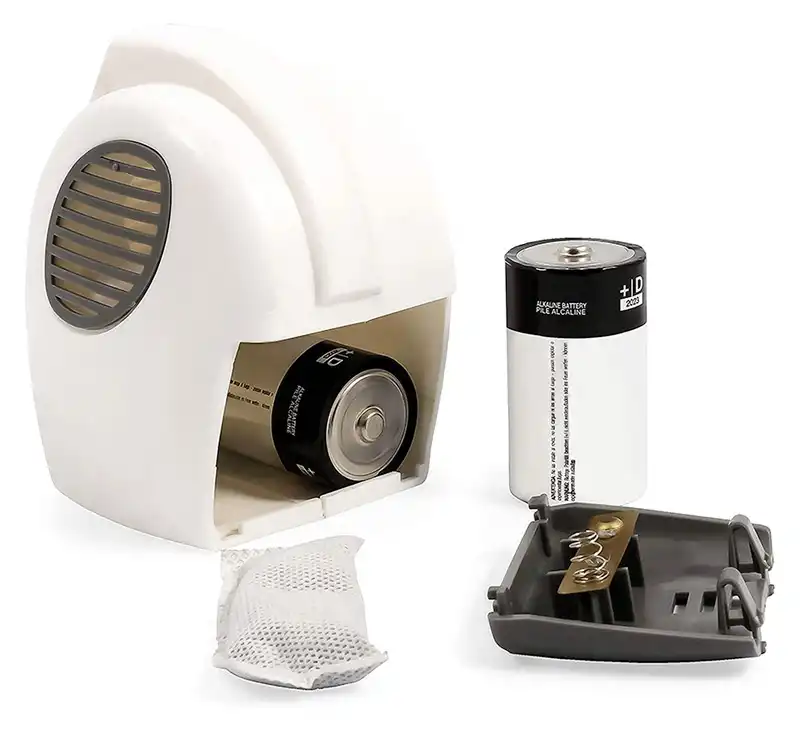 Camco Fridge Airator
This battery-powered unit is perfect for the small camper fridge. It comes with an on/off switch to save power when not in use and a replaceable charcoal pack to absorb odors.
CHECK LATEST PRICE
The Camco Fridge Airator doesn't just keep your RV refrigerator contents cool but keeps contents fresh. It has a charcoal pack that absorbs odors and keeps things noticeably natural. We recommend this device is for a smaller fridge as it doesn't blow a significant amount of air, but it should be plenty for an appliance up to 6.5 cubic feet.
Key Features:
Replaceable activated charcoal pack to absorb odors
Air circulator operates at high volumes
Battery-operated
On/off switch allows you to save power when it's not in use
---
That's A Wrap!
You can easily improve an RV refrigerator's efficiency with a portable fan.
For the best overall cooling solution we recommend the Titan Double Rack Mount fridge fan. The Beech Lane Fridge Fan stands out for its powerful motor and quiet operation. And Camco's Fridge Airator is the best option for eliminating smells.
You Might Also Like: