The Best Pop Up Camper Brands And Manufacturers (Review)
By
on
This post may contain affiliate links. As an Amazon Associate, I earn from qualifying purchases. Please read my full disclosure.
Pop up campers and trailers are lightweight, towable, and easy to store. The unique design means they can fold down small for the drive, then "pop-up" when it's time to camp.
Inside they can be comfortable, spacious, and hold a surprising amount of gear.
In this article we're going to cover all of the camper brands and models we could find. Plus tips for finding the perfect camper!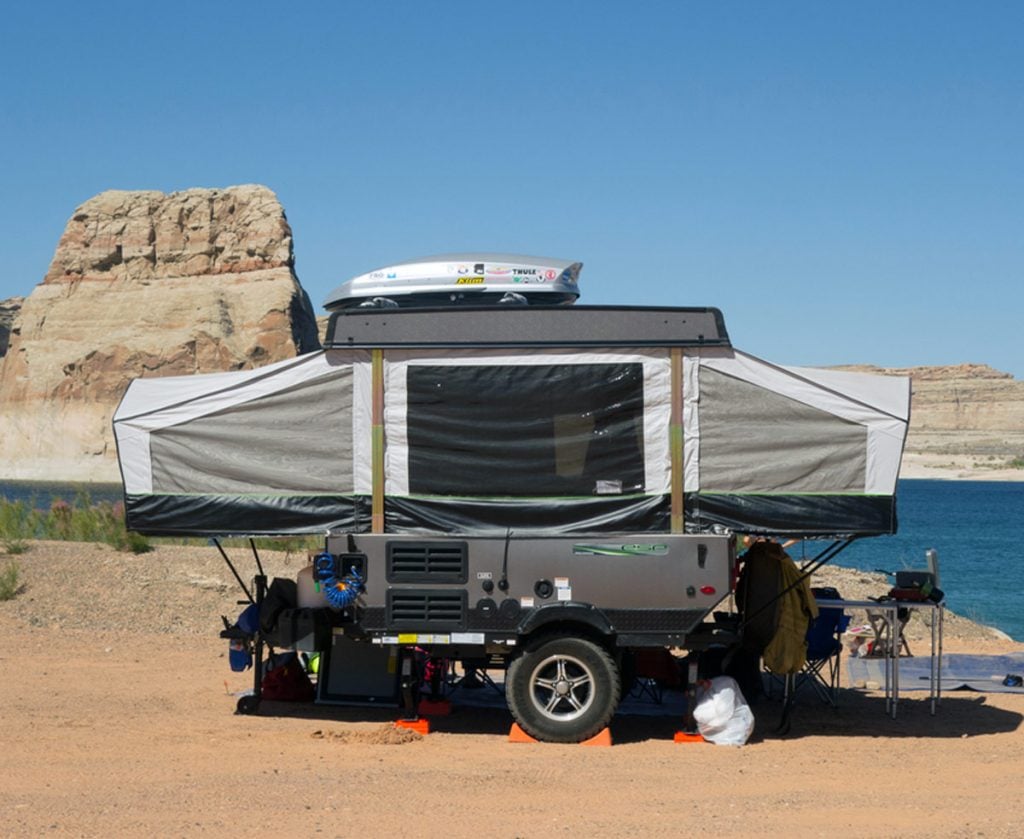 What is a Pop Up Camper?
A popup camper expands for camping and collapses into a lightweight trailer for transportation. This unique design makes them easy to store and easy tow.
You can recognize a collapsed popup camper because they look short, flat, and wide. At the campground they resemble fancy tent or small trailer.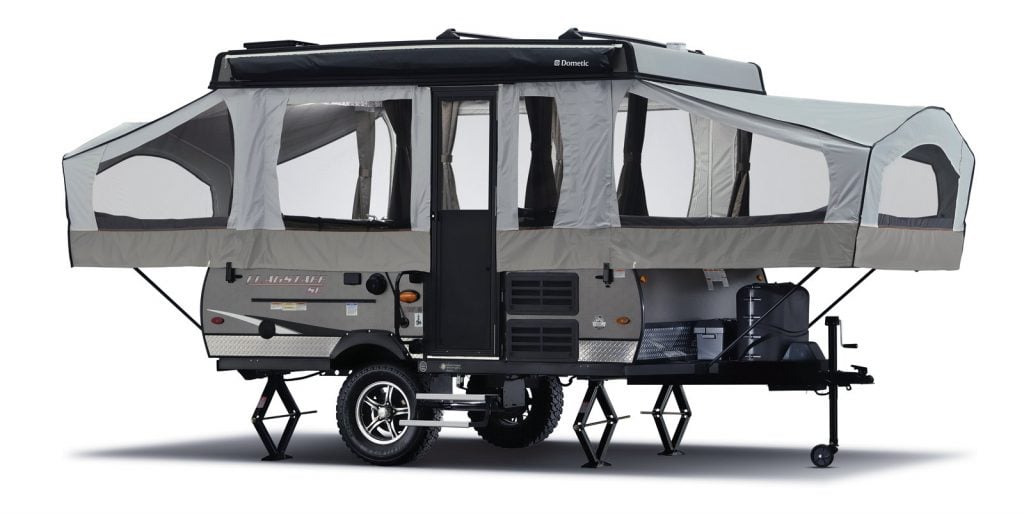 Types of Pop Up Campers
There are many different types of pop-up campers. Some are hard-sided and some are soft-sided.


Pop Up Camper Trailer Brands And Models
Unlike larger RVs which tend to all be manufactured by the same handful of companies, pop up campers have a surprising variety of brands and manufacturers. We were able to find almost 20 different brands of tent campers. And that excludes truck campers!
Here is a list of all the pop up camper trailer brands and models you can buy:
Aliner

Ranger 10
Scout-Lite
Classic
LXE
Ranger 12
Scout
Expedition
Family

Black Series
Camp 365
Coachman

Clipper Camping Trailer
Viking
V-Trek

Chalet
Forest River

Flagstaff High Wall
Flagstaff MAC Series
Flagstaff SE
Rockwood Extreme Sports
Rockwood Freedom Series
Rockwood Hard Side Series
Rockwood High Wall Series
Rockwood Hard Side High Wall Series

Jayco
Jumping Jack
Kimberley Kampers

Kamper RLT Edition
Kimberley Karavan

OBi
OPUS

OP4 Air Tent
OP2 Air Tent
OP Lite Air Tent

Sylvan Sport
Tentrax
Time Out Trailers

Deluxe
Time Out Camper
Easy Camper

TrailManor

2518 Series
2720 Series
2922 Series
3124 Series

Turtleback Trailers

Adventure Series
Expedition Series
Getaway Series
What Are The Top Pop Up Camper Brands For The Money?
With so many different pop ups to choose from, it's hard to decide which one is the best. So we broke down the brands into three categories:
Best Pop Up Travel Trailer Brands
Best Pop Up A Frame Camper Brands
Best Pop Up Camper Trailer Brands
Best Pop Up Travel Trailer Brands (Review)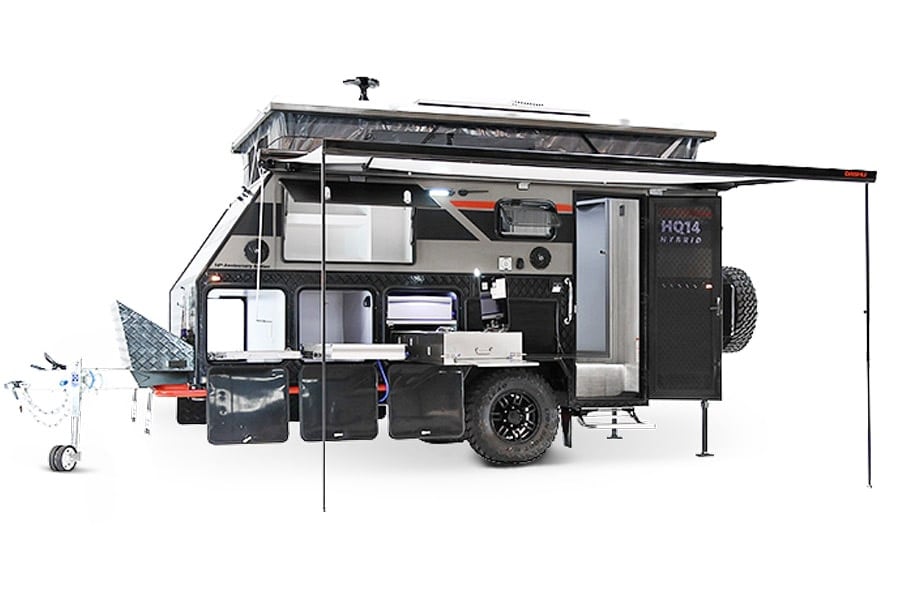 One of the most impressive brands we've come across is Black Series Campers. They were founded in Australia for off-grid travel and have a collection of pop up campers and toy haulers.
The HQ14 model has 4 hard sides with a soft-sided rooftop that pops up to give you standing room at the campsite. The camper is built like a tank and has tons of storage for gear so you can continue boondocking for weeks at a time.
The interior is designed to sleep two people comfortably and comes equipped with a fully enclosed fiberglass shower, porcelain toilet, 26 gallon fresh-water tank, 300W of solar, and 200Ah of battery power.
The trailer only weighs 4,400 pounds dry so you don't need a massive vehicle to tow it either. Black Series Campers start at $75,000.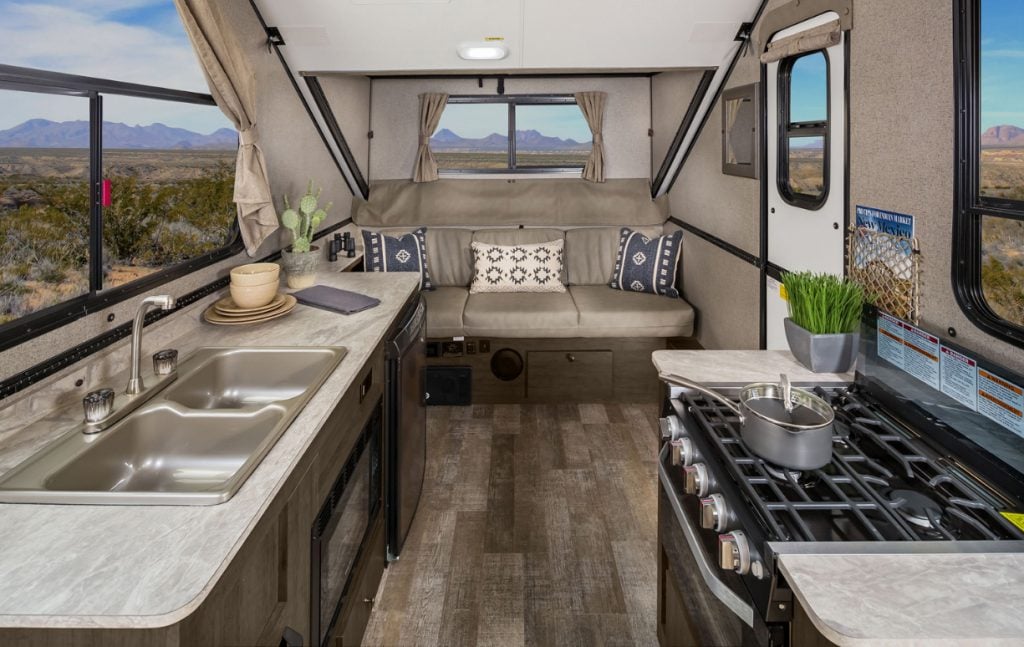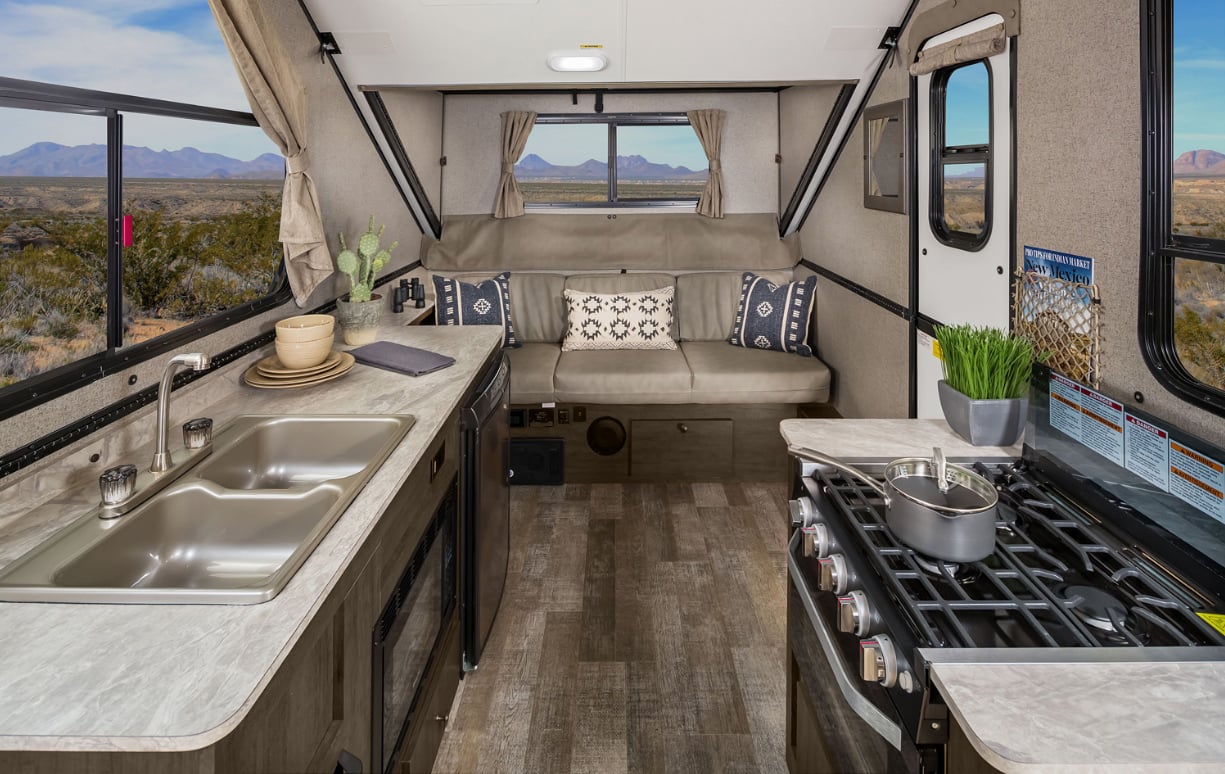 Forest River campers are owned by one of the "big 3" RV manufacturing companies. And while you won't get the most unique camper, one of the things big industry does is keep the costs low. You can purchase a new Rockwood Flagstaff camper for as little as $20,000.
Even though it has soft-sides, the camper comes with many amenities that you would find in a larger motorhome. Wood plank flooring, electric water pump, shower, and 3-burner range are just a few of the features you can find inside.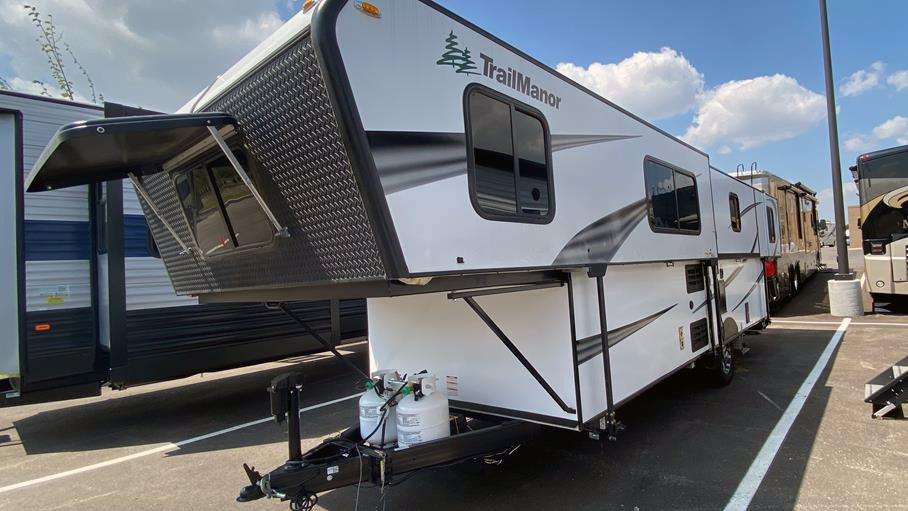 If you're looking for a product that feels similar to an RV but is a little more lightweight, then check out the campers from TrailManor. They are hard-sided, but still lightweight and can be assembled in under 2 minutes.
Inside, you'll find just about everything you would in a solid camper. Hanging kitchen cabinets, a living area, dinette, bedroom, and bathroom with a cassette toilet. These campers can sleep up to 6-people and weight only 3,000 pounds dry. The largest series costs around $30,000
Best A Frame Pop Up Camper Brands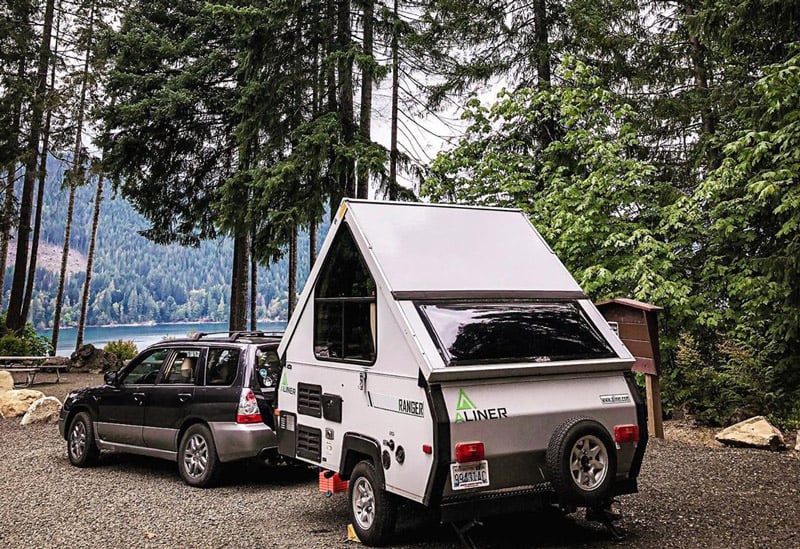 Aliner has by far the largest and most diverse line of campers. This makes sense because the company was started by the original designer of the A Frame.
Every Aliner camper comes with a bed, dinette, sink, solar panel port, 35A converter, skylights and vent fan. Most campers also come with a microwave, stove top, water pump, fresh water tank, small refrigerator and electric outlets.
There are a bunch of addons and additional features you can include in your purchase for an extra price. An air conditioner, furnace, outdoor grill and propane tanks are some of the most popular.
We like Aliner campers because they are so customizable. There are many different layout options to choose from. And in some camper designs you can even order different exterior colors.
An extensive dealer network makes them easy to find. Prices range from $10,000-$30,000.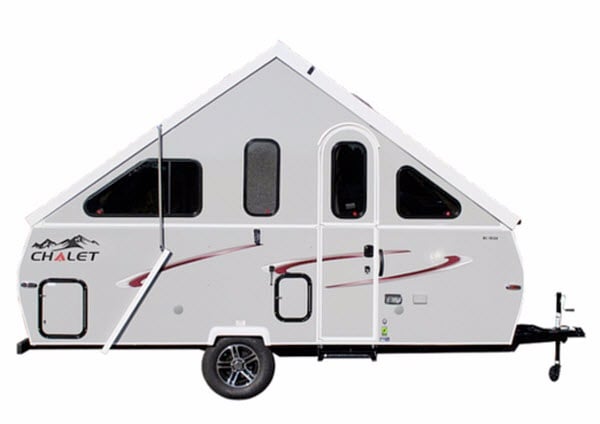 Chalet is a company based in Oregon and they make three brands of A Frames: The LTW, The Classic, and The XL.
The LTW: Weighs 900 pounds, sleeps two, and has a refrigerator, sink, water pump and 15 gallon tank, furnace, exhaust fan, propane tank and two burner cooktop. It's also prewired for solar and has a 35A converter.
The Classic: Is slightly larger than the LTW. It weighs 1505 pounds, sleeps three, and has all the same appliances of the LTW with more space inside. You can find two dinettes so there's more seating for family.
The XL: Sleeps four adults comfortably and weighs 1995 pounds. This trailer is much more spacious inside with lots of extra seating, an optional cassette toilet and wet bath, plus plenty of storage. If you're looking for an A Frame camper with a bathroom inside, this model is one to look at.
Best Pop Up Camper Trailer Brands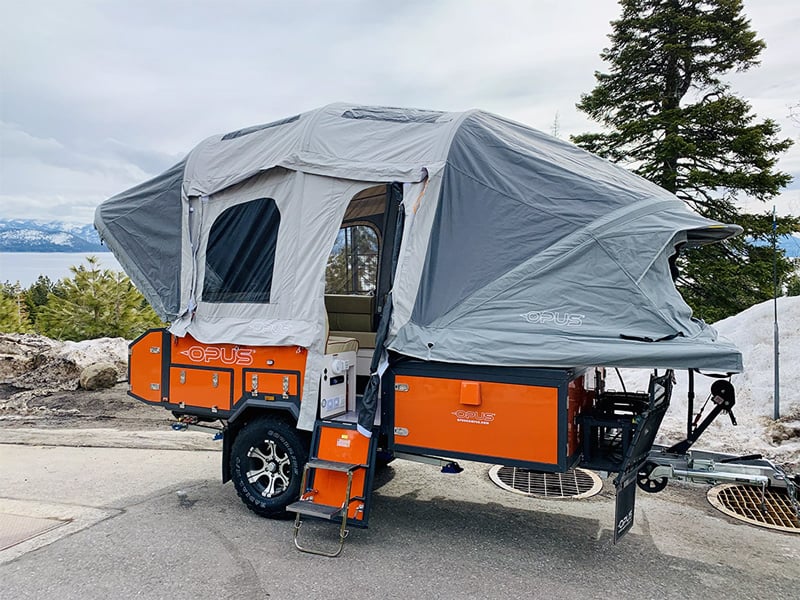 One of the largest and most luxurious camper trailers Air Opus. What makes this trailer unique is that it's an inflatable RV. The set up involves opening up the trailer, flipping a switch and allowing the air pump to set up the camper for you. There is a huge amount of storage space inside plus a dinette and room to sleep 4 adults.
Compartments on the outside give room to a 4 burner range, slide out sink and portable refrigerator.
The Air Opus is built for off roading with extra shock absorbers, and a high clearance to take it over any type of terrain.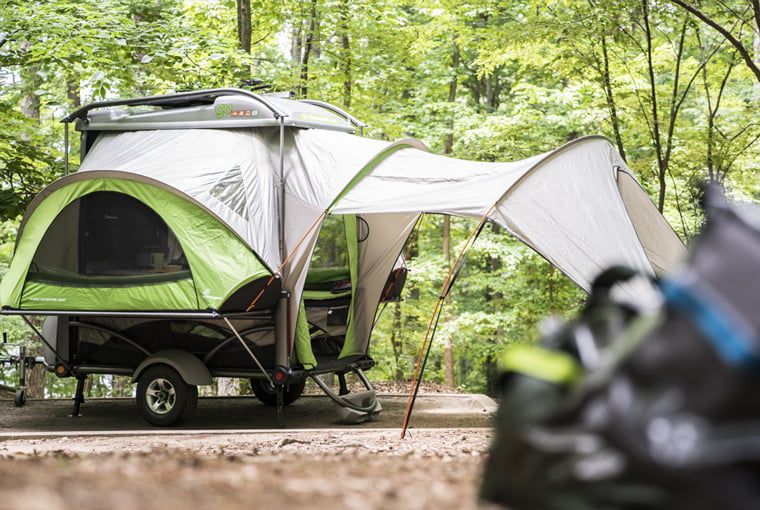 The SylvanSport Go is designed to haul around a lot of toys. It has three modes: camper, gear hauler and utility trailer.
Camper mode is the tent set up. It's comparable to a rugged camping experience and does not come with amenities and extra features like a kitchen or cabinetry. Instead, you'll find sleeping space for up to 4 adults, a standing interior height of 6'5" and a center table with seating.
The beauty of the SylvanSport is that when it's in transport mode you can haul anything from mountain bikes, to kayaks, canoes and heavy equipment.
The full camper weighs just 840 pounds making it the lightest pop up on our list of small tent campers.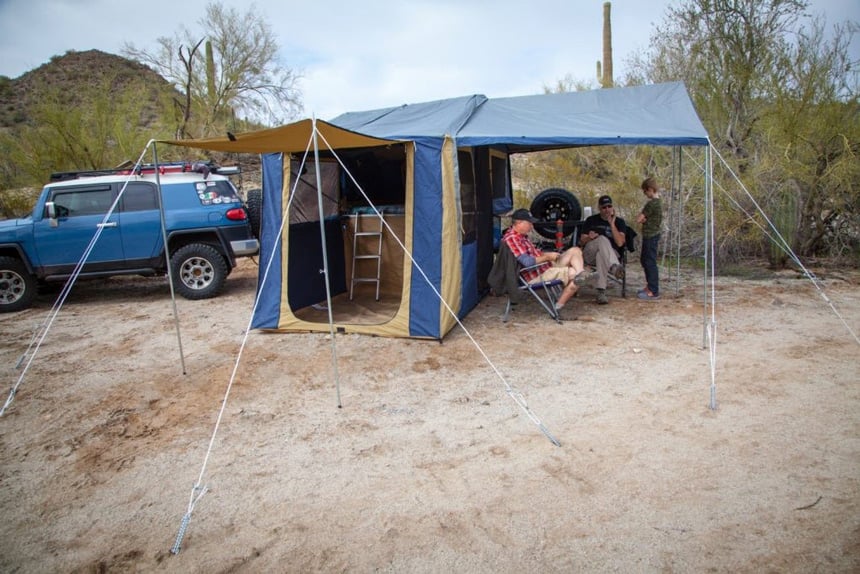 The Turtleback Adventure is a rugged popup that sleeps up to 6 people. It has basic amenities including a dinette, stove, 21 gallon water tank, sink and interior lighting.
The camper comes set up with a single deep cycle battery and charger to run all the electronics. There's also room for a propane tank onboard.
One of the features we like about this trailer is the large sun room that extends from the entrance.
Top Reasons to get a pop up camper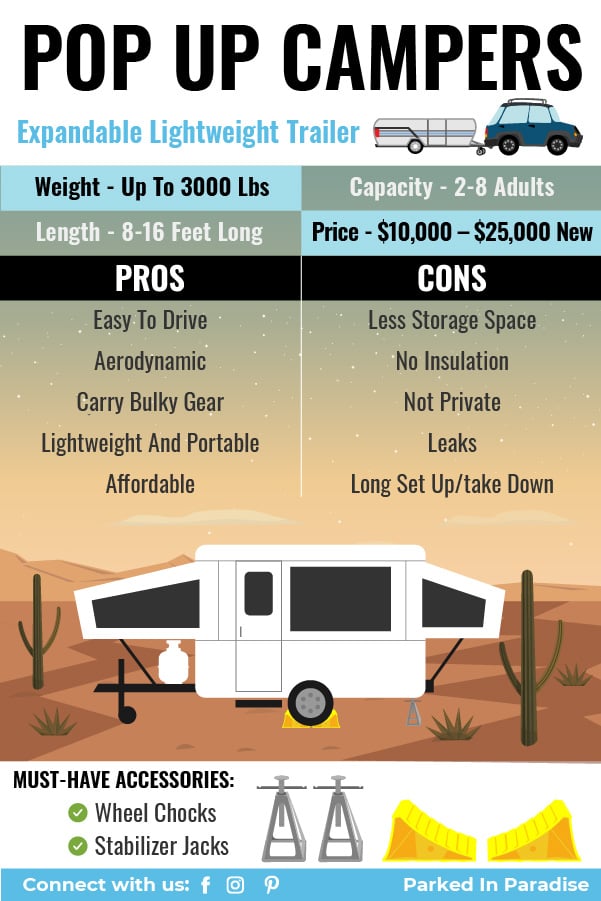 Lightweight size. The lightest tent campers range between 1,500 and 3,000 pounds. You can tow them with most vehicles including compact cars, full-size cars and trucks. Check your owner's manual or search for your VIN number online to find out if your vehicle is rated for hauling popup campers. If you love off-road adventures, choose a smaller unit with a good suspension system.
Smaller dimensions. Compared to super-sized RVs that make it hard to maneuver in tight areas, popup campers max out at about 7 feet while in transit.
Typically these campers are 8 to 16 feet long, but large models expand 20 to 30 feet, making them easy to haul without blocking your view while driving. Petite dimensions allow you to drive down winding highways and unpaved roads with ease.
Versatile sleeping capacity. You can fit many people into your tent camper. Smaller units sleep two to four people comfortably. Larger units use innovative techniques to expand sleeping capacity to six to eight people.
Look for the camper that suits your needs the best, choosing from popup campers that have queen or king size mattresses, as well as foldout couches and convertible dinettes that double as sleeping spaces.
Affordable price. Tent campers cost a fraction of what you would pay for other recreational vehicles. Budget for $10,000 to $35,000 for a small or large popup that meets your needs.
The reasonable price tag allows you to save money so you can take more trips without losing significant functionality. Because they are so small, you can store them at home, saving you even more money over time.
Family-friendly design. Popup campers are as easy to wash as your car and other vehicles. These campers have come along way and now contain plenty of family friendly amenities such as showers, toilets and air conditioning.
Who says roughing it has to be rough? You can store items to cook when you stop for the night as well as stock a few staples such as coffee, sugar and salt and enjoy luxurious sleeping accommodations while roughing it.
Aerodynamic design. A streamlined popup camper can save you money on gas. It also decreases drag and can even help you use fuel more efficiently.
When you're traveling long distances, this can result in significant savings. Canoes and stand-up paddle boards fit neatly on top of many models for compact storage that won't slow you down.
Versatile power options. For owners who like to live a little rough, power might not be a significant consideration. For everybody else, flashlights and the campfire don't quite cut it when it comes to available power sources. Fortunately, most units now come with a mini fridge, small television and other electrical amenities.
Most popup campers have 120-volt hookups that plug into city power grids. Generators are another great way to provide electricity for lighting, mobile devices and phones. Choose a tent camper with portable solar panels and charge controller so that you can power electronics well off the grid. Solar generators also supply power and come with a charge controller, inverter and battery bank capable of powering your popup.
Added security features. Unlike traditional tents, popup campers can be locked up at the campground to keep thieves and animals out. You may also feel more secure at night since you don't sleep directly on the ground. Although the camper has a cloth top, its hard sides make it safer than more primitive options.
Easy setup. Once you get to the campsite, it takes just a few minutes to set up basic popup campers. Typically, you fold the tent areas out and crank open side panels that expand and you're good to go.
If you have an outdoor kitchenette, it may take a few minutes to extend, pull out or set up your stove and cooking gear.
Convenient maintenance. Popup campers have fewer parts to maintain them motorhomes, making them easier to take care of. For example, the simplest units use cassette toilets rather than a full plumbing system. The small size also makes them easier to store in a covered space throughout the winter.
Storage capacity. While the storage available in popup campers comes in handy during a trip, you will appreciate it even more when you aren't traveling. Store all your camping and sports gear in your camper to save space in the garage, attic or basement. You can use the floor space to store coolers, sleeping bags, lanterns and other vacation items.
Heating options. Even if you enjoy living close to nature while on vacation, chilly nights can make it tough to get the rest you need. Most popup campers come with heaters to keep the interior comfortable.
This is just one of the many reasons more families are choosing popup campers over tents and sleeping bags. However, popup campers aren't typically designed for year-round travel.
Air conditioning. If you are like most people, you probably tend to travel more during warmer weather. Without air conditioners or vent fans, your popup camper could get rather stuffy on warm summer days or nights.
This is a real perk for families with infants or children sensitive to the heat. Additionally, if you find tents stuffy to sleep in, you'll appreciate the flow of cool air.
Showers. While basic popup campers may not have showers, mid-range models include them as part of the standard package. Most showers in popup campers are rather basic but allow you to freshen up after a day of hiking or camping.
Other models come with an outdoor shower and canvas for privacy. Being able to stay clean without paying for a hotel greatly enhances your vacation experience.
Camping off the grid. For families that truly like to get away, popup campers provide all the basic amenities without requiring continuous hook up to electricity. So, if your idea of a perfect vacation is boondocking in the wild, a popup camper can make your experience more comfortable.
Beginner friendly design. Are you new to taking your living space with you? Thanks to the low price of popup campers, the entry barrier is relatively low. The lightweight design and easy setup make popups the hassle-free choice for campers and vacationers.
Bathrooms. OK, so we've mentioned this already. However, it deserves its own bullet. For families with small children, using the campground restroom at night can be scary and inconvenient. However, the ability to use the restroom in the camper makes life easier and safer for adults and kids alike.
Hot water. The hot water capacity maxes out at about six gallons but that's enough to clean a few dishes or scrub up at the end of the day. Even with limited capacity, hot water makes a huge difference when you're camping.
Easy access to your stuff. The doors on popup campers typically fold in half, making it easy for you to retrieve items even when the camper is closed. You can store coolers, clothes and equipment that you need for the day near the door where you can reach them quickly.
Proximity to nature. Popup campers provide shelter from the elements and keep you off the ground while sleeping. At the same time, you can open the plastic flaps to let in cool air and har the nighttime sounds of nature. If rain sets in, you can zip up the window flaps to stay warm and dry.
And…
The Number 1 reason to buy a popup camper is…For the amenities. The number of amenities available depends on how much you can spend and what you're looking for. Beyond the basics of sleeping areas and kitchenettes, there are a few other luxuries that can enhance your trip.
A built-in refrigerator and microwave make it easy to warm food or keep beverages cool. a shower and toilet seem like necessities but don't come standard on basic popup campers. For those who love to stay close to their electronics, Bluetooth speakers and USB ports are a must.
You can also look into gadgets that boost your cell phone signal and allow you to access satellite or cable TV. Power lift assist can make it easy to set up your popup camper and solar panels, and outdoor grills allow you to prepare food and power your equipment.
Skylights, vent fans and exterior lighting all add to your camping experience.
Choose a popup camper brand that meets the needs and budget of your family. Remember to consider awnings and canvas for outdoor living space.
Although you may have to save up for your popup camper, you will save tons of money on hotels when you travel with your camper. For those who love to stay close to nature, this is an ideal investment for family vacations and camping trips.
Frequently asked questions about Pop Up Campers
Where is the VIN Number on a pop up camper?
The VIN is most likely to be found:
On the side of the frame near the tongue.
On the underside of the frame.
Nearby the axles on the frame.
In an interior storage cabinet.