Best Teardrop Camper Designs For Adventure Travel
Teardrop campers are lightweight, easy to maneuver and a comfortable way to spend the night outdoors. Characterized by their retro "teardrop" shape, the teardrop trailer became a popular way to camp in the 1930s.
As vehicles with more powerful motors gained popularity in the 1960s, the teardrop trailer began dropping out of style. Larger, more luxurious travel trailers started to take their place.
Today, teardrop trailers are making a comeback. Higher gas prices make them a more economical way to travel. And there are numerous DIY plans that can be found online making it easy to build your own teardrop camper for a fraction of the cost.
There are many reasons to get hyped about the teardrop trailer. Below, you'll find a list of things to look for in a camper and profiles of some of the coolest small trailers for sale. We'll also give you some DIY advice for building your own teardrop trailer.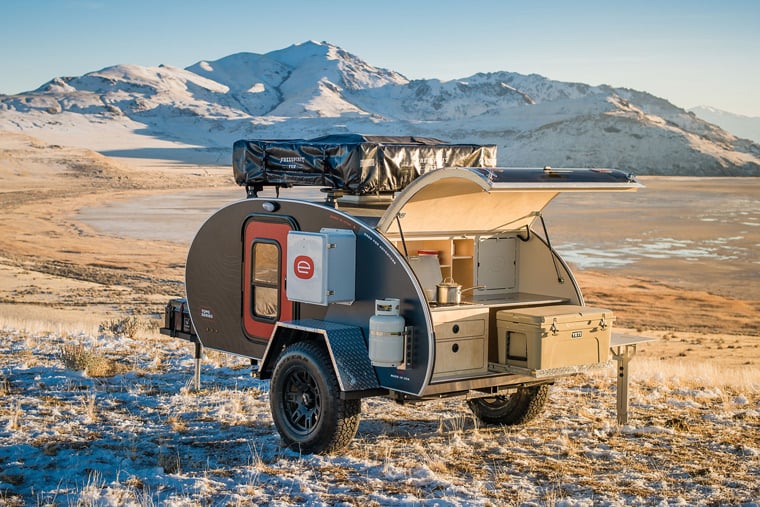 What is a teardrop camper?
Traditional teardrop campers can be easily spotted by their round 'teardrop' shape. They are built on a trailer with two wheels and connect to your car or truck using a ball and hitch mount.
Small teardrop campers are built to sleep two people comfortably. They have doors on both sides and sometimes have windows.
The trunk of a teardrop opens like a hatchback to reveal a portable outdoor kitchen and some extra storage space.
How much do teardrop campers weigh?
Most teardrop trailers weigh under 1,500 pounds making them easy to tow with nearly any vehicle.
How big are they?
Teardrop trailers are small. Most measure just 6 feet wide and 8-12 feet long. That makes them especially easy to maneuver. They can even fit in a regular parking spot.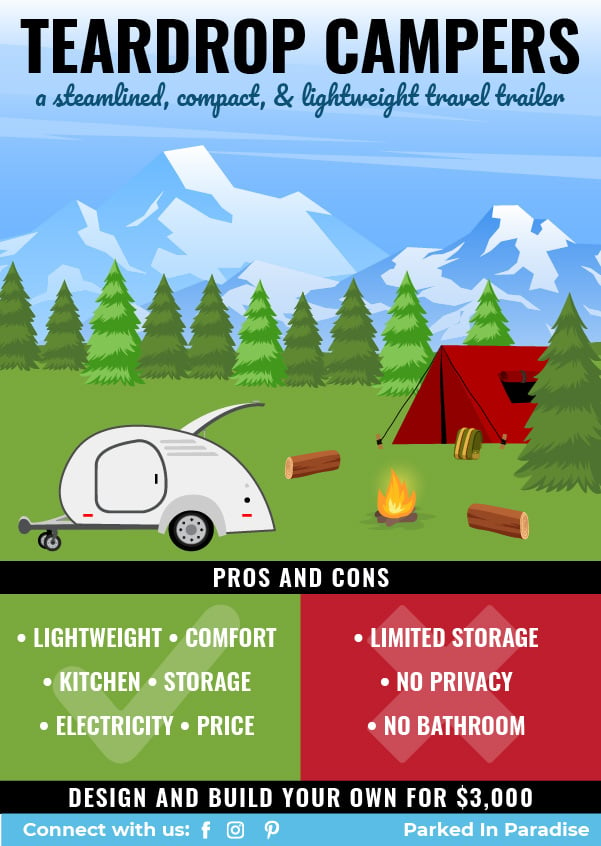 How many people can they sleep?
Teardrop campers traditionally sleep 2 people. Some trailers have roof racks that allow the addition of a roof top tent to add more sleeping capacity.
How much to teardrop trailers cost?
Pricing varies widely. You can expect to pay $10,000 – $15,000 for a basic teardrop trailer and up to $30,000 if you want something more luxurious.
Alternatively, DIY teardrop trailers are significantly less expensive. You can build these for under $3,000 if you're willing to put in the work yourself.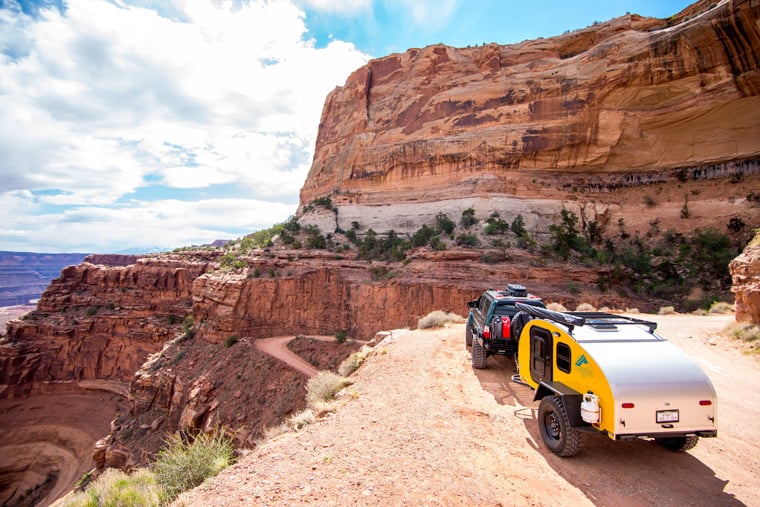 Why choose a teardrop trailer over other campers?
There are several reasons why campers would choose to own a teardrop over other trailers.
Portability: Because of the small footprint they are easy to maneuver, park, hitch and unhitch. You can leave the trailer at your campsite to 'reserve your spot' and still have a vehicle to take on adventures during the day.
Due to their size, a teardrop camper can easily fit into a regular tent camping site. They're also small enough to squeeze into a store parking lot if you need to make a grocery run.
Low impact: Compared to a 5th wheel or RV, the teardrop camper is much more environmentally friendly. You'll save a lot of money on gas and you don't need a giant truck to tow them.
Off-grid adventures: With its small size, teardrops are significantly more versatile than larger campers. They do well on dirt roads and tight turns unlike an RV. The design is minimal, so a bit of rattling isn't going to hurt the appliances inside. They also have a high ground clearance compared to most standard campers.
All of this is to say you can take a teardrop camper off the beaten path and experience nature in a more secluded setting.
Comfort: Compared to camping in a tent, a teardrop trailer is a luxury experience. The hard-outer shell keeps you safe from the elements and eliminates wind and rain.
Because you're sleeping off the ground, you won't have to worry about critters and snakes sneaking inside. You also don't have to worry about water pooling underneath when it rains, or rocks and uneven surfaces disrupting your sleep.
Teardrop campers have mattresses inside making them nearly as comfortable as your home. Many have vent fans built on top to help control the temperature as well.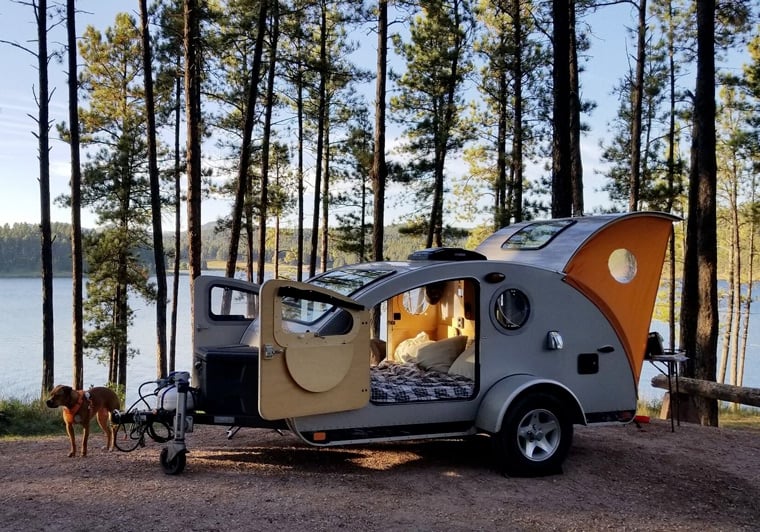 Kitchen and storage: Unlike a tent, you'll have a full kitchen set up right alongside you in a teardrop. Many people bring along camping refrigerators and stove tops as well as a variety of food. With the sturdy hatchback you can lock up your food to inhibit bears and raccoons from getting inside while you're gone.
Electricity: Some modern teardrop trailers utilize solar panels and batteries to power electronics off-grid. Portable solar generators can also be used to power lights, fans, refrigerators, stereos and ebikes during your trip.
Price: Perhaps the most desirable feature of a teardrop trailer is its price tag. You can have a comfortable camping experience with a significant cost reduction compared to a 5th wheel or RV. While they may not have all of the amenities of those larger vehicles, the benefits of maneuverability and environmental impact make up the difference to some.
Build your own: If you like projects and working with your hands, the teardrop trailer is the perfect camper to tackle. Dozens of designs can be found online ranging from minimalistic builds to modern geometric shapes.
A DIY teardrop is not that expensive to construct and will hold up over a lifetime of use.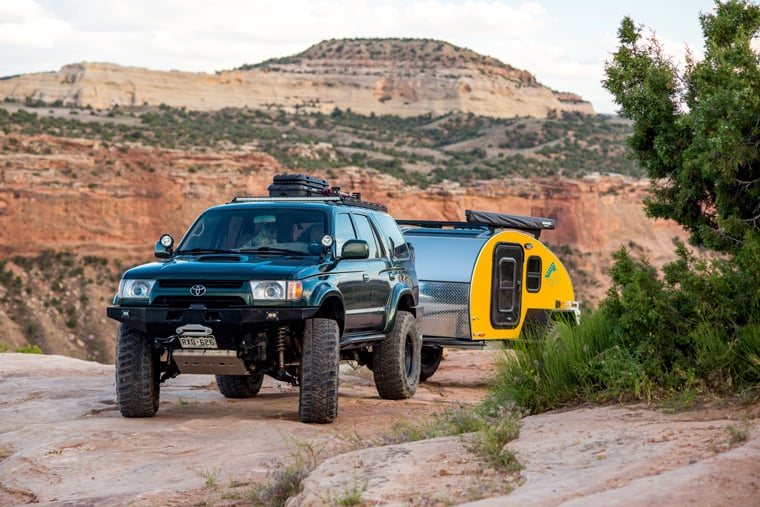 What are the disadvantages?
As with any camper, there are always going to be downsides in choosing one type over the other. Here are a few features to consider before you jump on a purchase:
Limited storage space: Teardrops are one of the smallest types of campers. That means you simply won't have the storage capacity you would in a larger trailer. They also have oddly shaped rooflines, so you probably won't be able to strap a kayak, canoe or bicycle on top.
However, because all of your camping equipment can fit inside the trailer, that leaves a lot of spare room in your tow vehicle. You can utilize a rooftop cargo box or storage bag to add extra space on top of your car.
Built for shorter trips: These trailers were not meant to be long-term living solutions. You're better off looking at a campervan conversion or RV if you plan to spend a significant amount of time camping. They lack some major amenities like a toilet or shower that you would typically find in a larger camper.
Privacy: Teardrop campers are more similar to a tent camping experience than an RV living situation. You'll find that these campers aren't insulated well so sounds and lights will carry through them easily.
There is also a little less privacy with this type of camper because your kitchen is outside. Don't expect to spend any significant amount of time inside the trailer during the day; that space is reserved mainly for sleeping.
No bathroom: As stated moments ago, there is no toilet or shower in a teardrop. That might make this camper a deal-breaker for some. Luckily, portable toilets and camping showers pack down small and can easily be brought along on your road trip. If lack of toilet is holding you back, we recommend looking into those options before dropping thousands of dollars on a larger rig.
Difficult to back up: Just like any trailer, it takes some practice to learn how to drive a teardrop in reverse. Fortunately, these are some of the shortest campers you can buy so it will be much easier than backing up a 5th wheel. Patience is key and you'll get better with the process over time.
Teardrop Camper Manufacturers In North America
Things to look for before purchasing
There is a huge variety of teardrop campers out there, and some companies have gotten really creative with their designs. Asking yourself a few questions before purchasing can help you narrow down the results.
How many people will be sleeping in it?
Where are you taking it?
How important is electricity and entertainment?
How much storage space do you need?
What is your budget?
Can you build it yourself?
Do you want to test a camper first?
If you're serious about owning a teardrop trailer and have the time, we recommend testing one first. That can save you money in the long run and really help you figure out the best camper for your family.
There are a number or rental companies online that will let you try before you buy.
Use the coupon code "parkedinparadise" for up to $40 off your rental price on Outdoorsy
Must-have accessories
A couple of accessories can make all the difference in your camping experience. These are some luxury upgrades and additional accessories you may want to consider when choosing when choosing which trailer to buy:
Interior and exterior lighting
USB charging ports
Solar panels
Chargers and inverters
RV batteries
Roof rack
Awning
Stabilizer jacks
Stove top
Propane tank
Water tank
Vent fan
Heater
Air conditioning unit
Portable toilet
Portable refrigerator
Camping shower
The Best Teardrop Campers For Sale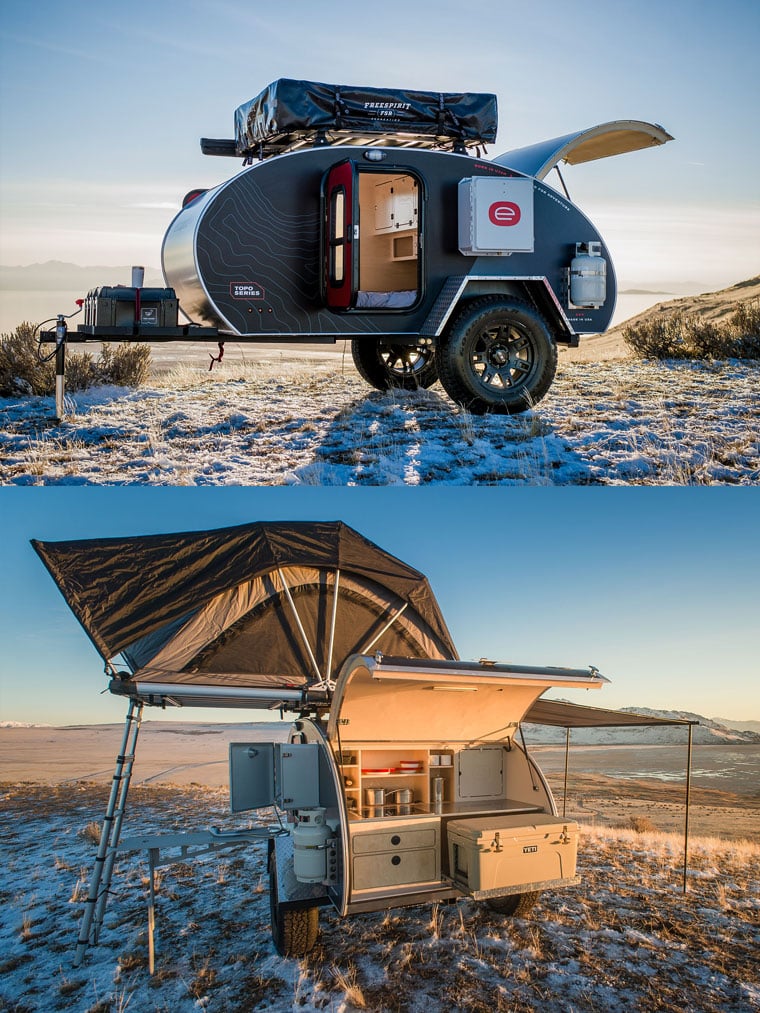 Escapod – Topo Series
Sleeps: 2 – 5 (with addition of roof top tent)
Weight: 1,600 pounds dry
Exterior Dimensions: 13 feet long, 7 feet wide
Base Price: $16,500
The Escapod Topo Series is custom built to fit your needs. That means you're not getting the same pre-built trailer design as everyone else. You can customize the colors, features and accessories to match what you desire in an adventure camper.
That's not to say this teardrop doesn't come fully stocked. The base price includes a 7ft sunseeker awning, Yeti 65 cooler, Fan-Tastic Fan, a deep cycle battery, and crossbars to store your extra equipment.
There's also a ton of addon accessories like a portable refrigerator, inverter, roof top tent, and propane heater among many others.
What we like most about this trailer is the ample space for storage and living it provides. Not many teardrops come with the roofline to haul equipment on top or secure an awning for the rainy days.
While it's not the cheapest trailer on the list, it does come with everything you need for an extended camping trip. With the added roof top tent you can sleep 4-5 people making it more affordable per person.
The company also offers rentals for as little as $125 per night so you can test it yourself before committing to a purchase.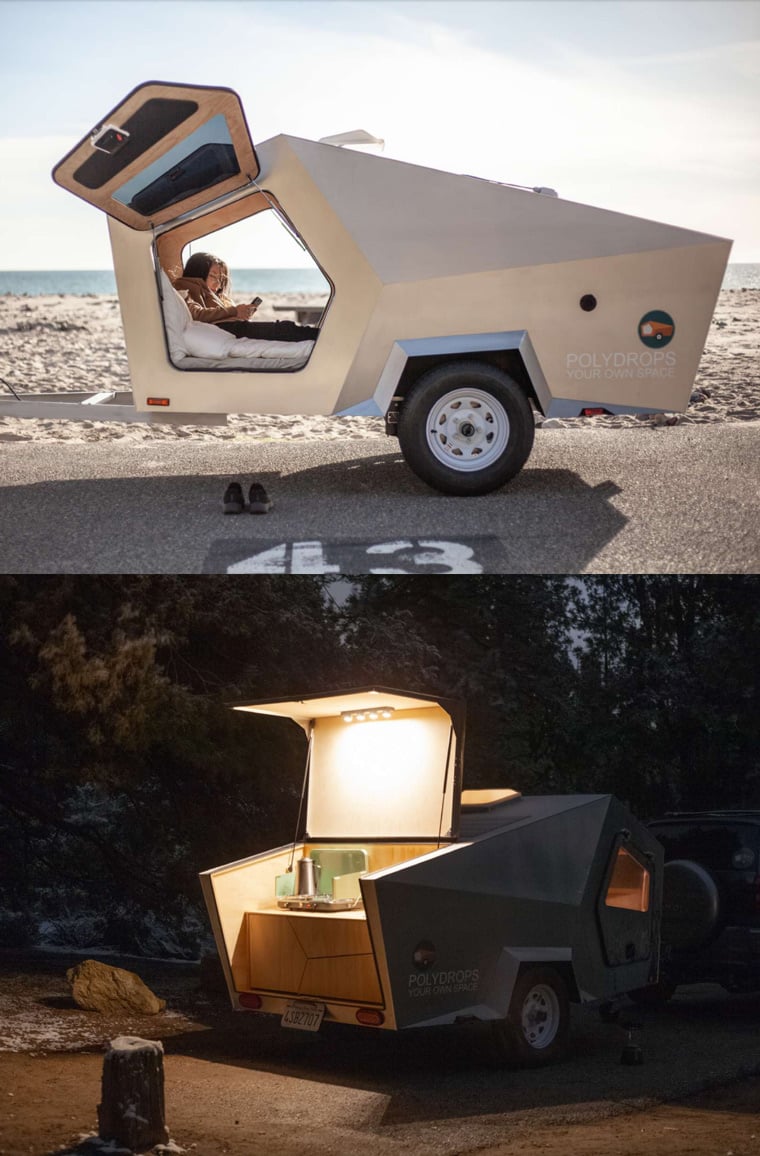 Polydrop Trailer
Sleeps: 2
Weight: 760 pounds dry
Exterior Dimensions: 12.5 feet long, 5.5 feet wide
Base Price: $9,000
One of the most unique designs you'll find is the Polydrop trailer. The modern, geometric shape makes it look more like a spaceship than a teardrop. What will you find inside? A kitchenette with two drawers, LED lights and USB outlets powered by a 100W solar panel. Three storage sections and a comfortable mattress with space for two people to sleep.
This is a basic camper, but it comes with a lower price tag than some of the others. You'll get more mobility with this tiny trailer and its one of the most lightweight trailers we've seen.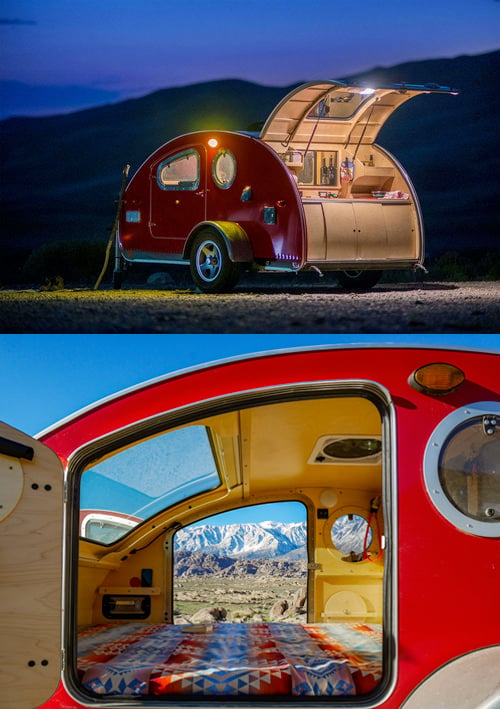 Vistabule Teardrop Trailer
Sleeps: 2
Weight: 1,200 pounds dry
Exterior Dimensions: 14 feet long, 5 feet wide
Base Price: $17,995
The shape of the Vistabule teardrop trailer makes it one of the more traditional designs. But that's not to say it doesn't include a few modern features and upgrades. Side tables flip up from the doors leaving room for eating and playing cards. The temperature can be controlled with the included Maxxair fan, and there's 115Ah of battery power to operate reading lights and dome lights inside.
As for the extras, bat wings can be added to the back hatch to windproof your kitchen and prevent rain. There are also options for a built-in cooktop, fresh and gray water tanks, portable refrigerator and a 5000 BTU air conditioner.
Learn more about the Vistabule →
Oregon Trail'R FronTear
Sleeps: 2
Weight: 1,100 pounds dry
Exterior Dimensions: 12 feet long, 6.5 feet wide
Base Price: $16,000
Another made-to-order teardrop is the Oregon Trail'r FronTear. Oregon Trailer is a small company that will design the teardrop based around your specs. Most campers follow similar sizing and dimensions, but you can customize everything to fit your needs.
Our favorite thing about these campers is the detailed wood construction inside. You can choose to add options like vent fans, water systems, porch lights, tongue racks and batteries.
Because the company is small and the trailers are built to order, they require a long lead time. But that also gives you a more personalized experience than you would get with some of the bigger brands.
Learn more about Oregon Traile'R →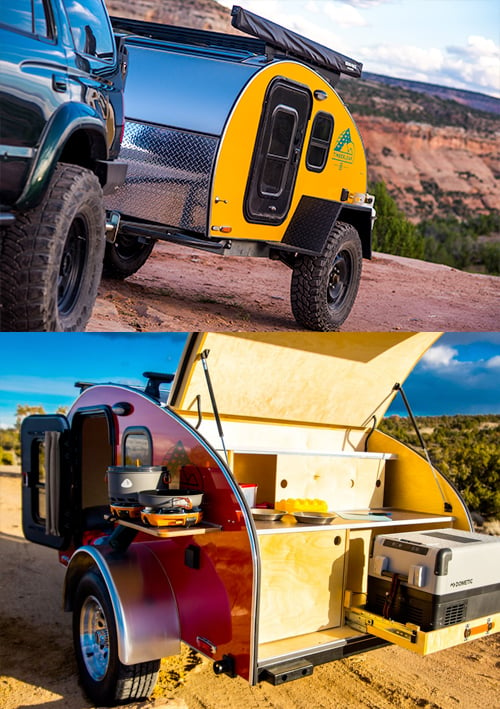 Pika by Timberleaf
Sleeps: 2
Weight: 970 pounds dry
Exterior Dimensions: 8 feet long, 4 feet 6 inches wide
Base Price: $11,750
Build for off-grid adventures, the Pika Trailer is lightweight and compact. It's also one of the more affordable campers, but that doesn't mean its lacking in amenities. What do you get for the price? Lights, a Maxxair vent fan, 6 USB outlets and 2 GFCI 110v outlets all powered by a 100Ah deep cycle battery.
The aluminum sides and roof can support an awning and there's ample upgrades to choose from like solar panels, a portable refrigerator and a heating or AC unit. We like that this camper allows you to start with a minimal, low-priced build and add options as needed.
Teardrop Trailers with Bathrooms
Traditional teardrop trailers do not have bathrooms inside, but campers like the TAB Teardrop by NuCamp and the Little Guy Max Trailer try to keep the spirit of the teardrop shape while still offering amenities like a toilet or shower.
What happens if you need a bathroom? We recommend reading our post on best portable toilets for camping. There are a number of compact toilet solutions that are lightweight and portable enough to store in your trailer. Simply add a toilet tent and you should be all set for a road trip.
As for the shower, portable camping showers are another great solution. These can range from gravity-fed shower bags to heated propane showers.
Don't let the lack of full bathroom stop you from trying out a teardrop camper. Remember, you can always try before you buy with a camper van rental company.
DIY Teardrop Camper Plans
When it comes to teardrops, one thing not to be ignored is the ability to build your own. A DIY trailer can save you thousands of dollars and allow you design to your exact specs. You can find tens of plans online to build your own trailer. These are some of our favorites:
Camping in a Teardrop
When it comes to camping, the best trailer is the one that fits in with your lifestyle. Teardrop campers are great because they're lightweight, inexpensive and a comfortable way to camp. If you really want to dive into a project, we recommend building one of your own. Happy travels!
Continue reading: