The Best Modular Campervan Conversion Kits For A DIY Build
By
on
This post may contain affiliate links. As an Amazon Associate, I earn from qualifying purchases. Please read my full disclosure.
Designing your own camper van conversion takes a lot of time and energy. Even though we had a fairly minimalist camper van build, it still took many weekends of work to complete.
Camper van conversion kits cut down that time significantly.
They are easy to install, affordable, and take away a lot of the guesswork that comes with building your own van.
In this article, we're going to cover some of the best camper van conversion kits that you can buy today. Plus, some of the best camper van component companies to add to your build.
We'll also go over pros and cons of using a kit vs building your own.
The Best Campervan Conversion Kits for a DIY Van Build
There is an ever-growing list of companies designing van conversion kits. And as an added bonus, almost all of these kits hit the requirements to register your van for RV insurance.
Without further ado, and in no particular order, here are some great conversion kits to consider purchasing: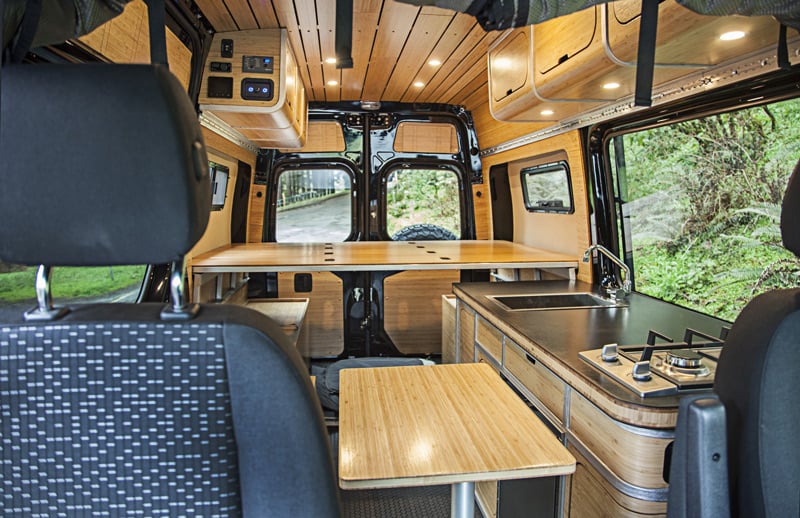 Zen Vans Camper Conversion Systems
Price: Starting at $18,000
Vehicle: Mercedes Sprinter
While Zenvanz does create professional conversions for clients, their claim to fame is the DIY kit.
The kits are designed to use only factory holes, no drilling required! That means they're easy to uninstall if you ever want to sell your vehicle.
The materials themselves are gorgeous. You can get everything from bamboo ceiling slats to custom fabrication.
Zenvanz has a network of builders that are familiar with their systems so if you don't want to install it on your own, if can be done by a professional upfitter.
The cabinetry you get with a ZenVans kit include a rugged aluminum exoskeleton filled with lightweight bamboo panels. You can create your own layout using the following components:
Kitchen galley
Upper cabinets
3 panel bed system
Fold out gear drying rack
Bamboo ceiling panels, door panels, and wall panels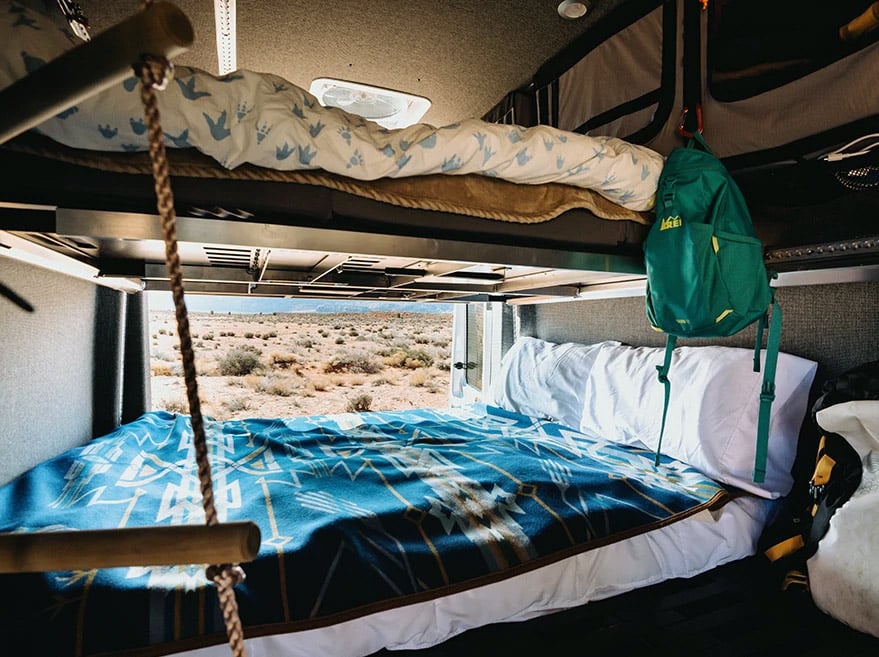 Adventure Wagon Interior Kits
Price: Starting at $13,500
Vehicle: Mercedes Sprinter, Ford Transit, Ram ProMaster
We love the Adventure Wagon modular kits because they are minimalistic and easy to remove. The components are fitted using an L-track system so you can shuffle around parts on an as-needed basis.
Adventure wagon sells the standard components like upper shelving, interior panels, and anchor points. But their claim to fame is the modular bed designs.
The MOAB bed platform can be raised out of the way like an elevator so you can work underneath during the day. If you're traveling with a lot of friends and family, you can install two MOAB beds to create two queen-sized bunk beds.
MONK bunk beds fold down from the wall using pull straps. They are incredibly lightweight and space saving.
In addition to their bed systems, here are some other components that Adventure Wagon sells:
Soft overhead storage lockers
Electrical kits
Headliner
Ceiling fan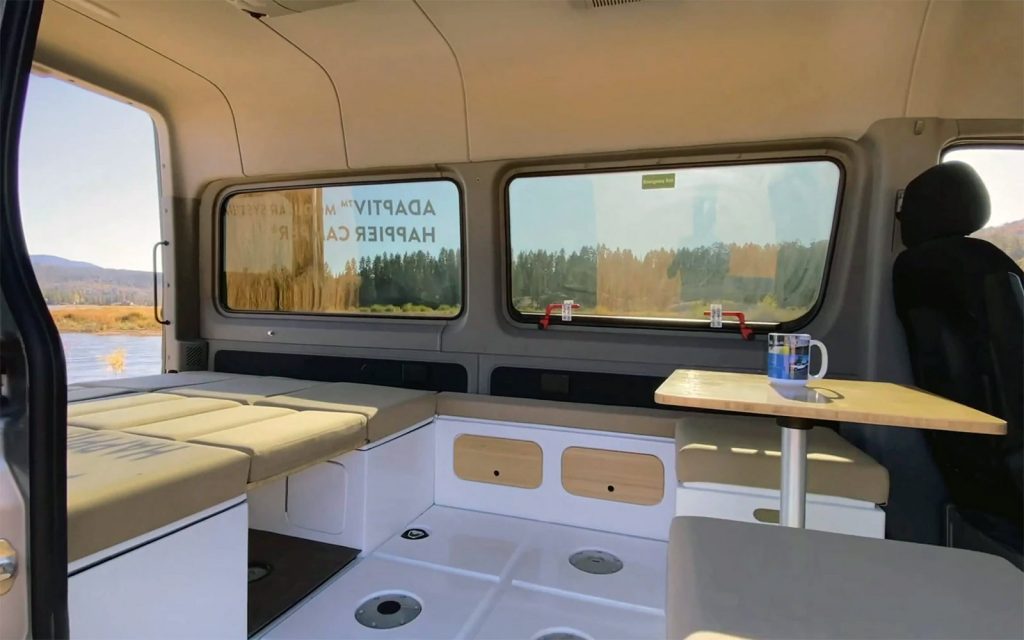 Happier Camper Conversion Systems
Price: Starting at $10,000
Vehicle: Mercedes Sprinter
Happier Camper has designed one of the more unique conversion systems that we've seen. They are made specifically for Mercedes Sprinter cargo vans or travel trailers.
The components come as an easy-to-install 7-piece flatpack kit. First, you lay down the Happier Camper Adaptiv™ floor. From there, you can mix and match the cubes similar to Lego.
Each pre-constructed cube has tie-downs which attach to the floor with frame-mounted D-rings.
The best part is you can quickly assemble and disassemble the kit into your empty van on an as-needed basis. And you can move around the modular boxes as often as you'd like!
The Happier Camper modular components include:
Bench and bed set
Kitchenette
Couch
Countertop
Cooler
Toilet
Nesting tabletop
Titan Vans DIY Conversion Components
Price: Varies
Vehicle: Mercedes Sprinter, Ram ProMaster, Ford Transit
For builders who want to do most of the legwork themselves but need some specific parts to get it done faster, Titan Vans is a useful choice.
This company does not sell full camper conversion kits. Instead, they sell individual components like headliner shelves, water tanks, seating, and wall panels that are designed for Sprinter Vans, ProMasters, and Ford Transits.
This is an excellent way to build your van piecewise without the high cost of a full system. Some of the parts that you can add to your cargo van include:
L-tracks
Wall panels
Headliner shelves
Upper cabinets
Kitchen kits
Gray water tanks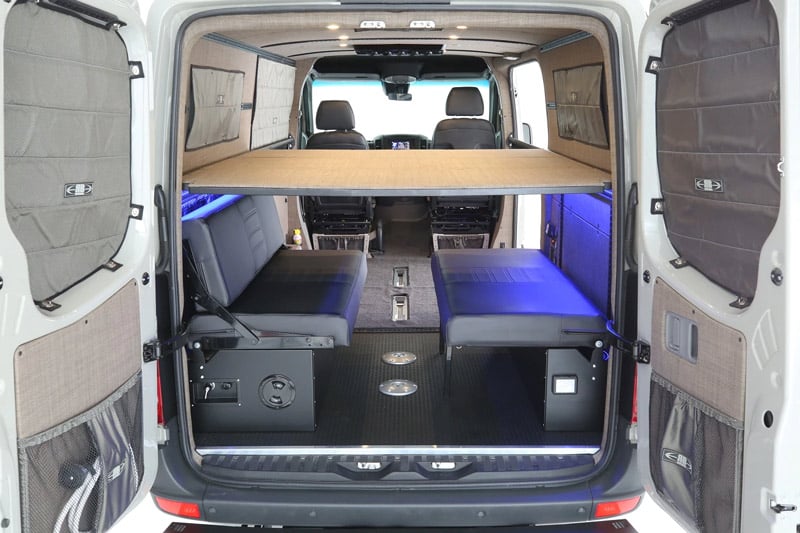 RB Components for Camper Vans
Price: Varies
Vehicle: Mercedes Sprinter, Ford Transit and Mercedes Metris
Another component company that you don't want to miss is RB Components. They are a great choice if you are looking for very professional looking. With this, you can get the sleek look of many production campers without the high cost.
The components are available vary widely and include everything from stand-alone storage organizers to bunk bed designs, folding furniture and roof racks.
The amount of products that they offer is overwhelming to be honest. You could create a completely custom build using only the things that they sell!
I won't even scratch the surface when it comes to the competent kits that they offer, you should go to their website and check it out. But here are some of the highlights:
Strap hangers
Tie down tracks
Slide trays and shelves
Wall cabinets
Galley cabinets
Folding furniture
Bucket seats
Floor panels
Wall brace kits
Cushion kits
Fabric partitions
Fuel and water storage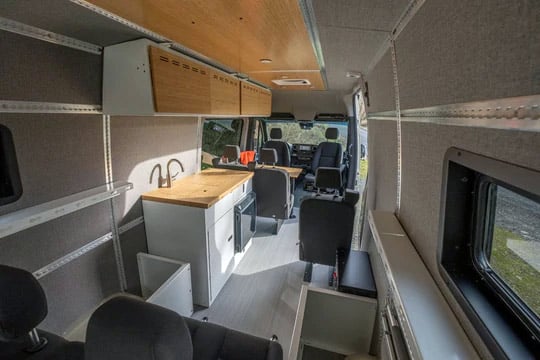 Flatline Van Company Conversion Kits
Price: Starting at $2,000
Vehicle: Mercedes Sprinter, Ford Transit
The Flatline Van Company sells components that can be easily mounted using brackets similar to the Adventure Wagon interior kit. That makes these systems more affordable and easy to install.
One of the cool things about this company is that they offer a range of exterior components like roof racks and awnings, and ladders as well.
Plus they have free shipping! Some components sold by the Flatline van company include:
Kitchen galleys
Upper cabinets
Bed systems
Interior storage
Roof racks
Awnings
Ladders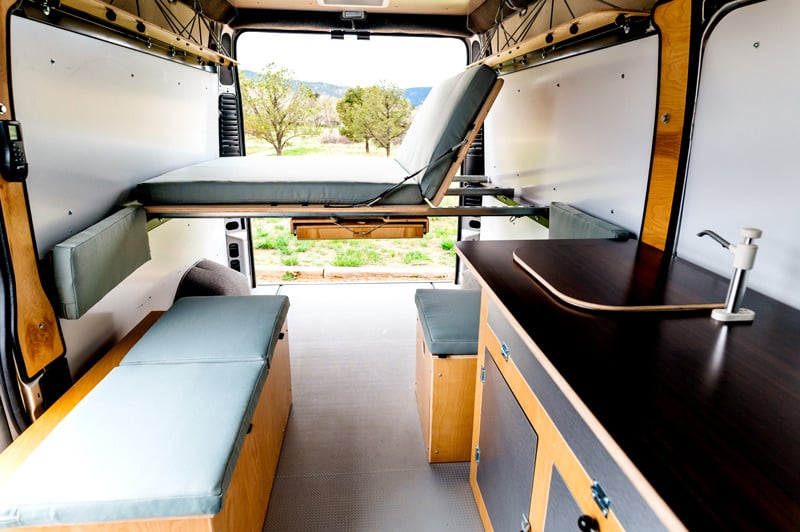 Special Mention: Wayfarer Van Conversion Kits
Price: Starting at $5,500
Vehicle: Ford Transit and RAM ProMaster vans
Unlike the other conversion kits on this list, Wayfarer Camper Conversions requires that you get the kit installed at their Reno or Colorado Springs location.
Fortunately, the process only takes about 4 hours!
Because Wayfarer vans does not do any turnkey conversions, it is one of the most affordable ways to get a professionally installed build without the high prices.
Just like the other kits on this list, the components are modular and can be easily removed if you ever decide to quit van life.
The Wayfarer van kit includes:
Floor system
Ceiling, wall and door trim
Kitchen cabinetry
Storage
Portable Campervan Conversion Kits
The next two companies on our list offer portable camp kitchens designed to throw into the back of your vehicle for a weekend road trip, and remove when necessary.
It's the perfect temporary and affordable storage space.
Trail Kitchens
Price: Starting at $500
Vehicle: Sprinter Van, Ram ProMaster, Ford Transit, Sportsmobile, Chevy Express, Mercedes Metris, Toyota Sienna, Ford Transit Connect, Chrysler Pacifica, Ram Promaster City, Jeep Wrangler, VW, Minivan Campers and more!
Trail Kitchens is special on this list because their kits are designed for any camping vehicle. You can consider their portable camp kitchens to be the OG of van life.
The remove-able kitchen pods like cabinetry and cutlery drawers are built as one single unit so you don't need to assemble anything and you can easily pull out the whole unit when you get to the campsite.
Trail Kitchens are also one of the most affordable options because they have a huge variety of inexpensive overlanding gear and complete van life systems.
Some components that you can find in their kits include:
Integrated sink and shower
Removable cook station
Built-in fridge
Water filtration
Storage boxes
Cutlery drawer
Hideaway table
QuQuQ Camping Module
Price: Starting at $4,000
Vehicle: Varies
Another modular kitchen galley that can fit into nearly any vehicle is the QuQuQ. These mobile camp setups are designed to fit into the smallest vehicles and give you extra storage space like a mounted tabletop, drawers, and even a bed platform!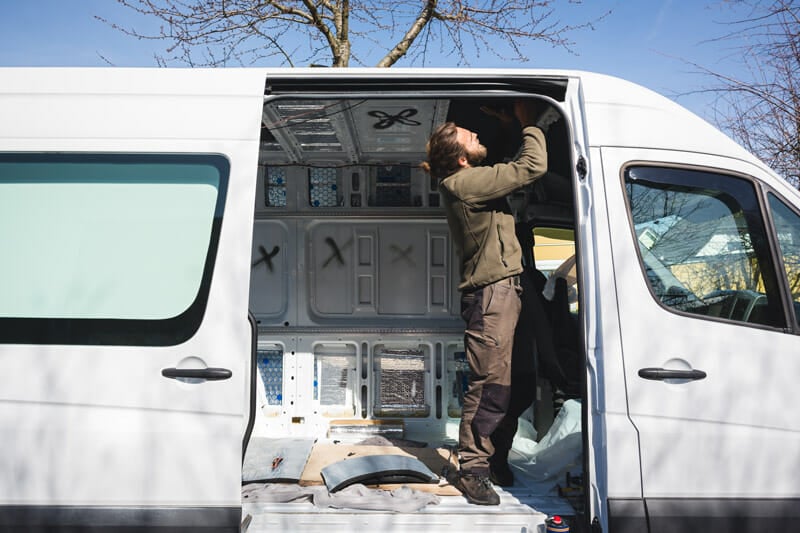 Conversion Kits vs A DIY Van Build
There are a lot of benefits to buying a camper van conversion kit that you don't get with a do-it-yourself van build.
Easy installation: The most obvious is that it takes away a lot of the guesswork. Camper kits do not require professional installation. The entire process can be completed in less than a week. So you get to spend more time on adventure.
Fits your vehicle: The problem with vehicles like the Dodge Grand Caravan or Chrysler Town and Country are the extremely curvy walls that are difficult to build around. Conversion kits are designed to fit snugly alongside curved wall panels and wheel wells to maximize storage space.
Lightweight and durable: Not many DIY van builders use aluminum and other lightweight materials to design their camper. Conversion kits are built to handle the rugged roads and keep weight to a minimum.
Extra features: These kits often come with some frivolous features like soft close hardware, bamboo panels, and a perimeter shelving that you wouldn't typically find in a DIY van build because of the extra cost.
No solar panels: Unfortunately, the biggest problem with a conversion kit is that in most cases you're still going to have to do the electrical install yourself. An no doubt, that's one of the most confusing parts of the process.
FYI, we recommend picking up a solar powered generator if you want to avoid electric headaches as well. They are like the conversion kit of electricity!
More professional advice: No matter how much research you do, chances are good that you won't be able to design the perfect camper on your own (at least not the first time). With a professional kit manufacturer, you get the experience of people who have been around the block.
Easy to uninstall: At the end of the day, one of the best parts about a van conversion kit is that you can uninstall it when you're done. That means you can re-sell your van or upgrade to a new one at any time without having to part with your entire build.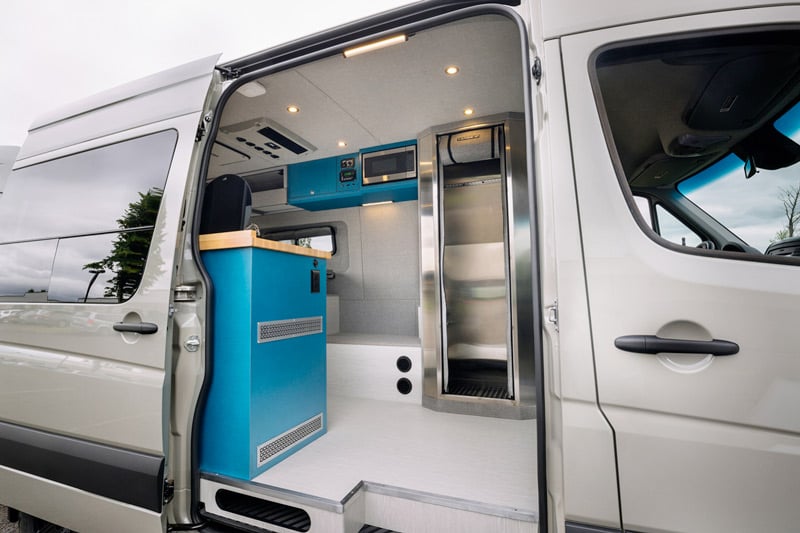 Conversion Kits vs Professional Camper Van Conversions
More affordable: Without a doubt campervan conversion kits are more affordable than purchasing a professionally built camper van conversion.
Less options: Even though a full kit includes things like upper cabinets, bedside cabinets, and even cooking gear, you're still going to be limited on features like color and material options that you would get with a professional conversion.
Van limitations: Not every kit is built for every van and you're stuck with whatever the company produces. There's no way to fit a Ford Transit kit into a Toyota Sienna. A professional conversion company will design around whatever you own.
Installation: You'll have to do the installation yourself. Even though these are considered "DIY conversion kits" they still take time. So you'll want to set aside several days to get everything screwed together right.
Missing parts: Most camper kits come with the parts you need for a livable space including cabinets, water tanks, storage boxes, and a kitchen unit. You can also upgrade with add-on accessories like a hot water heater, roof racks, and grey water tanks. That said, you won't get features like a ceiling fan or solar panel kits.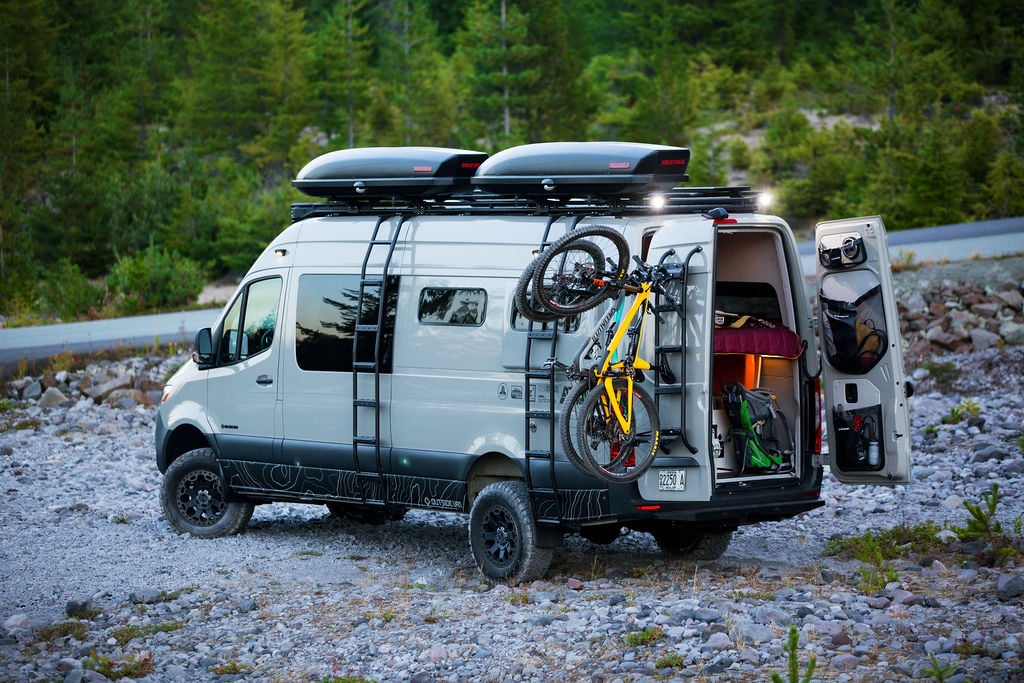 Insurance For Your New Camper Van Conversion
One of the most difficult parts about building a van for us was finding insurance afterward. Fortunately, almost all of the kits on this list hit the requirements to register your camper van for RV insurance.
Where To Go From Here
Hit the road! One our our favorite parts about van life is the ability to park your van in the wilderness and camp anywhere.
We like to use The Dyrt PRO Membership to plan out our trips and easily find free camping sites.
FAQs
How much would it cost to convert a van?
You can convert a van for as little as $500. Camper van conversion kits are available to mix and match components. Or you can build your own.
Is it cheaper to convert a van yourself?
The cheapest way to convert a van is to do it yourself. But conversion kits are available which have pre-built components that are easy to install and cheaper than a professional upfitter.
What is the cheapest van to convert to camper?
The smaller the van the better. You can build an inexpensive minivan camper by doing a DIY design and using the vehicle you already own.
That's A Wrap!
Camper kits are are designed for a special type of person. Someone who wants to just get it together and hit the road without designing their own vehicle.
They are the perfect mix of affordability and convenience for van life.