10+ Amazing Toyota Sienna Camper Conversions and Kits You Can Build
By
on
This post may contain affiliate links. As an Amazon Associate, I earn from qualifying purchases. Please read my full disclosure.
The Toyota Sienna is one of the most popular minivans on the market – and for good reason. This vehicle is roomy, comfortable, and reliable which makes it perfect for a weekend getaway or even a longer road trip.
With a few thoughtful additions, you can turn your Sienna into the perfect minivan camper.
Build Examples
To give you some examples and ideas, we've rounded up some of the best Toyota Sienna camper conversions from around the web. Now you can get inspired and start your own DIY van build.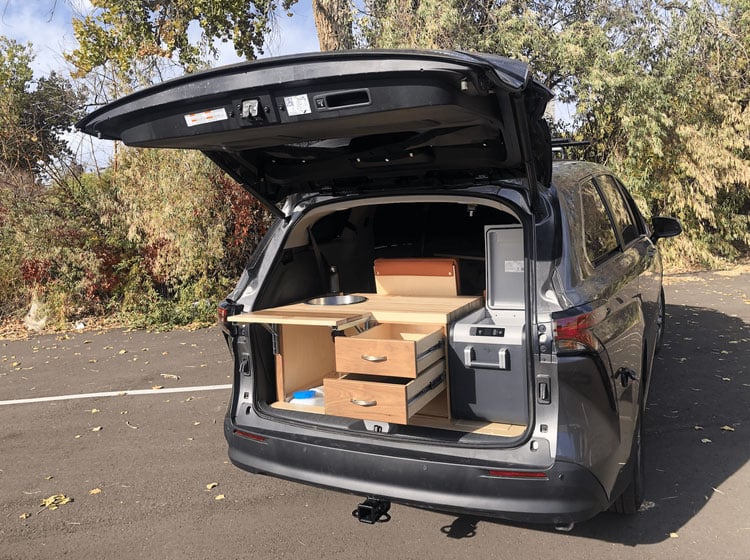 2021 Toyota Sienna XLE AWD
The premium design by Oasis Campervans that includes all the bells and whistles you could wish is this long-term Sienna XLE AWD camper.
The kitchen comes with a maple butcher-block countertop, a battery powered electric sink pump, and a Dometic portable refrigerator. A Coleman stove is used for cooking outside the van and can be stored in one of the two soft-close storage drawers. There is also 5-gallons of fresh water on-board and a 5-gallon grey water tank.
Inside the living space, there are multiple built-in storage compartments and a Lagun table which can be pulled out for desk work or removed for bedtime. Custom curtains fully cover all of the windows in the Sienna so it will make the perfect urban camping machine.
This vehicle can comfortably sleep two people in the back of the van.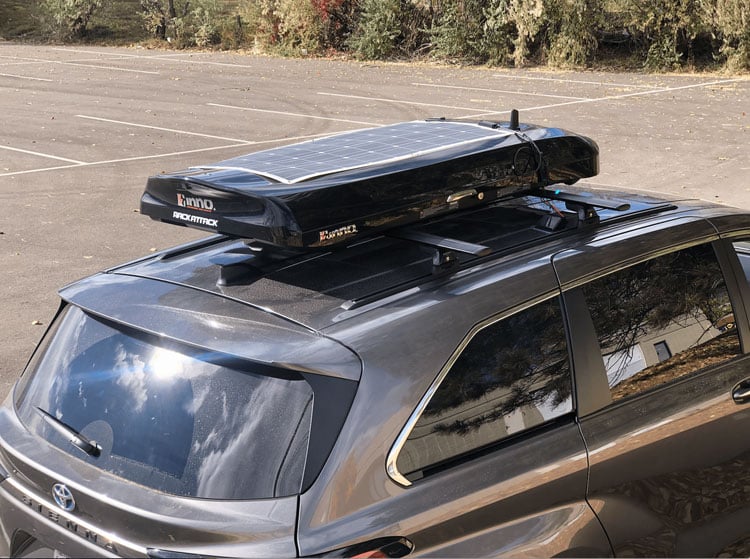 The electrical system in this Toyota Sienna includes using two Jackery 1000W solar generators which can be charged up using shore power, alternator charging, or solar panels.
To save space, Oasis Campervans mounted a flexible camper van solar panel on top of the roof box so it wouldn't be subject to shading and loss of efficiency.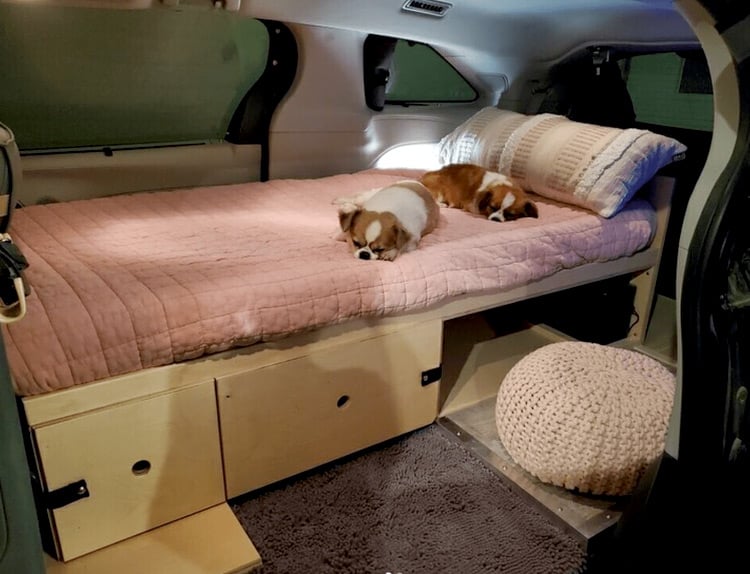 2022 Toyota Sienna LE
Another example of a minimalistic build by Oasis Campervans maximizes the amount of storage space in the vehicle. It comes with a comfortable van bed large enough for one person (or some pets) and easy-to-open drawers underneath.
In the back where the third row of seats typically sits, there is extra storage underneath the subfloor (built into the truck space) for even more room.
This camper does not come with a kitchen but instead focuses on extra compartments to pack a portable stove or other equipment.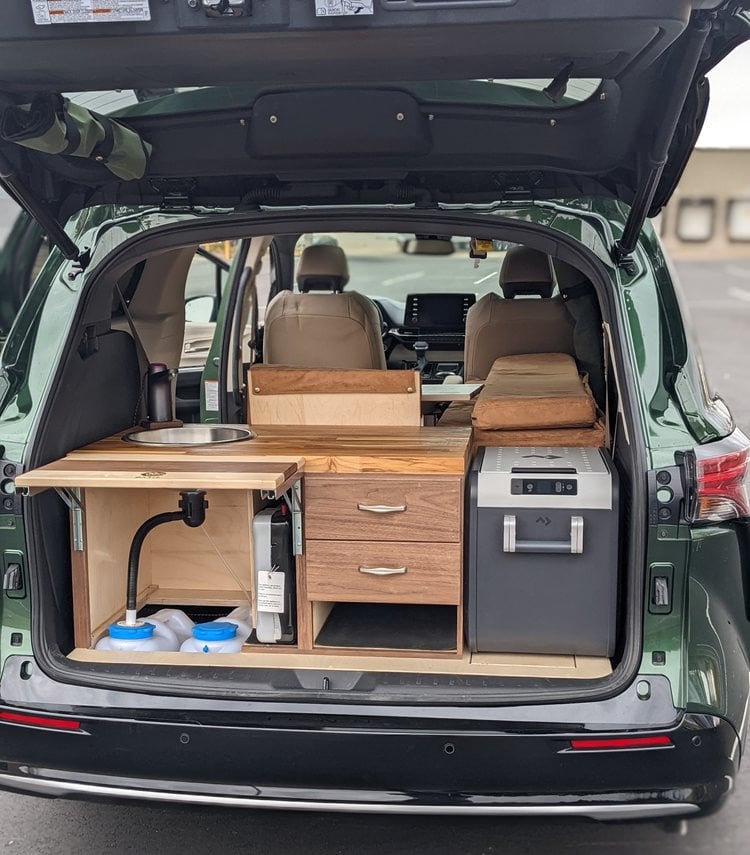 2021 Toyota Sienna XLE
This gorgeous XLE Sienna comes with everything you need for a long-term road trip. A portable refrigerator, kitchen galley with floating table, battery-powered sink pump and plenty of room for storage are just a few of the highlights.
Inside the vehicle you'll find plenty of seating which can fold out to a two-person bed in the living area.
Some custom window shades make this the perfect stealthy urban camper.
Toyota Sienna Minivan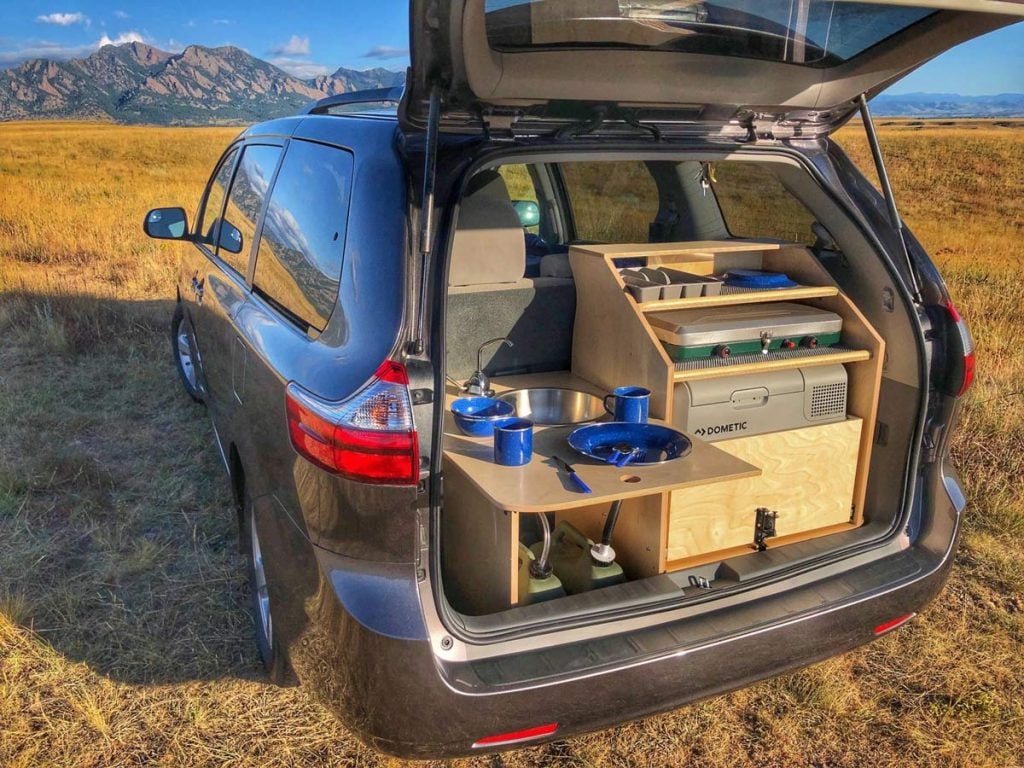 This Sienna conversion by Contravans features a simple, removable kitchenette that fits perfectly in the trunk area. One the left side they've included a small sink with 4-gallon fresh and grey water tanks, slide out storage for a cooler or refrigerator, and room for a portable stove.
Inside the living area you'll find seating for four people and a comfortable bed that sleeps two.
Contravans sells these set ups for Toyota Siennas 2011-2020 and the basic package costs around $8,000.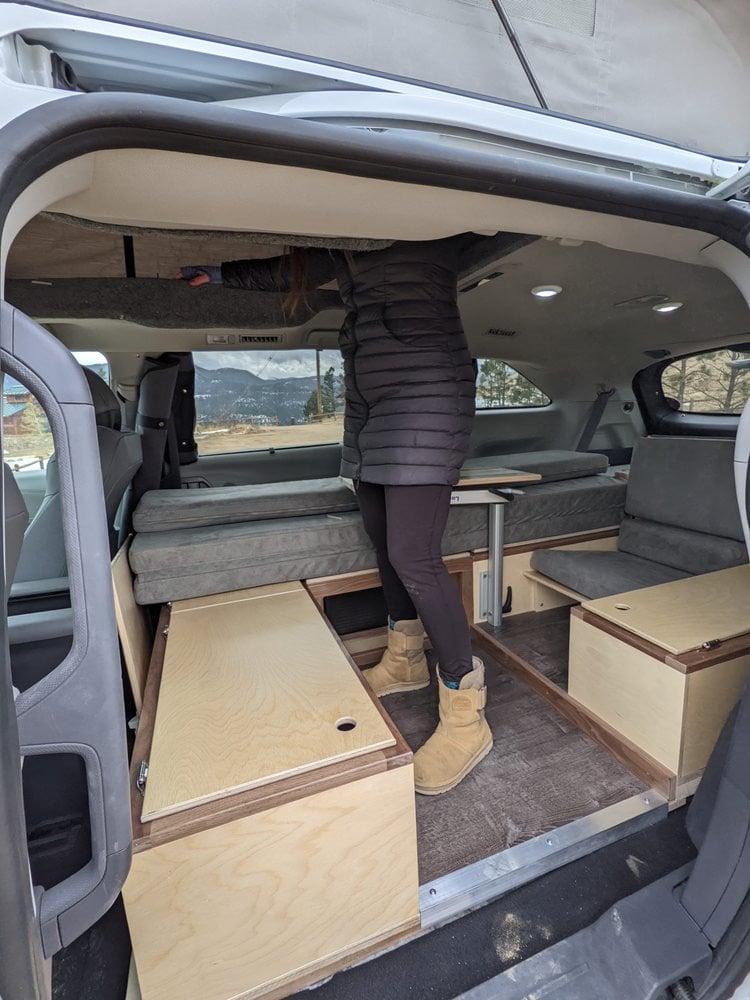 2021 Toyota Sienna with Pop Top
Campers who are looking for something with a little more headroom can consider adding a pop-top to the Toyota Sienna. This one was built by GTRV which can install them in Toyota Sienna's 2011 and newer, Nissan NV 200, and several larger vans as well.
The GTVR pop top gives van lifers significantly more overhead space and will cost around $8,500-$10,000 to install.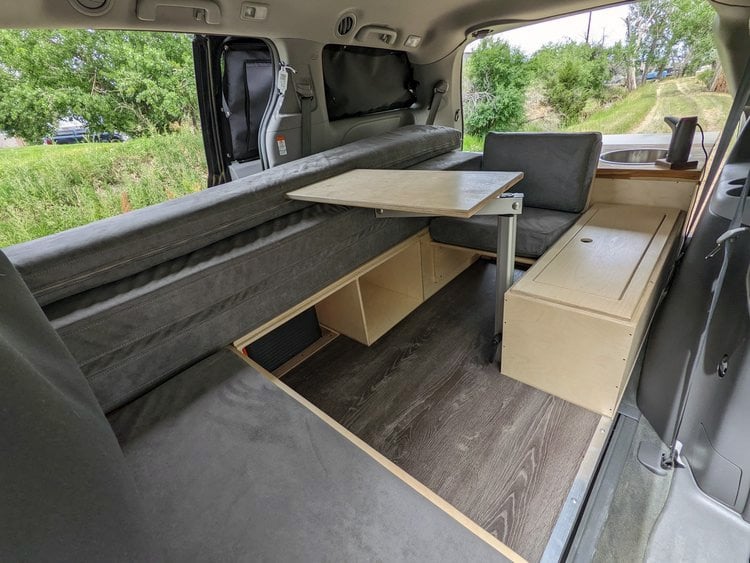 2017 Toyota Sienna XLE AWD
A great way to keep your Sienna comfortable inside is to arrange seating that can be folded into a bed space. Many campers choose to take the third row of seats out of the van and turn the area into a kitchenette.
In the space where the second row of seating goes, you can add a foldable desk, extra storage, and some bench seats.
This design uses Jackery solar generators as the power source which are put into an "electric box" behind the passenger seat.
2006 Toyota Sienna XLE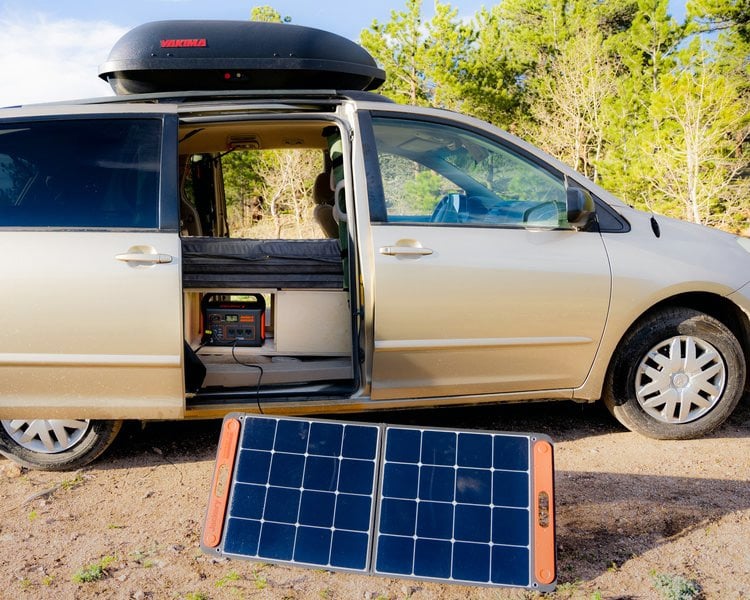 One very common way for people to add electricity to a minivan without getting into anything too complicated is by using a solar generator.
Portable solar panels combined with alternator charging, and the occasional shore power connection is enough to power the most basic amenities like a camping refrigerator, cell phone signal booster, laptops, and cell phones.
You can tuck the generator neatly behind the passenger seat or underneath a shelf and pull it out when needed. This is an example of how Oasis Campervans built their electric system into a 2006 Toyota Sienna XLE camper.
Conversion Kits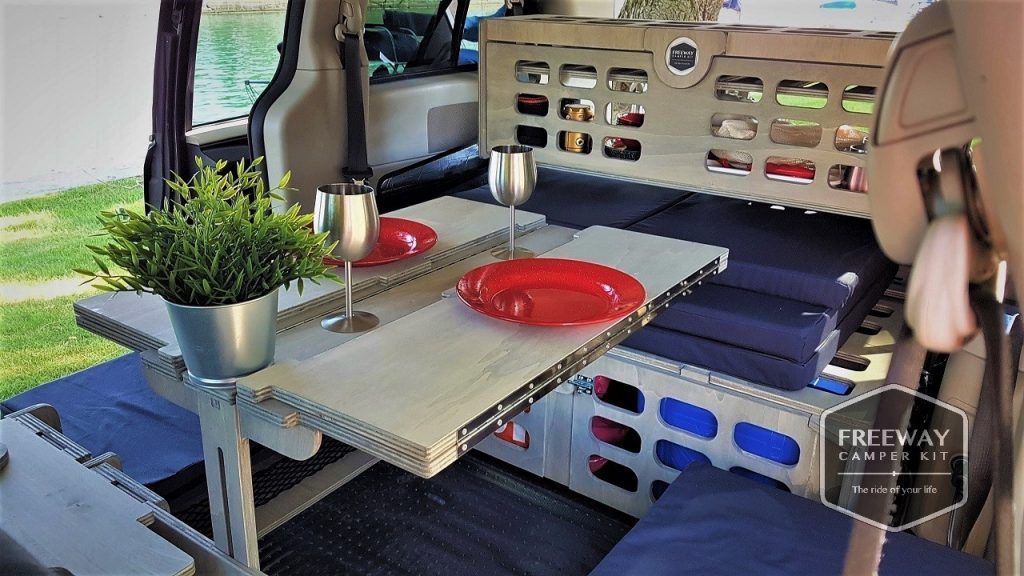 Freeway Camper Kits
Several companies have conversion kits designed specifically for the Toyota Sienna and other minivans. One beautiful kit that is available for purchase is the Sleeping Giant from Freeway Camper Kits. It is available in the US and Canada.
The kit starts around $6,000 and includes a portable refrigerator, 500W solar generator, sink with retractable shower faucet, transformable lounge area, queen-sized mattress, hideaway table, and loads of storage space.
This type of conversion kit is a great deal if you want to save yourself a lot of time and effort building out your own camper. Freeway Camper Kits sells several different styles of kits for Sienna's so you can get something less expensive or more elaborate based on your needs.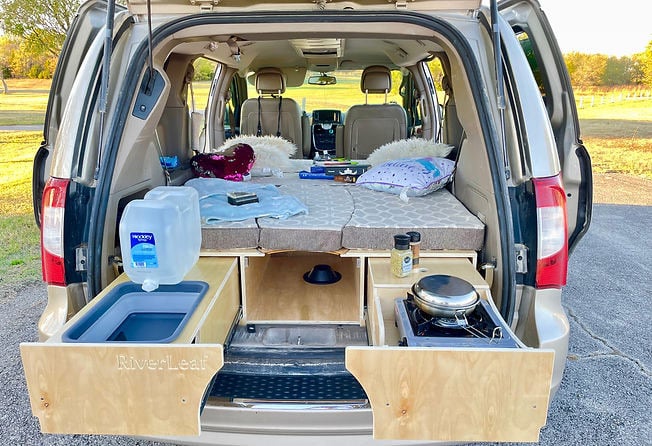 Riverleaf Instant Camper Boxes
The company Riverleaf makes instacamper boxes which can be installed in a matter of minutes. The Arches Kit is designed to fit the Toyota Sienna and several others. It is one of the more affordable options available with prices starting at $2,600.
The conversion kits comes in three different models which includes storage drawers, a removable table, foldable bed design, and plenty of space for a portable toilet or stove.
This is a good product for weekend warriors who don't want to spend too much time or money building out their camper.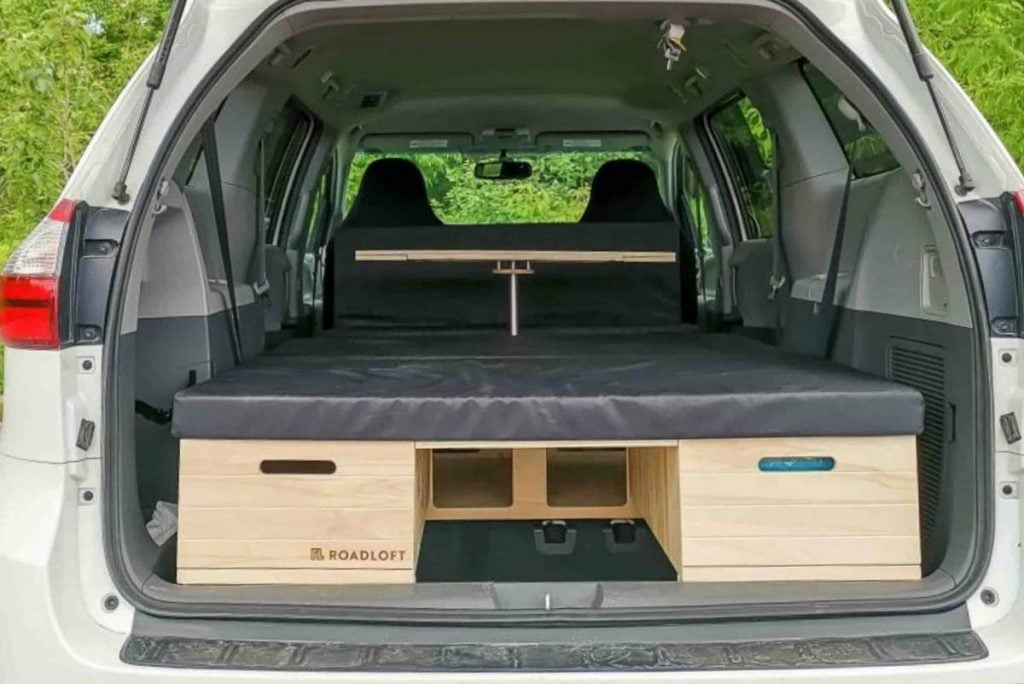 Roadloft
Roadloft is based in Quebec, Canada. They sell several camper van conversion kits for minivans and other small vehicles.
These kits cost under $5,000 and come with a basic set up including a retractable sink, integrated cutting board, drawers, tabletop, and seating which folds down into a bed.
Roadloft kits are designed to be fully removable so you can take them in and out every weekend. The installation takes less than 5-mintues.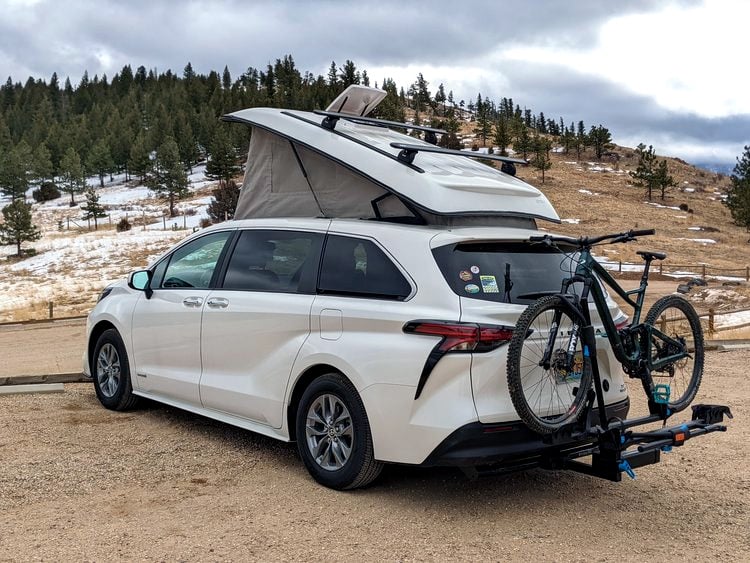 Why Choose A Toyota Sienna?
There is no best van to live in, but some are better than others. And when it comes to minivan campers, the Toyota Sienna is a great choice.
The vehicle gets great gas mileage, is comfortable to drive, and is stealthy enough for urban camping. It's one of the most popular minivans on the market, so no one will think twice about seeing another Sienna parked in the city.
It's also one of the only minivan that comes in all-wheel-drive (the other is Chrysler Pacifica), so if you're looking to spend some time off the grid, this vehicle is your best bet.
And because the Sienna is so popular, there are several aftermarket kits and accessories that you can purchase, including lift kits.
Dimensions
Toyota Siennas are one of the most spacious minivans, so it's perfect for van life. The exterior dimensions of the 2023 Toyota Sienna are: 204″ L x 79″ W x 69-70″ H.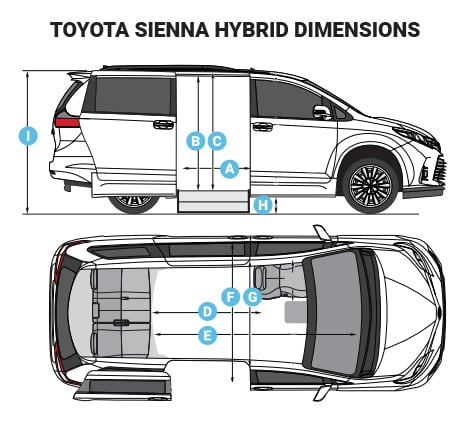 These are the interior dimensions of the Toyota Sienna Hybrid:
| | Toyota Sienna Dimensions | Inches |
| --- | --- | --- |
| A | Door opening useable width | 31″ |
| B | Door opening useable height | 56″ |
| C | Interior height at center | 60.5″ |
| D | Interior floor length (behind seat strikers) | 58″ |
| E | Overall interior floor length | 89″ |
| F | Interior width at slide doors (doors closed) | 65″ |
| G | Interior width at B pillars | 59″ |
| H | Ground clearance at lowest point | 5″ |
| I | Exterior height | 70″ |
The small size of a minivan makes it easy to maneuver, and it can easily fit into regular parking spaces. That being said, this is not a van that you can stand up in.
The interior height is only 60.5″ so you'll want to plan your build accordingly. Fortunately, it's pretty spacious otherwise. You get 65″ of space side-to-side with the doors closed, and nearly 5 feet of room behind the driver seat to add a bed.
If that sounds too small, there are other vehicles to choose from. Consider something larger like the Mercedes Sprinter, Ford Transit, or Dodge ProMaster.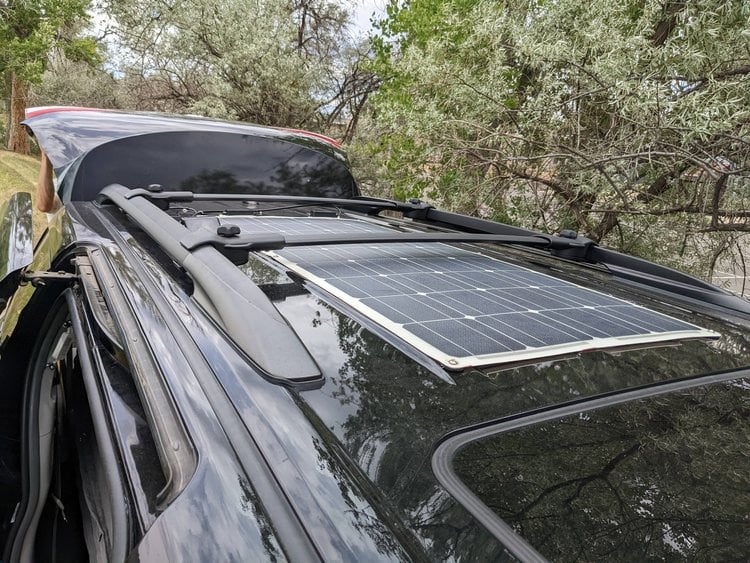 Conversion Tips
Take out the third row of seats. That will give you plenty of extra space to add a kitchen, sink, and extra storage drawers in the back.
Add 3 inches of lift using a kit like the one from Journey's off-road so your camper gets more clearance.
Use leather or vinyl cushions that will be easier to clean dirt and mud off when the weather gets rough.
Remove the second row of seats – but do so safely, by disabling and removing the airbag connector. This is a good place to build out a living area which includes seating and a sleeping space.
Add a flexible solar panel on the roof so your build remains "low-profile" which will keep it less noticeable while urban camping.
Keep the build flexible. If you're not going to be camping full-time, consider using removable storage bins and other equipment that does not need to be permanently fixed. That way it's easy to take in and out each weekend.
Build your own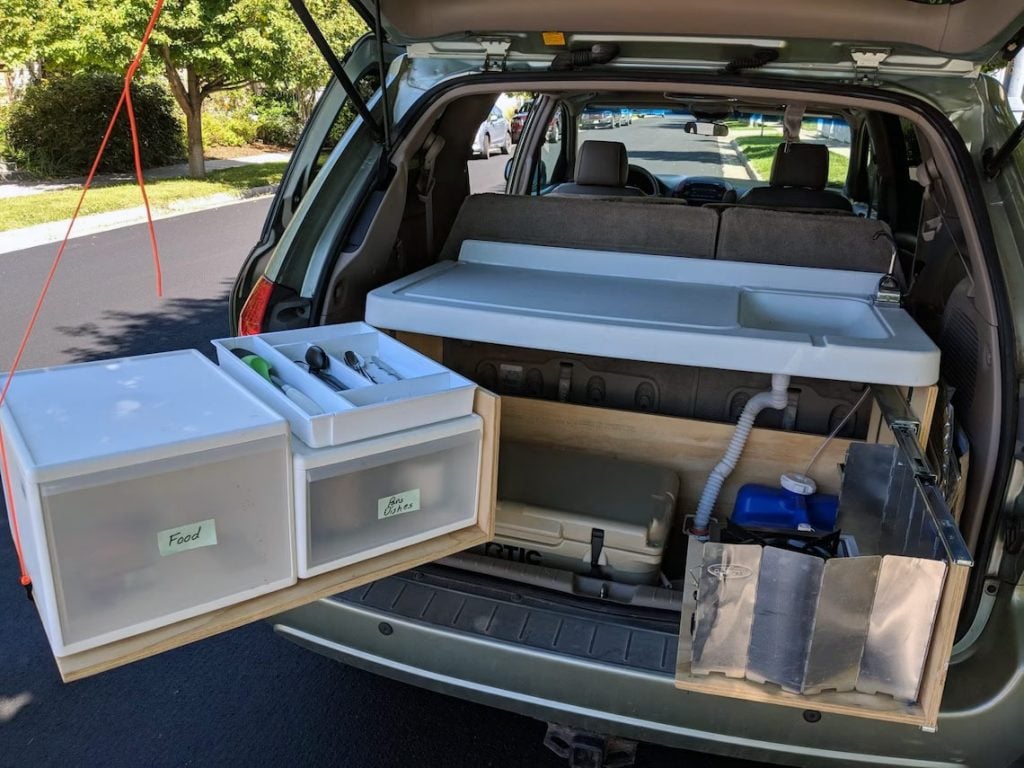 It doesn't take a fancy conversion kit or full build-out from a campervan upfitter to get your Sienna ready for an adventure. You can simply throw some bins in the back like you would car camping if you're going on shorter adventures.
Surprisingly, you can find some inexpensive plans on Etsy to help you build out the perfect camper.
And if the Toyota Sienna isn't perfect for you, check out these other minivan campers to get some ideas and inspiration for your travels.
FAQs
The following are some frequently asked questions about the Toyota Sienna camper:
Is a Toyota Sienna good for camping?
The Toyota Sienna is a great vehicle for camping because it's spacious, reliable, and gets good gas mileage. There are lots of conversion examples and ideas for adding amenities like a refrigerator, table, sink and more.
Can you convert a Toyota Sienna to a camper?
There are lots of plans and ideas online for building a Toyota Sienna camper van conversion because it is a popular vehicle for van life. You can also purchase conversion kits made specifically for the Sienna.
Can you sleep in a Sienna?
By taking out the third row of seats, there is plenty of space in the Sienna for a twin-size or queen-size bed. It's a popular vehicle for van conversions.
Does Toyota make a camper van?
Many people choose to retrofit the Toyota Sienna into a camper van. You can purchase conversion kits or build your own using plenty of examples online.
Which minivan is best for a camper conversion?
A Toyota Sienna is one of the top minivans for building out a conversion van. Other popular minivan campers include the Honda Odyssey, Dodge Caravan, Chrysler Pacifica, Nissan NV200, and Kia Sedona.