Campervan Insurance – RV Insurance With A DIY Camper Van Build
By
on
This post may contain affiliate links. As an Amazon Associate, I earn from qualifying purchases. Please read my full disclosure.
When we completed our DIY van conversion in 2017, finding insurance turned out to be one of the most difficult tasks. At that time, van life wasn't quite as popular as it is today.
We called all of the "name brand" insurance companies like Geico, State Farm, Allstate, and others looking for coverage.
But none of them could get us a suitable policy because our vehicle didn't fit the mold.
We had a kitchen but it wasn't permanent.
We had a toilet, but no plumbing.
We weren't professional upfitters.
And we had valuables like laptops, solar panels, and batteries which aren't covered in a normal auto insurance policy.
Recently a new company named Roamly has come along and they're trying to solve all of these problems.
Roamly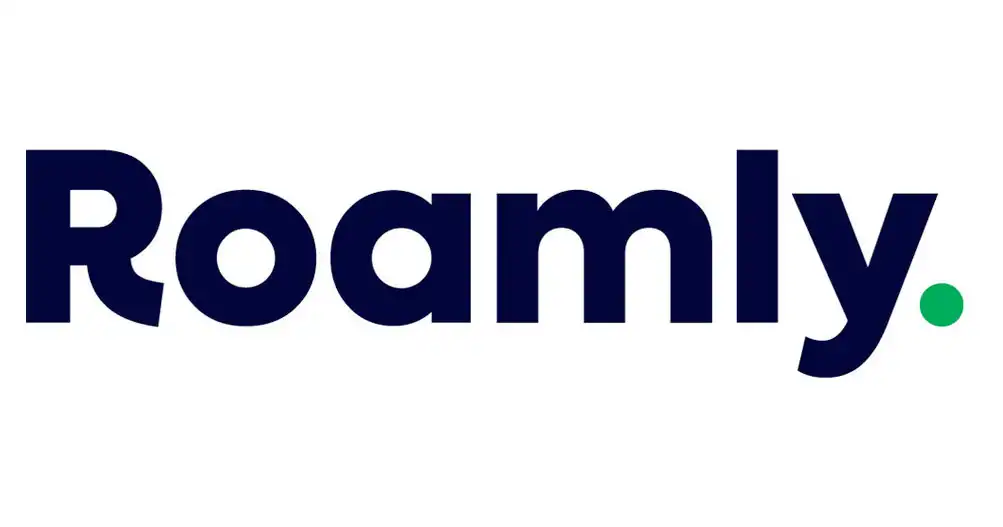 RV & Camper Van Insurance
RV coverage without the strict requirements
Designed for RV, Class-B, Professional and DIY Camper conversions.
Cash coverage for your build-out with itemized receipts
GET A QUOTE
Camper Van Insurance For DIY Builds
Roamly is a relatively new insurance company that has designed their policies specifically for RV travelers, Class-B owners, personal and professional camper van upfitters.
The company itself might be new, but they are partnered with Spinnaker Insurance Company which has been around since 2015.
Roamly is also owned by Outdoorsy, one of the largest RV rental companies in the world.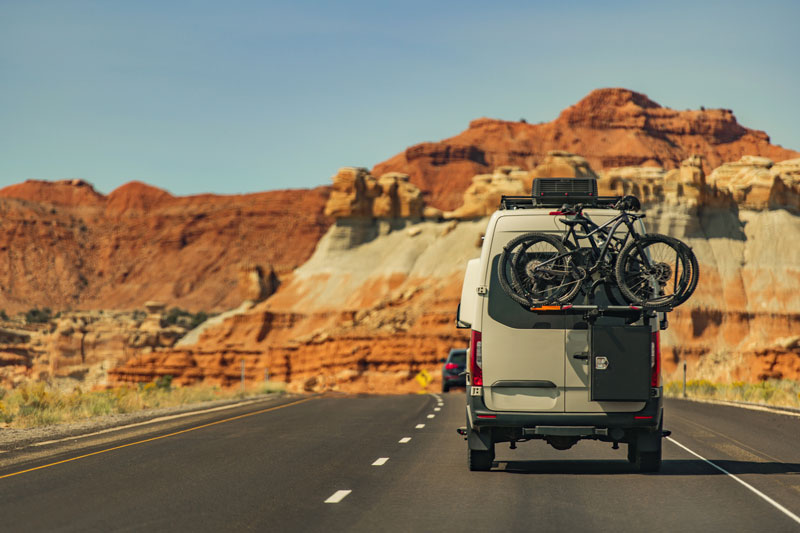 Types of Camper Van Insurance
Historically, there have been two types of insurance policies you can go for:
Standard automobile insurance
RV insurance
Standard Auto Insurance
Standard auto insurance only covers the vehicle. It will not provide coverage for anything inside the camper including laptops, cell phones, photography equipment, and kitchen accessories.
It also won't cover any conversion materials like solar panels, battery banks, electronics, portable refrigerators, toilets, insulation, lighting and more.
In order to get coverage for the stuff inside your camper, you'll need to use an alternative policy like renter's insurance.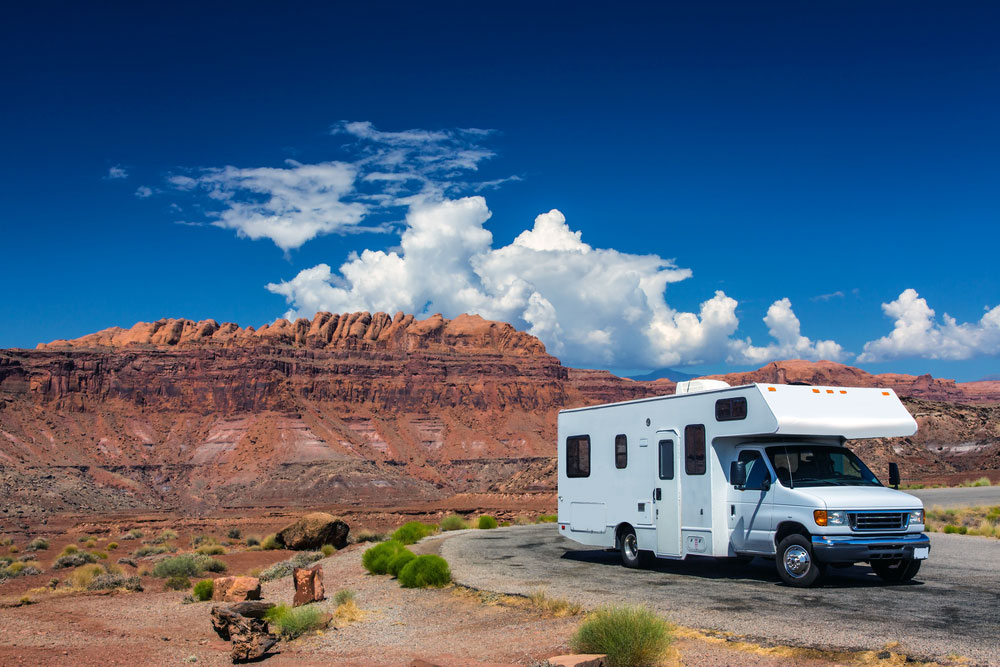 RV Insurance
Recreational vehicle insurance covers your automobile plus everything inside. That includes all of your conversion materials, travel gear, and more.
RV insurance is the type of policy that every full-time van life traveler wants, but it's hard to get.
In order to get RV insurance for your camper van you have to jump through a lot of hoops. We didn't qualify.
Policies for insuring your van as a camper van vary from state to state. But some of the main requirements include:
Permanent cooking area
Running water
Bathroom facilities
Converted by a professional upfitter
Re-titling your van as an RV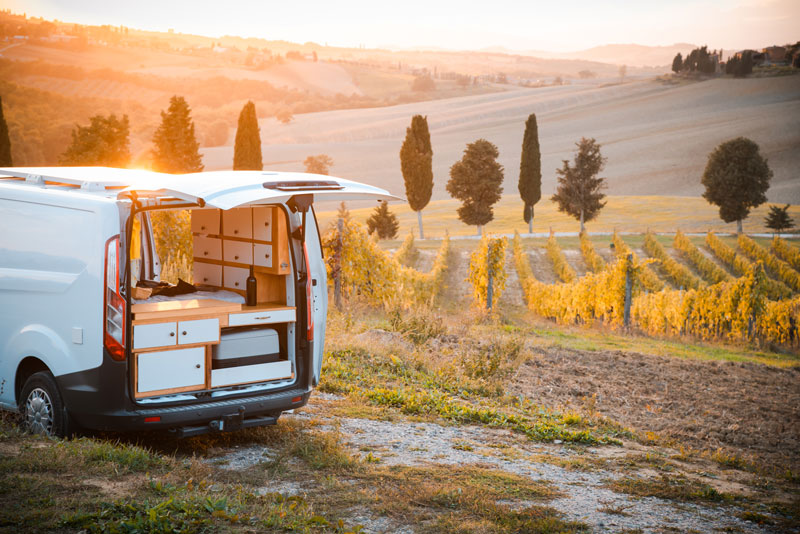 Getting Full Coverage For Your DIY Camper Van Conversion
Roamly is offering a new type of insurance that covers your vehicle, and your personal belongings without the strict requirements of conventional RV insurance.
The types of vehicles that Roamly insures include:
VW campers
Class B motorhomes
In order for your vehicle to be covered, it does not need to be converted by a professional van conversion company.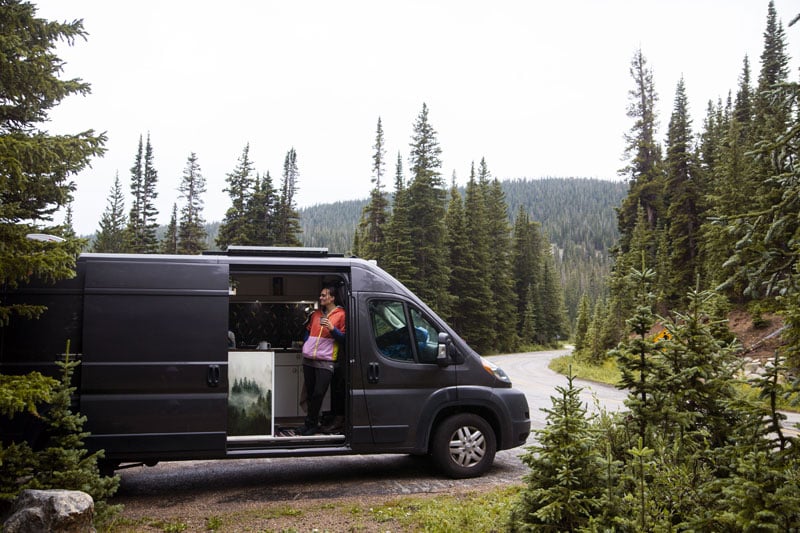 How To Qualify For Class B RV Insurance
To be insured as an RV through Roamly, your camper should have one of the following:
Cooking area (such as a bolted-down stovetop)
Refrigerator (such a bolted-down portable refrigerator)
Bathroom facilities (no plumbing required)
Even with a self converted van, hitting one of these requirements should be pretty easy.
I talked to one of the Roamly insurance agents, and he told me that you can simply throw a portable toilet into the back of your cargo van and it would qualify as having bathroom facilities.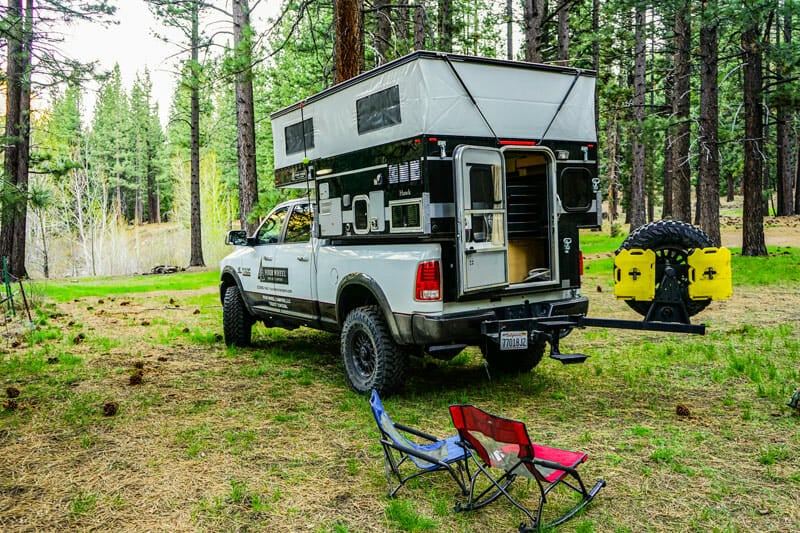 What Types of Coverage Does Roamly Offer?
Liability coverage
Comprehensive coverage
Collision coverage
Roadside assistance
Contents coverage
Camper van rentals
Liability Coverage
Liability coverage is the minimum required insurance on all new motor vehicle policies. It helps protect the other person if you are at fault.
There are two kinds of liability coverage:
Bodily injury liability protects the medical expenses of other drivers or pedestrians if they are injured in a car accident
Property damage liability covers the expense of repairs or replacement should you damage someone's vehicle or property.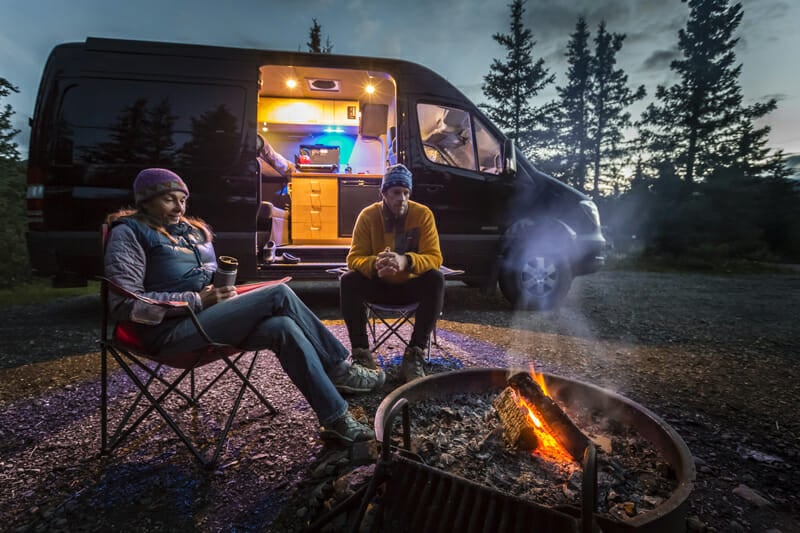 Comprehensive Coverage
Comprehensive coverage is optional. It helps pay for damages to your RV no matter who is at fault.
This also includes damages that occur outside of a collision such as hail damage, vandalism, theft, or damage from a fallen tree.
Collision Coverage
Collision coverage is another optional insurance policy to protect you in the event of a collision with another vehicle, object, median or fence.
Collision insurance can be added to comprehensive insurance.
Roadside Assistance
Roamly also offers a standard roadside assistance package, similar to what you would receive with the Good Sam Club or AAA. This includes:
Vehicle unlocks
Towing services
Jumpstarts
Flat tire changes and locksmith services
Gas delivery (if you get stranded with an empty tank)
24 Hour Emergency Hotline (serving the United States and Canada only)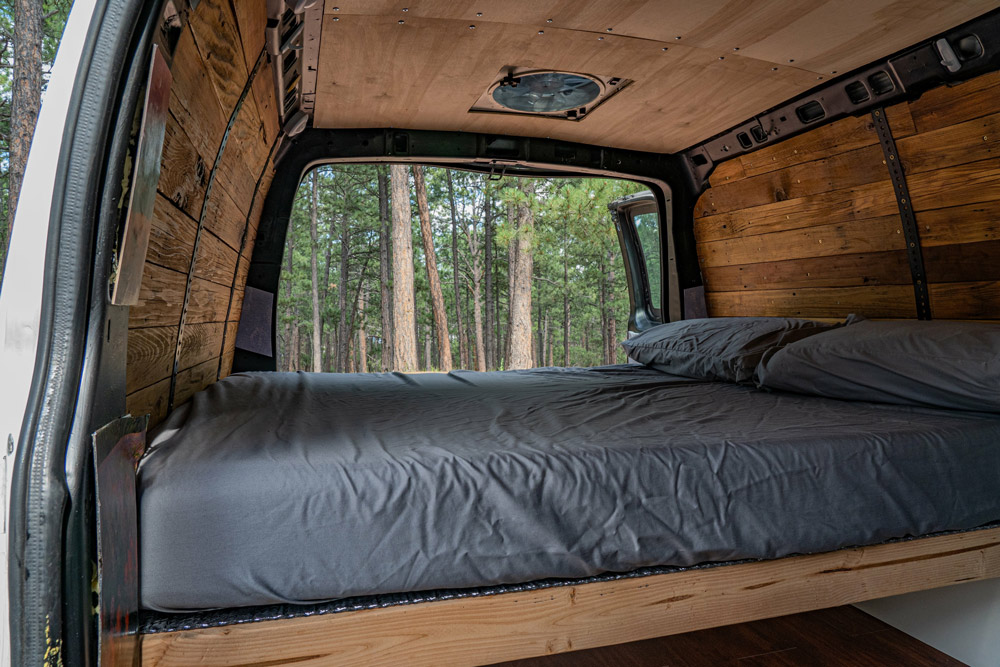 How Do You Get Comprehensive Coverage For A DIY Conversion Van?
If you've poured your blood, sweat, and tears into converting a van, chances are good that you're going to want comprehensive insurance.
Comprehensive plans will cover your vehicle + everything in it.
Whether your modified cargo van was self-built or converted by a professional, there are two types of coverage you can get for your personal belongings.
Actual cash value
Agreed-upon value
That way if there's any theft, damage, vandalism, or an unfortunate crash, you can get paid back for your van plus all the stuff inside.
Actual Cash Value
To be insured for the actual cash value, you should keep itemized receipts and/or a spreadsheet of everything that went into your build out.
Photos and additional documentation are especially helpful because coverage is only included for the items listed.
Actual cash value policies have lower premiums than agreed-upon value.
Agreed-upon Value
This type of insurance has even more coverage, but also higher premiums. To get the agreed-upon value, DIY builders will need a professional appraisal of the vehicle and its contents.
For professional conversions, the owner will need to provide a buildout sheet and Bill of Sale.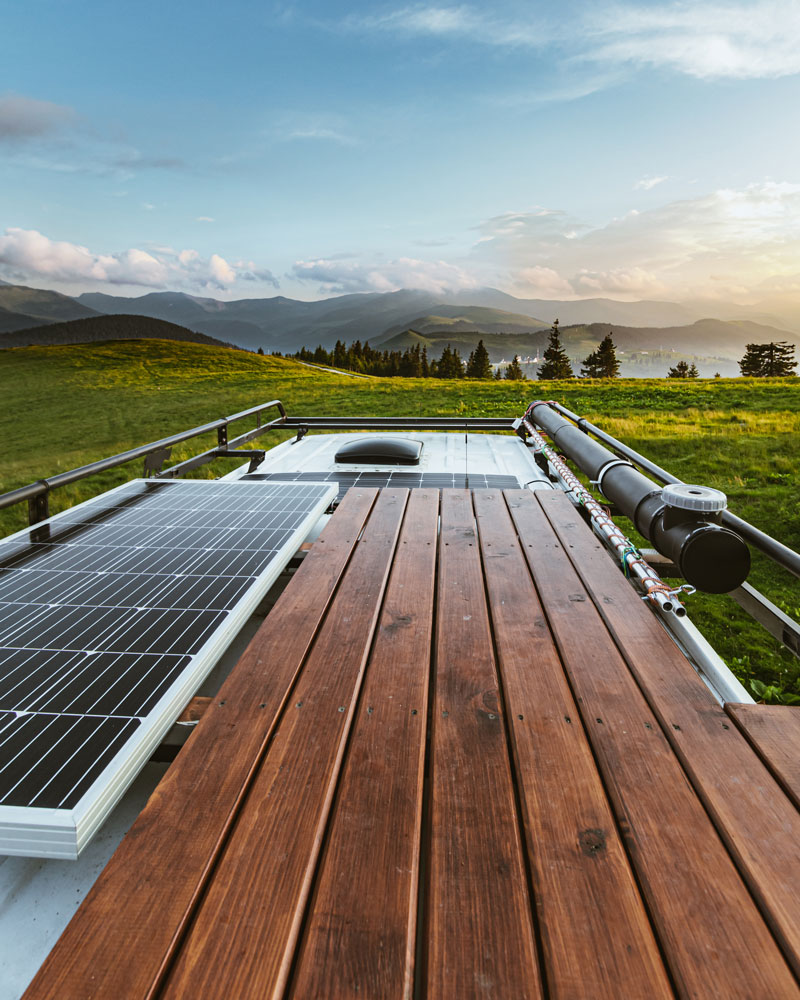 Document Everything!
Before you take off on your road trip, get a list together of every single item in your van. Make a spreadsheet of how much everything costs, and save the receipts.
Don't forget to take plenty of pictures! That's really going to help out your insurance agent in the event of a claim.
Camper Van Insurance Cost
Since Roamly is an alternative to RV insurance, it can be cheaper than standard automobile insurance.
The company claims that you can save an average of 25% compared to other insurance companies using their comprehensive plans. And with utilization-based discounts, owners can save up to 35% on personal RV insurance.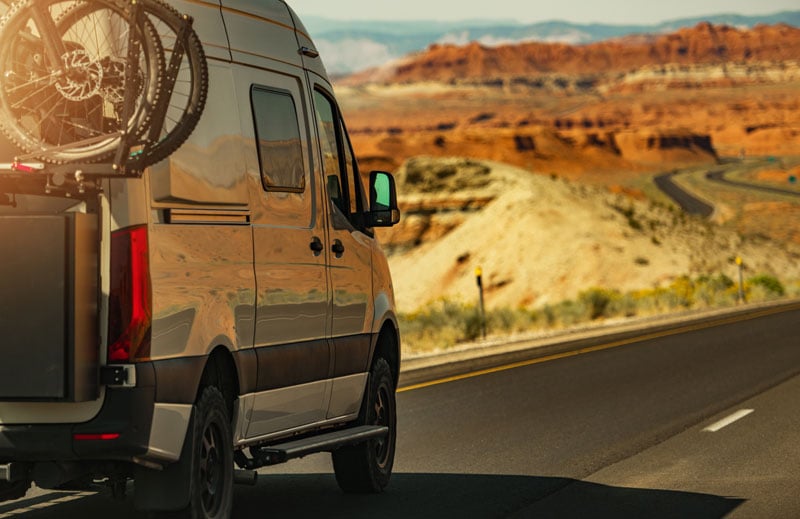 Renting Out Your RV or Camper Van
Discounted RV Rental Insurance
Traditional RV rental companies don't allow owners to rent out their campers due to a commercial use exclusion clause.
But because Roamly is owned by Outdoorsy (one of the largest online rental marketplaces), the platform was designed to offer utilization-based discounts.
Their policies cover the RV during:
Personal use
When the vehicle is stored
Non-rental time-frames
Since platforms like Outdoorsy offer built-in insurance that covers campers during the rental period, less personal coverage is required.
All of that is to say… if you decide to rent out your camper van, Roamly has you covered!
RV Insurance Coverage In Your State
Roamly provides unique coverage for RV and DIY camper van conversions but the product is proprietary, and not currently available in every state.
Right now, you can get camper van insurance through Roamly in:
Arizona
Utah
Colorado
Illinois
They are rapidly expanding coverage with the goal to be available in all 50 states by the end of 2022.
If your state is not on the list, check back on this article in a few weeks! We will keep it up to date with new developments.
What If Roamly Is Not In your state?
Your best bet is to speak with a local insurance agent rather than going through an online portal or calling the main line.
A self-converted van doesn't typically fit the standard definition of a motorhome so an online portal isn't going to give you an accurate quote.
And if you fill out the information incorrectly, you risk having nothing covered.
Local agents are going to have a better understanding of the process and will hopefully work with you to get your camper insured.
More than likely, your camper van will be insured as a Class B motorhome regardless of the VIN number or registration.
The insurance company is probably going to want to see pictures of the interior and exterior of your build so they know what they are dealing with.
You should try to get comprehensive coverage rather than standard automobile insurance so all of your belongings are included.
And while we haven't talked to every insurance company out there, we have heard through the grapevine that people are having good luck getting their camper vans covered through State Farm.
The Bottom Line
Insurance is one of the more complicated and expensive parts about van life. You should look into various RV insurance policies to make sure you're getting the lowest rates.
RV insurance is extremely difficult to get with a DIY camper van build.
Most RV insurance companies don't trust self converted vans because they can't verify if you've done a good job!
It's hard to blame them when uneven weight distribution, improper wiring, and voiding your warranty are all involved.
Fortunately, companies like Roamly are aiming to make this process a little bit easier.
So if you're having a hard time finding a quote from the standard insurance brokers, then it's worth a shot.
Happy travels!
FAQs
Is it expensive to insure a camper van?
It's not expensive, but it is difficult to find coverage. Not all RV insurance companies will offer insurance for DIY camper van builds. Roamly is creating new policies to make the process of getting insurance for a Class B motorhome easier.
Is it cheaper to insure a van or a campervan?
RV insurance tends to be cheaper than automobile insurance. If you're living in a camper van or Class B motorhome, you will want RV insurance to cover the vehicle and your personal belongings.
Can I insure my van as a campervan?
You can insure your van as a Class B motorhome by meeting certain requirements such as installing a permanent cooking area, running water, or bathroom facilities.
Is RV insurance required?
It depends. Not all states require insurance for towable RVs and trailers. Drivable RVs and motorhomes are required to have liability insurance.