By
on
This post may contain affiliate links. As an Amazon Associate, I earn from qualifying purchases. Please read my full disclosure.
A motorhome is a self-propelled recreational vehicle (RV). They can look like tiny homes or small apartments and have all the equipment and premium features you would dream about.
For road-trip travel lovers, small RVs are perfect homes on wheels that are growing in popularity for their convenience and simplicity. From tiny travel trailers to motorhomes, you can find a suitable small RV for you, no matter what type of traveler you are.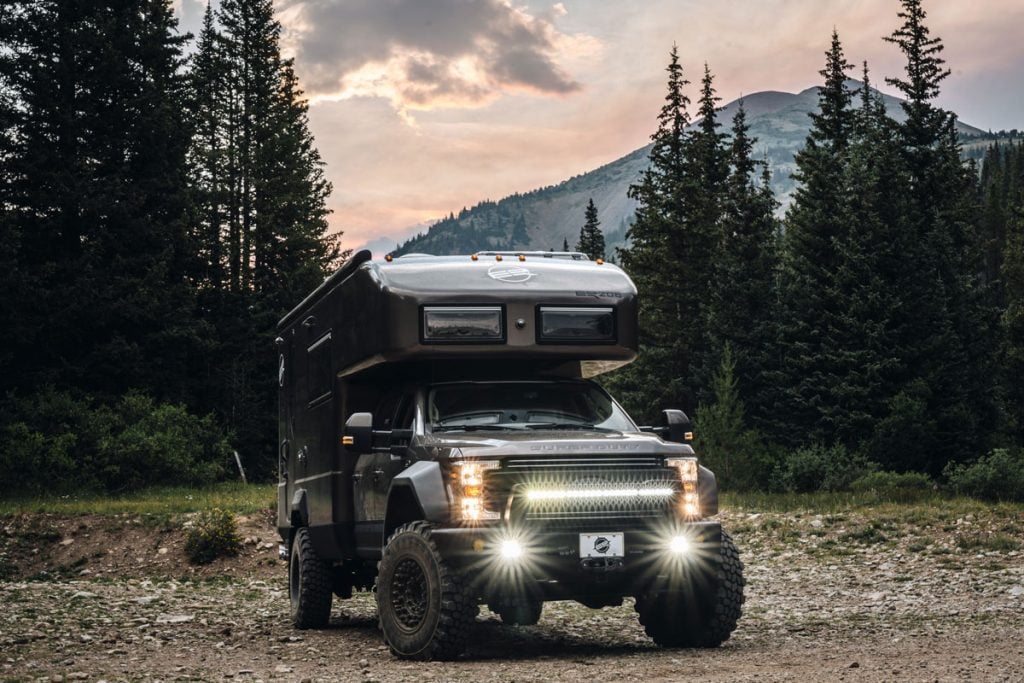 Despite its smaller size, a small RV can be luxurious and technologically advanced, just like its larger alternatives, while providing freedom and mobility for fitting into parking spots and campgrounds. This also opens up many more options in terms of how and where you want to travel.
As most of the best small RVs include a toilet and shower for maximum comfort and privacy while camping, they make up for an ideal full-time living space.
We've prepared a handy guide that will introduce you to the small RVs' world. Read on and learn about their benefits, types, and our favorite models currently available on the market.
What Are Small RVs?
We can currently distinguish four classes of motorhomes: Class A, Class B, Class B+, and Class C.
Class A motorhomes are the largest and most expensive and are usually between 29 to 45 ft long. Their considerable size allows them to include the most luxuries, however, they may be hard to maneuver. They can sleep between 6 to 8 people and start at $85,000.
Class C motorhomes are slightly smaller than Class A vehicles, with their length falling between 30 to 33 ft. Although they are a smaller alternative, they still offer Class A-type luxuries. They can sleep up to 8 people, and their prices start at $65,000.
Finally, Class B and B+ motorhomes are the smallest vehicles available on the market, with Class B+ types being slightly bigger than Class B and offering different luxuries.
Class B motorhomes are also known as van campers and can look like oversized family vans. They range from 18 to 24 ft long and are the cheapest RVs available. They can sleep up to 4 people at a time and usually start at around $50,000, but there are also cheaper options.
Advantages of Small RVs
Small RVs have been getting a lot of attention among travelers for their wide range of advantages. Some of them include:
They are easy to maneuver. The smaller your RV is, the easier it is for you to drive and get around campgrounds. Their compact size also guarantees effortless backing up and parking.
They are accessible. Unlike trailers, small RVs have connected driving and living sections of the vehicle, which allows you to fully access all amenities of your RV during transit. If you're traveling with your family or group of friends, you can use the bathroom or kitchen while someone else is driving.
They are convenient. Small RVs offer a variety of places where you can travel. The smaller your vehicle is, the less space it will need to be set up. If you have a compact Class B motorhome, you can park it anywhere – from city streets to lake shores. Many small RV owners can fit them comfortably on a driveway or keep them in their backyards.
They are fuel efficient. Small dimensions do not only provide a more comfortable driving experience and more parking options, but they also equate to less money spent on gas. Modern motorhomes are made with lighter and more aerodynamic materials than ever before, which significantly improves fuel efficiency. It is particularly evident with small RVs.
Disadvantages of Small RVs
Although having a small RV carries many benefits, there are also some downsides that you need to consider before buying a compact-size travel vehicle. These include:
They are expensive. The main con of small RVs is their prices. There are also many other costs associated with owning an RV than just the price of the vehicle. These include maintenance, insurance, storage, and many other costs. 
They need regular maintenance. If you own an RV, you will need to take care of maintaining it on a regular basis to keep it in good condition. This is related to oil changes, tire and brake replacements, tune-ups, and dash AC refills. In addition, you need to maintain kitchen appliances, water heater, furnace, and many other RV equipment pieces. 
They need storage space. If you don't live in your RV full-time, you will need to have a storage space where you can store it. If you don't have a driveway to park it on, or if you are not allowed to park your vehicle on a driveway, arranging a storage space will be connected with additional expenses. These may vary from $100 to $200 for outdoor storage and $250 to even up to $400 per month for indoor storage space. 
They limit your mobility at your camping destination. Although small RVs can go more places and it is easier to find parking spots, they cannot go as many places as that same vehicle without its trailer. Depending on what type of a small RV you own, you may need to get a second vehicle to move around once you set up your camp. In this case, you can get an RV with towing capabilities and bring an additional vehicle if needed.
Best Small RVs
As you already know the characteristics of small RVs, it's time to put theory into practice. We've compiled a list of the best small RVs in 2022, including motorhomes, camper vans, travel trailers, and fifth wheels, which we think are worth looking at if you're considering purchasing a motorhome.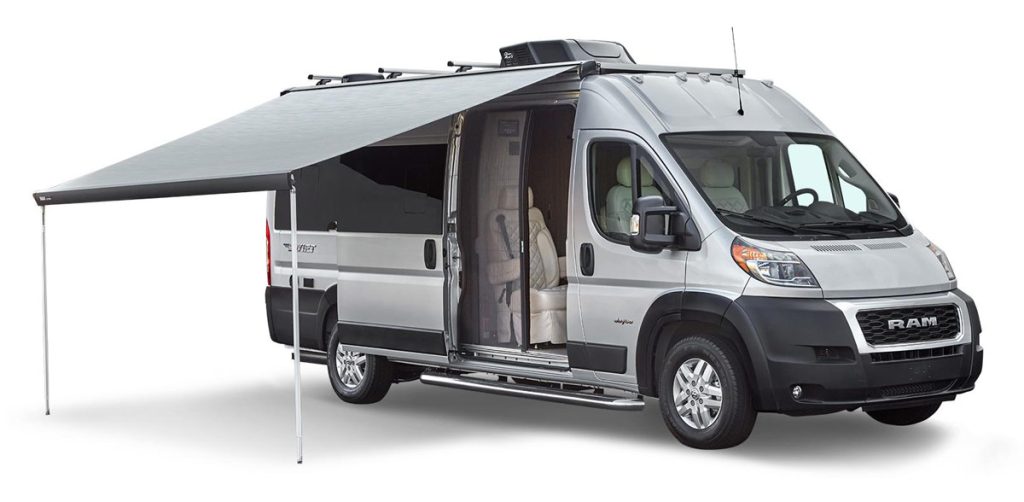 This small Class B RV is one of the newly launched motorhomes next to Jayco Swift Li and Jayco Terrain. The Swift is 20 ft 11-inches long and can sleep up to two people, making it a perfect travel vehicle for couples.
This Jayco motorhome comes with a 13,500 BTU AC unit, 190-watts of Go Power solar panels, a wet bath, and a fully equipped kitchen. It features a convertible bed that can make for two twin-size beds or one king-size bed.
Despite its compact size, the vehicle has plenty of storage space with under-bed storage and a roomy wardrobe in the bathroom.
Price: Starting at $131,000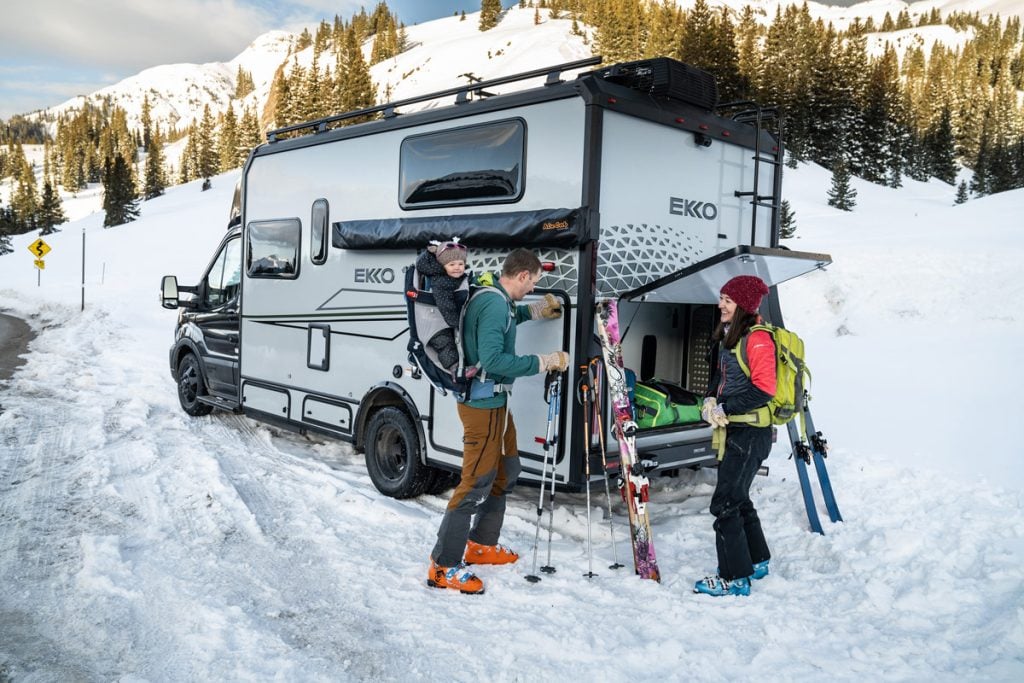 The Winnebago Ekko motorhome is a newly launched off-grid option for Winnebago designed on the AWD Ford Transit chassis. It's 23 ft 2-inch long and combines the premium Class C RV with campervan-like features. It can sleep up to four people, making it perfect for traveling with family or a group of friends.
This distinctive small RV is equipped with a 50-gallon water tank, a powered patio awning with LED lighting and Bluetooth connectivity, a wet bath, and a cassette toilet with a 5.3-gallon water capacity. There are three solar panels on the roof which provide 445 watts of solar power along with a second alternator for charging batteries while driving. What's more, the Ekko series features a heated pass-through garage and a second outdoor kitchen which is ideal for enjoying your meals in the fresh air.
Price: Starting at $163,662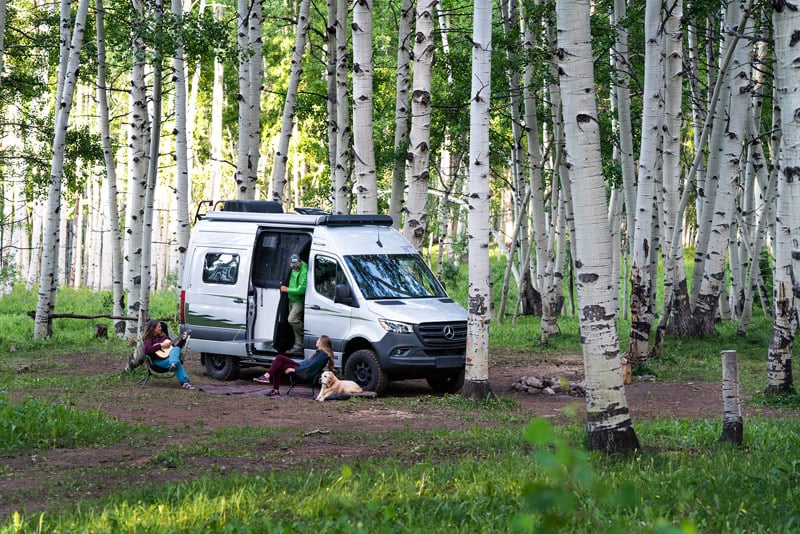 Winnebago strikes again with its small B Class RV, which is perfect for outdoor enthusiasts with its Mercedes Benz chassis and off-road 4×4 power complete with high and low range modes.
Although it's one of the smallest camper vans on our list, as it's 19 ft 5-inches long, the vehicle features an efficient interior that allows you to make great use of the space. It includes a power lift bed that can easily convert into a 140-cubic foot gear garage.
Price: $185,838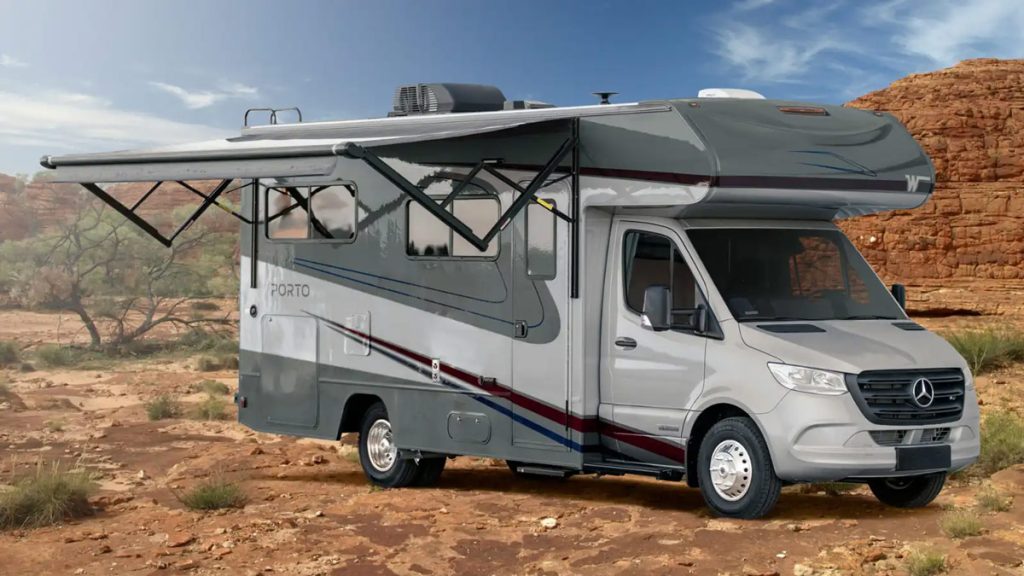 Here is another popular motorhome by Winnebago, which is designed for travelers who cherish comfort and convenience in RVs. With its 24 ft 7-inches length, it belongs to the small Class C RVs, yet still represents a collection of top compact-size camper vans you can find on the market.
This two-person classic RV is famous for its great build and expertly tailored interior, which is typical for all Winnebago vehicles. The Porto series includes a practical overhead sleeping cab to maximize the use of the living area without crowding it.
If you're considering boondocking, this outstanding RV is the perfect option. It has the largest holding tanks in its class, a 200-watt solar panel system, a 100-watt inverter, dual group 31 batteries, and massive exterior storage, making the vehicle an ideal solution for off-grid camping.
Price: Starting at $119,670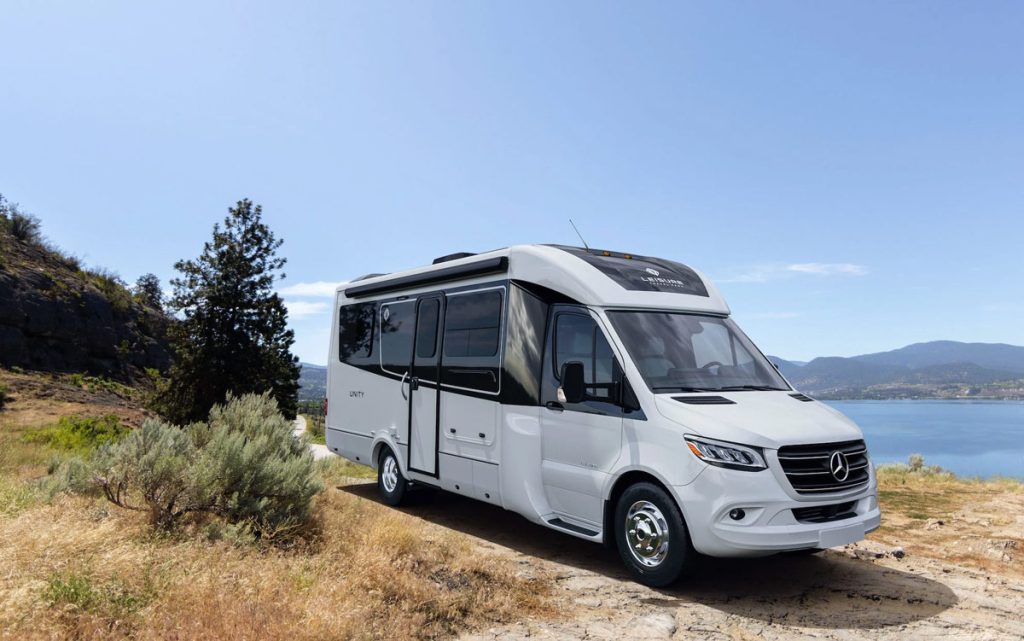 This Unity camper van is one of the small Class B RVs, although it's considerably larger than its alternatives. With the 25 ft 1-inch length, the vehicle offers a luxurious design, tailored with a European look but manufactured in Canada, the small RV has an aerodynamic exterior featuring elegant, frameless glass windows.
The Unity RV series has got five innovative floor plans available to choose from, so it will undoubtedly meet the needs and preferences of any type of van life lover. Their layouts consist of twin beds, a corner and a murphy bed, as well as dual entertainment areas. The island bed layout features a walk-around room with a massive bedroom space.
Price: Starting at $134,210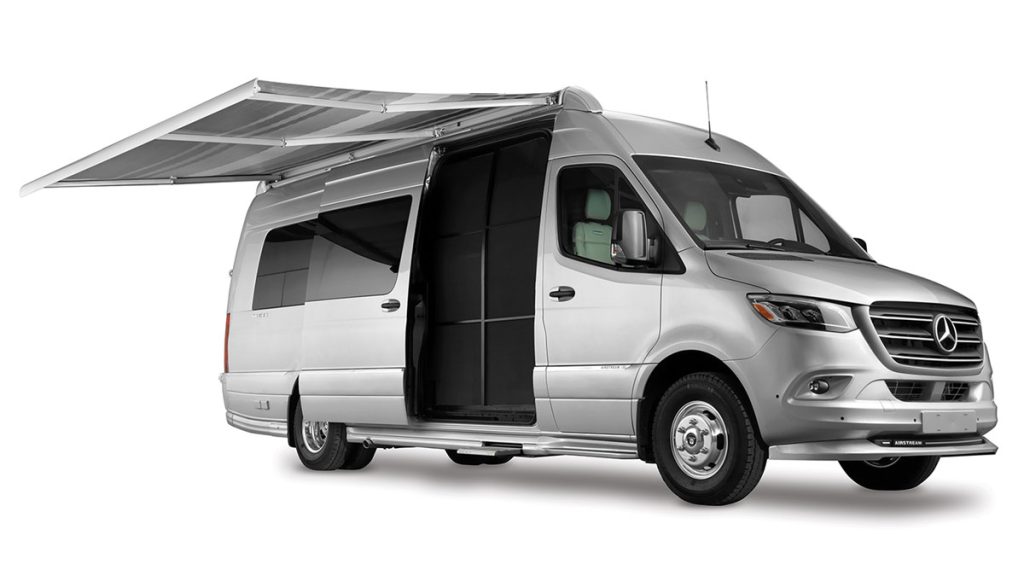 This best-selling Class B RV by Airstream has been at the top of the best small RVs list, and there are a few reasons behind it.
The Interstate is 24 ft 4.5-inches long and combines convenient and usable space with ultimate efficiency and practicality, which guarantees any traveler's satisfaction.
With two floor plans available, the RV is a perfect option for couples looking for long-term travel experiences. One option includes twin beds which create a full-sized bed when merged. The second option features a convertible couch offering a spacious seating area. It can also be converted into a full-sized bed.
Price: Starting at $233,700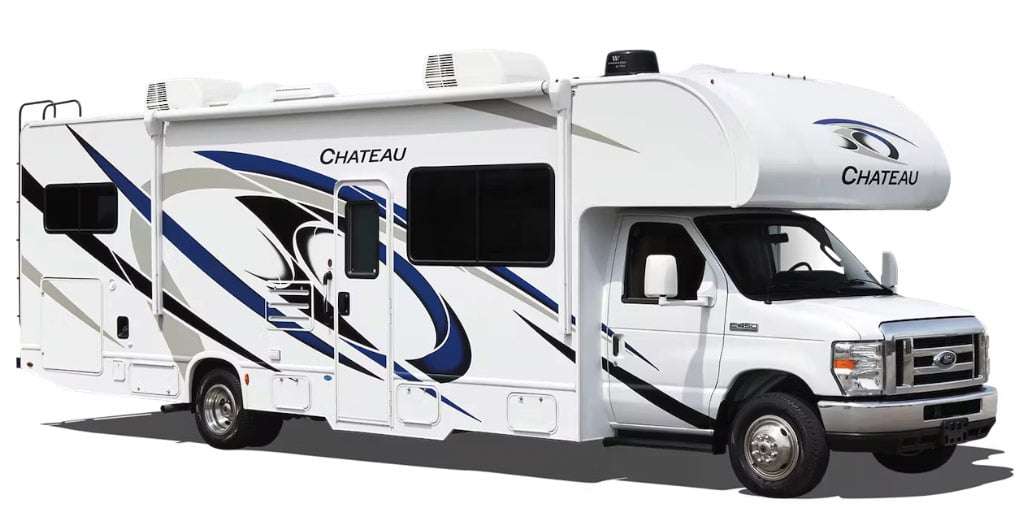 The Chateau small RV comes with 13 floor plans with lengths ranging from 24 ft to over 31 ft which offers great flexibility to meet the needs of various travelers. Depending on your preferences and travel priorities, you will find the most convenient layout for you and get as much or as little space as you wish.
The Chateau's larger camper alternatives feature nearly full-sized kitchens, dry bathrooms, and a considerable living space area that can effortlessly accommodate a small family or a group of friends of up to 7 people.
Price: Starting at $123,150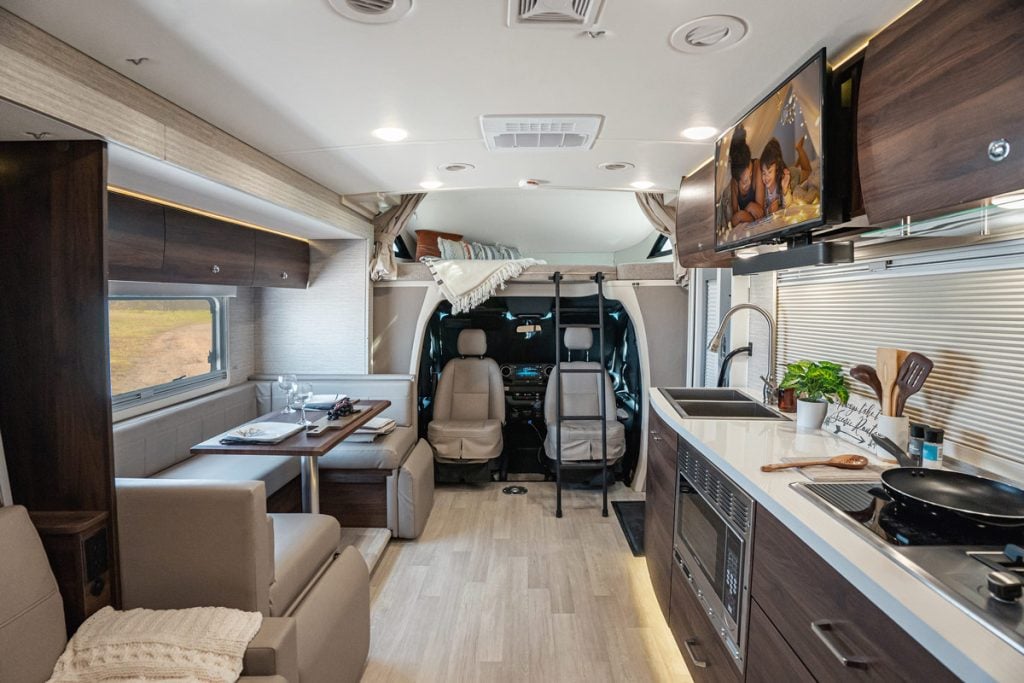 If you're looking for a highly luxurious and modern small RV, the Navion is the undisputed leader in the whole RV Winnebago collection. The 25 ft 5-inches long camper van has three floor plans available, featuring twin beds, one queen bed, and one convertible murphy bed so that you can adjust them to your unique needs.
Like the Porto series, it has the off-grid amenities, including a 200-watt solar panel system and dual group 31 batteries. Its premium functionality features are combined with an incredibly stylish interior design to create the perfect travel unit for you and your loved ones.
Price: Starting at $136,921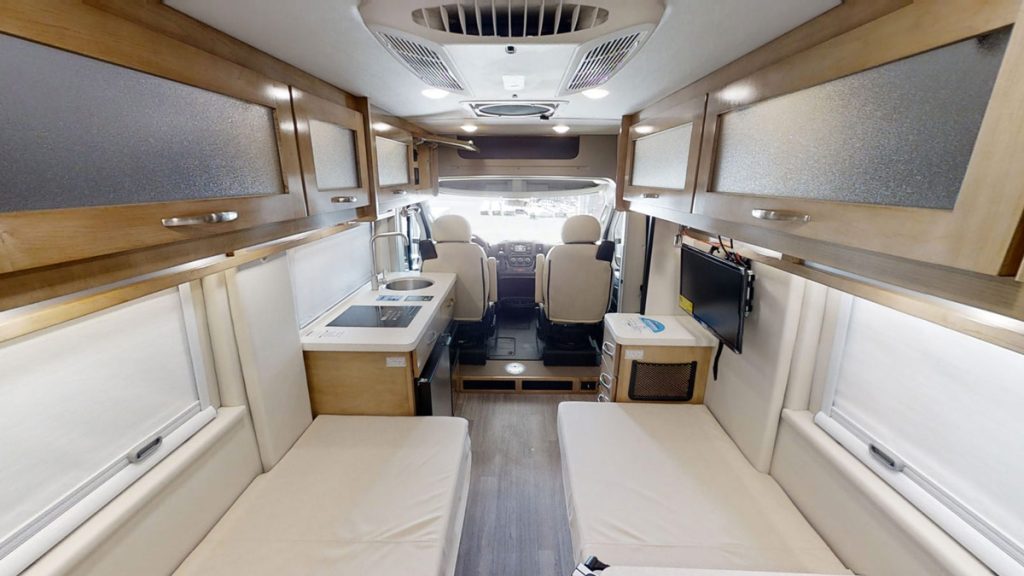 This 20ft 11-inch class B motorhome is built on a Ram Pro Master 3500 chassis and is powered by a 3.6L V6, 24-valve engine. Its compact yet comfortable floor plan is an excellent RV option for couples.
The vehicle includes two twin beds with overhead storage, a galley kitchen with a refrigerator, sink, and stovetop, as well as a wet bath in the rear which consists of a shower, flip-up sink, toilet, and a wardrobe.
The additional characteristic of this small RV is the innovative captain's chairs that you can turn toward the back of the van to create a practical lounge area with a table in between.
Price: $134,856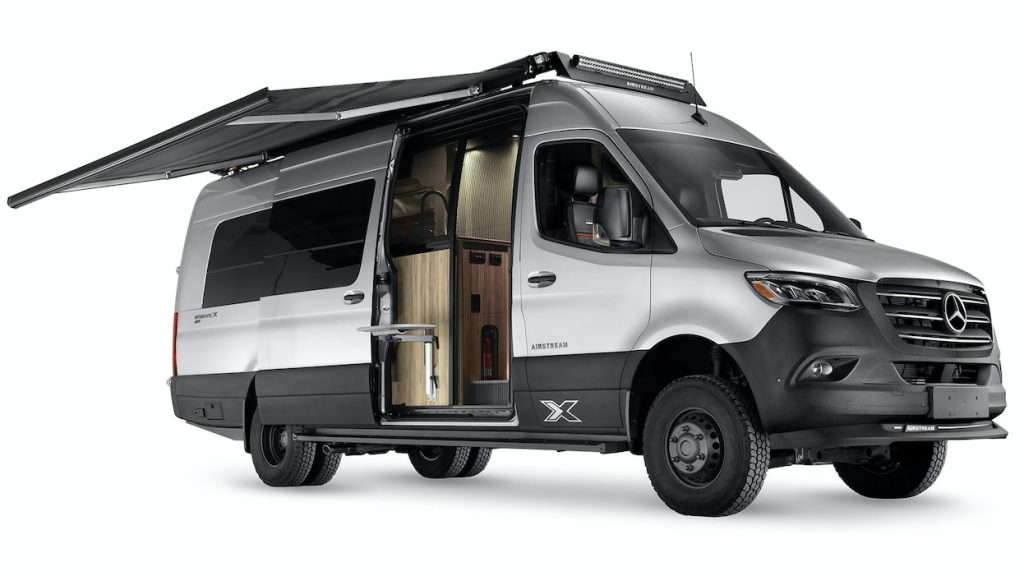 Airstream's Interstate small RV is a 24 ft 6-inches long motorhome built on a Mercedes Benz chassis. It seats up to six people and can sleep two.
This compact camper van has a variety of luxury features, including a 400-watt roof solar system with two exterior ports. Inside the RV, you can find a bench seating in the back, which converts into a bed. The space can also be used to transport equipment.
What's more, there is a wet bath with a shower, toilet, and sink, as well as a kitchen with a refrigerator, sink, and stovetop.
Price: $246,351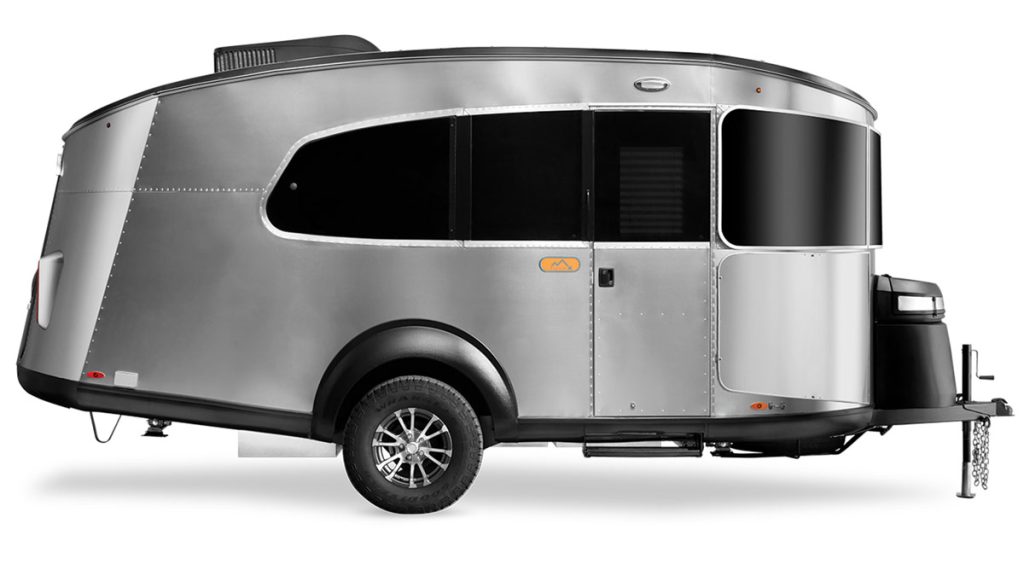 Airstream's Basecamp 20 is a 20 ft 2-inch-long travel trailer with a gross weight of 4,300 pounds. It's easy to tow, highly practical, and can sleep up to four people. Like the most reputable Airstream vehicles, it has panoramic windows on the front and side so you can make the most out of the incredible views during your travels.
The trailer includes a wet bath with a toilet, sink, and shower. There is also a window that helps to keep the bathroom area prone to high humidity levels.
The vehicle features two bench seats which you can convert into a full-size bed. The compact U-shape dinette can also be converted into a bed, or it can make for an extra lounge area.
Price: Starting at $54,400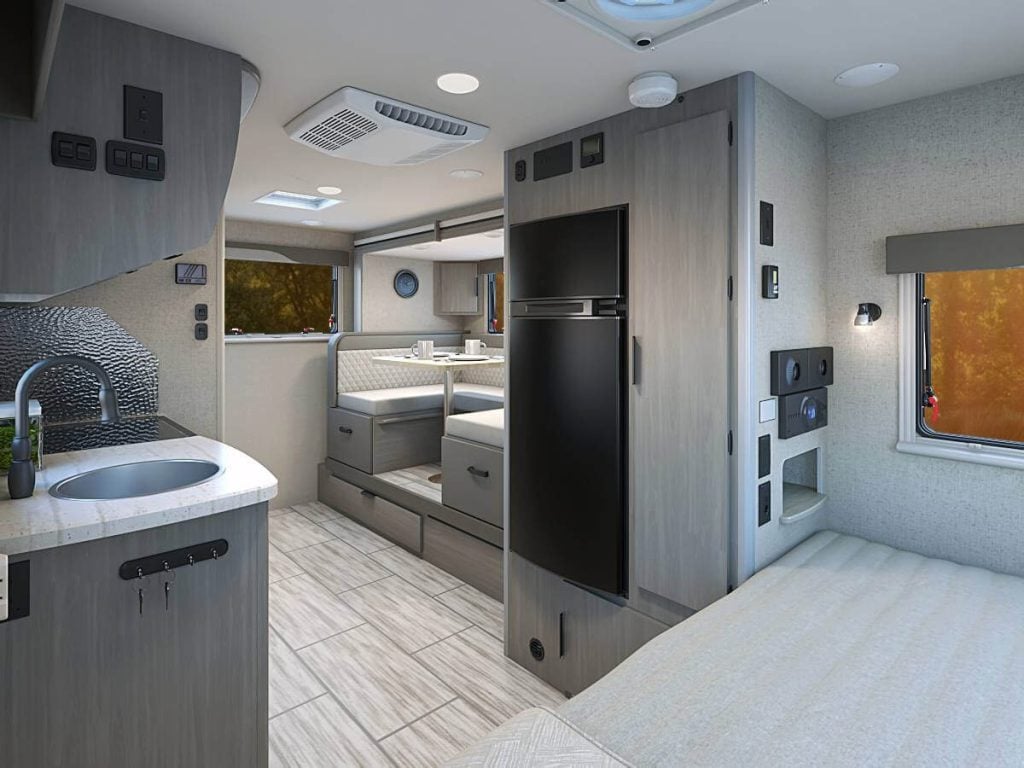 With a size of 20 ft 5-inches and weighing 3,700 pounds, this small Lance travel trailer is packed with high-quality features, just like all Lance's releases. One of the most significant characteristics of the trailer is the insulation built in throughout to keep you warm and comfortable.
The RV can sleep up to four people and has a dinette on a slide-out which offers a larger living space area. Inside the trailer, you can also find a full dry bathroom to give you the most home-like feel during your travels.
Price: $44,872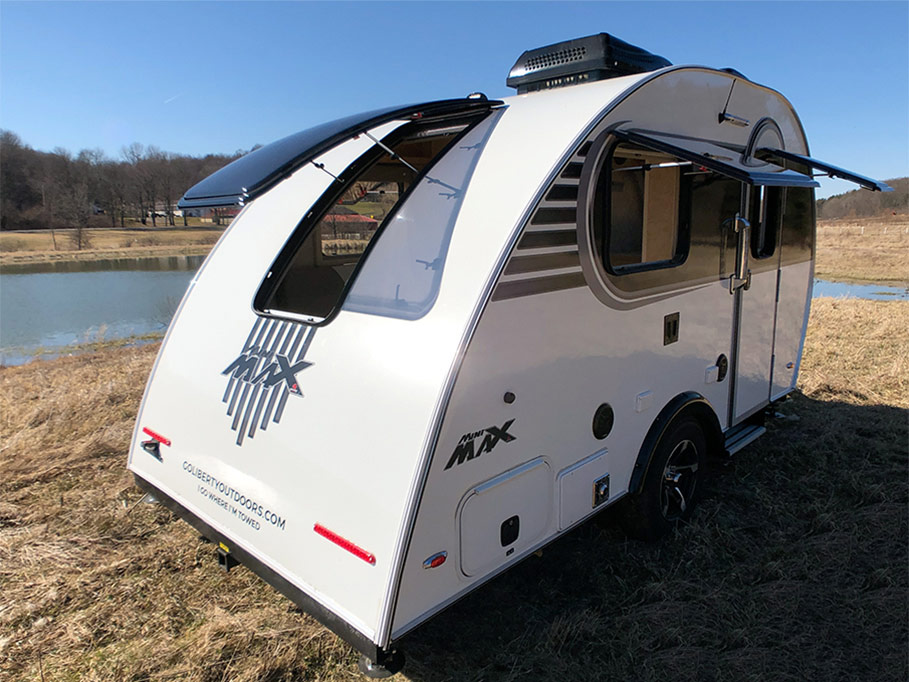 The Little Guy Mini Max is a teardrop trailer with a 17 ft 2-inch-long body and 6 ft high interior. It weighs 3,500 pounds which means that it's easy to tow with a midsize SUV.
This innovative, small camper has modern decor and is highly practical. It can sleep two people in twin beds that can be converted into a large queen-size bed. The interior also features a kitchen with a fridge, stovetop, and sink. In addition, it includes a wet bath with a shower and toilet.
Price: $43,395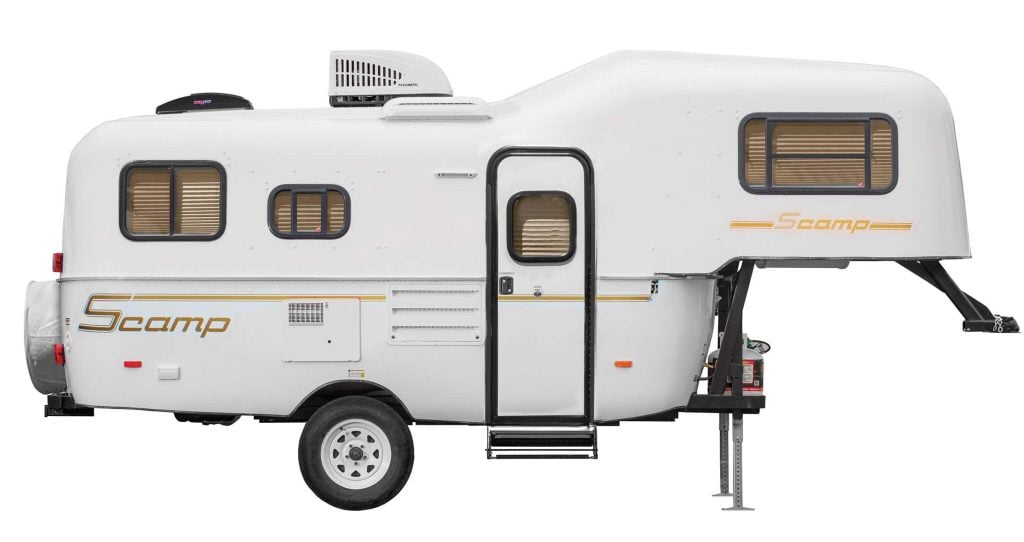 The Escape 5.0 is a 21 ft 2-inches long fifth wheel with interior height ranging from 6 ft 4 to 7 ft. It's easy to tow with a half-ton truck as its gross weight is 5,500 pounds.
This compact RV is highly durable thanks to its one-piece fiberglass construction. The interior includes a queen size bed up front, which can sleep two people, and a dinette or lounge space area in the rear part of the cabin. There is also a wet bath with shower, sink, and toilet, as well as a small yet practical kitchen.
Price: $33,495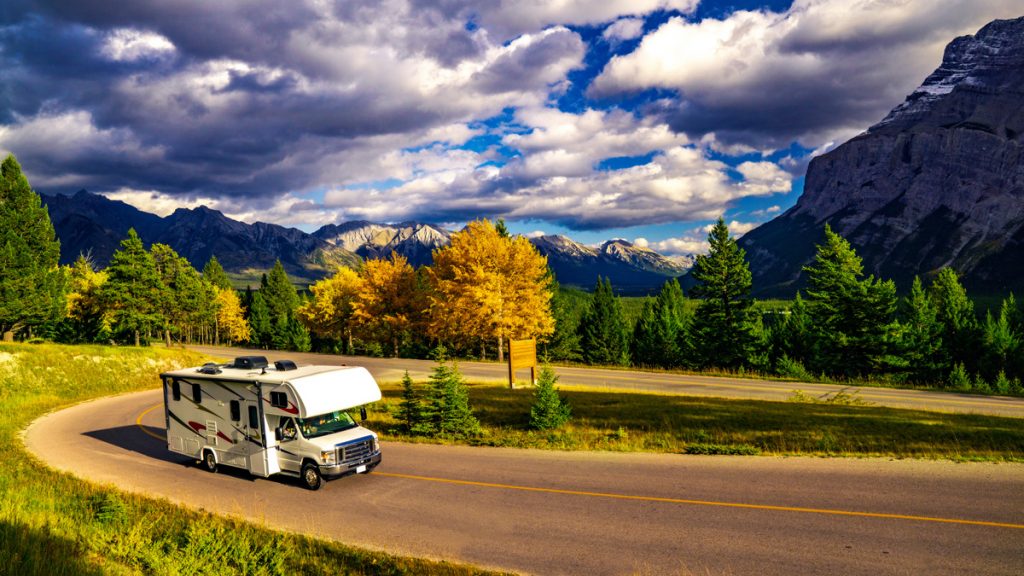 Consider Renting an RV Before Buying
Purchasing an RV is a significant investment, and deciding on which one to buy can often be time-consuming and stressful. If you're not ready to make the final call, consider renting an RV for a test weekend.
Renting a travel vehicle can save you a lot of time, energy, and money while ensuring you get the one that is right for you.
To get the most out of your RV rental experience by testing all the possible features of the vehicle during your rental period. Besides driving and maneuvering it, test out the living and bedroom area, as well as use the kitchen and the bathroom. This way, you will learn what type and size of RV are suitable for you and your family and what features you are looking for in your ideal vehicle to make the right buying decision.
The Bottom Line
Small RVs are commonly growing in popularity among road trip traveling lovers or people who choose a life on the road in a mobile home.
Whether you're planning to get on with short road trips, free camping trips, or commence a full-time nomad life, a small RV might be the best option for you. With its compact size, it is easier to maneuver and fit in any parking space while still offering a range of luxurious features found in larger RVs.
There are many types and sizes of RVs, and choosing the most suitable vehicle for you will depend on various factors. Think about how much space you and your loved ones need for comfortable traveling and what features of an RV are the most important for you. The best idea is to ask a seller for a test drive to learn more about a vehicle's functionality.
If you're not ready to make a final decision about buying an RV, consider renting it. Arranging a weekend rental will allow you to thoroughly test a particular vehicle, including driving it and living in it. This may help you decide on purchasing the right RV for your and your family's ultimate comfort and a satisfying traveling experience.
Small RVs Frequently Asked Questions
Do small RVs have bathrooms?
Yes, there are many types of small RVs that have bathrooms. While it is widely perceived that those are wet baths, small vehicles more and more often have full dry bathrooms with the shower separate from the toilet and sink.
How much does a small RV cost?
Generally, small RVs cost less than their larger alternatives. Their prices usually start at around $50,000, but you can also find one under $40,000, depending on the luxuries they have. With that in mind, some small RVs can cost even over $100,000 if they are equipped to the highest standard.
Many factors will determine the price of a small RV. These factors include the type of an RV, brand, floor plan, construction, and technical features.
Can you do a test drive before purchasing a small RV?
Yes! You can always arrange a test drive before making a final decision about purchasing an RV. 
Many sellers offer the possibility of spending a night in the vehicle, so you will be able to get the full experience of it that will help you make your choice. Just make sure to ask a seller for the test drive opportunity before signing the paperwork.
What size of an RV is best for full-time living?
The best way to determine what size RV is most suitable for your needs is to walk through space physically. Take the time to view different sizes, layouts, and styles, while also focusing on the features they offer for your ultimate comfort and satisfaction.
When walking through different types of RVs, try to imagine yourself and your family living in them full-time. Think about doing daily activities, such as cooking or getting ready in the morning, to decide how much space you need to move about in your vehicle effortlessly.