How To Design Camper Van Interiors And Layouts
By
on
This post may contain affiliate links. As an Amazon Associate, I earn from qualifying purchases. Please read my full disclosure.
Carefully planning a camper van interior and layout will have a huge impact on your comfort, level of storage and ability to move around.
Without a doubt, the type of van you own has the biggest impact on what you can accomplish with your space. If you already have a van, a big part of the equation has already been determined.
If you haven't purchased a vehicle yet, we recommend reading the following resources first. These will help give you a better idea of what type of van to buy:
Determine Your Goals
Before planning your layout, think about what you intend to do with your vehicle.
Working while camping? Then having a comfortable desk may be a high priority.
Boondocking? You may need extra room for water and potentially a toilet or shower.
Going stealth? Consider using a large cooler instead of solar panels and a fridge.
Get Interior Ideas and Inspiration
Take some time to look at other builds to get an idea of what you might like. Instagram and Youtube are great sources of inspiration for building a van.
Remember: there is no right way to build a van.
Just because someone built something creative does not mean it's functional, or even practical for full-time living.
Moreover, don't be disillusioned by high-end builds. You don't need to spend $50k to live comfortably in a van.
Here are some sources of inspiration we put together: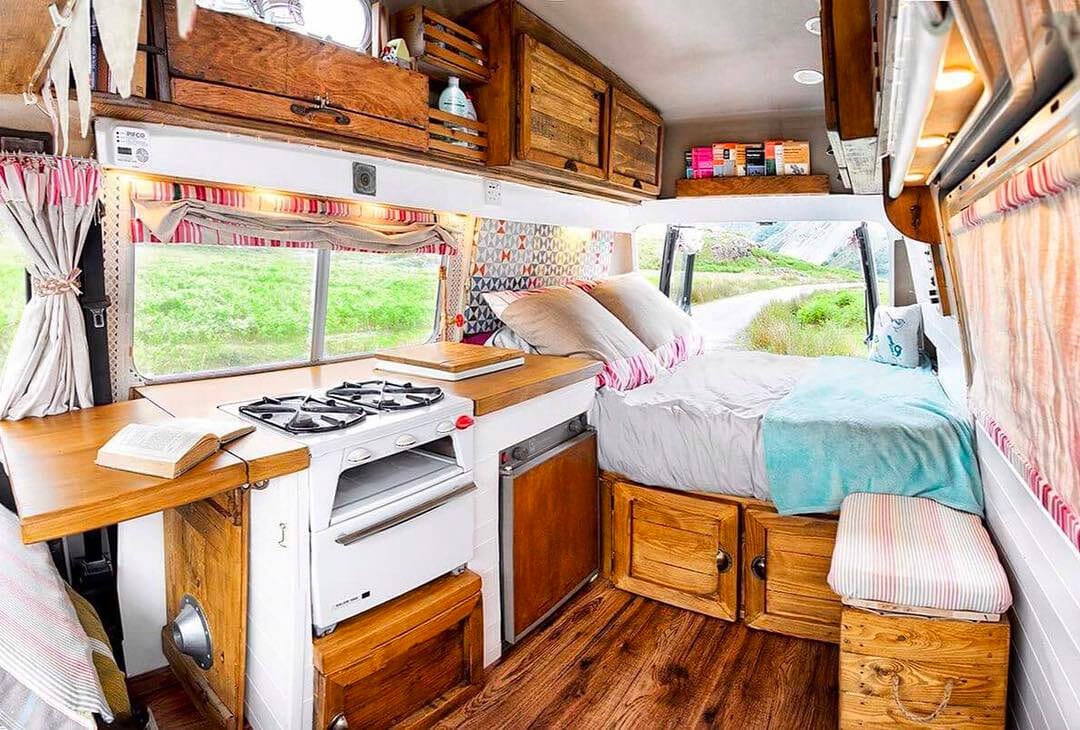 Test Drive Van Life
You won't get everything perfect on the first try, but you can get a good head-start on your lifestyle by taking the van out on a dry run. Sleep in it as you plan on doing during van life for a few nights (in the city or in a campsite).
You can quickly realize that your real-world priorities are different than you had imagined.
Rent A Van
Even before you buy a van, you can rent a conversion. If you have the funds, it might be a good idea to test out the lifestyle for a few weekends and try a variety of vehicles.
That will give you a much better idea of what you want in a vehicle vs what you need.
Write Down Interior Needs vs Wants
Once your brain is buzzing with the possibilities of what you can do with your build, it's time to get practical. Ask yourself the following questions:
How many people are traveling? (How many beds do you need?)
Will you be working on the road? (Do you need a table or desk?)
Will there be a toilet in the van?
Are you planning to hook up a sink?
Will there be a shower?
How much water storage do you need?
Will you mainly be cooking inside/outside or both?
Do you need propane storage and ventilation?
How much storage space do you need for clothes/personal items?
Then, make a list of large objects that you plan on having in your build:
Fridge or cooler
Stove / oven
Toilet, shower or sink
Water storage
Propane tanks
Mountain bikes, skis, surf boards ect.
Mattress
Table / desk
One thing people often forget about is garbage and dirty laundry. A bag full of dirty clothes ends up taking a huge amount of space.
We also highly recommend having some sort of seating in mind where you can sit with your back fully upright.
Whether that means swivel seats – or bringing along a portable camping chair that can be set up outside – do not underestimate comfortable seating!
Once you have a van, it's time to take some rough measurements. It's often easier to measure the van yourself than to search online for dimensions of your specific model.
A Mercedes Sprinter conversion, for example, has widely different dimensions for varying lengths, wheelbases and heights. This gets even more complicated with different years.
Remember that your measurements are rough estimates and not meant to be exact. Vehicles are not square boxes and some have significant curves in them.
If you're measuring an empty vehicle, remember that adding insulation is going to reduce your footprint by up to 2" per side!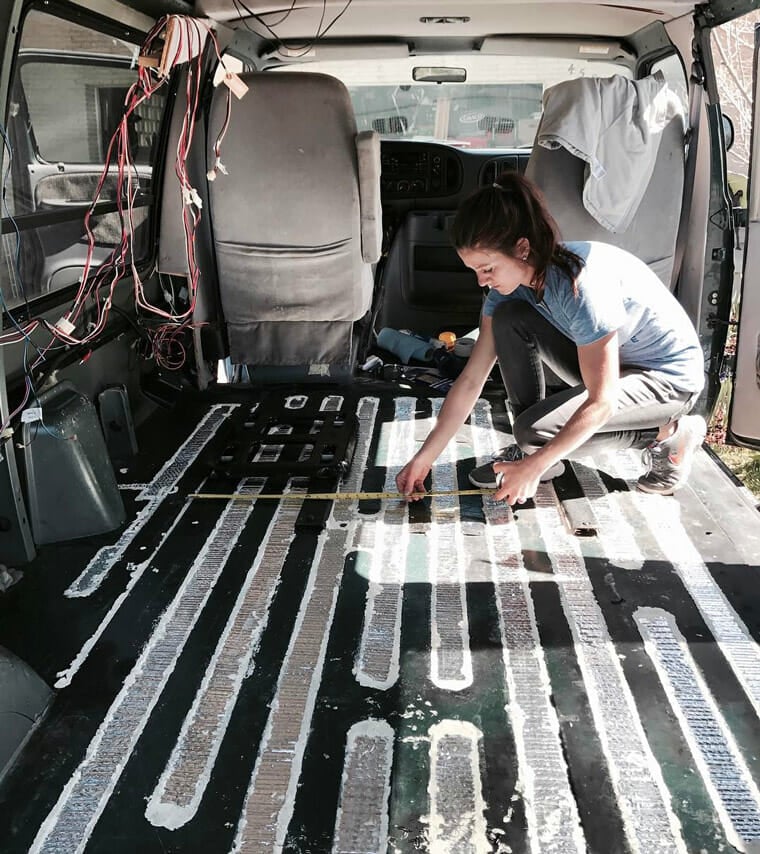 Design Your Interior Layout
Start with a piece of graph paper and draw out the floor of your vehicle. It doesn't have to be exact but you do want to get the proportions as close as possible.
Mark where any doors or windows are in the van.
Placing Objects
Chances are, your bed and mattress are going to take up the largest amount of space so it's one of the more important things to get right. Here are common mattress dimensions.
Aside from that: electrical, gas and plumbing placement is equally important. You want to arrange propane tanks near a door (or have a vent to the outside) for safety purposes.
Pro tip: Storing propane tanks outside the vehicle on a cargo hitch is a great way to save space!
Electrical components like batteries, charge controllers and inverters should not be located next to any fuel tanks.
The inverter should be within reach so you can turn it off when you're not using it to save power (unless you have a remote).
A 12v refrigerator should have at least 1-2" of space around the vent area to improve efficiency.
Have at least one water jug accessible from inside the vehicle.
If you're not going stealth, take advantage of trailer hitches and roof racks.
A vent fan should be located far away from a window opening so you can get the best airflow.
Try to combine as many objects as possible. A bed can double as a couch or seating for a desk. A toilet can be built into a chair, or a trash bin can be hidden beneath the seating.
Read our post on storage and organization hacks so inspire yourself with some cool storage ideas.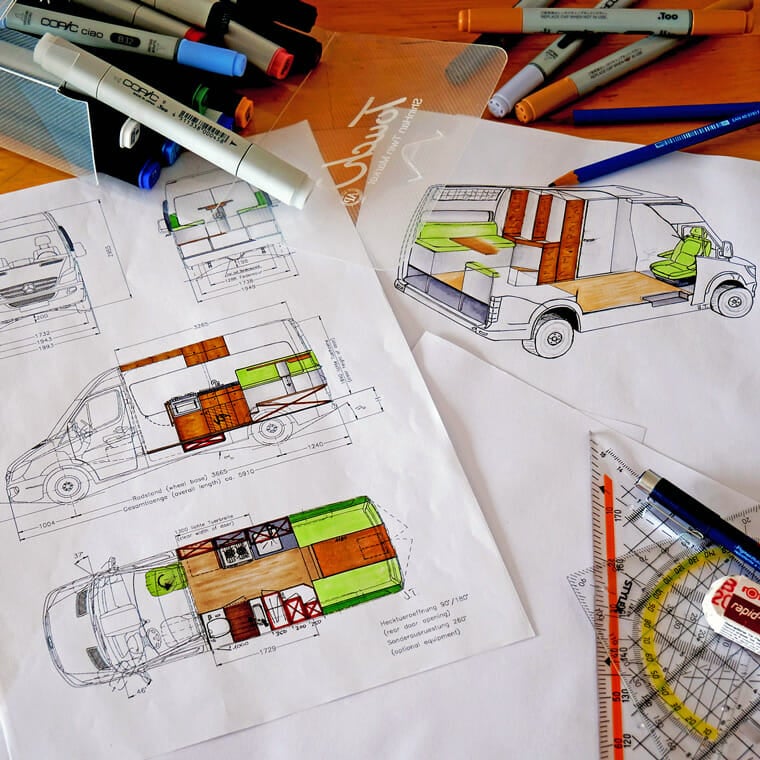 Ideas For Adding Interior Drawers and Shelving
Long sliding drawers and other storage systems can dramatically increase the space inside your vehicle.
We like to organize our equipment into smaller boxes that can be moved and re-arranged easily.
You can build your own DIY storage systems using heavy duty drawer sliders.
There are also pre-built systems designed to fit in the most popular vans. DECKED is a company that makes customizable drawer systems.
They can be easily added or removed and fit the most popular cargo van models including: Ford Transit, RAM ProMaster, Chevrolet Express, GMC Savana, Mercedes Sprinter and Nissan NV.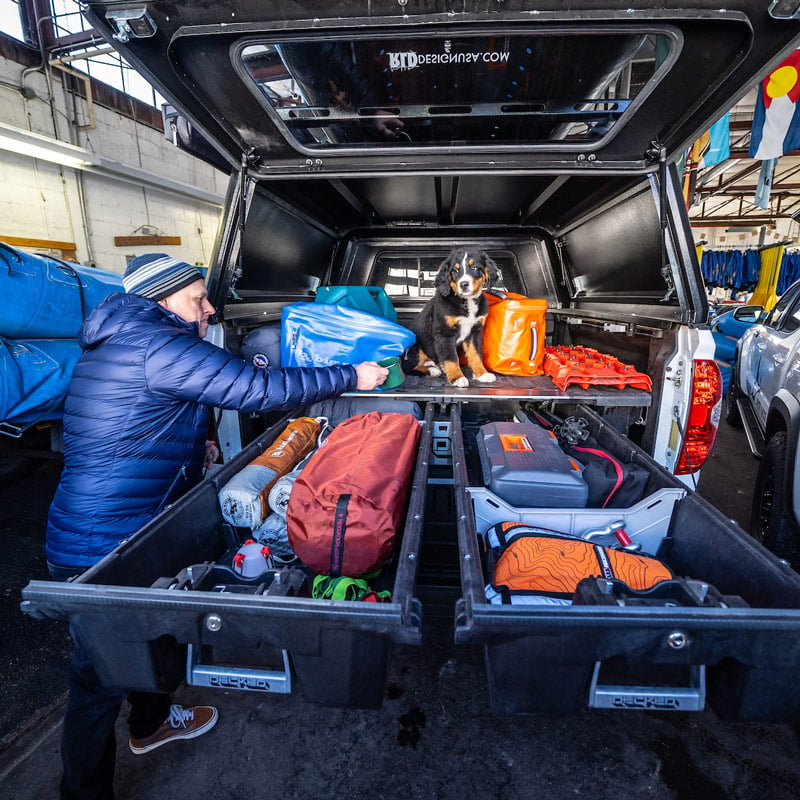 Payload
One thing many people forget to take into account when designing their build is weight.
Every vehicle is going to have a max payload listed in the owner's manual and you don't want to exceed it! The payload refers to the weight of the van and all liquids, gear, and passengers.
Going over the payload can significantly decrease the vehicle lifespan, and it's unsafe. We highly recommend getting your vehicle weighed at a weigh station before you start your build so you know how much weight you have to work with.
Many people overbuild their vehicles with an excessive amount of wood, tile, and even granite countertops!
If you notice your van sagging, or you've gone over the weight, consider installing some leaf spring assists.
These accessories are not universal so you'll want to triple-check that you're purchasing the right type for your vehicle.
Weight Distribution
Aside from payload, you'll also want to distribute weight as evenly as possible throughout the build. This will give you the best gas mileage and keep your tires from wearing out on one side.
Some of the heaviest objects in your van will probably be water storage containers, batteries, and fully stocked refrigerators.
Place these objects on opposite sides of the vehicle if possible.
Keep your heavy objects low to the ground because it will reduce the center of gravity and will give you better handling on those snowy mountain roads.
3D Modeling The Interior
Modeling your vehicle with a 3D program can give you a new perspective of how it might look from other angles.
While this is certainly not a necessary step, if you want to build a model of your van one of the most popular tools people use is SketchUp.
SketchUp is a free program and quite robust. It does take a bit of learning, but it's one of the easier 3D programs to manage.
Below is a tutorial showing how to design a van with SketchUp.
Testing Your Van Life Layout
Once you think you've found a layout you like, the next step is testing it out. Grab a roll of inexpensive painters tape and mark out the large objects on the floor or walls of your van.
You can also do this in an apartment if you don't own a vehicle yet!
You may be surprised by how much (or how little) space you have to move around.
Some people go as far as building cardboard templates of their cupboards and seating to get a better idea of how to design their build.
Be open to scrapping your design and starting again.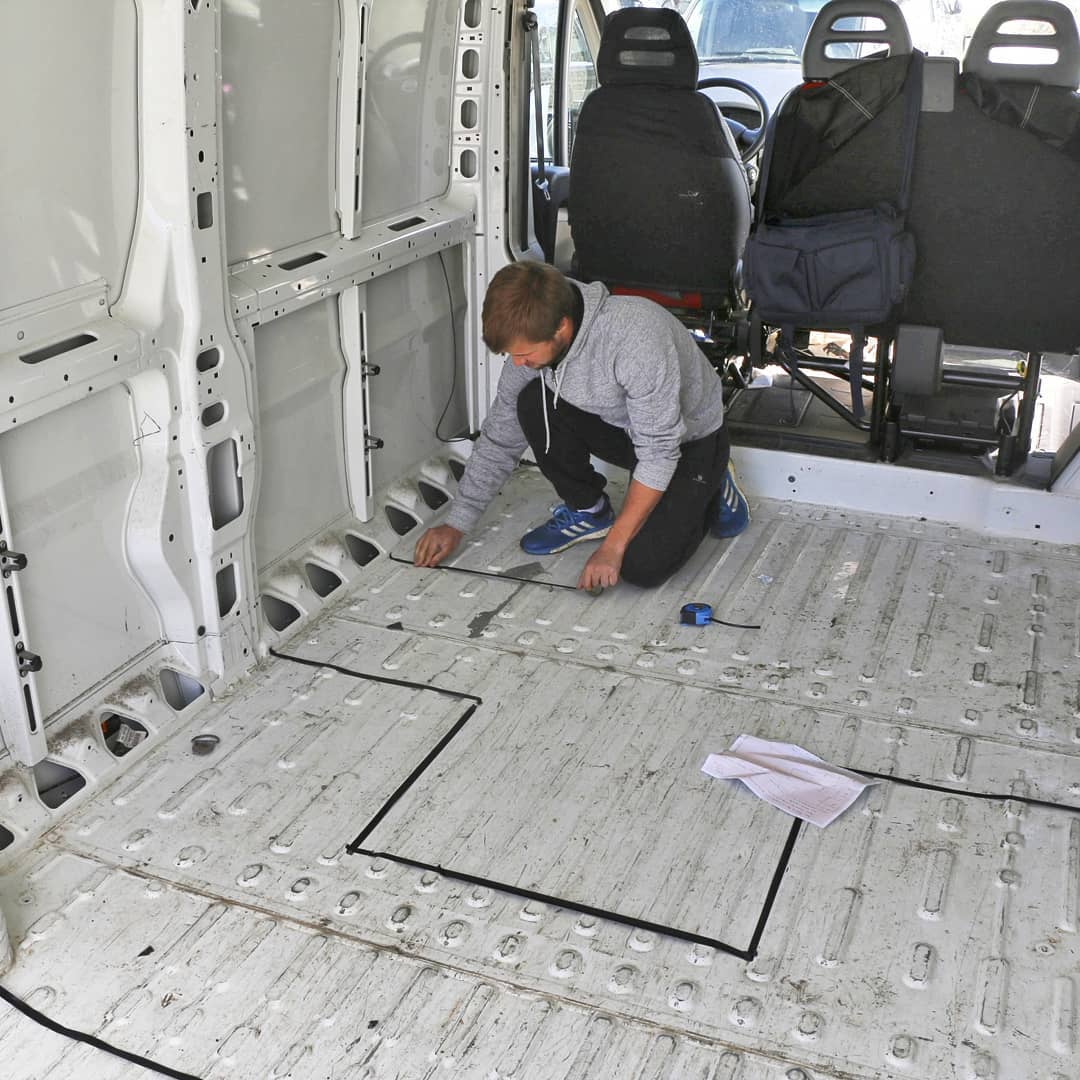 Camper van Interior Layout Inspiration
Below we've included a variety of campervan interior layouts to get your brainwaves flowing. Hopefully, these ideas can help you plan your build!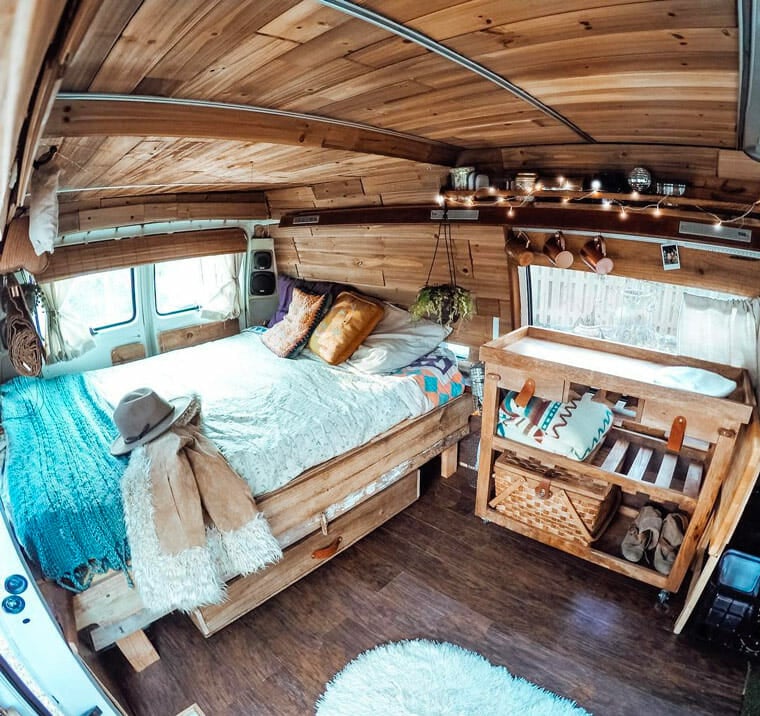 This is the interior of a 1988 Chevy G20 Sportvan. Built out by @the_wayward_blonde it has a cool rustic vibe that we love. The ceiling is built out of reclaimed cedar which are lightweight and gave a unique color.
All of the door panels and shelving were built out of recycled fence posts and it's topped off with lavender candles and fairy lights!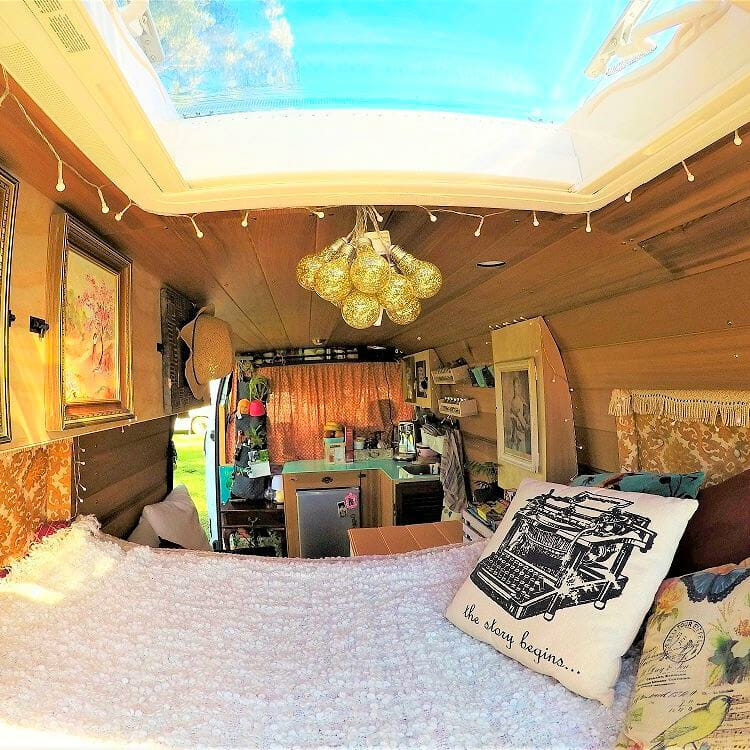 The skylight is what drew us to this build by @glampervanlucy which has a nice layout with a separate kitchen and bed area.
The van itself is a Renault Master from Australia and is decorated with a bohemian flair.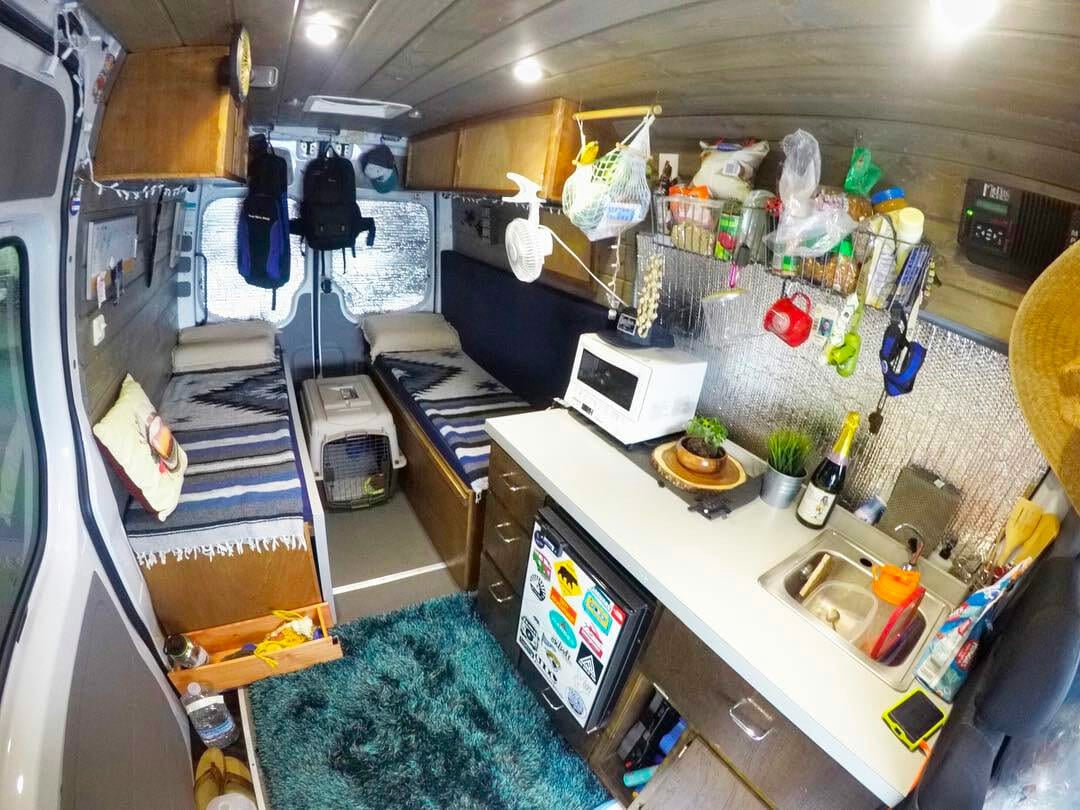 @vanlife904 made good use of space with his idea to create two single beds and still leave room for the dog! One of our favorite things about this build is the ability to add guests.
The van is a 2016 Mercedes Sprinter and was built out with a functionality and layout in mind.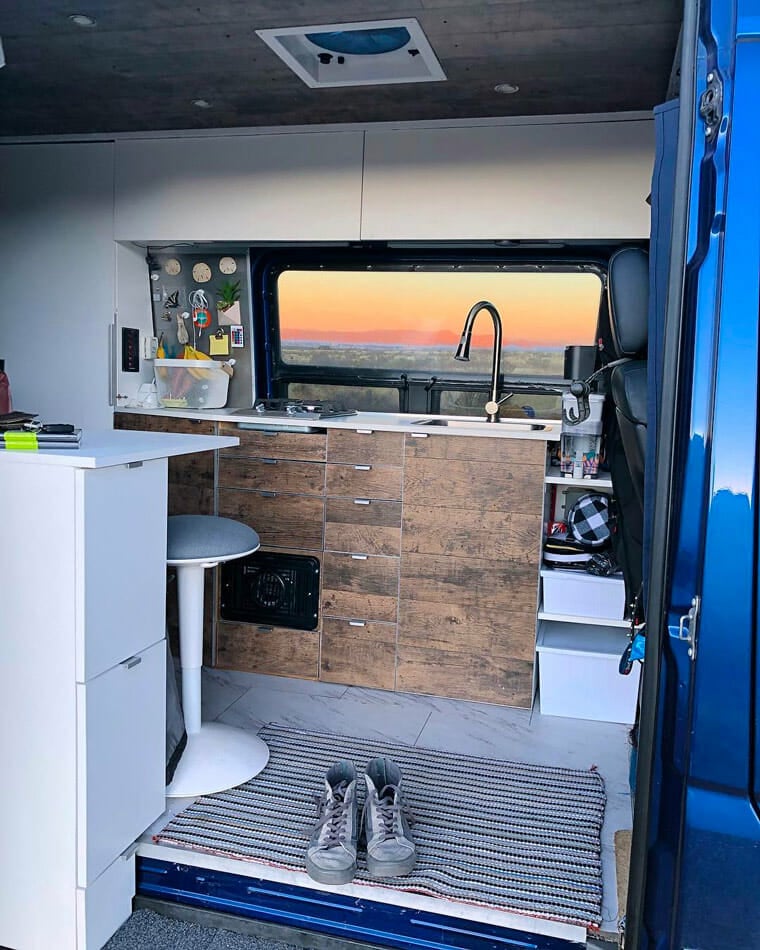 A modern design by @van.there makes good use of space and leaves room for both a kitchen and a workspace.
This travel couple built out a 2013 Mercedes Sprinter with cleanliness and organization in mind.
We like that all of the surfaces are smooth and easy to clean. All of the drawers are something we admire and could certainly use in our next van build!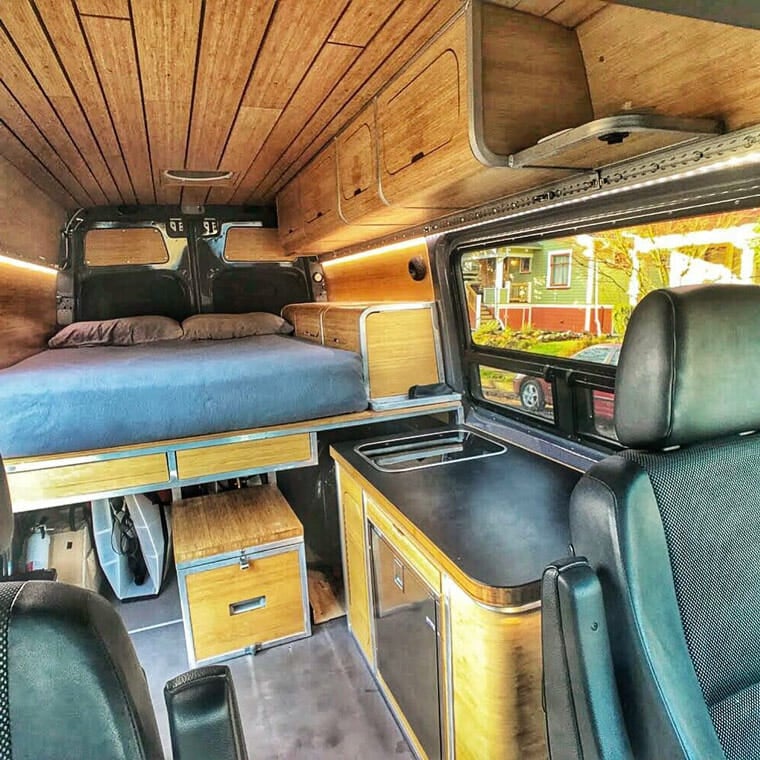 @zenvanz is a company that builds out luxury sprinter vans with a focus on modular design and rugged durability.
We love the wood and metal design of this van and can appreciate the functional layout. The drawers underneath the bed give extra room for collectibles without sacrificing too much head room.
You can hit them up for a custom van build at zenvanz.com
Beautiful Camper Van Interiors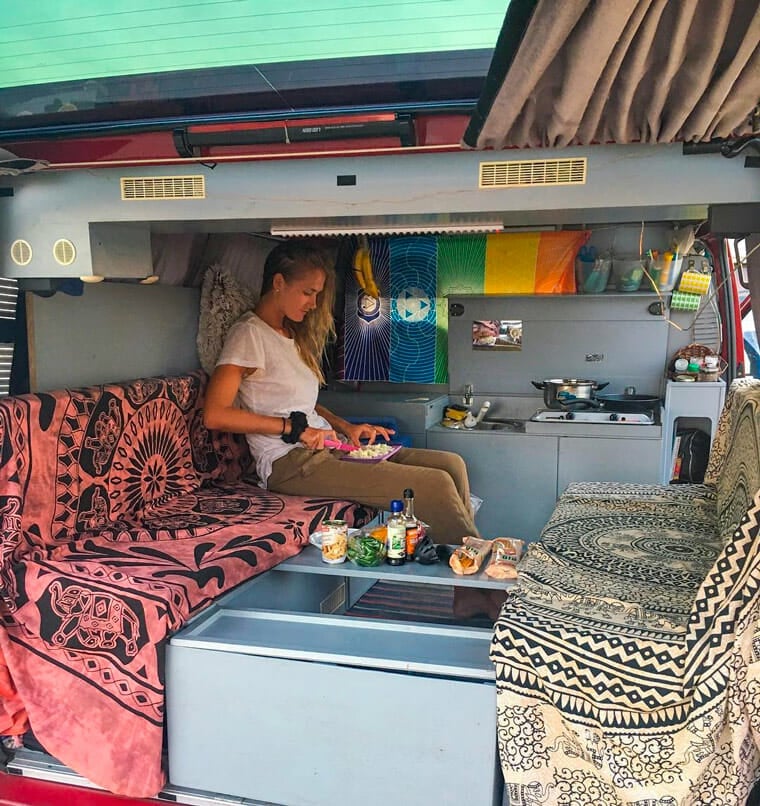 @kayloor has a practical interior and one of the few we've seen with a hard separation between the back and the cab area.
The two bench seats on the sides fold down into a full-sized bed but leave room for seating and working during the day.
We like that by closing off the cab she can add an entire wall for the kitchen making even more space for countertops! Kayloor is from Spain and lives the van life in a 2000 Ford Transit.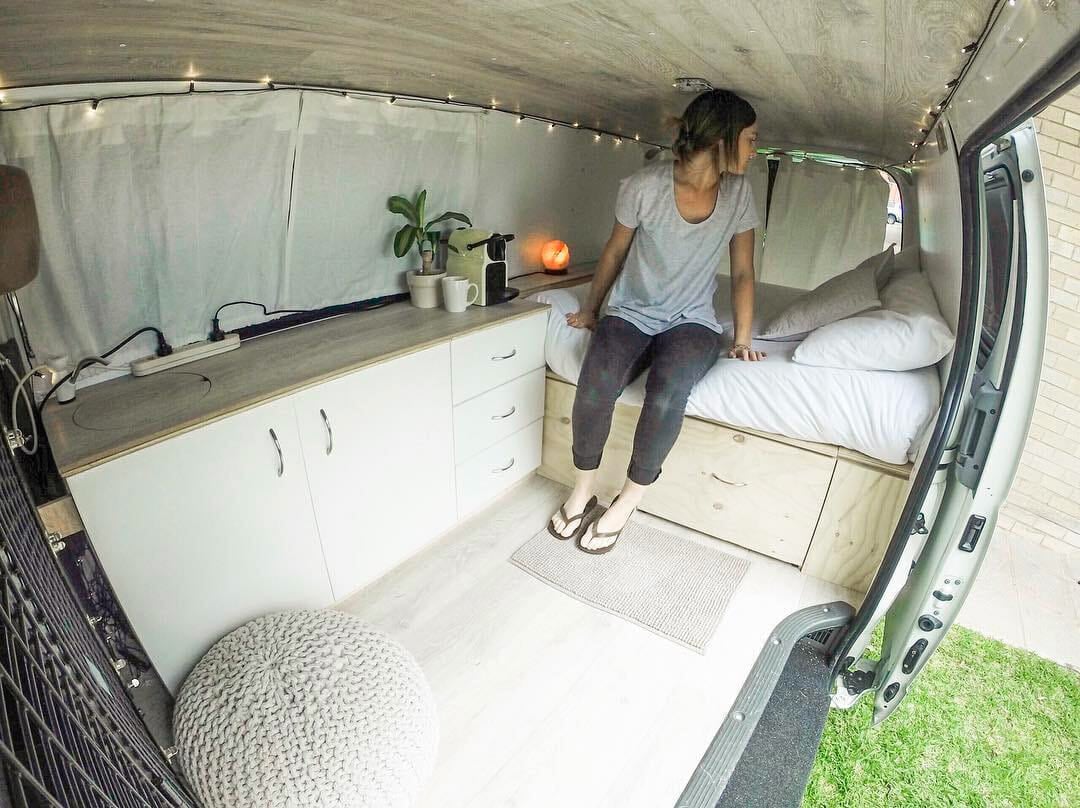 A simple van with a low ceiling, @heytess_ was able to make this Toyota HiAce look efficient and organized.
We like that there are so many drawers for storage and everything can be tucked away during the drive.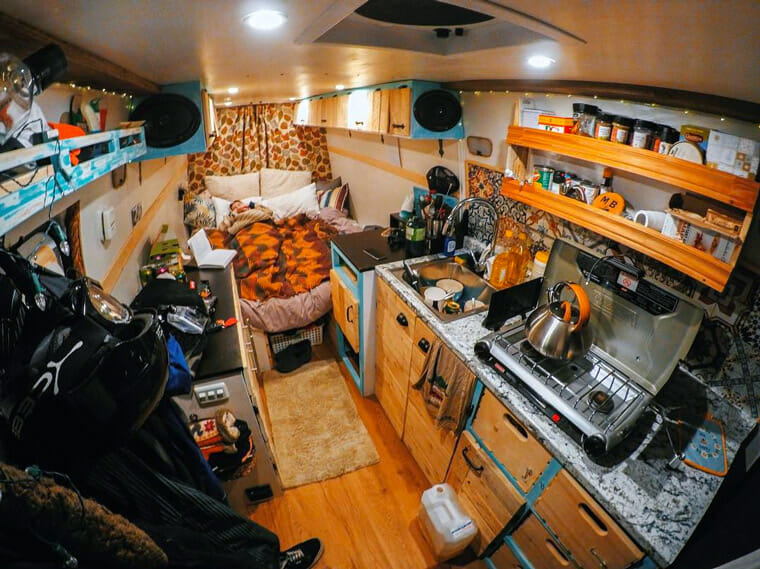 @dont_know_road was able to pack a whole house of stuff into this Sprinter. One of our favorite things about this layout is all of the short shelving above the doors and kitchen area.
Those cubbies leave a lot of room for spices, ingredients and entertainment.
This Sprinter van also looks extra long, allowing @dont_know_road to bring along anything he needs!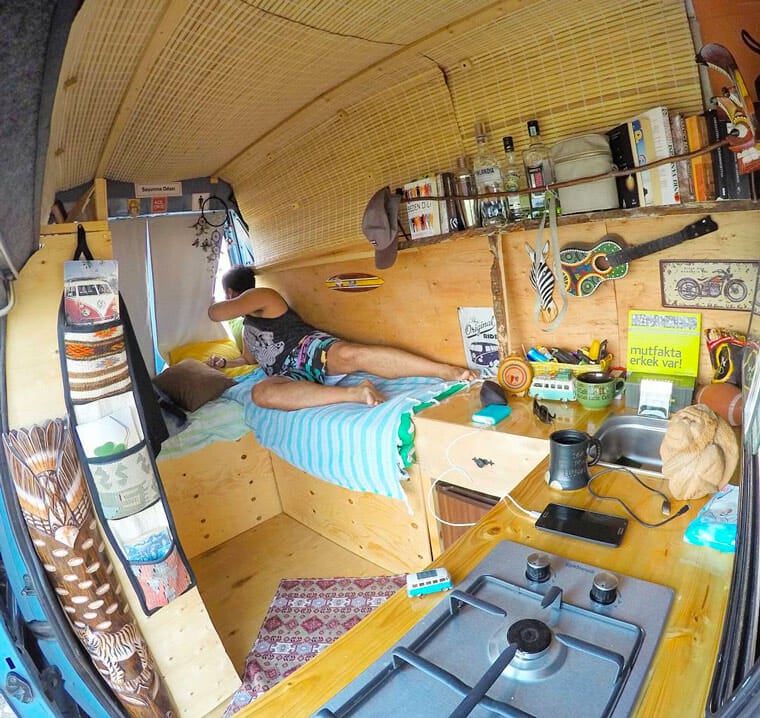 @emreunal__ is a windsurfing instructor from Turkey. With just a single bed in campervan you get a lot of room for storage and cooking.
What we like about this van is the built-in stovetop and upper shelving.
How do you decorate the inside of a van?
Look for inspiration like these design ideas for saving space. Paint with light colors to make the interior seem larger. Consider adding wood paneling or shiplap to blend with the outdoors.
How do you make your camper van more homey?
Add cozy elements from home such as pillows, blankets, and photos. Use warm colors and tones to keep the space comfortable.
How do you make the interior of a camper van cozy?
Use bedding and a comfortable mattress rather than sleeping bags. Keep your space organized so there's less clutter.
More Interior Ideas And Inspiration: