Inspire Your Next Van Build With These Campervan Layouts
There are so many ways to personalize a campervan build. We've pulled together a variety of campervan layouts to help inspire your next project. From rustic vans with recycled interiors to clean and modern designs, these creative van life ideas are going to make you want to start your own adventure! Check out some of our favorite builds below.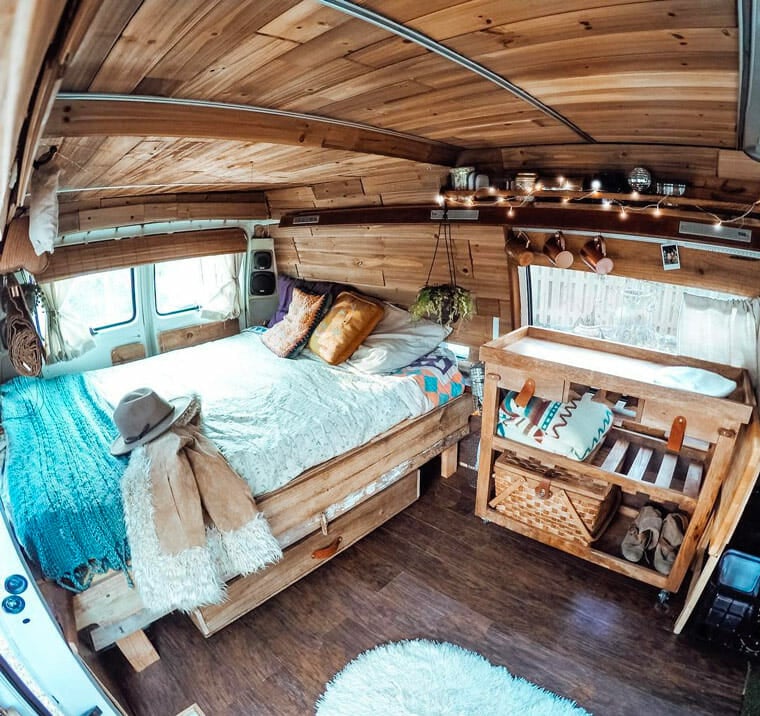 This is the interior of a 1988 Chevy G20 Sportvan. Built out by @the_wayward_blonde it has a cool rustic vibe that we love. The ceiling is built out of reclaimed cedar which are lightweight and gave a unique color. All of the door panels and shelving were built out of recycled fence posts and it's topped off with lavender candles and fairy lights!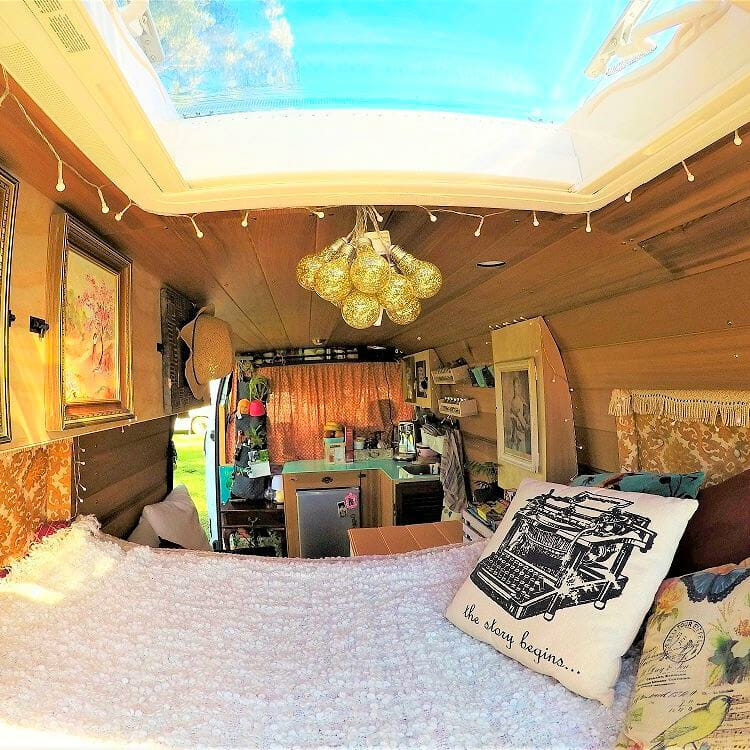 The skylight is what drew us to this build by @glampervanlucy which has a nice layout with a separate kitchen and bed area. The van itself is a Renault Master from Australia and is decorated with a bohemian flair.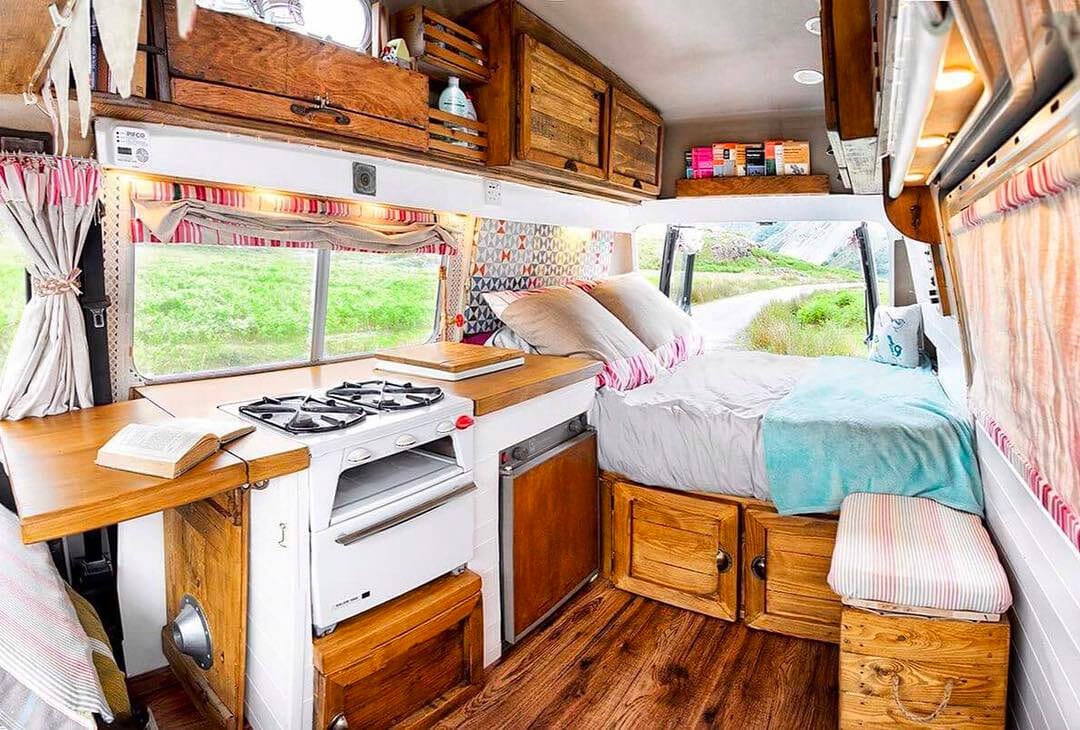 @florence_and_the_morgans used windows and an open layout to make their van look huge! With only $1000 they transformed the interior of a 1990 Fiat Ducato Camper Van (identical to the Talbot Express) and are living the van life throughout the UK. All of the wood is recycled and textiles sewn by hand to complete this open and inviting camper.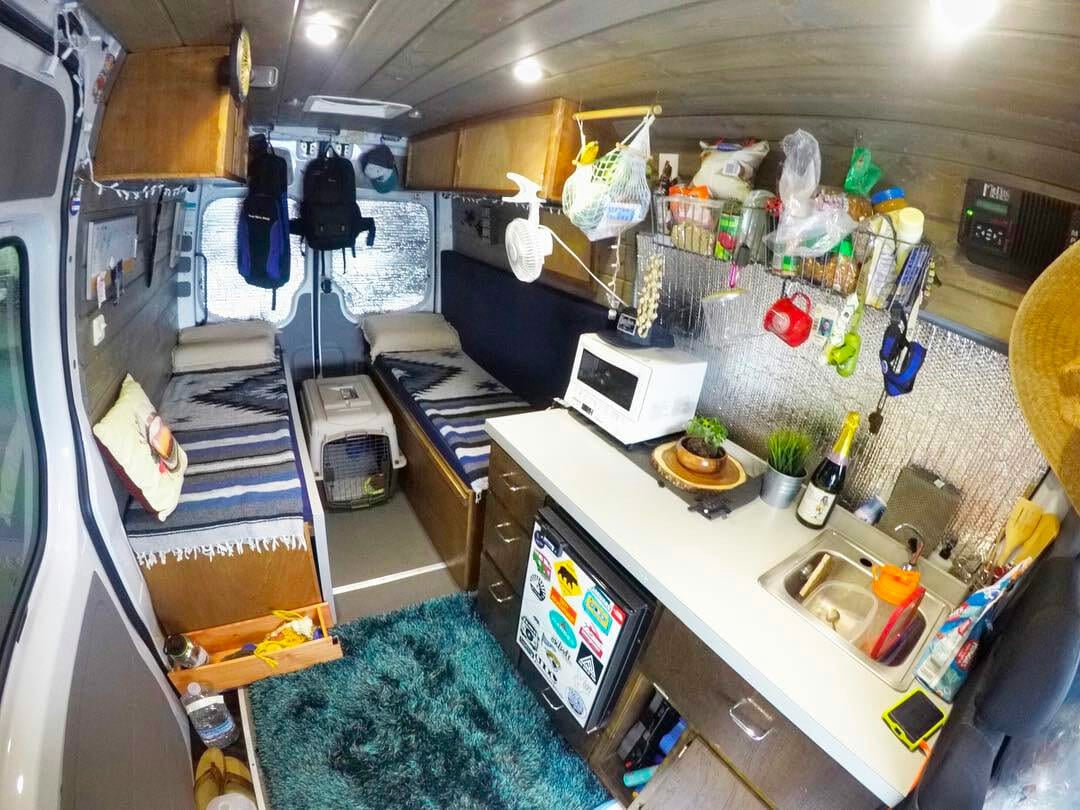 @vanlife904 made good use of space with his idea to create two single beds and still leave room for the dog! One of our favorite things about this build is the ability to add guests. The van is a 2016 Mercedes Sprinter and was built out with a functionality and layout in mind.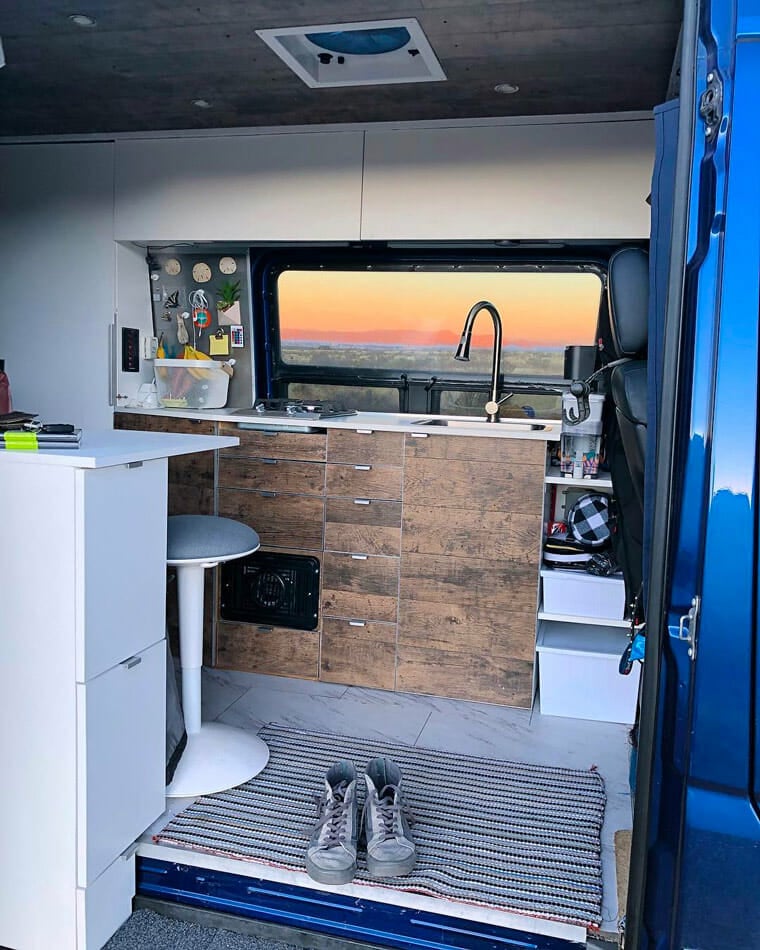 A modern design by @van.there makes good use of space and leaves room for both a kitchen and a workspace. This travel couple built out a 2013 Mercedes Sprinter with cleanliness and organization in mind. We like that all of the surfaces are smooth and easy to clean. All of the drawers are something we admire and could certainly use in our next van build!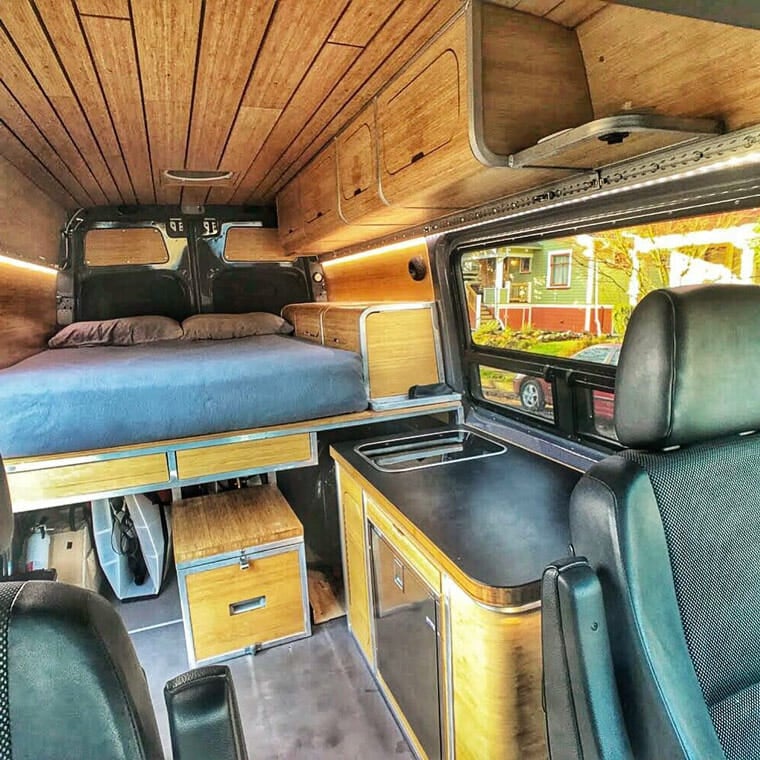 @zenvanz is a company that builds out luxury sprinter vans with a focus on modular design and rugged durability. We love the wood and metal design of this van and can appreciate the functional layout. The drawers underneath the bed give extra room for collectibles without sacrificing too much head room. You can hit them up for a custom van build at zenvanz.com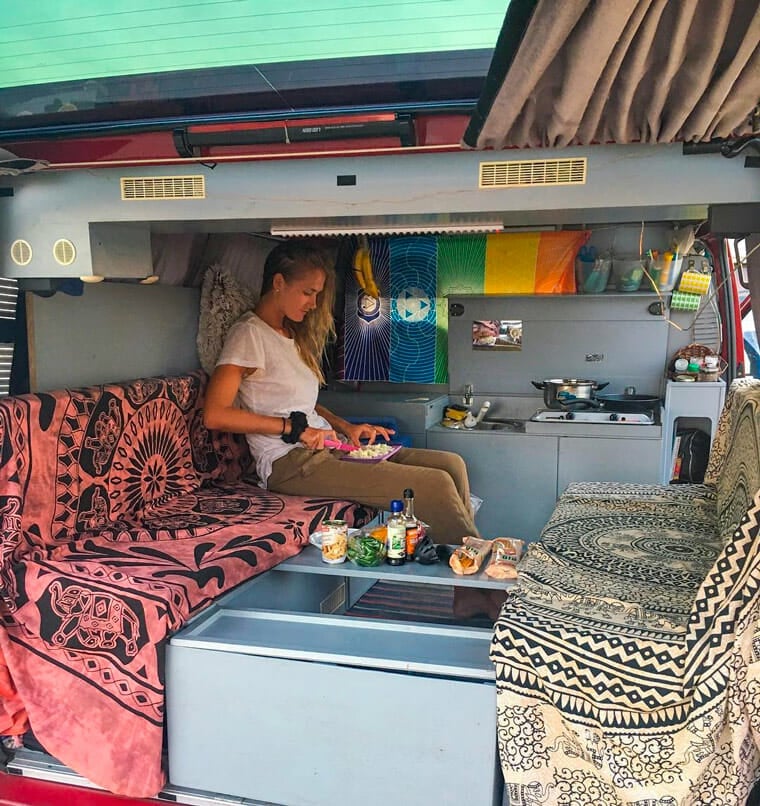 @kayloor has a practical interior and one of the few we've seen with a hard separation between the back and the cab area. The two bench seats on the sides fold down into a full-sized bed but leave room for seating and working during the day. We like that by closing off the cab she can add an entire wall for the kitchen making even more space for countertops! Kayloor is from Spain and lives the van life in a 2000 Ford Transit.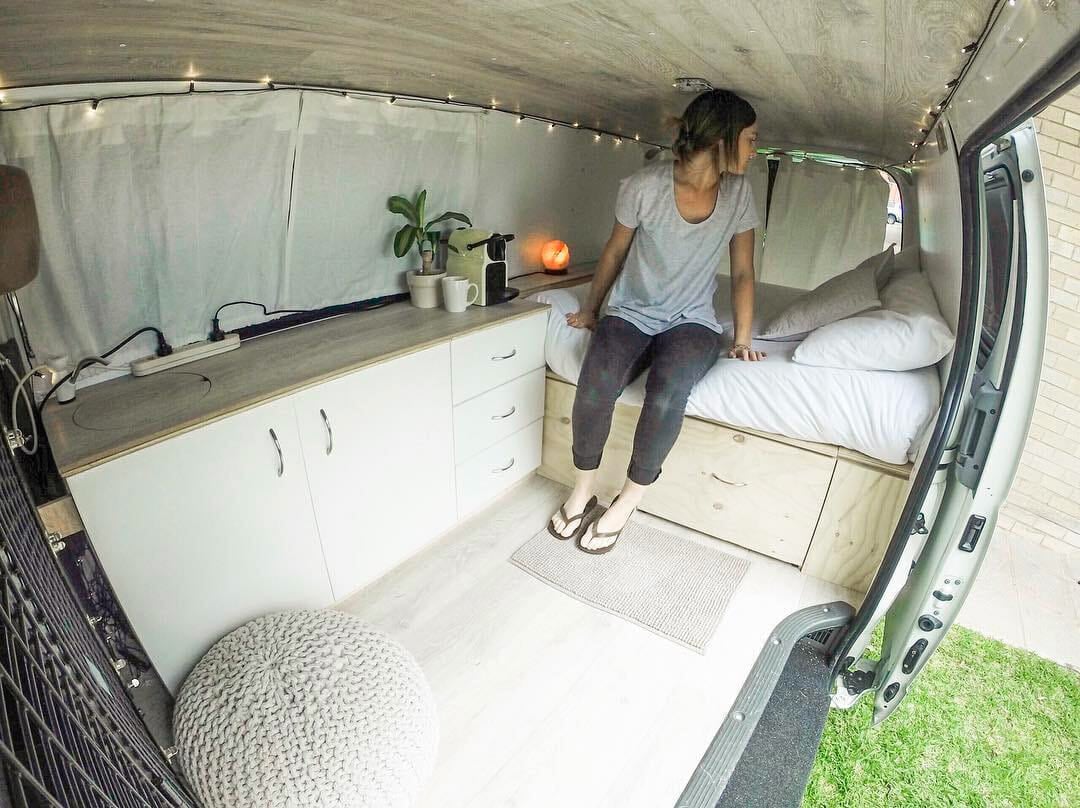 A simple van with a low ceiling, @heytess_ was able to make this Toyota HiAce look efficient and organized. We like that there are so many drawers for storage and everything can be tucked away during the drive.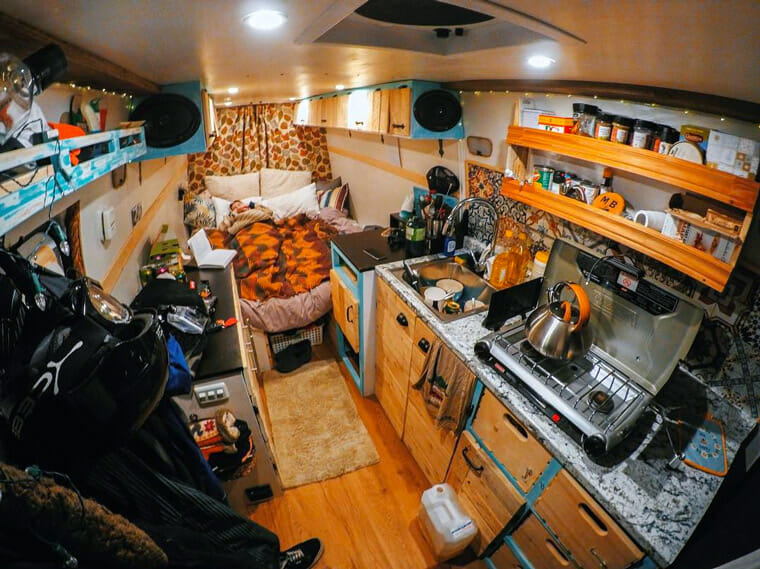 @dont_know_road was able to pack a whole house of stuff into this Sprinter. One of our favorite things about this layout is all of the short shelving above the doors and kitchen area. Those cubbies leave a lot of room for spices, ingredients and entertainment. This Sprinter van also looks extra long, allowing @dont_know_road to bring along anything he needs!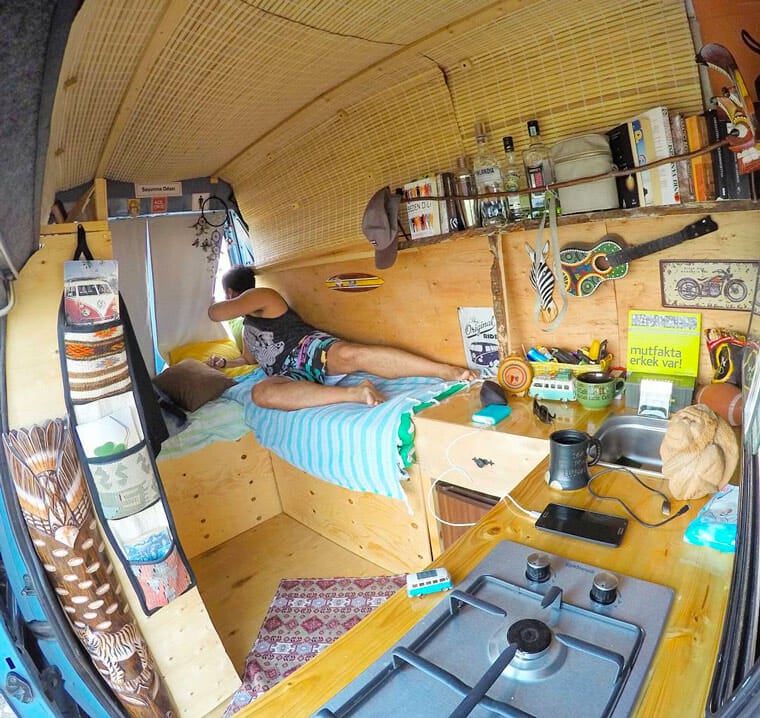 @emreunal__ is a windsurfing instructor from the Ukraine. With just a single bed in campervan you get a lot of room for storage and cooking. What we like about this van is the built-in stovetop and upper shelving.