Bluetti EB55 Solar Generator Review
By
on
This post may contain affiliate links. As an Amazon Associate, I earn from qualifying purchases. Please read my full disclosure.
When it comes to electricity, solar generators are our one of our favorite ways to charge cell phones, laptops, vent fans, and other small devices.
These power stations are perfect for the weekend warrior, infrequent camper, or van dweller with low electrical needs.
BLUETTI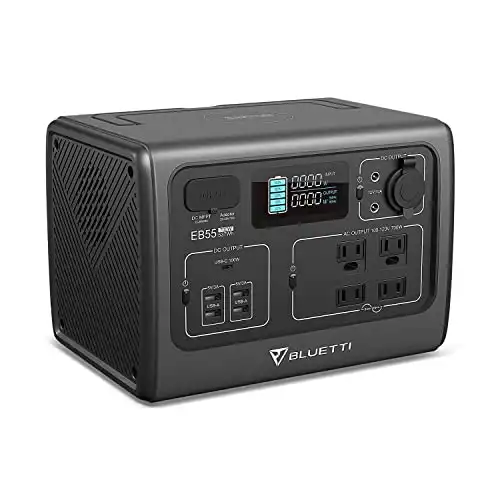 The Bluetti Solar Generator
We've reviewed a few solar generators in the past (such as the Jackery 500). We've also discussed some of the pros and cons of designing your own DIY solar system.
But for those looking for a plug-and-play system that can be up and running in minutes, the Bluetti EB55 makes an excellent choice.
For a real-world test, we took the Bluetti EB55 out on a couple of snowy camping trips.
In this article we'll discuss the specs, features, and bugs that we found.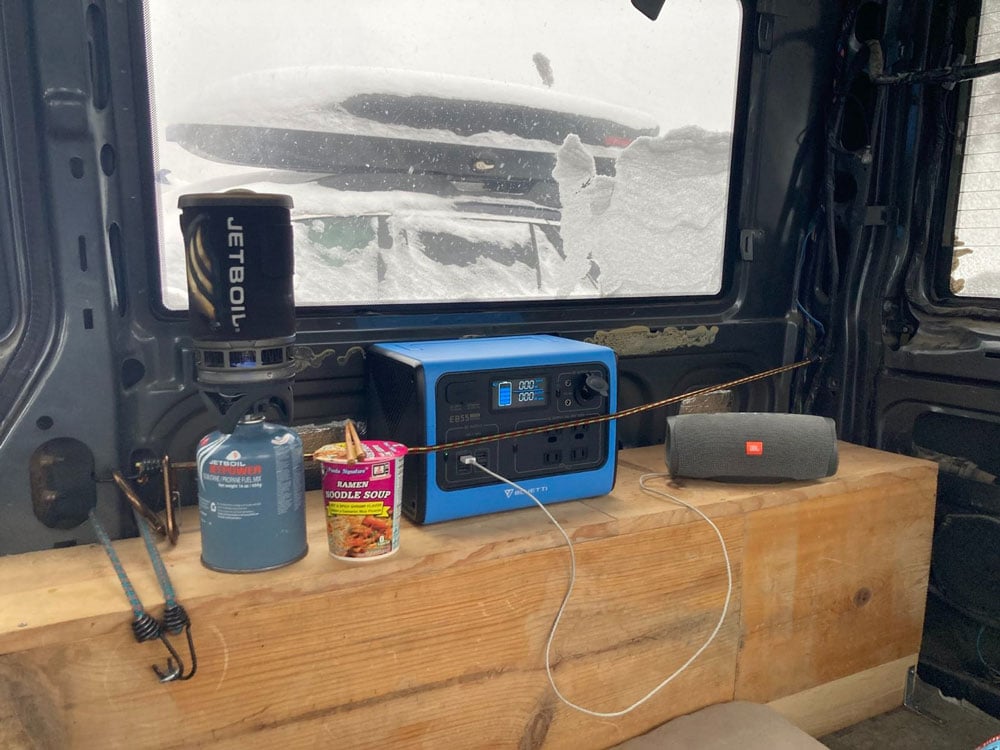 What's Inside The Bluetti EB55
The EB55 has a 537Wh battery capacity which is similar to other power stations in this category such as the Jackery 500, Goal Zero Yeti, and ROCKPALS.
While the battery capacity between these products is similar, the battery chemistry is different–and that makes a BIG difference!
More Charge Cycles Than Other Brands
The Bluetti EB55 comes with a lithium-ion phosphate battery (LiFePO4).
Similar generators like the Goal Zero Yeti and Jackery Explorer come with a lithium-ion battery.
LiFePO4 batteries have significantly more charge cycles than the alternative.
That means you can charge and re-charge the Bluetti battery an average of 2500 times compared to 500 charge cycles which the other brands offer.
Overall, the Bluetti battery lasts longer.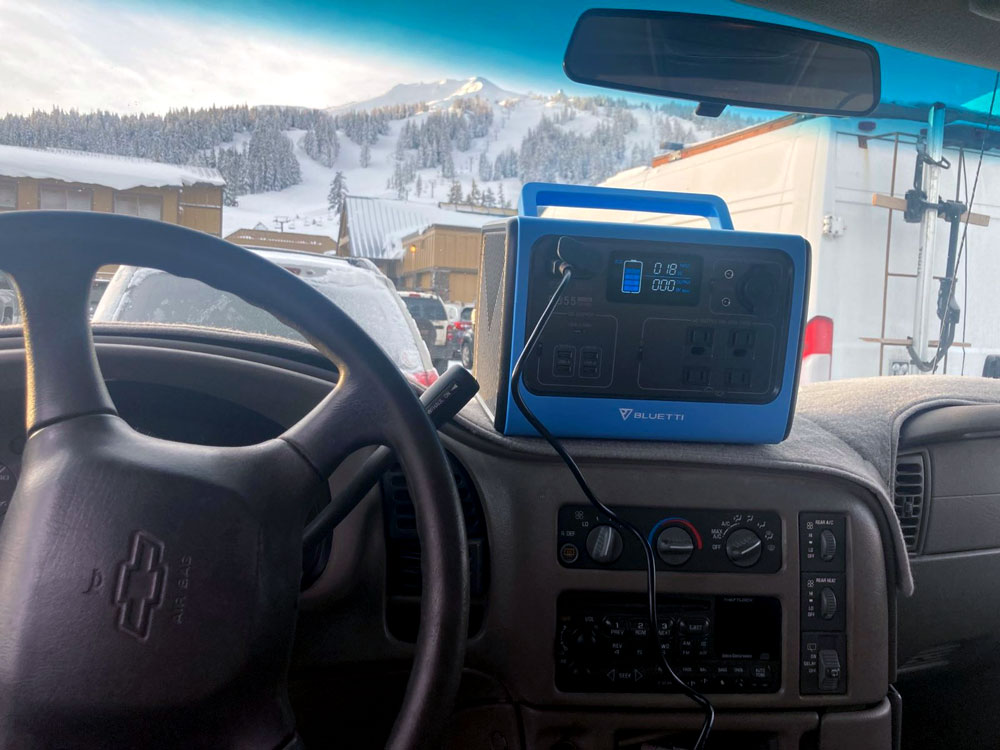 12+1 Power Outputs
The Bluetti comes with a dozen power outputs plus wireless charging on top for your cell phone. These are:
4x USB 5A/3V
4x AC 110V/700W
2x DC 12V/10A
1x USB-C 100W
1x 12V/10A Car port
1x Wireless charging pad
That means it can simultaneously power more devices than other products in this category.
Fast Recharging – 4 Ways
Just like other products on the market, there are four ways of recharging the power station: AC power (household wall socket), DC power (car outlet), solar panels, or with a gas-powered generator.
The EB55 has dual power inputs so it can accept 400W of power at once. That means it can be fully recharged in under 2 hours using AC and solar combined.
For campers using solar panels only, the EB55 can recharge to 80% battery capacity in about 3 hours under ideal conditions.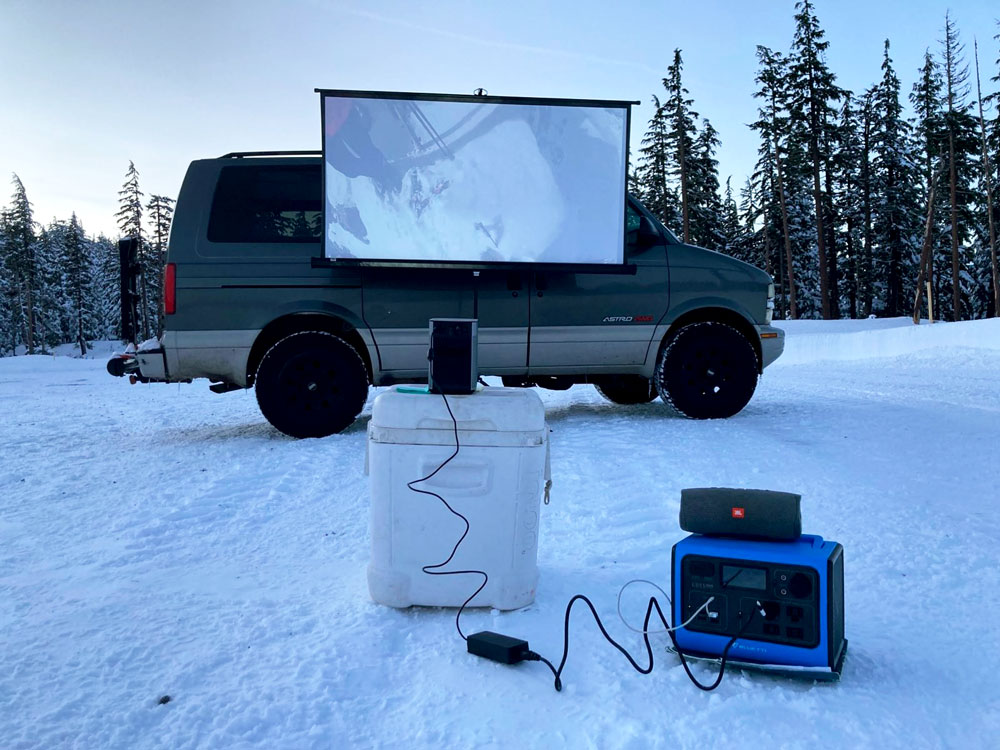 Additional Specs And Display
The Bluetti EB55 comes with a 700W pure sine wave inverter which is ideal for charging small electronics like laptops, camera equipment, drones, projectors and more.
On the front display you'll find the input and output wattage as well as estimated battery percentage available.
There's also a convenient night light in the back with high mode, low mode, and flashing signal options.
This Bluetti product comes with a 2 year warranty.
The Good And The Bad
As mentioned, we've reviewed quite a few solar generators in the past. Most devices in this category have similar specs, so it's the little things that make the difference.
The Good
The #1 reason we would purchase this product over similar items is because it uses the LiFePO4 battery chemistry. That battery type can handle significantly more charge cycles than standard lithium-ion (~2500 vs 500).
Simply put, the EB55 is going to last longer than those using a lithium-ion battery.
Price-wise the product is comparable to others in it's category, and when you consider the battery type we think it's a good deal.
Other Nice-To-Haves
13 charge ports may be overkill but it certainly leaves you with a lot of options. You can turn off ports that are not in use to save power.
Finally, the shape is a really nice feature. The carry handle folds down so it becomes almost a perfect rectangle which is significantly easier to pack up than some of the competitors.
It also allows you to set stuff on top of it which is another nice-to-have.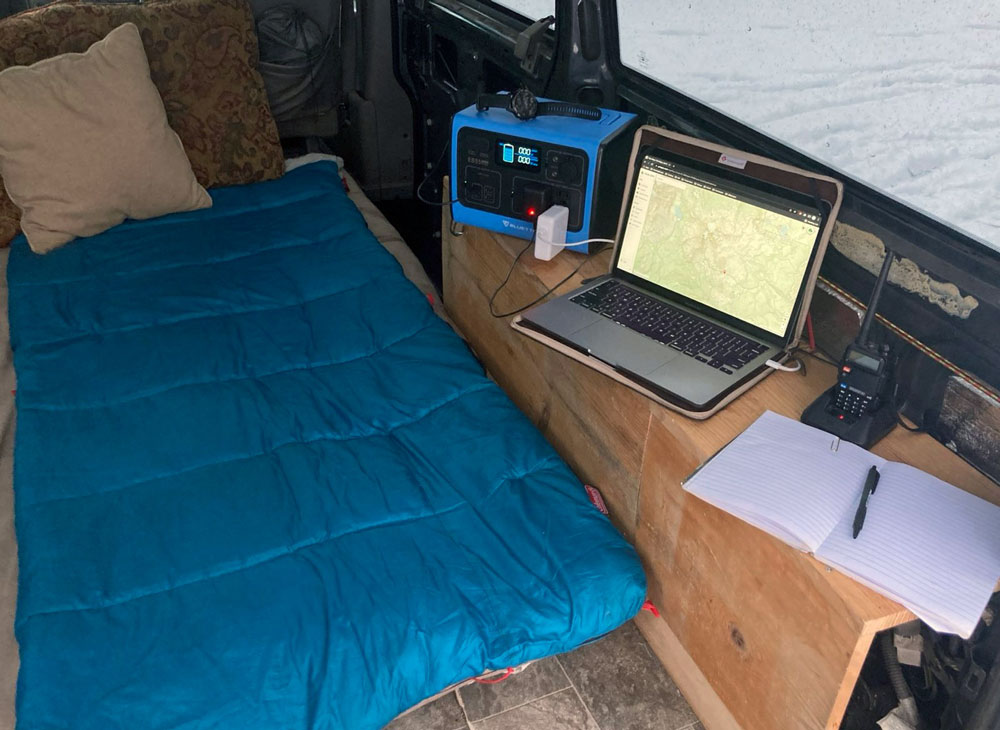 The Bad
In order to balance out the review, we'll leave a few suggestions about what can be improved.
The biggest disappointment would be the display. When it comes to battery capacity you can only view estimates such as 20%, 40%, 60%, 80% and 100%. That's not super accurate if you're a number cruncher.
You also don't get an estimated run time.
Other Downsides
This generator is a little heavier than its competitors (about 3 pounds more than the Jackery 500).
The extra weight is because LiFePO4 batteries are denser than standard lithium-ion which we think is a good tradeoff.
But if you need something lighter weight and more portable then another product might make a better choice.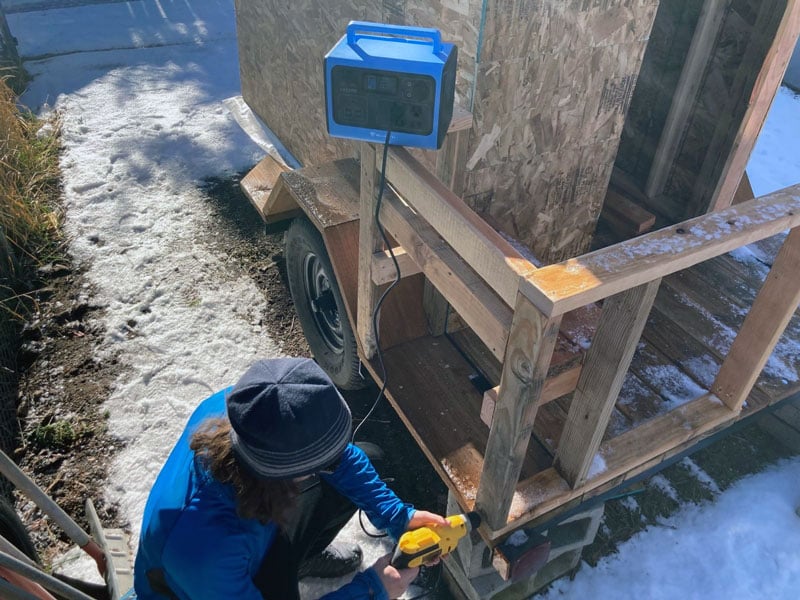 Ideal For Weekend Campers
One thing to remember with this portable power station and others of similar size is that the battery capacity is not crazy high.
These products are perfect for charging laptops, cell phones, and small electronics like vent fans, projectors, drones, and camera equipment.
The inverter is only 700W so you won't be able to use it for super power-hungry items like a space heater, hair dryer, or microwave.
For those products, you'll want to purchase something larger like the MAXOAK EB240 or build your own DIY system.
Using solar power alone, this device is not large enough to power a portable refrigerator when you have to account for shady days.
Jackery vs Bluetti
Bluetti EB55
537Wh LiFePO4 battery
2500+ charge cycles
Pure sine wave inverter
400W max input
13 charge ports
16.5 pounds
Fold down carry handle
Jackery Explorer 500
518Wh Lithium-ion battery
500+ charge cycles
Pure sine wave inverter
100W max input
7 charge ports
13.3 pounds
Easy grip carry handle
The bottom line is Bluetti uses a LiFePO4 battery so it can have more charge cycles and will last longer. It also allows for a higher max input so it can charge faster.
Bluetti has more charge ports, and a more convenient fold-down portable handle.
Jackery is lighter weight and more portable. It also has a more accurate display.
When it comes to price, these products are comparable.