Jackery Explorer 500 Portable Power Station Review
By
on
This post may contain affiliate links. As an Amazon Associate, I earn from qualifying purchases. Please read my full disclosure.
If you've read our post on best solar generators, you know how convenient a power station can be. It's essentially a battery in a box that you can charge up and take to the campsite; then power your electronics off-grid.
What's in a power station? A battery, charge controller, inverter, wiring, and all the outlets needed to plug in your devices. This is one of the easiest and safest ways to get electricity while boondocking.
Jackery recently sent us one of their newest units: The Explorer 500 to test out and share the features. We're going to go over what you can expect from the Explorer 500; and the best use cases for campers and van life travelers.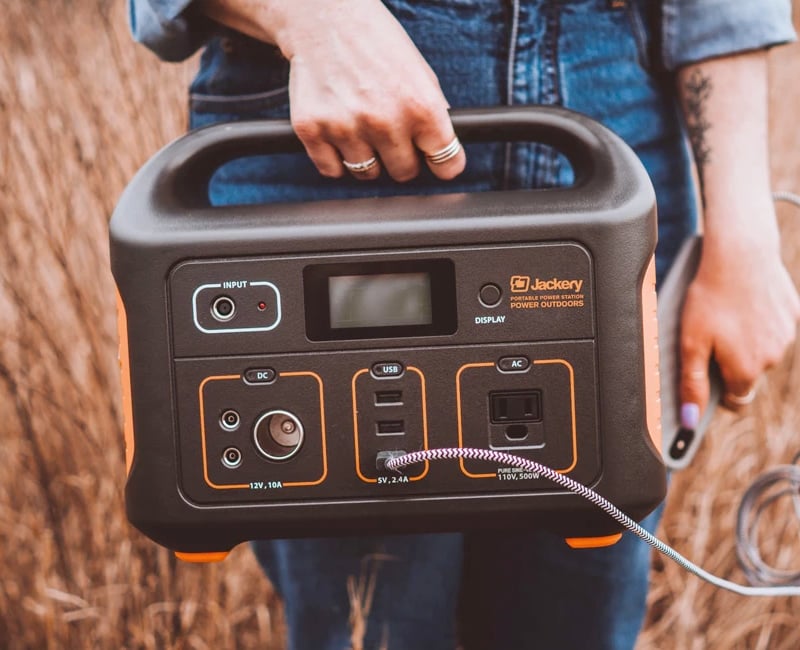 What is a Portable Solar Generator?
Power stations are commonly referred to as solar generators. This term is a little misleading because they don't generate power like a typical gas or diesel generator. Instead, they simply store power to be used for later.
You can charge a solar generator in three ways:
120v AC household wall outlet
12v DC car socket
After the power station been charged, just plug in your electronics and use them as you normally would. Most solar generators come with both 120v AC plugs and USB outlets making them compatible with nearly all of your devices.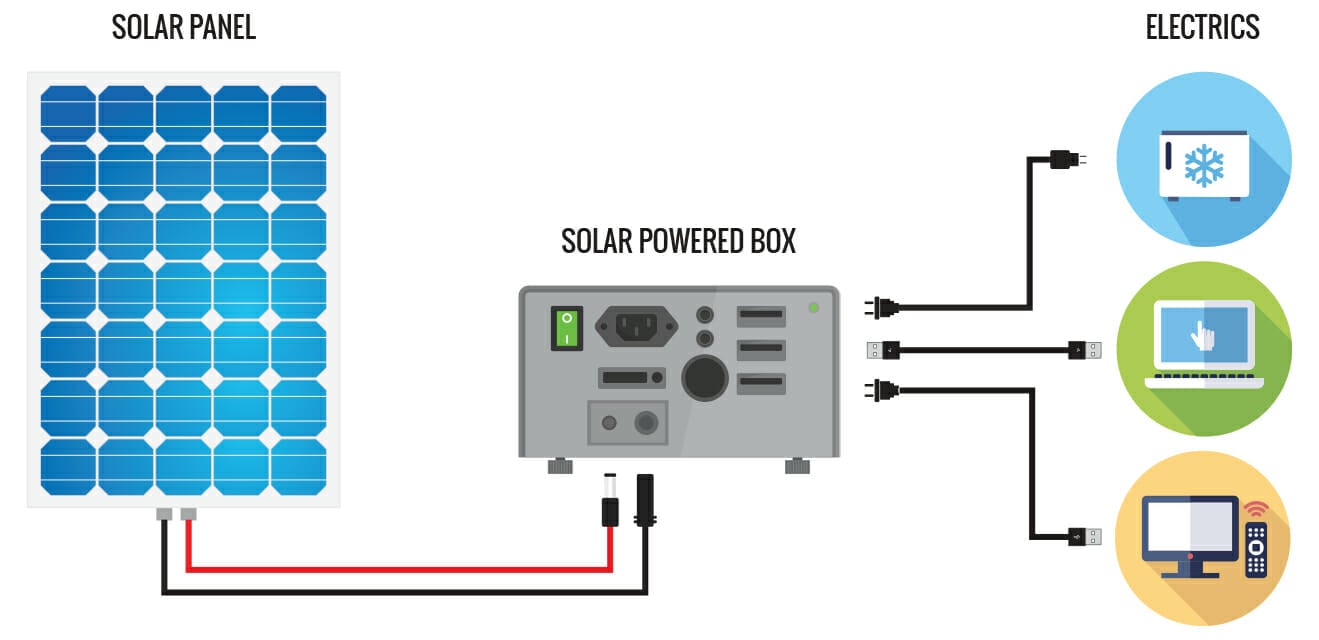 Why Use A Portable Power Station?
These are great pieces of equipment to have when you're looking to charge laptops, cell phones, lights or even drones when shore power is not available. Power stations have a number of big advantages over wiring your own DIY solar panel system:
Safety: You can't go wrong with wiring, fuses and choosing incompatible components. They simply work out of the box with no maintenance required.
Portability: These devices are designed for movement and heavy vibrations during travel. Most importantly, they are lightweight and easy to transfer from one location to another. When you build a custom solar system, you're often limited by where it was installed and the layout of your original design.
Quiet and environmentally friendly: Unlike a regular generator, solar generators do not use fumes or liquid fuel. You can stand next to them or place them in a tiny tent without fear of off-gassing. They're also silent which makes them much more enjoyable on a camping trip.
Adaptability: A power station can work anywhere. Not only in your tent or RV, but also at a backyard BBQ or in your unfinished shed.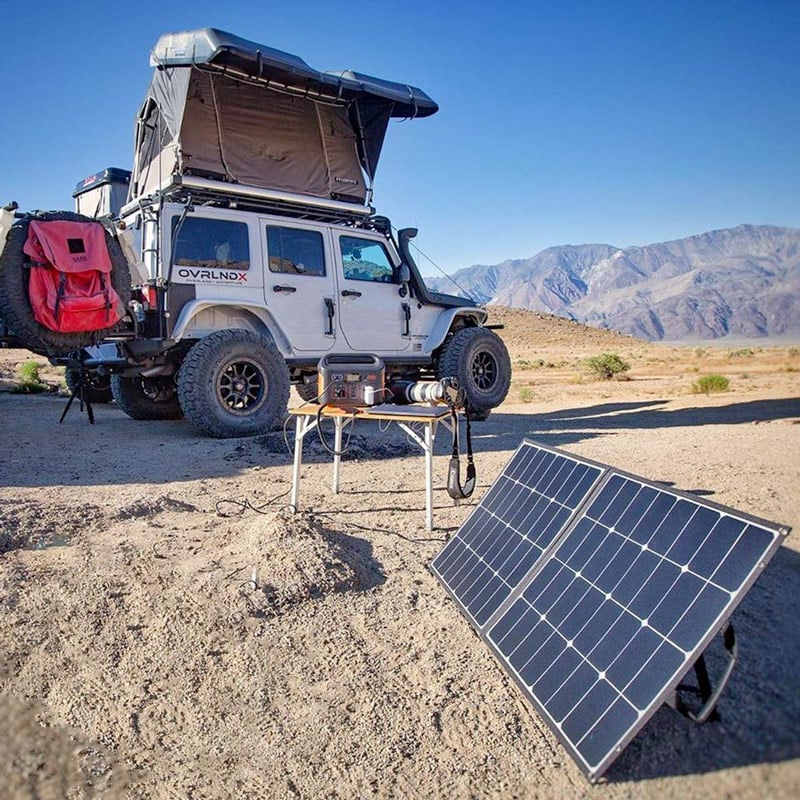 The Explorer 500 contains one 110v AC output, two 12v DC outlets and three USB ports all encased in a 14-pound power station. The unit has a built-in carry handle and comes with both a car charger cable and an AC power cable.
What can the Explorer 500 power?
Inside the device there is a 518Wh Lithium-ion battery, charge controller, and pure sine wave inverter. That means it's best for powering small electronics like cell phones, laptops, cameras, drones and televisions.
It is not ideal for things like hair dryers, microwaves, heaters, induction burners or power tools.
You can check if your device is compatible by determining how many Watts it draws. Watts are typically listed on power cord or back of your electronics. We have a guide to help you find Watts. The Explorer 500 will not power anything that draws more than 500W.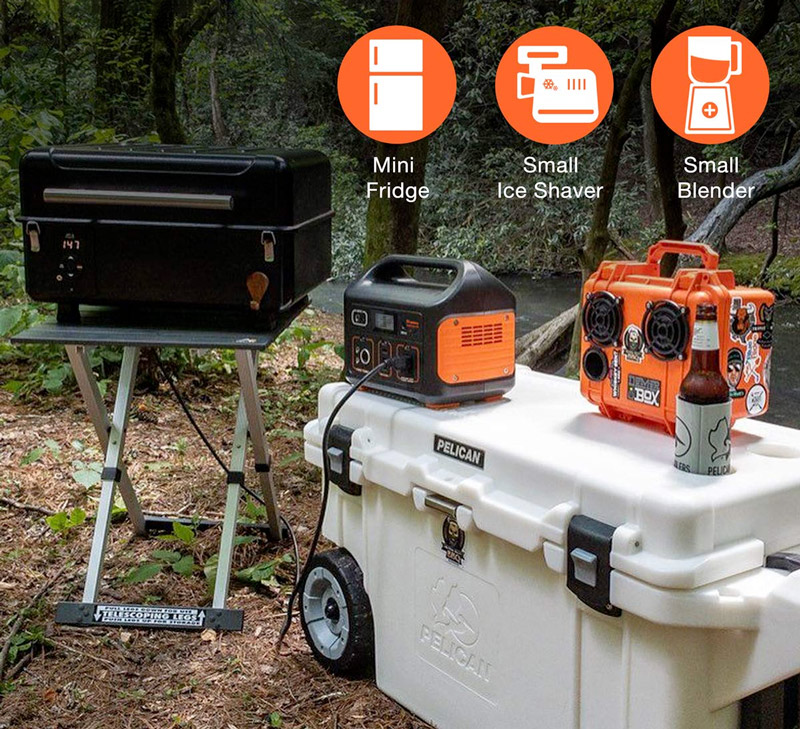 Put simply, here are a few common devices and their estimated recharges with the Explorer at 100% capacity:
LED lights (5W): 90 hours of power
Mavic drone: 8-9 recharges
12" Macbook: 7 recharges
iPhone 8: 50 recharges
GoPro: 92 recharges
Keeping track of your charge
The digital display on the front of the Jackery Explorer lists power level percentage, input/output and indicates the temperature.
Power Level Percentage: This is the amount of battery left in the power station. For the longest lifespan, you should store the battery at 100% charge. You should also avoid letting your power station sit for long periods of time on less than 20% charge.
Input and Output: Your electricity draw is measured in Watts (W). Large devices like a portable refrigerator can draw as much as 40W while a cell phone will only draw 12W. The Explorer will automatically shut off if the output exceeds 500W.
That means if you plug in a high-powered device that power station can't handle (like a hair dryer) it will automatically shut down for safety purposes.
Temperature: The batteries inside the Explorer 500 can safely operate between 32-104° Fahrenheit. If your temperature is outside of that range, the device may power down.
Charging a Portable Power Station
Like any solar generator, the Explorer 500 can be charged in three ways: with a household wall charger, a cigarette lighter car charger, or using a portable solar panel.
Household wall charger: This is the fastest way to charge your solar generator. To go from 0-100% charge will take about 7.5 hours.
Car charger: A full charge will take about 11.5 hours when using a cigarette lighter.
Portable solar panels: With full sunlight, a 100W solar panel will take about 16 hours to charge the Jackery Explorer.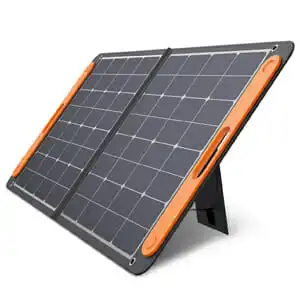 Which solar panels should you buy?
Jackery sells a 100W portable solar panel that is fully compatible with the Explorer 500. It comes with the necessary cables to plug directly into your power station.
Alternatively, you can plug a similar 100W solar panel into the Explorer using an MC4 connector.
Extra Features
One cool feature built into the Explorer 500 is an LED flashlight on the right side. We found this especially helpful while camping; when it starts to get dark and you don't have a headlamp immediately available. The light is positioned in a way that when carrying the power station it will easily light up your path to the tent.
The light was a little extra feature that we haven't seen on similar power stations and was surprisingly useful.
Other Jackery Products
Learn more about the Explorer 500 and Jakery's other products on the Jackery.com official website
Large Power Station Alternatives
Based on the charge capacity of the Explorer 500, this power station is best for short camping trips, charging ebikes on a multi-day ride, or running small electronics like LED lights and a vent fan in your camper van conversion.
We wouldn't recommend it for someone powering a refrigerator or induction burner full-time in a van or RV. That said, if you travel light with a cooler and only need a few LEDs and laptop power this mini solar setup is perfect for you.
If you want to dive deep into the details of how much power you need, we've built an interactive solar calculator where you can list the devices you own and get a close estimate of how much power you'll be using. The 518Wh battery capacity in the Explorer 500 is equivalent to about 41 amp hours.
What about going bigger? We recommend taking a look at these larger solar powered generators or consider wiring your own DIY solar panel system.
Check out these related articles: