Best Small Campers And Trailers For Adventure
By
on
This post may contain affiliate links. As an Amazon Associate, I earn from qualifying purchases. Please read my full disclosure.
Small campers like the Class-C RV, Ford Transit Connect, or lightweight pop up trailers are perfect for adventure. These tiny vehicles are easy to store and can fit into a compact parking space.
The best part about tiny trailers is that you can tow them with a small car!
We've gathered together some of our favorite small campers in each category to show you how to get a big adventure while traveling small.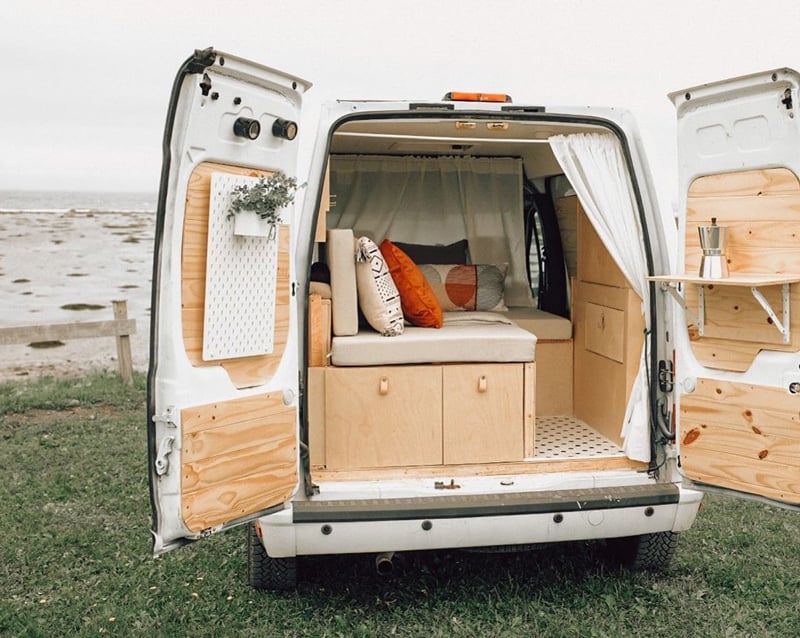 The Ford Transit Connect is a small delivery van that is easy to maneuver, and can fit into compact parking spaces.
Unlike the Mercedes Sprinter, spare parts are easy to find. Which means this vehicle inexpensive to repair, and the perfect base for a camper van conversion!
The options are endless when converting a small camper van. In this article, you can find our favorite DIY Ford Transit Connect conversions.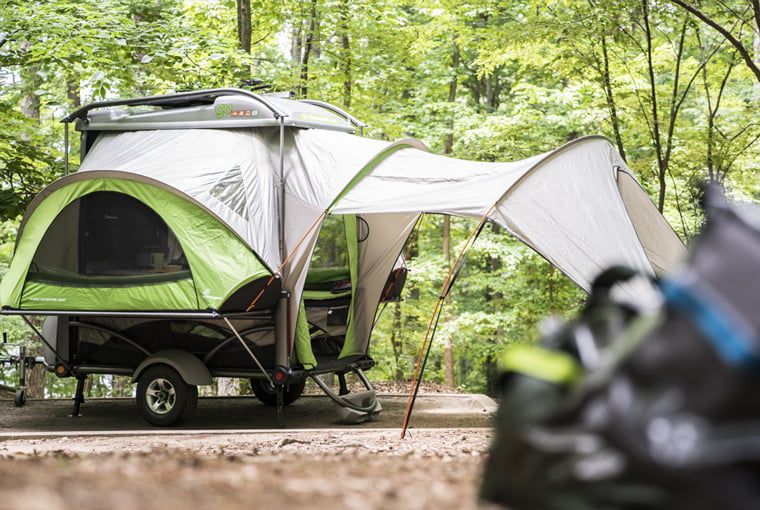 The SylvanSport Go is a lighweight towable trailer that's versatile for all kinds of adventure.
Weighing just 840 pounds, you can tow this camper with the smallest of cars.
This trailer has three modes of transportation:
Camper
Gear hauler
Utility trailer
In camper mode, you can assemble a compact tent that sleeps four adults comfortably. There is a dinette, table, and plenty of storage for coolers and other camping gear included.
As a gear hauler, the pop-up tent packs down small so you can carry all of the adventure gear on top. This includes kayaks, SUPs, mountain bikes, and large rooftop cargo boxes.
Simply disassemble the tent feature, and you have a fully functional utility trailer. There is plenty of space to haul large equipment from the hardware store without a separate vehicle.
The SylvanSport Go is the most functional and versatile small trailer we've found.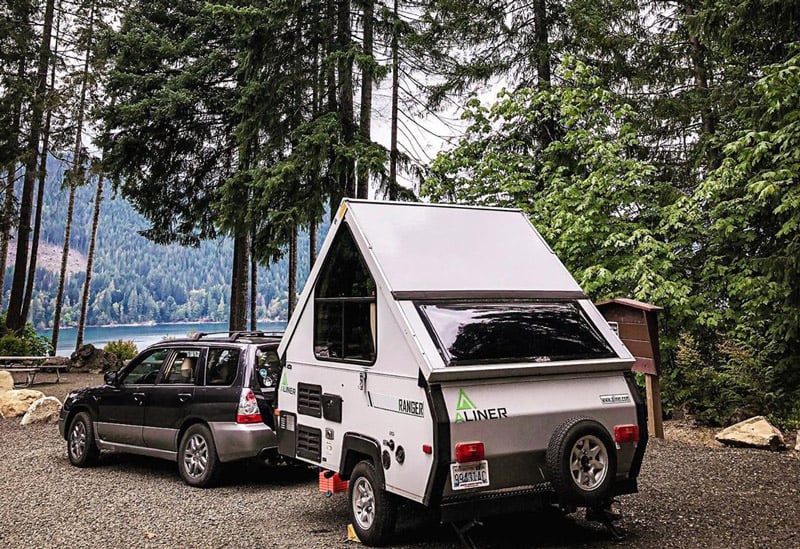 Aliner a frame campers easily weigh under 2,000 pounds making them ideal for a small car.
The A-frame style has a unique design to maximize space on the interior, but pack down small for travel.
Typical a frames are built for two people. They have hard-sides to resist wind and rain as well as vent fans for ventilation.
A frame campers also tend to hold their value well which means they are perfect for someone that wants to go camping on a budget for years to come.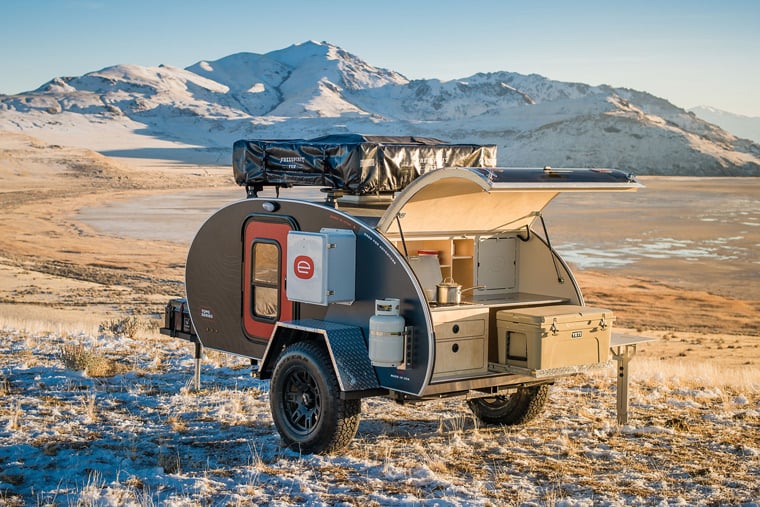 Teardrop trailers have a low-profile design that makes them easy to take off-grid on a camping trip.
These campers may be small, but they have a large kitchen area in the back maximizing cooking space.
Many people prefer teardrops because they are lightweight (most are under 1,500 pounds!) and built to handle rugged trails.
The Escapod comes fully stocked with a roof top tent addon that can expand the sleeping space to accommodate 5 people.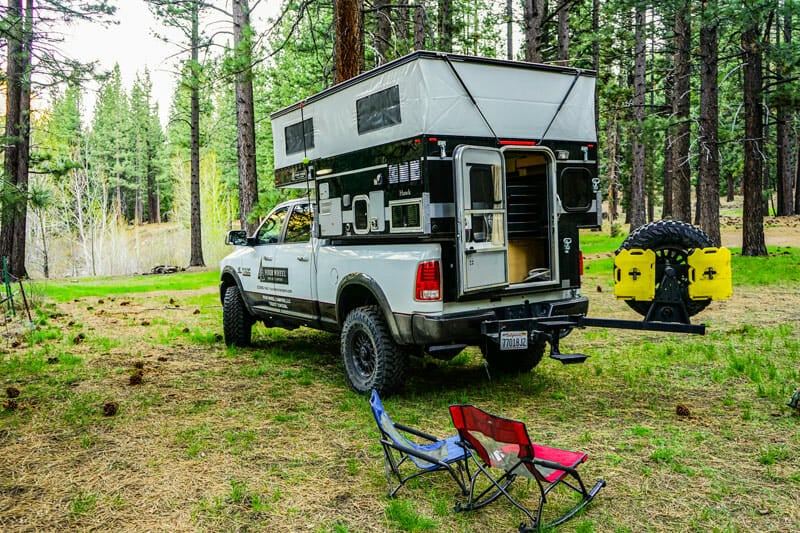 The Hawk from Four Wheel Campers is one of the most low-profile truck campers on the market. This model weighs 1,100 pounds and costs less than $15,000 for the shell.
We like the Hawk because it has 6'6″ of interior headspace. But it can also pack down to 60″ for off-grid travel.
The small footprint makes this camper aerodynamic to save gas mileage, and it's easy to maneuver down tight trails.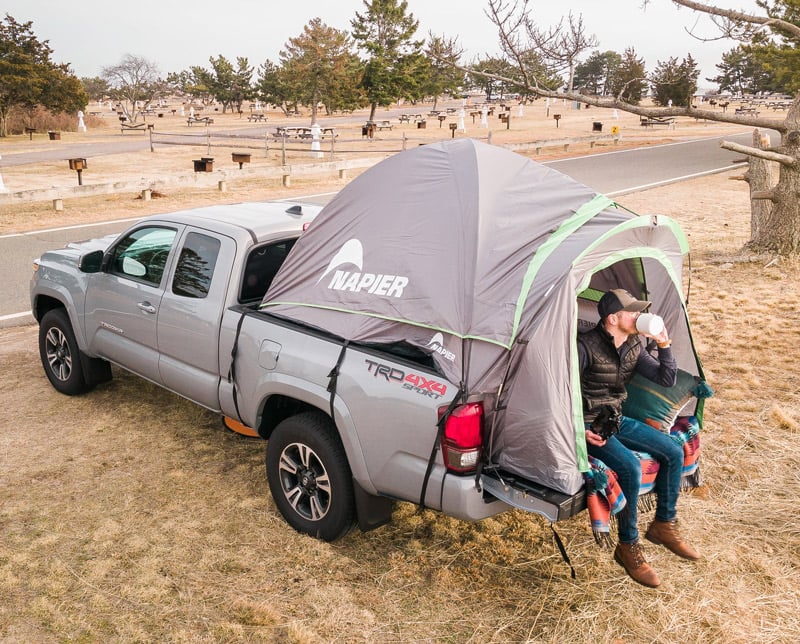 If you're looking for a minimal camping setup, the Backroadz tent by Napier is our top choice. These truck tents are designed to keep you off the ground in an enclosed bed to prevent wind and other elements.
Pair it with a truck bed mattress and you have a quick setup that won't break the bank.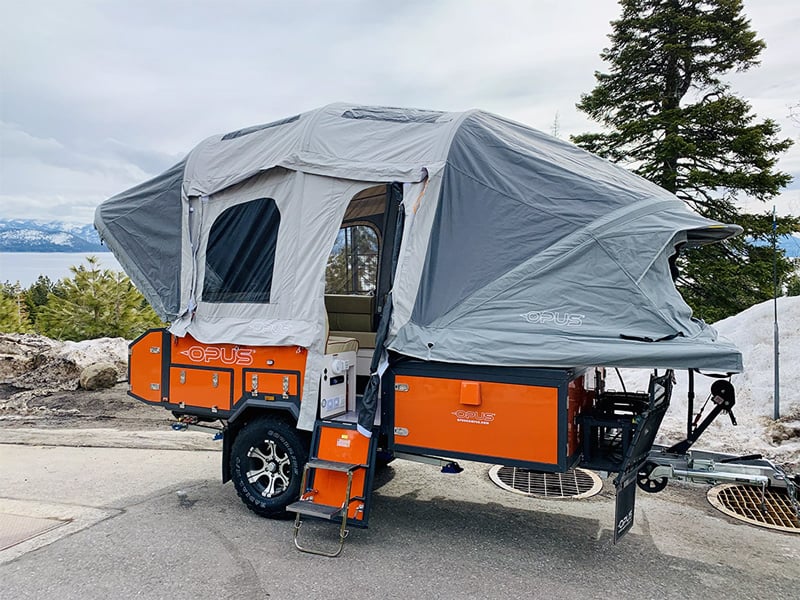 One of our favorite overlanding trailers is the Opus pop up camper. The Air Opus uses an inflatable design to maximize space with minimal weight.
With lots of exterior storage space, you can access a four-burner range, portable refrigerator, and hot water shower.
Inside there's space to sleep four adults, a dinette, and seating.
The dry weight of this rig is 2,870 pounds so it's lightweight enough to take on the most precarious adventures.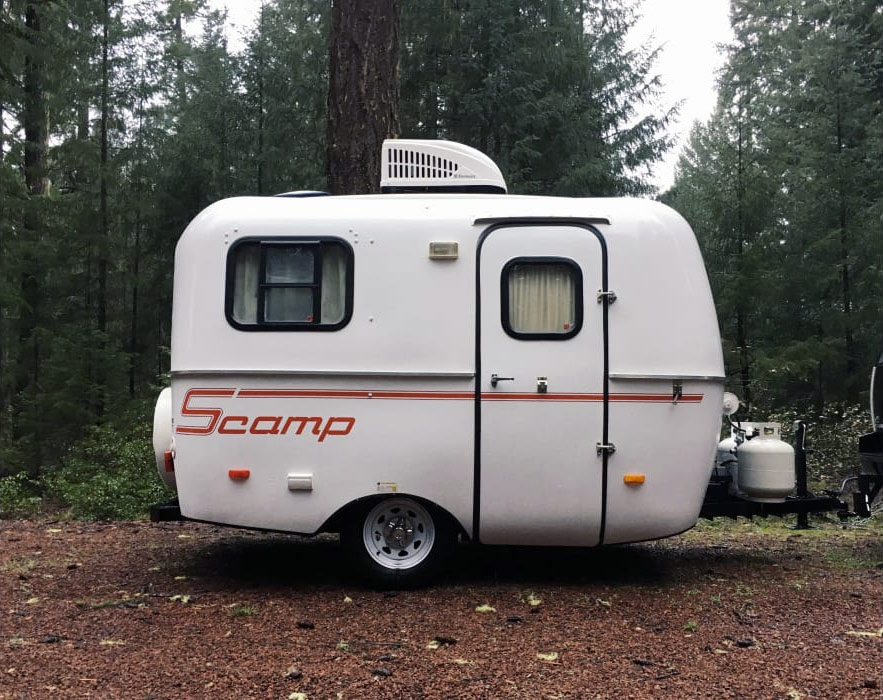 Scamp trailers are known for being lightweight and simplistic. These tiny trailers might look small, but unlike some of the others on list list they come equipped with kitchens, dinettes, and even come with bathrooms!
The Deluxe version of the Scamp Trailer can sleep up to 6 passengers and comes with a toilet, shower, queen-sized bed, and plenty of extra storage space.
Scamp campers range from 13-19 feet long and the smallest versions weigh less than 1500 pounds.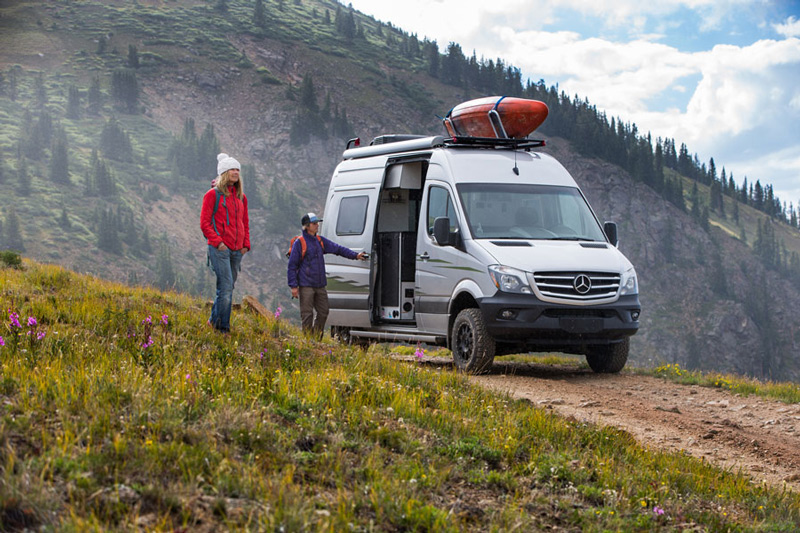 The Winnebago Revel is built on a Mercedes Sprinter chassis and it's packed with features.
Inside you'll find a kitchenette, bench seating, dining table, camper bathroom, and storage closet for starters. To maximize the small space there is a power lift bed with gear garage below.
The best part about this camper is that it's designed to withstand the bumps and curves of the road. 21 gallons of onboard fresh water will keep you hydrated through any adventure. It's also solar-ready if you want to travel off-grid.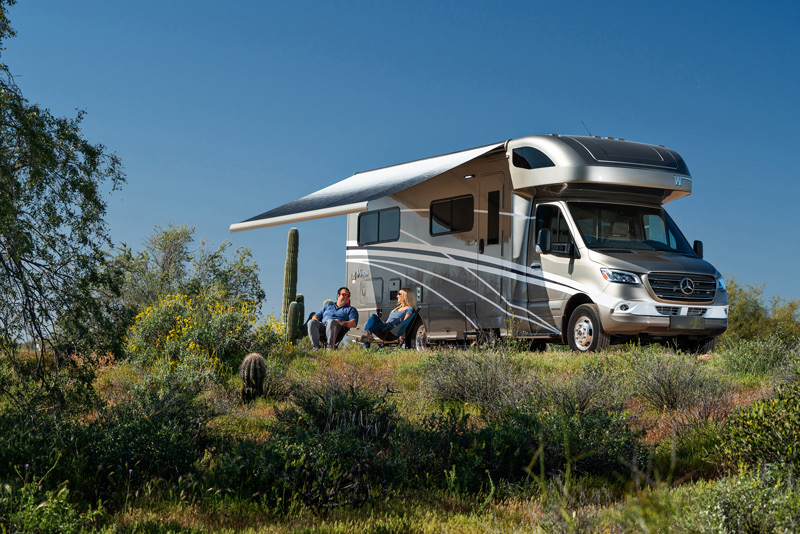 Winnebago makes a variety of high-quality Class-C RVs, and one of our favorites is the View. This small camper is only 25 feet in length and comfortably sleeps four adults.
A cool feature about this Class-C is that it has a slide-out to add an extra row of theater seating inside.
Luxury features make this camper a relaxing place to cool down after a long day of hiking. Inside there is a bathroom complete with toilet and shower. The kitchen includes a portable refrigerator, microwave oven, 2-burner cooktop, and 30 gallons of freshwater.
Small Campers are the perfect way to travel
It doesn't take a big, expensive tow vehicle to go on an epic adventure.
Some of the best campers and trailers are small rigs that can handle tight turns off the beaten path.
If you want to go the DIY route, we recommend designing and building your own camper van conversion. Future overlanders will benefit from checking out our gear page. And if you're looking for a more comfortable lifestyle, take a look at the RV living section of this website.
Happy travels!