Everything You Need To Know To Go RV Boondocking
By
on
This post may contain affiliate links. As an Amazon Associate, I earn from qualifying purchases. Please read my full disclosure.
Boondocking is one of the best ways to save money while touring the country in an RV or camper. If you're on a budget, want to explore the path less traveled, or plan on full-time RV living, then learning how to go boondocking is essential.
In this article, we're going to cover everything you need to know about RV boondocking. From finding free campsites to powering your RV, and traveling safely. Click the links below to jump to each section:

Boondocking VS Paid Campgrounds
Boondocking is not like staying at a paid campground. It's often called dispersed camping, or dry camping and requires you to do a lot more planning before heading out on your road trip.
When you go boondocking you're in charge of taking care of your own resources. There are no electric hookups, no dump stations or freshwater fill areas, no trash services and sometimes no cell phone reception.
Boondocking is cheap. You can go dry camping year-round without paying a penny to park overnight. You'll often find more beautiful and secluded campsites; and there are far fewer restrictions on pets, noise ordinances, or space.
Free camping
More secluded
Fewer pet restrictions
More scenic
Quieter
No electric hookups
No water
No dump station
Pack it in, pack it out
Fewer nearby services
If you love the outdoors, boondocking is one of the most adventurous ways to explore the country. It's something that every regular camper should try at least once.
Boondocking can be very intimidating at first. Hopefully, the tips in this article will help you get more comfortable with the idea and confidently go boondocking for the first time.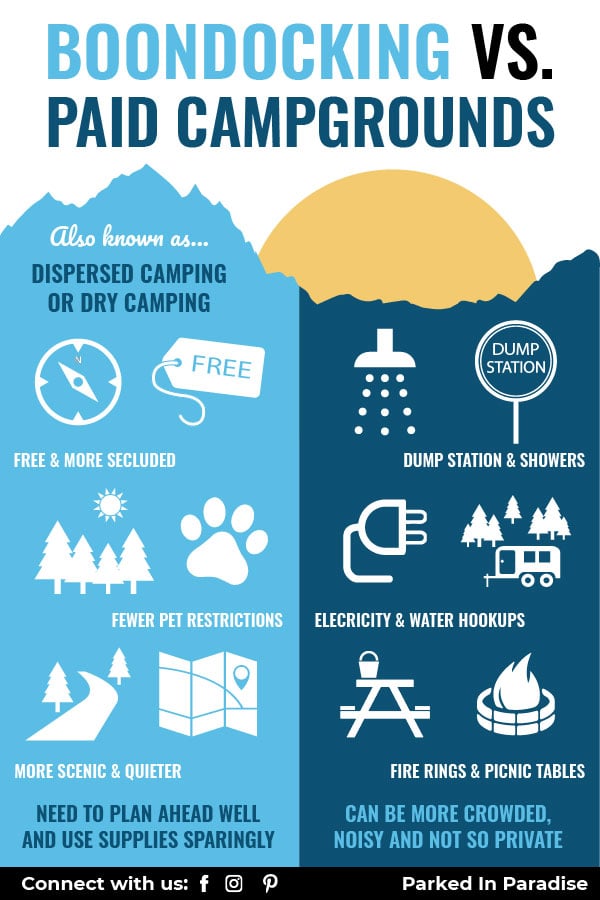 The Types Of Free Camping
We'll start by saying that free camping is legal, and it can be found in almost every state in the USA. You just need to know where to look. When researching free campsites near you, it's good to know that there are a few different names it goes by. The most common are boondocking, dispersed camping, dry camping, and primitive camping.
Boondocking and dispersed camping can be used interchangeably. They mean camping on undeveloped public lands without hookups or bathroom amenities. Occasionally you can find boondocking campsites with vault toilets or fire pits but it is not the norm. Often these are not officially labeled campsites. It's up to you to decide where to pull over and spend the night.
Dry camping is a term commonly used to indicate that there are no amenities such as water or electricity at a campsite. Many National Forest areas of high traffic will have specific dry camping sites. These are 'developed' with a noticeable place to park your RV and possibly fire ring, but you won't find other amenities.
Primitive camping, backcountry camping, and stealth camping in the city are other forms of free camping. These are more geared towards tent campers or van life travelers. We cover all types of camping in our article on free camping in the USA.

Where To Find Free, Dispersed Camping
Bureau of Land Management (BLM) and Public Lands allow you to camp freely in many locations You can find BLM land near you by visiting the blm.gov website or talking to a ranger at a national forest office. Dry camping on BLM land has the potential to really put you in the middle of nowhere, so know your limits and be sure to bring extra supplies. Rough roads are common.
National Forests often allow free dispersed camping. You can easily find a National Forest on maps because parks and forests are colored with a light green background. The website fs.fed.us has a database of all National Forests that you can lookup by state. This is the best resource for finding dispersed campgrounds or getting a number to call for more information.
National forest service and BLM offices are very common near National Forests. Simply look up 'ranger station' on your digital map. Park rangers can give you insider information on the best camping for you, your pets, quiet campsites, places with good cell phone service, or panoramic views.
State Forests vary wildly in their ability to offer free camping. Some states, such as Pennsylvania, have similar regulations as National Forests, meaning there is quite a bit of available camping. Permits may be required in certain areas; however, they can often be obtained either for free or at a very low cost. It all depends on the state. We recommend stopping at a forest service office to get more information.
The Army Corps of Engineers offers free camping at many of their locations. You can check out the full list of campsites. These campsites range from primitive to established with picnic tables, restrooms and even showers. They are generally well maintained and a great place to stay on your road trip.
Wildlife Management Areas occasionally have free campsites. As with any area, rules and regulations are going to differ dramatically depending on the location. It will be necessary to research each place before planning to spend the night. We have had success staying at many wildlife management areas and this can be a great way to travel.
National Parks sometimes have free campsites or dispersed camping within the park. Two that we've come across so far are: Badlands National Park in South Dakota, and New River Gorge in West Virginia. You will still need to pay the park entrance fee or enter using a National Park Pass.

Best Apps And Websites For Finding Boondocking Locations
Listed below are our favorite apps and websites to find boondocking. We recommend reading our blog post: How To Find Free Camping And Boondocking In The USA. In that article, we have much more detailed descriptions on how to use these apps and where to find free tent camping or #vanlife camping locations.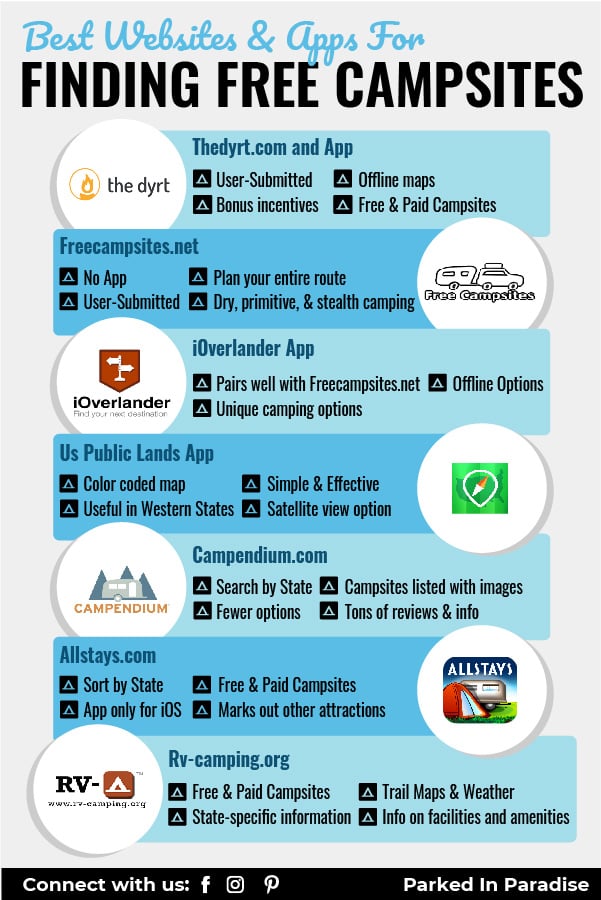 Length Of Stay Limits
Even when dry camping on undeveloped lands, there are length of stay limits to abide by. If you plan on camping for a long period of time it's important to look up the restrictions for your specific area because they vary by state and location.
Most commonly, there is a 14-day stay limit. That means you're required to pack up and move your vehicle a specified distance every two weeks. This is mostly to keep people from settling permanently.
Self-Contained Dry Camping
No matter where you camp, it's important to leave no trace. That means proper waste disposal, leaving what you find, respecting wildlife, and minimizing the impacts of campfires and campground setups.
An RV that can function without outside resources such as a wastewater system, trash disposal, and electricity setup is considered a self-contained camper. Some areas only allow self-contained vehicles because of the environmental impact that can come from dumping gray water tanks or burying waste.
Camping On Private Land
If you have a self-contained camper there are many more options available to you such as camping on private lands. We cover some examples like staying in Walmart parking lots or outside casinos in our article about free camping.
Harvest Hosts is a camping club that charges a yearly membership fee and gives you access to camping on private land like farms, vineyards, golf courses, and museums. The membership allows you to go camping in as many locations as you want throughout the year with no additional charge as long as your vehicle is self-contained.
We like Harvest Hosts because it's a cool way to visit a winery for the day and stay on-site overnight. Any small business can sign up so you can participate in some really unique experiences on the property like farm-to-table restaurants or apple picking orchards.
Boondockers Welcome is a similar club that's made up of RV owners who allow RV travelers to stay on their private property. Oftentimes that means staying in someone's driveway or parking in their backyard.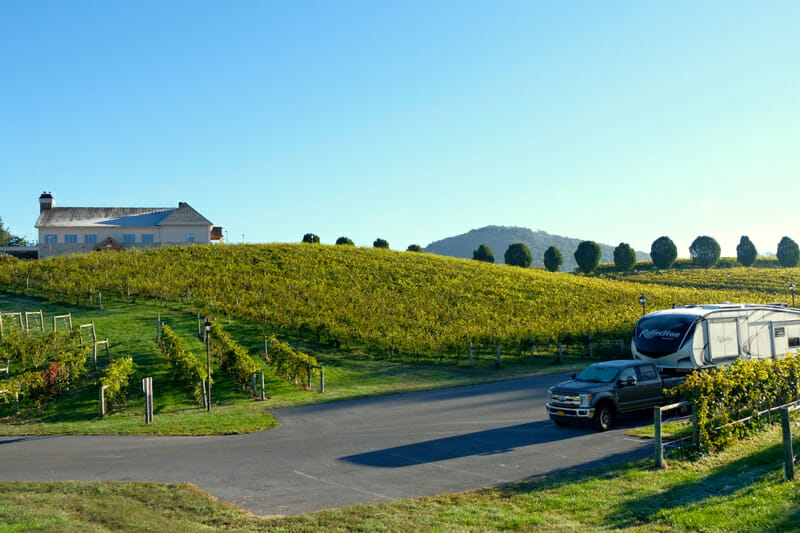 Before You Go
Proper planning is essential before you go boondocking and we could easily fill an entire website with tips on how to do this. Before pulling out of your driveway, these are some of the most important preps to take care of:
Pack a paper map
Charge your battery bank
Fill the propane tanks
Fill freshwater tanks
Empty black and gray water tanks
Pack basic safety and repair equipment
Packing a road atlas: You are on your own when boondocking and many areas of the country do not have cell phone service. Even if you have the best GPS in the world, never leave the house without a paper map.
Our preferred atlas is the National Geographic Adventure Edition because it covers major roads throughout every state in the US. It also pinpoints cool locations for hiking, mountain biking, climbing, and plenty of other outdoor activities.
Similarly, you can pick up an inexpensive map at any gas station. We also recommend stopping by a National Forest Service office or Ranger Station in the area that you're traveling. They can often give you a free, detailed map with tips on where to camp or go hiking nearby.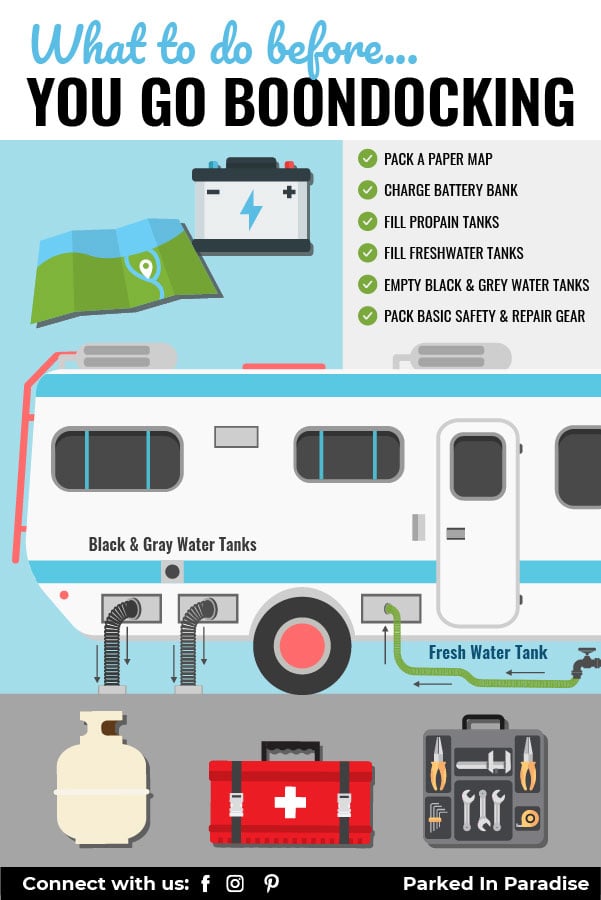 Electricity And Boondocking
You don't need electricity when camping, but it certainly makes things more comfortable. Before going boondocking, you should learn to accept the reality that you'll be using less electricity than you would in a house–or a campground with hookups.
The appliances in your RV are powered by two electrical systems: AC power (alternating current) and DC power (direct current).
AC Power comes out of the household wall sockets in your RV. Things like coffee makers, microwaves, hairdryers, and air conditioners all require AC power. The only way to get AC power to your camper when boondocking is with a generator, or through an inverter connected to the battery bank.
DC Power provides electricity to 12-volt appliances like the water pump, lights, vent fans, and anything with a USB cord. This power comes directly from the battery bank which can be re-charged off-grid using solar panels or a generator.

How Much Power Do You Need?
Every camper is going to have different power needs so it's impossible to give a one-size-fits-all answer. The most accurate way to do this is to perform a power audit. We've built a calculator to help you find out your power requirements.
A power audit involves making a list of all the electric devices you plan to power, the number of Watts each device uses, and the estimated hours per day of use.
If you plan to go boondocking using solar power alone, you should definitely perform a power audit. That's going to ensure you can make it through the day (or week) without running your batteries empty.
People who are dispersed camping with a generator have more wiggle room to play with because generators are less expensive for the amount of power they provide. These are our general recommendations:
If you are conservative with your power use and only use one big item at a time (like a microwave or hairdryer) then a 2,000-watt generator should be plenty of power.
To run an air conditioner off-grid you need at least 3,000 Watts of generator power. We discuss this more in our article about RV generators.
How To Charge Your Battery Bank
We recommend fully charging your battery bank before setting off on an adventure. You can do this using shore power. Once you leave the city, solar power or a portable generator are the two best options for recharging the battery bank.
Shore Power
Shore power is simply another name for city power. There won't be any electric hookups at a dispersed camping site but you can charge your battery bank beforehand at home or at a paid campground. City power comes out of the campground pedestal as 120v AC power. It needs to be converted to 12v DC power to store it in your battery bank.
RV campers come with a converter pre-installed so all you have to do is plug the RV power cord into a campground pedestal and charge up the batteries.
Inverter Chargers can also charge the battery bank and they can supply AC power to your electric system. Upgrading your converter to an Inverter/Charger is popular when boondocking because you can get both AC and DC power.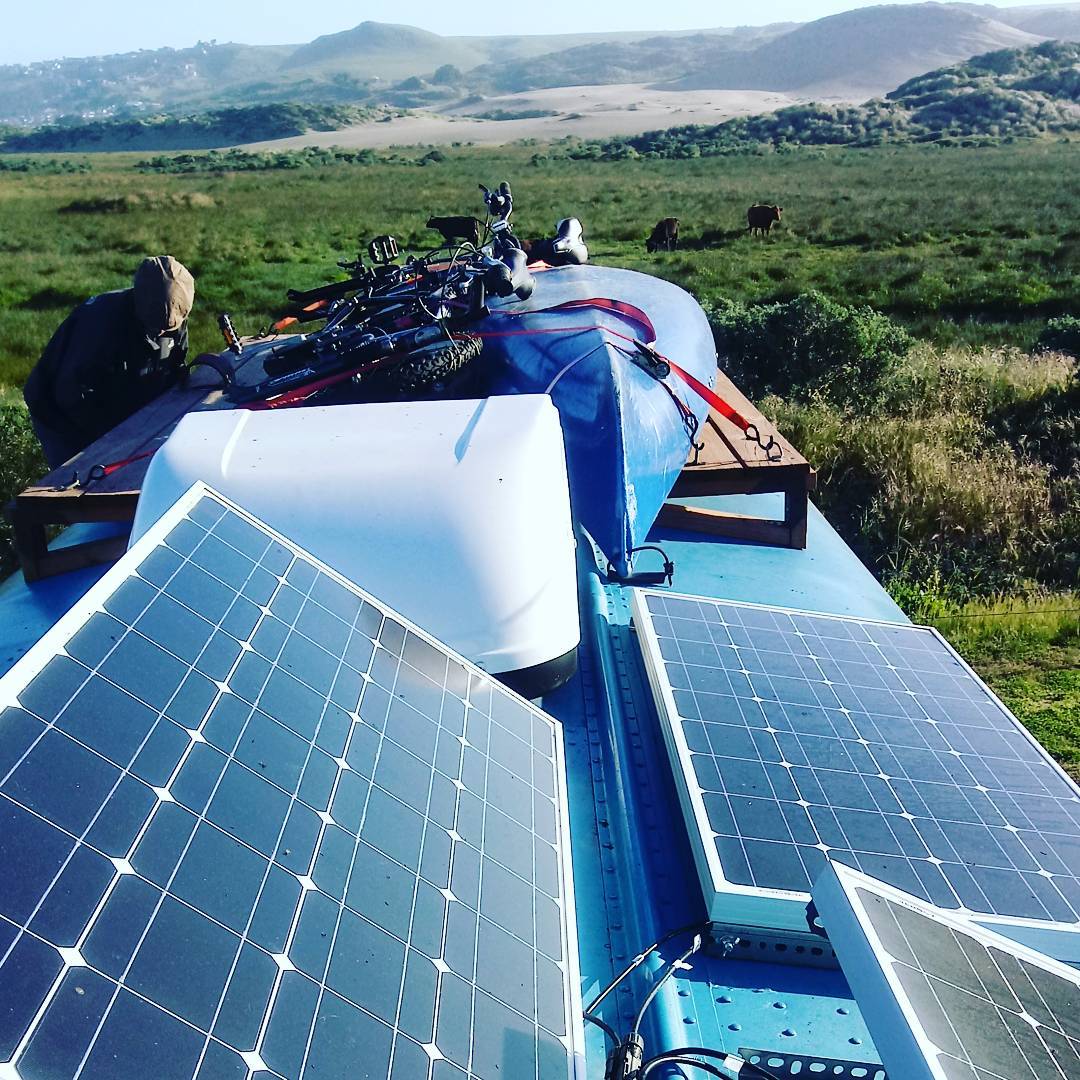 Solar Power
Using solar panels to charge an RV battery bank is quickly becoming one of the most popular options for boondocking. That's because once you purchase the equipment, solar power is free. You can charge batteries any time there is direct sunlight, and it's silent.
With all of that said, solar does have some limitations. Unless you have a lot of panels, solar can take a long time to charge the batteries. That means it's not practical for running power-hungry items like air conditioners, microwaves or hairdryers. Solar also won't charge your batteries at night or on very cloudy days or in the trees. So you can't count on it to always be a reliable power source.
To get power from your solar panels to the battery bank, they need to be connected through a solar charge controller. You can purchase solar panel kits designed specifically for RVs that include solar panels, a charge controller, mounting hardware, and wiring to connect everything.

Generators
Generators are the most reliable way to power your RV when dispersed camping. They are also cheaper than solar panels for the amount of power they provide. You can quickly charge your battery bank with a portable generator, and they can provide AC power to the larger electronics.
Not everyone likes generators because they are loud, not environmentally friendly, and require you to travel with extra fuel like propane or gasoline.
Most portable generators come with outlets on the side so the RV can be plugged directly into it with the proper power cords or adapters. This makes it easy to get AC power and DC power within your motorhome.
Running An Air Conditioner While Boondocking
Air conditioners are one of the most power-hungry devices you can use. In fact, to save yourself a lot of money and headache when boondocking we recommend skipping the air conditioner! There are many alternative options such as running vent fans, traveling up north, or moving to a higher elevation during the summer months.
If an RV air conditioner is something that you just can't live without, then the only reliable option is to power it with a portable generator.
What Size Generator To Get:
First, you need to know the starting watts and continuous watts of your air conditioner.
To give an example, the Dometic Brisk Air is a 13,500 BTU air conditioner. It uses approximately 3000W starting, and 1670W continuous. To use this air conditioner, you would need a generator with at least 3,000 watts of peak power.
If 3,000 watts is the max generator output, you'll want to go even larger. That's because you should leave some wiggle room to run other electronics alongside your air conditioner. In this example, we might consider a 3,500W peak rated generator.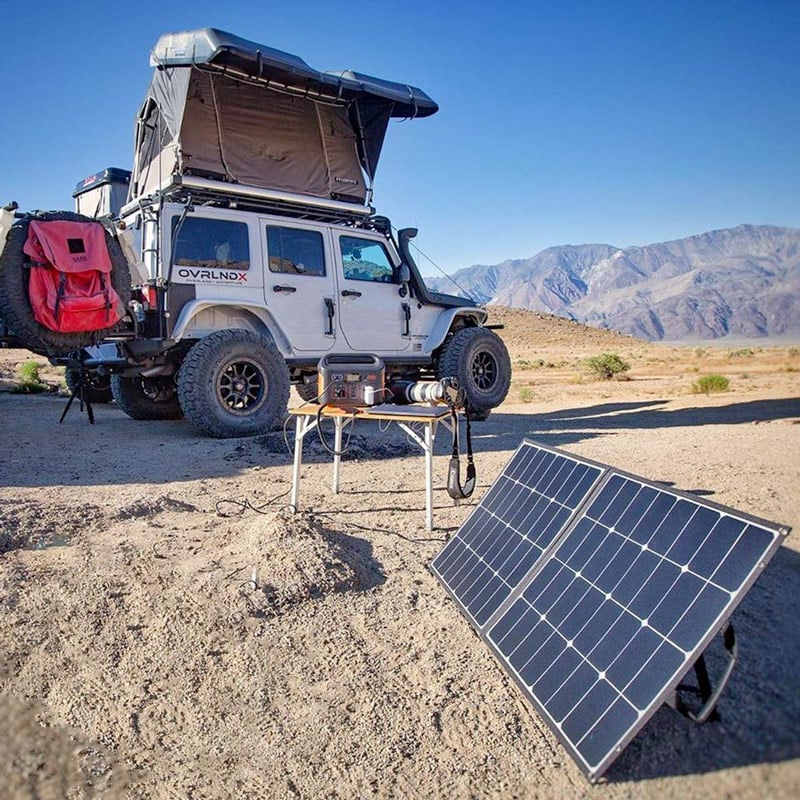 Solar Generators
We'll quickly mention solar generators since the name can be confusing. Solar generators do not generate power. These are essentially a "battery-in-a-box" that includes a battery, solar charge controller, and inverter all in one. It's essentially a large, portable power bank.
As an RV owner, you already have most of these components in the camper, so buying a solar generator redundant.
Solar generators can be useful for charging small electronics like cell phones and laptops off-grid. We recommend them for tent camping or small DIY campervan conversions that have low power needs.
Tips To Conserve Electricity
Conserving electricity is all about mindset and you'll have a better boondocking experience if you go into it with low power consumption as a daily goal. There are many steps you can take to conserve power.
Unplug unused electronics
Use 12-volt DC-powered devices whenever possible
Cook on a fuel-based stovetop instead of an electric burner
Heat food using a pan instead of a microwave
Air dry your hair
Use vent fans, travel north, or drive higher elevations in hot weather
Heat your camper using fuel
Make dry camping coffee without electricity
Propane And Boondocking: Using fuel to power items within your camper is always going to be cheaper than using electricity when boondocking. Aim to use fuel whenever possible and you'll be able to greatly extend your travels.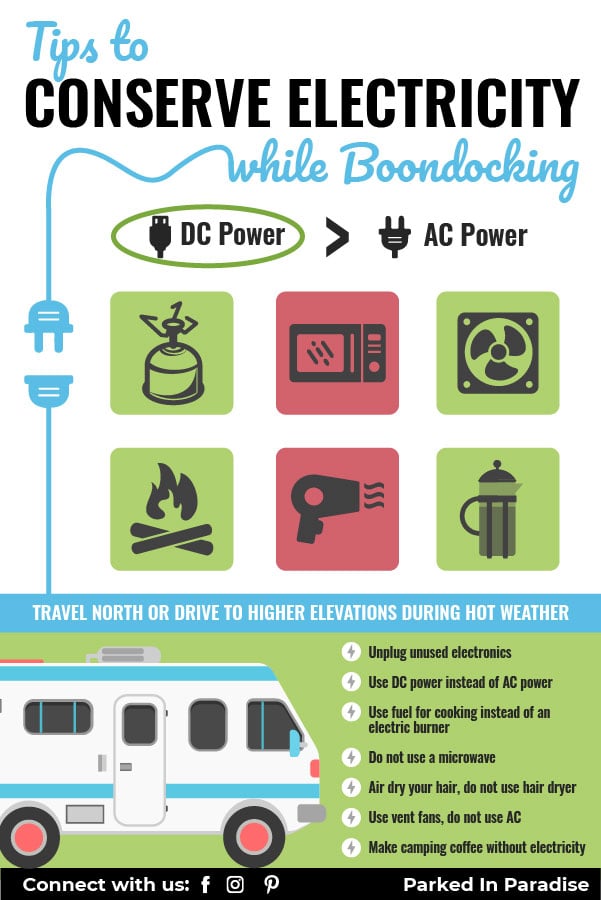 Water And Boondocking
When city water is not available, there's no pressure to pump water through your sinks and showers. That's where a 12-volt water pump comes in.
12v pumps use a small amount of battery power to operate and supply pressurized water throughout the RV. Before the water starts flowing, you need to prime the pump to flush excess air out of the plumbing system and get a consistent flow of water. Luckily the process is pretty simple.
How To Prime A Water Pump
Always start with full fresh water tanks. Freshwater can be refilled at RV parks, campgrounds, and many dump stations.
Then, open the cold water faucet nearest to the pump. Turn on the water pump switch located on the control panel inside your RV. You will hear the water pump kick into gear and see water beginning to flow. The water will sputter out at first, once you get a consistent stream it's time to turn off the faucet.
Move to each faucet within the RV from nearest to furthest from the pump. Turn on the faucet until there is a consistent flow of water then turn it off. Don't forget about the showerhead. The pump will stop running after you've closed the last faucet and that's how you know the system is primed.
When the freshwater tank runs dry, you will hear the pump speed up and the flow of water fixtures will slow or stop. This won't hurt the pump, but it's best to turn the pump off until you refill the tank.
When it comes time to pack up and leave, simply turn off the water pump using the switch on the control panel–easy as that!

How To Conserve Water
Water is the most scarce resource when it comes to boondocking and the reason many campers need to return home. If you can master water conservation, you can significantly extend your travels.
There are three water systems in an RV: freshwater, greywater, and black water.
Freshwater
You'll use the largest amount of freshwater when cooking, cleaning, and taking showers. So the best way to conserve water is to focus on those areas:
Minimize water when cooking
Clean dishes in a plugged sink with a wet rag
Attach an instant-off water saver to your sink faucets
Use hand sanitizer rather than water when possible
Clean and sanitize with white wine vinegar instead of water
If it's yellow let it mellow, if it's brown flush it down
Take showers less often
Switch to a low-flow showerhead
Save cold water while waiting for the shower to heat up for other things (like flushing the toilet)
Consider taking a Navy shower
Navy showers are a method to significantly conserve water while taking a shower. They are not the most comfortable, but they will get you feeling clean with minimal water use. The entire process can take less than two minutes. To take a Navy shower:
Turn on the shower water and rinse for up to 30 seconds
Turn the water off
Lather up with soap and shampoo
Turn on the shower again, and rinse the soap off
Drinking water is another area you can address when trying to conserve water. Consider filling up a few water bottles or portable water containers in addition to your freshwater tank. If you're feeling extra adventurous, consider packing a water filter and use natural water from lakes or streams to use throughout the day.

Black And Gray Water
Making the wastewater system in your RV more efficient is another way to continue dispersed camping for longer periods of time. Depending on how many people you travel with, a black water tank can fill up in as little as a week. Throwing away toilet paper rather than flushing it will help your black water tank last longer.
There are two common ways to extend the amount of time between dump station stops; using a portable waste tank or switching to a composting toilet.
Portable Waste Tanks
Portable waste tanks are also called expansion tanks. These are large containers that you can empty the black or gray water tank into, then continue further with the trip. Expansion tanks come in a variety of sizes and can effectively double your black water tank capacity.
Portable waste tanks come with large wheels and handle so they're easy to move around. You can fill it with a sewer hose just as you would do at a regular dump station. Many campers attach the expansion tank to the ladder, or hitch rack on the back of the RV as they travel. Later, you can empty the portable waste tank at a dump station.
Cassette Toilets VS Composting Toilets
Chances are, the toilet that came with your RV is a cassette toilet. These work like a regular home toilet and dump waste into the black water tank below. Some campers who do a lot of boondocking prefer to swap the cassette toilet for a composting toilet instead.
Composting toilets use no chemicals and a minimal amount of water. The toilet seat sits atop a waste reservoir which is divided into solid and liquid compartments. There is no flush after using a composting toilet. Instead, the solid waste is mixed with peat moss or coconut coir which can then be disposed of along with your trash.
A composting toilet can be used for weeks at a time without needing to be emptied. And if you choose to install one, the unused black water tank can make room for a secondary gray water tank.
So not only do you get more room for wastewater, but you don't have to worry about cleaning or emptying sewage in the black tank either.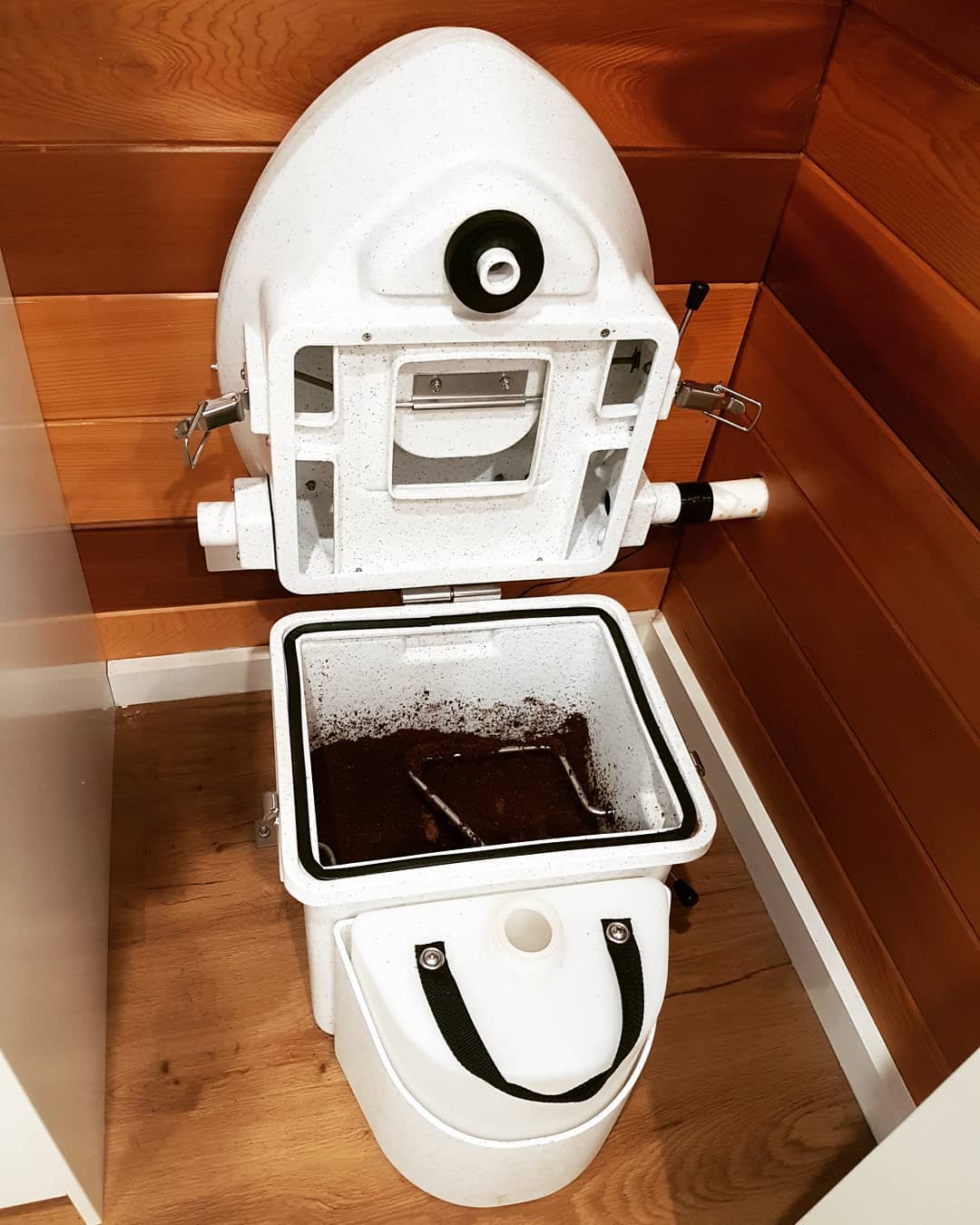 Heating Your Camper While Dispersed Camping
RV furnaces are powered by electricity. Because power is such a scarce resource it's necessary to find other ways to stay warm while dispersed camping. Luckily, there are a lot more options available to heat a camper than cool it.
Traveling south is our favorite way to stay warm during the winter months. Of course, sometimes cool weather just sneaks up on you. In those cases, we like to use other methods like the ones below.
Packing layers may seem obvious, but wearing hats, gloves, wool socks, and cuddling up in a thick blanket is the simplest way to stay warm. It's also the cheapest because it uses no energy!
The hot water bottle method is another inexpensive way to stay warm. It works like this: boil some water and pour it into a water bottle or covered container. Filling the container 3/4 full is all it takes. Wrap the bottle with a towel or cloth while pouring and be careful not to burn yourself. Seal the lid tightly, then lay next to it at night. Water bottles can stay warm for 6-8 hours making it perfect for a night of sleep.
Portable heaters like Mr. Buddy or the Olympic Wave are effective in heating a small space with minimal fuel. These heaters run on propane and are large enough to warm a large portion of your RV. Before using propane heat, you should have a working carbon monoxide detector and proper ventilation. Propane heaters are very effective but they can be dangerous if used improperly indoors.
Internet And Phone Service Off-Grid
When you go dispersed camping, chances are higher that there won't be any cell phone service. Many campers feel a lot safer having phone service, and we don't blame them! Others need to get some work done, and tethering a laptop to your cell phone hotspot is an easy way to do it.
A cell phone signal booster is a device that uses large antennas to take a cell signal and amplify it giving you greater access to the internet. It's like a hearing aid for data. In a nutshell:
If there is no cell signal nearby: then a booster can't amplify the signal
If there is a little bit of signal: the signal booster will increase it a little bit (probably enough to check texts or emails)
With a few bars of service: the signal can be boosted enough to stream videos and upload large files.
Another benefit is these boosters will often save the phone's battery power. Your phone is working harder when the signal is weak, which eats into its battery life. While a cell booster takes more power to run than it saves in your phone, it is nice not needing to plug the phone in as often.
A cell phone signal booster can improve your phone's talk time by up to two hours in poor signal conditions.

Boondocking Safety
Safety is often the biggest concern people have when boondocking for the first time. It may feel illegal the first time you go camping somewhere without a designated site. Be assured, you'll get more comfortable with time. Eventually you may find you prefer it to staying at public campgrounds!
If it's your first time boondocking, consider going with a group. The Escapees RV Club has regular meetups and it's an easy way to connect with the traveling community. More experienced campers can show you the ropes and explain how to go boondocking in-person.
Know your rights. First off, you're not going to feel comfortable somewhere if you feel like you're intruding. Do your research and utilize the resources above to camp in legal areas.
Trust your gut. If something feels sketchy–leave. You're driving a home on wheels and it makes no sense to stay in an area you don't feel completely safe.
Let people know where you are. There is no check-in table at a dispersed camping site so it's up to you to inform your friends and family of your whereabouts. Have a plan to text them every few days or share your route before taking off. Personal locator beacons are devices that can send out warning signals in case of emergency.
Always travel with a paper map. We've mentioned this before, but it's extremely important to travel with a paper map or road atlas. You never know when the cell service is going to drop or when the GPS will run out of batteries.
Don't drive down roads you've uncomfortable with. Many boondocking locations require travel over dirt roads, sand or rocky terrain. Use your head and don't push your driving limits. Remember the further you drive, the further away you'll be if you get stuck.
If you're unsure what the road looks like, get on foot and scout ahead. Keep the weather in mind when traveling down dirt roads because rain can quickly turn those areas into a muddy mess. Pack backup tools like tire chains to get you out of a bad situation.
Read reviews about road conditions in the area on websites and apps before you commit to camping there.
Pack more than necessary. There's no reason to cut it close on food, water or fuel. Always pack extras of everything and head back towards town when supplies start running low.
Bring a first aid kit. Don't leave the house without a basic first aid kit. The last thing you want to do is end up miles from the nearest gas station without any sort of antiseptic or bandaging.
Don't leave food out. Chances are great that you need to worry more about animals than people. Lock away your food when you leave the motorhome because any number of squirrels, raccoons, bears or porcupines could be lurking in the area.
Don't stress. First-time campers often get concerned about leaving their motorhome to go for a hike, or burglars stealing their things. This is extremely rare and not something to worry about. If you have expensive items like portable a generator, consider getting a cable lock for some peace of mind. Otherwise don't stress!
Most burglars are opportunists; they're not willing to drive miles to the middle of nowhere just to steal some dirty camping gear.
See You On The Road!
Hopefully, this article has given you some confidence to try boondocking for the first time. Dispersed camping is a fun, free, and adventurous way to tour the country. Mastering boondocking will allow you to prolong your travels for years and you'll probably meet some cool people along the way.
If you're new to RV living, read through our beginner guide to learn the ins and outs. Don't forget, you can always rent an RV to try out the lifestyle for a week or two before committing to long-term travel.